Golden Graham S'mores Squares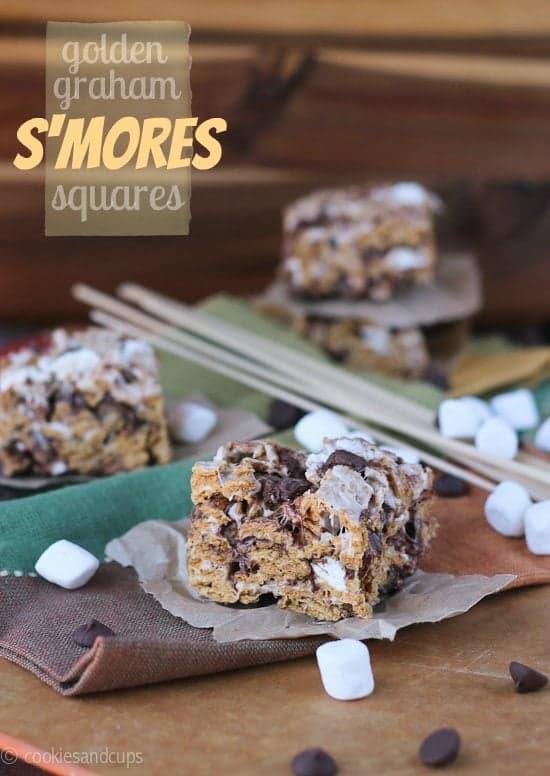 It was like, a major duh that I would make a krispie treat inspired by s'mores.
I don't deviate too much from my comfort zone.
And since marshmallows are an integral part of a krispie treat as well as a s'more, well… that's where the "duh" part entered stage right.
The obvious part here was subbing out Golden Grahams cereal for the Rice Krispies…
It's not rocket science, guys.
Sometimes ideas are just so obvious that it makes you shake your fist and wonder what took you so long to think of it…
THEN you google it and realize that you didn't think of it. Many others have already been there, done that and done it again and again annnnd again.
But whatever.
Today I made my version. That's how it goes on the internet.
Golden Graham S'mores Squares.
First you'll need some cereal…

Golden Grahams are underrated, don't you think?
And of course, you'll need some of these…

Melt some butter, melt some marshmallows and stir in your GG…

Then you get to add in MORE marshmallows. Isn't that fun?

And then you add in milk chocolate chips. Because what's a s'more without chocolate? I can tell you what it ain't…
The chips will half melt and half not melt. That's the whole idea.
Stir that whole situation up…you'll need to use some muscle, it'll be a little stiff.
That's what she said.
Spread it in a pan and let it lie for a beat.
When you're ready, flip it upside down.
So pretty.

And cut it into squares…


So good, so easy.
S'mores week day 2 out.
Print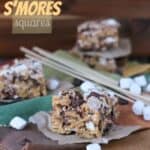 Golden Graham S'mores Squares
---
Ingredients
1/4 cup

butter

1

(10.5 oz) bag mini marshmallows, plus 2 cups

7 cup

s Golden Graham cereal

2 cup

s milk chocolate chips
---
Instructions
Spray a 9×9 pan with cooking spray.
Over low heat melt butter.
Mix in 10.5 oz bag of marshmallows, stirring frequently until melted. Remove from heat.
Stir in Golden Graham cereal. Let sit for 2 minutes.
Pour in 2 cups extra marshmallows and stir until combined.
Pour in milk chips and stir until combined. At this point the mixture will be difficult to stir and the milk chips will melt slightly, but not completely…this is what you want.
When chips mixed in pour into prepared pan and press evenly.
Let cool at least 15 minutes before cutting into squares.
---
Notes
store in an airtight container for up to 2 days.