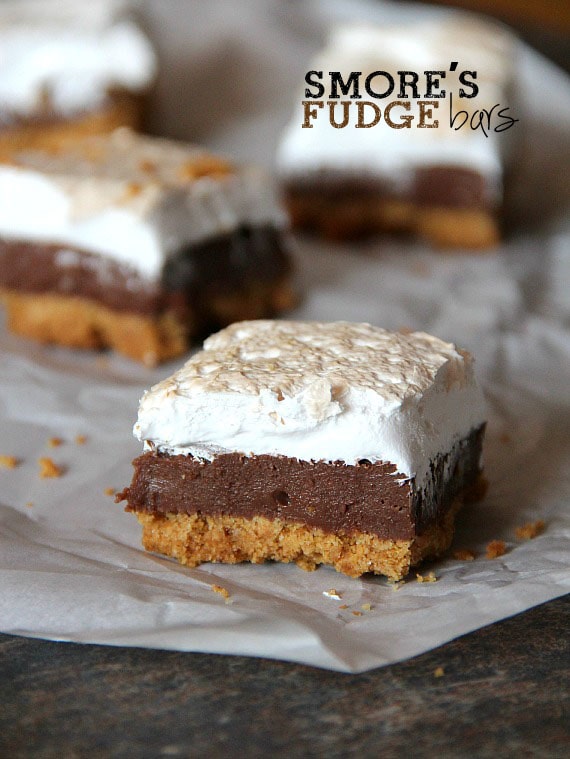 These Smores Fudge Bars are one of my most favorite new treats!  Perfect in every way!
The concept for these is so simple.
And honestly the inspiration came from a bar I had at Sugar Mama's Bakery in Austin… here's a pic…It's the lower left one.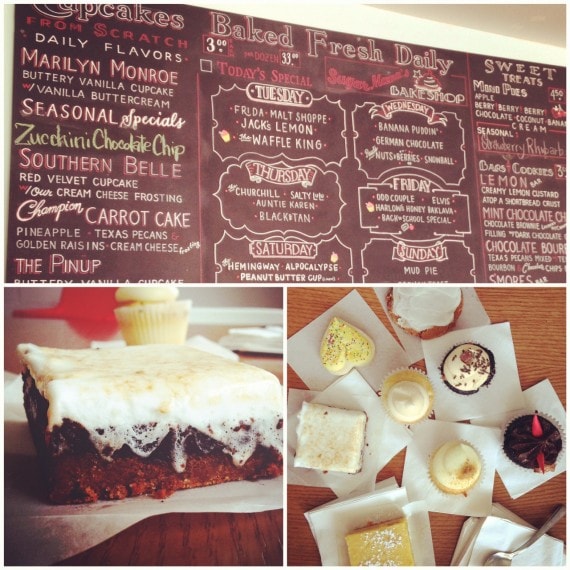 But I will state this here and now.  My bars are better.

MY OTHER RECIPES
I'm sorry, they are.
Ok, sorry not sorry.
The bars at the bakery got mixed reviews, I really liked them…so did Jenny and Kristan.  But Amanda didn't.
Because…you guys are gonna die…marshmallow isn't her most favorite.  Like WHAT?!   How can that even BE?
Anyhow I knew I had to try and recreate the bars at home, and lawdy, did I do it up good.
I am pretty sure even Amanda could get behind these.  Because there is HOMEMADE MARSHMALLOW FLUFF INVOLVED, GUYS!
They are different than the bakery version in execution, but the same in theory.  And better.
I hate to keep horn tooting, but they're so good.
Also, in case you were wondering Homemade Marshmallow Fluff is basically crack.
I mean, from what I hear about crack and all…
So anyway, stop what you are doing and make these.
NOW!
Because seriously I am telling you that they are one of my best creations.
Smores Fudge Bars.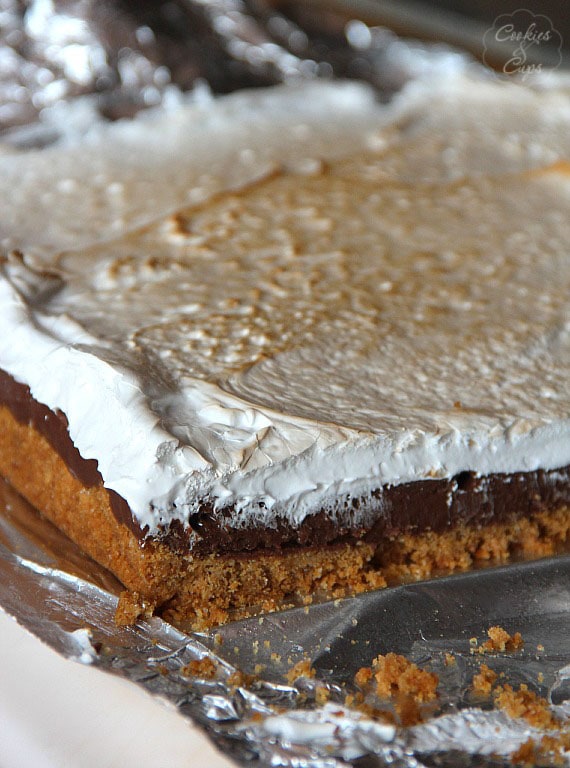 The steps for these are simple.
First make your graham cracker crust.
I like a nice old thick graham crust…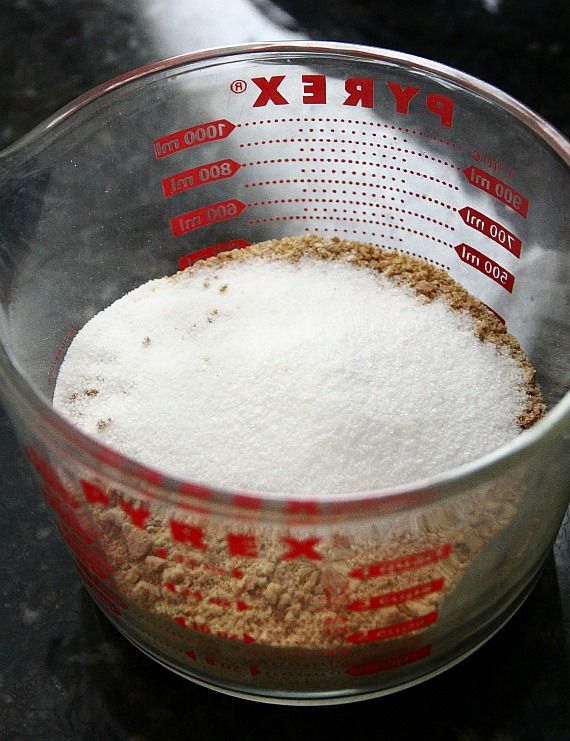 Bake it up for a few minutes until it starts to get golden around the edges and on top.
Next up make your filling.  Only 2 ingredients for this step…milk chocolate and sweetened condensed milk.
I used the Mini Hershey's Kisses you can find down the baking aisle, but feel free to chop up some milk chocolate or even use milk chocolate chips.  I like the idea, though of using Hersheys.  It makes it more smores-ish to me.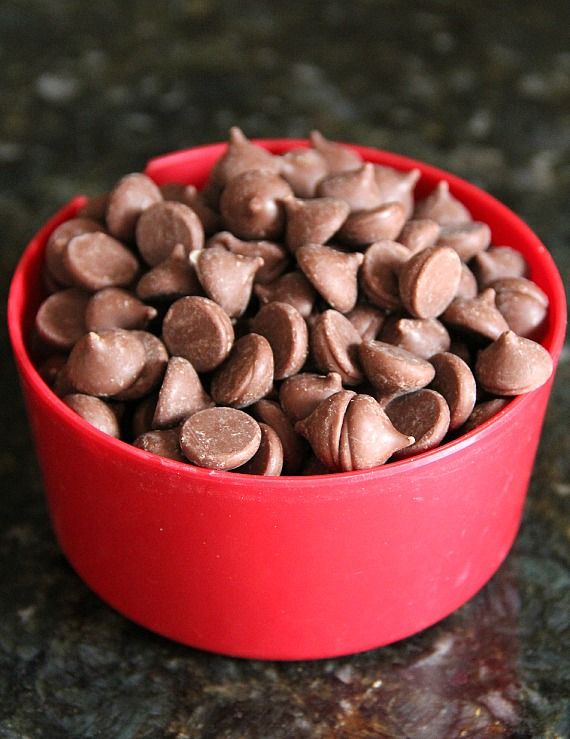 Just melt the chocolate and condensed milk together…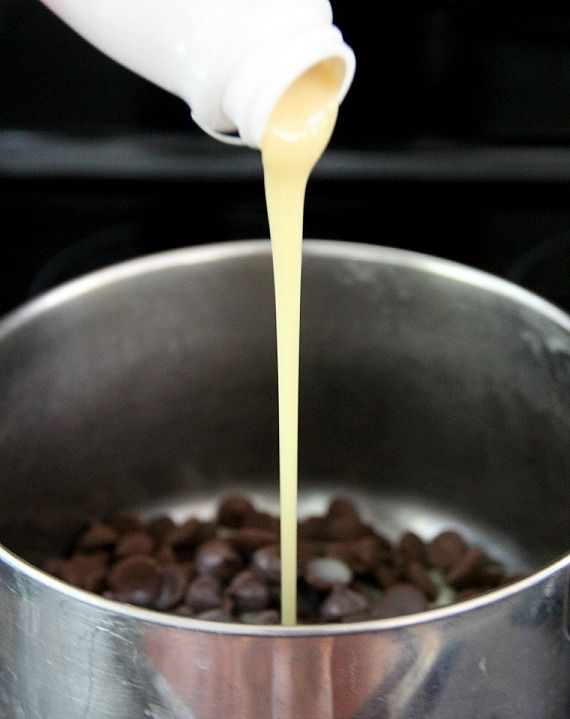 And pour it over your crust.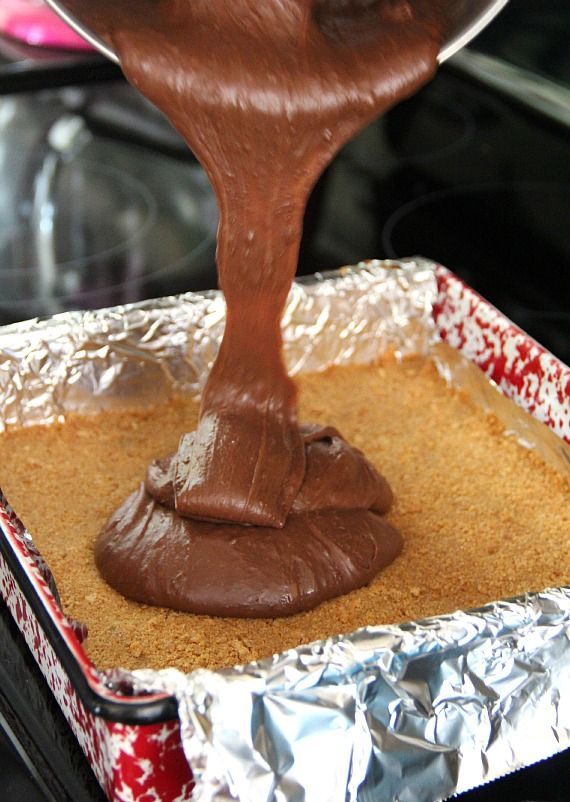 That's that.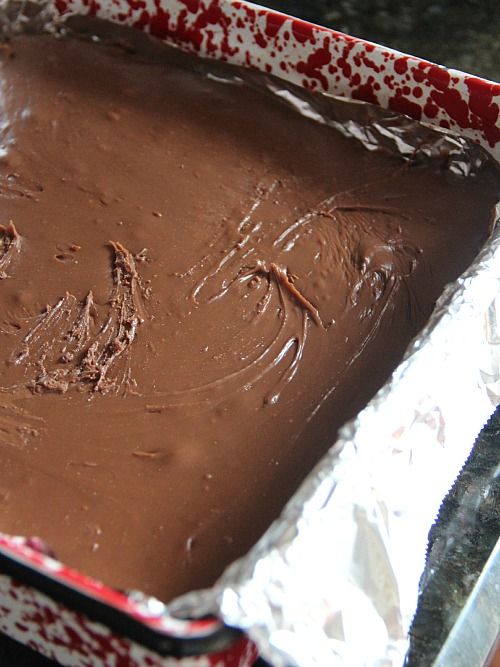 Meanwhile get your fluff on.
I used the Homemade Marshmallow Creme recipe from THIS book, that I HIGHLY recommend.  Shauna is a sweet friend who blogs here.  I adore her!
Beat egg whites and some cream of tartar together until soft peaks form.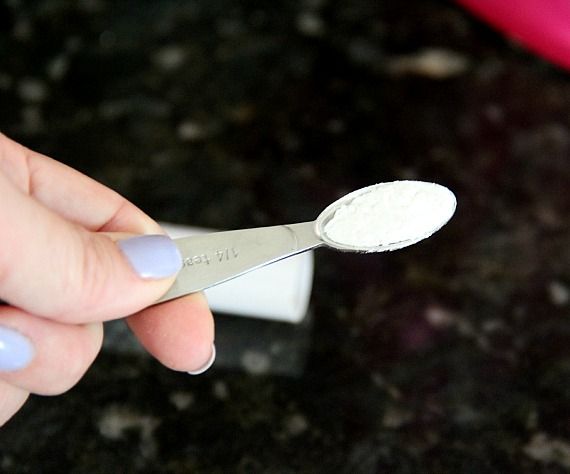 Make a sugar syrup in a saucepan and when it comes to 240° you slowly pour it into the egg whites…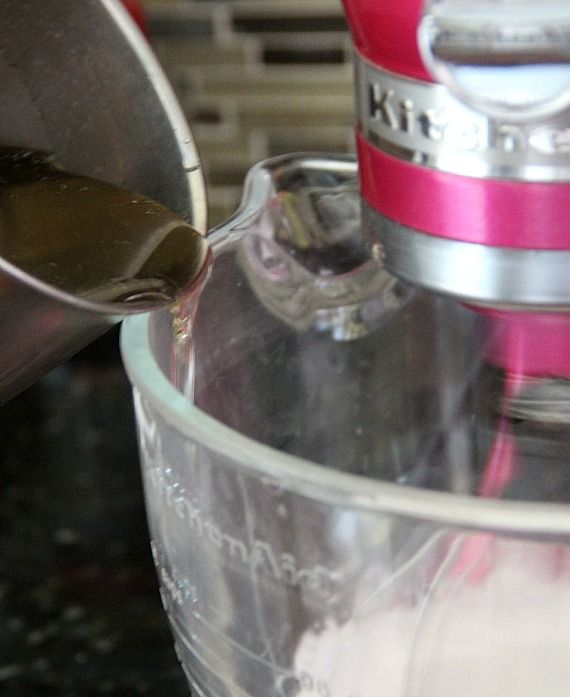 Then beat that for 7-8 minutes.
It will look like this…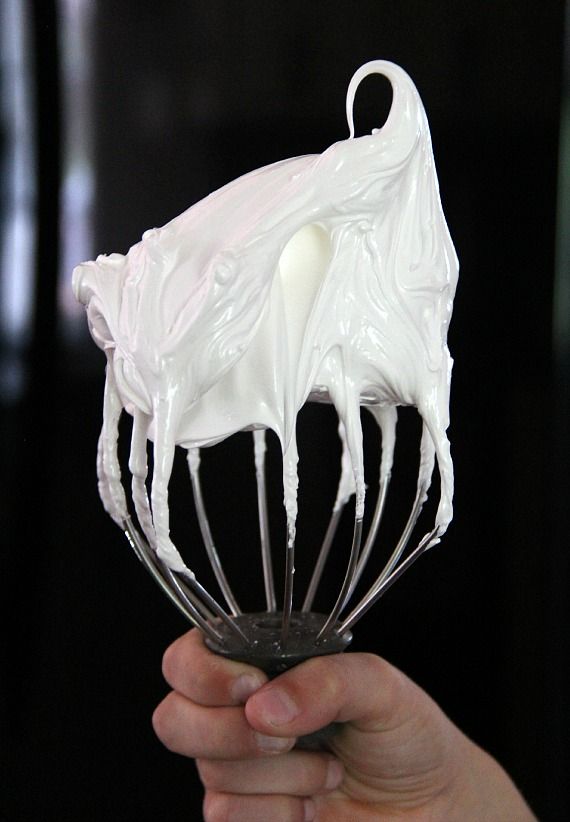 Then spread that on top of the chocolate layer.  As much or as little as you want.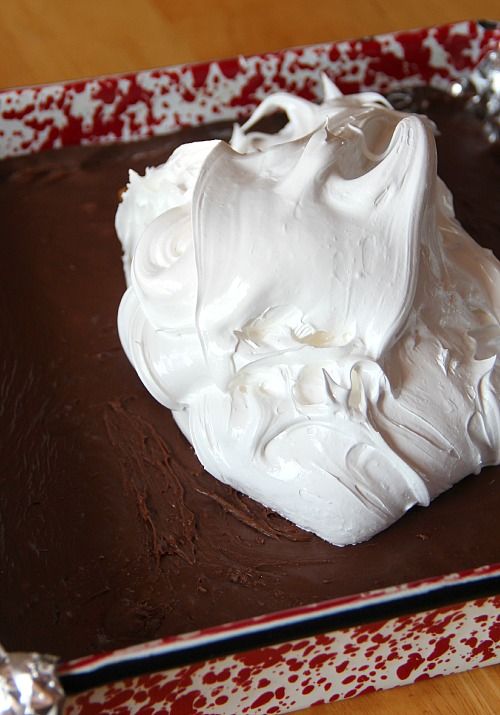 It'll spread easily with an off-set spatula.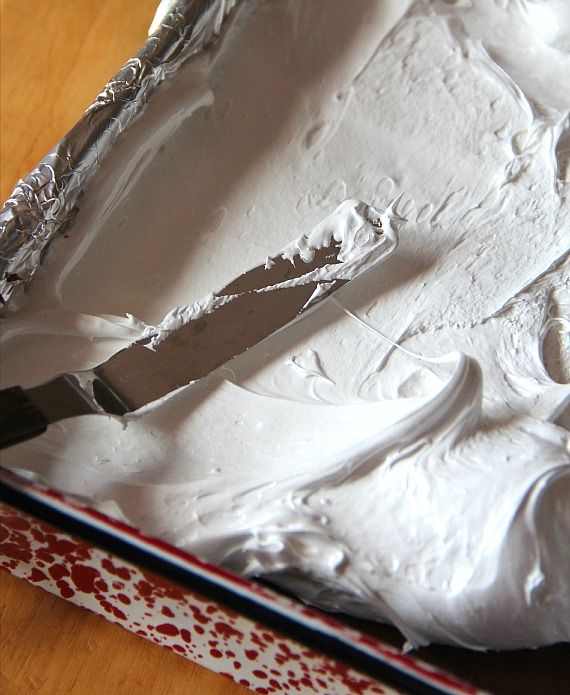 Then you'll want to pop it under the broiler…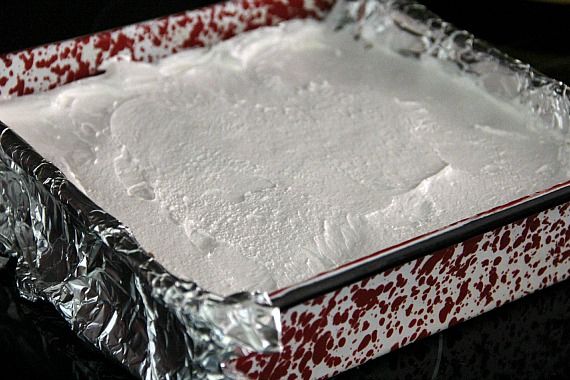 Just for about a minute until it gets a little brown on top…
And that's it!
Seriously, you'll groan when you eat these.
In the best possible way.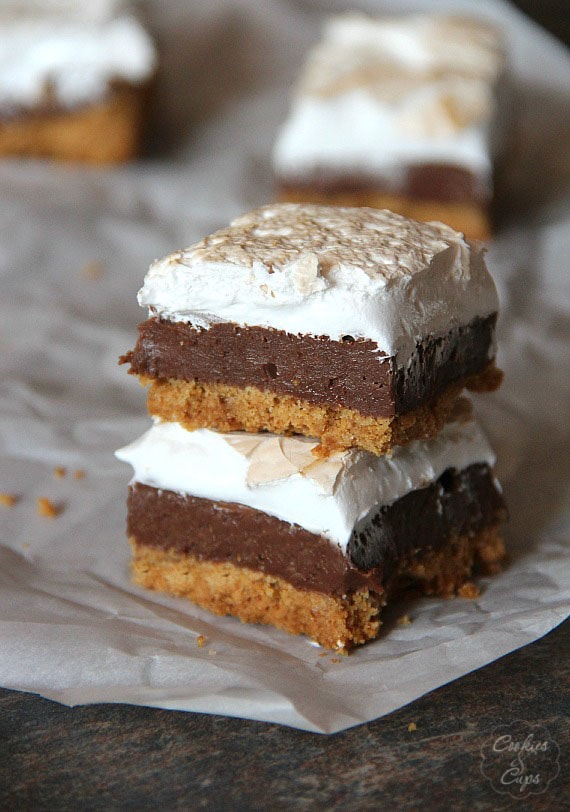 Enjoy!!
**Recipe adjusted** I slightly increased the amount of butter in the crust based on some feedback I received from 1/3 cup to 1/2 cup.  I will never argue about adding a little more butter!
Print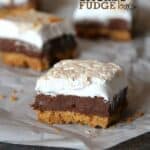 Smores Fudge Bars
---
Description
makes 25 bars
---
Ingredients
Crust
2 cups graham cracker crumbs
1/2 cup butter, melted
1/4 cup granulated sugar
1/2 tsp salt
Fudge layer
2 cups milk chocolate chips
14 oz sweetened condensed milk
Fluff Layer
3/4 cup sugar
1/2 cup light corn syrup
1/4 cup water
1/4 tsp salt
2 egg whites
1/4 tsp cream of tartar
1 1/2 tsp vanilla extract
---
Instructions
Preheat oven to 350°
Line a 9×9 baking pan with foil. Set aside.
Mix all the ingredients for your crust together and press evenly into pan.
Bake for 10 minutes. Remove from oven and set aside.
Next make your chocolate filling. In a medium sauce pan combine the milk chocolate and sweetened condense milk together over medium-low heat and stir until melted. Pour immediately onto crust.
Fluff
Combine sugar, corn syrup, water and salt in a small saucepan over medium-high heat. Boil together until a candy thermometer reads 240°.
While mixture is boiling beat 2 egg whites and cream of tartar together until soft peaks form.
When syrup is ready, turn mixer onto low and drizzle the syrup along the side of the bowl slowly combining it into the egg whites.
When all the syrup has been added turn mixer up to medium high and beat for 7-8 minutes until thick and glossy. When there is about one minute left add in the vanilla.
Spread about 1 1/2 – 2 cups of the Fluff on top of the chocolate layer.
Turn oven onto broil and place pan under broiler for 1 minute or until the top of the marshmallow layer gets lightly golden.
Cut into squares when ready to serve.
---
Notes
Store bars airtight at room temperature for up to 2 days or refrigerated for up to 5 days.
Store the remaining Fluff at in an airtight container, refrigerated for up to 2 weeks.
recipe for Fluff adapted from Marshmallow Madness