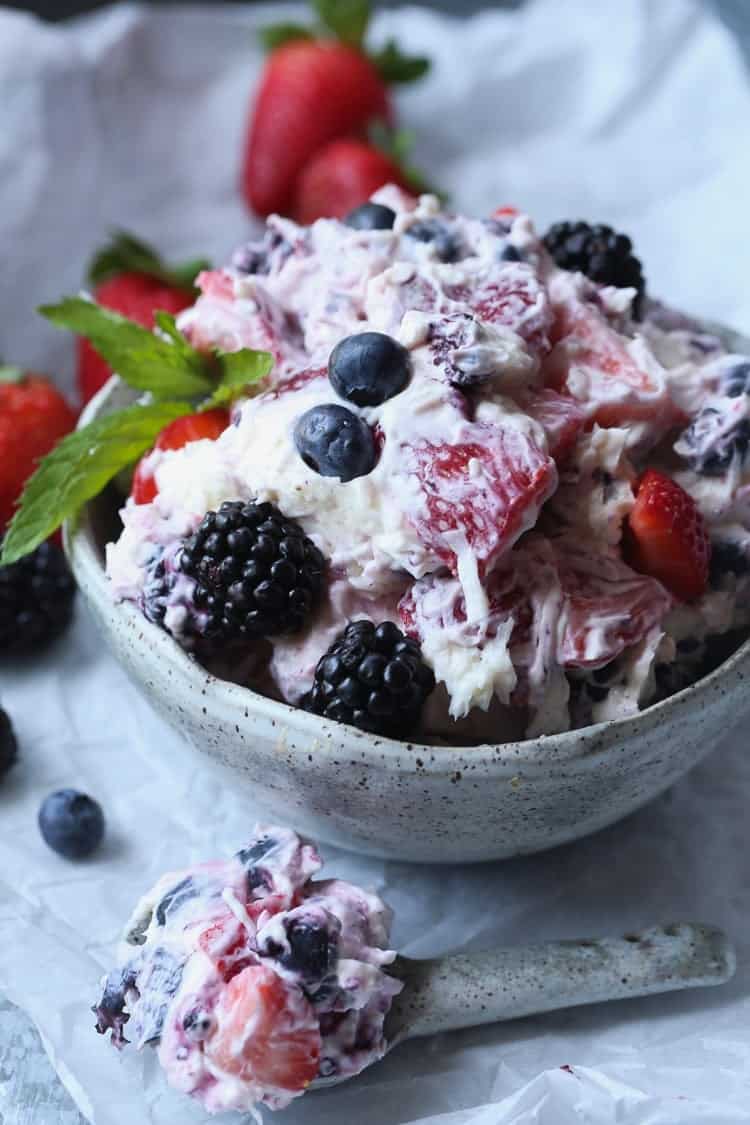 Berry Ambrosia Salad is a creamy, fresh fruit salad that is perfect for your next cookout! This post is sponsored on behalf of Campfire® Marshmallows. All opinions are, as always, my own.
I have to say, I am one of those children of the 80's who grew up eating Ambrosia Salad at any given potluck. That, along with any variation of pasta salad, potato salad, or Jello salad, made the 80's a very salad-friendly decade. I mean, right?
Anyhow, I'm pulling a major throwback today. BUT I'm putting my own 2K17 spin on it. Cool?

MY OTHER RECIPES
I feel like ambrosia just screams for berries. And when I whipped this up, I knew I was 100% correct, sir. No more canned mandarin oranges for me. Except maybe sometimes…because those things are delicious.
Anyhow, cream cheese and whipped cream make up the "dressing" for this salad…plus flaked coconut and Campfire Red, White & Blue Roasters add texture, flavor, and sweetness.
Obsessed.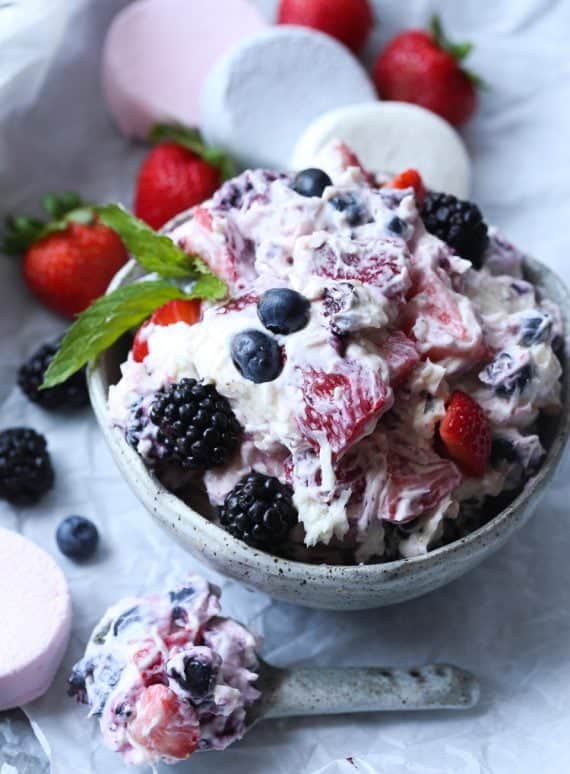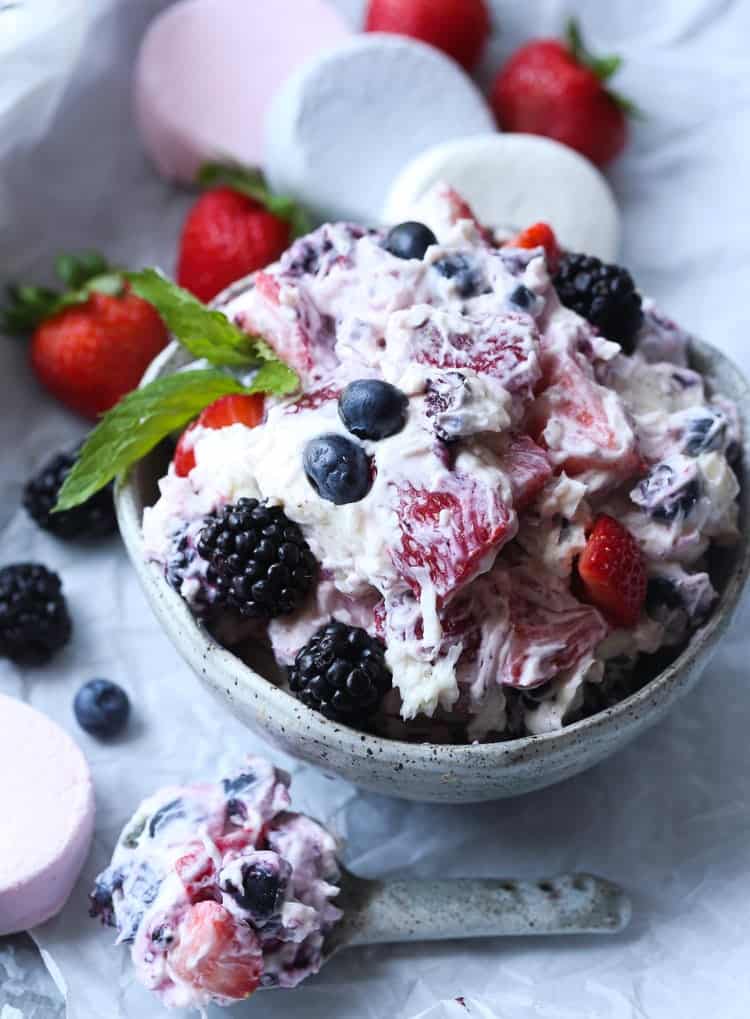 I started with a huge bowl of my favorite berries.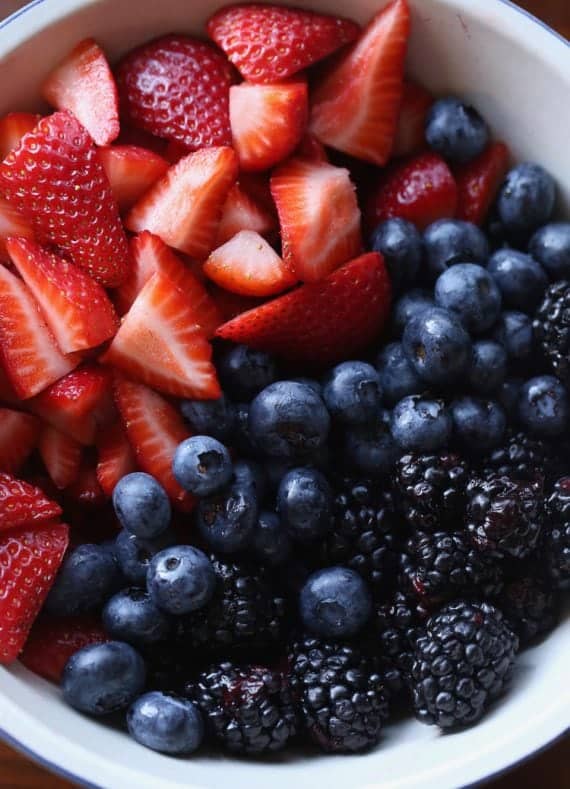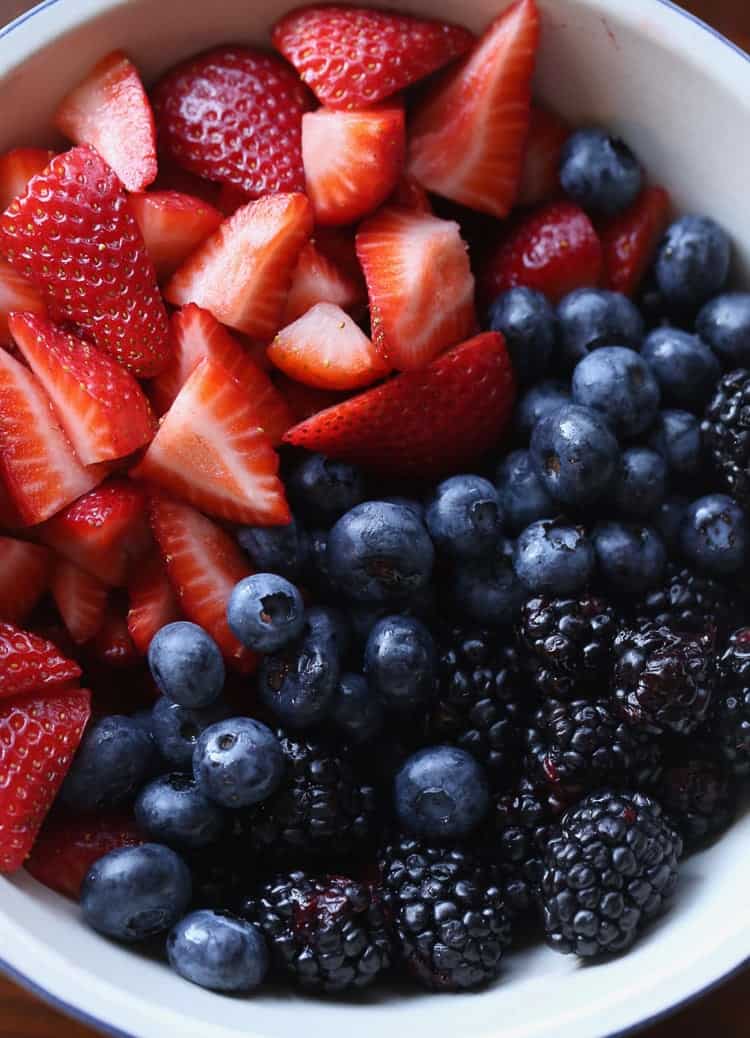 Then I whipped up some heavy cream and some cream cheese and folded the two together.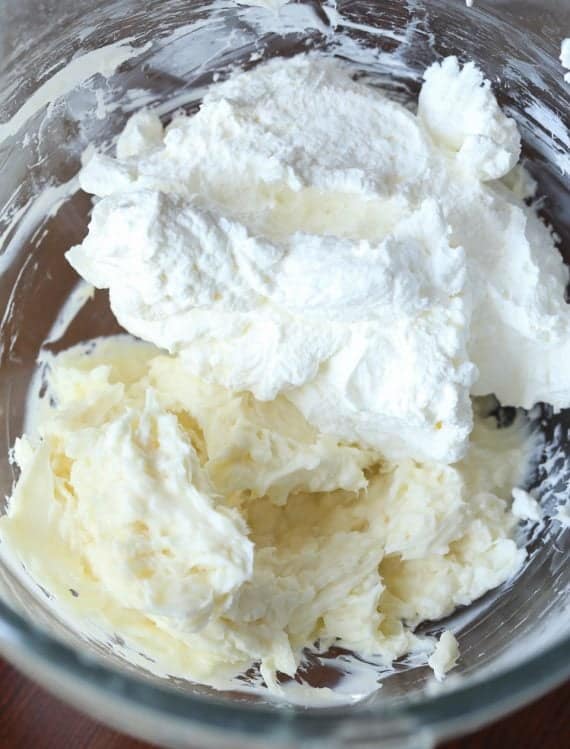 It will be light and fluffy and taste like cheesecake. Yes please.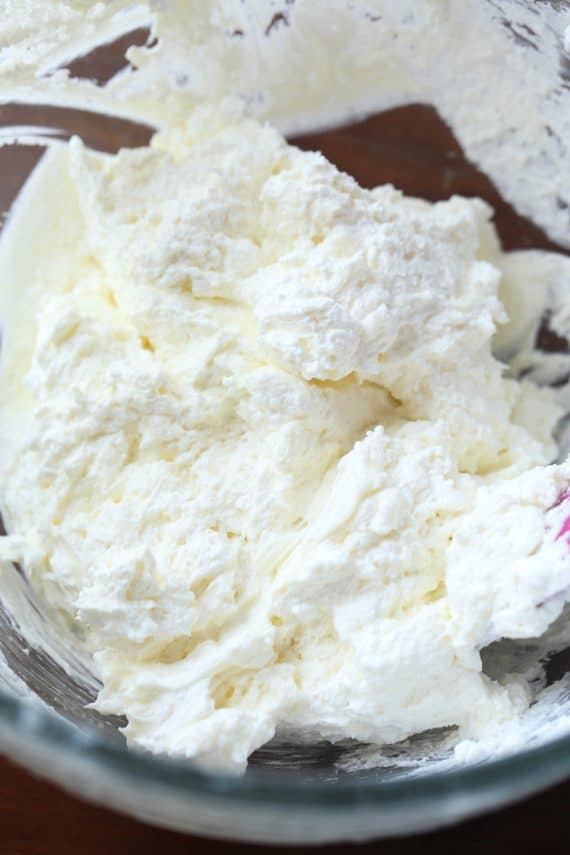 Add to that a little sweetened flaked coconut and fold it in gently…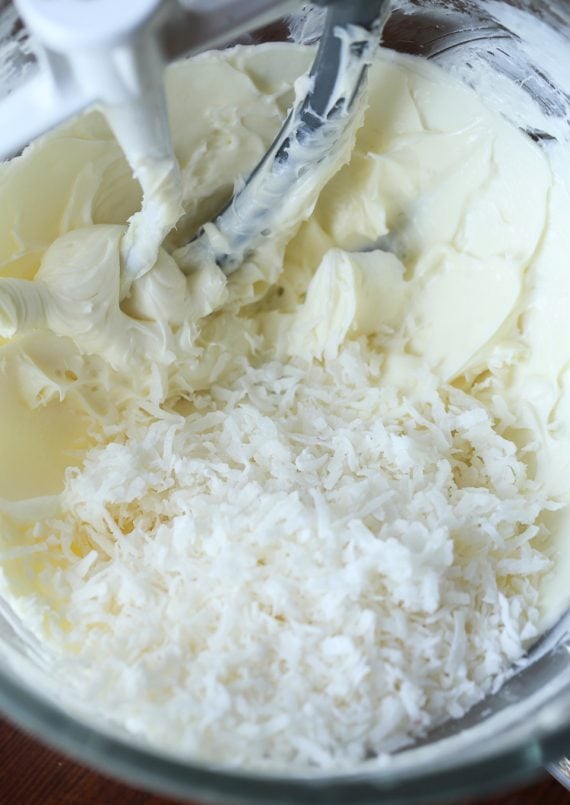 Now, fold this into the berries!!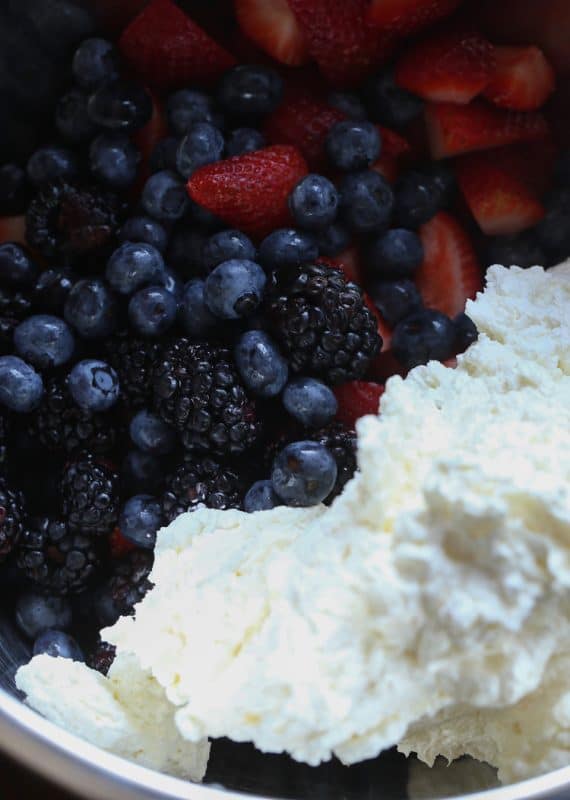 OH YES!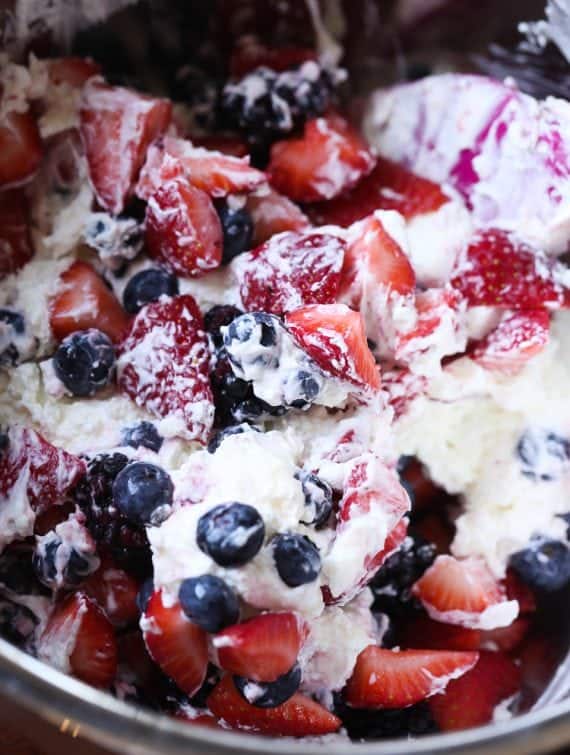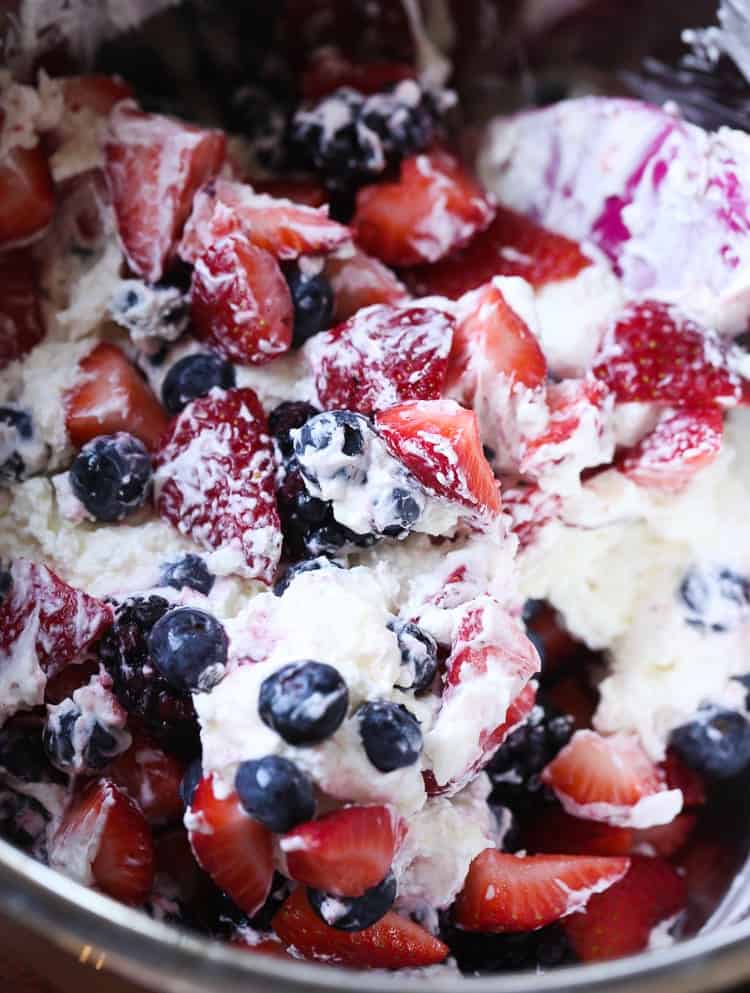 And lastly grab your Marshmallow Roasters. These are lightly flavored as well, which pairs nicely with the salad!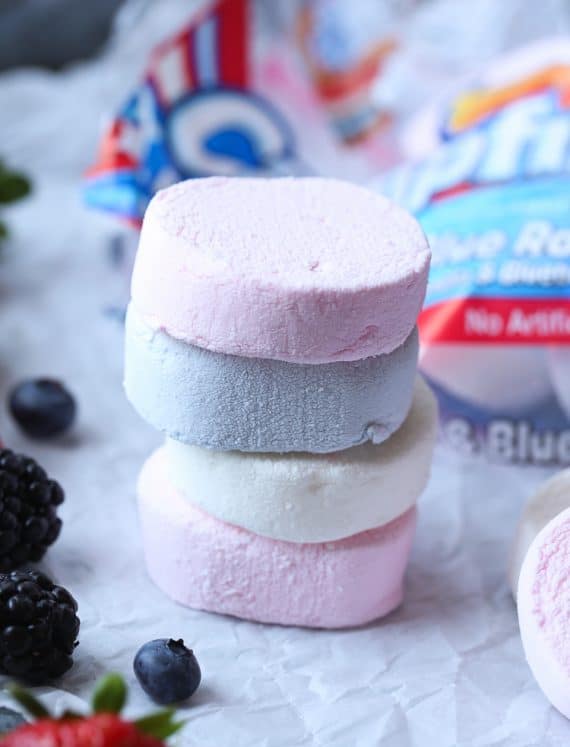 BUT I cut them up… GASP! Just so they were more bite-sized. Certainly you can use any other type of Campfire marshmallows in this recipe as well…obviously the minis would work perfectly…but I thought these giant roasters were so fun, and I wanted to show how you can use them in other ways beyond s'mores!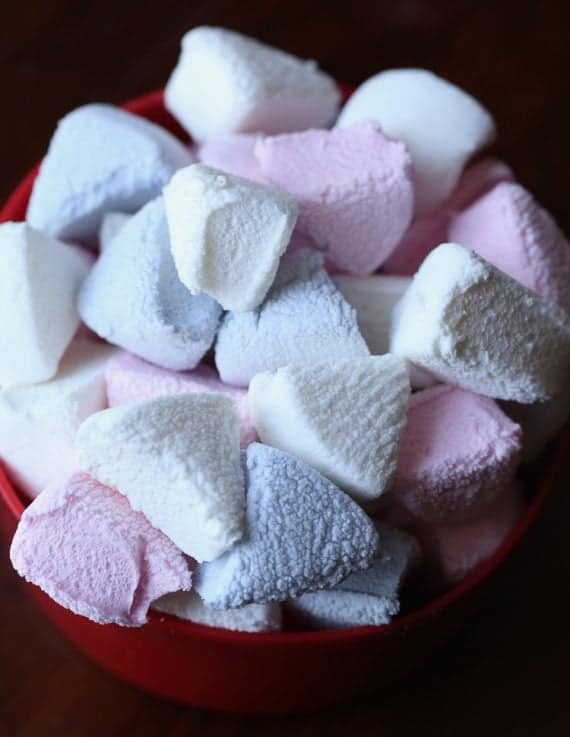 And stir those beauties right on in.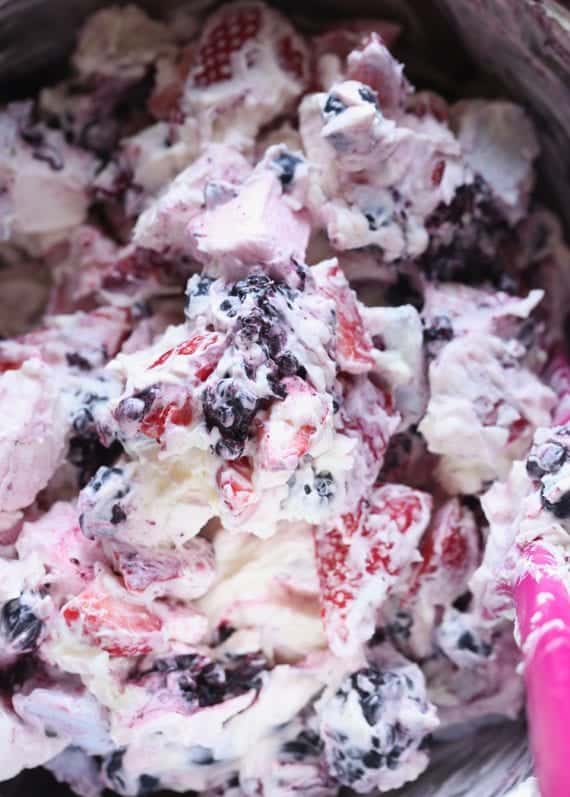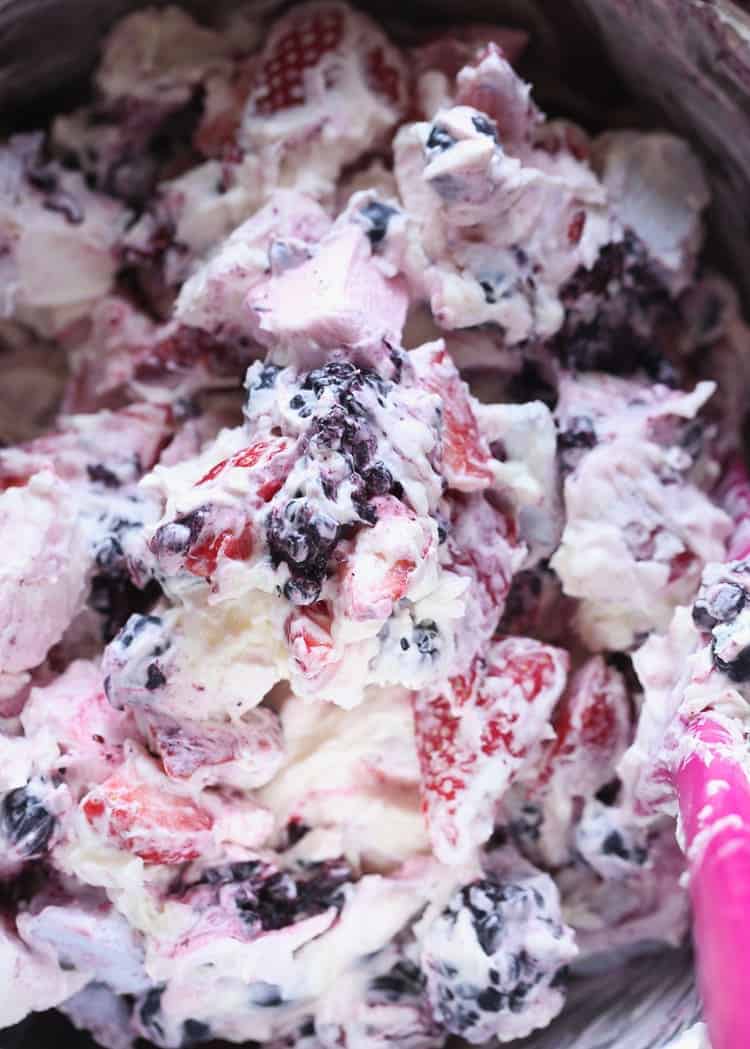 I mean, seriously. Just stick a spoon on in and enjoy.
Or get a little fancy with a sprig of mint. Whatever the occasion.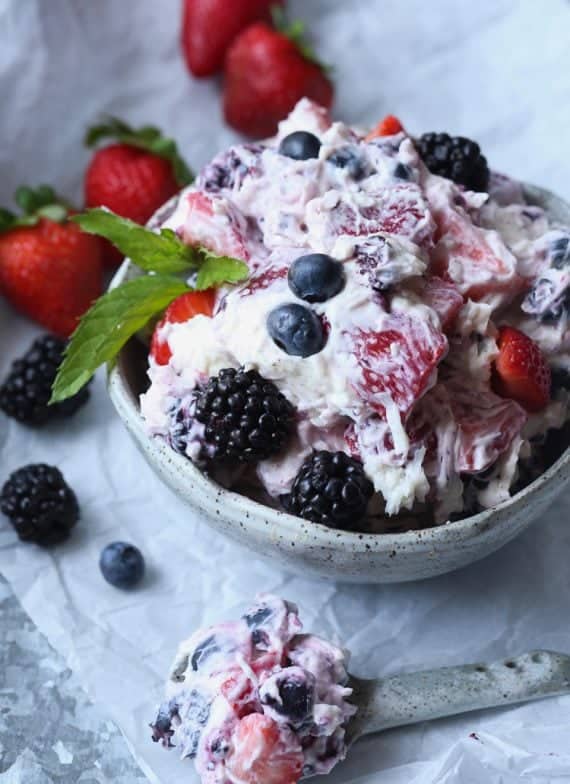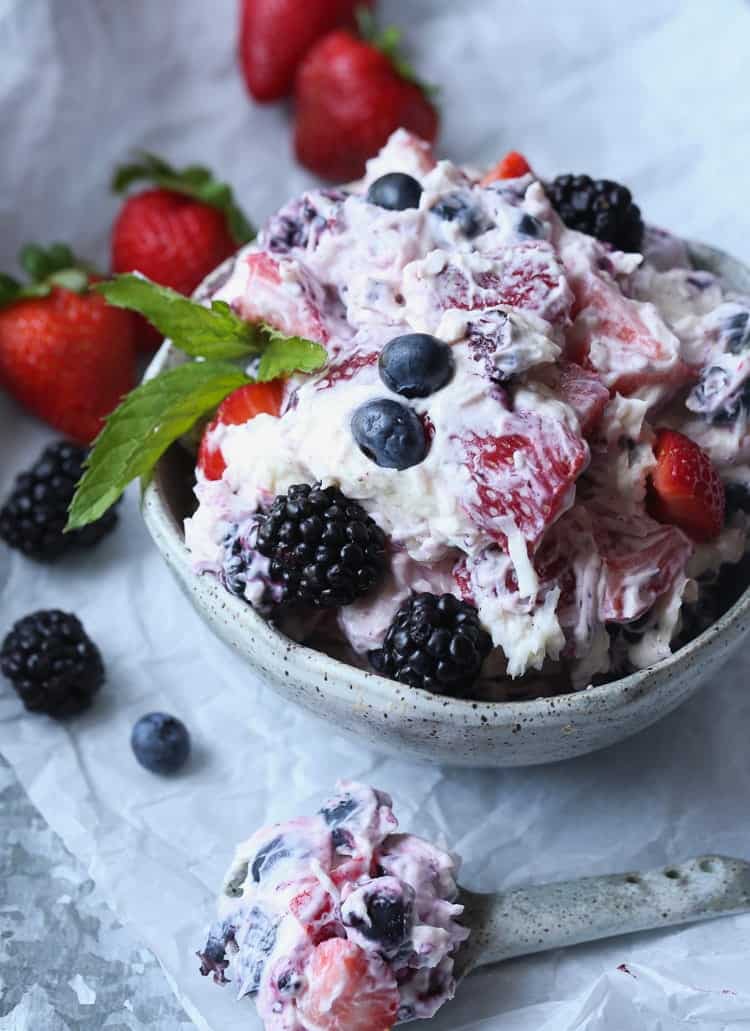 Enjoy!!
Print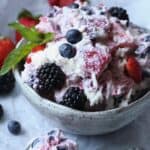 Berry Ambrosia Salad
Author:

Prep Time:

20 mins

Total Time:

20 mins

Yield:

serves 6-8
---
Ingredients
8 ounces heavy cream
8 ounces cream cheese, room temperature
1/4 cup granulated sugar
1 cup sweetened flaked coconut
3 cups chopped strawberries
1 1/2 cups blueberries
1 cup blackberries
1 cup Campfire Red, White & Blue Roaster Marshmallows, cut into small wedges (or 1 cup of mini marshmallows)
---
Instructions
In the bowl of your stand mixer, fitted with the whisk attachment, whip the heavy cream on high speed for 1 minute, or until thickened and stiff peaks form. Transfer the whipped cream into a smaller bowl and set aside.
In the bowl of your stand mixer, no need to wash it, fitted with the paddle attachment, mix the cream cheese and sugar together on medium speed until creamy and combined, scraping the sides of the bowl as necessary. Fold the whipped cream and coconut into the cream cheese mixture until incorporated.
Stir in all the berries and the marshmallow and coat with the cream cheese mixture.
Serve immediately or store airtight in the refrigerator until ready to serve.
Save