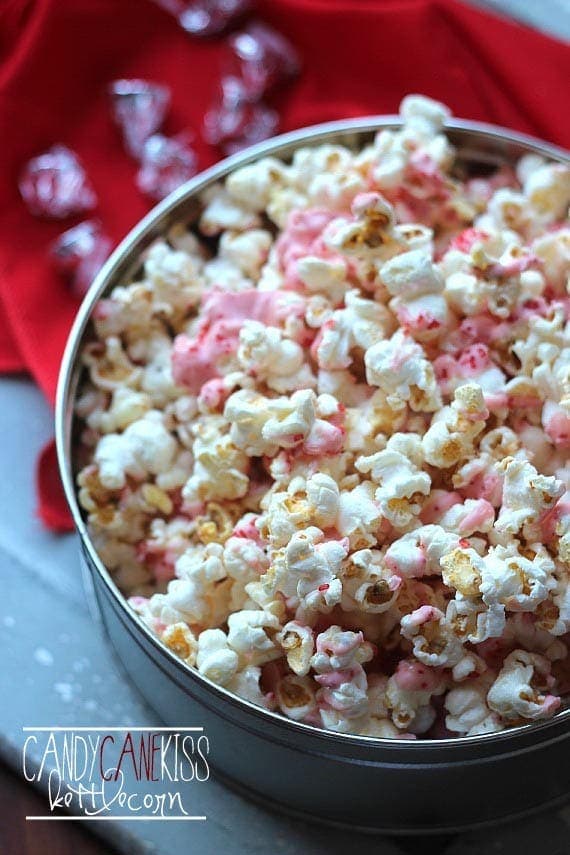 Hope you guys had a successful Thanksgiving!
We did.
Actually this year we decided to go low-key..meaning we stayed home and didn't invite anyone over.
No traveling.
No stress.
No loads of prep.
Totally different for us…and it was awesome.
We have never had Thanksgiving with just us…meaning I have never had to prepare an entire Thanksgiving meal on my own.
And since I know not what I am doing, I decided that Thanksgiving dinner wasn't that hard to throw together, so we ditched the prep and went to the movies Thursday morning.
We thought we would be the only ones in the theater.
We were wrong.
My husband even had to forgo his "buffer seat" so a lady with a loud laugh would have a place to sit…
He wasn't pleased. Apparently lots of people procrastinate like I do.
But back to the meal.
So I guess there is actually something to the whole, "prepare for days" thing.
Yeah, it's a lot of work..especially starting at 2 pm.
Alas, we finally did sit down to Thanksgiving later than expected.
Only to hear from my son, "Thanksgiving dinner isn't that much different than a regular meal".
Needless to say, I felt like I failed at Thanksgiving.
It shouldn't be normal, should it?
So next year, everyone is invited over…and I will prepare for days and days and days.
And days.
And then I will cry and wish I was at the movies with no buffer seat.
Now that turkey is in my rear view mirror, let's talk Christmas.
I'm easing into the baking month ahead with a quick treat… Candy Cane Kiss Kettlecorn.
I got a few bags of these when I was visiting Hershey a few weeks ago…only one of the bags made it home!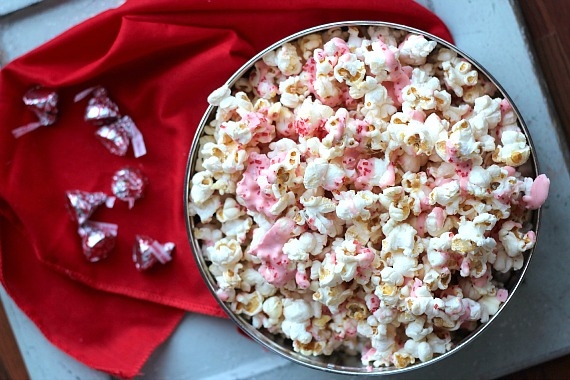 I love kettle corn, and ever since I made it HERE, it has quickly become a favorite!
First make the kettle corn (click here for the step by step)…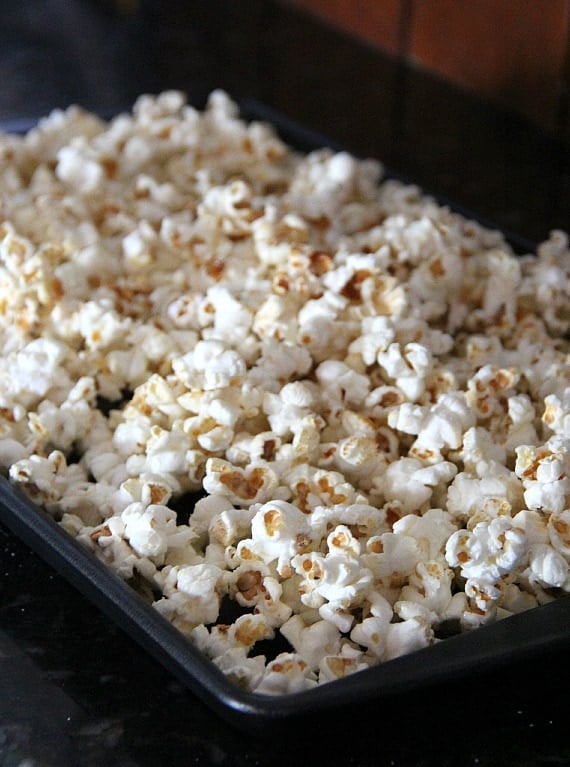 Once you're done with the kettle corn, go ahead and unwrap all your Kisses…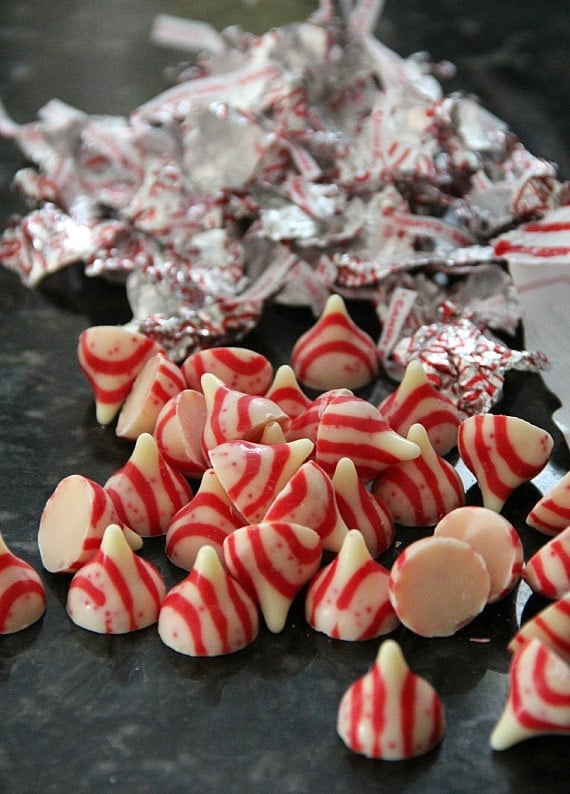 I melted them over a double boiler.. it worked perfectly!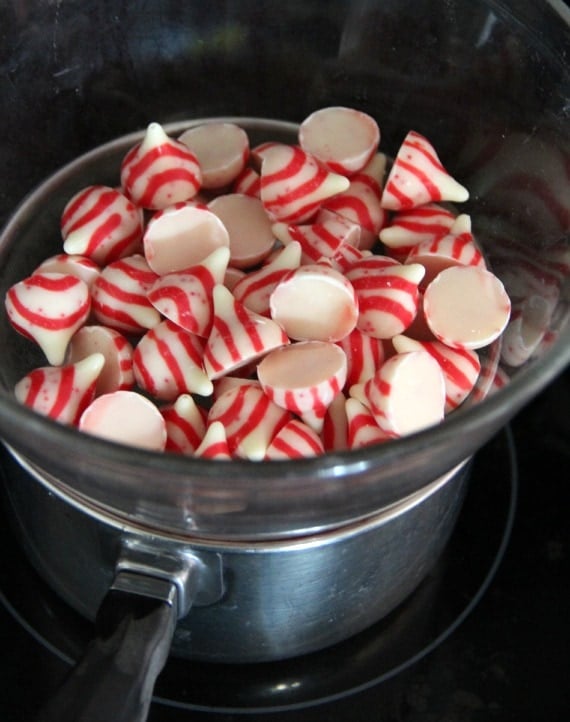 The kisses have these little crunchy bits in them that are so yummy! They also make the popcorn pretty!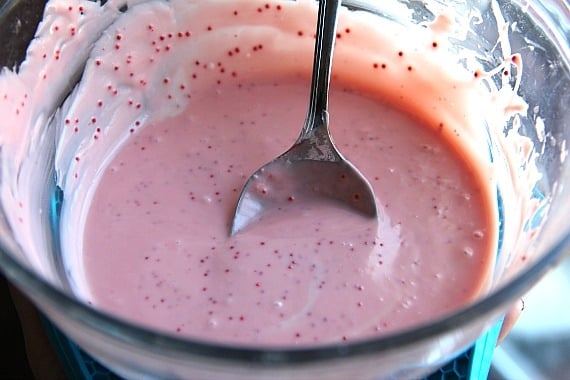 Just drizzle the melted Kisses over top of the kettle corn…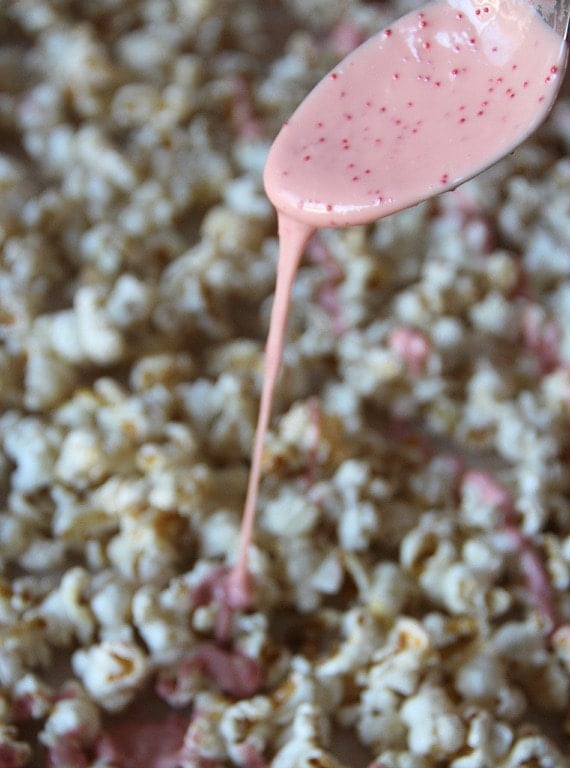 And if you're feeling extra fancy you can add some festive sprinkles!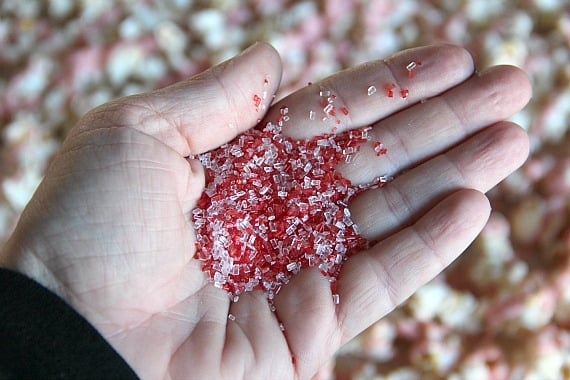 I used a coarse sugar to add some extra crunch.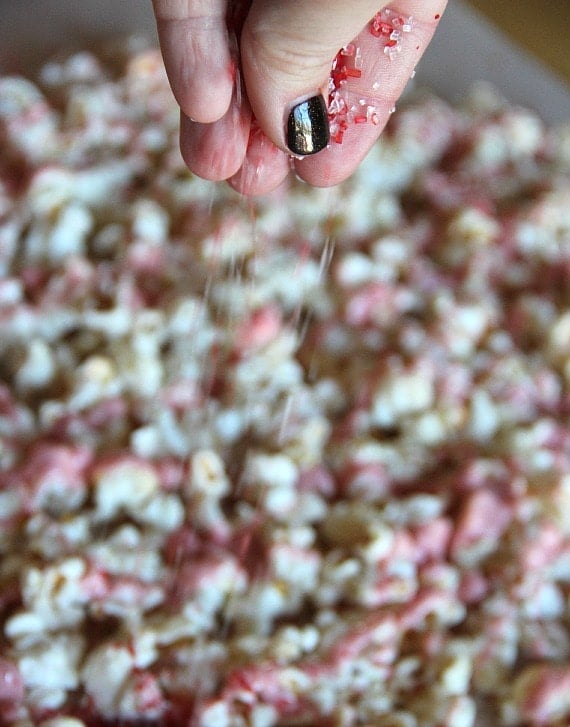 Just let it set up and then dig in!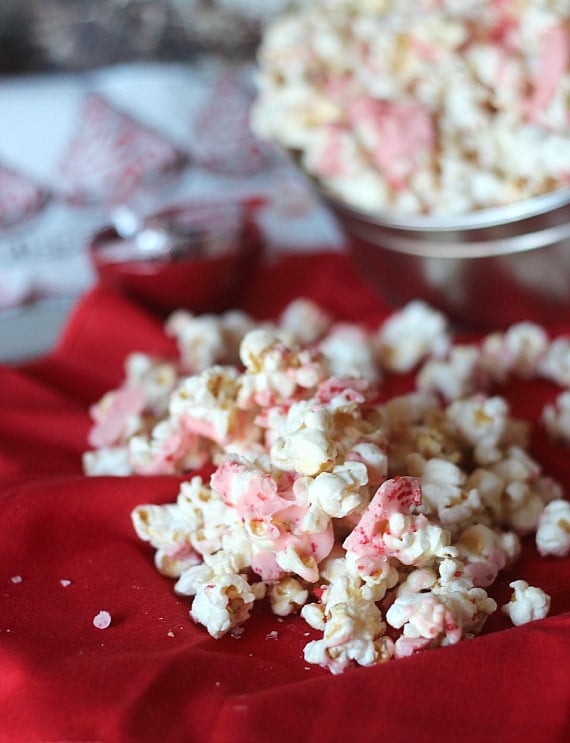 Print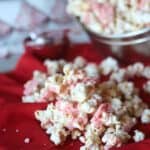 Candy Cane Kiss Kettlecorn
---
1/2 cup

popcorn kernels

1/3 cup

sugar

1/4 cup

vegetable oil

1 tsp

kosher salt

1

(10 oz) bag Hershey's Candy Cane Kisses, unwrapped
*optional 2-3 Tbsp red sprinkles, or coarse sugar
---
Instructions
In a large pot (have the lid handy) heat your vegetable oil over medium-high heat.
Place 3 kernels in the pot until they pop so you know the pan and oil are hot enough to add all the kernels.
When your "test" kernels pop, Add in the popcorn and sugar, stirring quickly until coated. Cover the pot and immediately start shaking the pot back and forth, keeping the kernels moving in the hot pan so they don't burn, occasionally lifting the pan off the burner, while shaking.
Allow the kernels to pop, this will take about 1-2 minutes and when the popping slows to about 1 second in between pops immediately remove from heat, continuing to shake the pot, and empty onto a large baking sheet, to stop the cooking. Immediately sprinkle with salt. This will all happen very fast and I suggest you use pot holders on your hands while shaking the pot, as the pot and lid will get very hot.
Now line a counter with wax or parchment paper and transfer all your kettle corn onto the lined counter in a single layer.
Over a double boiler melt your unwrapped Candy Cane Kisses.
Once melted, drizzle over kettle corn evenly.
Sprinkle with coarse sugar or sprinkles, if desired.
---
Notes
Store in an airtight container for up to 2 days.
Want To Save This Recipe?