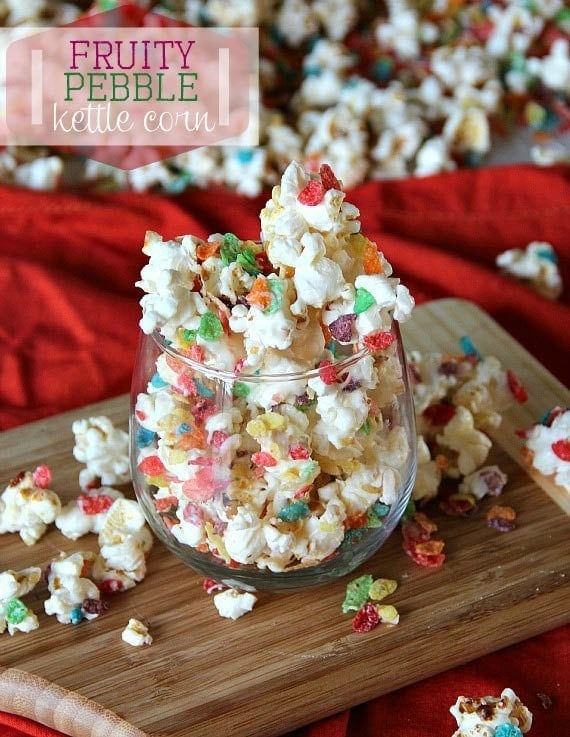 So I went to my kid's school today to volunteer in the library.
I use this time to spy on my children.
It's a little like National Geographic, examining them in their natural habitat.
As a parent it's totally necessary to spy.
And really if I wasn't there today in the library I wouldn't have heard my child get ASKED OUT!! THAT HAPPENED TODAY!
I will remind you he is in 4th grade.
Because I am almost 99% sure he would have failed to mention this when he came home…
I honestly do my best to bombard my children with loads of questions everyday when they get off the bus, "How'd it go?", "How was lunch?", "Who'd you play with at recess?", "Was math fun?" (I just throw that one in there.)
Never once did I think to ask, "Who asked you out today?"
Of course as soon as I heard the girl, I stopped and held my breath, waiting for his response, "No, I don't date anyone except my mom".
But he DIDN'T SAY THAT!
He looked at the girl and shrugged and then walked away.
I felt all at once glad my child left the situation girlfriend-less and completely embarrassed he left her hanging…the worse thing that could possibly ever happen for a girl. Ever. Ever.
Despite the immediate commands I give to my children everyday, forbidding them to grow any bigger, they continually disobey me.
Now I have to worry about girls too.
How am I ever going to manage?
So to quell the emotional turmoil I felt after the library incident, I came home, made and ate this kettle corn.
Made. and. ate.
Then I had a stomach ache on top of a broken heart.
Yes, I am dramatic.
But I have to say, it might have been the happiest stomach ache ever, thanks to this, my new favorite treat in all the world: Fruity Pebble Kettle Corn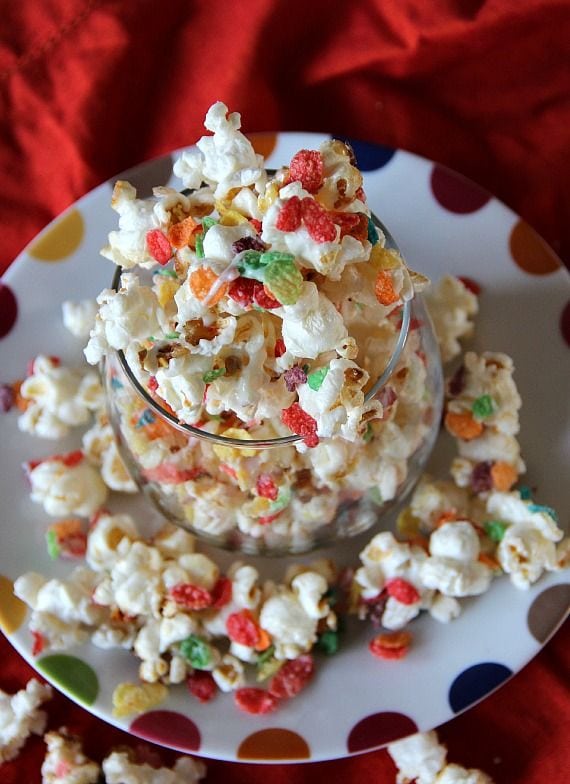 I'm not kidding you when I say you need to make this.
I was a little scared to attempt my own kettle corn.
But it was totally easy and incredibly delicious!
Let me walk you through the steps…
Get 1/3 cup sugar and 1/2 cup popcorn kernels ready…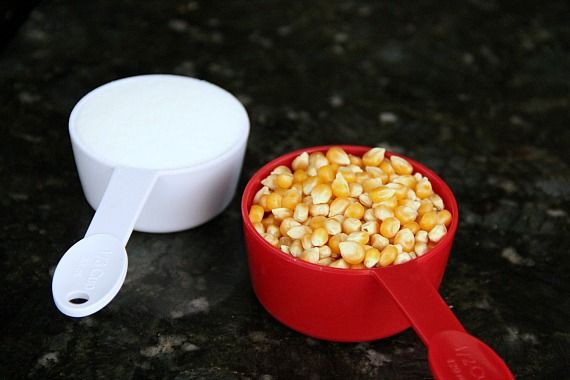 In a large, fairly deep pan (at least 3″ deep) add some vegetable or canola oil and heat on medium-high heat.
Throw in a few kernels and wait for them to pop, so you know your oil is hot enough…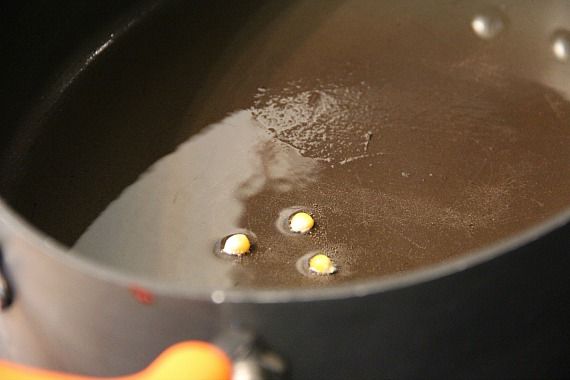 Once they've popped, pour your popcorn kernels and sugar into the pan and stir quickly to coat all the kernels.
Immediately put a lid on the pan and start shaking it back and forth, so your kernels don't burn. Every few seconds lift the pot off the burner, continuing to shake…keep shaking for 1-2 minutes until the popping slows.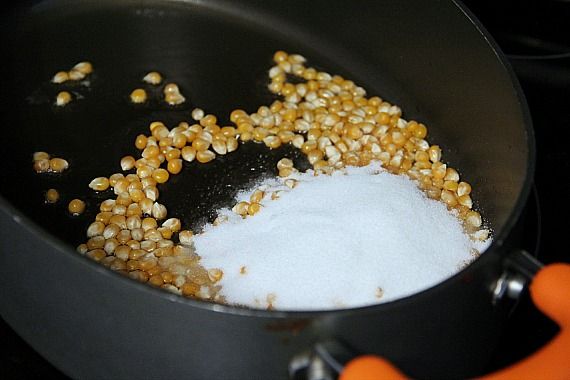 Remove from heat immediately, continuing to shake and spread on a large cookie sheet or parchment paper lined counter to stop the cooking process. Sprinkle immediately with salt.
Here's the thing, this will BURN FAST! SO shake it til your biceps can't shake no more and get it off the heat AS SOON AS THE POPPING SLOWS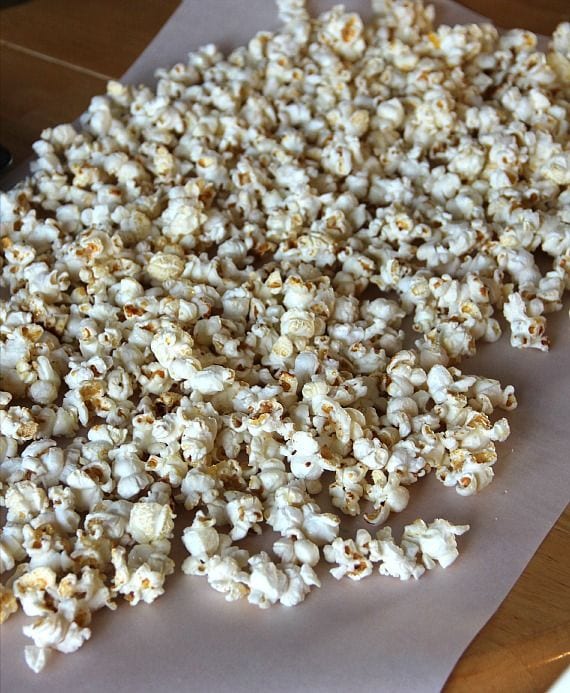 Now you can totally stop there. And trust me, once you start "sampling" you might not be able to stop…
But really you should take it to the next level.
Heat some white almond bark in the microwave until melted. I like the almond bark for this instead of white chocolate because it sets much faster.
Drizzle that all over your kettle corn…
Then immediately sprinkle your Fruity Pebbles on the almond bark.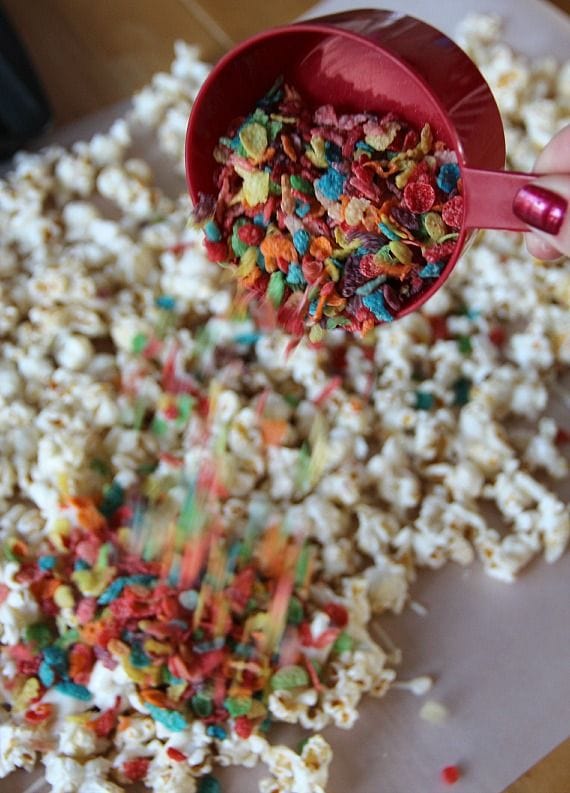 Then just let it set up…it will only take 10 minutes or so. The almond bark sets fast!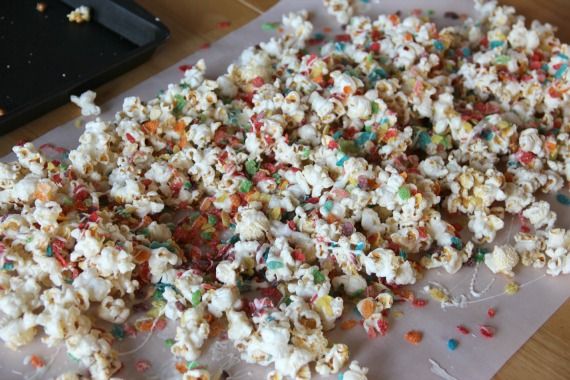 Then really…go ahead and emotionally eat the heck out of it.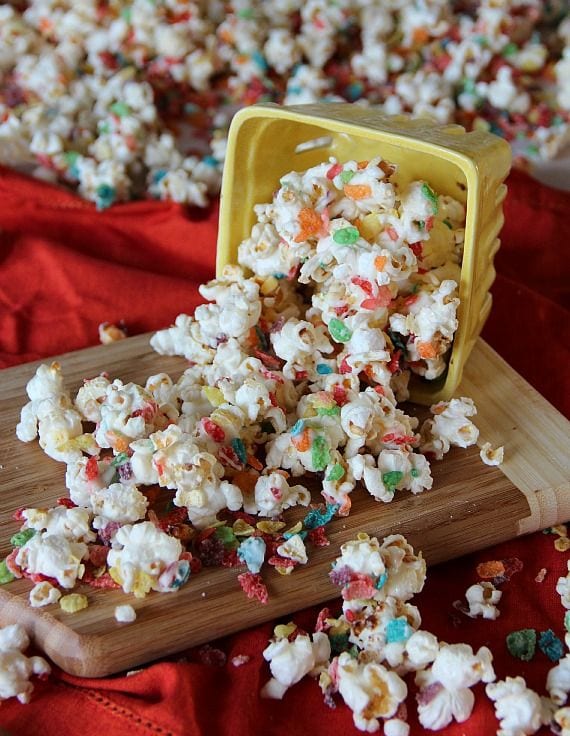 Print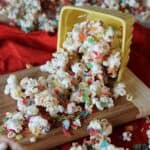 Fruity Pebble Kettle Corn
---
Description
Makes about 16 cups of popcorn
---
1/2 cup

popcorn kernels

1/3 cup

sugar

1/4 cup

vegetable oil

1 tsp

kosher salt

6 oz

white almond bark

2 cups

Fruity Pebble Cereal
---
Instructions
In a large pot (have the lid handy) heat your vegetable oil over medium-high heat.
Place 3 kernels in the pot until they pop so you know the pan and oil are hot enough to add all the kernels.
When your "test" kernels pop, Add in the kernels and sugar, stirring quickly until coated. Cover the pot and immediately start shaking the pot back and forth, keeping the kernels moving in the hot pan so they don't burn, occasionally lifting the pan off the burner, while shaking.
Allow the kernels to pop, this will take about 1-2 minutes and when the popping slows to about 1 second in between pops immediately remove from heat, continuing to shake the pot, and empty onto a large baking sheet, to stop the cooking. Immediately sprinkle with salt. This will all happen very fast and I suggest you use pot holders on your hands while shaking the pot, as the pot and lid will get very hot.
Now line a counter with wax or parchment paper and transfer all your kettle corn onto the lined counter in a single layer.
In a microwave safe bowl melt your almond bark. Heat in 30 second increments, stirring after each until melted.
Drizzle this over the kettle corn.
Immediately sprinkle the Fruity Pebbles on top of the almond bark and stir to coat.
Let the almond bark set up and enjoy!
---
Notes
Store in an airtight container for up to 2 days, but best if eaten the same day.
Kettle corn process adapted from All Recipes
Want To Save This Recipe?