Chocolate Chip Cream Cheese Marshmallow Cookies
These Chocolate Chip Cream Cheese Marshmallow Cookies are so ooey-gooey delicious! They have a hidden marshmallow inside of a thick chocolate chip cookie topped with sweet cream cheese frosting!
These cookies should basically be their own food group they are so good. I know…in a perfect world, right?
The unfortunate thing about these cookies is if I eat too many, my jeans get all angry at me.
Blah.
Annnnd my husband found a pair of my "super stretch" jeans on the floor and picked them up and was able to squeeze into them, which he thought was hilarious, and I thought it was maybe the least funny thing to ever happen in history.
So yes, these cookies sosososososo good. But I only ate a few. Because jeans.
However, I encourage you to make and eat the entire batch. Because it's been proven that you will appear skinnier if you surround yourself with less-skinny people.
And it's officially-official that I am not a nice friend.
On a side note, I think "hidden marshmallows" should be a thing in all food. Like a scavenger hunt or something.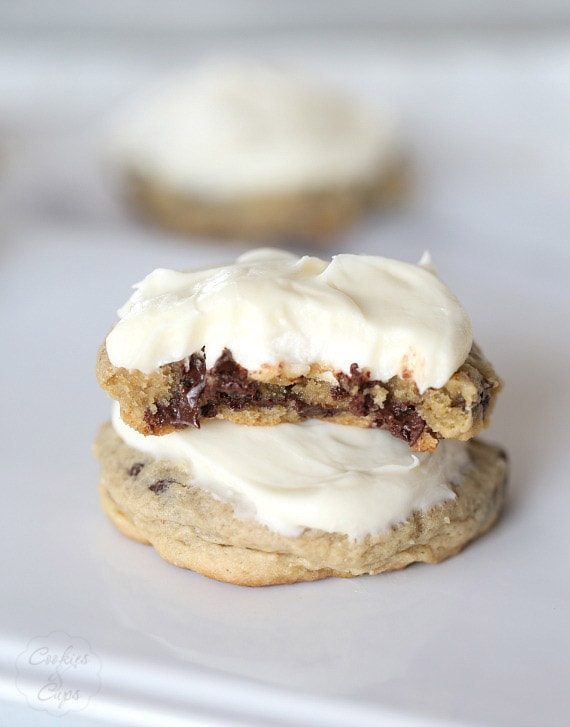 I made the chocolate chip cookie base a little different than usual. I wanted the cookie to be thick, but not cakey.
I added in some corn starch to help…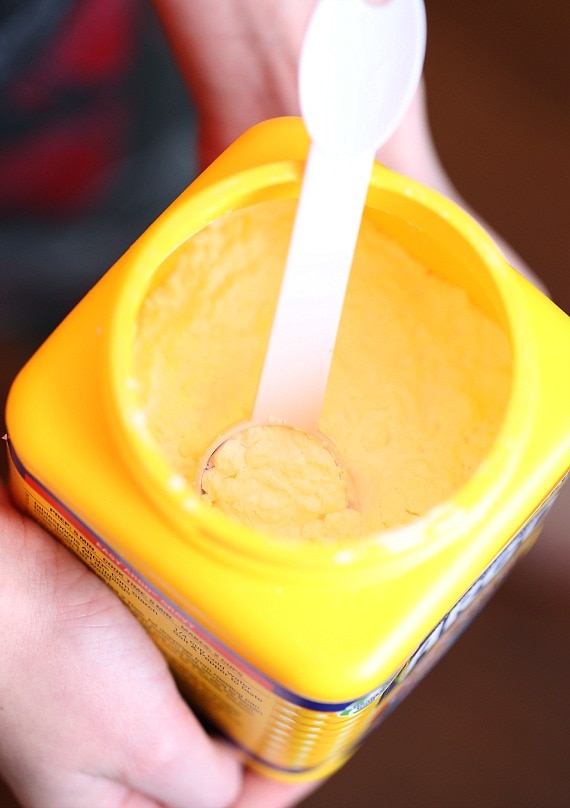 I had a helper making these cookies! I always seem to have lots of helpers when the chocolate chips come out…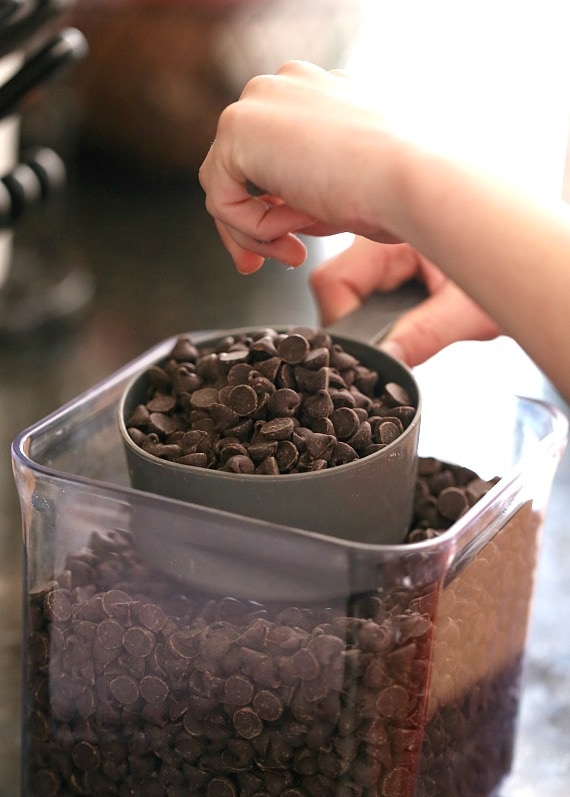 Here's the dough…I used a cookie scoop when I portioned them out on the baking sheet…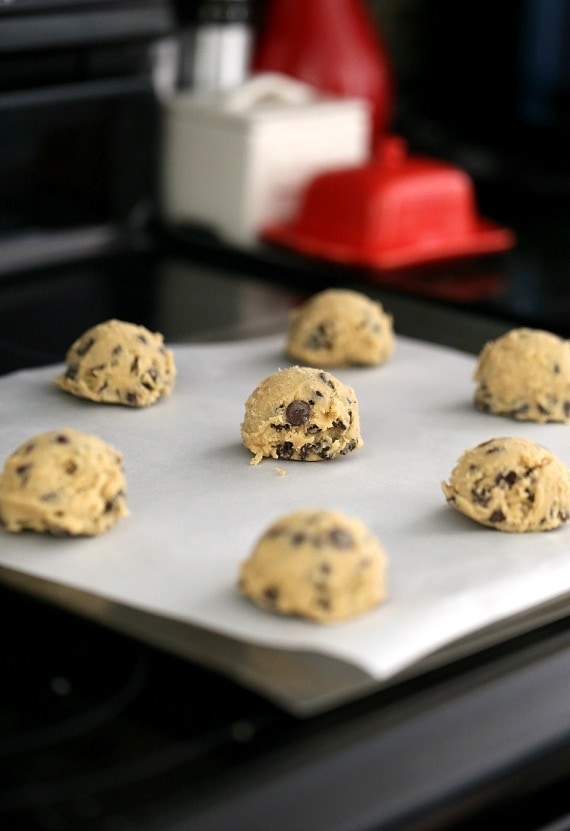 While the cookies are baking cut large marshmallows in half.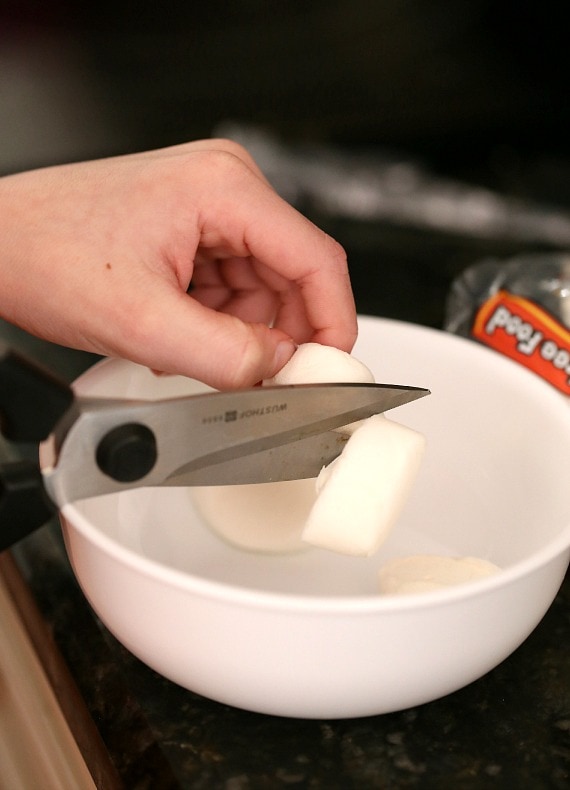 And when the cookies are *almost done, pull them out and gently press them into the cookie…
You want the cookies to be slightly golden at the edges, but not cooked all the way through. This will help them stay soft and chewy, but keep the height and thickness.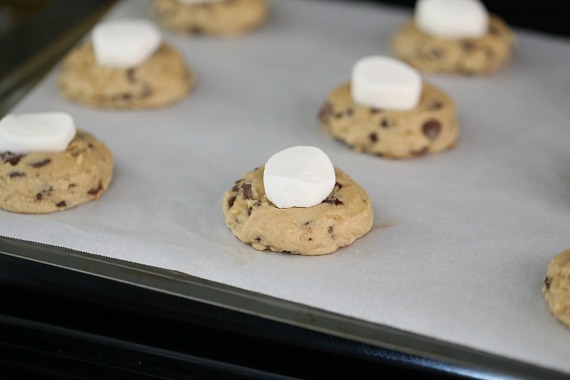 Bake them for a few more minutes, until they puff up, but not until they get toasty.
And allow them to cool completely before frosting.
The frosting is a simple cream cheese frosting. So yummy and creamy!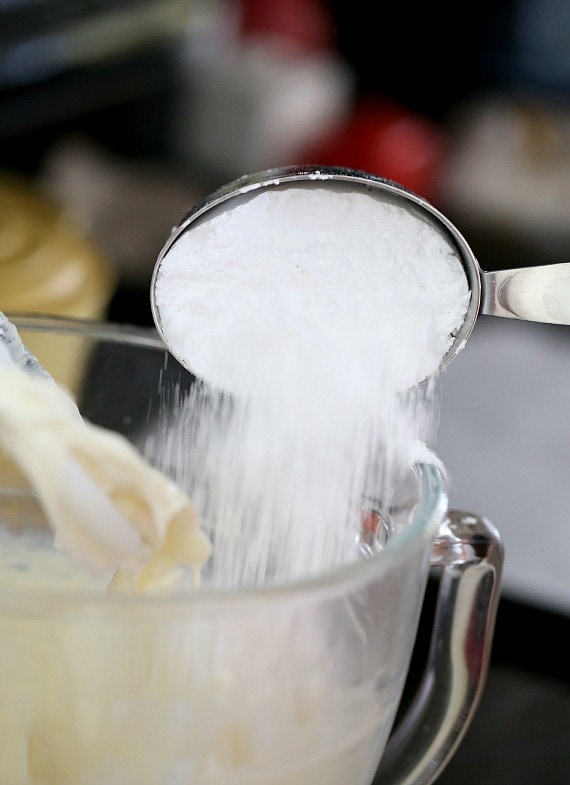 When the cookies are cooled go ahead and spread a heaping tablespoon amount on each cookie, covering the marshmallow completely.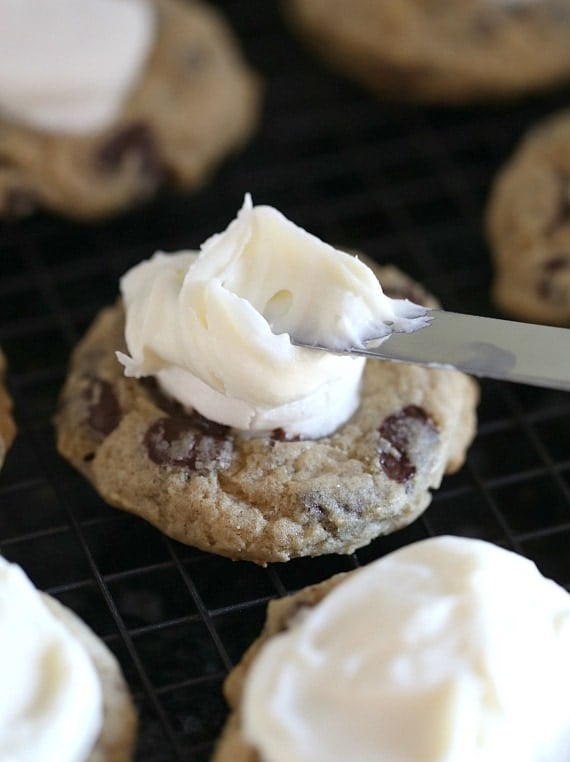 How fun are these?!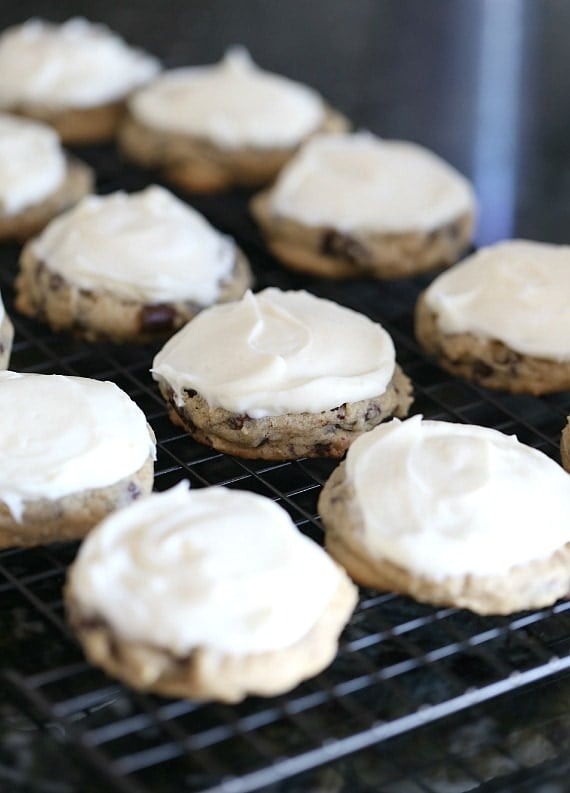 The concept is super simple, but they are really impressive cookies, doncha think?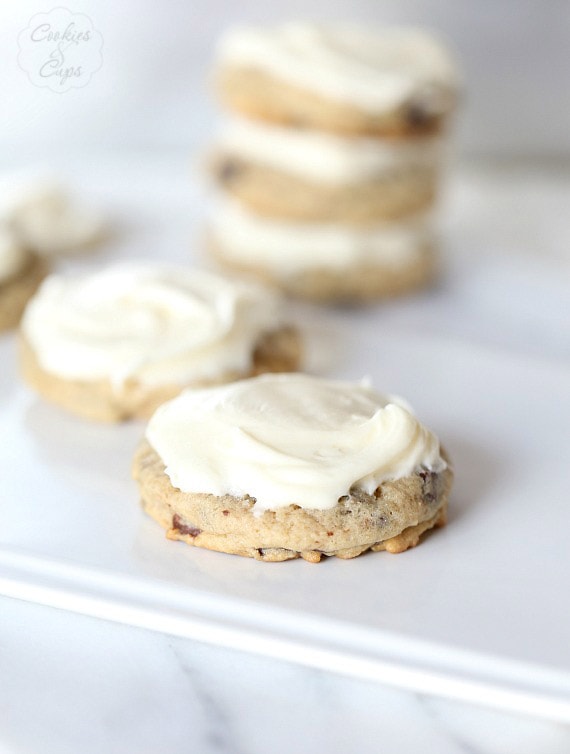 Here are some other fun marshmallow cookies that inspired me:
Chocolate Peanut Butter Marshmallow Cookies
Red Velvet Marshmallow Dream Cookies
Print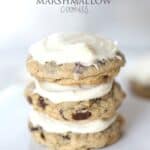 Chocolate Chip Cream Cheese Marshmallow Cookies
---
Description
makes 20 cookies
---
Ingredients
Cookie
1/2 cup

butter, room temperature

3/4 cup

light brown sugar

1

egg, +

1

yolk

1 tsp

vanilla

1/2 tsp

baking soda

1 tsp

kosher salt

1 tsp

corn starch

2 cup

s flour

1 1/2 cup

s chocolate chips

10

large marshmallows, cut in half
Frosting
8 oz

cream cheese, room temperature

1/2 cup

butter, room temperature

3 cup

s powdered sugar
---
Instructions
Preheat oven to 350°
Line a baking sheet with parchment paper and set aside.
In bowl of stand mixer beat butter and brown sugar until light and fluffy, about 2 minutes. Add in egg, extra yolk and vanilla, mix until combined, scraping sides as necessary.
Add in baking soda, salt and cornstarch, beating until incorporated. Finally add in the flour, mixing until dough comes together.
Stir in chocolate chips.
Drop large scoops of dough onto baking sheet and bake for 8 minutes. Remove from oven and press a marshmallow half gently on to each cookie. Return to oven for another 2 minutes until marshmallow is slightly puffed, but not toasted. Cookies should be slightly golden at the edges, but not cooked all the way through.
Cool on wire rack completely.
Frosting
Beat butter and cream cheese together until smooth. Slowly add powdered sugar and mix until combined and smooth, with no lumps.
Spread a heaping tablespoon of frosting onto each cookie, covering the marshmallow.
---
Notes
Best if eaten same day.
Store airtight in refrigerator, if not eaten same day. Allow to come to room temperature before eating.