These Salty Nutella Cigars are out of control delicious. They're buttery, rich, crispy and salty in every bite!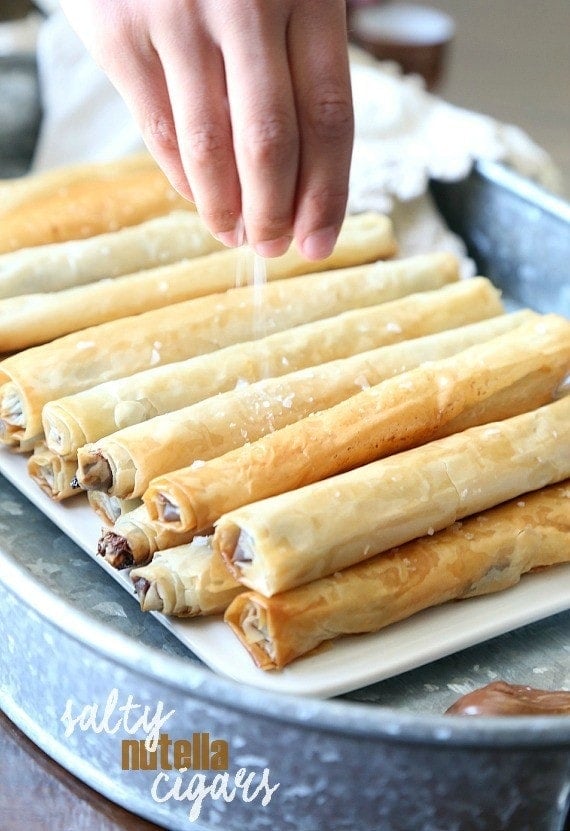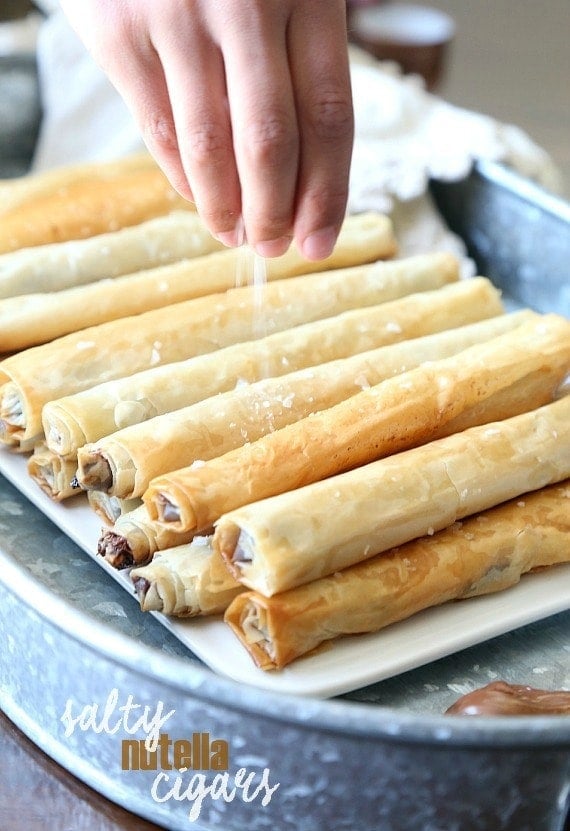 I am so crazy excited about today's recipe. These are such simple treats, that are insanely delicious and super impressive! The only thing is they aren't very cute. I mean, they look like a taquito or something you expect to be filled with ground beef.
Sorry about that.
Anyhow, let's get past the look of it all and focus of the ridiculously crispy, buttery, salty exterior and the creamy chocolaty filling. It's all just so perfect together.
There are only a few ingredients necessary, and these are the perfect way to use up that extra package of phyllo dough you have in your freezer.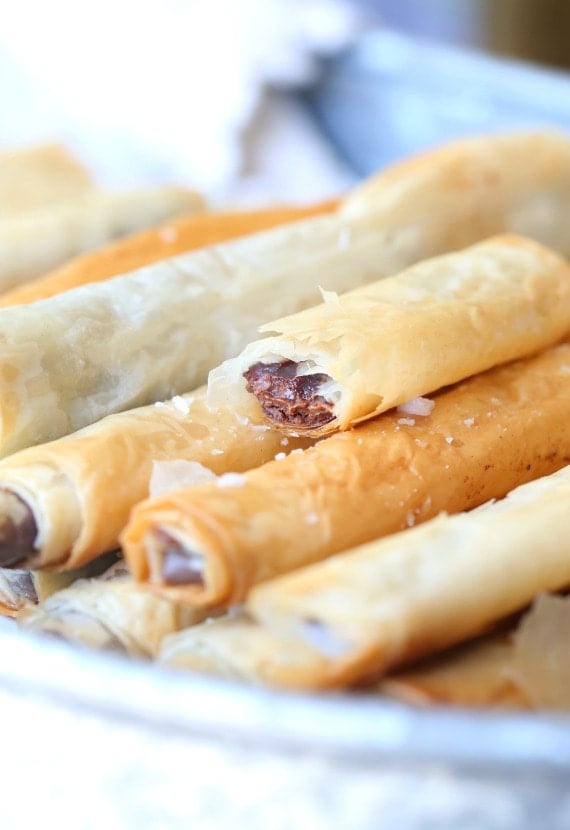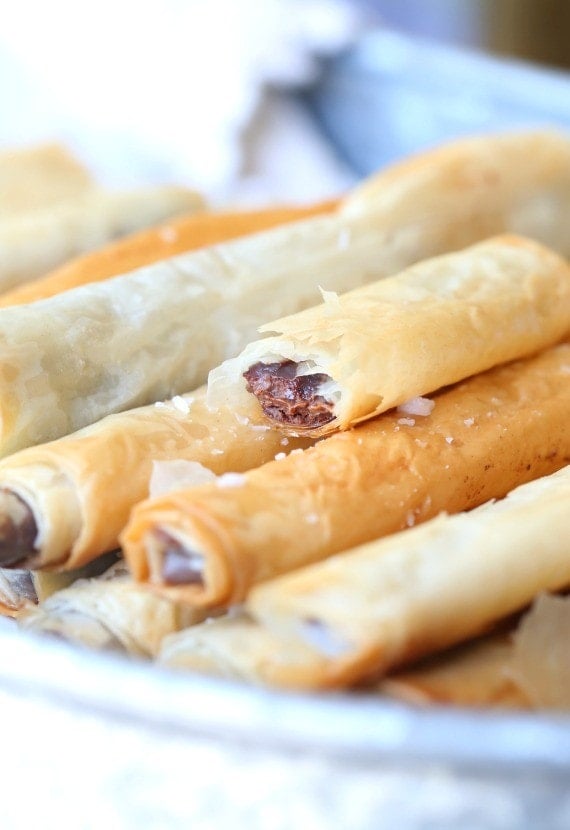 I honestly can't say enough about these treats. You need them in your life asap.
They're basically the perfect pastry without the huge effort!
Well, let me take that back…these do take a little effort, but I promise it's nothing you can't handle. It's even a super fun treat to get the kids involved in. You really can't mess them up…just get out all your supplies ahead and create a little work station.
You'll want to keep the phyllo dough covered with a clean dish towel. I even like to dampen it ever so slightly and wring it out well and use that to cover the phyllo. It's dries out SO fast, and becomes brittle, so make sure not to skip that step!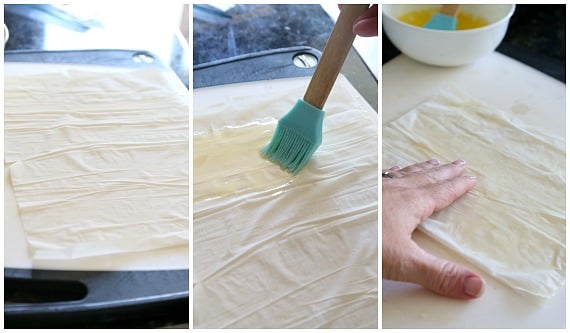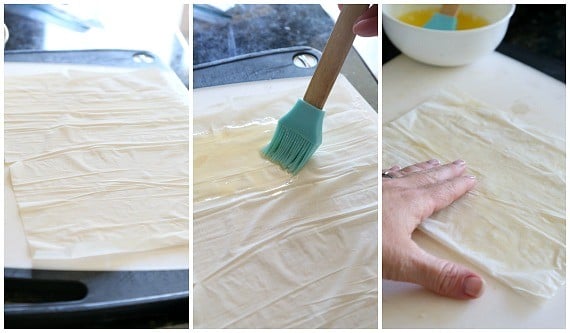 Just lay out one sheet at a time. Brush butter on half the sheet and then fold the other half on top. The butter works like a glue. A delicious glue.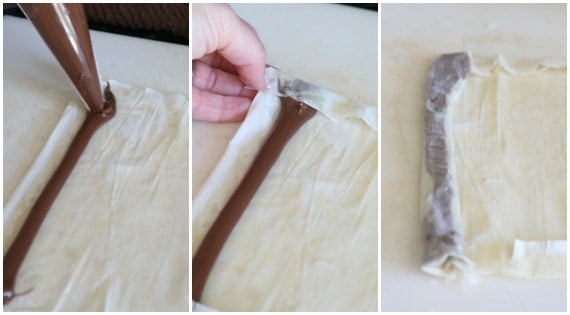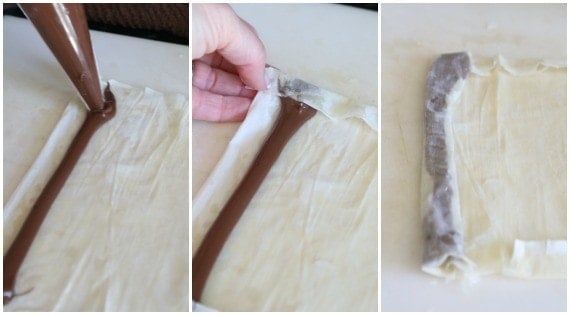 Then pipe a strip of Nutella onto the edge of the dough. If you don't want to pipe it you can spread it on…but piping it is SO much easier. Even if you just use a zip-top bag with the corner snipped off.
Then fold the edges over the ends, like a burrito so the Nutella doesn't squeeze out. Then tightly roll it up.
Brush a little more butter on the edge to seal it so the roll stays closed.
Place them all on a lined baking sheet and I like to brush them all with a bit more butter. Because why not?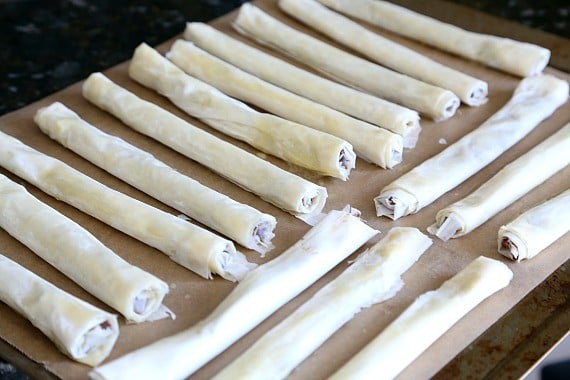 When they are baked they will look so perfect!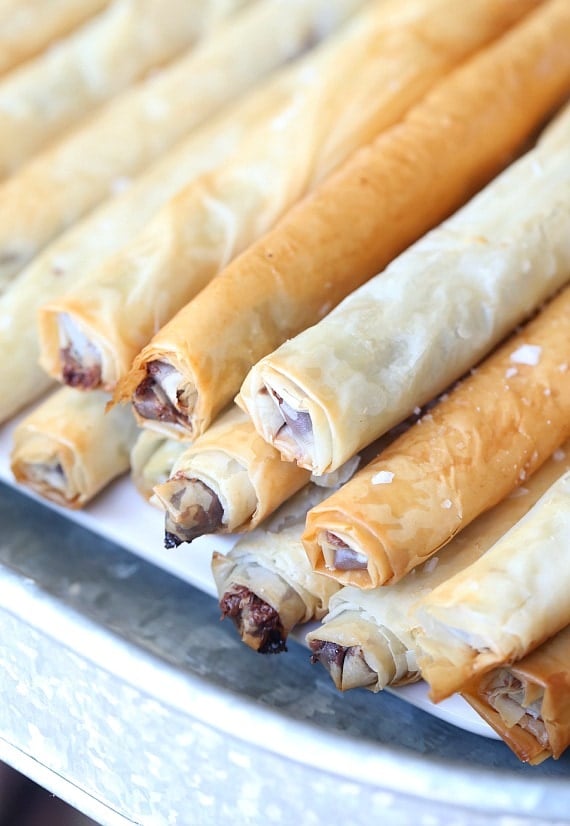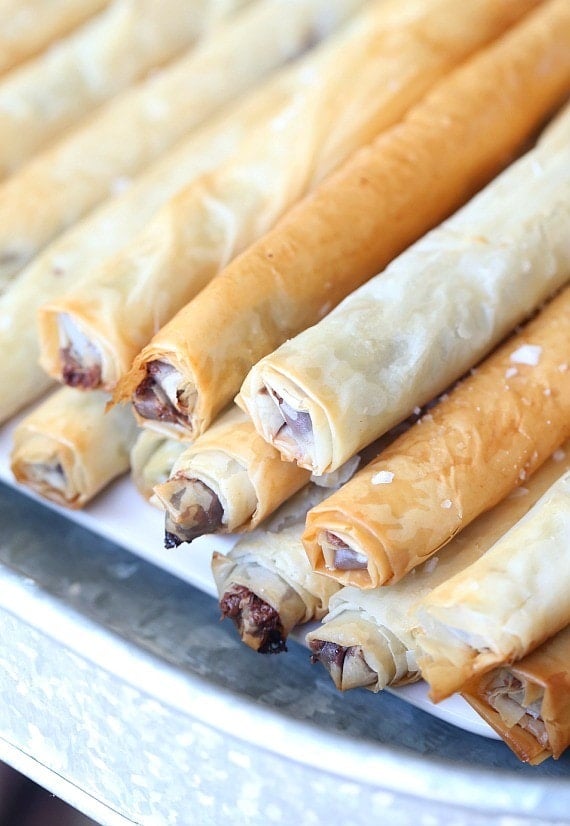 And like I said, I like to sprinkle them with a bit of flaked sea salt to make it extra extra.
They're so crispy and flaky I can't even stand it.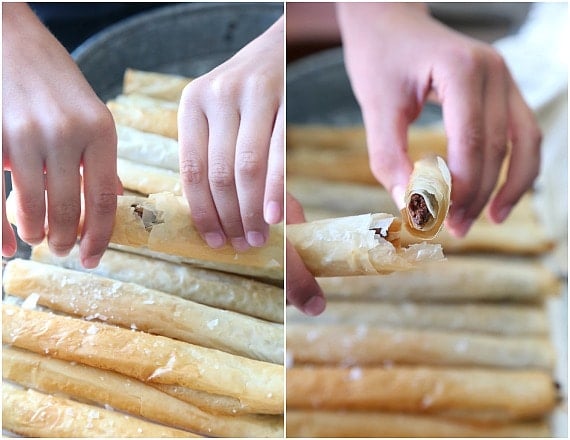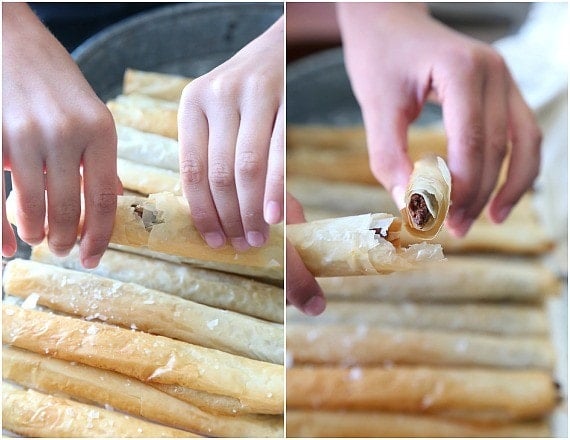 Your family and friends are going to go crazy for these. Mine did.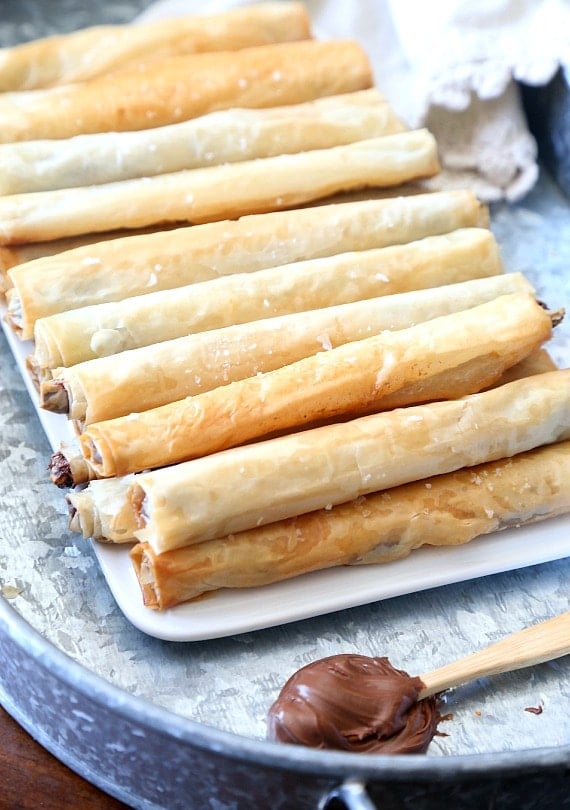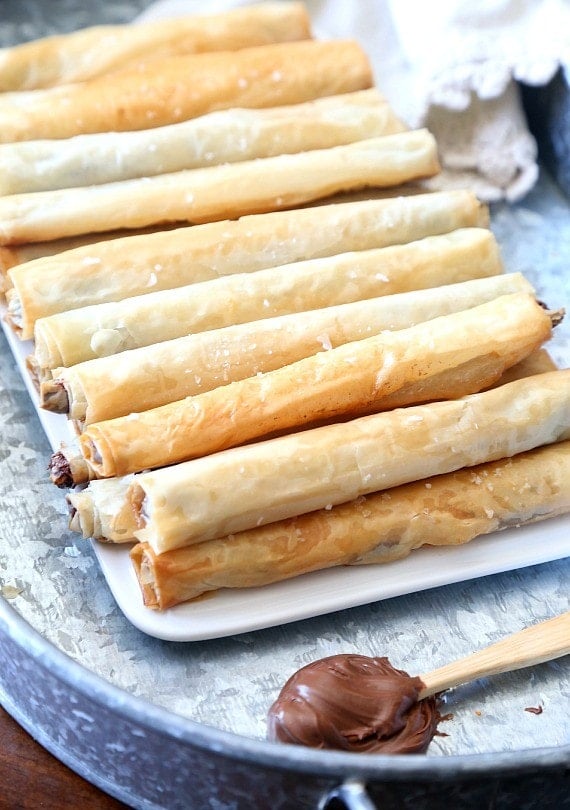 There won't be one left if you serve these at a party!!
Also, don't feel like you have to use Nutella…any spread of your choice would work wonderfully!
Think about a salty peanut butter, a Biscoff or Cookie Butter filled "cigar" or even chocolate chips! Get creative!
Print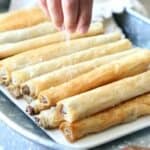 ---
1 1/2 cups

Nutella spread

1

(8 ounce) package phyllo dough, thawed according to package directions

3/4 cup

butter, melted
optional ~ flaked sea salt
---
Instructions
Preheat the oven to 400°F/200°C
Line a baking sheet with parchment paper and set aside.
Scoop Nutella into a large piping bag, or gallon sized zip-top bag and snip the corner off.
Unwrap thawed phyllo dough and cover it with a slightly moist clean kitchen towel. Phyllo dries out very quickly, so keeping it covered while you're working is essential.
Place one sheet of phyllo dough on your work surface carefully. Using a pastry brush, brush melted butter on one half of the phyllo and fold the other half on top. The butter works like a glue and holds the sides together. Pipe a strip of Nutella down one side of the dough, leaving 1/2 inch at the top and the bottom. Fold the Nutella up at the ends (so it doesn't squeeze out) and then tightly roll the phyllo into a tube. Lightly brush the end with butter so the end stays sealed.
Place the "cigar" onto the baking sheet and lightly brush with a little more butter.
Repeat this process with all the sheets of phyllo.
Bake the "cigars" for 8-10 minutes until golden brown.
Sprinkle lightly with sea salt flakes if desired.
---
Want To Save This Recipe?