Ok, this stuff is ridiculous…Praline Crack is what I call it because there is no other name suitable. It's buttery, sugary, crunchy and chewy Praline Toffee/Bark. I had to expel it from my house immediately for fear I would eat the whole pan!!
I'm sorry for the title of this recipe.
I do understand crack isn't a joke.
I get it.
And honestly having never done crack, I can't compare, certainly.
But I will say that if being crouched in the bathroom hiding from the world looking shifty and scared that someone will catch me is something someone on crack might do, then yes..this is crack-like.
Because that happened. With this stupid treat. Hence the name Praline Crack.
AND I have the sweats and shakes right now because I don't have a piece. So there's that.
The recipe is basic, and a twist on that Christmas Crack everyone loves. But better. Sorry, it is.
I've had Christmas Crack and it's delicious, but not withdrawal inducing.
So anyway, let's talk particulars. What you have here is buttery, brown sugary, chewy, crunchy, ridiculously addicting treat.
It's everything you want it to be.. and more.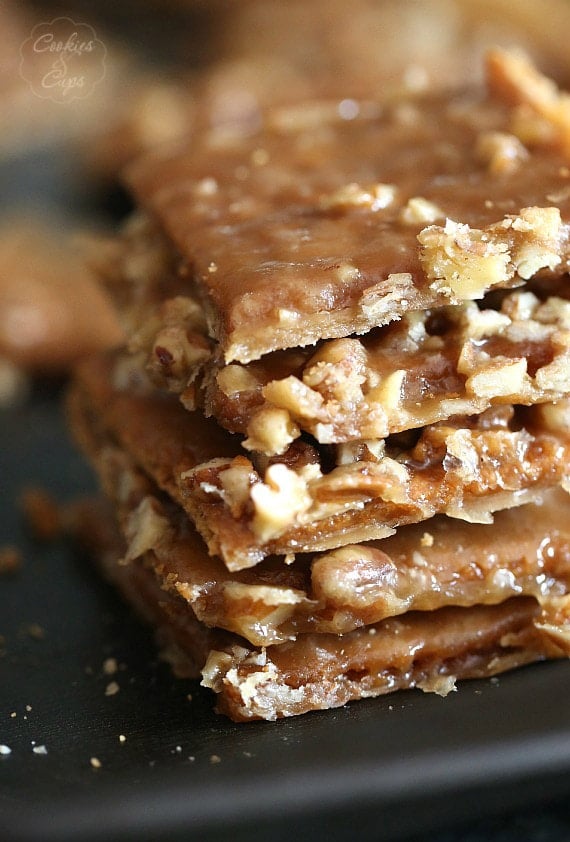 AND it's easy. Basically fool-proof.
Just line your graham crackers on an ungreased jelly roll pan.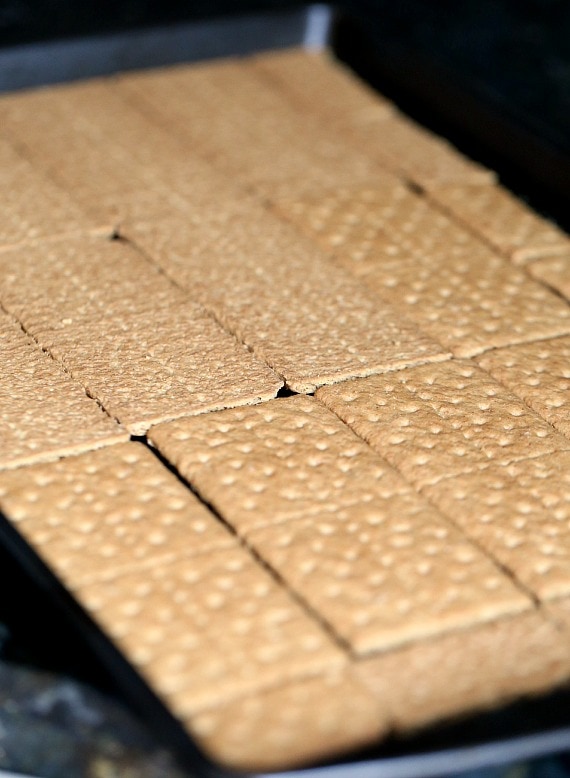 Then melt some butter and sugar together until it comes to a boil. Let it boil for 2 minutes, stirring constantly.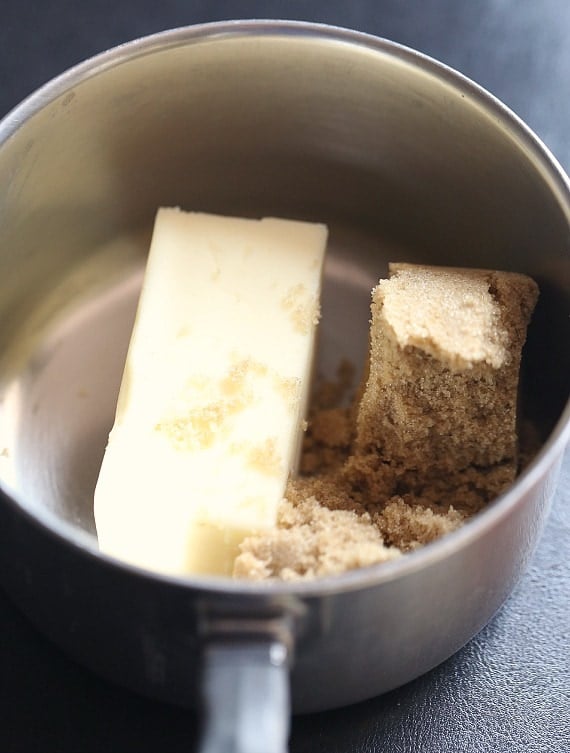 Also, have some chopped pecans on hand..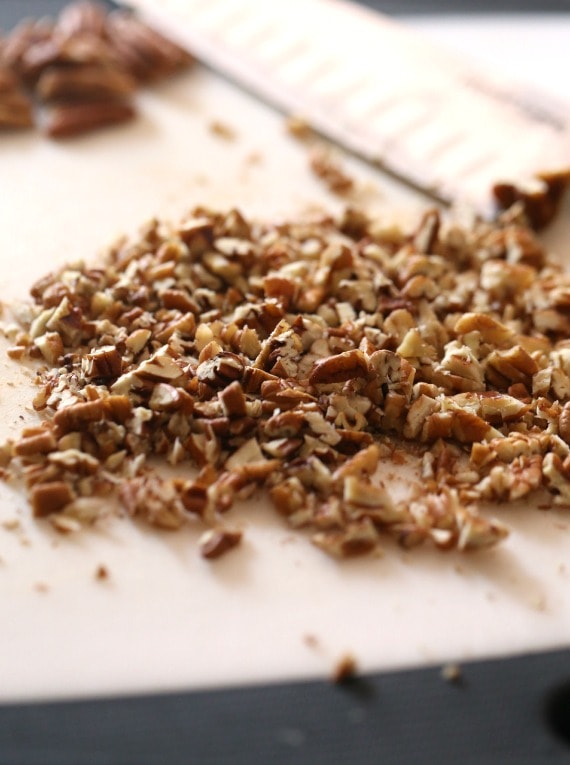 Then pour that delicious butterscotch sauce over top of the graham crackers.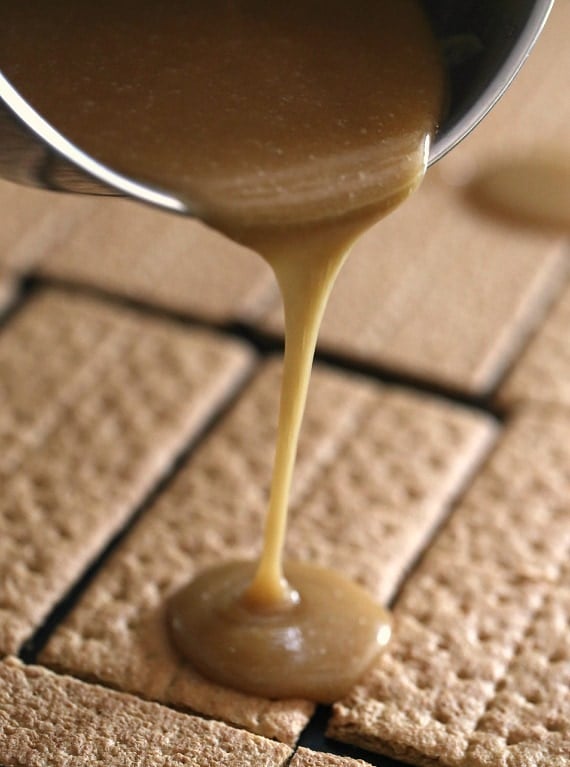 Spread it evenly all over…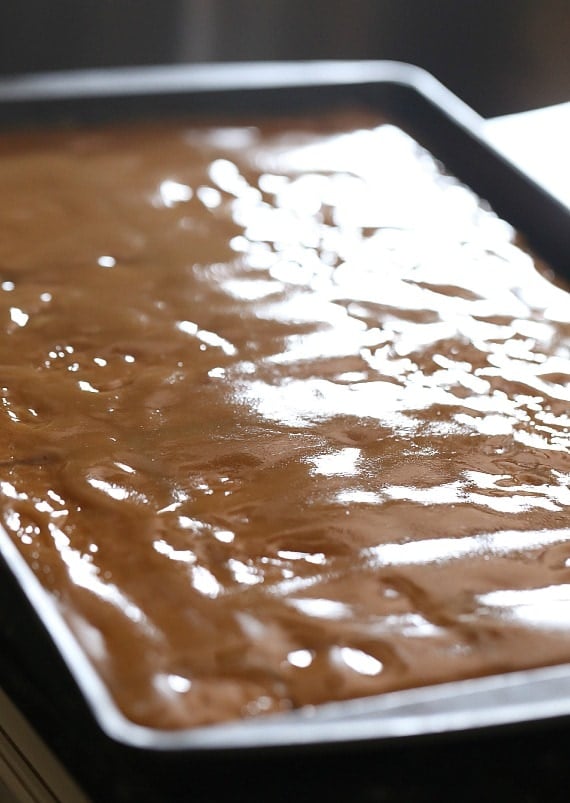 Then sprinkle your chopped pecans all up on there…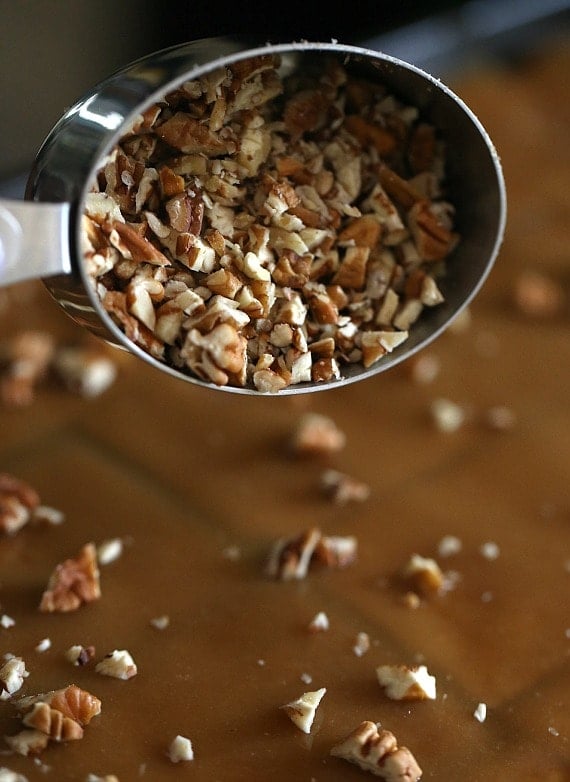 See?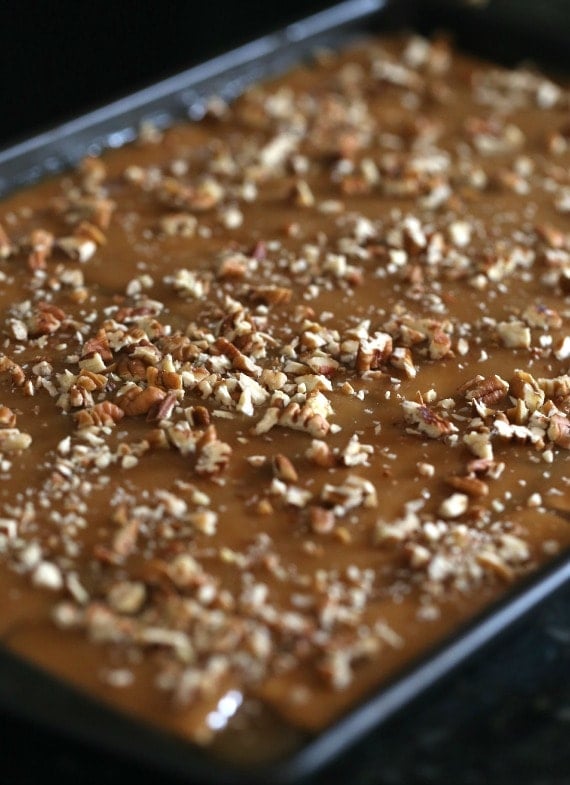 And bake it. You need to let it go until it's bubbly all over, it'll take 12-ish minutes.
The longer it bakes, the crunchier the sauce will get. You're essentially making candy here…but don't let it go too long because it will most definitely burn!
Also, I prefer mine a little softer and less "brittle" than some. My husband prefers it crispier…to each their own.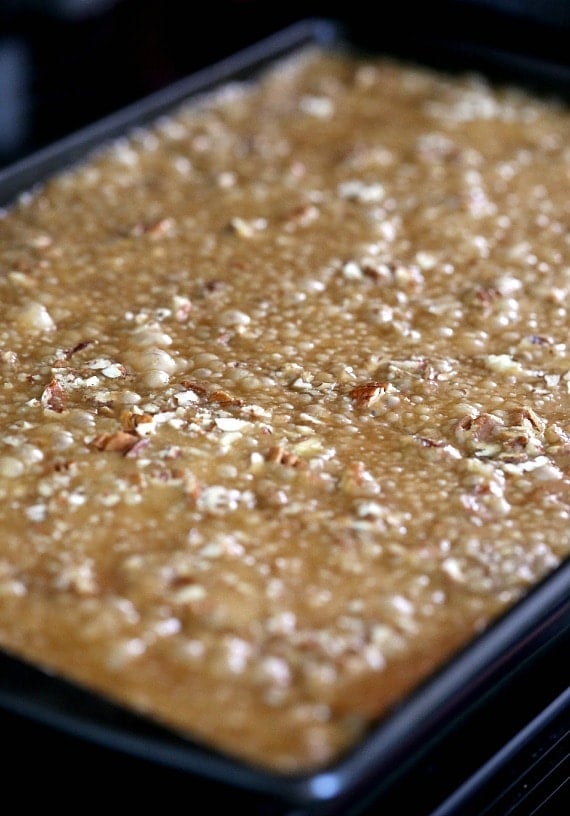 Then let it cool.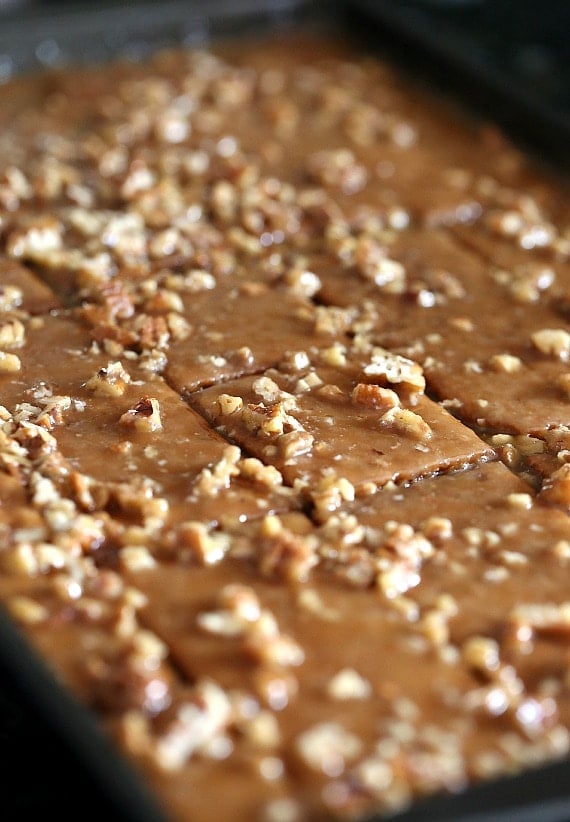 And cut it into pieces. Large pieces, people.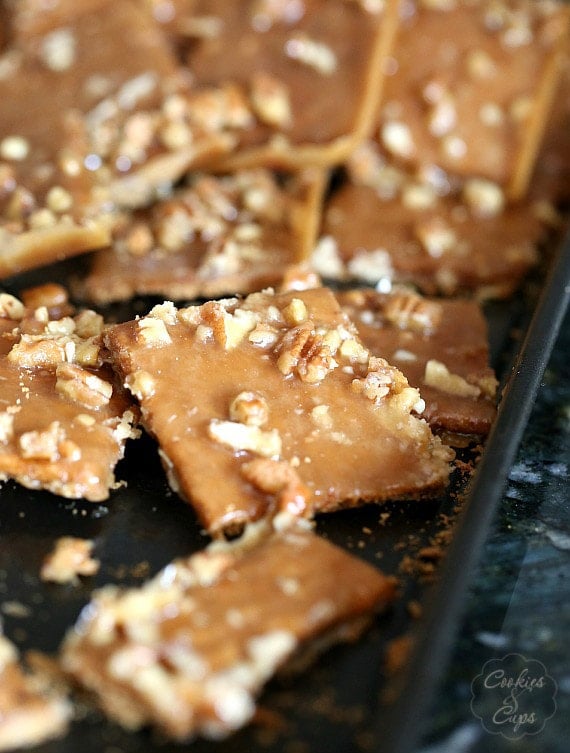 While it might not be the prettiest treat ever, it will absolutely be a favorite.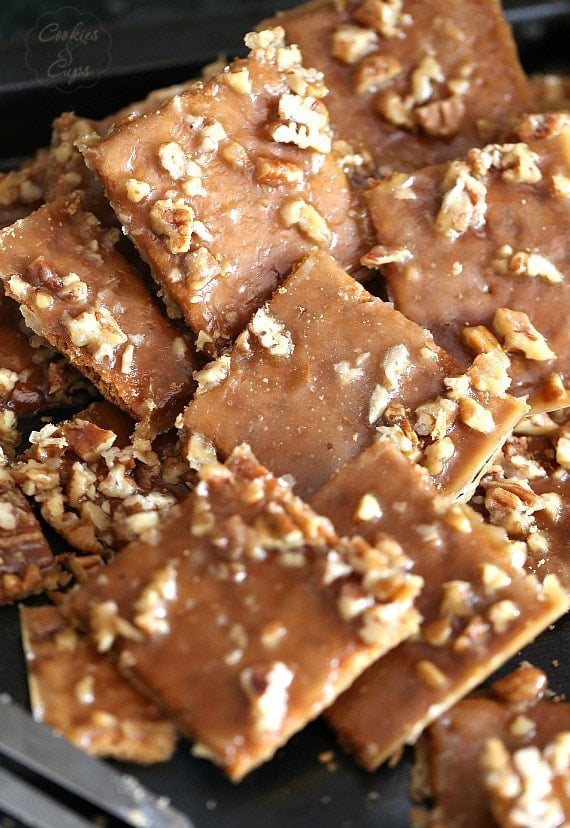 Print
---
Ingredients:
28

graham cracker squares

1 cup

butter

1 cup

light brown sugar

1 tsp

vanilla

1/2 tsp

salt

3/4 cup

chopped pecans
---
Instructions:
Preheat oven to 350°
Line a large ungreased baking pan with sides (jelly roll pan) with graham crackers, breaking in half if necessary to line the pan.
Melt butter and sugar in a small saucepan over medium heat until it comes to a boil. Allow it to boil for 2 minutes, stirring constantly. Remove from heat and stir in salt and vanilla. Pour mixture over top of the graham crackers evenly, spreading to coat.
Sprinkle pecans on top and bake in oven for 10-12 minutes until bubbly all over. If you prefer it a little crunchier, bake for 2 more minutes.
Remove from oven and allow to cool. Cut into squares.
---
Notes:
store at room temperature in airtight container for up to 3 days.
Want To Save This Recipe?
Still in the mood for more Praline?
Try my Praline Brownies…they are INSANELY good!
Save