Praline Bundt Cake is a soft brown sugar bundt cake topped with pourable praline frosting. It's as delicious as you think it might be. Maybe even more!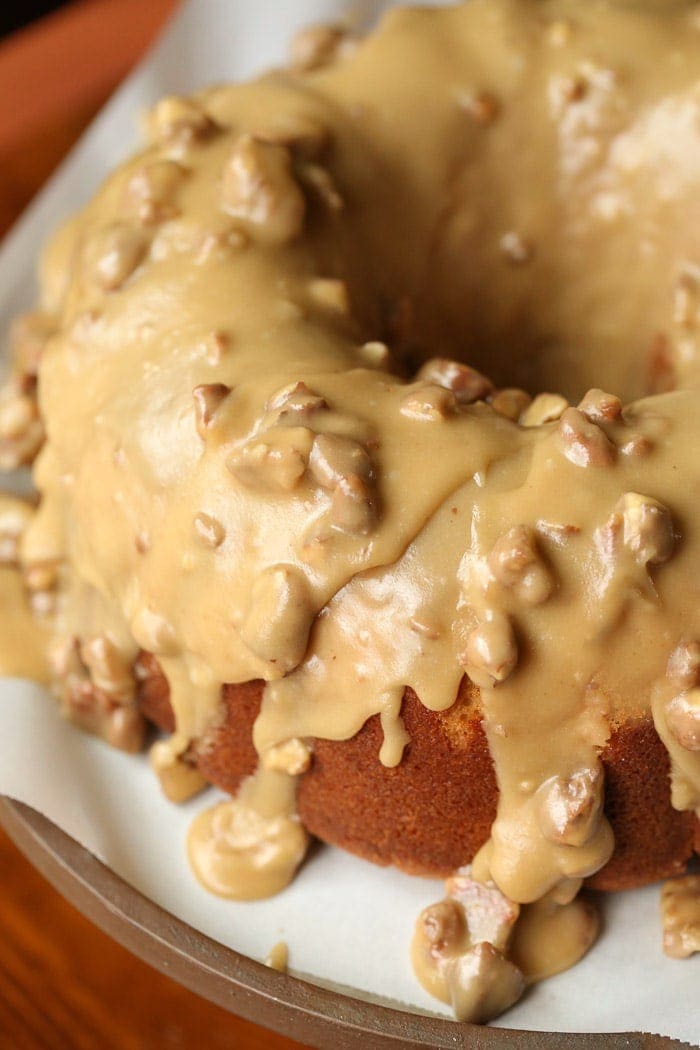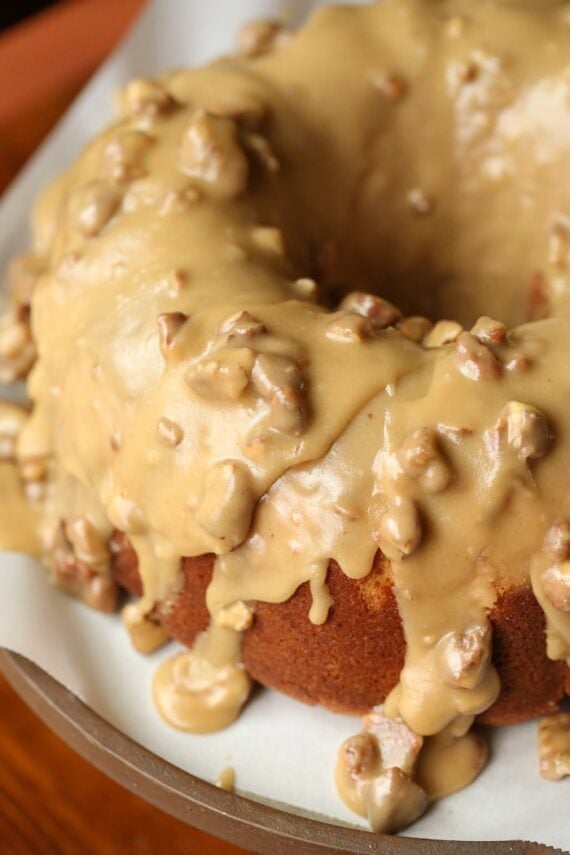 Some desserts don't really need a huge introduction, or a lot of descriptive words to entice you. I feel like the pictures of this cake are more than enough.
And honestly there aren't really words good enough to describe it's perfection. I mean, don't you get bored of hearing SOFTEST! FLUFFIEST! FAVORITEST!? I kinda do.
I know I am equally guilty of this. My life is walking exclamation point, and I need you to be as enthused about things as I perpetually am.
But today I'm taking the less is more approach. Less persuading and more confidence that you will know the next logical step.
Yes. Make the cake.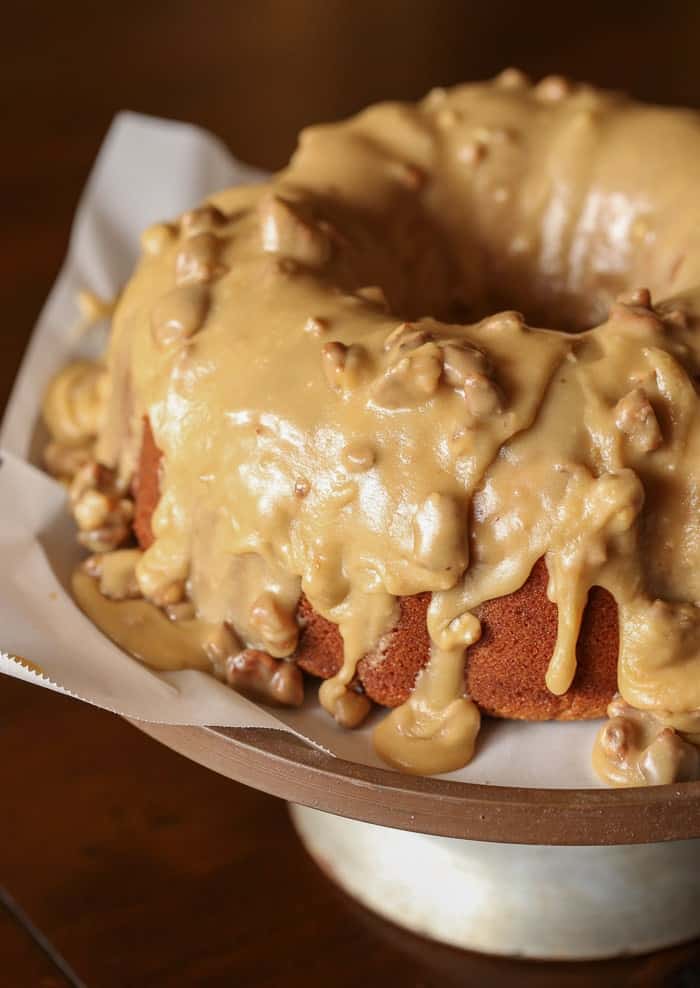 I've been all about my bundt pan lately, although we definitely have a love/hate relationship…more on that in a minute.
The batter is really easy. Just spread it evenly into a well greased bundt pan…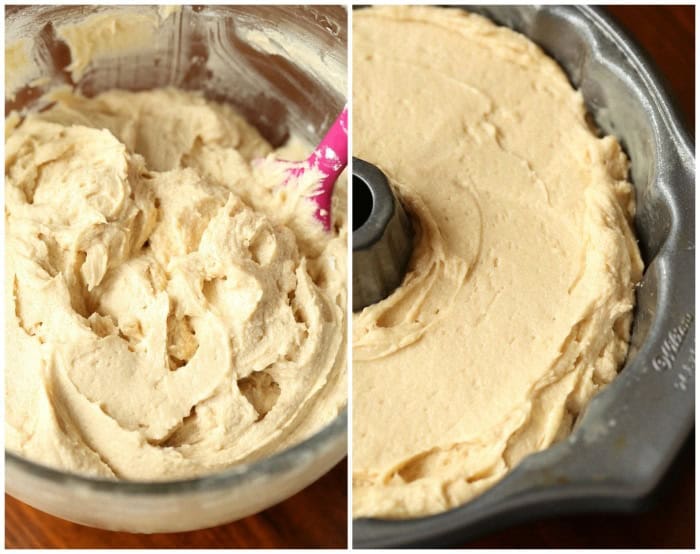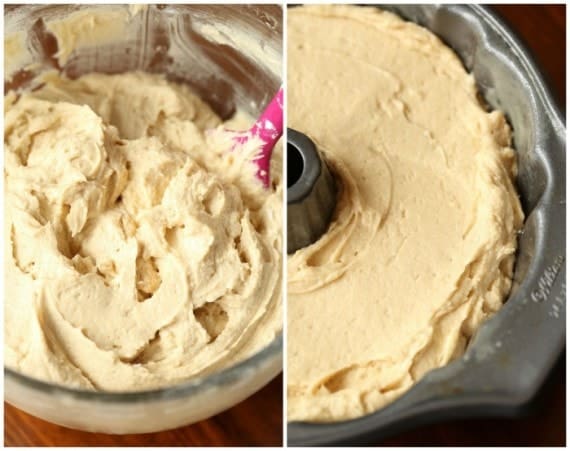 Look how gorgeous it will be when it's done.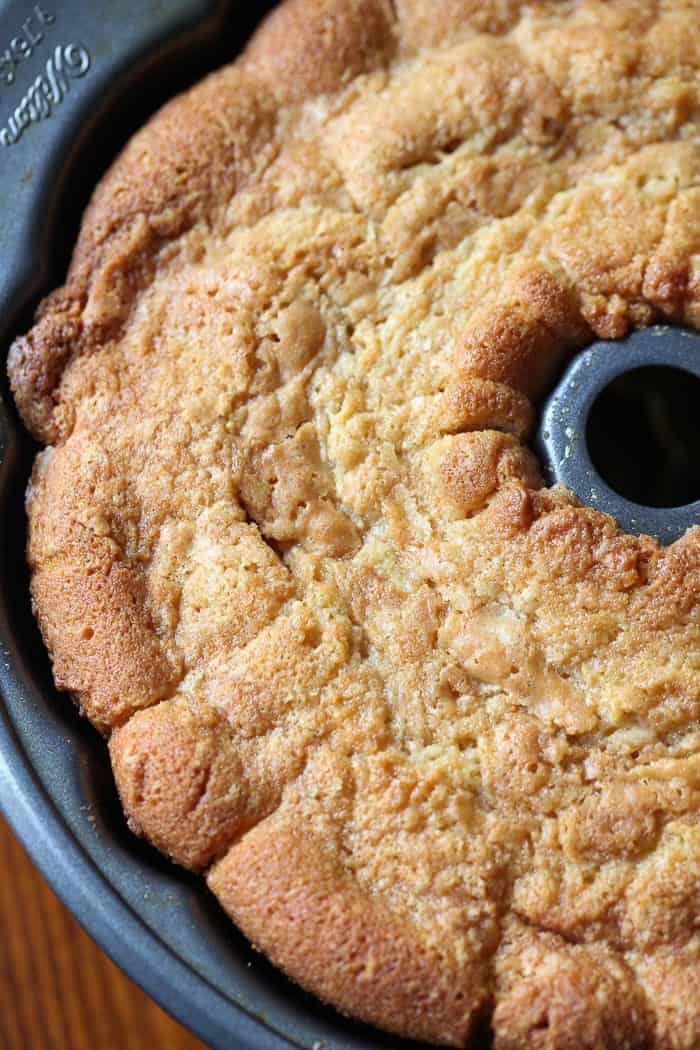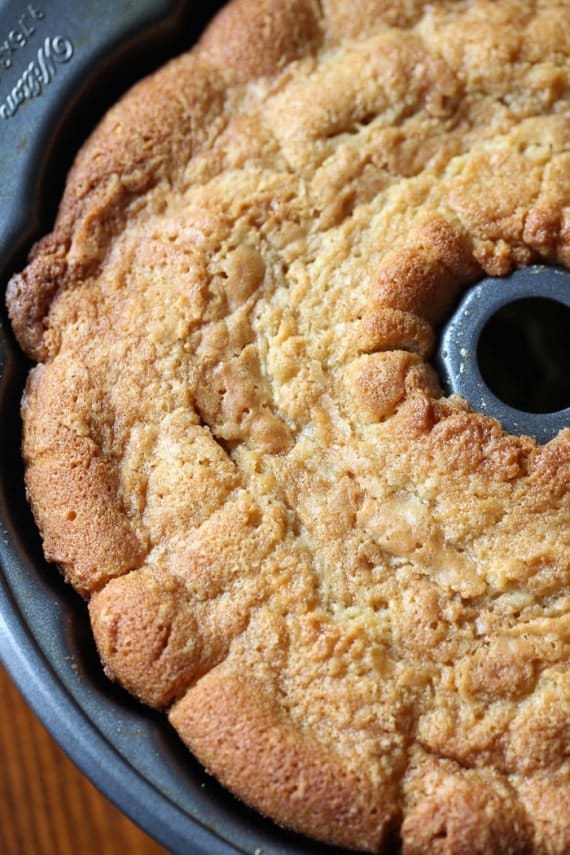 So here's where we come into the hate part of the bundt equation. I took the lazy route when I was baking this cake and used a baking spray on my pan. Yes, the one with the flour in it. For some reason they never work for me. Not sure if it's my pan or what…
But as you can see my cake stuck a little to the pan. Typically I always use shortening to grease the pan and dust it lightly with flour, but I got lazy.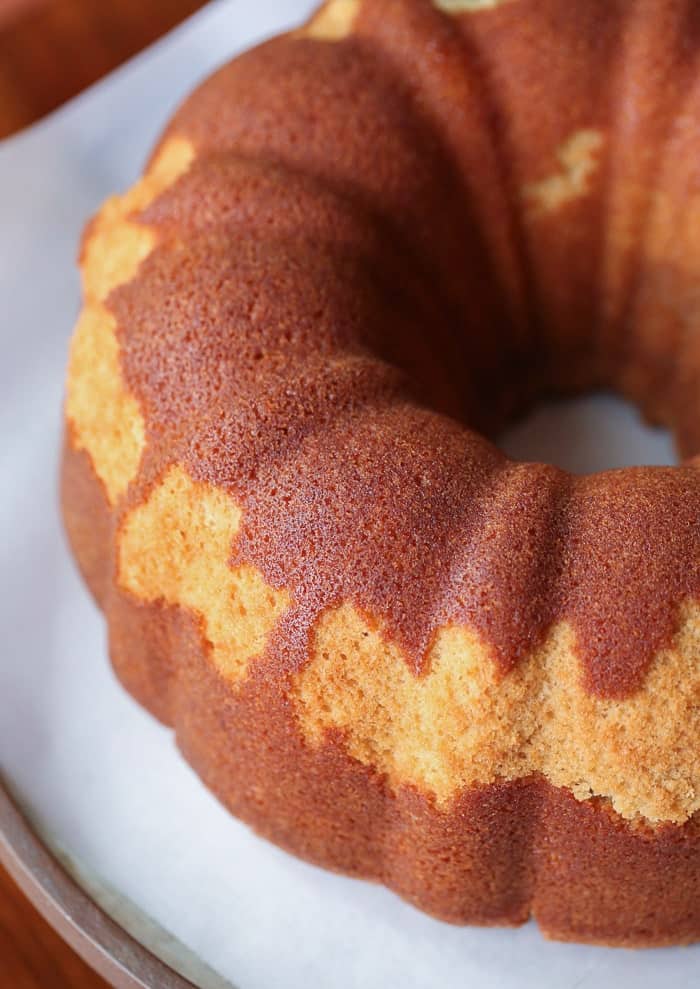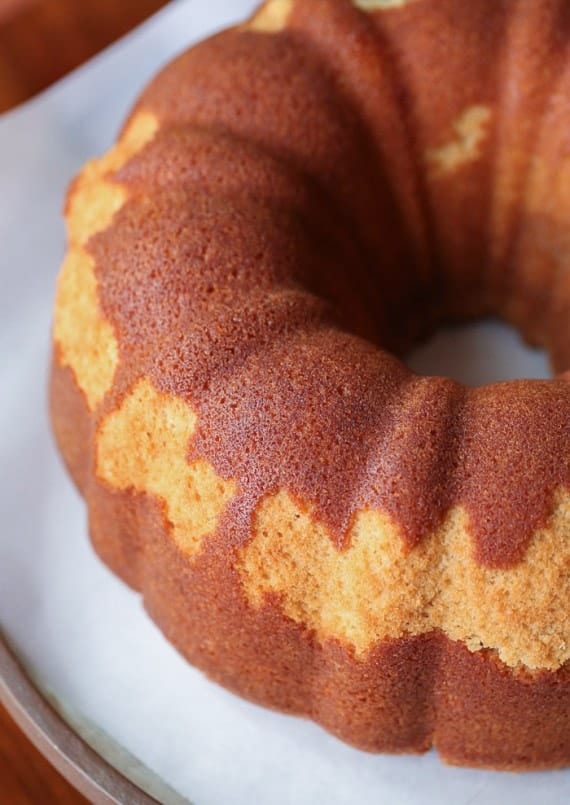 Luckily, I knew I was going to be icing this baby so I didn't worry too much.
And the icing is super easy. Just chop up some pecans and mix them in a quick brown sugar icing.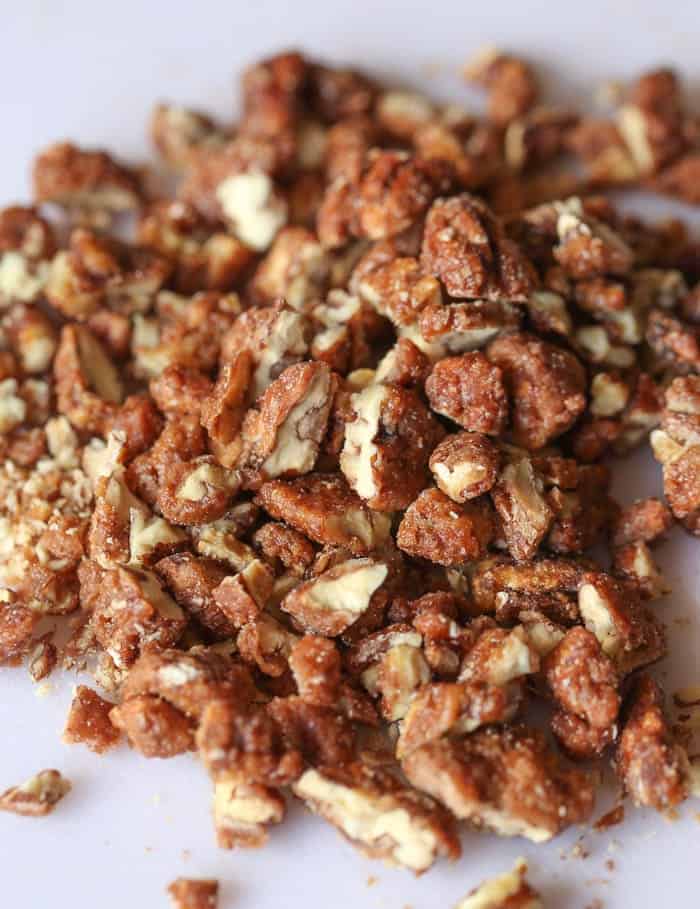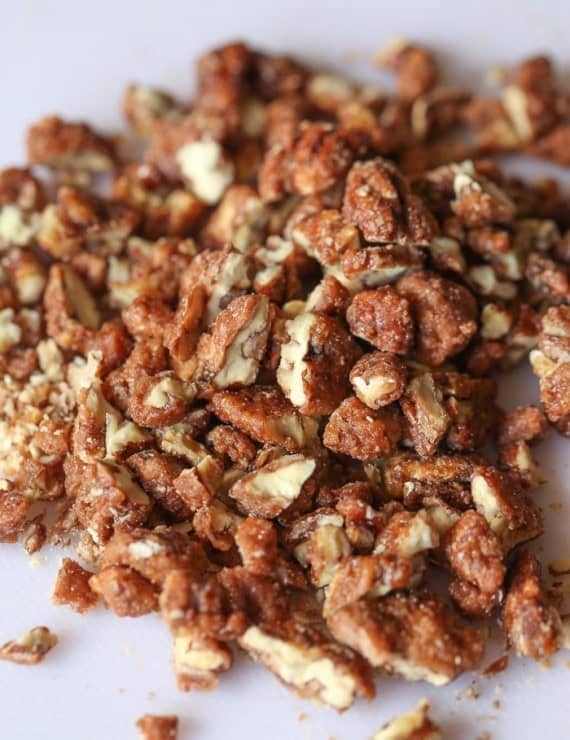 I mean…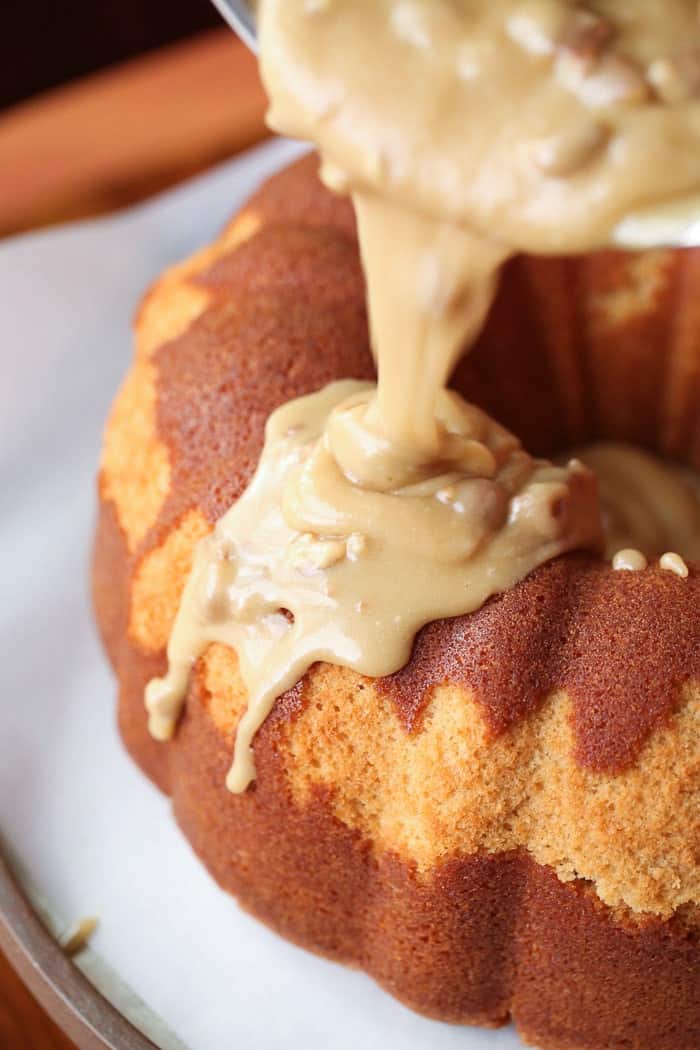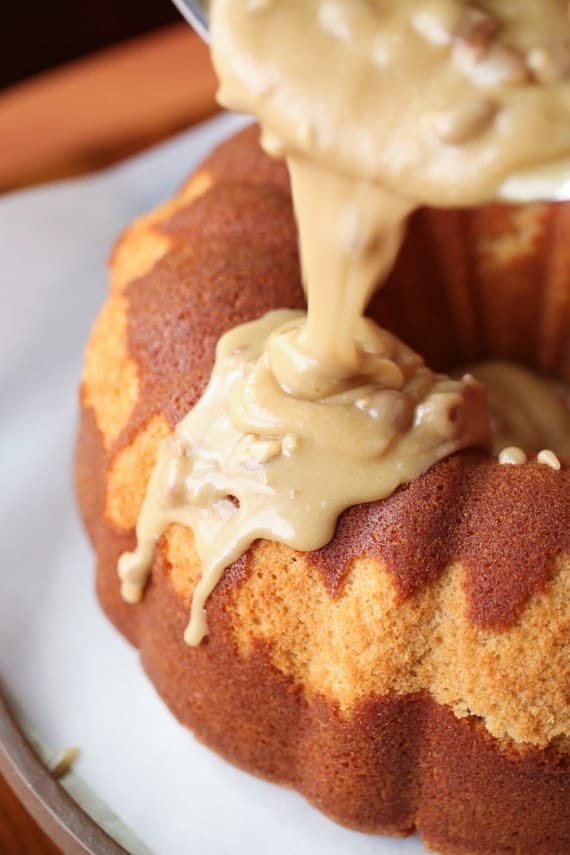 I'm telling you there isn't much not to love here.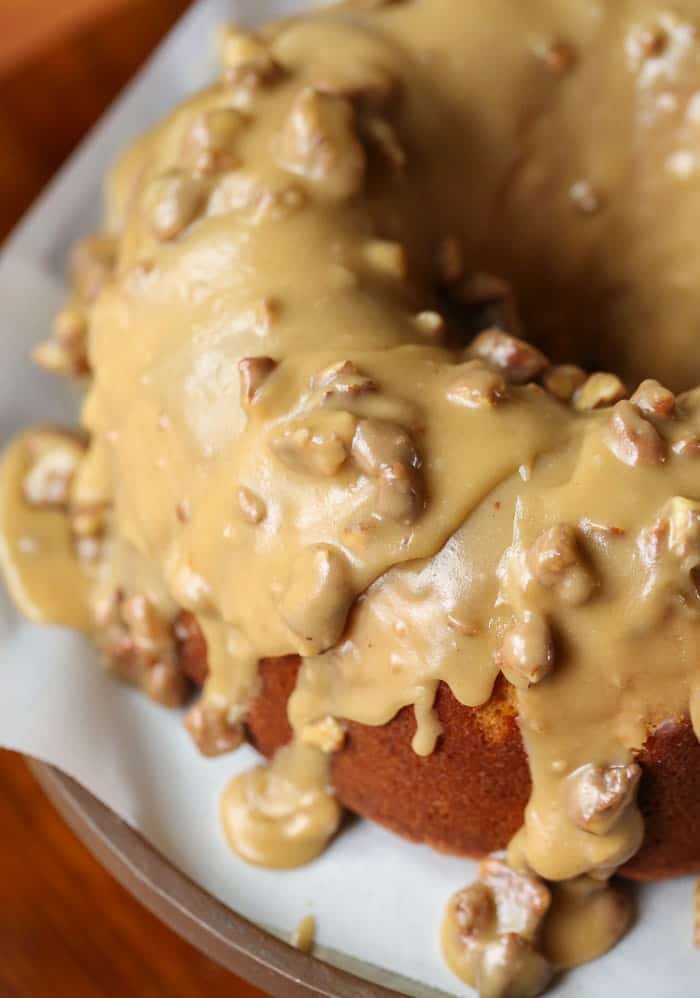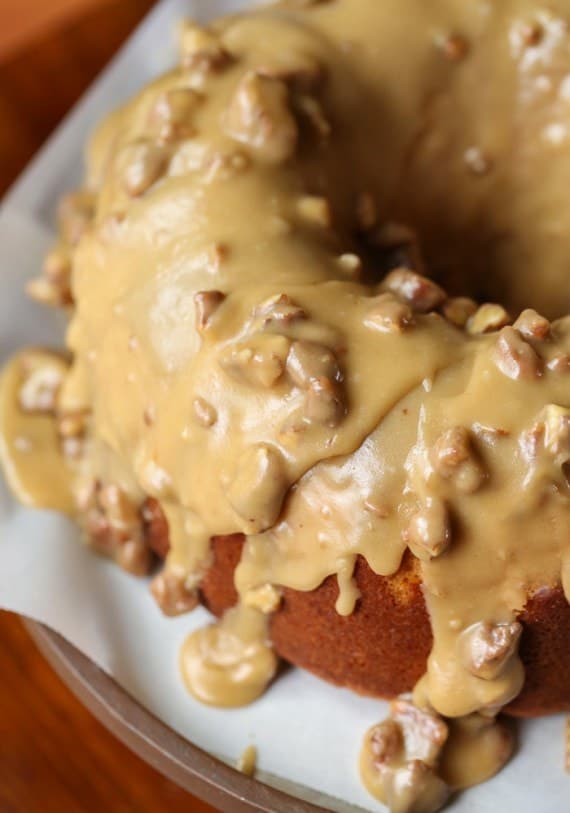 The cake, the icing…just all of it.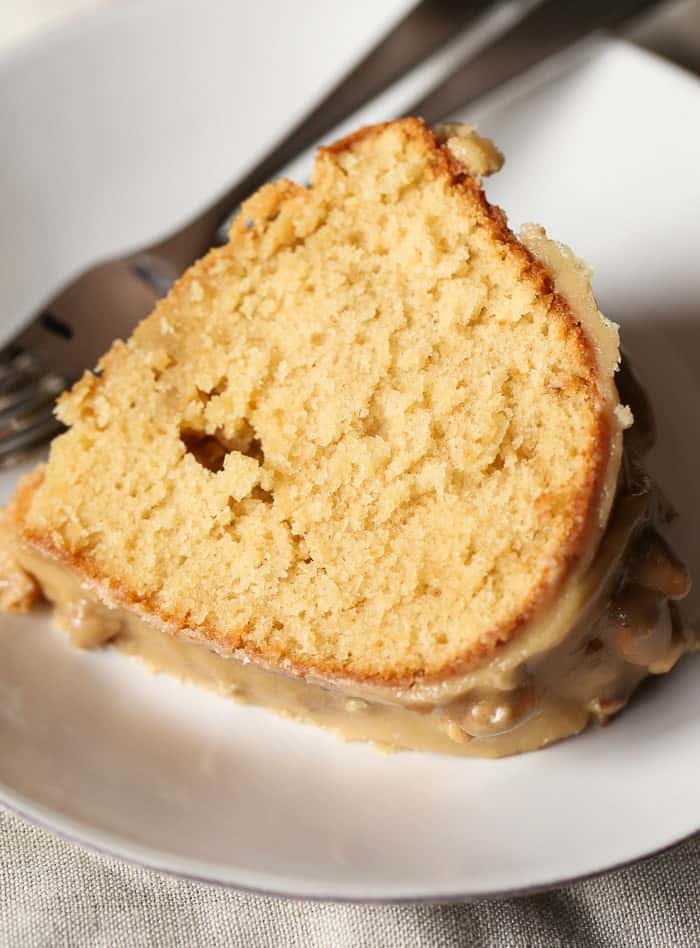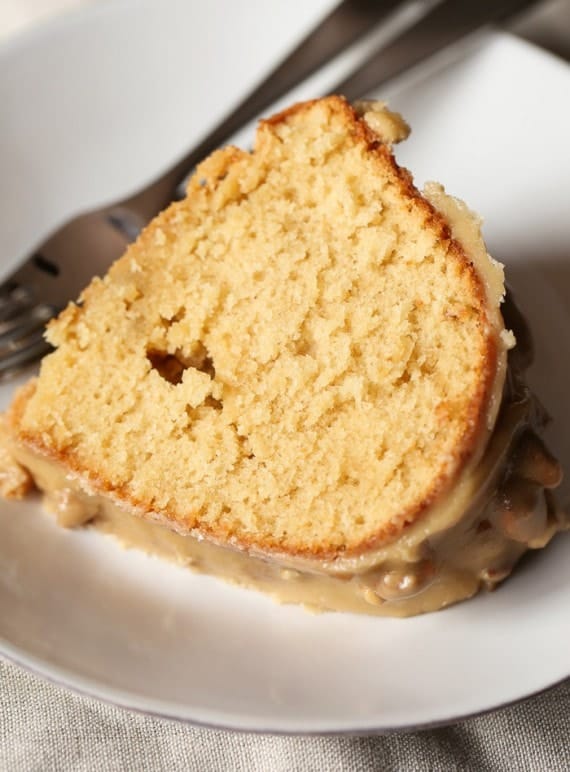 I feel like it would be in your best interest to get to the kitchen asap and get this made!
Print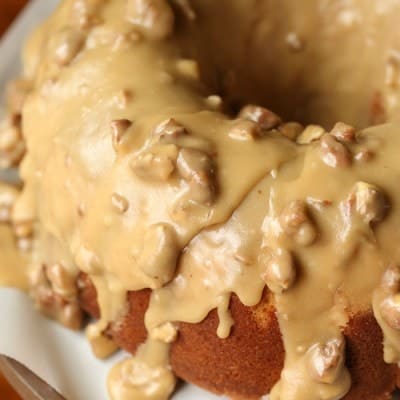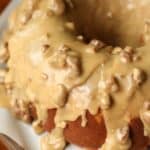 Praline Bundt Cake
Author:

Yield:

serves

1

2

1

x
---
Cake
1 1/2 cups

butter (

3

sticks)

2 cups

light brown sugar

1 cup

granulated sugar

5

eggs

2 teaspoons

vanilla

1 teaspoon

kosher salt

1 teaspoon

baking powder

3 cups

all purpose flour

1 cup

milk
Icing:
1 cup

light brown sugar

5 tablespoons

butter

1/4 cup

milk

1 teaspoon

vanilla

1 1/2 cups

powdered sugar

3/4 cup

chopped pecans
---
Instructions
Cake
Preheat oven to 325°F. Coat a 12 cup bundt pan heavily with nonstick spray. Alternately you can grease the pan with shortening and lightly dust with flour. Set aside.
In the bowl of your stand mixer fitted with the paddle attachment beat the butter and both sugars together until light and fluffy on medium speed. Add in the eggs, vanilla, salt, and baking powder and mix until smooth, scraping the sides of the bowl as necessary.
Turn the mixer to low and add in 1 cup of the flour and 1/2 cup milk. Mix for 20 seconds and add in 1 more cup of flour and the remaining 1/2 cup of milk and mix for 20 seconds and finally add in the last cup of flour. Mix for 30 seconds until combined, scraping the sides of the bowl as necessary.
Pour the batter into the prepared pan and bake for 60-70 minutes, or until a toothpick inserted into the center of the cake comes out clean.
Allow the cake to cool in the pan for 15-20 minutes and then invert the pan onto a cake plate.
Icing
In a medium sauce pot over medium heat whisk together the brown sugar, butter, and milk. Bring the mixture to a boil and boil for 1 minute. Remove the pot from the heat and whisk in the vanilla and powdered sugar until there are no lumps.
Allow the icing to cool for 5 – 10 minutes to thicken slightly and then stir in the chopped pecans.
Pour the icing on top of the cake evenly.
Allow the icing to set and serve.
---
Notes
You can pour the icing onto a warm or cooled cake. Note that the icing will melt the warmer the cake is, which means more icing will pool at the bottom and in the middle of the cake. So I recommend pouring it on when the cake is mostly cooled.
Also, I used Candied Pecans when I photographed this recipe, as it was what I had on-hand. But I have often used regular pecans or even toasted pecans when making this recipe.
Want To Save This Recipe?
For more fantastic Bundt Cake Recipes try: