This Snickers Popcorn is our favorite movie night snack!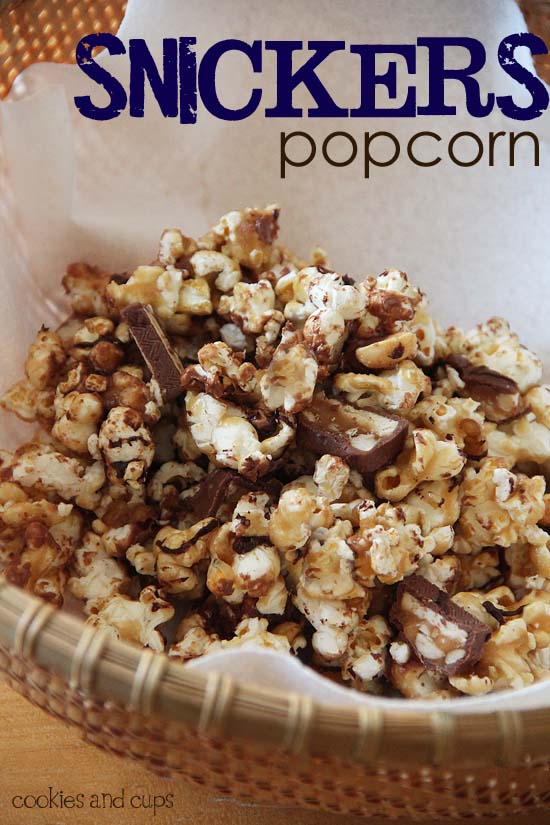 This past weekend my husband and I went to the movies.
What is so brilliant about this is there was no animation.
Adult actors actually performing, not just lending their voice to a cartoon bird.
A movie where I didn't have to wear 3D glasses.
A movie where Ryan Gosling gratuitously goes shirtless.
A movie where I didn't have to worry about Icees spilling or popcorn sharing.
It was nice.
But while distracted by all the Gosling abs I unconsciously consumed about a week's worth of calories that a bag of movie theater popcorn contains.
I am convinced that the nasty fake butter drizzle that goes on top is the devil's nectar.
Like the popcorn doesn't have enough calories and saturated fat by itself I make the solid choice to drizzle more cellulite juice on top.
I blame Gosling. He and his 6 pack made my mind all screwy.
I left the movie, not with a stronger resolve to do more sit ups…no, of course that's not what I did.
I made the very rational decision to one up the popcorn situation…I had done my research in good will and felt obligated to help the world, not with my chiseled abs, but with a perfected popcorn.
Choose your battles, folks.
Snickers Popcorn
First you need to pop your corn. I use an air popper.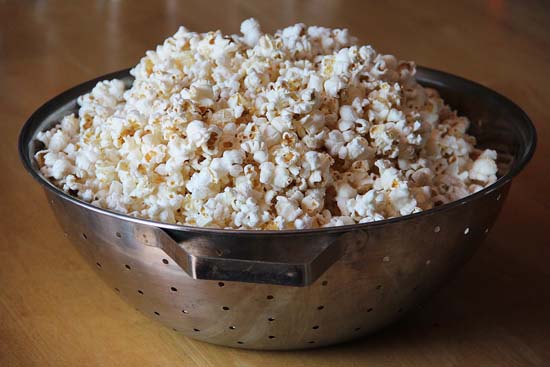 Then you need to make your caramel.
Butter + Brown Sugar + Corn syrup = Delicious
Boil it for 5 minutes…no scary candy thermometer involved. Rejoice!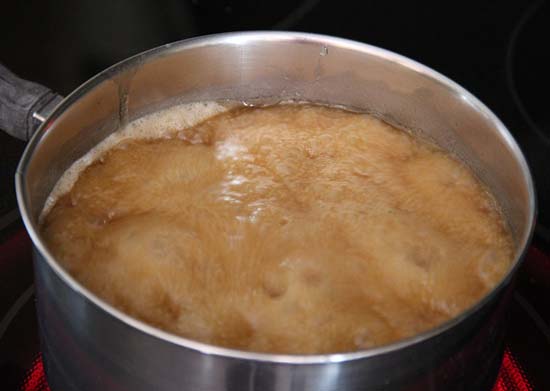 Then make your popcorn happy…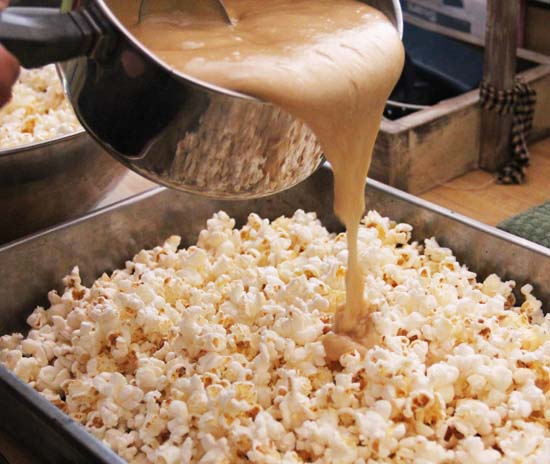 Transfer it onto some wax paper and sprinkles with your peanuts and make sure all your corn is coated.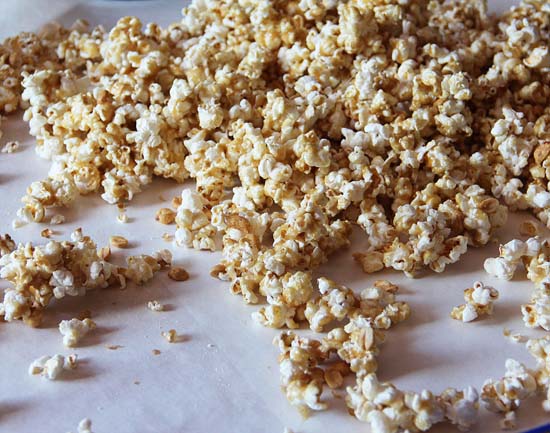 Now bake it up for a little over an hour at 200°
Giving it a nice stir every 15 minutes.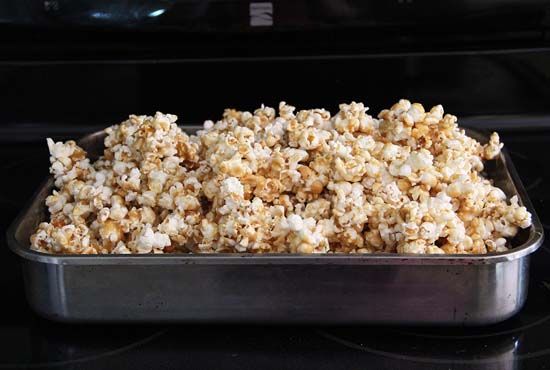 While the popcorn is baking get out your Snickers. I used 30 "Fun Size" Snickers…but honestly you can use however many you want. The more the merrier.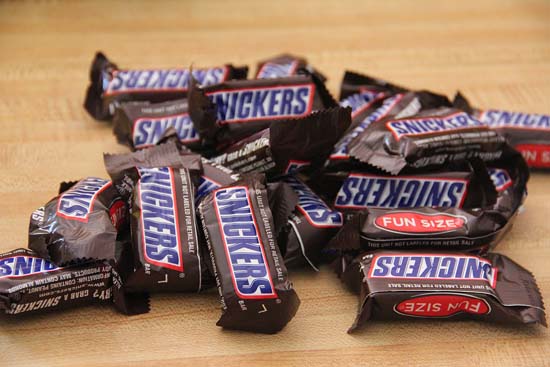 Give 'em a coarse chopping.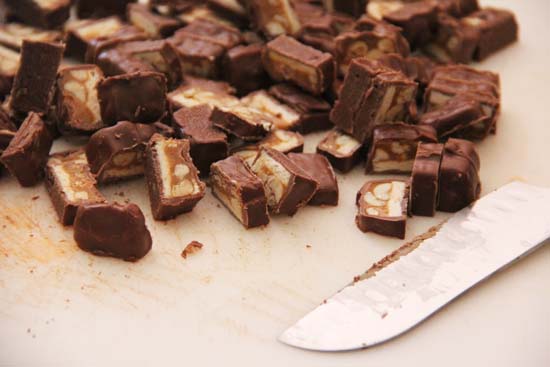 When the popcorn is done add in your Snickers and stir them in evenly.
Pop the popcorn back in the oven for 3 minutes just enough time to melt the Snickers to the popcorn.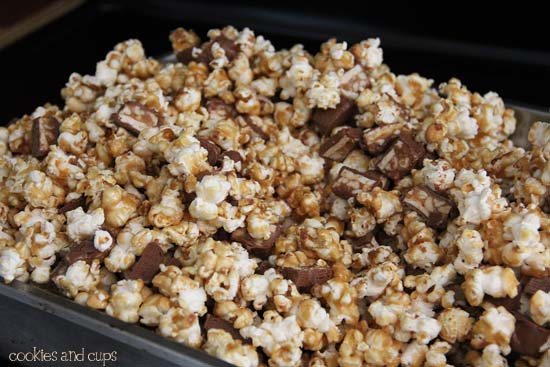 Transfer the popcorn back to the wax paper and spread out to cool…and you could stop here. I wouldn't be mad.
But if you WANT, you could drizzle some melted chocolate on top.
It makes the popcorn happy…trust me.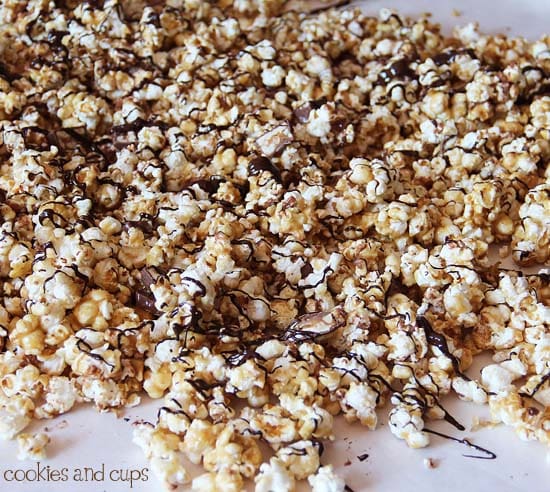 Let the chocolate set..if you are able to show restraint…or eat it warm, really it's fine.
When it's set serve it up with a side of Gosling.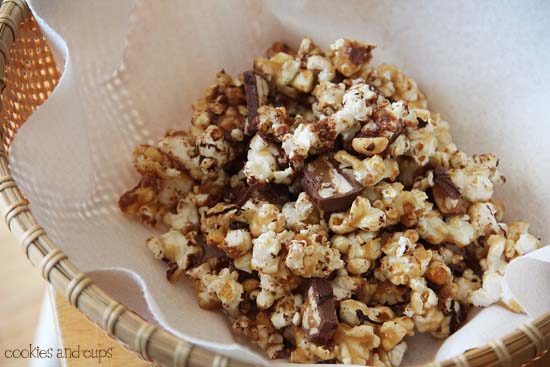 Print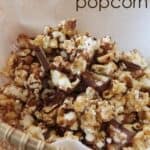 ---
[print_link]
Recipe: Snickers Popcorn

8 quarts

air popped corn (about

2 cups

of kernels)

1 cup

salted butter

2 cups

light brown sugar, packed

1 teaspoon

salt

1/2 cup

light corn syrup

1 teaspoon

baking soda

1 cup

salted peanuts

30

"Fun Size" Snickers bars coarsely chopped

3 oz

melted semi sweet chocolate (optional)
---
Instructions
Preheat oven to 200°
Over medium heat boil butter, brown sugar, salt and corn syrup for 5 minutes.
Remove from heat and stir in your baking soda.
Pour over your popcorn and stir to coat evenly.
Transfer to waxed paper lined counter and sprinkle peanuts on top. Stir until all is coated evenly.
Transfer popcorn into a large roasting pan and bake for 1 hour 15 minutes, stirring every 15 minutes.
Remove from oven and stir in your coarsely chopped Snickers. Return to oven for 3 more minutes so the Snickers begin to melt slightly into the popcorn.
Remove from pan and transfer popcorn back to wax paper to cool.
Drizzle melted chocolate on top of popcorn if desired.
Let set and store in an airtight container.
---
Want To Save This Recipe?