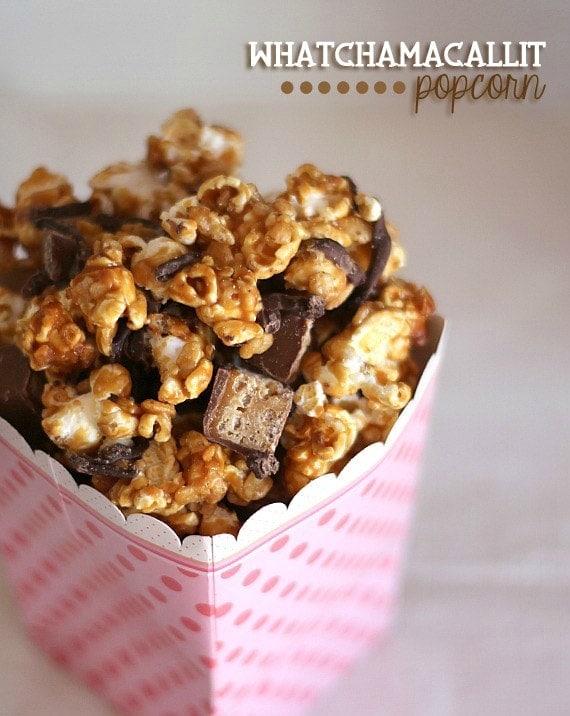 So it's the second installment in Candy Bar Week!

Did you guys like round one? In case you missed it I made these, and Bridget made theeeeeeeese!
Right? I knew when we decided to do candy bars, that I wanted to do something with Whatchamacallits. Do you guys remember those?
They aren't super easy to find these days, and I'm not sure why. They are ridiculously good…it's a peanut butter krispie bar, topped with caramel and coated in chocolate.
First I thought about making a homemade version, which I think would be pretty simple…I think I'll do that soon…but then I thought that the textures would really work well in a popcorn snack mix.
I wish I could say that being right so often is exhausting…alas, it's not.
Whatchamacallit Popcorn.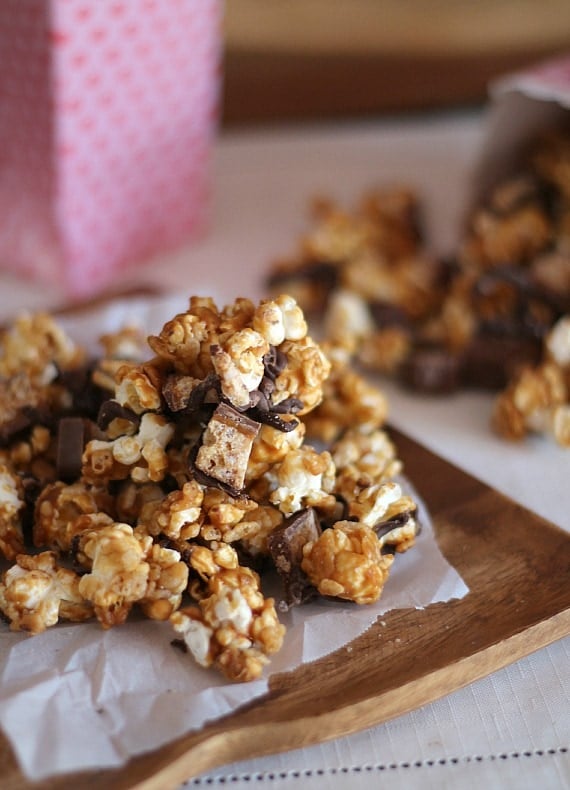 The great thing about this, is if you can find the candy bars, chopping them up and adding them is a fun addition, but if you can't find them, the popcorn mix itself has all the flavors and textures right in there, so it really IS Whatchamacallit Popcorn..Not just caramel corn with candy bars in it.
Here are the details: Peanut Butter Caramel Popcorn with Krispy cereal mixed in for extra crunch drizzled with chocolate.
Just pop your corn…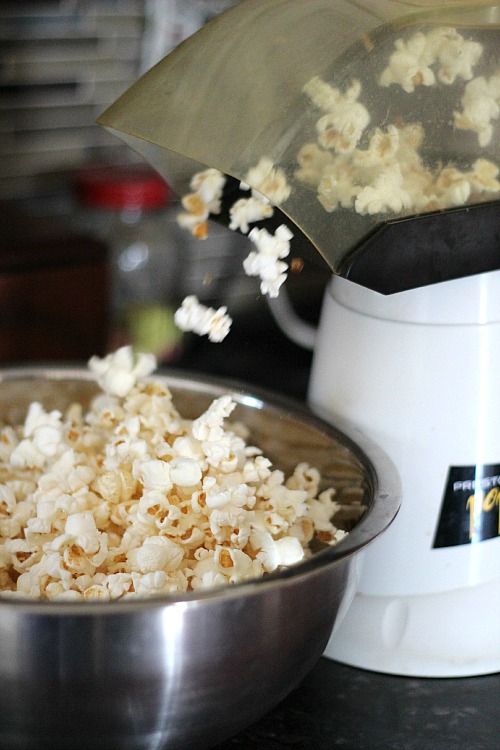 Then make your quick caramel sauce…at the end add peanut butter.
It will be amazing looking…
Just pour it over your popcorn.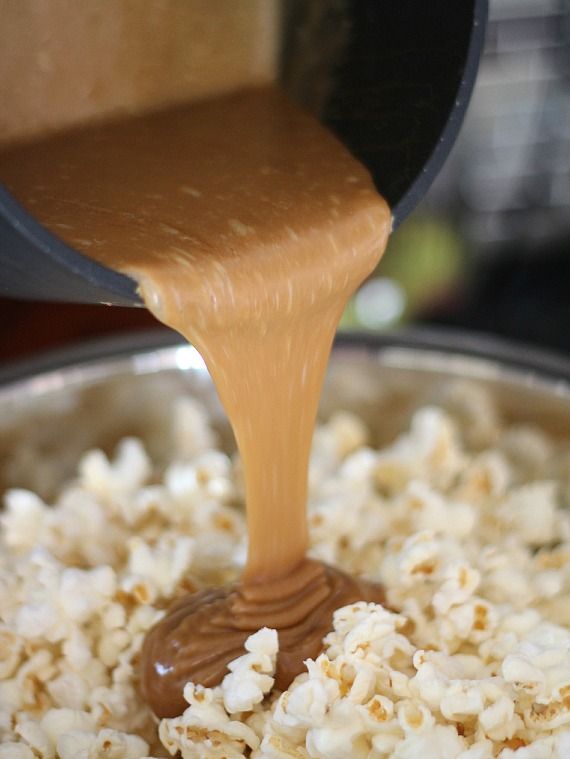 Then sprinkle your krispie cereal over top before you mix it in…This will prevent all the cereal from falling to the bottom. You want to get it mixed in evenly.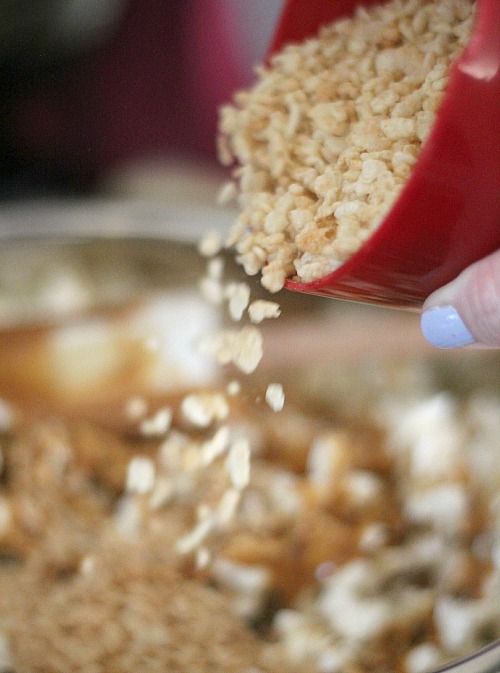 Once it's all mixed in, spread it on a large baking sheet with sides and bake it for an hour at a super low heat.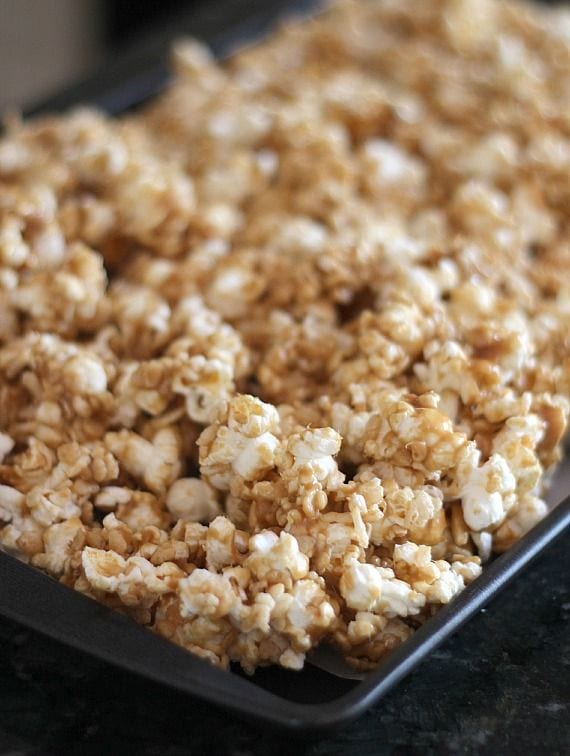 When it's done, spread it on a lined counter and break apart the large pieces…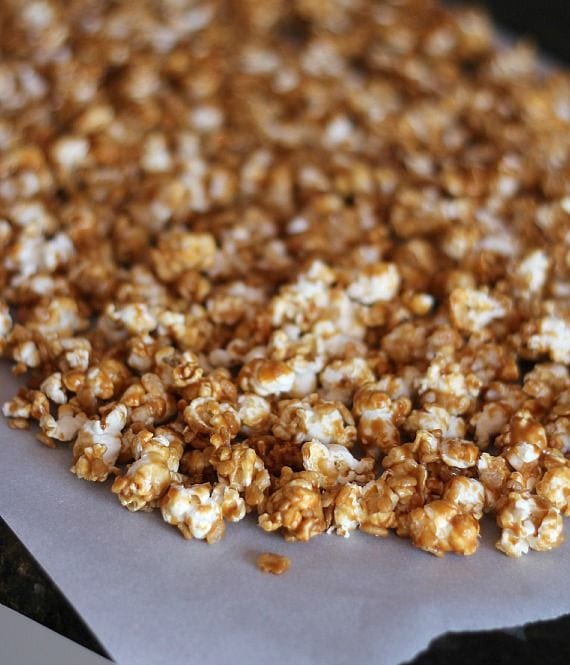 If you're lucky enough to be able to find the Whatchamacallit bars, chop them up…I used about 5. You don't have to be exact.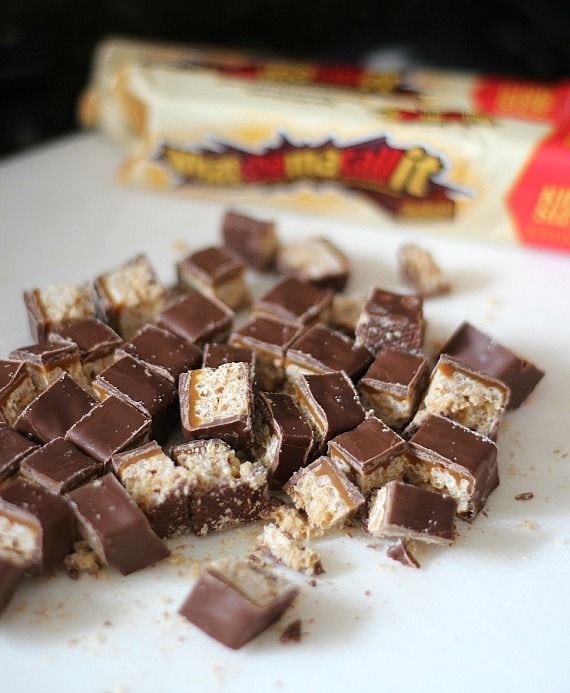 And sprinkled them all over the popcorn…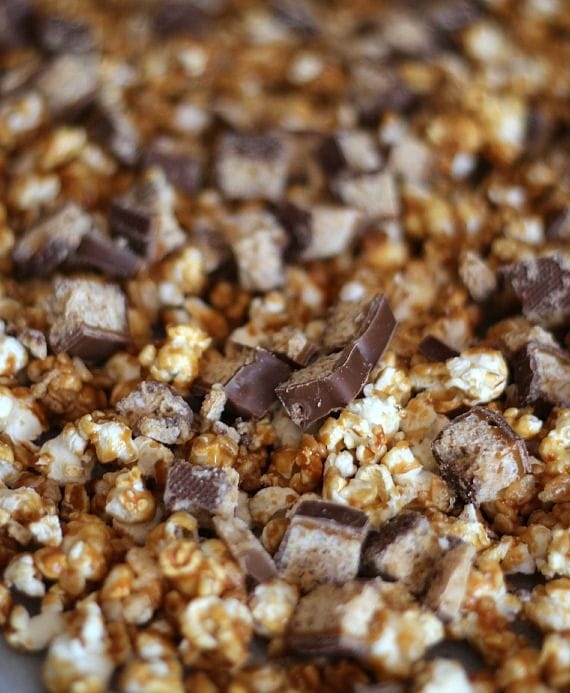 THEN I drizzled melted chocolate all over that.
And yeah…it's basically the perfect snack. Crunchy, not at all chewy…peanut buttery, caramelly and salty/sweet.
You should make it.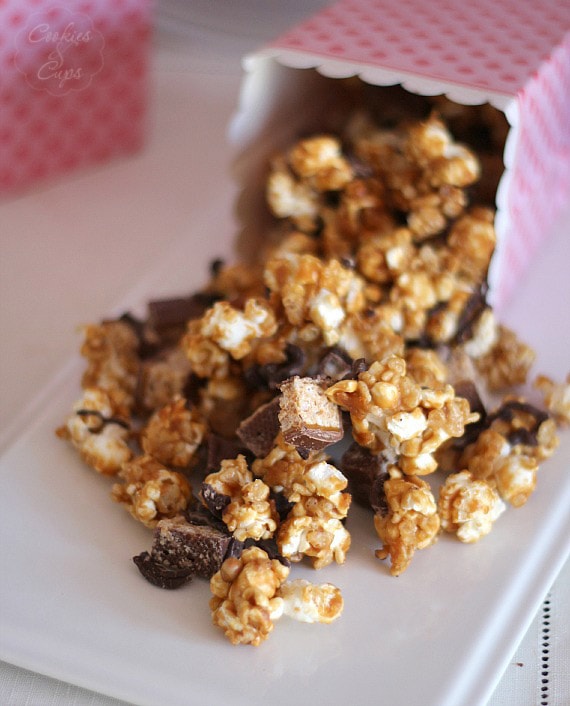 Now you should go over and check out what the other girls are doing with candy bars today…
Mounds Layer Cake…I mean are you kidding me?
and Ritter Sport Dark Chocolate with Marzipan Ice Cream. Yeah…I don't know what Ritter Sport is but I am pretty sure I need some in my face.
Print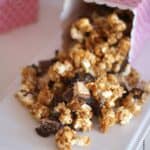 Whatchamacallit Popcorn
---
---
1/2 cup

unpopped popcorn kernels (makes about

6 cups

popped)

2/3 cup

brown sugar, packed

2/3 cup

light corn syrup

3 Tbsp

butter

1 tsp

salt

1/2 cup

creamy peanut butter

2 cups

Rice Krispie cereal
*optional 2-3 cups chopped Whatchamacallit candy bars

1 cup

semisweet chocolate chips
---
Instructions
Preheat oven to 250°
Line a large jelly roll or roasting pan with parchment paper.
In a large bowl make your popcorn in an airpopper popcorn maker. Set aside.
In a medium sauce pan combine brown sugar, corn syrup, butter and salt. Bring to a boil and let boil on medium heat for 3 minutes. Remove from heat and stir in peanut butter until smooth.
Pour peanut butter caramel over top the popcorn and before mixing sprinkle the Rice Krispie cereal on top.
THEN mix everything together, making sure the popcorn and cereal get coated in mixture.
Spread popcorn into the prepared pan and bake for 1 hour, stirring every 15 minutes.
When popcorn is done spread it out onto a parchment lined counter to cool, breaking apart large pieces.
Sprinkle chopped candy bars evenly over top.
Melt chocolate chips in a heavy zip-top container in 30 second increments, squeezing after each, until melted. Snip off the end of the bag and drizzle over top popcorn and candy bars.
Allow chocolate to set completely.
---
Notes
store in an airtight container for up to 3 days.
Want To Save This Recipe?