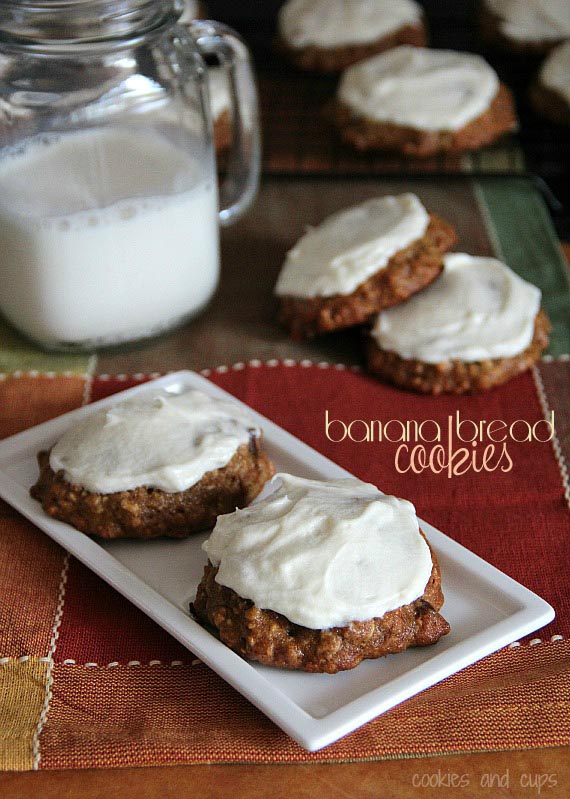 Are you ever out somewhere and see those moms, who are obviously at their wit's end..
With snot stains on their shirt, an "If you so much as THINK about looking at me, I will cut you" expression on their face and a kid with a kool-aid mustache trailing behind them crying?
Before I had kids I vowed never to be that mom.
Never. Ever. Not in a million years.
I mean, "C'mon random woman…kids aren't that hard. I mean, there's no reason to be so angry", I used to think.
Well.
The universe heard my judgment…tucked it away in it's universe-back-pocket and saved it for a rainy day. Or a random Friday in the year 2012.
Yeah, last Friday, not only was I that random woman that I placed such harsh judgment on many years ago…I was that woman times 17.
The only difference between that woman and me, was I didn't have snot on me. I, unknowingly, had dried blood on my pants from when my 7 year old got a bloody nose before we left the house. And it was super awesome, because not only did I not notice the blood until it was too late, it was BLOOD ON MY PANTS!! Draw your own conclusions, people.
So as I was whisper-yelling at my kids, attempting to buy groceries for my family and trying nonchalantly to hide the blood stains on my pants I shape-shifted into that poor, poor woman from long ago.
The only difference between her and me, was she was WAY more pulled together. I dreamed of only a kool-aid mustache and a few tears in that moment. I dreamed of some crusty snot on my shoulder. I was in full fledged "panic-in-Target" mode, while my kids bounced off the end displays and random old people looked at me in disgust saying, "Get control of your child" with only their eyes.
So moral of the story…that woman in Target who looks like a Nick Nolte mug shot, don't judge her. The universe is a bitch.
Now.
Moving on.
Banana Bread Cookies.
They're comforting. The perfect cure for a tough day at Target.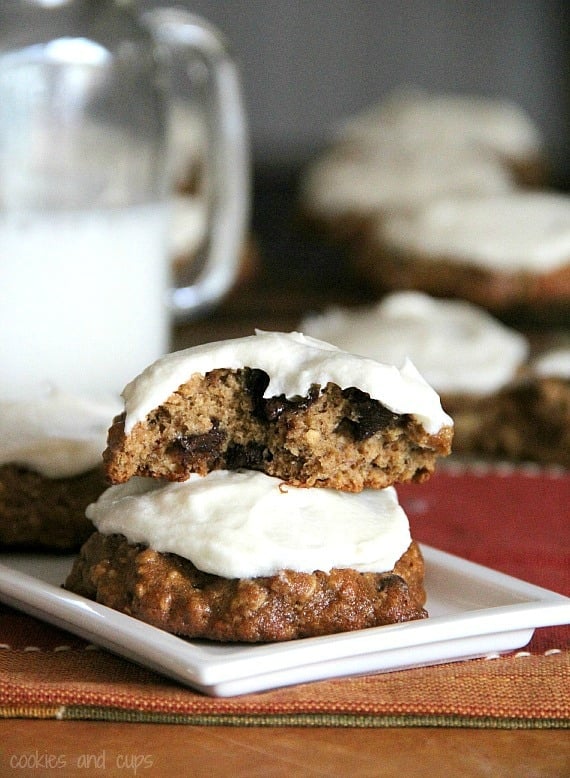 I've been trying to make these cookies for ages, but once I have an idea for old bananas, suddenly my family feels the need to eat their potassium.
But finally yesterday I convinced my kids to eat a box of Nerds instead of the totally mashable bananas I had on the counter.
Wow, I'm either the coolest or worst mom in history.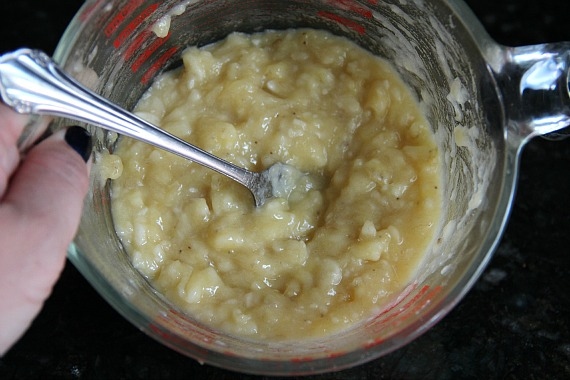 So mash your bananas, and mix in some other important ingredients…oil, egg, sugar, oats…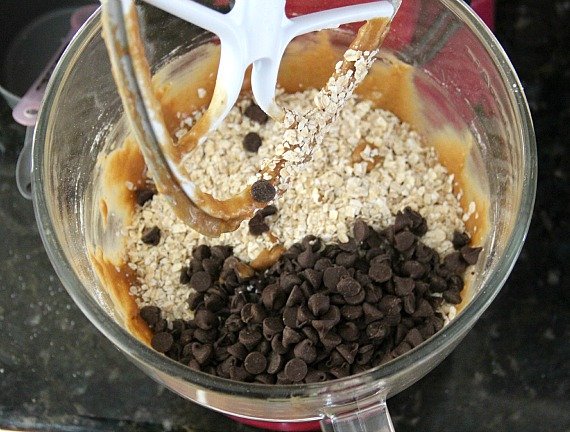 Also, as you can see I used chocolate chips in mine. If you don't like chocolate chips in your banana bread, you can easily sub in nuts or raisins…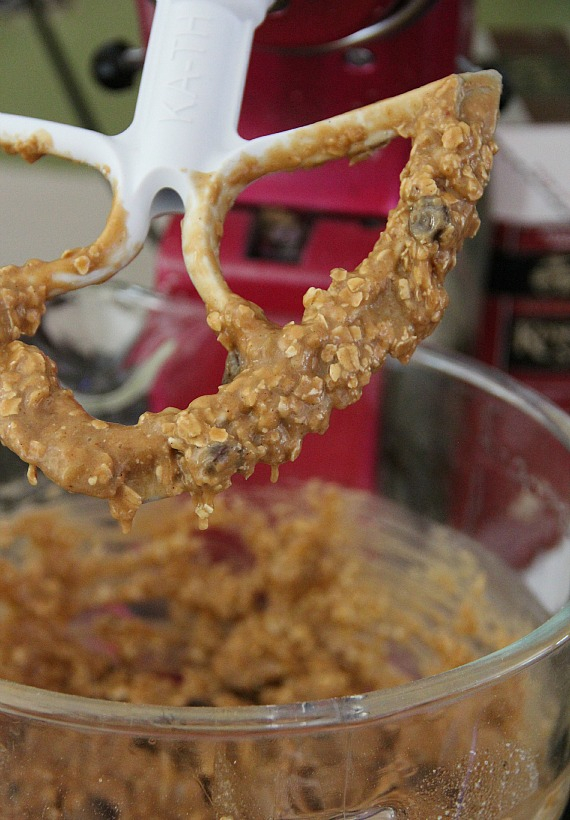 Then just bake. They'll look pretty when they're done.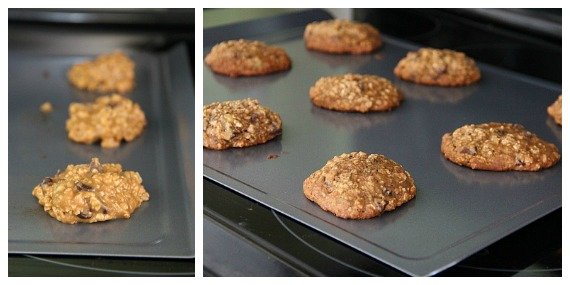 Then…if you want to get crazy you'll need to frost them. Cookies with frosting are kind of my thing.
And I made a maple cream cheese frosting, which is totally optional, but really not optional at all.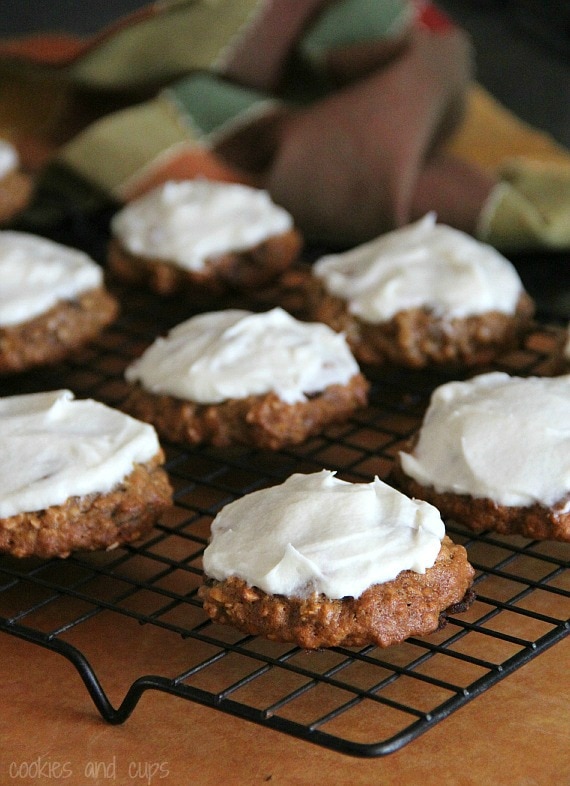 Then eat.
Print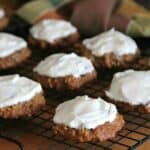 Banana Bread Cookies with Maple Cream Cheese Frosting
---
---
Cookies
3

very ripe bananas, mashed (about

1 1/2 cups

)

1 cup

brown sugar (either dark or light)

1/4 cup

canola oil

1 1/2 tsp

vanilla

1

egg

1 1/2 cups

flour

1 tsp

baking soda

1 tsp

kosher salt

1 tsp

cinnamon

1/4 tsp

nutmeg

2 cups

quick oats

1/2 cup

chocolate chips, chopped walnuts or raisins (I used chocolate chips)
Frosting
3 oz

cream cheese, room temperature

1/2 cup

butter, room temperature

1 1/2 Tbsp

maple syrup ~ or if you don't prefer maple you can use 1 tsp vanilla extract

1 1/2 cups

powdered sugar
---
Instructions
Cookies
Preheat oven to 350°
Combine bananas, sugar, oil, vanilla and egg in mixing bowl. Beat until combined.
Add in flour, salt, baking soda, cinnamon and nutmeg. Mix on low until smooth.
Finally pour in oats and chips, nuts or raisins. Stir until evenly incorporated.
On a nonstick cookie sheet, or a cookie sheet lined with parchment paper, drop batter my large tablespoon, about 2 inches apart.
Bake for 10-12 minutes until edges are golden and centers are set.
Transfer cookies to a wire rack to cool.
Frosting
In a stand mixer combine cream cheese, butter and maple syrup or extract beating until smooth.
Turn mixer down to low and add in powdered sugar until just combined. Turn mixer up to medium and beat until smooth, about 1 minute.
Spread a tablespoon of frosting onto each cookie.
---
Notes
store in an airtight container for up to 3 days.
Refrigerate if desired.
Want To Save This Recipe?
Find more recipes like this: