This nostalgic recipe produces the easiest chocolate chip cookies ever! These are Bisquick Chocolate Chip Cookies and are perfectly soft and gooey! No biscuits here!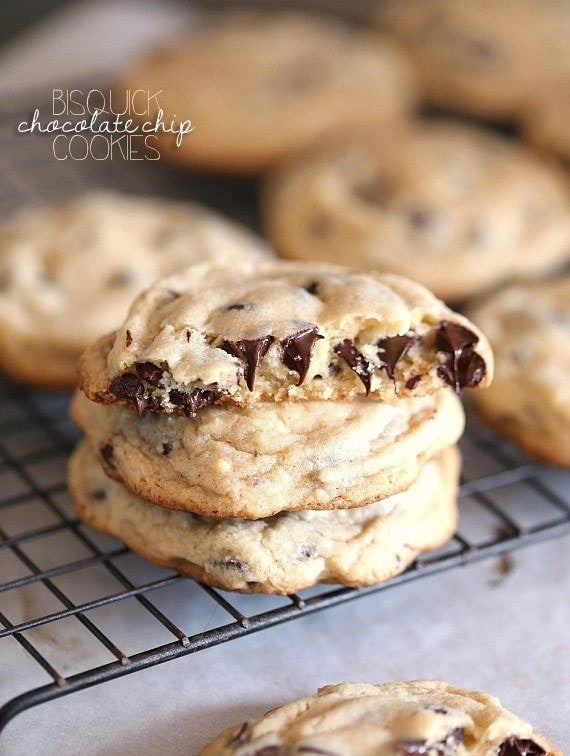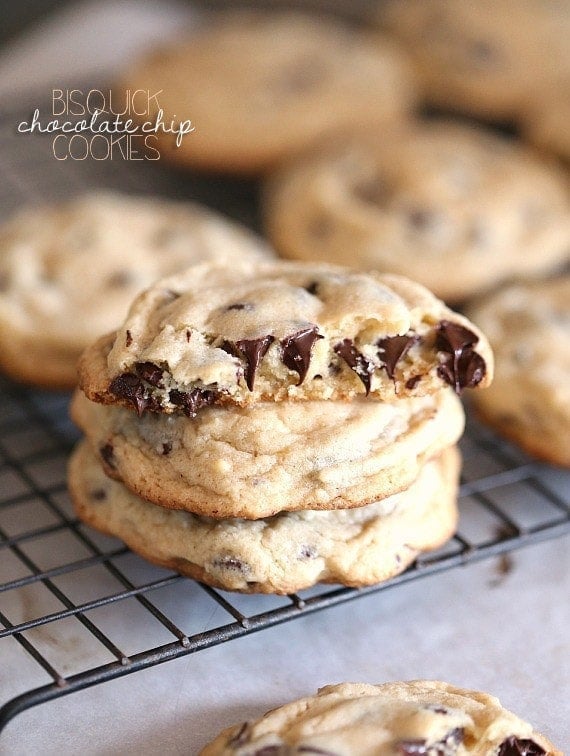 This is one of those recipes that has been around for ages. It's actually in a few of my mom's old recipe boxes.
Bisquick Cookies? You can't get anymore 80's-tastic than that!
Maybe we could call them Cookie Surprise or Cookie Delight! There are SO many recipe cards in my mom's stash that are some sort of weird conglomeration of ingredients, where "Surprise" is thrown on the end. The 80's were a weird time.
Anyhow, using Bisquick in cookies really does make a lot of sense. All the dry ingredients are pretty much mixed together for you! BUT a few wrong turns and these could easily be turned into Chocolate Chip Biscuits…and while that sounds delicious in it's own right, when you want a cookie, a biscuit texture is no bueno.
Which leads me to today…
I have actually made these for years, the way that my mom's books say to…and they are good…BUT I tweaked the recipe just a touch and found the perfect balance.
Soft, but not cakey…crispy on the edge while still being chewy in the center.
Bisquick cookies…soon to be your new favorite.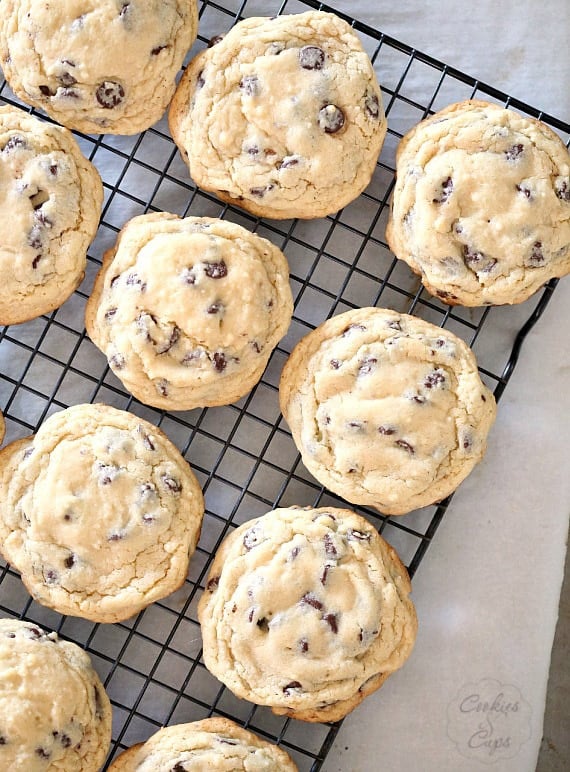 They appear a little lighter in color than my favorite chocolate chip cookie recipe…if this bothers you go ahead and use all brown sugar in the recipe or even dark brown sugar. Either would be fine.
BUT I like the combo of white and light brown in these. Just my thang.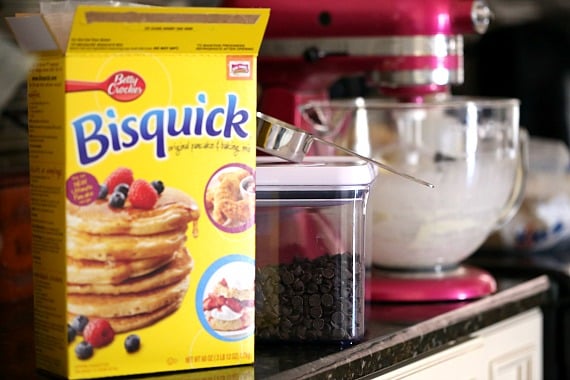 Also I love a salty cookie, so I have tried these adding a little more salt to the dough. Don't do it. The Bisquick is salty enough on it's own it doesn't need you going in and messing up the mix.
Trust me on this. I learned the hard way.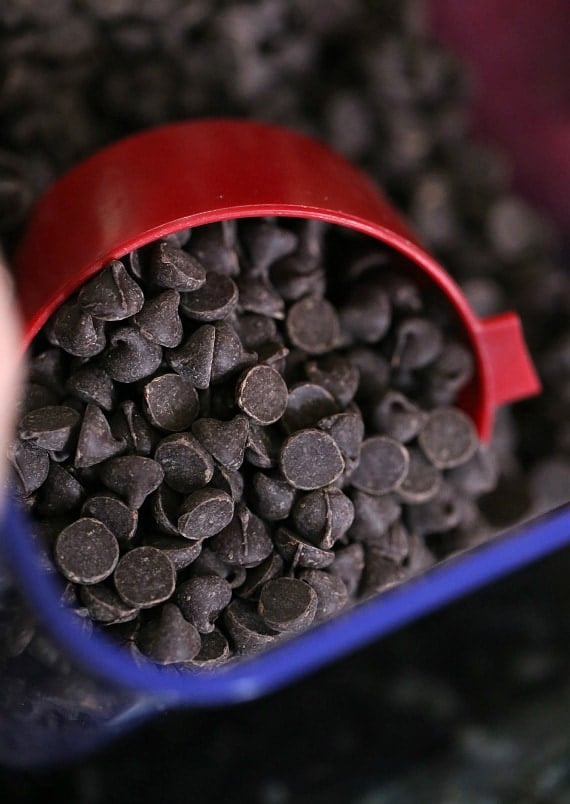 I used my cookie scoop to get these guys going…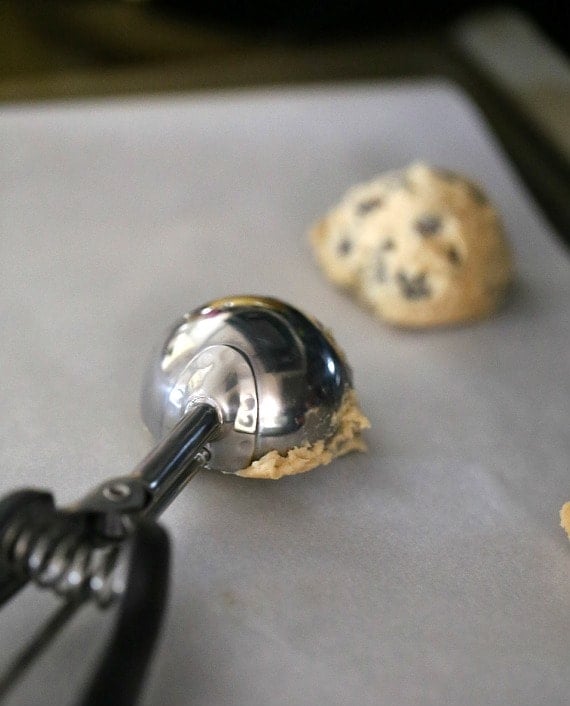 And see how they spread *just the right amount?
Be careful not to overbake these, as you will end up with more of a biscuity-cakey texture. And they could get hard.
Just bake them until the bottoms appear lightly browned and take them out.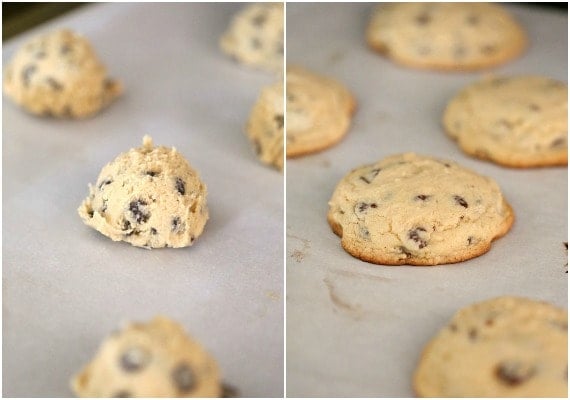 The tops will appear underdone. That's the trick!
Believe me.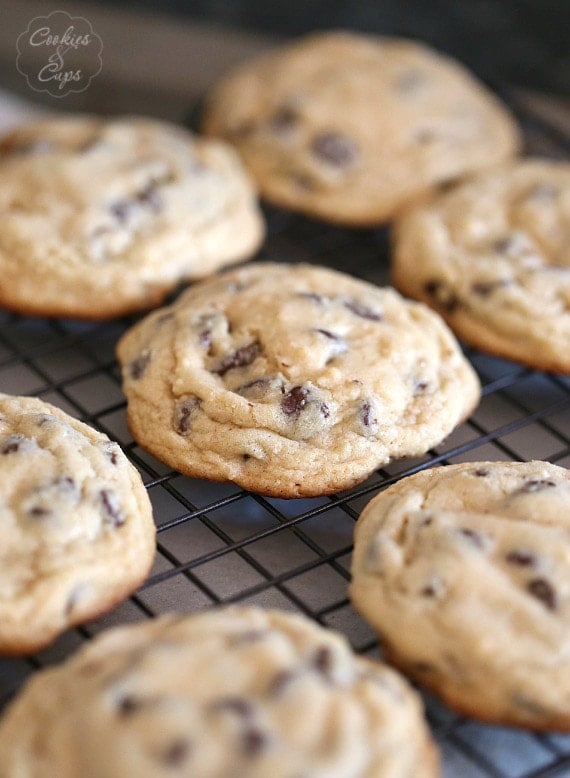 Let them cool…or don't. I never do…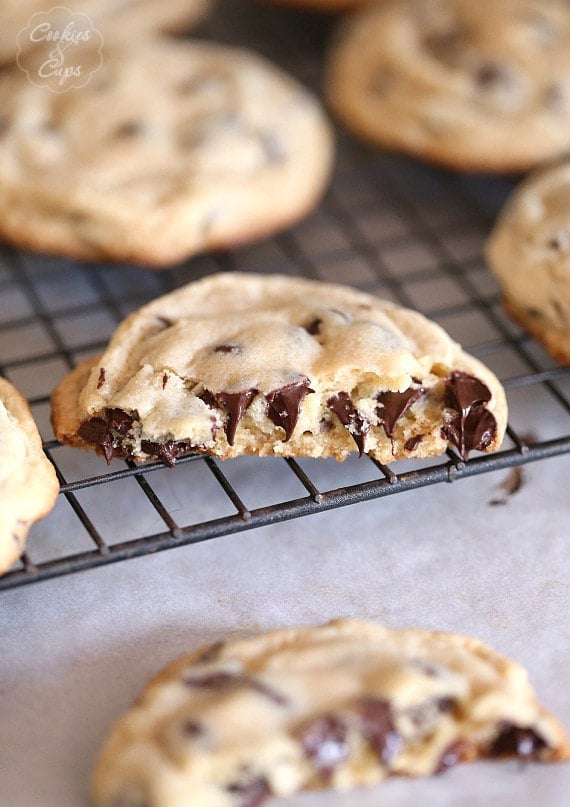 Totally gorgeous.
Make 'em. Love 'em.
Print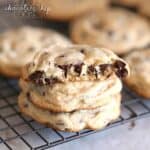 Bisquick Chocolate Chip Cookies
---
---
1/2 cup

butter, room temperature

1/4 cup

granulated sugar

3/4 cup

light brown sugar

1

egg, plus 1 yolk

1 Tbsp

vanilla

2 1/2 cups

Bisquick

1 1/2 cups

chocolate chips
---
Instructions
Preheat oven to 375°
Line a baking sheet with parchment paper. Set aside.
In bowl of stand mixer beat butter and both sugars for 1 -2 minutes until light and fluffy. Add in vanilla, egg and yolk and beat until mixed evenly, scraping sides as necessary.
Turn mixer to low and add in Bisquick and mix until just combined.
Stir in chocolate chips.
Drop cookie dough onto lined baking sheet, about 2-3 inches apart. Bake for 8-9 minutes until edges just get golden. Allow to cool on baking sheet for 3-4 minutes before transferring to a wire rack to cool completely.
---
Want To Save This Recipe?
Find more recipes like this: