The Buttermint Frosting on these Sugar Cookie Cups is so buttery and rich!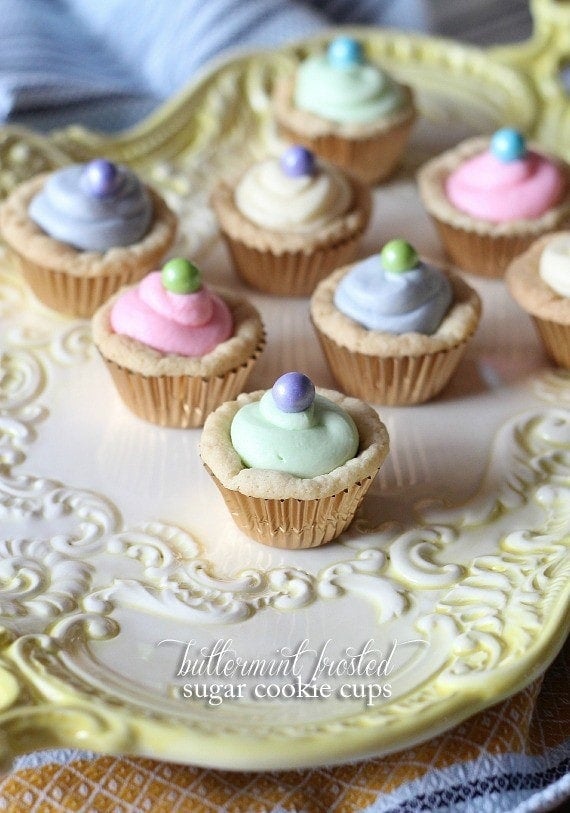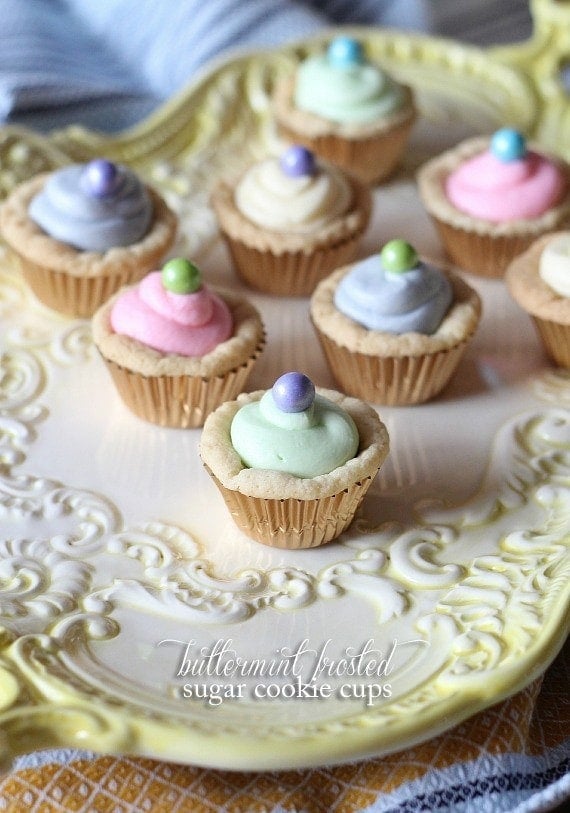 Today is a special one.
Obviously because I made cookie cups with frosting. We all know a frosted cookie is tough to beat.
But mostly because there is a whole list of ladies who are celebrating our girl Bev's very serious case of pregnancy.
If you don't know Bev, you must must must skeedaddle on over to her internet space and nose around for an hour or 3.
You should also watch her "About Me" video. Anyone who sword fights with a baguette is A-ok in my book.
Also pizza. She makes a lot. So yeah, she's pretty cool.
Anyhow since she currently has two babies in her belly, we decided it would be nice to show her all our love and support by paying for two live-in nannies and a personal foot massager.
Ok, no. We're not doing that. Sorry Bev.
What we ARE doing is wishing we could all be sitting around her and awkwardly rub her tummy while making her eat all the food.
And in my case that means, Buttermint Frosted Sugar Cookie Cups.
I don't know about you, but I see kids snatching those buttermints up at restaurants by the handful on the way out, hoping that no one will notice.
And when you're a kid, it's sort of ok and expected. But APPARENTLY when you're not a kid..ahem…and take four giant handfuls on the way out people get all angry.
Like, you should know better or something. Like it's not a buttermint buffet. Like those aren't there to take by the handful. Yeahhhh….
So duh, the next best thing to do would be to make Buttermint Frosting that you can pipe right into your mouth, with no angry "hostess" giving you the stink eye.
Or you could bake up sugar cookies and frost those and pretend it's not all about the frosting…
I mean, all this is hypothetical, of course.
Anyway, let's talk about Buttermint Frosted Sugar Cookie Cups.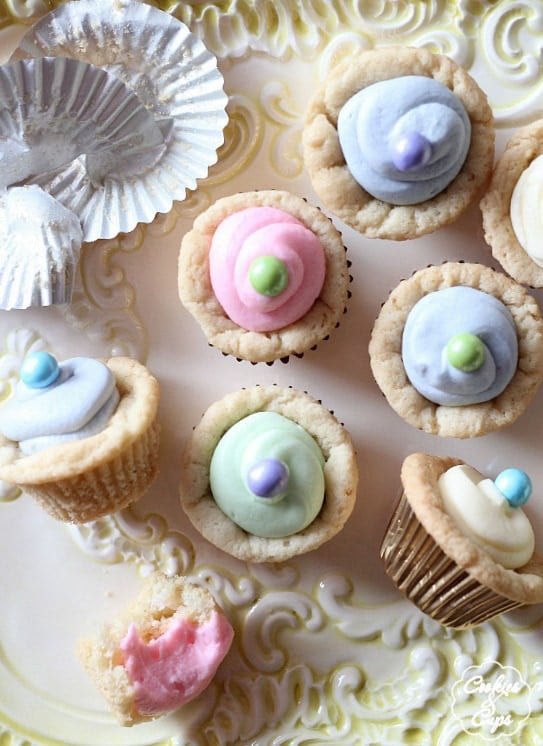 I cheated on the sugar cookie portion of this project and used a roll of pre-made sugar cookie dough.
I scooped out about a tablespoon portion of the dough for each mini cup…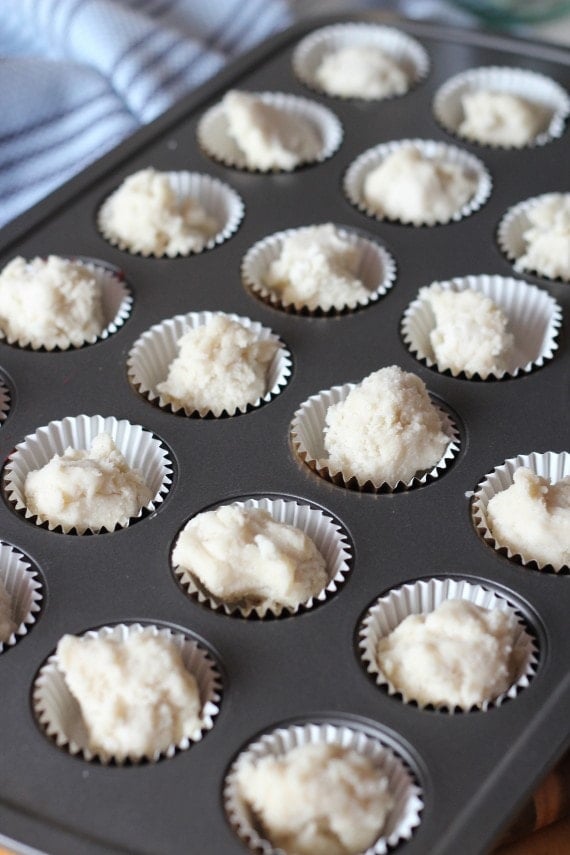 Bake them up and they will puff up a bit, but then flatten out…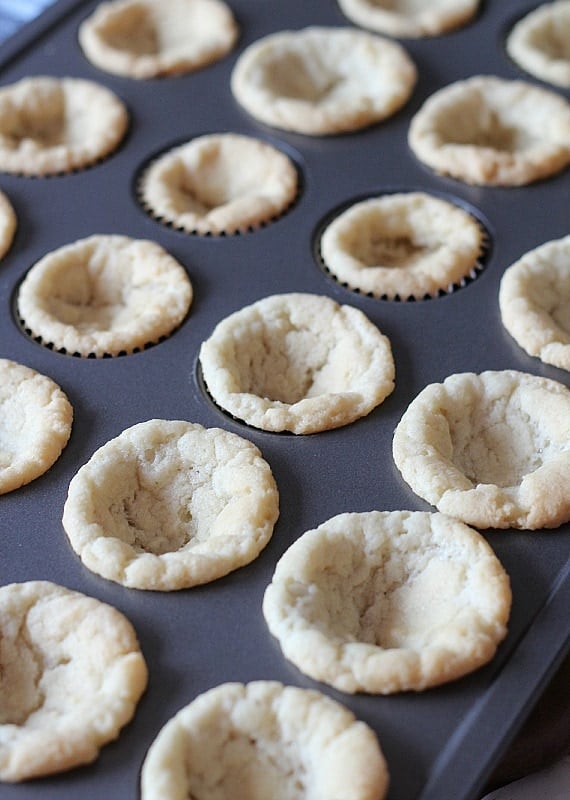 If yours don't seem to be sinking down like mine did, you can use the back of a wooden spoon to flatten them a bit while they are still warm.
Then go ahead and mix up your Buttermint Frosting. Make sure to use Peppermint Extract (like this one) and not "mint", otherwise you will have a batch of frosting that tastes like toothpaste. I speak from experience.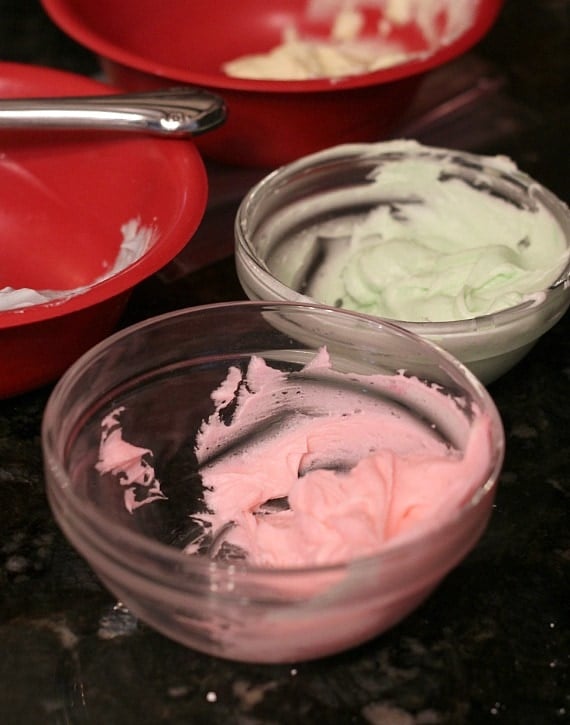 I colored my frosting light pastel colors..any color will do, or even just plain white would be pretty!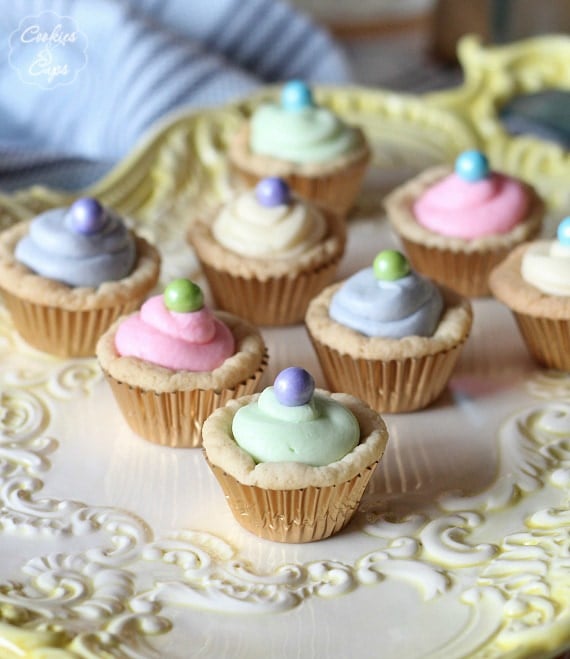 Totally easy and pretty! Perfect for the holidays or a baby shower…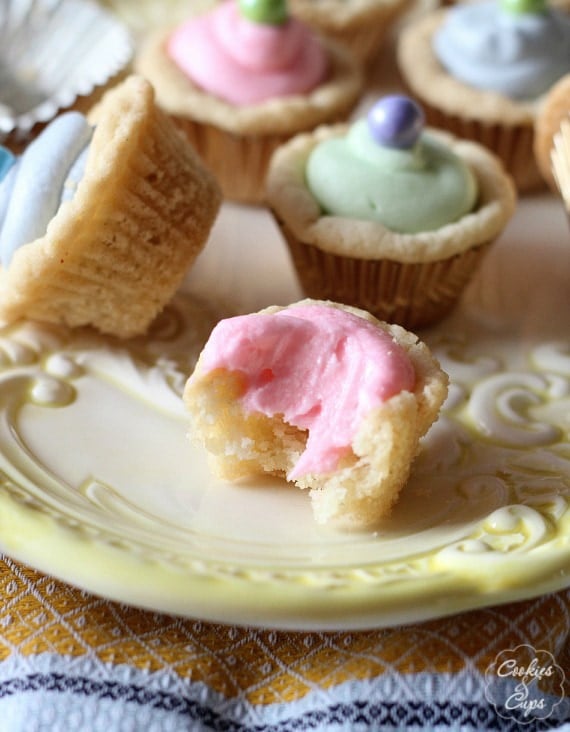 Print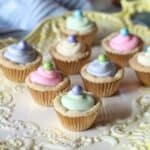 Buttermint Frosting
---
Description
makes 1 heaping cup of frosting
---
1/2 cup

butter

2 cups

powdered sugar

2

–

3

Tbsp milk
a few drops of peppermint extract
---
Instructions
Beat butter until smooth. Mix in powdered sugar until combined and add milk until consistency desired is reached.
Drop in a few drops of extract beating on medium high until light and fluffy. Add more extract if desired.
---
Want To Save This Recipe?
Find more recipes like this:
Now check out all the other ladies who cooked, baked and drink-made for Bev! It's a fun list of food you guys!
Appetizers
Bacon Cotija Guacamole from Gaby of What Gaby Cooking
Gruyère Gougères from Shaina of Food for My Family
Lemon Risotto Tarts from Kelly of Live Love Pasta
Goat Cheese Crostini with Pesto and Roasted Red Peppers from Liz of The Lemon Bowl
Spinach and Feta Quinoa Bites from Aggie of Aggie's Kitchen
Roasted Red Grape, Brie and Rosemary Flatbread from Laurie of Simply Scratch
The Fastest Appetizer Ever from Brooke of Cheeky Kitchen
Apple Pear Tart – Two Ways from Sarah of Daisy at Home
Drinks
Chocolate Chai Frappe from Brandy of Nutmeg Nanny
Cherry Chocolate Kiss Smoothie from Amy of Very Culinary
Cranberry Sorbet Bellini – Non-Alcoholic and Alcoholic from Megan of Country Cleaver
Peppermint Mocha Affogato from Christina of Dessert for Two
Toasted Marshmallow Cream Hot Chocolate from Jessica of How Sweet It Is
Pomegranate Lemonade Punch from Heather of Heather Christo
Salads
Kale Salad with Pomegranate, Orange and Pine Nuts from Rachel of Rachel Cooks
Pear Cranberry Arugula Salad from Tracy of Shutterbean
Brussels Sprout Salad + maple roasted cranberry dressing from Katie of Yes, I Want Cake
Gluten-Free Pasta Salad from Lisa of With Style and Grace
Hearty Roasted Winter Vegetable Salad with Honey Ginger Dressing from Heather of Heather's Dish
Winter Citrus Salad from Catherine of Weelicious
Entrees
Creamy Roasted Red Pepper and Chicken Sausage Pasta from Heidi of FoodieCrush
Eggplant Parmesan Lasagna from Joanne of Fifteen Spatulas
Cheesy Chicken Enchilada 'Double' Stacks from Lauren of Climbing Grier Mountain
Jalapeno Popper Chicken Soup from Kevin of Closet Cooking
Thai Spiced Chicken with Coconut Cream Swiss Chard from Brandi of Bran Apetit
Sausage and Red Pepper Quiche from Tasty Kitchen
Roasted Red Pepper Pasta with Goat Cheese from Julie of The Little Kitchen
Desserts
Soft and Chewy Oatmeal Coconut Chocolate Chip Cookies from Averie of Averie Cooks
Mississippi Mud Pie Brownie Ice Cream from Megan of Take a Megabite
Buttermint Frosted Sugar Cookie Cups from Shelly of Cookie and Cups
4-Ingredient Peanut Butter Chocolate Cookies from Ali of Gimme Some Oven
Sweet Potato Creme Brulee from Brian of A Thought for Food
Whole Wheat Double Chocolate Mint Cookies from Aimée of Simple Bites
Mini Chocolate Stout Cheesecake with Salted Beer Caramel Sauce from Jackie of The Beeroness
Red Velvet Hi Hat Cookies from Kristan of Confessions of a Cookbook Queen
Double Chocolate Panini from Kathy of Panini Happy