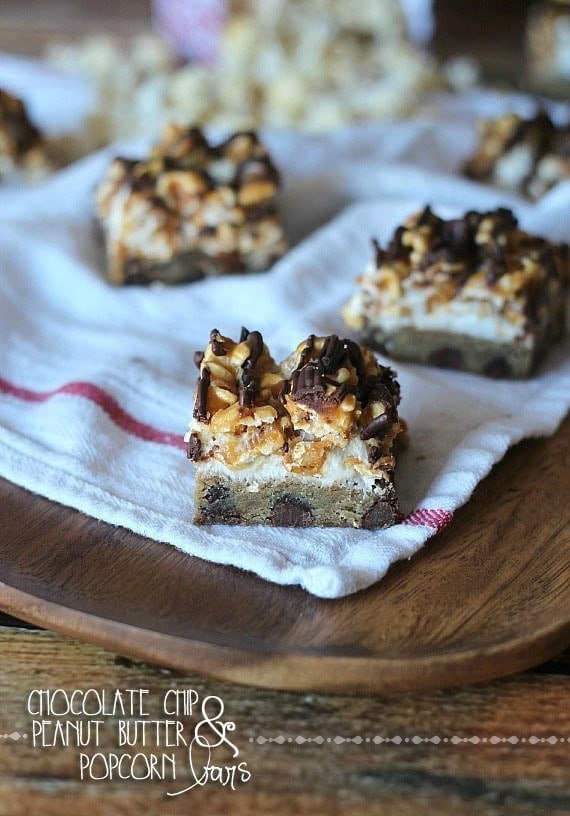 I know you're thinking it's weird to put popcorn on top of a cookie bar.
Sometimes you have to trust me, which I know it totally a sketchy thing to do…trust some random lady on the internet who is trying to fill you full of calories and nonsense.
But stick with me just a second.
I know the internet can fill your brain up with ideas you really want to be true, but aren't. I mean, I want to live in a world where dogs dance salsa…
Anyhow.
These bars are no eagle swooping down and snatching a baby. They are the reallll deallll.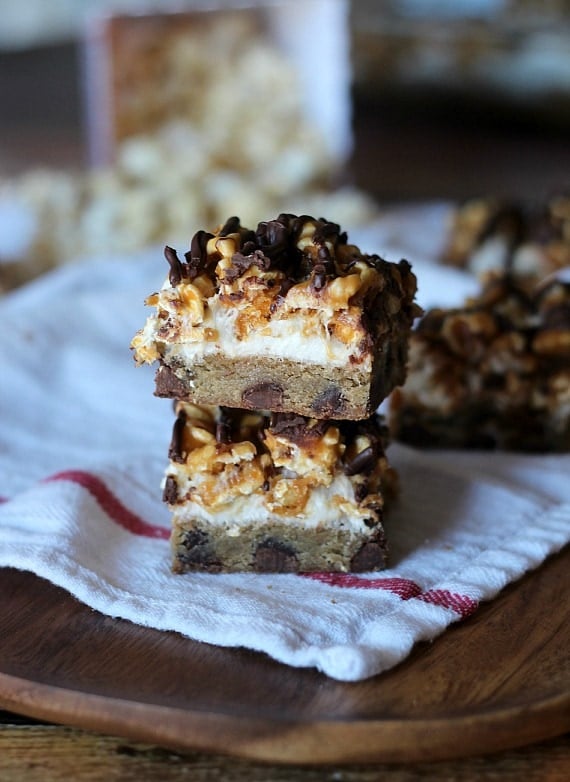 Chocolate Chip and Peanut Butter Popcorn Bars.
There are a few steps to these, yes, but it's worth it..and trust me, nothing is complicated.
I decided to make these bars while I was taking part in a fun webinar a few weeks ago hosted by Land O'Lakes® and The Pioneer Woman. The talk of the day was about new food trends coming up in 2013, as well as the new Land O'Lakes® Butter in Half Sticks, which solves a world of problems for those of you who don't use butter by the poundful 🙂
Anyhow, the webinar also included some fun panelists…girls I totally adore…Julie from The Little Kitchen, Sommer from A Spicy Perspective, Maria from Two Peas and Their Pod and Brenda from A Farmgirls Dabbles.
The panelists, along with Ree, each introduced a food trend for 2013. And well, since Maria and I are long lost soul mates, she chose popcorn. She speaks to my soul.
I decided to jump on the popcorn bandwagon and spin it in a different direction. That's how these bars came to life.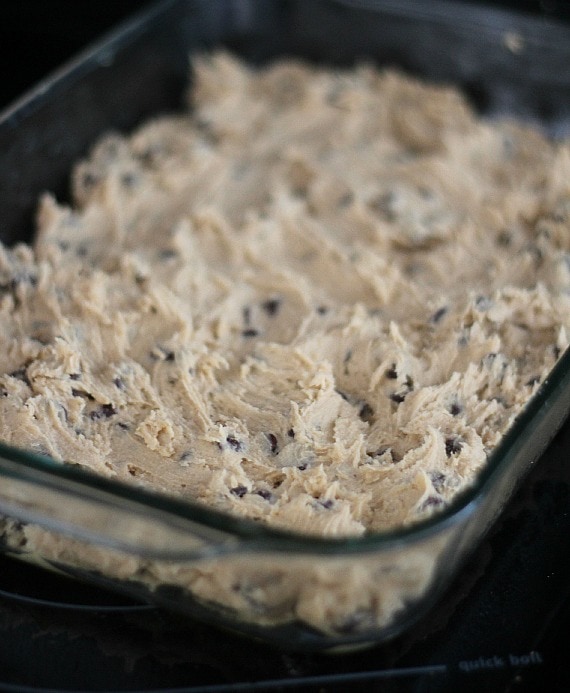 And since good things start with a chocolate chip cookie base, that's where we'll begin…
Whip up some cookie dough and bake it for 15 minutes.
Meanwhile grab a bag of popcorn, or pop your own.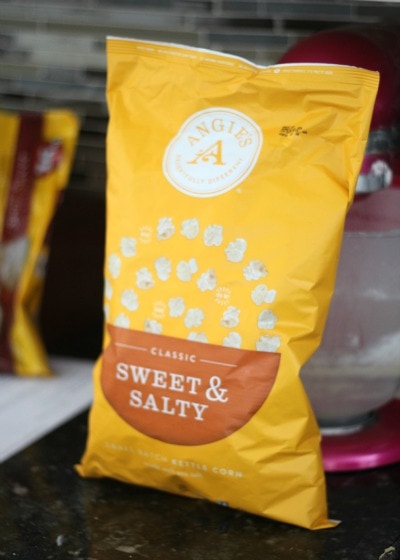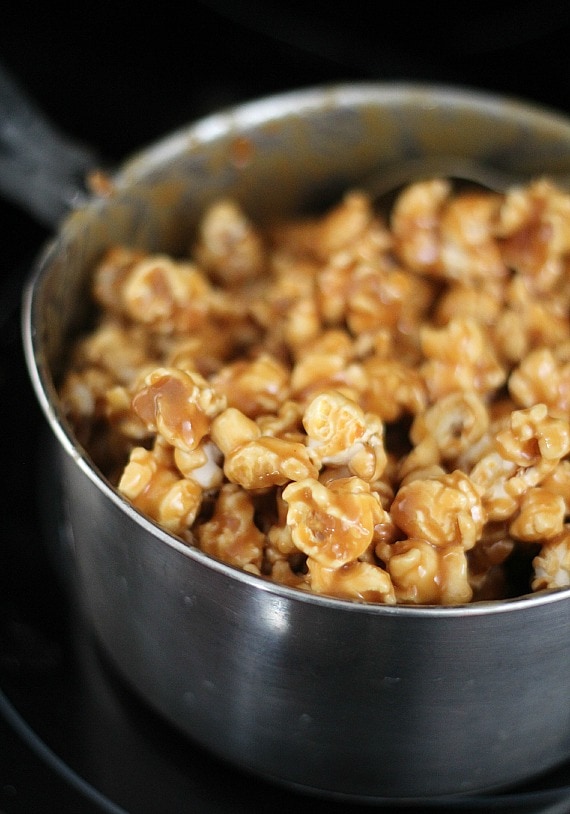 I opted for my new addiction, this Sweet and Salty Kettle Corn from a brand called Angie's. I am literally obsessed with this stuff. Ob. Sessed.
Next up, melt some butter, peanut butter and corn syrup together and coat a few cups of popcorn. Set that aside.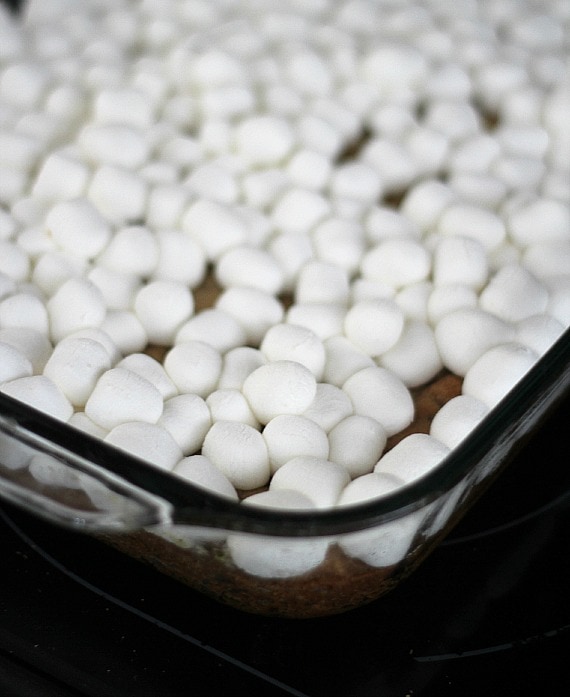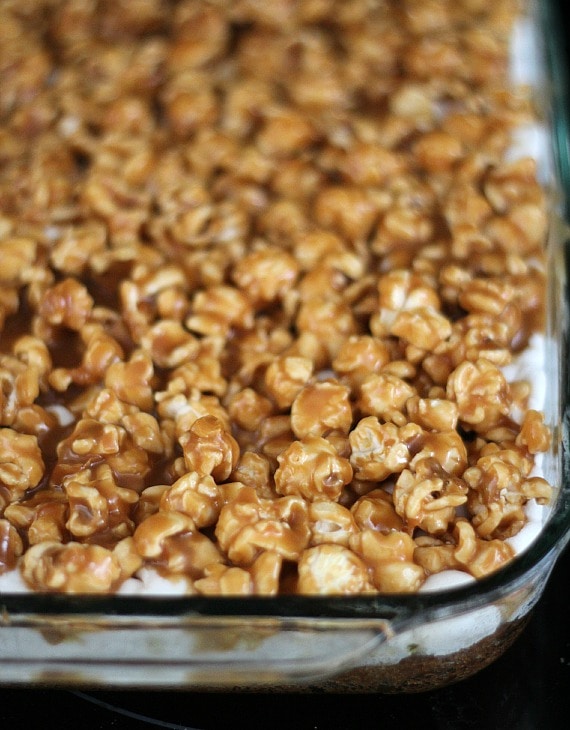 When the cookie is done, take it out and sprinkle it with mini marshmallows. Pop that back in the oven for just a few minutes until the marshmallows puff up.

Then immediately spread the coated popcorn evenly all over the warm marshmallows, pressing them lightly to stick.

I drizzled some melted chocolate all over that and let it cool completely. It actually took a few hours to cool down until I could cut it.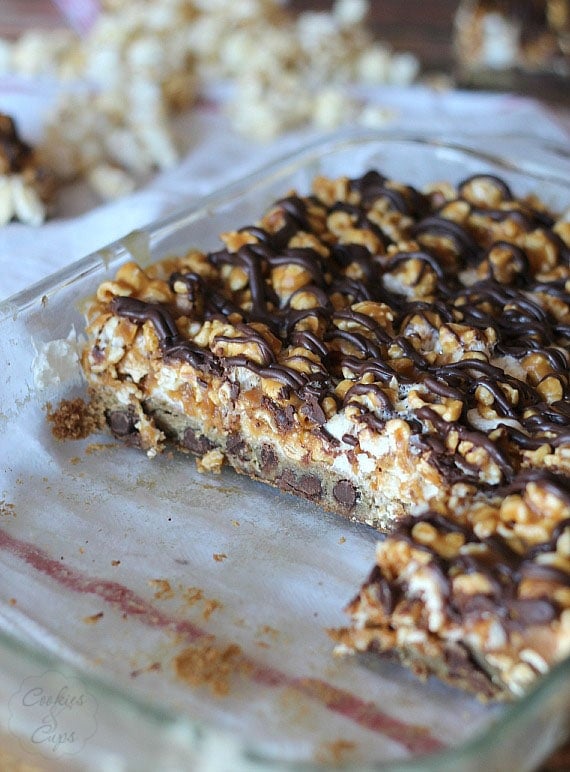 Then dive in. Mouth first.
Print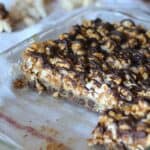 Chocolate Chip and Peanut Butter Popcorn Bars
---
---
Cookie base
3/4 cup

butter, room temperature

1 1/4 cups

brown sugar

2

eggs

1 tsp

vanilla

3/4 tsp

baking soda

1/2 tsp

salt

2 cups

flour

1 cup

semi-sweet chocolate chips
Filling
Popcorn topping
4 cups

popped popcorn, or kettle corn

1/4 cup

butter

2/3 cup

corn syrup

1 1/4 cups

peanut butter

1 cup

semi-sweet chocolate chips for drizzle
---
Instructions
Preheat oven to 350°
Spray a 9×13 pan with cooking spray
Cookie base
Cream butter and brown sugar together until light and fluffy, about 2 minutes
Turn mixer to low and add in eggs and vanilla. Turn mixer back up to medium until evenly incorporated.
Turn mixer back down to low and add in baking soda, salt and flour. Mix until just combined.
Stir in 1 cup chocolate chips.
Press dough evenly into prepared pan and bake for 15 minutes or until edges are golden.
Popcorn Topping
While cookie is baking, mix corn syrup, butter and peanut butter in a large saucepan over medium heat. Stir until smooth and mixture is heated through. Remove from heat and stir in popcorn, coating it completely and evenly. Set aside.
FIlling
When cookie is done baking, remove from oven and immediately sprinkle marshmallows evenly on top. Place back in oven for 2-3 minutes until marshmallows are puffed, but not browned.
Remove from oven and immediately spread the popcorn mixture on top of the marshmallows, pressing gently so the popcorn sticks into the marshmallows.
In a microwave safe bowl, or zip-top bag, melt your remaining chocolate chips and drizzle over top.
Let cool completely before cutting into squares.
---
Want To Save This Recipe?
Find more recipes like this: