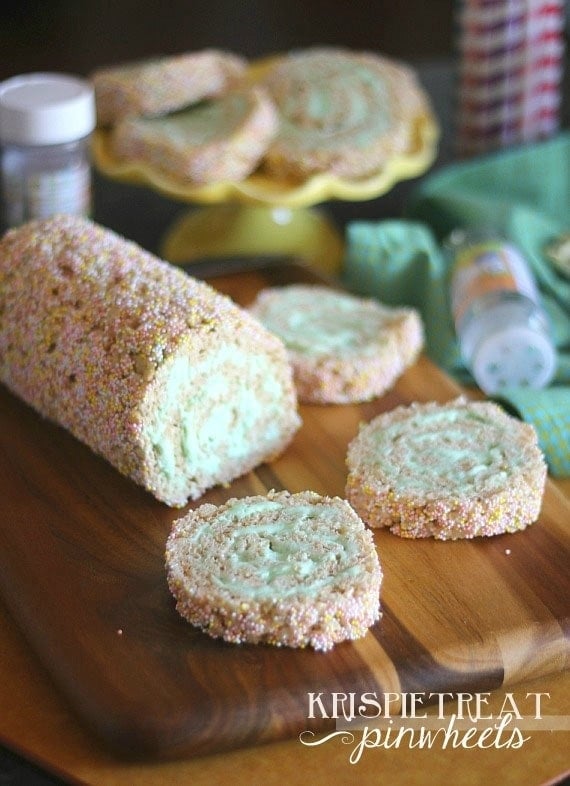 These might be my favorite new way to eat krispie treats.
They're called Krispie Treat Pinwheels, which is basically a giant Krispie Treat Yodel.
And really, coming up with clever ways to incorporate krispie treats and frosting has become my life's work.
I don't know how I got here.
I have to say, though I am kind of dying over this idea. The flavor possibilities are endless…I mean, Cocoa Krispies and peanut butter frosting? Doing THAT!
In other news, we are supposed to get another snow storm tonight and I am about ready to punch Old Man Winter in the earlobe. I have just about had it with his tomfoolery. Enough, please. I am fully ready to suffer through Spring allergies. That is all.
Anyhow…Krispie Treat Pinwheels…make them, you know you want to.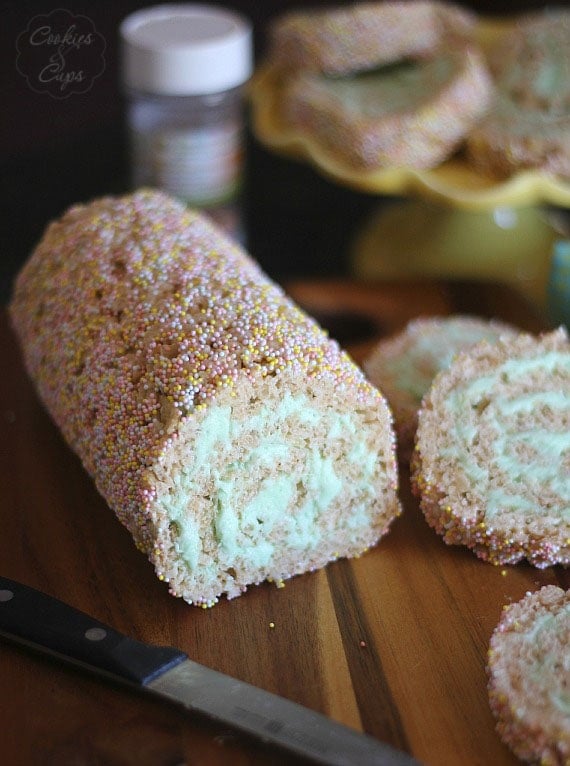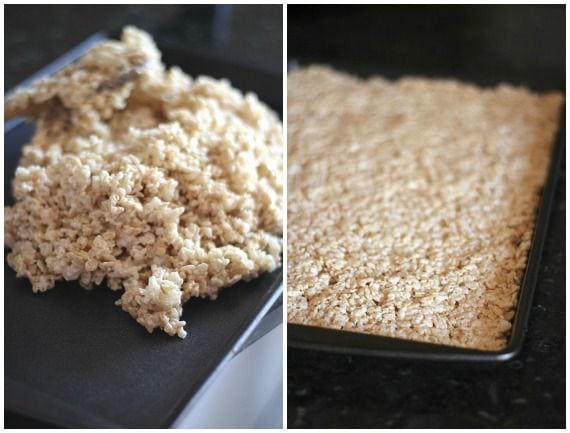 All you have to do is make a batch of krispie treats and press them tightly into a jelly roll pan…
Let them cool and top with frosting. Of course I used my favorite Buttercream recipe, but use whatever frosting you would like!
I dyed mine light green with a bit of food coloring.
Spread it out to about 1 inch from the edge. The frosting will spread as you roll it up.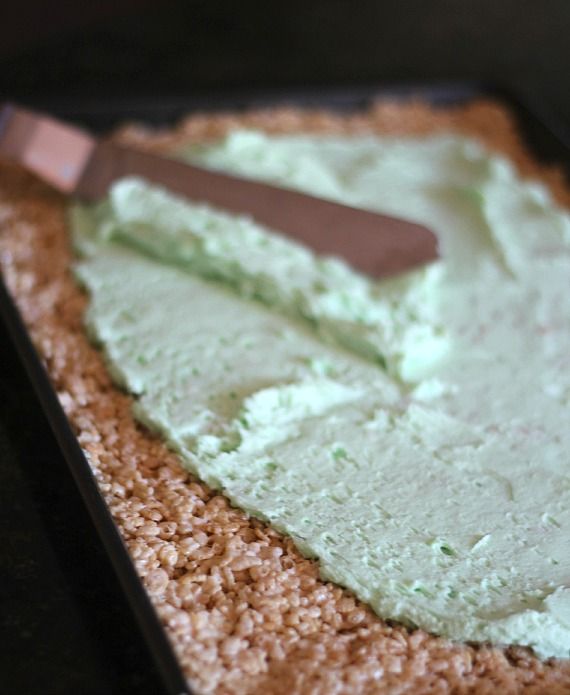 Then carefully roll it up firmly, so it is a nice roll.
You can start at the short end for a thicker pinwheel…or from the long side, which would produce a larger batch, but yield a smaller pinwheel. Totally up to you!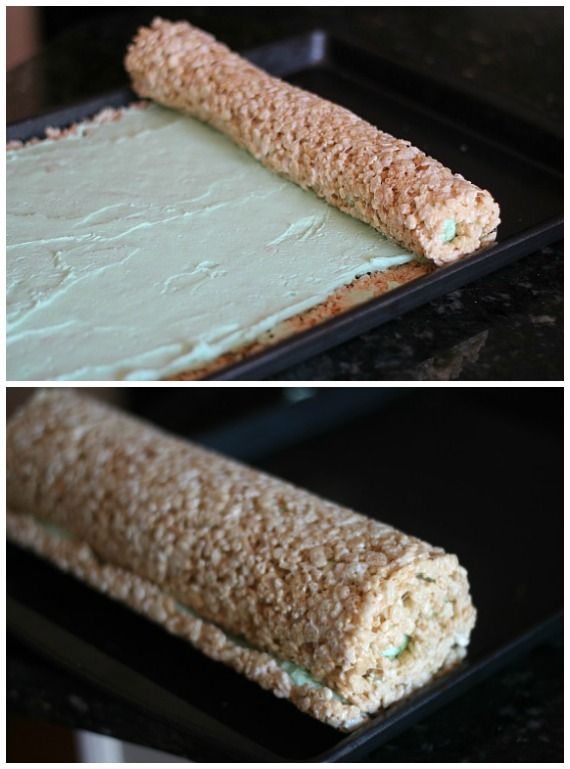 And if you're feeling fancy, roll that baby in sprinkles.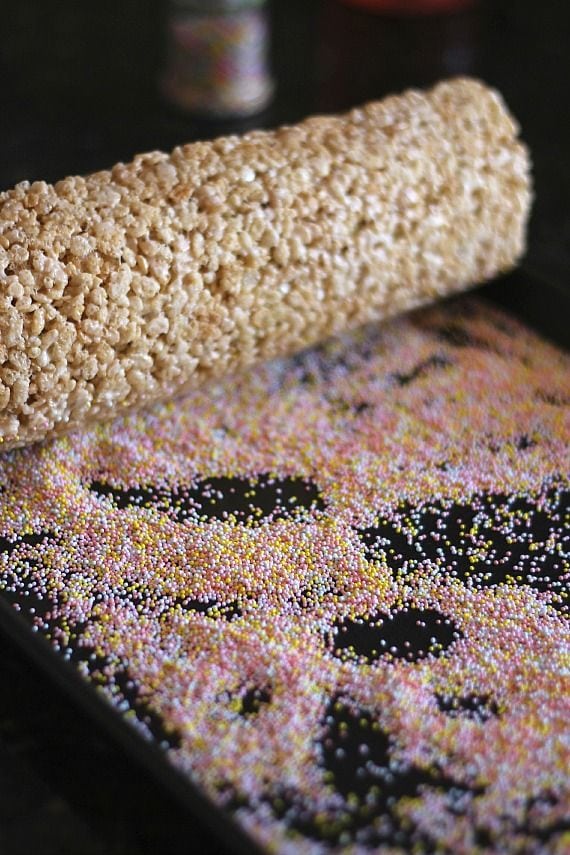 If you're going to use the tiny nonpareil sprinkles, just be prepared to find them from now until infinity on your floor. Just a warning.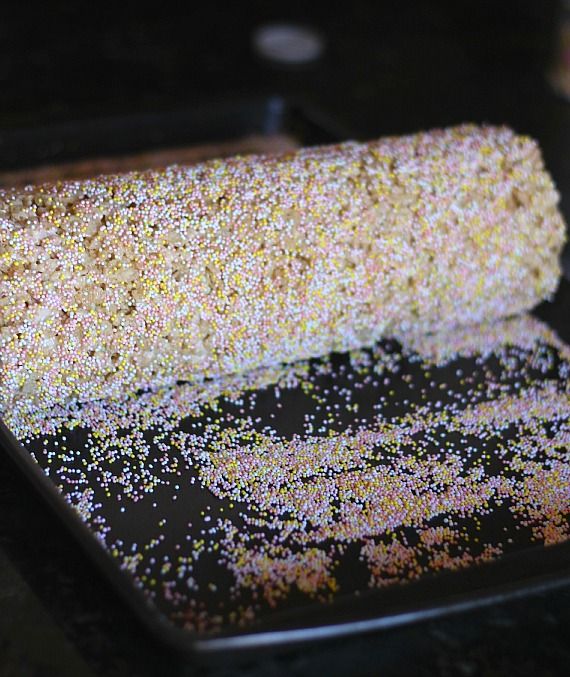 Then slice it up!
If you aren't going to use it right away, wrap it up in clear wrap and store it at room temperature.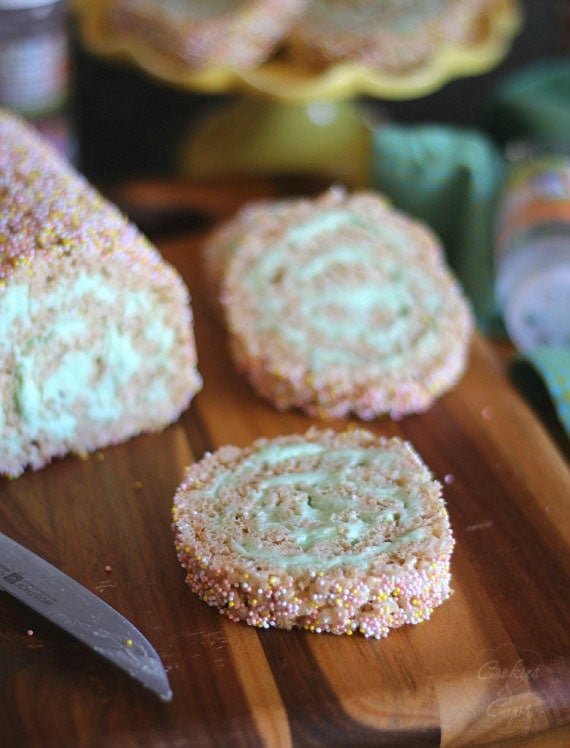 You might want to check out these Brownie Roll-Ups I did last year too.. Same concept, but with brownies!
Print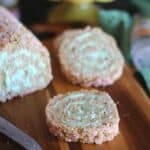 Krispie Treat Pinwheels
---
3 Tbsp

butter

4 cups

mini marshmallows
pinch of salt (about 1/8 tsp)

6 cups

krispie cereal

2 cups

frosting
Sprinkles for decoration (optional)
---
Instructions
Lightly spray jelly roll pan (15x10x1) with cooking spray.
In large saucepan heat butter over low heat.
When butter is melted add in mini marshmallows, stirring until melted.
Remove from heat, add in krispie cereal, stir until evenly coated with marshmallow mixture.
Press evenly into prepared pan. I sprayed my fingers with cooking spray and pressed mixture down compactly, so it would hold together when rolling.
Allow to cool completely (15-20 minutes).
Spread frosting on krispie treats, leaving about 1 inch space at the edges. The frosting will push out slightly.
You can roll the krispie treat pinwheels either way, vertically or horizontally. If rolling from the ends, you will get larger pinwheels, yielding a smaller batch, if rolling from the long sides, you will get a smaller pinwheel, but yield a larger batch.
If you want to coat the edges in sprinkles, roll the whole "log" in about 1/2 cup sprinkles.
Slice and serve!
---
Want To Save This Recipe?
Find more recipes like this: