These no bake graham cracker bars are so easy and yummy!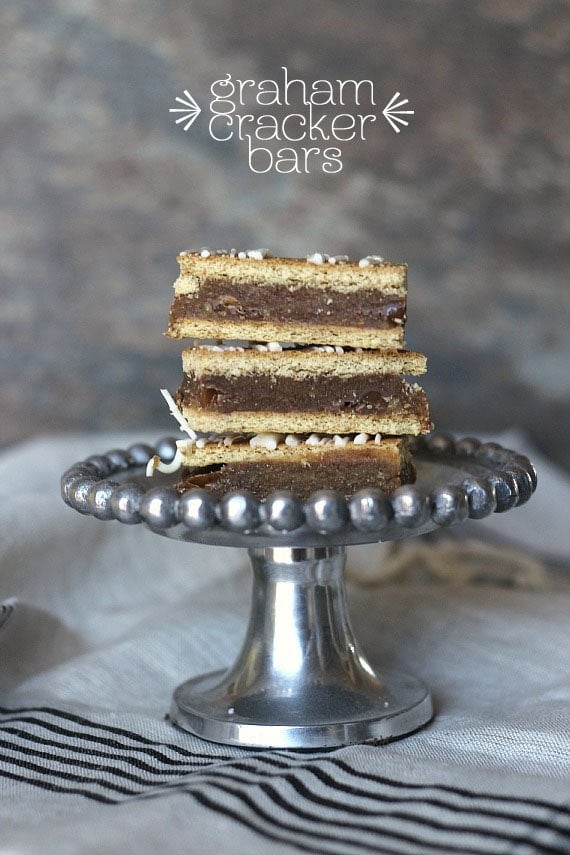 I love graham crackers.
I know they are kind of boring, and old fashionedy, but I love them.
And really, beyond being delicious on their own, they're so useful.
And aren't we all just looking to be useful?
Where would a S'more be without it's main squeeze, the graham?
Where would cheesecake be without it's homeboy, the crust?
How else would I justify eating straight frosting without Frosting Grahams to make it acceptable?
And honestly I love them plain. Which probably makes me 80 years old, but that's fine. I will be an awesome old person.
These bars are graham from head to toe. Oh yeah, with the exception that I added in some Rolos. I just can't let things be.
Graham Cracker Bars.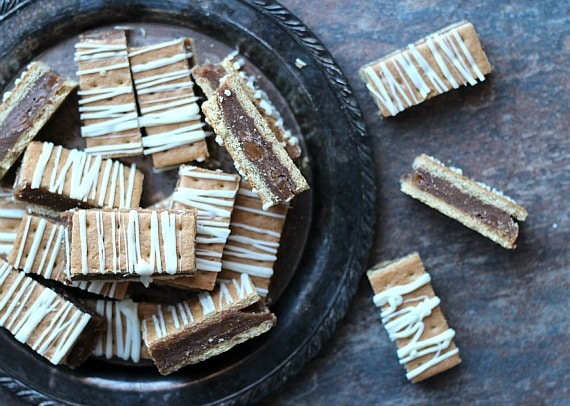 They're super easy too.. no bake is where it's at.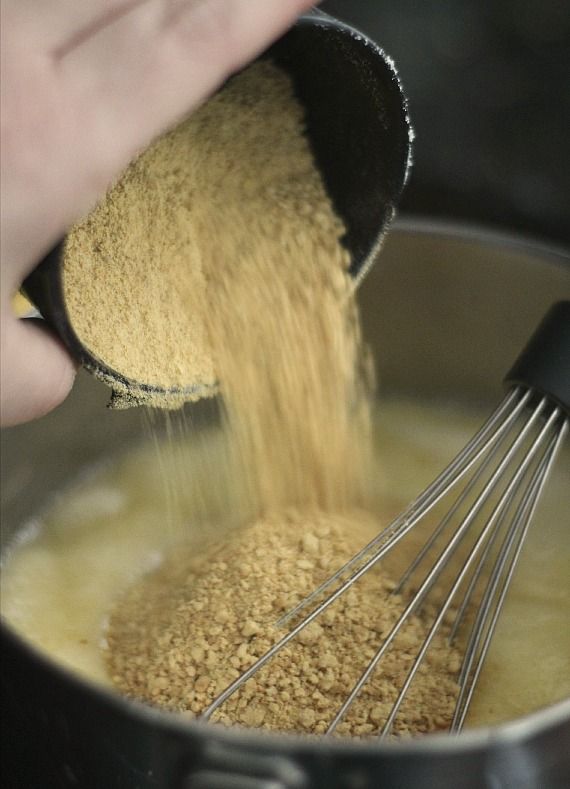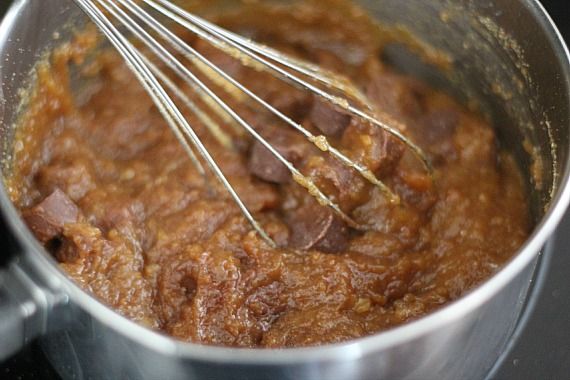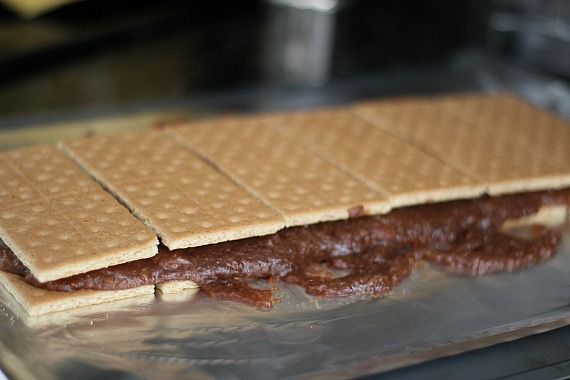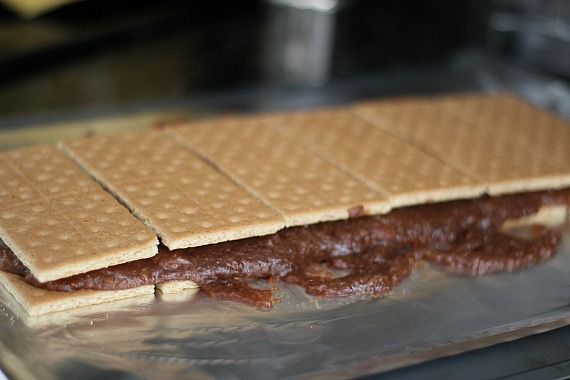 Just mix together some butter, milk, sugar, an egg and some vanilla. Bring that to a boil, like you would if you were making caramel…but immediately take it off of the heat and whisk in some graham cracker crumbs.
Let that business cool for about 30 minutes.
When it has cooled down, you'll want to add in your Rolo candies..
Then spread that on top of 6 graham crackers lined up tightly…
It might ooze over a little bit, and that's fine, just try your best to keep it on top…
Cover that with plastic wrap and let it set up in the fridge for about 4 hours. I know it's a long time, but trust me.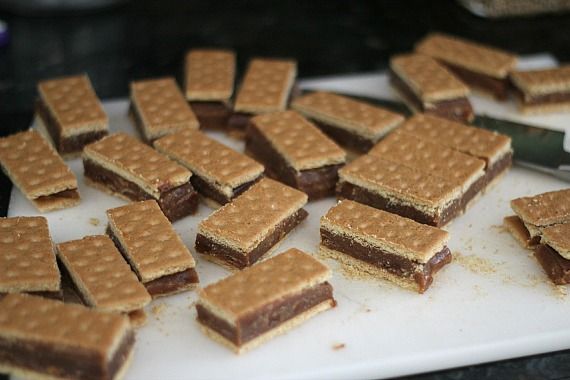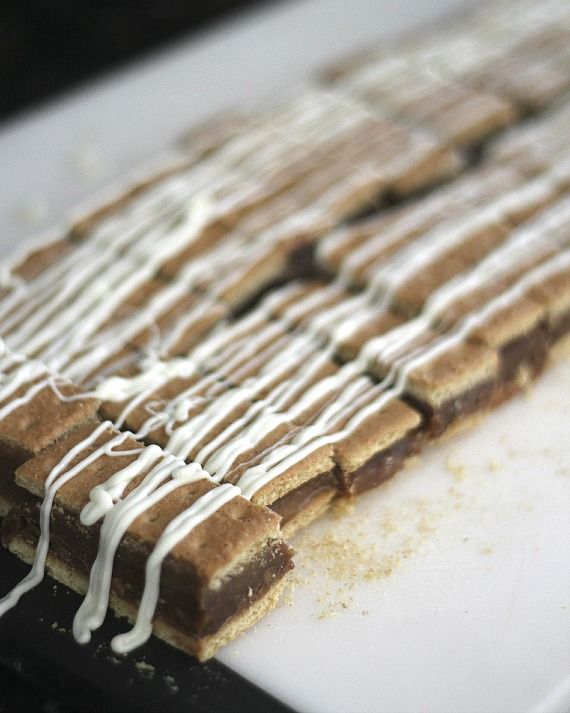 When it's ready, cut it into pieces right along the lines of the graham crackers…you'll have 24 pieces.
Then if you're feeling fancy you can drizzle them with some white chocolate…
That's it!
Just let them come up to room temperature before eating, unless you want to break a tooth on a cold Rolo.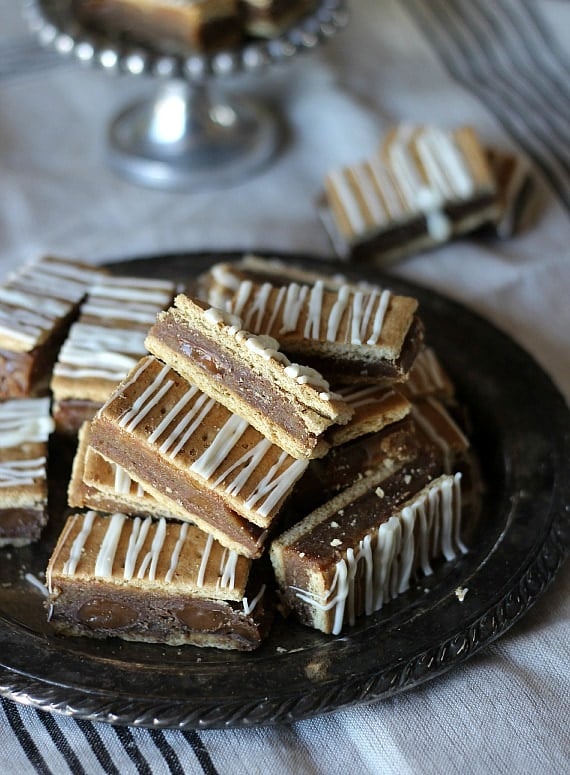 A simple treat for all you graham cracker people out there. Oh yeah, and Rolo people 🙂
Next time I am gonna try adding some marshmallows instead of Rolo..or maybe M&Ms…or maybe Reese's Cups…
Print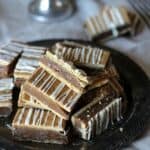 Graham Cracker Bars
---
3/4 cup

butter

3/4 cup

granulated sugar

1/4 cup

milk

1 tsp

vanilla

1

egg

1 cup

graham cracker crumbs

12

full graham crackers

1 1/2 cups

Rolo candies (or any other chocolate based candy)
*optional ~ 1 cup white chocolate to drizzle
---
Instructions
In a medium saucepan over medium heat combine butter, sugar, milk, egg and vanilla. Whisk ingredients together. Allow mixture to come to a boil. Remove from heat, whisk in graham cracker crumbs and set aside. Allow to cool for 30 minutes.
Meanwhile, line a baking sheet with aluminum foil. Place 6 full graham crackers next to each other, side by side. Reserve the remaining graham crackers to go on top.
When filling is cooled, stir in Rolo candies and spread carefully on top of 6 graham crackers. Careful not to move the crackers. Filling will likely ooze over the side, which is totally fine, but try to keep it on top of the crackers.
Carefully place the remaining 6 crackers on top, lining up with the crackers underneath.
Cover the crackers with plastic wrap and place in fridge to set up, at least 4 hours.
When crackers are set up, carefully cut them into pieces, along the crackers perforation.
If desired melt white chocolate and drizzle on top.
Allow white chocolate to set, and allow to come up to room temperature before eating, as Rolos will be hard if they are cool.
---
Want To Save This Recipe?
Find more recipes like this: