These Shortbread Toffee Cookie Bars are a buttery brown sugar shortbread crust, filled with a sweetened condensed milk caramel and topped with milk chocolate and toffee bits! SO sweet and rich!
This is one of those recipes that has been around for ages, I think.
I found the base for this recipe on Pinterest and decided to give it a try…unfortunately the picture just kept leading me back to a million other sites and never a proper source. Annoying. So I slightly varied the recipe that the person reposted on the picture. Recipe police don't arrest me.
Can we talk about all the food on Pinterest for a quick second allegedly being THE BEST… or MOST AMAZING…BEST EVER… LIKE CRACK..
Let's end that trend, kay?
Because here's why….
I got an email informing me that I should change the name of my Peanut Butter Cup Crack Brownies…because brownies are indeed NOT like crack.
Apparently I have misled a lot of people.
I truly hope none of you guys tried those brownies and were let down because you didn't end up high at the end of a street corner. I'm such a jerk. A giant crack liar.
Sorry bout that.
Anyhowwwww….
In this case "Best Ever" might apply. Because these are the "Best Ever Shortbread Toffee Cookie Bars" I've ever had.
They actually might be the only Shortbread Toffee Cookie Bars I've ever had, soooo, there's that….
Also, my pictures look NOTHING like the picture on Pinterest so I think I a) might have done something completely differently or b) the photo was not actually the finished product of the recipe. Not sure.
The base is a brown sugar shortbread, the filling is a caramelized sweetened condensed milk and the topping is a mixture of milk chocolate and toffee. It's everything you could want all in one place.
LIKE CRACK! Wait…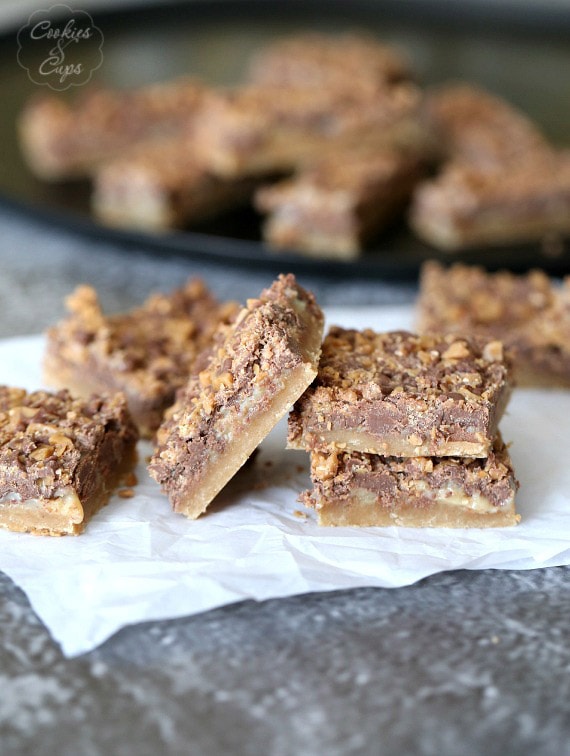 The steps are super easy.
Just make your crust…just brown sugar, butter and flour…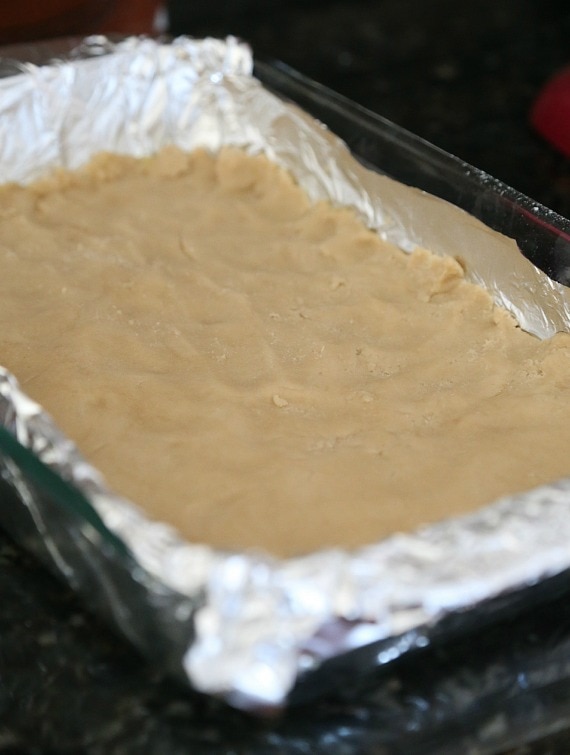 Press it into a pan and bake it…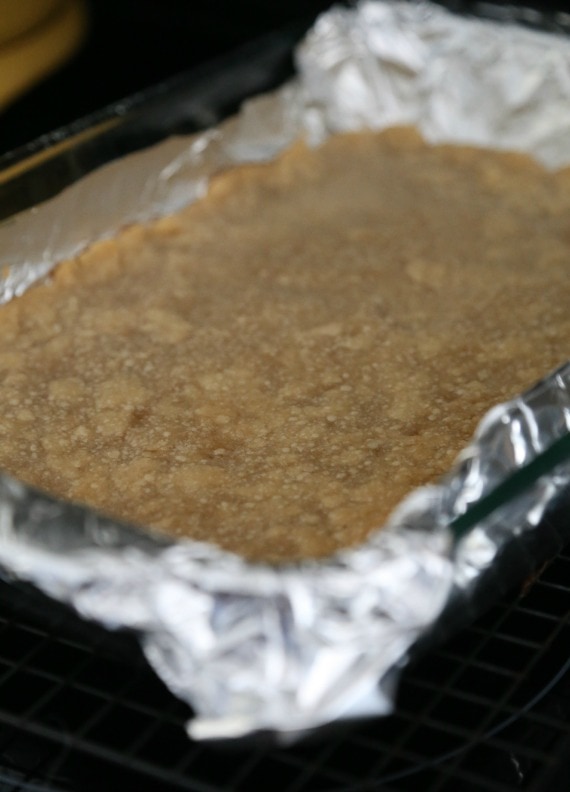 Then melt some butter with sweetened condensed milk and pour that all over…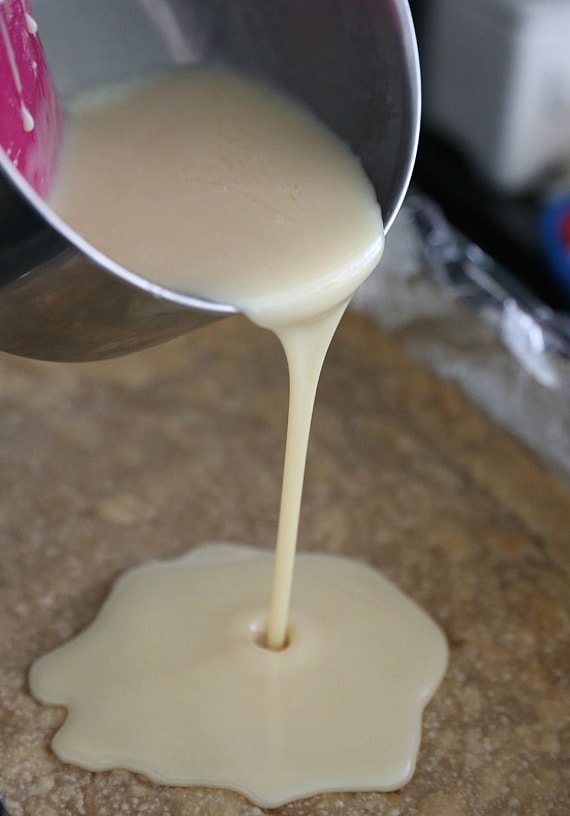 Bake it until it's brown and bubbly and caramelly…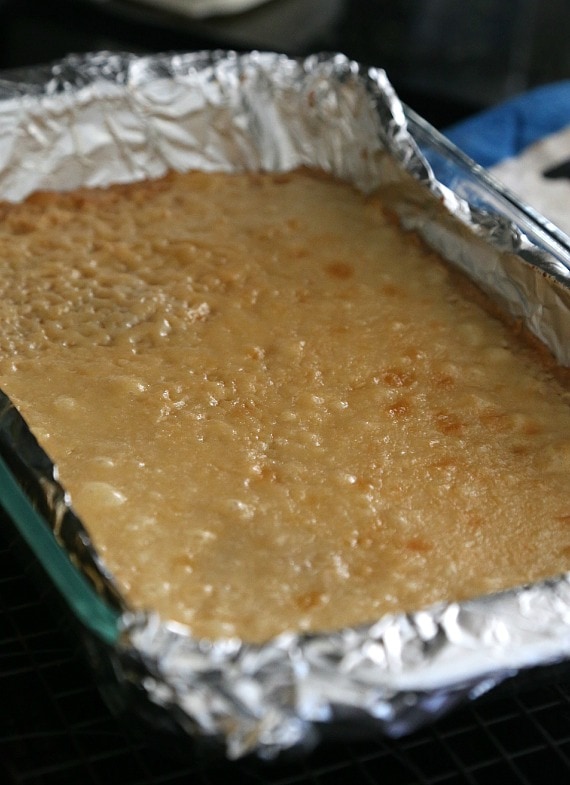 Grab some milk chocolate chips and toffee bits..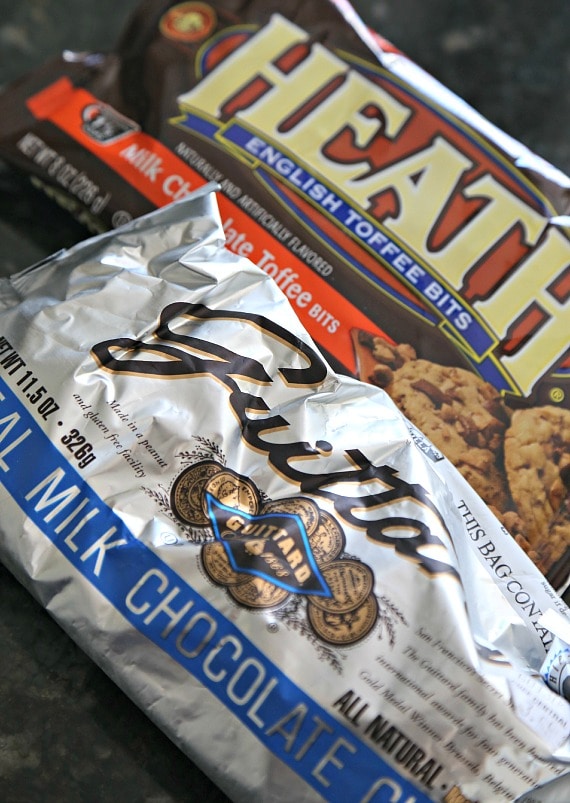 Sprinkle milk chocolate chips all over the hot filling and pop back in the oven for 2 minutes until the chocolate is glossy and spreadable…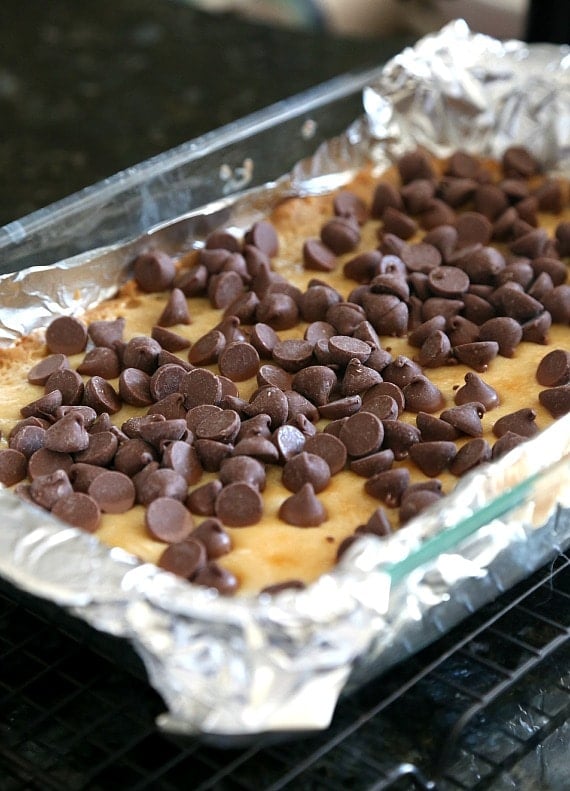 Carefully spread it all over. It's ok if it's not perfect. You're going to top all that with toffee.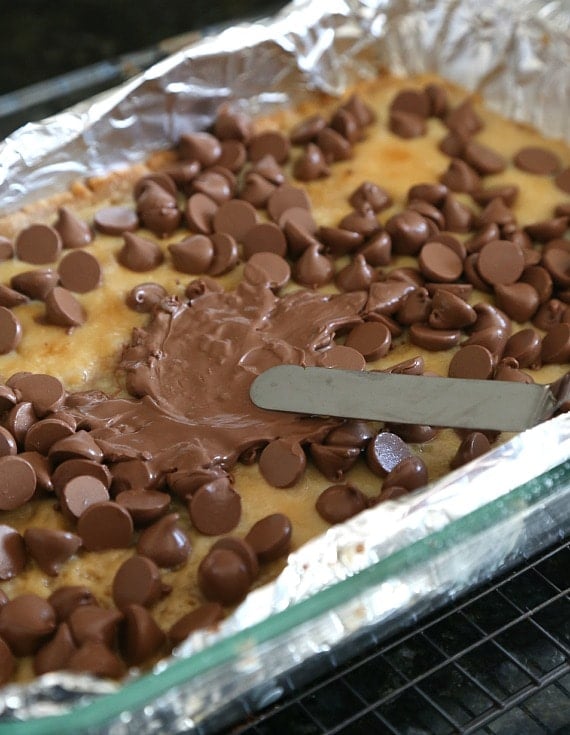 See?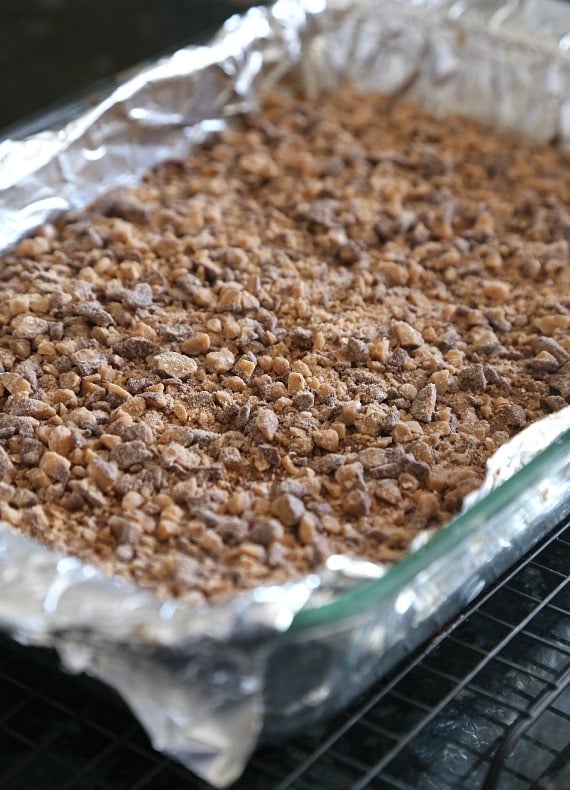 Let these guys cool COMPLETELY! I actually let them sit overnight before I cut them. But you could easily pop them in the fridge to speed up the cooling process. That'd be fine!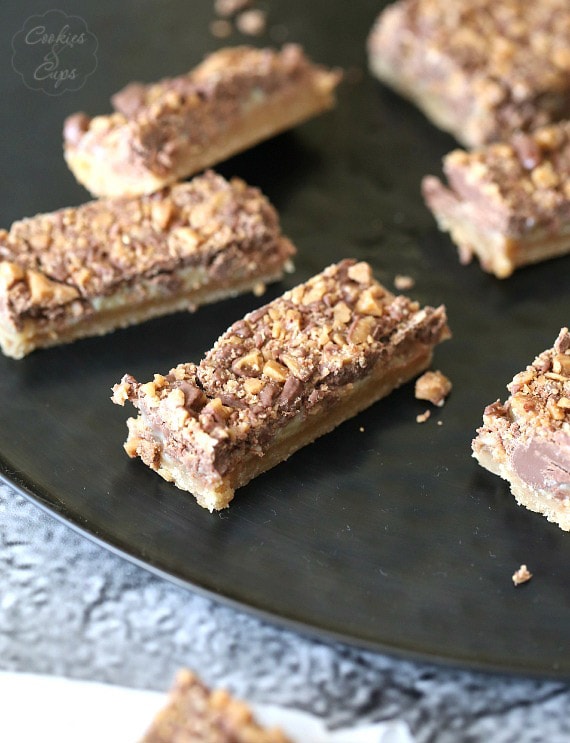 And then die.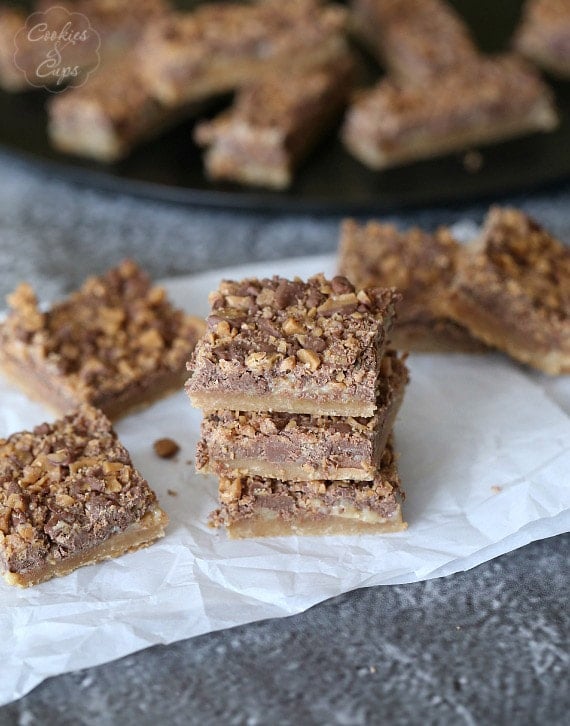 Because they're so good. Not because of the crack.
Print
Shortbread Toffee Cookie Bars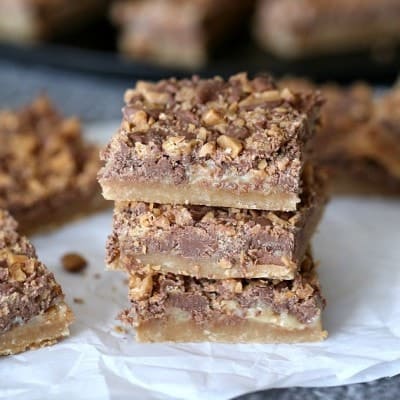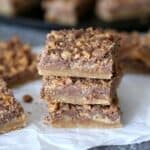 ---
Description:
makes 30 squares.
---
Ingredients:
Shortbread Crust
3/4 cup

butter, room temperature

3/4 cup

light brown sugar

1 1/2 cups

flour
Filling
1 cup

sweetened condensed milk

2 Tbsp

butter
Topping
2 cups

milk chocolate chips

1 1/2 cups

Toffee Bits
---
Instructions
Preheat oven to 350°
Line a 9×13 pan with foil and spray lightly with nonstick spray.
Shortbread Crust
Beat butter and sugar together until combined, 1-2 minutes.
Mix in flour. Mixture will be slightly dry. Press into prepared pan. Bake for 15 minutes until lightly golden. Remove from oven and allow to cool slightly.
Filling
In a small saucepan heat sweetened condensed milk and butter together until butter is smooth. Pour over shortbread crust. Bake 12-15 minutes until filling is bubbly and browned. It will almost take on a light caramel appearance. Remove from oven
Topping
Immediately sprinkle milk chips on top of filling when it comes out of the oven. Place back in oven for 2 minutes until chips are shiny and soft.
Carefully spread the chips over the filling with an off-set spatula.
Sprinkle with toffee bits, pressing into milk chocolate.
Allow to cool completely before cutting into squares.
---
Notes:
You can lace these in the refrigerator to help speed up the cooling process.
I allowed mine to cool at room temperature, though, over night before I sliced and served.
Want To Save This Recipe?