These Easy Chicken Flautas (Flautas De Pollo) are quick to make, crispy on the outside and flavor-packed on the inside! You can fry these for the crunchiest shell, or even bake, or air-fry! Serve them as an easy dinner, or an appetizer on Game Day, these are always a hit!
Serve these Flautas with my Avocado Salsa! It's delish!
Get Ready To Make Easy Chicken Flautas (Flautas De Pollo) At Home!
I grew up in Texas where Tex-Mex food was available at every turn. When I moved to New Jersey I realized that not all parts of the country serve up their Tex-Mex quite the same. I learned if I wanted the good stuff I had to make it at home!
My stepmom is Mexican, so I have a good resource for Mexican food recipes…and while a lot of Tex-Mex food isn't exactly authentically Mexican (far from it actually), I have learned a little bit along the way.
I always order flautas out at restaurants, but the recipe I am sharing today shows you how easy they are to make at home! And the great thing about homemade is that you can alter the flavors to whatever you like best!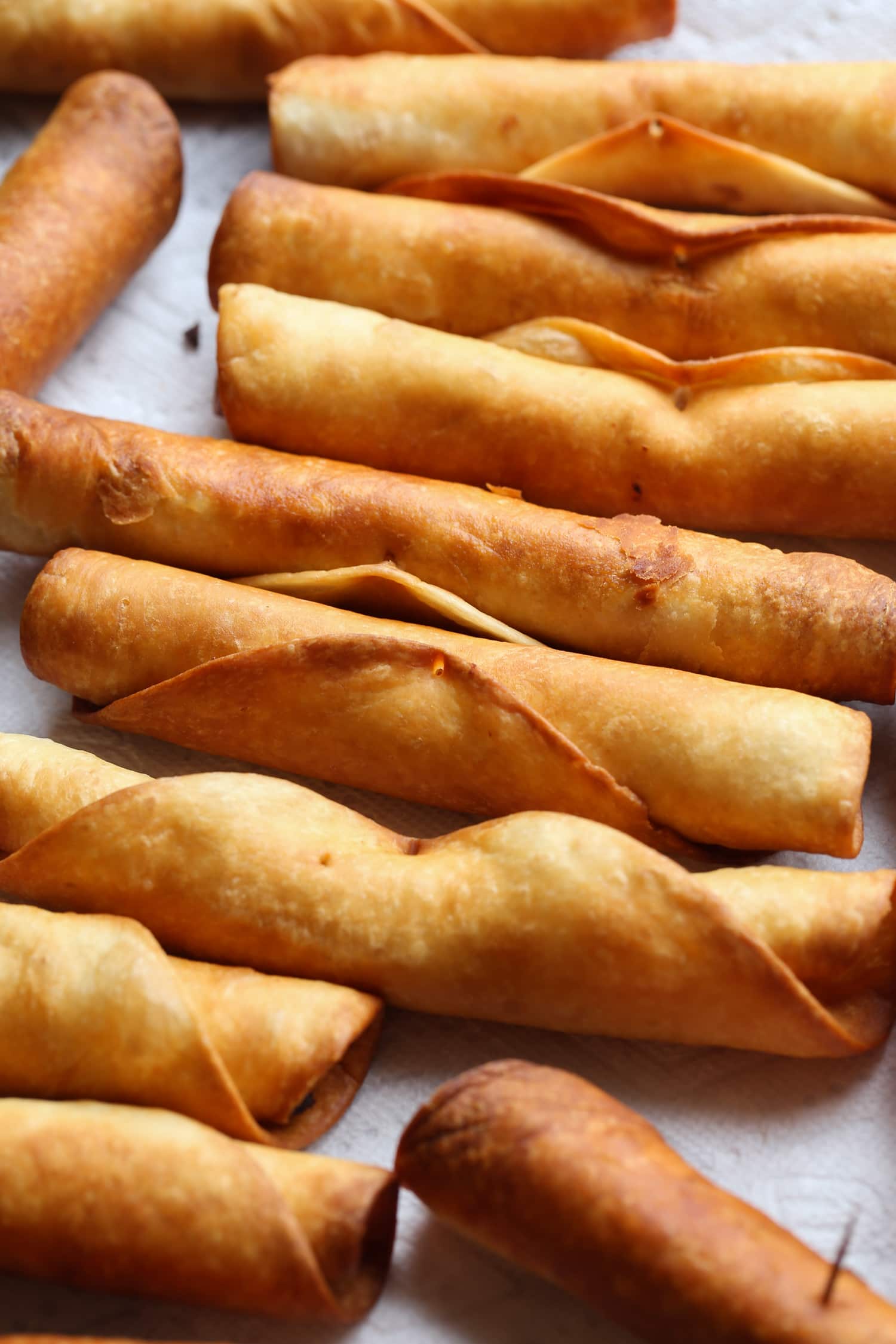 What Is A Flauta?
Flauta is actually Spanish for flute, which is how they got their name! They are a long, thin, rolled taco.
You can fill flautas with whatever kid of shredded meat you like, chicken, steak, pork, or even a veggie version using potatoes! The meat is seasoned up nicely with spices like cumin, garlic, cayenne etc. and feel free to play around with whatever seasoning blends you love. Then you fill the tortilla with the meat, roll it up tightly and deep fry it to get that crispy exterior. Once you have the basics of making flautas, you can get really creative!
Of course my flautas recipe isn't completely authentic because I wanted to make a more cheesy version! I think the filling that I use is crazy delicious and am pretty sure if you like cheese, you will too!
What's The Difference Between A Flauta And A Taquito?
Flautas and taquitos can easily be interchanged. They are essentially the same, but flautas use a flour tortilla while taquitos use a corn tortilla. Also flautas are generally supposed to be thinner (skinnier) than a taquito. They are essentially the same and the names are often interchanged, so let's not get hung up on this minor detail!
I have a great recipe for Cheesy Chicken Taquitos that are absolutely killer, so check those out too!
Flauta Ingredients:
Shredded cooked chicken. This is a great place to use a shortcut like a Rotisserie chicken. You can also use leftover chicken, or check out my easy recipe for making shredded chicken in under 25 minutes!
Seasonings: paprika, cumin, garlic powder, and salt. You can get creative with flavors here and add a little heat like cayenne pepper, or a little smokiness and use smoked paprika.
Salsa. Here you can use your favorite brand of salsa, or homemade. You could even use salsa verde if you prefer!
Cream cheese. You can use low fat cream cheese here if you would like!
Grated Monterey Jack cheese. Or you can really use any type of cheese like cheddar, Colby Jack, a Mexican Blend, or even Pepper Jack!
Flour tortillas. Make sure to get 8- inch tortillas, They're sometimes called Burrito-style.
Vegetable oil or Canola oil to fry. Any light color oil will work!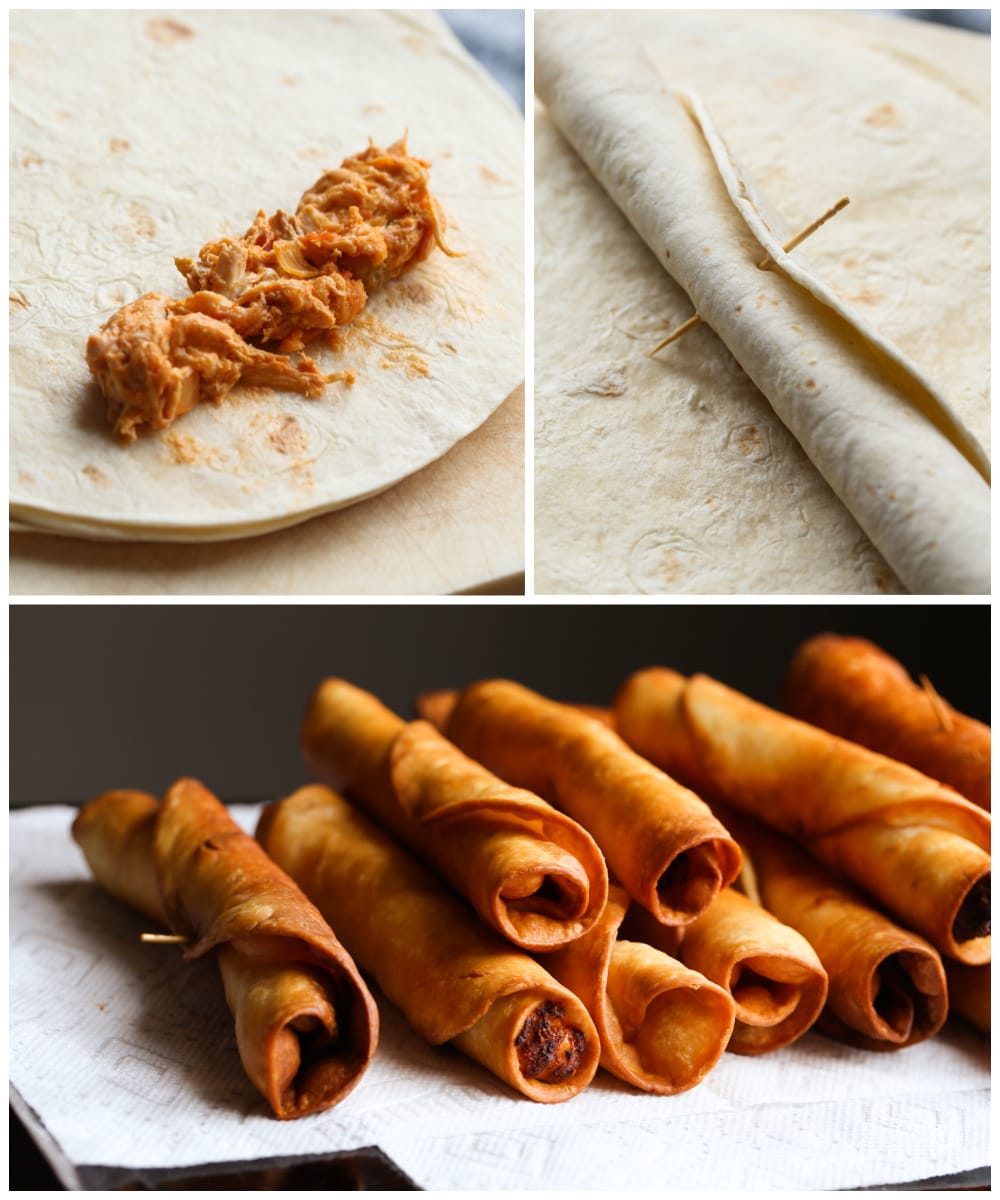 How To Make Chicken Flautas (Flautas De Pollo)
Making these flautas is very easy, and my teenagers make them on their own from time to time. The only step you really might need to help is the frying, but honestly, they're simple! Plus I am going to include other methods for cooking them if frying isn't your thing!
Make Your Filling: Ina skillet combine the chicken, seasonings, salsa, and cream cheese. Remove this from the heat and add in the grated cheese, stirring to combine.
Assemble Your Flautas: Fill each tortilla with about 3 tablespoons of the chicken mixture. You want your flautas to be filled, but not over-filled, as it will squeeze out the ends when you roll them up! Roll them up tightly and secure each with a toothpick to hold together.
Fry: Heat oil in a large Dutch Oven until it reaches 350°F. I like to fill my Dutch oven about 2- inches deep with oil so the flautas deep fry and cook evenly. You can add less oil and do more of a pan fry if you prefer that method as well.
Cool: Transfer to a paper towel lined baking sheet to drain and cool slightly before serving.
What Garnishes Are Good On Chicken Flautas?
So many options to garnish your flauta…or honestly enjoy them plain! Totally up to you! Here are a few ideas we like:
Guacamole
Salsa
Sour Cream
Queso
Other Cooking Methods:
How To Bake Flautas:
These flautas can easily be baked as well as fried. This can cut on some of the fat and calories. Or if you just don't like to fry food and all the mess that comes along with that!
Preheat oven to 400°F.
Coat a baking sheet with nonstick spray.
Prep the flautas as the recipe states in steps 1 and 2.
Place the flautas on the prepped baking sheet and bake for 15 – 20 minutes, flipping once throughout baking until golden and crisp.
How To Air-Fry Flautas:
The Air-Fryer is a great kitchen tool that can mimc the results of deep frying. Here are the easy steps:
Preheat your air fryer too 400°F.
Prep the flautas as the recipe states in steps 1 and 2.
Lightly spray or brush the flautas with olive oil
Tips For the Best Flautas:
Here are some tips to keep in mind when you make flautas:
Don't over-fill your flautas. The filling will squeeze out when you roll them up, and also they filling will get very brown when they are fried.
Alternately don't UNDER-fill them either! Otherwise you'll just have a fried tortilla!
Make sure to use the toothpick. It might seem like an annoying step, but if you are frying these they will most certainly unroll once they hit that hot oil!
Use other meat too! You can easily use shredded beef or pork in place of the chicken. Or make a veggie version using potatoes and beans!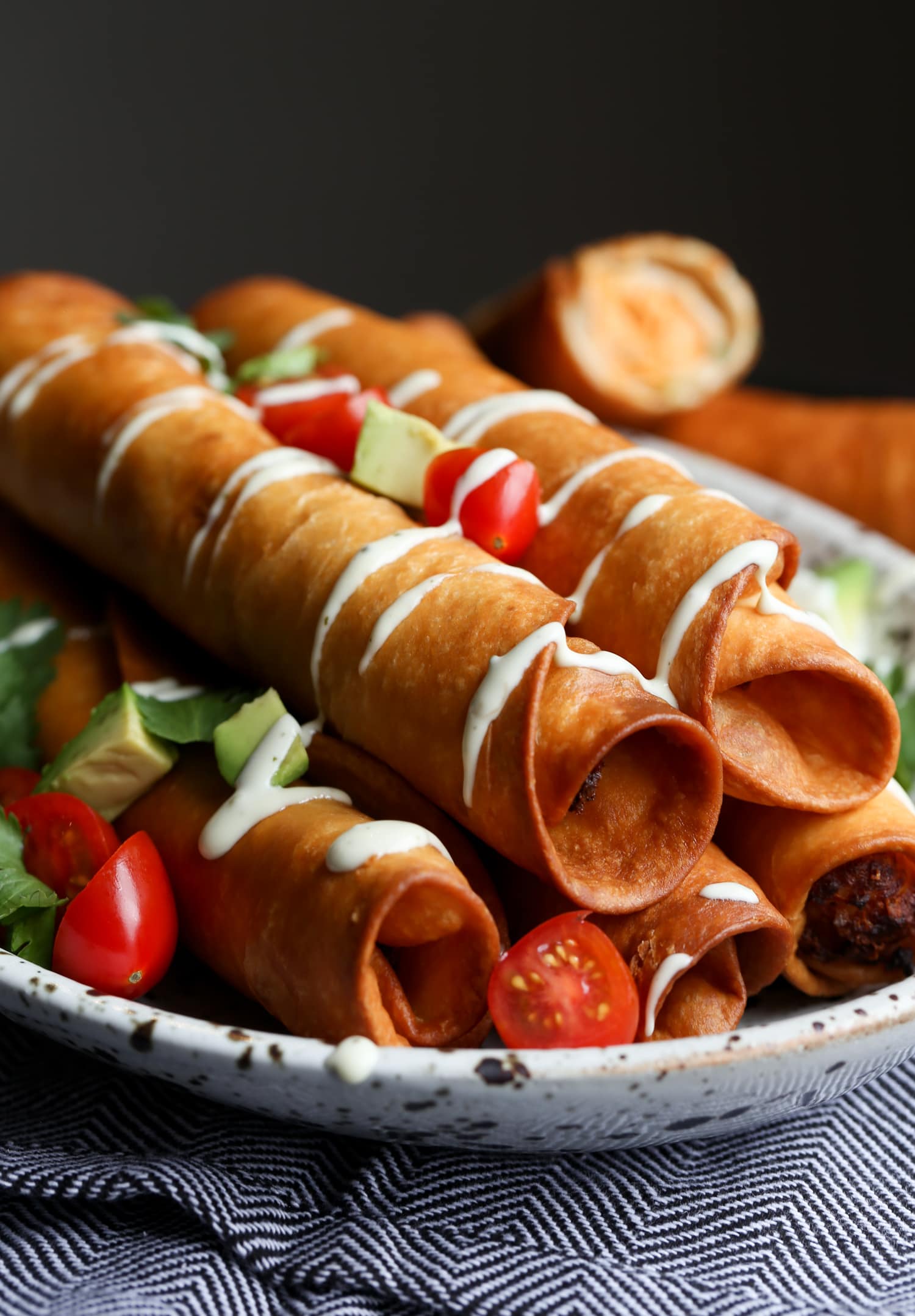 Serving Suggestions:
Flautas are an amazing dinner idea, and a fun way to mix up your Taco Tuesday. But these make great appetizers for a party or Game Day!
Make Flautas In Advance:
You can fill and roll the flautas up to a day in advance, which is a great option if you are entertaining! You can fry them when you're ready to serve.
OR if you don't love the idea of frying up flautas on the day of your event, go ahead and fry them a day ahead and reheat them in the oven! They will crisp back up nicely!
How To Store and Reheat Chicken Flautas:
You can absolutely heat the extras up in the microwave in a pinch, but of course they won't be crisp. So if you want that crunchy exterior I recommend reheating these in the oven or air-fryer.
Oven: Bake at 350°F for 7-10 minutes
Air Fryer: Preheat air fryer to 400°F for 6 – 8 minutes, flipping once.
Love Tex Mex? Here Are A Few More Recipes You Might Like?
Print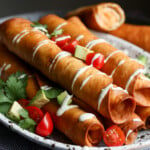 ---
Description
This Easy Chicken Flautas (Flautas De Pollo) are quick to make and absolutely delicious! They're cheesy, chicken filled rolled tacos, deep fried so they're crispy on the outside!
---
3 cups

shredded chicken, or use rotisserie chicken

1/2 teaspoon

paprika

1 teaspoon

cumin

1/2 teaspoon

garlic powder

1 teaspoon

kosher salt

2/3 cup

salsa

4 ounces

cream cheese

1 1/2 cups

grated Monterey Jack cheese

12

(8- inch) flour tortillas

vegetable oil for frying

toothpicks

to garnish – shredded lettuce, diced tomatoes, sour cream, avocado, black olives
---
Instructions
In a medium skillet combine the chicken, paprika, cumin, garlic powder, salt, salsa, and cream cheese. Once combined and warm sprinkle in the grated cheese, stir to combine and remove from the heat.

Fill each tortilla with 3- tablespoons of chicken filling, roll tightly and secure with a toothpick. *Tip – Place the filling off-center in the tortilla before rolling, and squeeze evenly while rolling, so the filling distributes, but doesn't squeeze out. Set aside.

Heat a large Dutch oven filled with vegetable oil 2 – 3 inches deep over medium heat until it reaches 350°F.

Heat oven to warm. Line a large baking sheet with paper towels and set aside.

Two at a time, fry the flautas in the hot oil for 3 – 4 minutes until lightly browned. Remove from oil, place on the prepared baking sheet and place in oven to keep warm. Repeat with remaining flautas.

Garnish as desired.
---
Notes
Store airtight in the refrigerator for up to 3 days.
To reheat, place in a preheated 350°F oven for 7 – 10 minutes, or until warm.
Want To Save This Recipe?
Find more recipes like this:
PIN for later: