Carne Asada Fries Are a Tex Mex spin on loaded french fries. Marinated, grilled carne asada is sliced and served on top of seasoned fries with a cheesy sauce and all the toppings of your choice! The ULTIMATE party food!
If loaded fries are your thing make sure to try out my Skillet Frachos! Very similar vibes with ground beef!
Why Are These the Best Carne Asada Fries?
My marinade recipe for the steak is UNMATCHED. I use it not only for these fries, but anytime we are grilling skirt steak. It's THAT good.
The CHEESE SAUCE! Homemade cheese sauce is next level, and so easy to make!
Options! I give you tons of serving ideas and topping options for every occasion…not that you need an occasion to make these.
Every step is EASY and can be prepped ahead! Just make the french fries right before serving and you have a full meal ready to go with no fuss.
What Kind of Meat Is Carne Asada?
Carne Asada is a tender and flavor packed grilled and sliced steak. You can really use any type of steak to make carne asada, but you will most commonly see it made with skirt, flank, or sirloin. It marinated and then grilled, giving it a nice charred exterior. It can be served on its own of course, but today we're putting it on loaded cheesy fries. I know you're ready!
I like to use skirt steak, but have noticed that the price of skirt steak has gone WAY up lately. So feel free to use another kind if you prefer. Here are a few great options:
Skirt Steak
Flank Steak
Sirloin Steak
Tenderloin
Ribeye
Ingredients / What You'll Need
There are a few parts to this recipe that can all be done ahead of time which is fantastic! And I've included a recipe for the carne asada marinade, but you can absolutely buy a pre-made marinade like a Mojo marinade that will work great too! The full recipe with all the measurements is at the bottom of this post!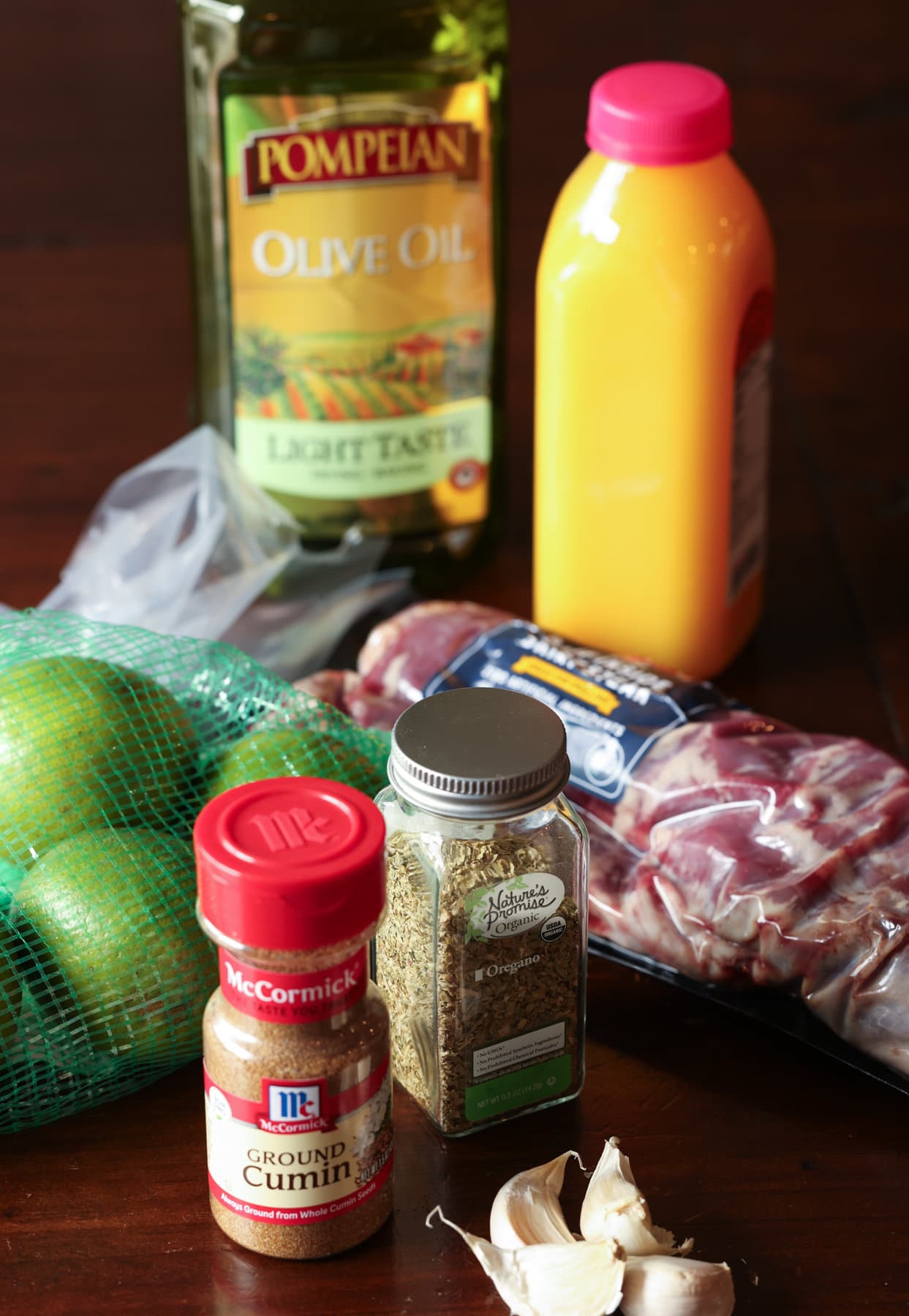 Steak Marinade:
Citrus juices: I use a combo of lime juice and orange juice and the result is perfectly tart and slightly sweet!
Olive oil. Adding a little fat to a marinade helps to lock in moisture, and aids in carrying the seasonings.
Seasonings: minced garlic, kosher salt, ground black pepper, ground cumin, dried oregano
Skirt steak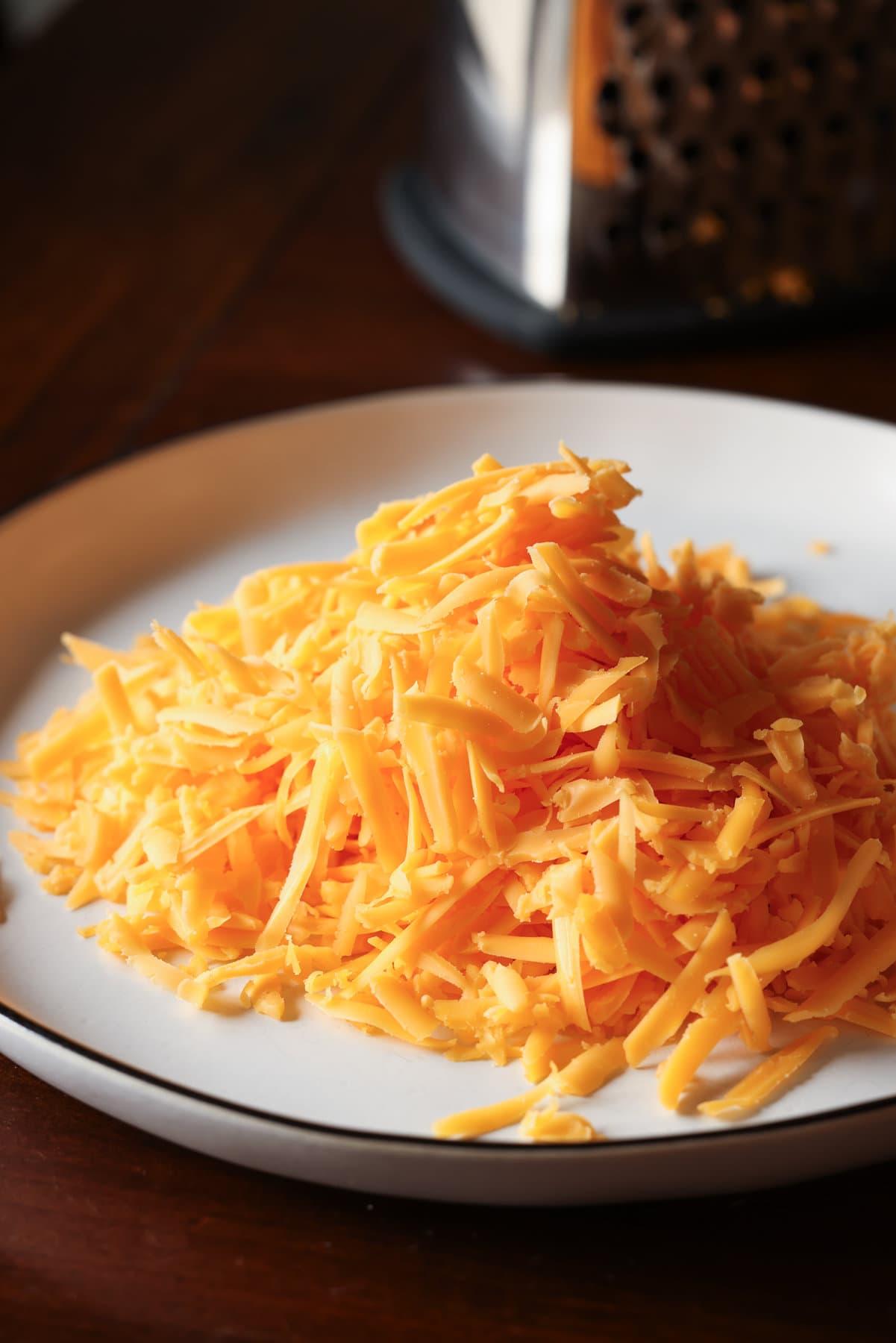 Cheese Sauce:
Butter. I prefer salted, but you can use unsalted as well.
All purpose flour. This works as a thickener.
Milk. I just use 2% because it's what I always have in the kitchen. You can use whatever milk you have!
Garlic salt. You can also use a combo of garlic powder and salt if you don't have garlic salt!
Cheddar cheese. Always use fresh grated cheese for homemade cheese sauces, as they will turn out creamier!
How To Make Carne Asada Fries:
There are a few essential steps to prepping your fries. Luckily a lot of these steps can be done in advance! The only step that I recommend doing right before serving is baking your french fries. We all know that fresh french fries are the best!
TIP: I definitely recommend prepping all your toppings in advance, so once everything is ready you are all set!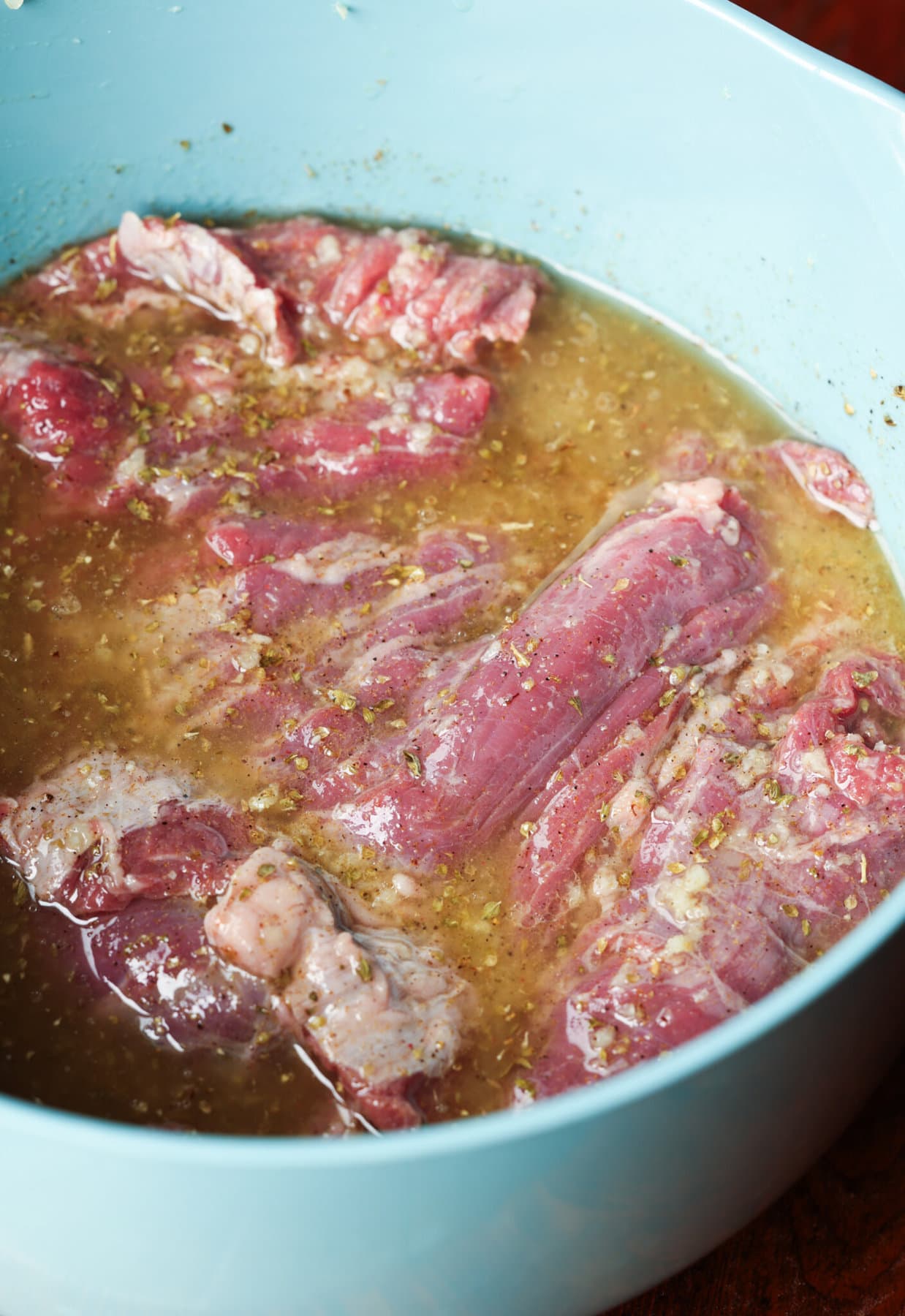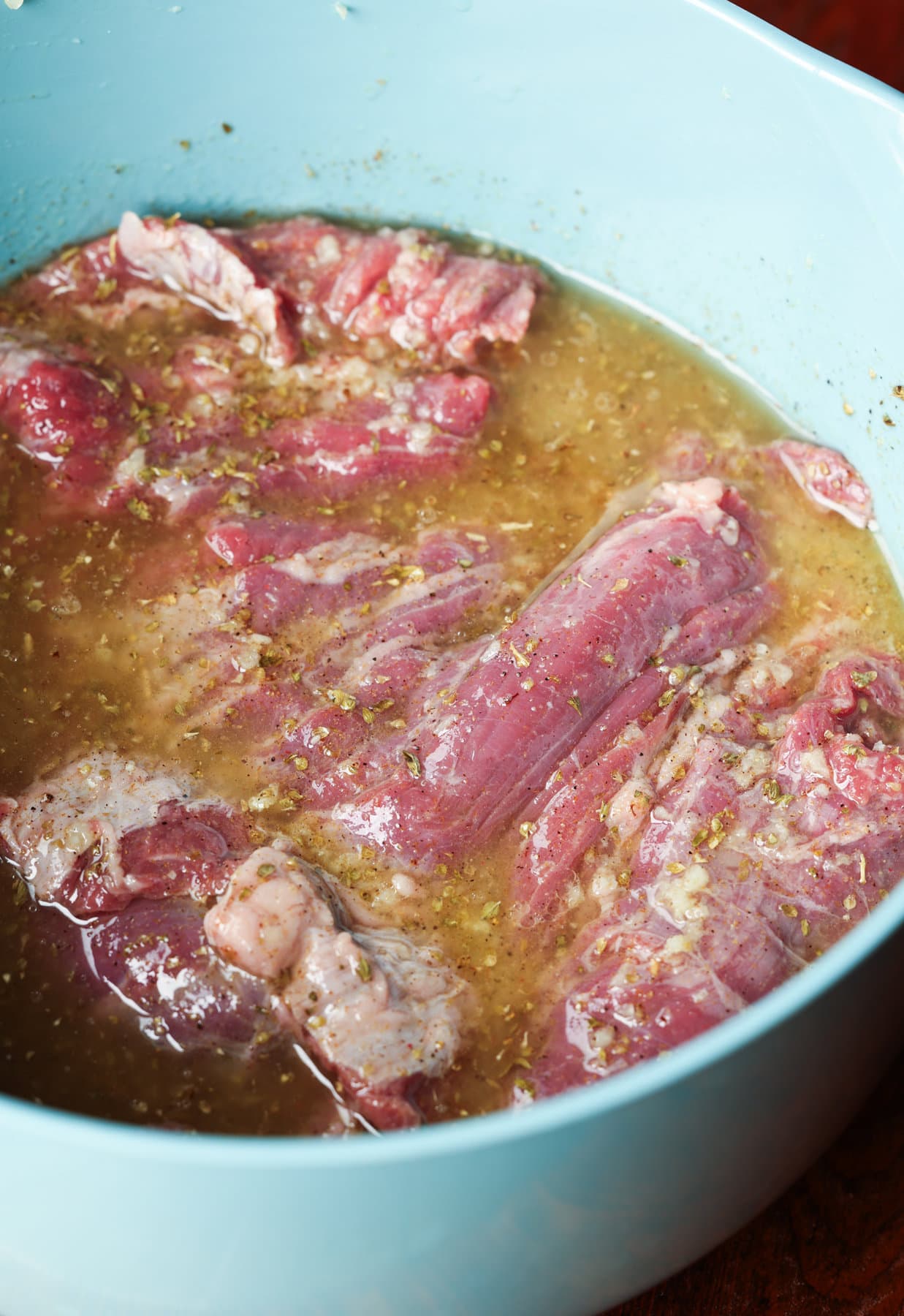 Marinate your steak for 6-ish hours. Overnight is great too for maximum flavor. Once you're ready, fire up your grill and depending on the cut and thickness of the steak, grill it to desired doneness. For skirt steaks, I grill on pretty high heat for just 3 minutes a side for medium-rare.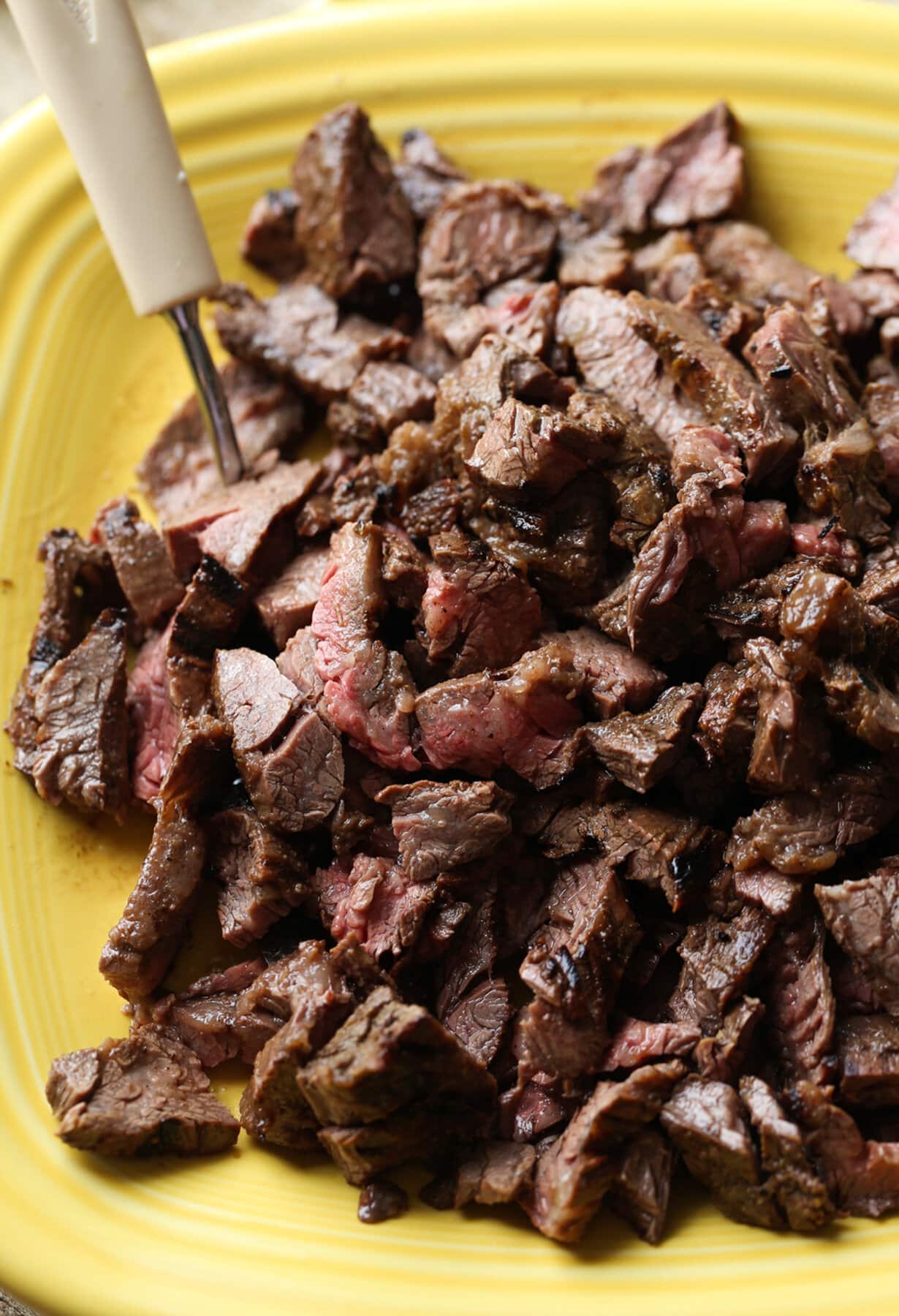 Next make your cheese sauce on the stove top. If you notice it is too thick you can add a few more splashes of milk. You can also make this ahead and reheat it right before using.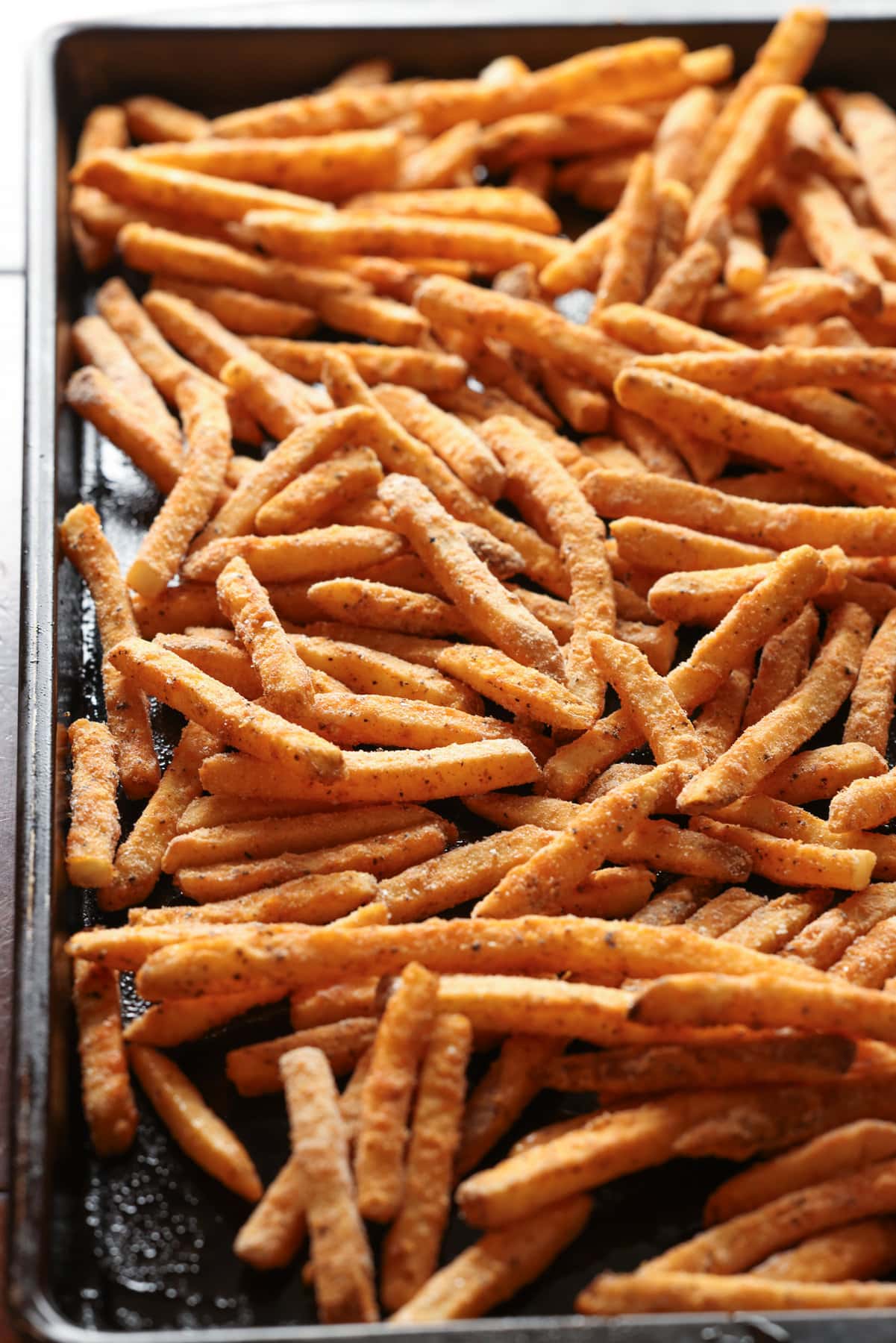 Finally bake the fries until they are nice and crispy. You can also make them in the air fryer, or certainly deep fry them if you want!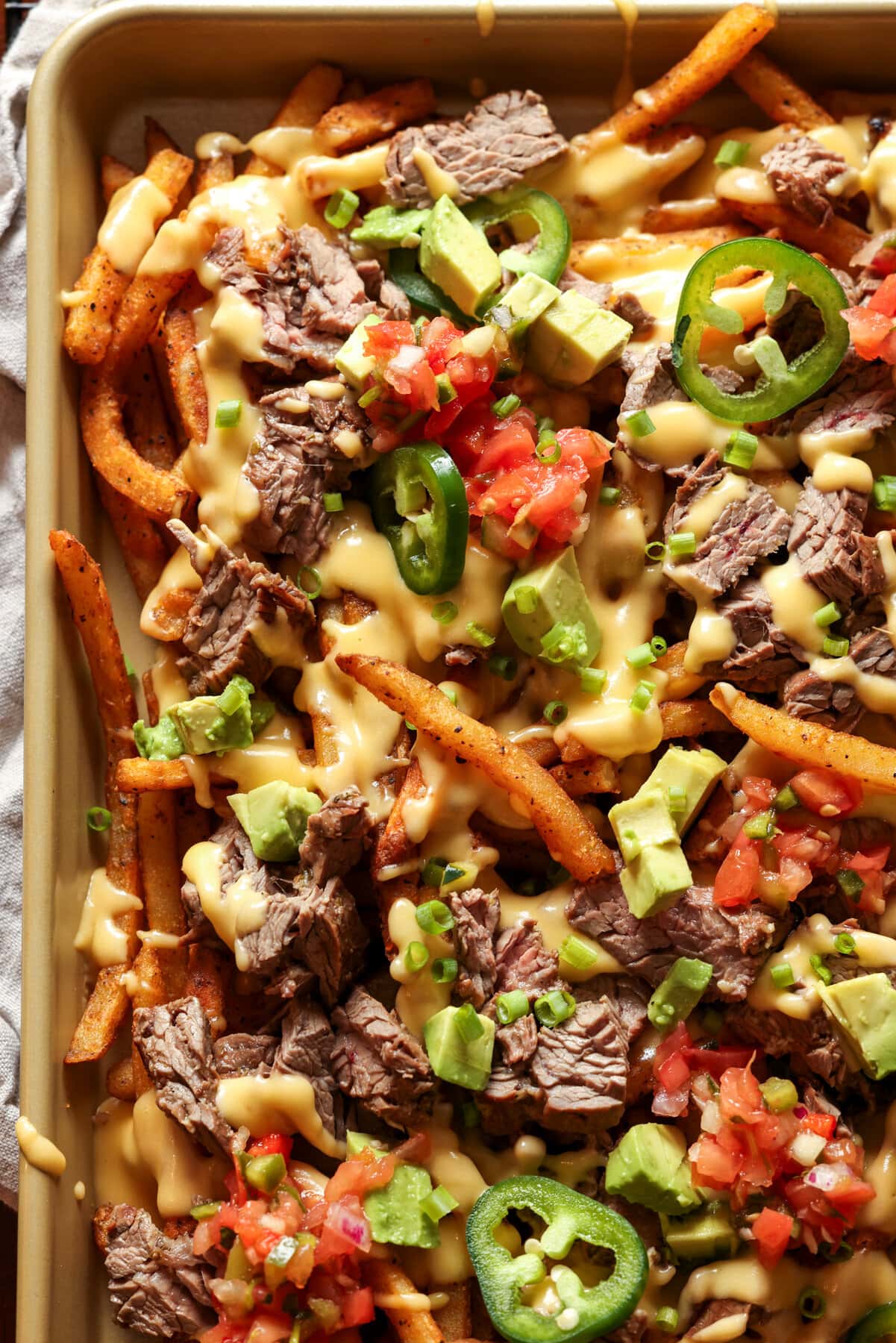 Topping Ideas:
Here are a few ideas for topping your carne asada fries to get you started. Get creative!
Avocado / Guacamole
Salsa
Pico de Gallo / diced onions / diced tomatoes
Sour Cream
Cilantro
Sliced Jalapeno
Corn
Black beans
Lime Wedges
Do You Have To Use French Fries?
I just use frozen seasoned fries for this recipe for extra flavor, but here are some other options that will work great!
Crinkle Cut Fries
Waffle Fries
Tater Tots
Curly Fries
Sweet Potato Fries
Wedge Fries
Seasoned Fries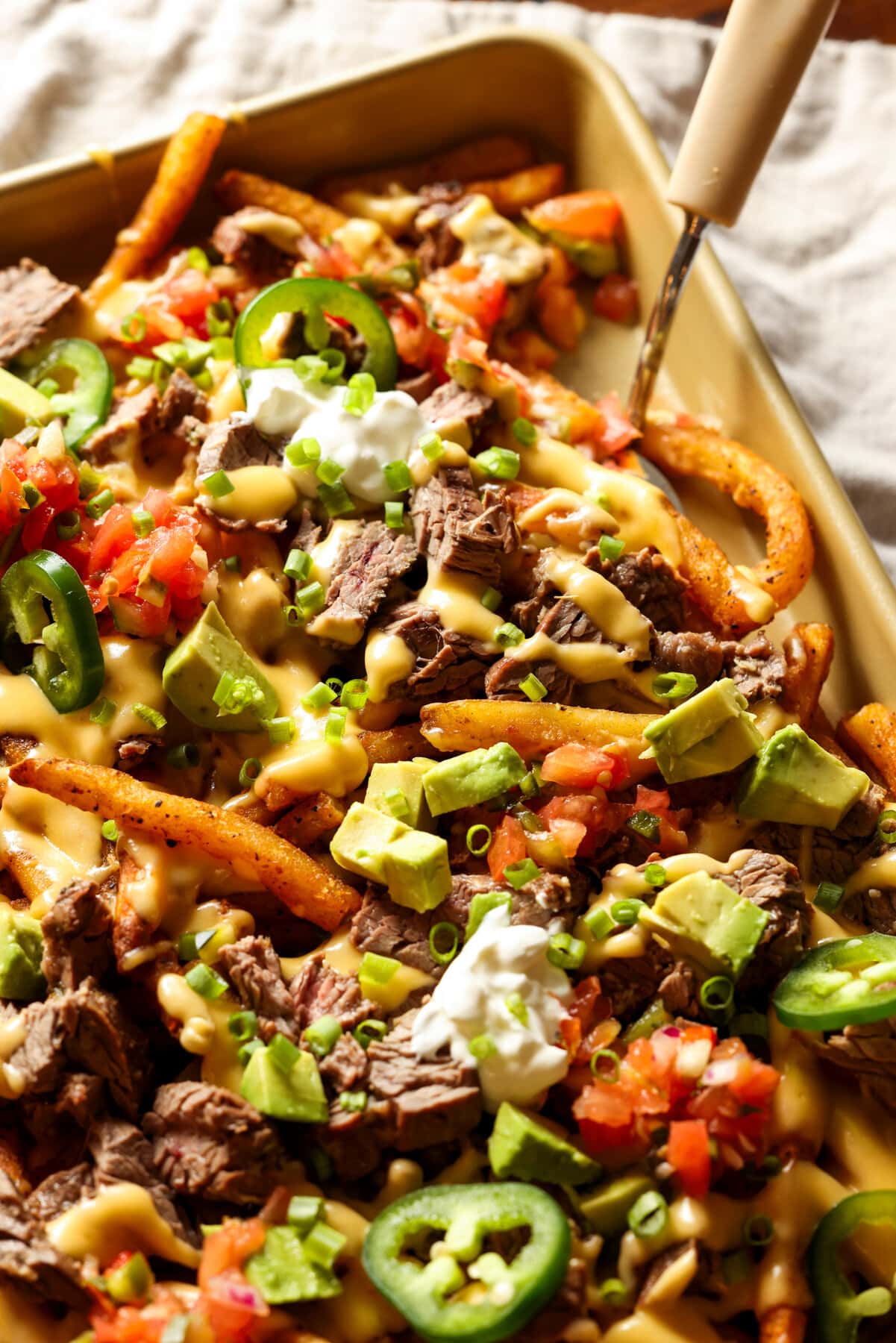 Serving Suggestions
You can make a large tray of these fries to serve to a crowd easily. Just bake the fries according to the package directions and top them right on the baking sheet!
Or they can easily be made as individual portions. Set out all the toppings and let everyone assemble their own! Serve them on small plates or bowls.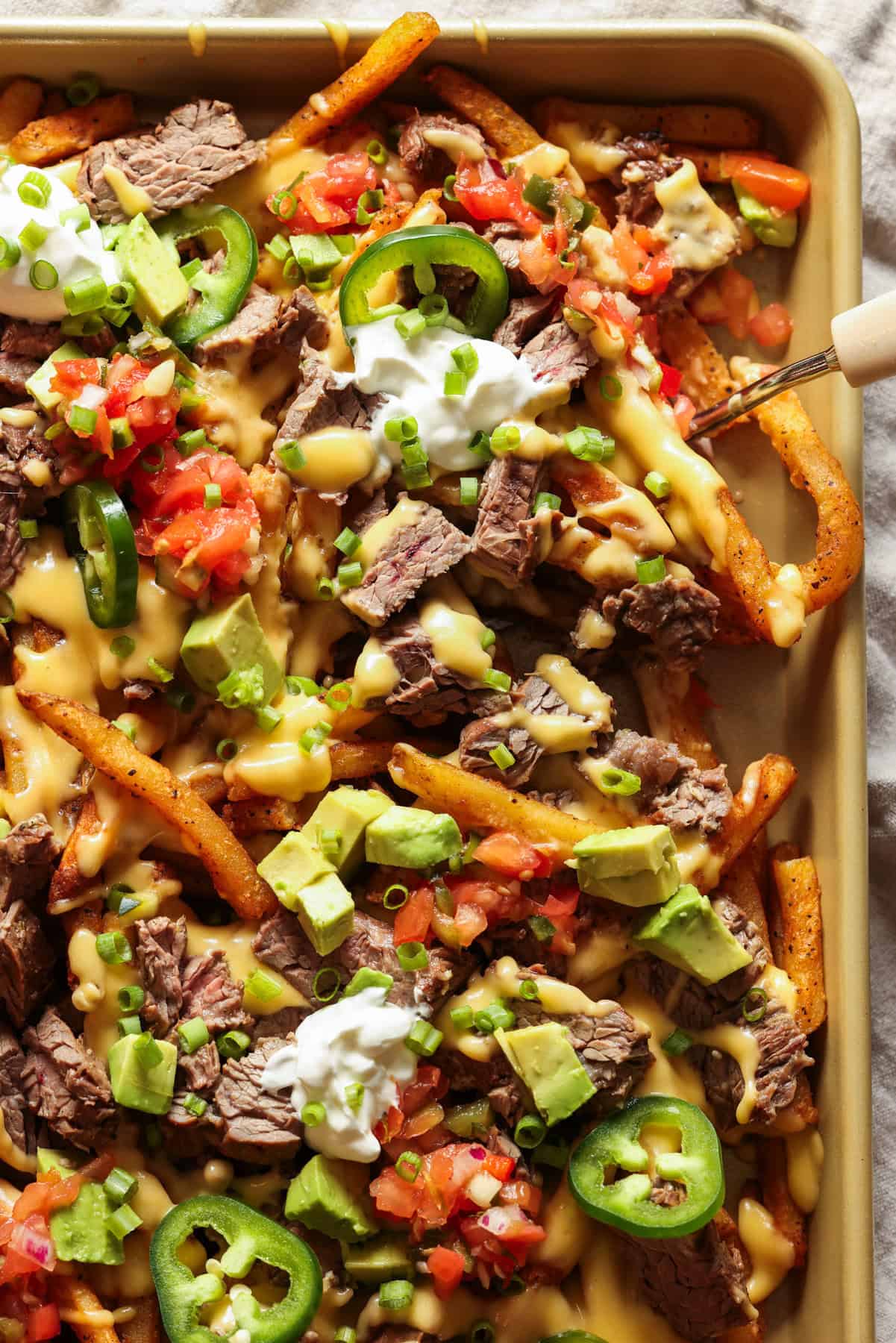 How To Store And/Or Reheat
If you have assembled the fries with the cheese sauce and toppings, this isn't a great recipe to reheat, although you can do it in the microwave in a pinch.
BUT if you haven't assembled the fries you can reheat each element on it's own! Bake the fries in the oven to get crisp again, heat the cheese sauce on the stove top adding in a splash of milk to make it creamy, and heat you steak on a hot skillet for a minute or two!
Print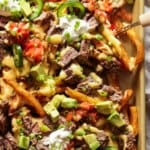 Carne Asada Fries
Author:

Prep Time:

20 minutes

Cook Time:

40 minutes

Total Time:

1 hour

Yield:

serves 6

Category:

Steak

Method:

Oven/Grill/Stove Top

Cuisine:

Tex Mex
---
Description
Carne Asada Fries are the perfect game day or party food! Prep ahead for easy assembly!
---
Marinade and Steak:
1/4 cup

lime juice

1/4 cup

orange juice

1/4 cup

olive oil

4 teaspoons

minced garlic

1 teaspoon

kosher salt

1 teaspoon

ground black pepper

1/2 teaspoon

ground cumin

1/2 teaspoon

dried oregano

1 1/2

pounds skirt steak
Fries and Cheese Sauce:
1

(16 – 20- ounce) bag frozen seasoned fries, baked according to package directions

3 tablespoons

butter

3 tablespoons

all purpose flour

1 1/4 cup

milk

1/2 teaspoon

garlic salt

8 ounces

sharp cheddar cheese, grated (not pre-grated)
Serving:
Avocado
Pico de Gallo
Sour Cream
Cilantro
Sliced Jalapeno
---
Instructions
Marinade and steak: Combine the lime juice, orange juice, olive oil, garlic, salt, black pepper, cumin, and oregano in a small mixing bowl. Place the steak in a zip-top bag or a shallow container and pour the marinade over top. Allow the steak to marinate 6 hours or overnight.
When you're ready to cook the meat, preheat your grill to medium-hight heat and grill the steak for 3-4 minutes on each side or until the steak reaches 125°F – 130°F for medium rare. Cook longer if you prefer it more well done. Alternately you can cook the steak in a cast iron skillet. Preheat skillet to medium-high. Add the steak to the skillet and cook for 4 minutes on each side, or until desired doneness.
Transfer the meat to a plate, cover with foil, and set aside.
Fries and Cheese: Cook the fries in the oven according the directions on the package.
While the fries are cooking, melt the butter into a medium saucepan over medium heat. When the butter is melted, add in the flour and whisk constantly for 2 minutes, cooking the flour. Slowly add in the milk and garlic salt, whisking constantly for 3-4 minutes, until the sauce is thickened.
Add in the cheese in two portions, whisking constantly until melted and smooth. Remove the sauce from the heat, and cover until you're ready to assemble the fries. If the cheese sauce gets too thick as it cools, simply place it back on medium-low heat, and stir until warm and smooth.
Serving and Assembly: Slice the steak into bite size pieces, making sure to slice against the grain. When the fries are done remove them from the oven. You can make individual servings or serve on the sheet pan.
Drizzle the some of the cheese sauce on top of the fries, top with steak, and more cheese sauce.
Add avocado, pico de gallo, sour cream, cilantro, and jalapeño as desired.
---
Notes
You can prep this recipe ahead for the most part, except the french fries.
The cheese sauce can be made up to 4 days in advance, stored in the refrigerator. Reheat over low heat on the stove top stirring frequently until warm, adding a splash or two of heavy cream if necessary. For the creamiest cheese sauce, always use fresh grated cheese!
Keywords: cookies and cups, carne asada, french fries, tex mex recipe, game day recipe, carne asada fries
Want To Save This Recipe?
Find more recipes like this:
PIN for later: