These fun Skillet Frachos are Nacho Fries aka "Frachos" which are crispy French Fries topped with all your Nacho favorites!!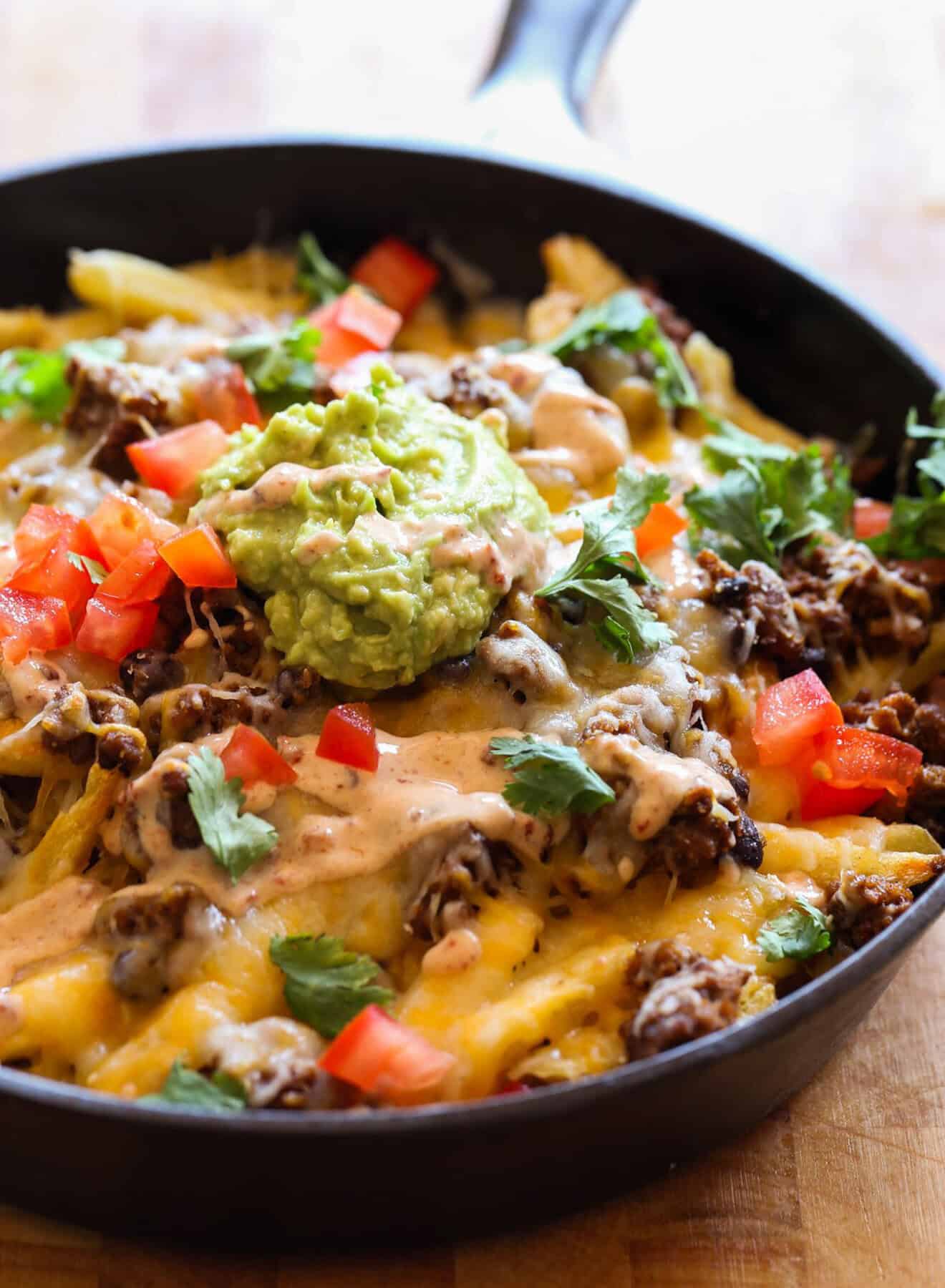 There are just days that call for French Fries covered in cheese. We've all been there…some of us are there more than others…it's cool, this is a judgement free zone. I mean unless you are wearing Crocs. Then I might judge you. A little bit.
Anyway, there are days that call for cheese fries…and THEN there are days that call for LOADED cheese fries. Can I get an amen?
So today we have the Fracho. Cheese fries to the infinity power. French Fries + Nachos. Made in a Skillet. Possibly the world's most perfect food.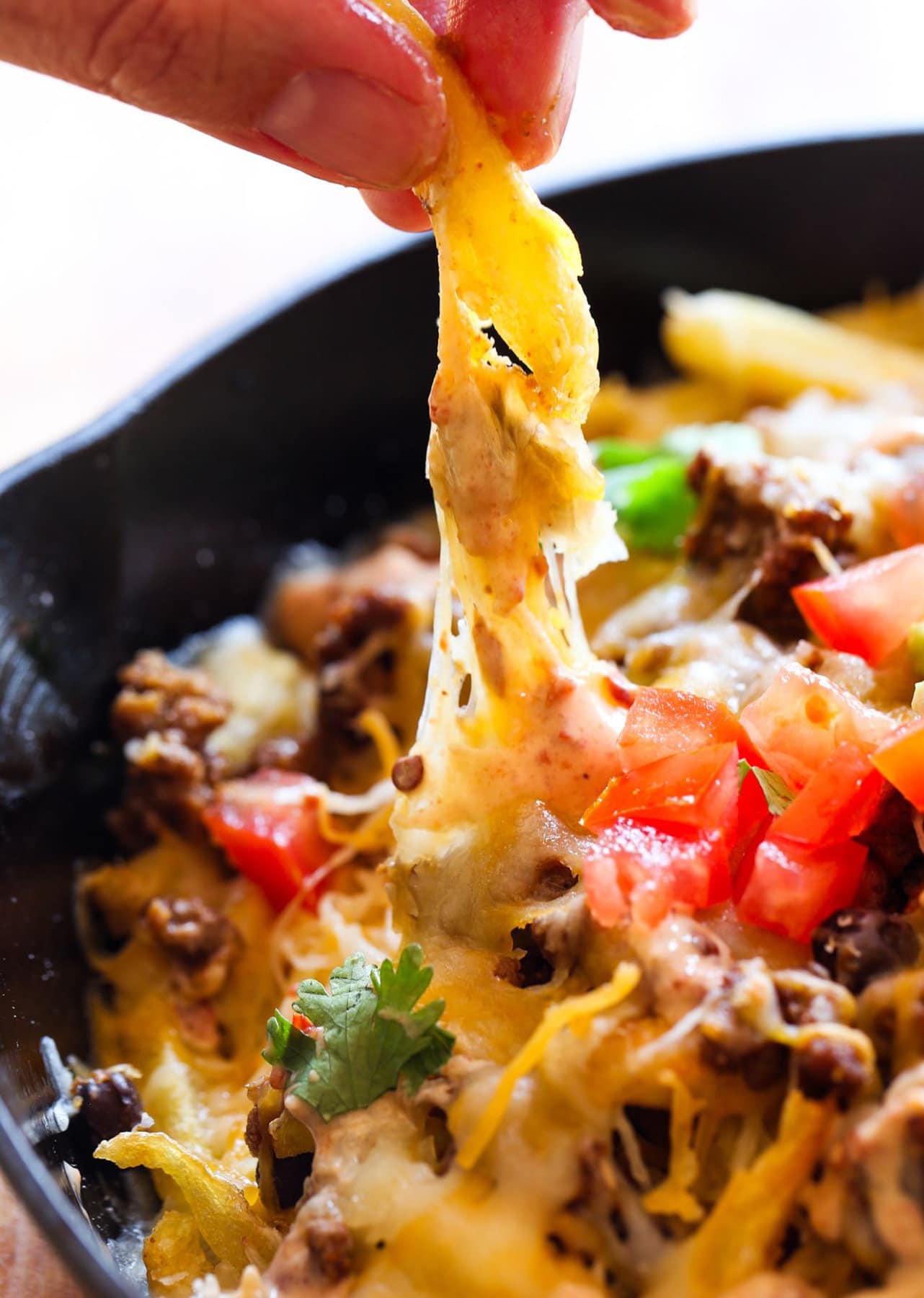 This recipe is kicking off a fun week of Tex-Mex inspired food. I'm teaming up with my good friends (and neighbors) over at Mantitlement this week to bring you lots of cheesy, taco seasoned food. It's really the best idea ever.
Because what's better than eating Tex Mex? Eating Tex Mex with your frands!
Also we happening to be shoving her AMAZING low carb nachos in our faces at that moment…Yes, you heard that right.. LOW CARB NACHOS! Seriously SUCH a great idea…the chips are replaced by cheese crisps, which are basically just little piles of cheese melted and toasted in the oven topped with nacho stuff. So SO good.
Anyhow, back to all the carbs you could ever dream of…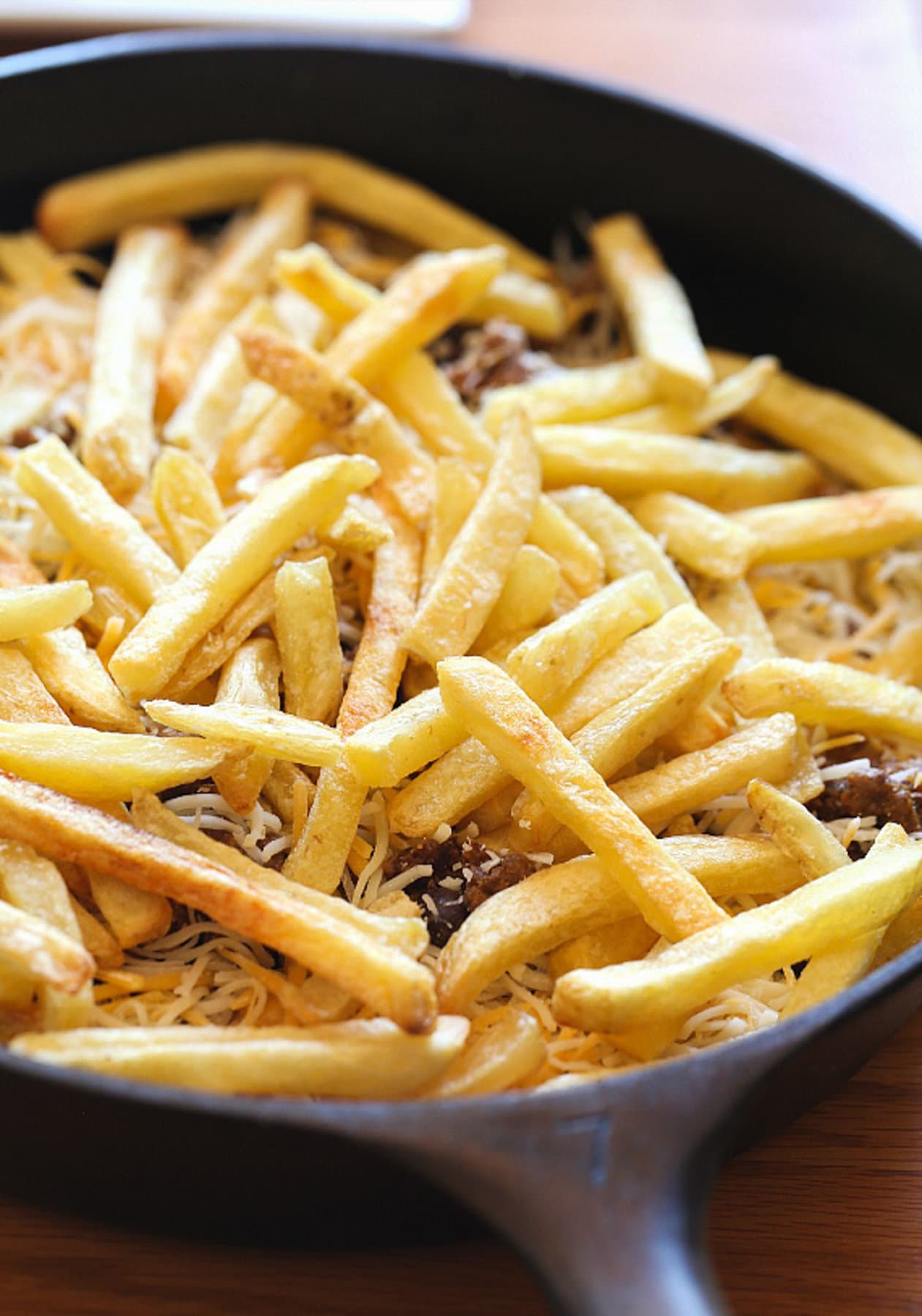 What I did was brown up 1/2 pound of lean ground beef and season it with taco seasoning. I mixed in about 1 cup of black beans with that too, but that's totally optional!
THEN I baked some fries in the oven until they were VERY crispy. I used these Yukon fries from Alexia…which are really good! (Also totally not a sponsored shout out…I really happen to love their fries!)
When the fries are good and crispy I placed half of them in a 9″ skillet. Topped them with half of the meat and bean mixture and about 1 – 1 1/2 cups of shredded cheese. Then I repeated the process so every French Fry has cheese…a very important step int he nacho making process.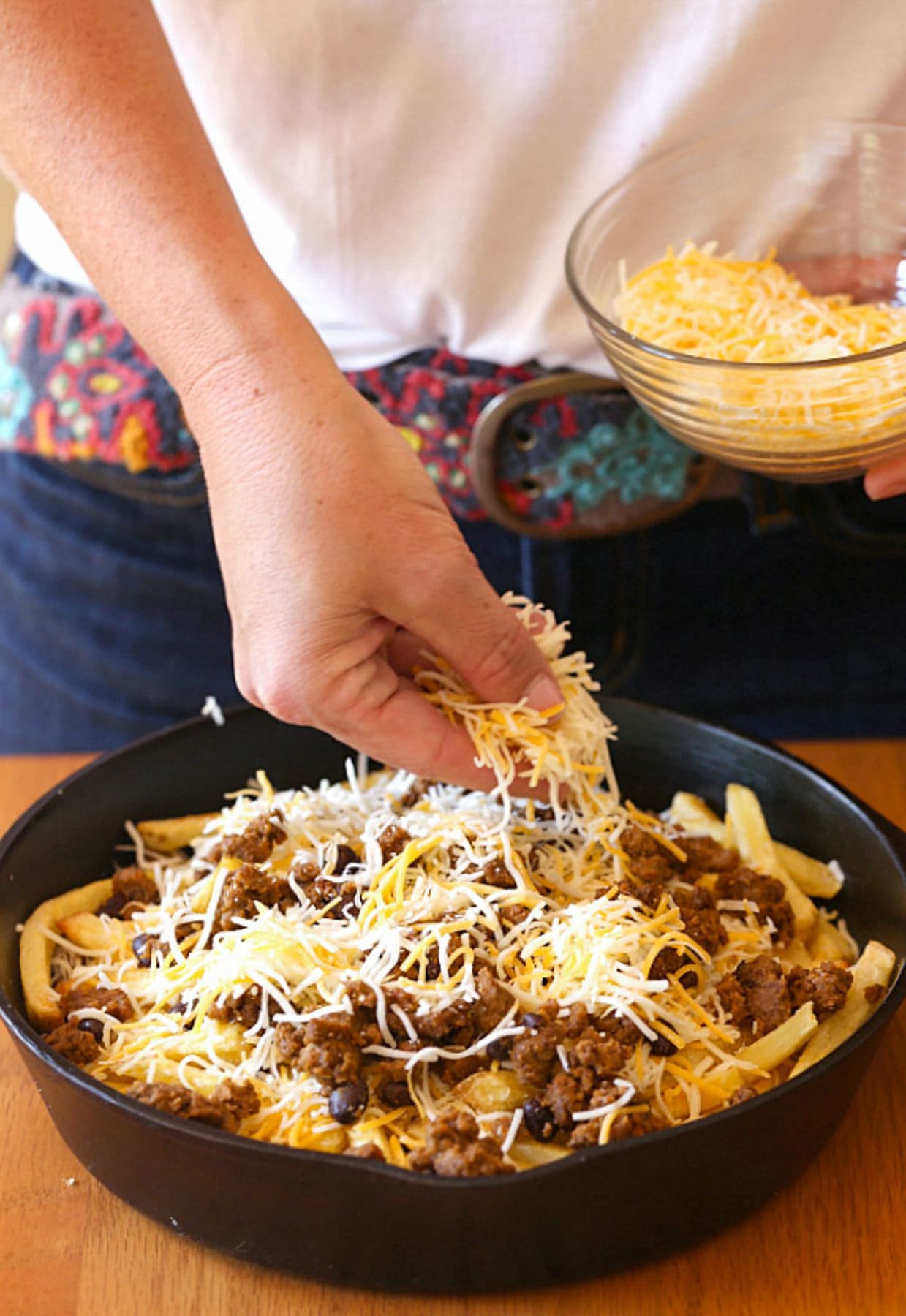 While those were in the oven baking we whipped up some guac. Because a nacho without guac is unacceptable.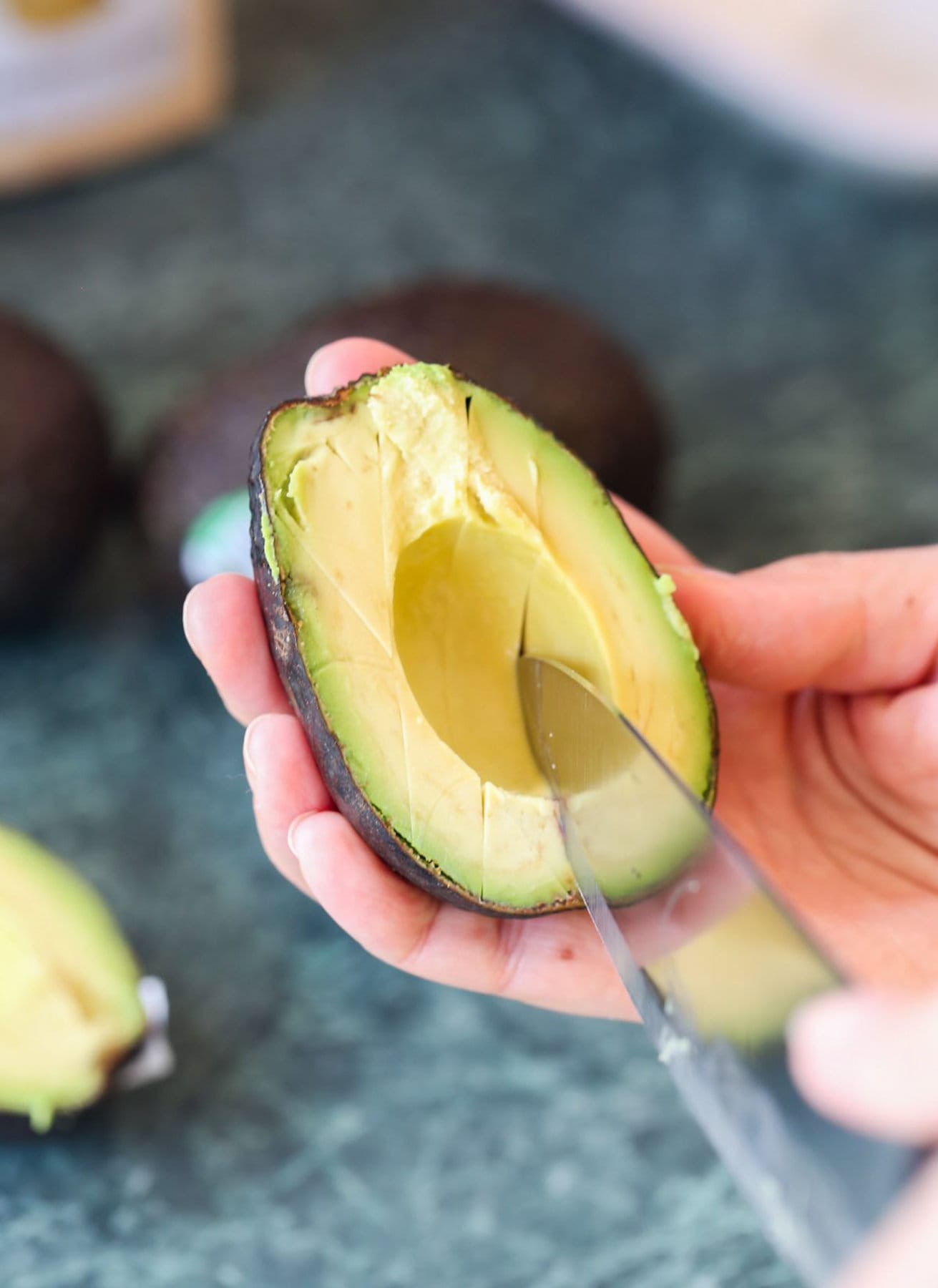 And when they came out of the oven I added some cilantro, chopped tomatoes, the guac and a little Chipotle Cream to fancy it up…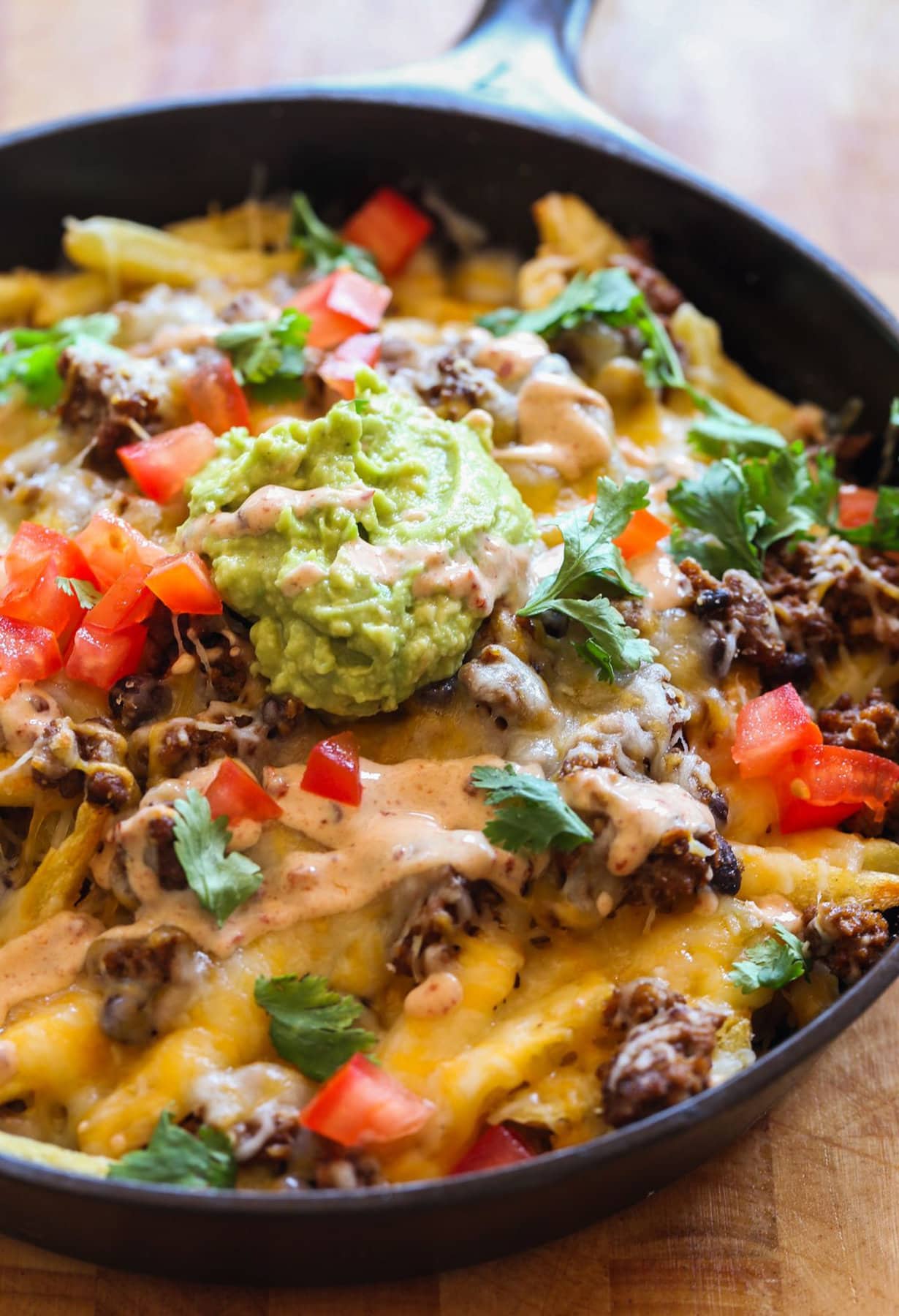 Eat these immediately, as if I had to even say that!
NOW hop over to Mantitlement to get the recipe for their Low Carb Nachos and stay tuned for some more fun Tex Mex dishes this week!!
Print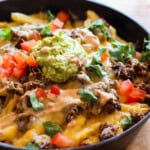 ---
Chipotle Cream (optional)
1

Chipotle pepper from a can of Chipotle in Adobo)

1/2 cup

sour cream
pinch of kosher salt
Topping
1/2

pound lean ground beef

2 tablespoons

taco seasoning

1 cup

black beans, drained and rinsed

3 cups

grated cheese (I used Mexican Blend)

15 ounces

frozen French Fries (cooked according to package directions until they are CRISPY)
Garnish
chopped tomatoes or salsa
cilantro
guacamole
---
Instructions
Chipotle Cream
In a small blender or food processor combine the chipotle pepper, sour cream and salt and blend until smooth. Set aside or refrigerate until you're ready to serve. This can be made up to 2 days ahead.
Topping
In a skillet over medium high heat brown your ground beef. Once browned, turn heat down to medium low and add in the black beans and the taco seasoning with 3 tablespoons water and cook and stir for 5 more minutes. Remove from the heat and set aside.
Bake your French Fries on a baking sheet according to the package directions. Make sure to bake them until they are crispy so they will hold up to the toppings.
When the French Fries are done turn oven to 400°F and place half of them in a 9″ skillet. Top the fries with half of your meat mixture and half of your cheese. Top this with the remaining fries, remaining meat and remaining cheese.
Place the skillet in the oven for 7-10 minutes. You want all the cheese to be melted.
Top immediately with cilantro, tomatoes and guacamole, if desired.
Place the Chipotle Cream in a small zip-top bag and snip off the corner. LIghtly drizzle this on top of the Frachos.
Serve immediately.
---
Want To Save This Recipe?
Find more recipes like this: