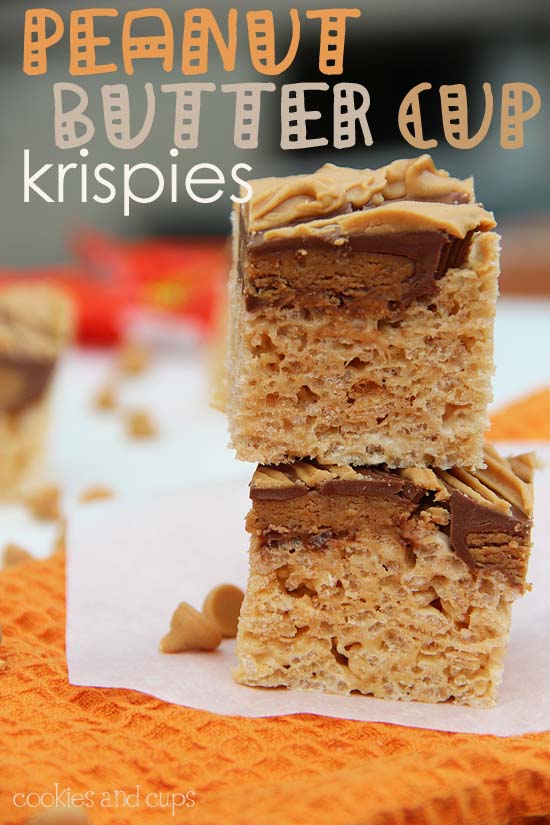 Dear Kate Middleton,
I think you're super pretty and skinny and I am sure very smart.
It's awesome you are a Princess now and get to do all kinds of Princess things.
I also think it's great that you are trying hard to be "regular". Like wearing denim and doing your own food shopping.
Because I will tell you..if I became a Princess I would SO not food shop.
Ever again.
I also love the fact that your sister is named Pippa.
It makes me want to have a little girl and name her that. Because I just like saying it.
But there is something we need to talk about, you and I.
Everyone is loving all your super chic fashion choices…
People are clamoring to dress like you. You have a lot of power right now.
But I need to say this.
Because it's been bothering me.
Please…PLEASE stop trying to bring panty hose back. PLEASE.
I'm not quite sure why you are doing it…your motivation, if you will.
I have read my weekly glossy magazines and it appears that you are trying hard to make panty hose happen again.
No one wants this.
I am sure that I speak for the masses here.
Maybe panty hose are comfortable for you…but for 99% of the women out there they are a torture device.
We have evolved as a gender…Spanx have been invented, as well as tanning creams.
There is no place for the nude pantyhose in 2011. No place at all.
Especially the shimmery nude ones.
We are not vampires. We don't need our legs to shimmer in the daylight. That's why God invented glitter.
Please make it stop Kate.
I really want to like you and I am afraid if you continue on this path I will have to disown you as my thinspiration.
Thank you for your consideration on this very importation matter.
Your friend,
Shelly
ps – I will totally fly over to the castle and talk this out with you..you know, if you're interested in discussing this further. Hugs.
Now, on a completely unrelated note.
Peanut Butter Cups Krispies.
Because it's a good idea.
Start with Peanut Butter Cups. Like 21 of them.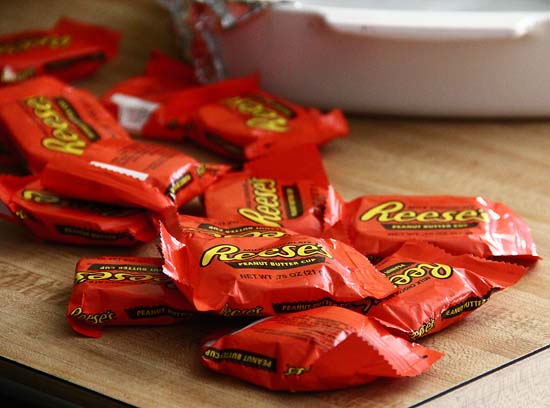 Unwrap them all and put them upside down in a foil lined 9×9 pan.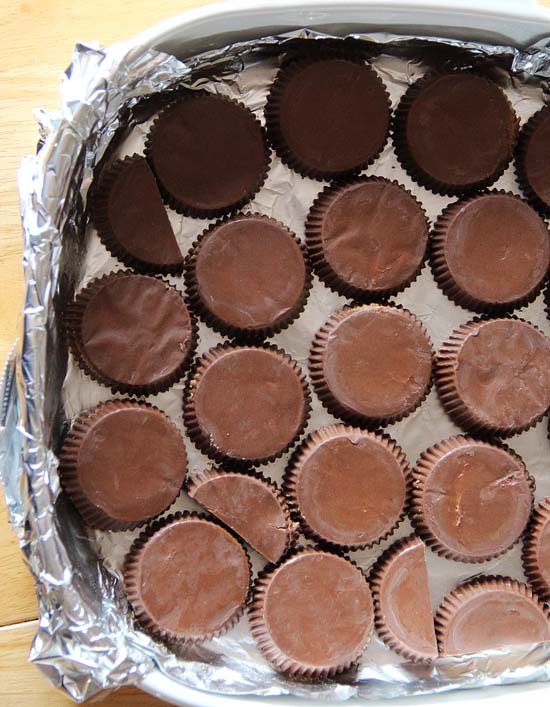 Then you'll need some more peanut butter. It's protein. I'm trying keep you healthy.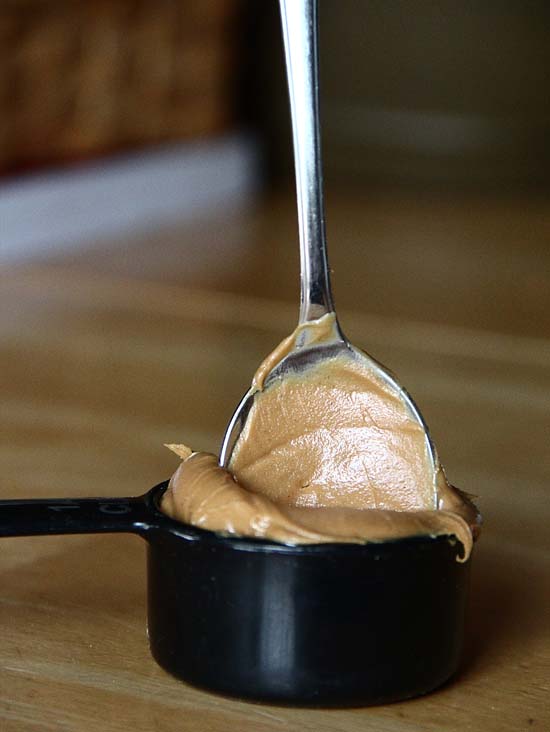 Add your protein to the delicious marshmallow and butter concoction.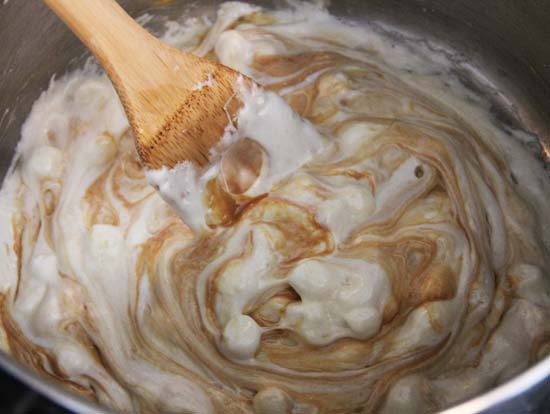 Then stir in your krispie cereal and dump on top of your unassuming peanut butter cups.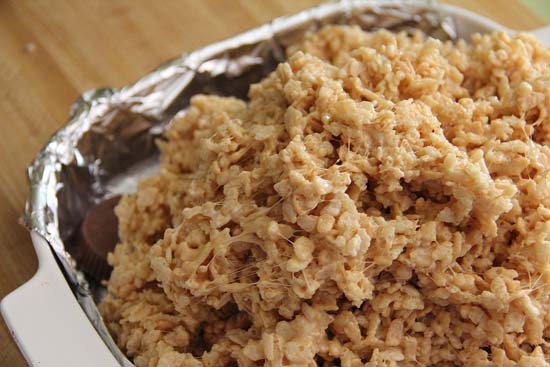 Press the krispies evenly and let them get to know the peanut butter cups. Their introductions will take about 15 minutes.
Then turn their world upside down.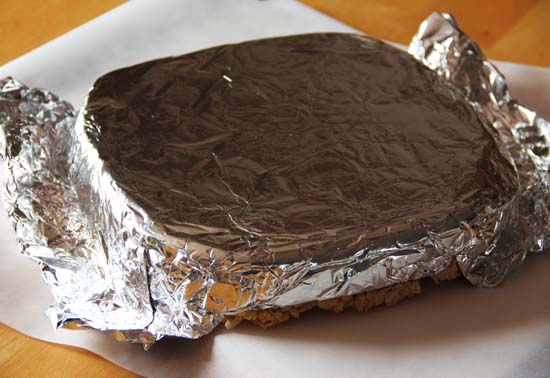 Carefully peel the foil off and welcome them into your home.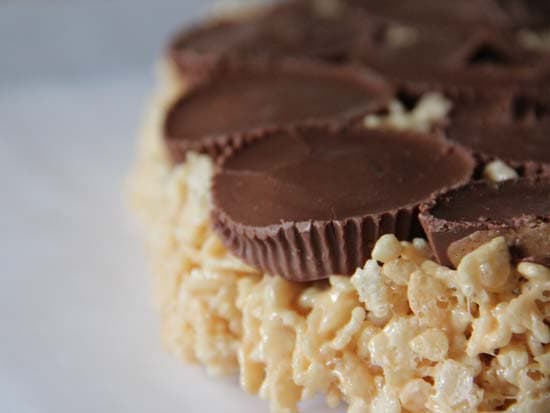 If you're feeling extra crazy drizzle them with melted peanut butter chips.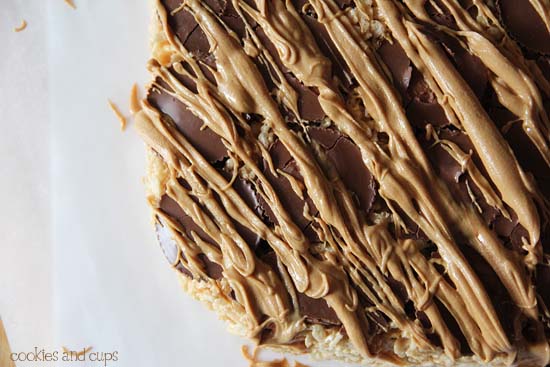 You have to wait a few more minutes now. Let the peanut butter chips set. It won't take long.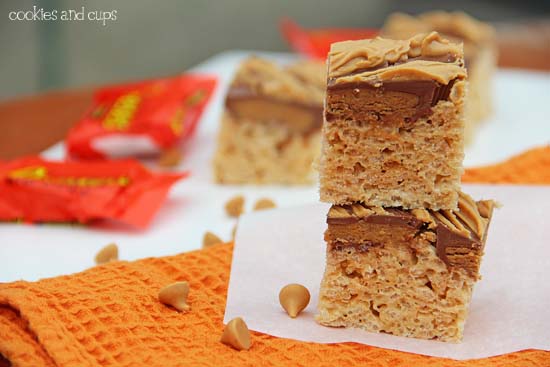 Then you should eat them.
The end.
Print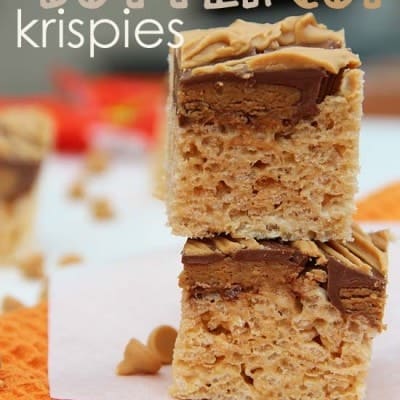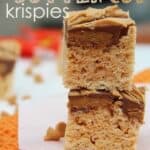 Peanut Butter Cup Krispies
---
8 cups

puffed rice cereal (Rice Krispies)

1

(10.5 oz) bag mini marshmallows

1/4 cup

butter

1/4 cup

creamy peanut butter

21

peanut butter cups unwrapped

1 cup

peanut butter chips (melted)
---
Instructions
Line a 9×9 pan with foil, and spray lightly with cooking spray.
Place your unwrapped peanut butter cups face down in your prepared pan. (You might need to cut some in half to make them fit nicely.)
Over low heat melt your butter.
Add your marshmallows to the melted butter and stir until marshmallows are melted.
Remove from heat and stir in your peanut butter.
When the peanut butter is incorporated stir in your krispies.
When combined dump the krispie mixture on top of the peanut butter cups and press evenly in to pan.
Let sit for at least 15 minutes to cool and then flip the pan upside down releasing the krispie treats.
Peel foil back off krispies.
Drizzle your melted peanut butter chips on top of the krispie treats and let set before cutting into squares.
---
Want To Save This Recipe?
Find more recipes like this: