These Easy Pistachio Bars are essentially sugar cookie bars flavored with pistachio pudding mix, topped with cream cheese frosting, and chopped pistachios! The pretty green color makes them as festive as they are delicious!
If you love pistachios make sure to try my Salted Honey Pistachio Cookies!
If You Love Pistachios, These Pistachio Bars Are For You!
Pistachios are probably my most favorite type of nut. I have memories of my grandma eating the red shelled pistachios as a kid…remember those? Do they even still sell the red ones? And why did they do that? I need answers!!
Anyhow, I took my love for pistachios and morphed it into a chewy sugar cookie bar…AND I took a major shortcut on achieving the pistachio flavor! Keeping reading…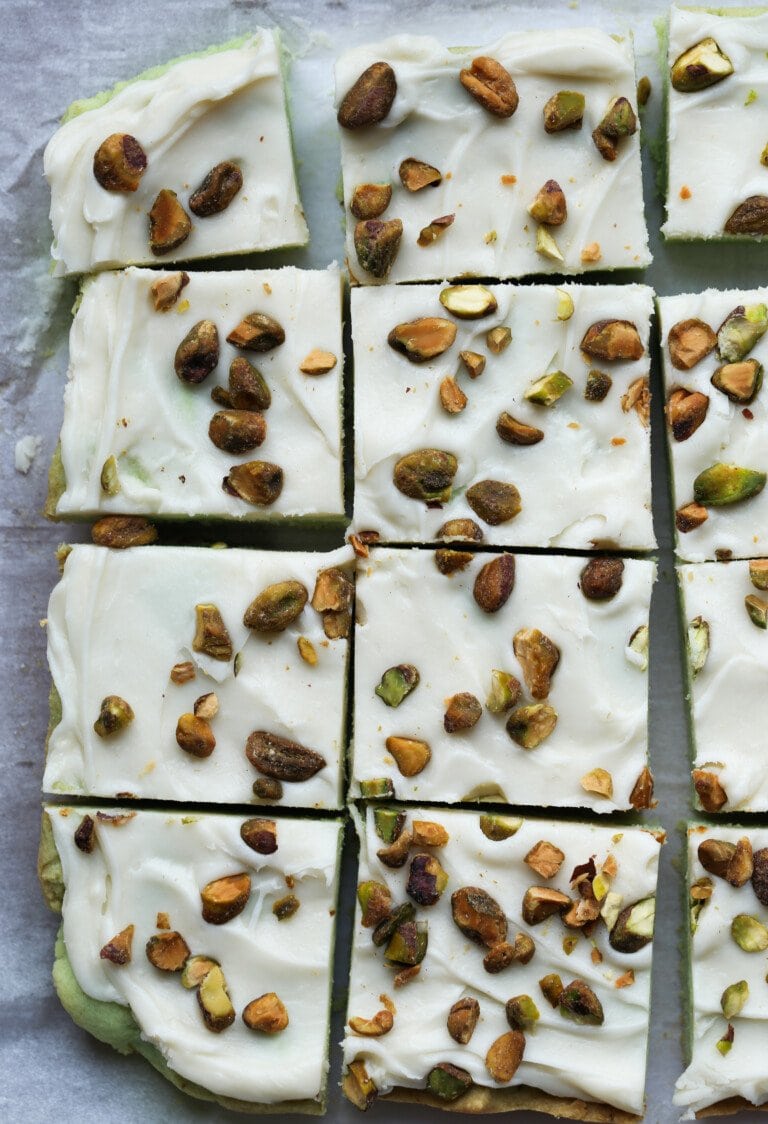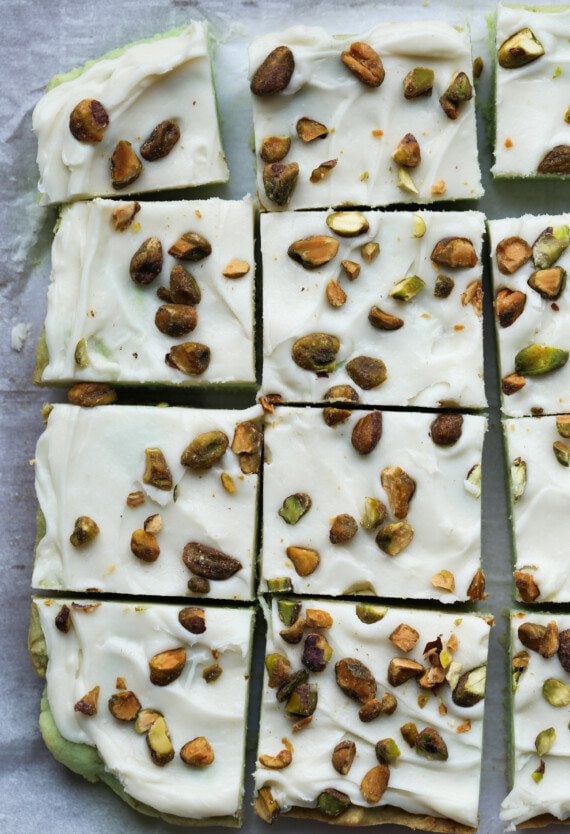 So to get that pretty green color, you could absolutely use green food coloring, but to mimic the pistachio flavor is a little trickier. You certainly can chop up the nuts and fold them into the batter, but that doesn't really give the bars a uniform flavor…SOOOOO….I used Instant Pistachio Pudding mix! It's really a simple and effective way to get that pistachio flavor, plus the pretty green color all in one easy shortcut.
AND to really amp up the pistachio flavor I added a hint of almond extract. Pistachios and almonds have a similar flavor and the addition of the almond extract compliments the pistachio flavor perectly. Plus, almond extract is easy to find and I wanted to make these bars as simple as possible!
Ingredients:
Find the FULL RECIPE and complete ingredient list at Imperial Sugar, whom I partnered with on this fun spring recipe!
butter
granulated sugar
instant pistachio pudding mix
eggs
almond extract
vanilla extract
corn starch
salt
baking soda
flour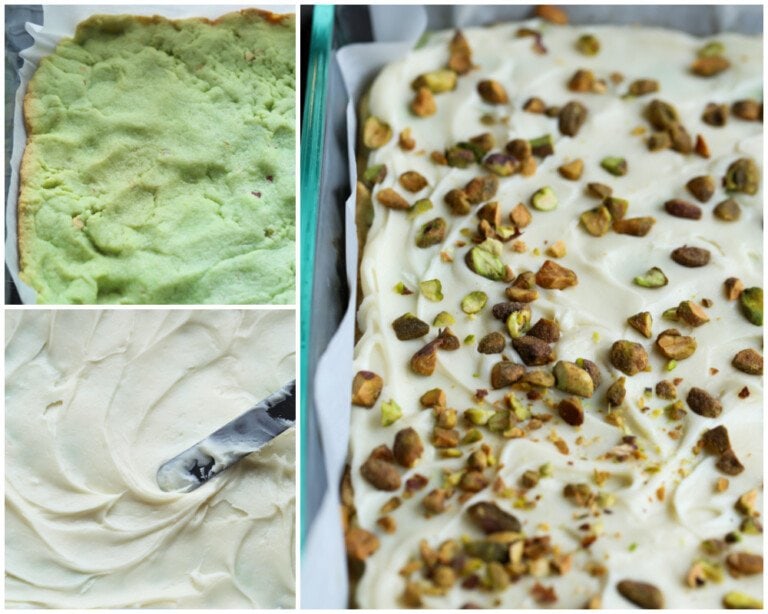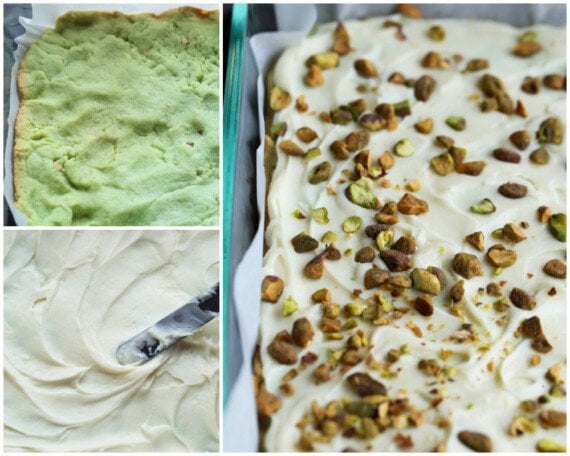 How To Add the Instant Pudding…
I get this question a lot when I use pudding mix in recipes. When adding pudding into cookies you add it like you would a dry ingredient. You don't make the pudding according to the package directions, unless otherwise stated. Just mix the dry pudding mix right into your bowl and mix it. It will add a chewiness and in this case flavor and color!
How To Store:
I top these Pistachio Bars with cream cheese frosting, so that means it's best if they are kept in the refrigerator to store them. They will keep in the fridge for 5 days.
If you would prefer to be able to keep them at room temperature, no problem, you can use a Vanilla Buttercream frosting instead! They will be good airtight for up to 3 days!
And yes, they freeze great! Keep them airtight in the freezer for up to 30 days for best freshness!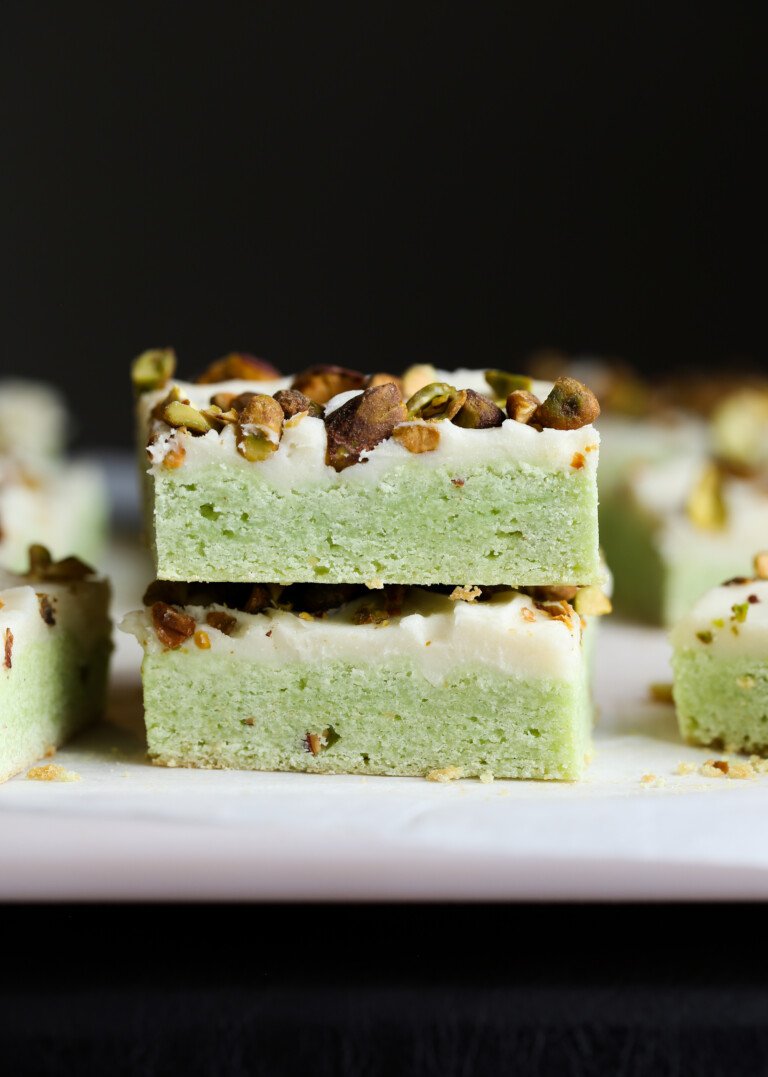 For the FULL Recipe…
This recipe is in partnership with my friends over at Imperial Sugar, so make sure to hop over there and print out the FULL RECIPE to make! And make sure to tag @cookiesandcups and @imperialsugar on Instagram! We love seeing your creations!
PIN for later: