This silky Chocolate Marshmallow Pie is made with a creamy mixture of milk chocolate, whipped cream and melted marshmallows!
I am fairly certain this is the chocolate cream pie that you having been wanting your whole life.
I mean, what you have here is milk chocolate, melted marshmallows and whipped cream piled on top of an Oreo crust. Oh yeah, there's no baking necessary. We're all winners today!
Speaking of winning…now that it's Spring, allergy season has fully descended upon my face. It's such a glorious time, with me walking around looking like a cross between Big Ang and Rocky after defeating Ivan Drago.
Yesterday I tried to help out in the yard…you know pulling weeds and adult-homeowner-type things. Well, turns out I am allergic to yard work as well. My kid even said, "Mom, you do NOT look good". So while the weather is spectacular, I am cooped up inside the air conditioned house with a "Spring" candle lit.
In all honesty, it's totally fine. I mean this pie was created on a perfectly sunny 78° day. Yes, exactly winning.
I wonder if I can get the doctor to tell my husband I am allergic to washing dishes too. Life's this close to being perfect.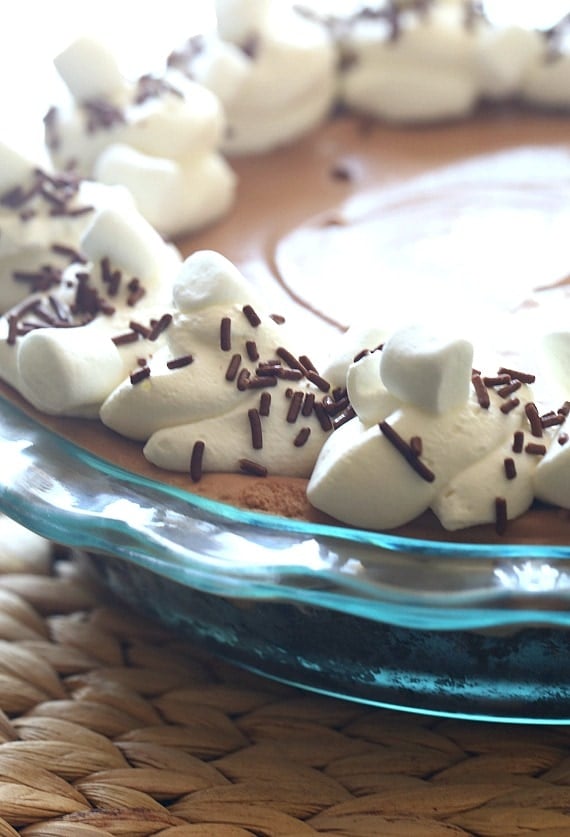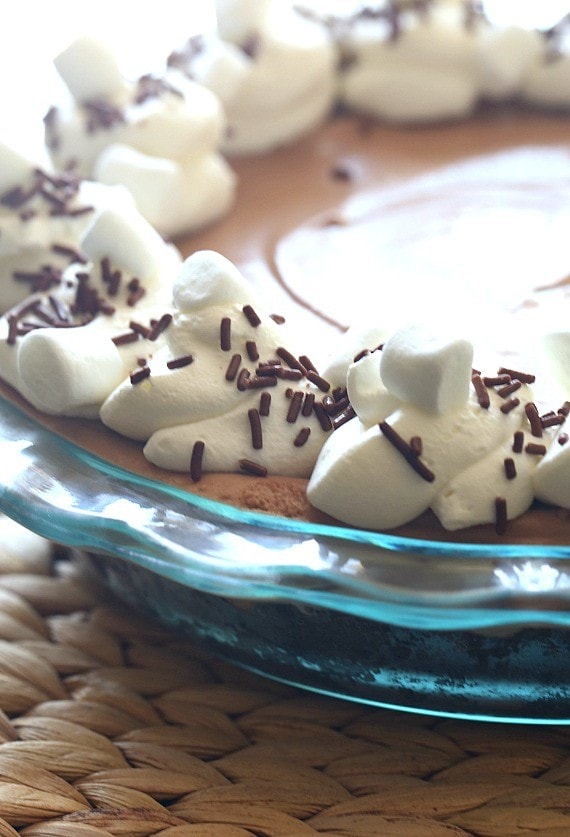 The pie starts with a simple no bake Oreo crust…
Also please use a DEEP dish pie plate for this recipe… that means it will be at least 9 1/2 x 2″. The depth is what you will need, otherwise the filling will be too much. But, fret not…if you only have a regular sized pie plate you can use a 9″ springform pan OR reduce the amount of filling by 1/3 and use a standard pie plate.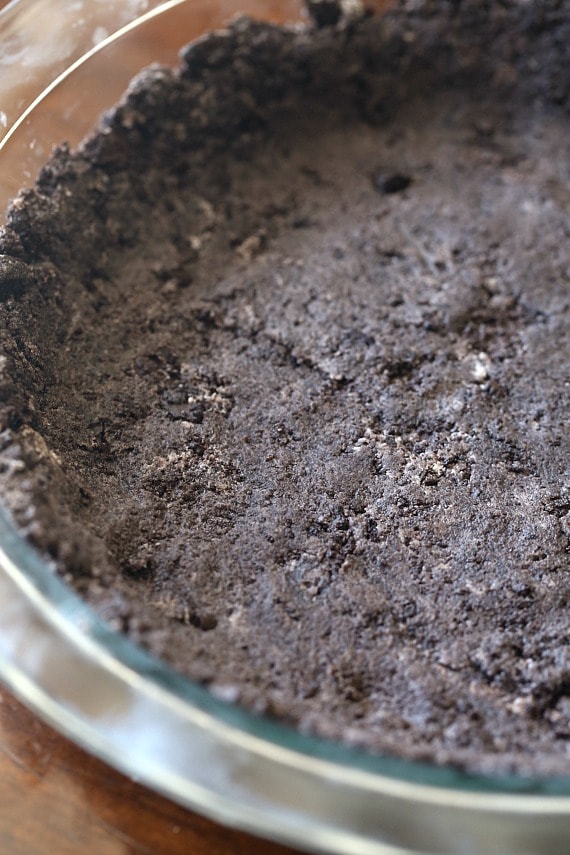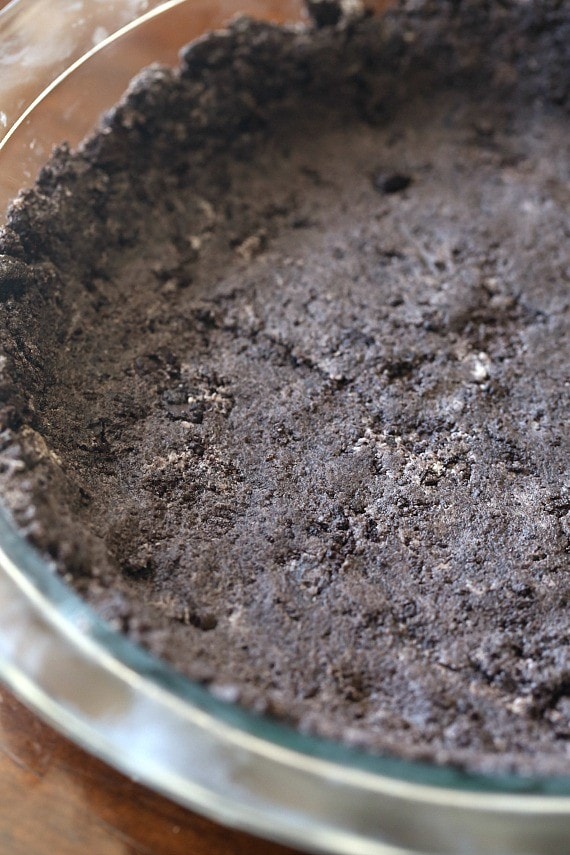 The filling to this dreaminess is basically a melted marshmallow, milk chocolate ganache. DID YOU HEAR THAT?!?!?
Grab some minis…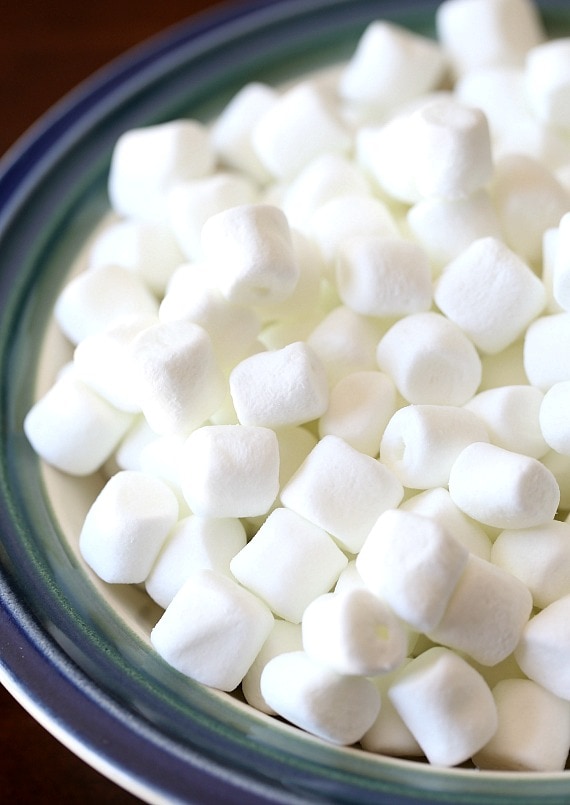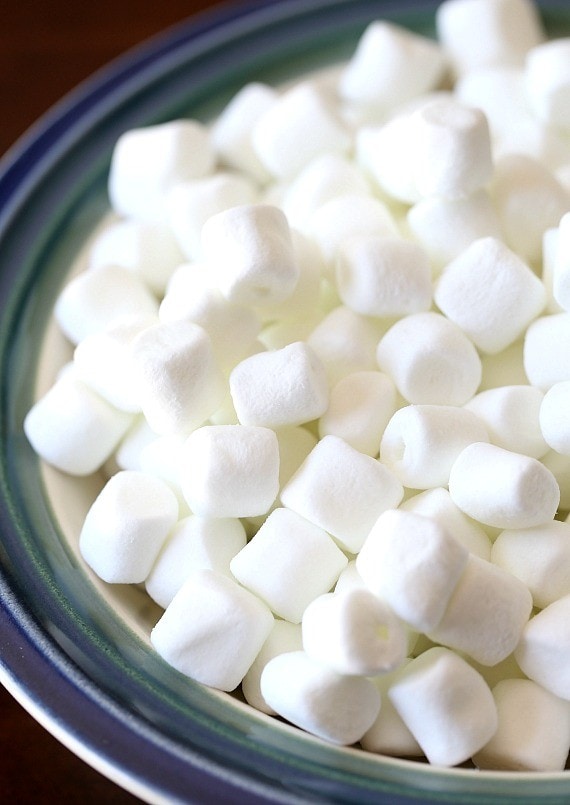 And chop up some chocolate.
I used Symphony for no other reason than it's creamy and delicious.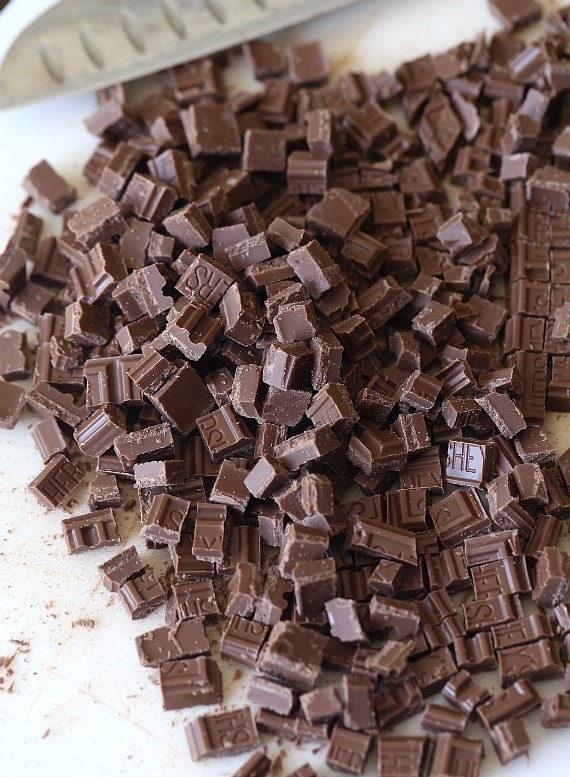 Melt your marshmallows with a bit of milk until it's smooth and a little bit foamy. Then stir in your chopped milk chocolate…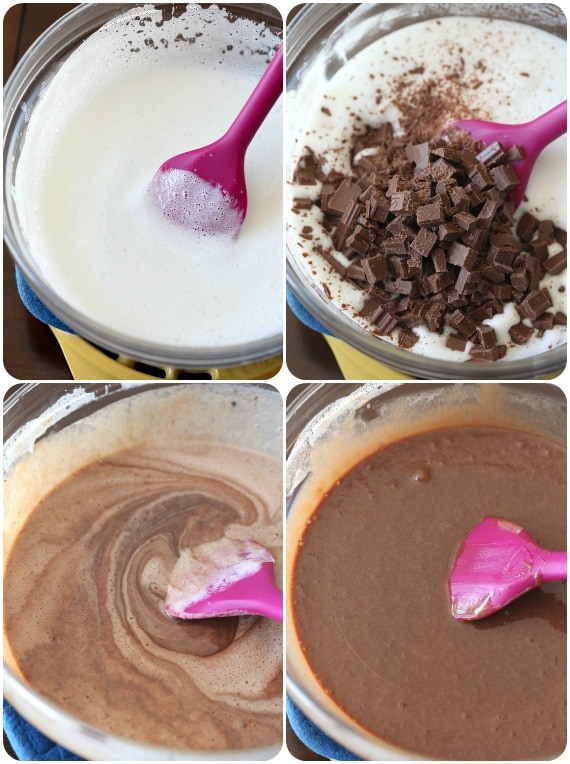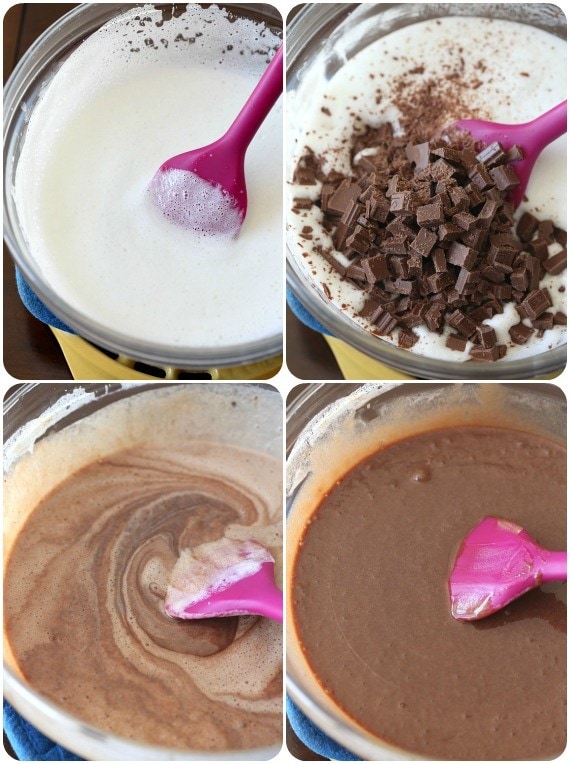 Keep stirring until it's smooth and gorgeous.
Now let that cool until it's room temperature, giving it a stir from time to time so it cools evenly.
THEN whip up some heavy cream and plop it in the milk chocolate…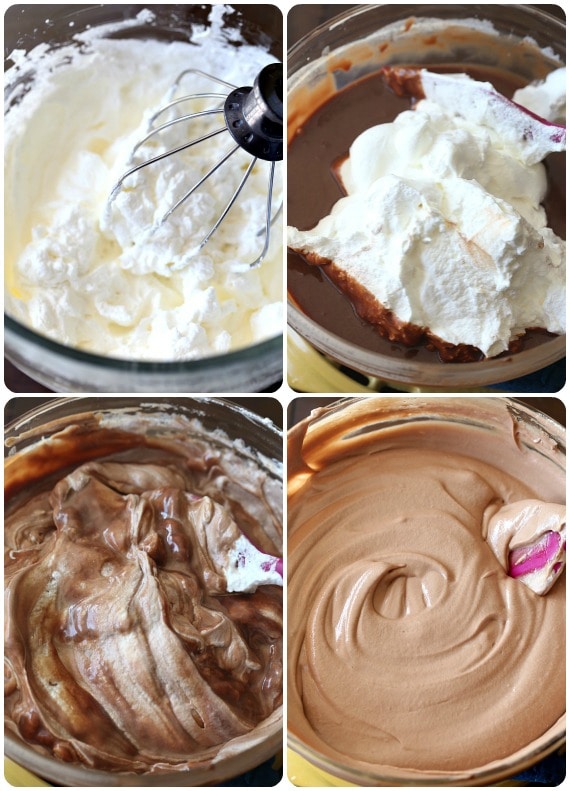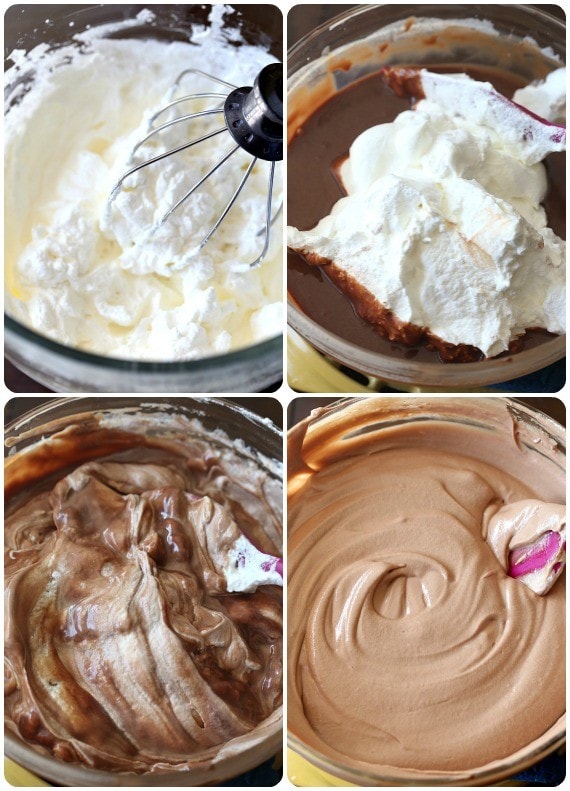 Fold it in carefully until it's smooth an uniform in color.
THEN spread it in the pie crust!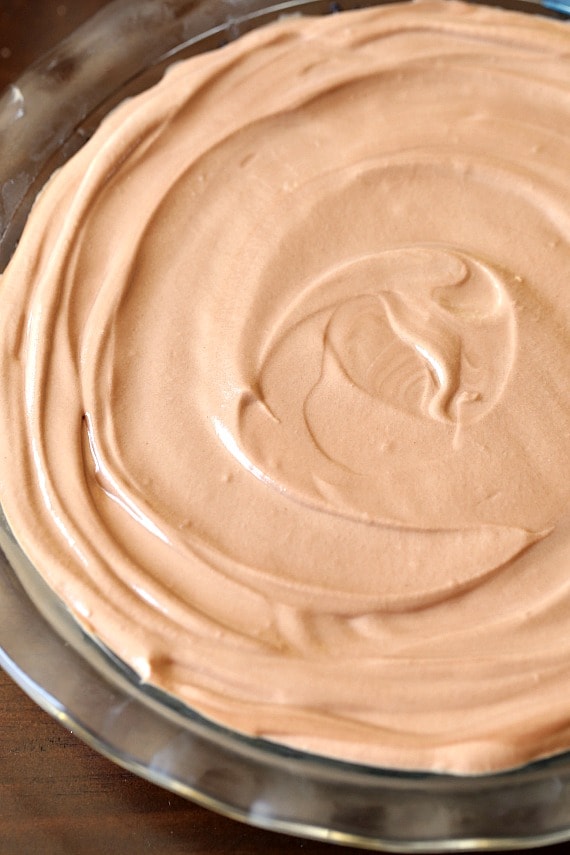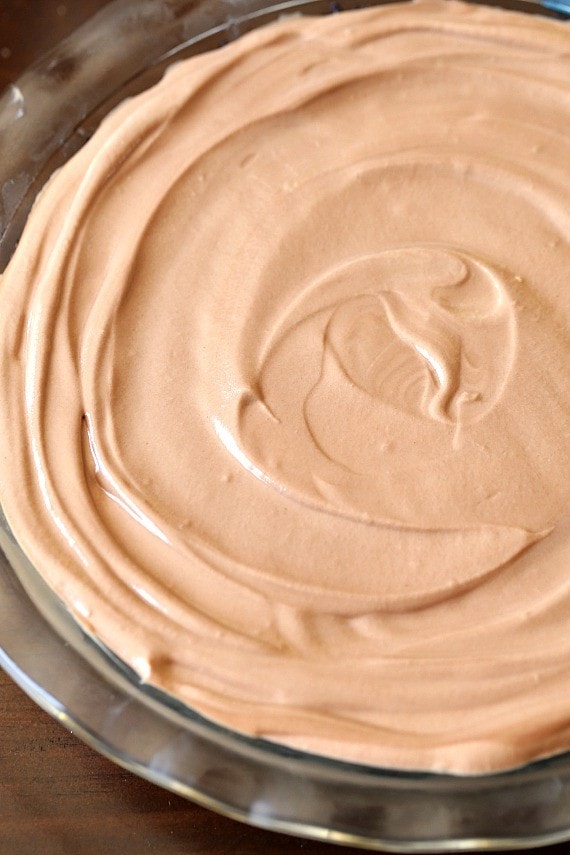 Chill that up for at least a few hours.
Garnish it with extra whipped cream and chocolate sprinkles, chopped chocolate, chocolate chips…or whatever your little heart desires.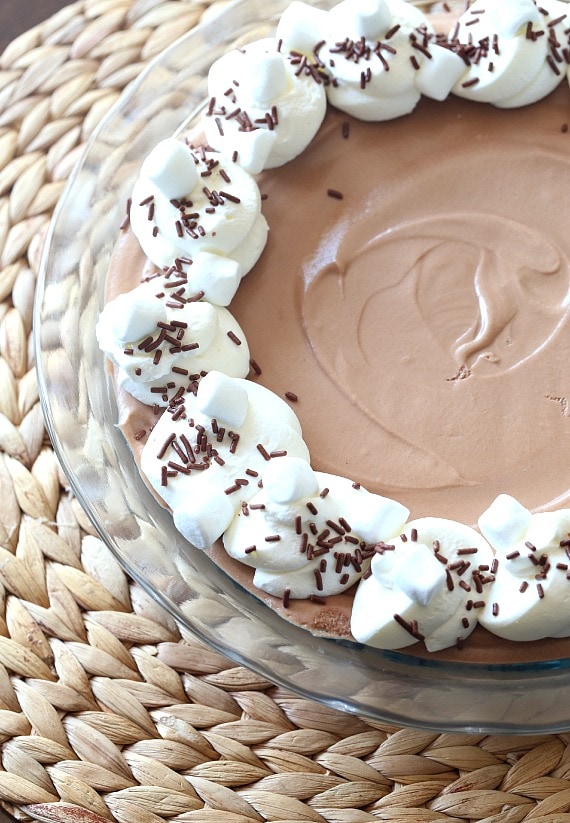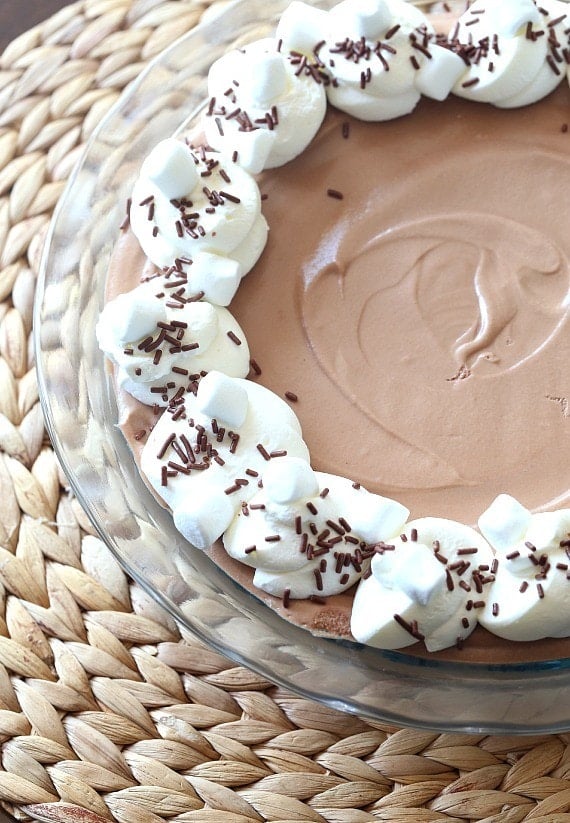 And slice up that beauty.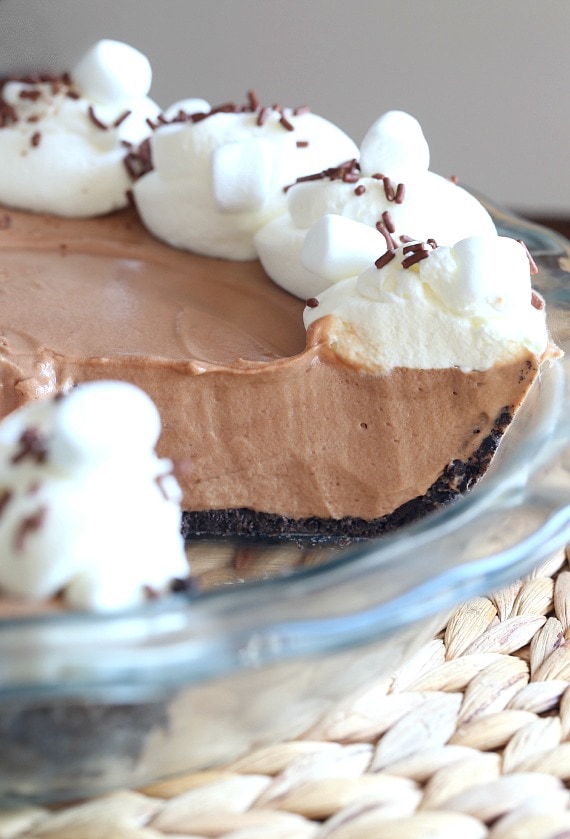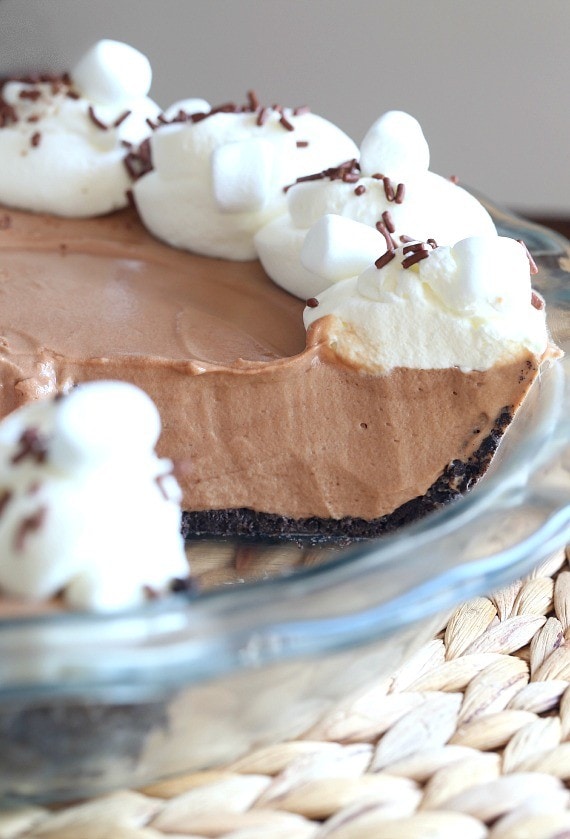 Trust me, this is a good one.
Print
Chocolate Marshmallow Pie
Author:

Prep Time:

20 minutes

Total Time:

20 minutes + chill time

Yield: serves

12

1

x
Category:

Pie

Method:

No Bake

Cuisine:

Dessert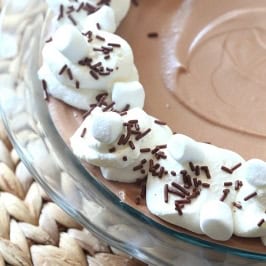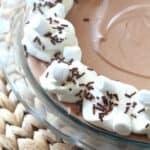 ---
Description:
These easy Chocolate Marshmallow Pie is absolutely delicious with the creamy texture!
---
Ingredients:
Crust
25

chocolate sandwich cookies

1/4 cup

butter, melted
Filling
3/4 cup

milk

3 cups

mini marshmallows

12 ounces

milk chocolate, chopped

1 1/2 cups

cold heavy cream
---
Instructions
Finely crush the chocolate cookies in a food processor or blender. Mix in the melted butter until evenly combined. Press the mixture into the bottoms and up the sides of a deep dish pie plate (9.5″x 2″) evenly and firmly. Chill the crust for at least 30 minutes.
Meanwhile, over a double boiler melt the marshmallows and the milk together, stirring frequently. Once the marshmallows are all melted remove the bowl from the double boiler and stir in the chopped chocolate until it's melted and smooth. Allow the chocolate mixture to cool to room temperature, stirring occasionally.
Once the chocolate is cooled, place the heavy cream in the bowl of your stand mixer fitted with the whisk attachment. Beat the cream on medium high speed for 1-2 minutes until stiff peaks form. Fold the whipped cream into the cooled chocolate until it's evenly combined.
Pour the mixture into the chilled crust.
Cover and chill the pie for at least 2 hours.
When you're ready to serve it you can garnish it with extra whipped cream, if desired.
---
Notes:
If you do not have a deep dish pie (9.5″ x 2″) plate you will need to reduce the amount of filling by 1/3, making the amounts: 1/2 cup milk, 2 cups mini marshmallows, 1 cup heavy cream.
OR make the recipe as-written and use a 9″ Springform pan.
The crust amounts remain the same.
Keywords:: cookies and cups, pie recipe, chocolate pie, marshmallow pie
Want To Save This Recipe?