These Strawberries and Cream Bars start with a cake mix! You could sub in any fruit you like!
Sometimes I want dessert for breakfast.
But supposedly dessert is to be eaten after dinner or something.
So you can find me on any given morning hiding from public judgement in my closet cursing the candy companies for making their wrappers so loud.  Inevitably, I will be found because of the super-sonic-noise-making Snickers wrapper, and I try to convince  either my children or my husband, through garbled speech and chocolate drool , that I was in the closet looking for a missing flip flop.  My children haven't caught on yet, although my husband is hot on my trail.
I am clearly being stymied by dessert prejudices across the land.
Anyway, I believe I have found a way to hurdle the rules that are clearly trying to cease culinary progress.
Add fruit.
Yep, that's it.
Add fruit to dessert and bah-jammm! Instantly breakfast affirmed.
And these bars take it a step further with the addition of cream cheese.
Because cream cheese is the breakfast approved cheese.  Who makes these rules?!
So let's get down to it…Strawberries and Cream Bars.

They start with a cake mix.  Isn't that great?
Just mix it up with an egg and some butter.
It will be very dense…

Press it into your pan, partially bake it and top it with a simple cream cheesey/cheesecakey layer…

Slice up some strawberries and spread those on top…

Then crumble up the reserved crust mixture and sprinkle on top of the strawberries…

When it's done baking it will look like this…

Let it cool and cut it into squares.

And then eat your dessert anytime of the day.
Because no one is the boss of you!
Print
Strawberries and Cream Bars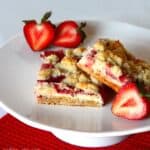 ---
Description:
makes 24 bars
---
Ingredients:
1

box vanilla cake mix (

18.25 oz

, 1 lb)

1/3 cup

butter, room temperature

2

eggs, divided

3 cup

s sliced strawberries

8 oz

cream cheese

1/3 cup

sugar

1 tsp

vanilla
---
Instructions:
Preheat oven to 350°
Spray 9×13 with cooking spray
In large bowl combine butter, one egg and cake mix. Mixture will be stiff. I used my hands to combine the dough.
Reserve 1 cup of mixture for topping and set aside.
Press the remaining mixture in the bottom of the pan and bake for 10 minutes.
While crust is baking, slice the strawberries into approx 1/4″ slices.
In a mixing bowl beat cream cheese, sugar, vanilla and remaining egg until smooth.
Spread cream cheese mixture over top the partially baked crust.
Evenly arrange the sliced strawberries over the cream cheese mixture and the sprinkle with remaining crust.
Bake for 25-30 minutes until center is set and crumbs on top turn golden brown.
Cool completely on wire rack and chill at least 30 minutes before serving.
---
Notes:
Store in an airtight container in refrigerator.
Want To Save This Recipe?