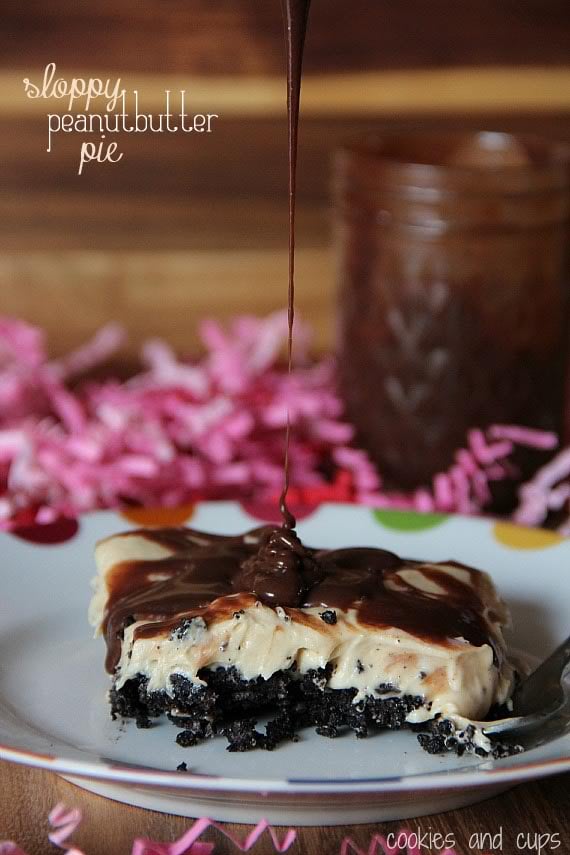 Sometimes the messiest things are the best.
I mean, I know the benefits to a good picture.
No one wants to see what your kids REALLY look like.
They want to see your kids with their hair combed, clean clothes and socks with no holes.
But let's be real.
On any given day you will find my kids walking around my house in soccer shorts, no shirt and Cheerios stuck in their uncombed hair…at 3:00 in the afternoon.
I mean, it is summer and all, so it's a little more acceptable, but you knowww.
So basically the same thing applies with desserts. Or really food in general.
If it's all sloppy and messy, apparently it's not as appealing.
Like what if I made a cake here and posted what an ACTUAL slice looked like? Not the perfect slice that takes you 17 minutes to get from pan to plate, because you don't want any crumbs or icing smears…
Because if you had an icing smear…gasp! It wouldn't look delicious.
Well, I am here today to break the mold.
This "pie" isn't perfect. It's actually not even a pie.
I mean, there is kind of a crust…is that the defining characteristic of a pie?
Well, whatever, I'm calling it a pie.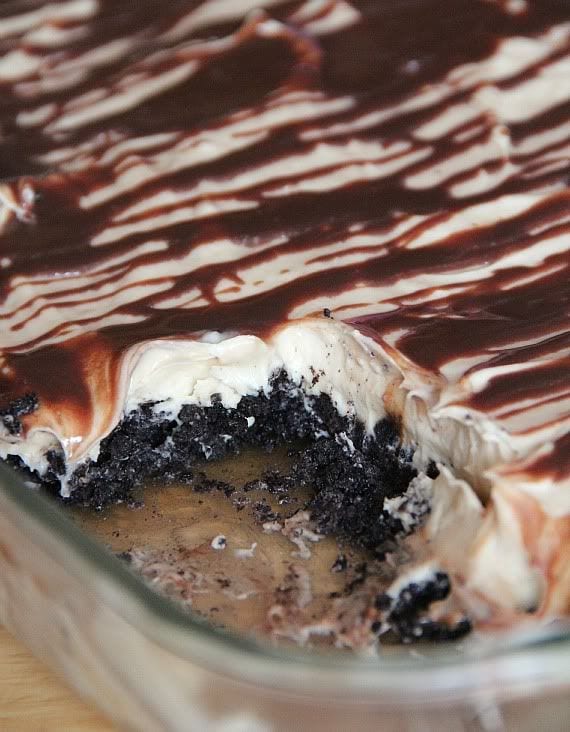 Sloppy Peanut Butter Pie.
This whole thing is a pretty easy situation.
There's no baking, which is awesome…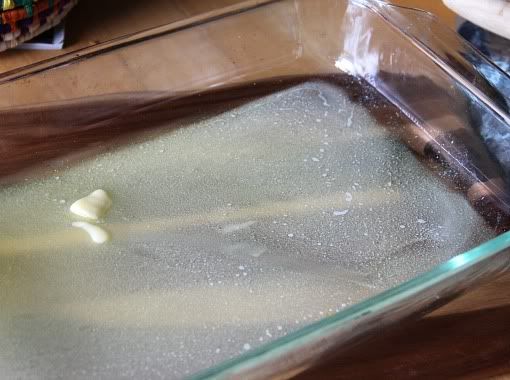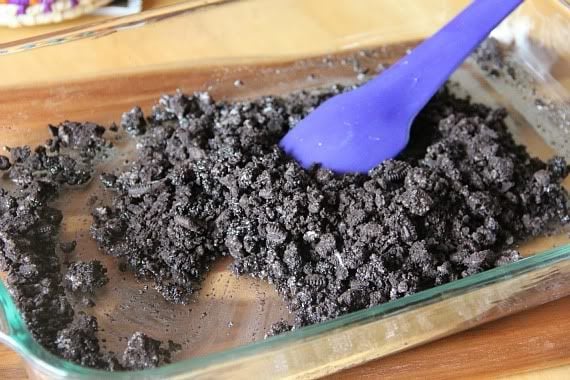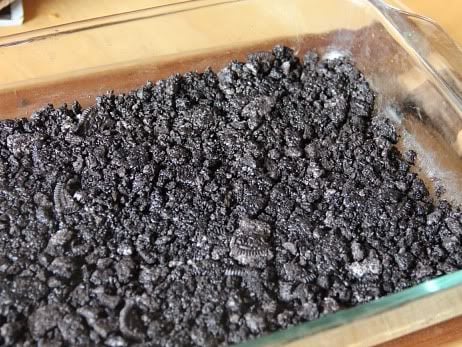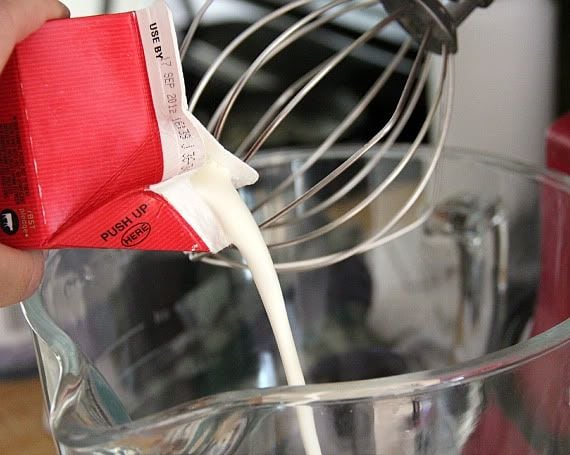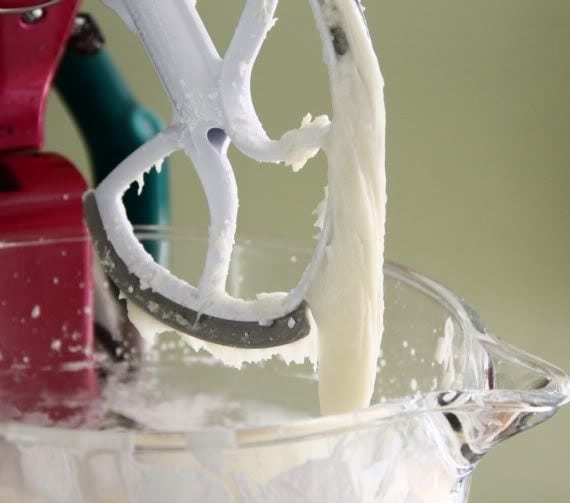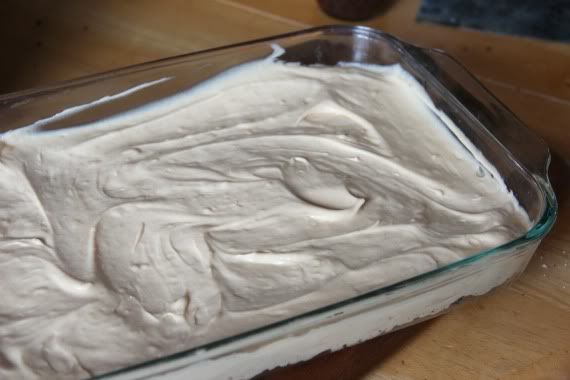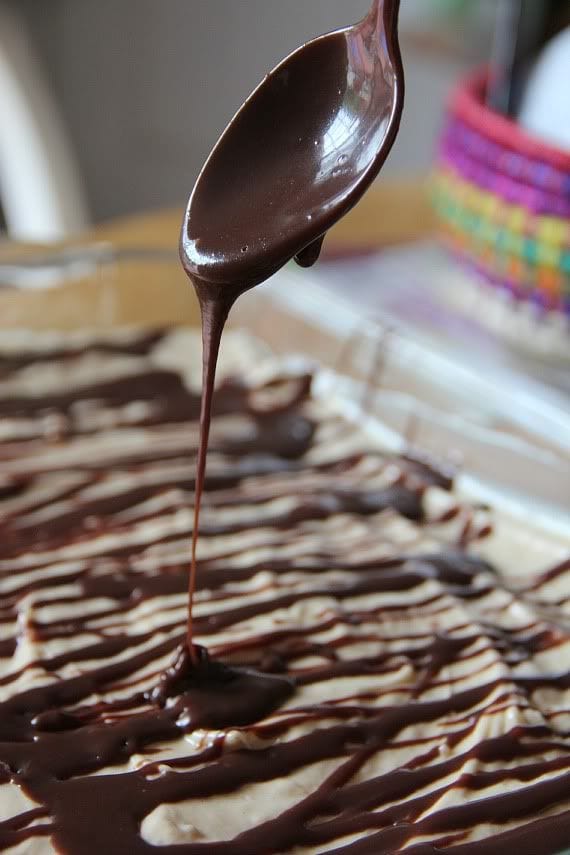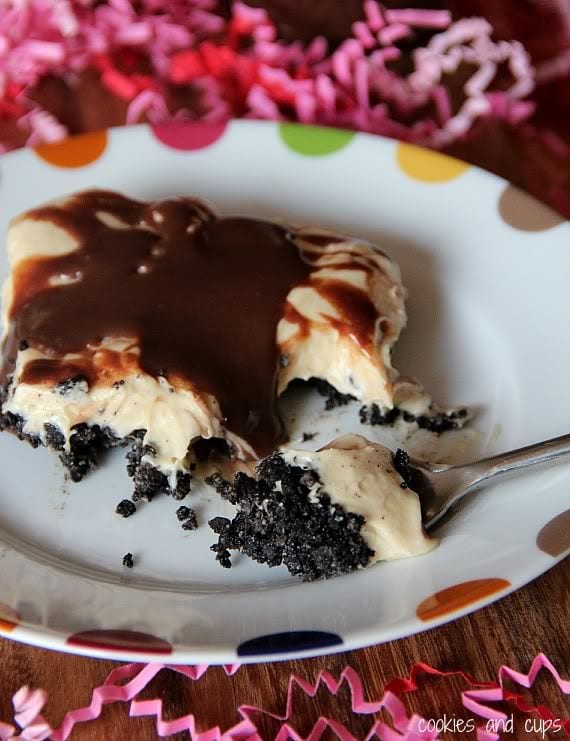 Start with a 9×13 pan and pour in some melted butter…
Then add in some crushed Oreo cookies…cream and all. Stir it up with the butter…
Then press it evenly into the bottom of the pan.
Make some whipped cream and set that aside…
The mix together some sugar, cream cheese and peanut butter.
Fold your whipped cream into the peanut butter mixture until smooth and even and spread it over your crust…
Then if you WANT, drizzle it with chocolate syrup. I used the chocolate sauce I made HERE, but feel free to use any chocolate sauce you like.
Then chill it for about an hour and eat it.
It's not pretty, but it's delicious.
Print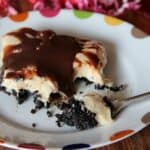 Sloppy Peanut Butter Pie
---
---
25

Chocolate sandwich cookie, crushed

1/4 cup

butter, melted

8 oz

cream cheese, room temperature

2 1/2 cups

powdered sugar

3/4 cup

peanut butter

1 pint

heavy whipping cream, cold
chocolate sauce
---
Instructions
Pour melted butter into 9×13 pan.
Pour crushed cookies in with butter and stir until evenly combined. Press into bottom of pan.
In stand mixer fitted with whisk attachment pour your cold heavy whipping cream into attached bowl and beat on medium high for approximately 2 minutes until stiff peaks form. Set whipped cream aside.
In your stand mixer fitted with paddle attachment, beat together cream cheese, peanut butter and powdered sugar until smooth.
Fold in your whipped cream into the cream cheese mixture until evenly incorporated and spread over prepared crust.
Drizzle with chocolate sauce, if desired.
Chill at least 1 hour before serving.
---
Notes
store in a covered container in refrigerator for up to 3 days.
Want To Save This Recipe?