Creamy Garlic Chicken is an easy chicken recipe made in the skillet! So much flavor in this creamy, garlic sauce, and it only takes 30 minutes from start to finish!
Creamy Garlic Chicken Is an Easy Chicken Recipe Perfect for a Weeknight Dinner!
Lately any excuse I have not to turn on the oven at dinnertime, I am taking it! That's Why I love Skillet Recipes! You can really pull together a gorgeous dish in basically one large pan and I love it. And chicken works REALLY well in a skillet, because you can get a nice brown sear on the outside, while the inside will stay juicy and tender. Plus you can get really creative with the type of sauce you use! Add a little rice, pasta, or a side salad and you have a meal in under 30 minutes!
Looking for Other Skillet Dinner Recipes? Try These: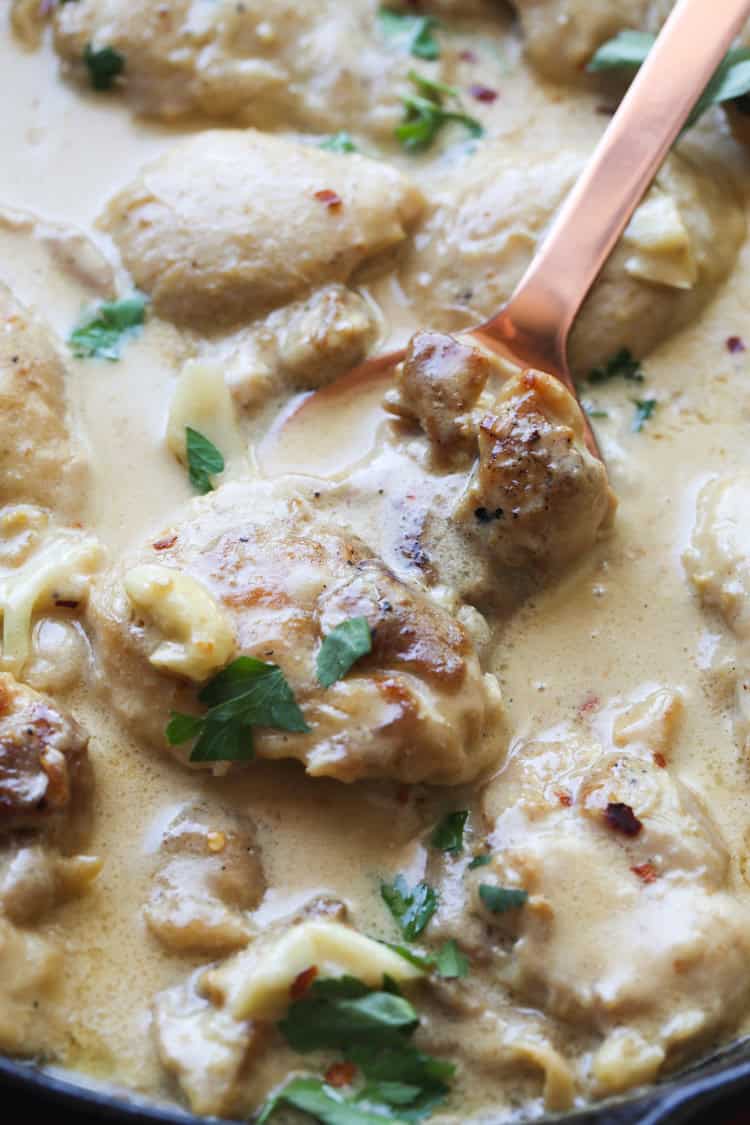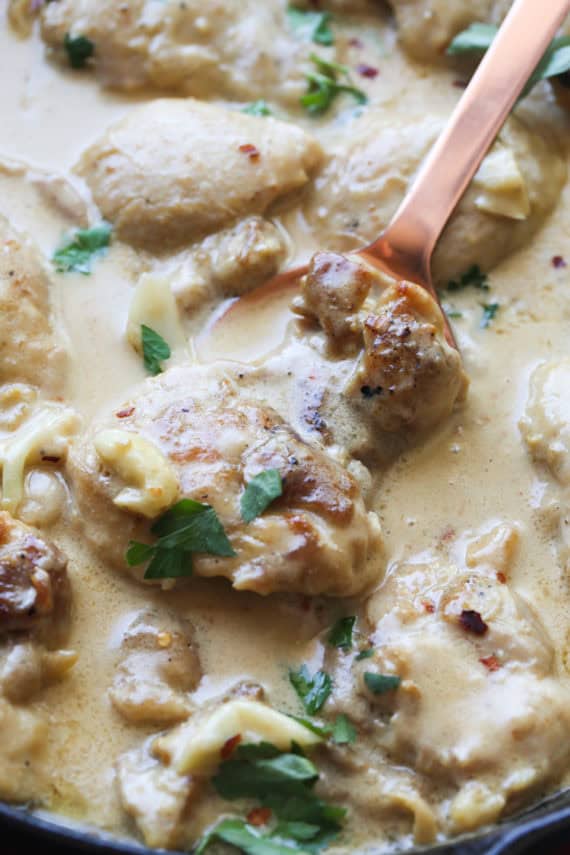 How Do You Make Garlic Chicken?
Like I said, this is an easy, and quick chicken dinner recipe. It packs a lot of flavor into the simple sauce, thanks to the garlic.
Do You Have To Use a Cast Iron Skillet?
Nope, you don't have to make this in a cast iron skillet, but if you have one, it's a great tool for skillet meals! You can get a nice, deep sear on the outside of the meat, which adds flavor. And cast iron heat very evenly, so it's a nice way to ensure that the dish will cook evenly, which is important when you're making a dinner in under 30 minutes! You want to make sure it's all cooked thoroughly and evenly! I have used THIS cast iron skillet for years and years, and it's one of my most used kitchen tools!
What Ingredients Do You Need?
You use extra simple ingredients in this Creamy Garlic Chicken, which is one of the reasons I love making it for dinner! Here are some of the key ingredients you will need:
Chicken: I love using Boneless Chicken Thighs in this recipe for maximum flavor!
Garlic: Obviously this chicken recipe has tons of fresh garlic. Make sure your garlic is fresh for best flavor, and I just smash the garlic with the side of my large knife and add it to the sauce. This gives the dish a rustic vibe, while infusing the sauce with lots of garlic flavor. Once the garlic clove cooks in the sauce it will be sweet and delicious!
Heavy Cream and Chicken Broth: Together the combination of these two ingredients make your sauce. You can sub out the heavy cream for milk if you prefer, but your sauce will be thinner, so just be aware of that! You can also use half the broth and add in some white wine! That would be delish!
Seasonings: Obviously you need some spices to amp up the flavor. Salt, pepper, and garlic powder are a simple seasoning for the chicken. And I like to add in some crushed red pepper to the sauce to give it a little heat!
Mascarpone Cheese: This gives the sauce a creamy, and silky texture. If you don't prefer to buy Mascarpone Cheese you can absolutely use Cream Cheese. I really like Mascarpone in this because you just get a mild flavor that in undetectable, while cream cheese has a bit of tang!
Do You Have To Use Chicken Thighs?
NO! I like using boneless chicken thighs in skillet recipes, because I find they are moister and a little more flavorful than breasts. When you're cooking quick using robust flavors is a way to duplicate the "slow cooked" taste without the time. It's just a quick "cheat". But, of course, if you prefer boneless breasts you can absolutely use those in the place of the thighs.
Can You Bake This Chicken Recipe?
If you don't have a skillet, or just want to pop it in the oven and forget it, you can make this Garlic Chicken in a baking dish. Follow the recipe exactly, but reduce the amount of liquid by 1/3. Bake it at 400°F for 20-25 minutes until the chicken is cooked through!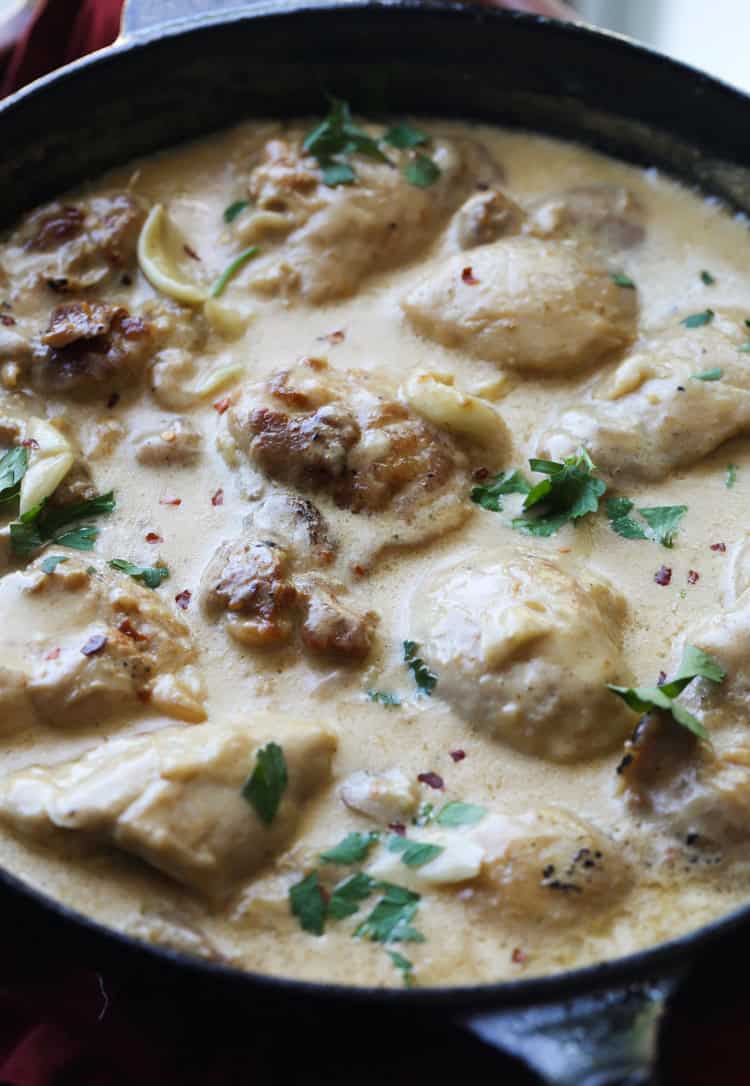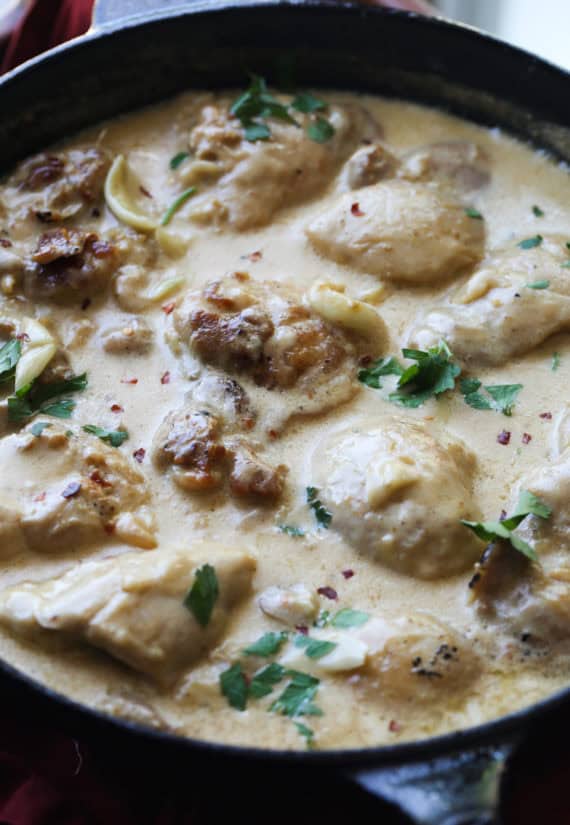 Make It Your Own!
This chicken recipe is a great one to adapt to your own tastes. You can adjust the spices or add in extras to make it a more hearty dish!
What Can You Add To Creamy Garlic Chicken?
Mushrooms: Add in 8- ounces of sliced mushrooms when you're browning the chicken. And cook them in the sauce!
Artichoke Hearts: You can add some sliced artichoke heats into the sauce and allow them to cook in the sauce. Yum!
Spinach: Add some fresh spinach into the sauce the last 5 minutes of cooking. Stir to coat and watch it wilt down. You can use at least 8- ounces (or more!) of fresh spinach because it cooks down so much!
Cherry Tomatoes or Sun Dried Tomatoes: Add in cherry tomatoes while you're browning the chicken to burst them and cook them in the sauce, or add diced sun dried tomatoes into the sauce and cook!
Print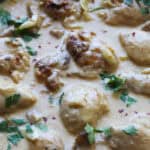 Creamy Garlic Chicken
Author:

Prep Time:

10 minutes

Cook Time:

20 minutes

Total Time:

30 minutes

Yield:

serves 6

Category:

Chicken

Method:

Skillet

Cuisine:

Dinner
---
Description
Made in 30 Minutes in one skillet, this Creamy Garlic Chicken really packs a big flavor punch!
---
1 1/2 teaspoons

kosher salt

1 teaspoon

fresh ground black pepper

1/2 teaspoon

garlic powder

2

pounds boneless chicken thighs, trimmed

2 tablespoons

olive oil

6

cloves garlic, smashed or coarsely chopped

1 cup

chicken broth

1/2 cup

heavy cream

1/4 cup

mascarpone cheese

1 1/2 tablespoons

flour

1/2 teaspoon

crushed red pepper flakes

2 tablespoons

fresh chopped parsley to garnish
---
Instructions
In a small bowl mix together the salt, pepper and garlic powder. Sprinkle the mixture on the chicken thighs.
Heat olive oil in a large skillet over medium-high heat. Place the chicken evenly into the skillet and cook until browned on each side, 4-5 minutes per side.
While the chicken in cooking, whisk together the broth, cream, mascarpone, flour, and red pepper flakes.
When the chicken is browned, add in the garlic and cook for 1 minute while stirring.
Reduce the heat to medium-low. Pour in the broth mixture, stir to combine and cook for 10 minutes, until the mixture has thickened, stirring occasionally.
Sprinkle with fresh parsley, and serve warm.
---
Notes
Store airtight in the refrigerator for up to 3 days.
You can sub boneless chicken breasts for the thighs.
Nutrition
Serving Size:
Calories:

398

Sugar:

1.2 g

Sodium:

381.4 mg

Fat:

23.5 g

Carbohydrates:

4.1 g

Protein:

41 g

Cholesterol:

219.8 mg
Keywords: cookies and cups, chicken, chicken recipe, chicken thighs, garlic skillet recipe
Want To Save This Recipe?
Find more recipes like this: