I made the Jacques Torres Chocolate Chip Cookie Recipe aka NY Times Chocolate Chip Cookie Recipe. Are they the best cookie? I actually think they might be. Fussy and time consuming, but 100% worth it!
These cookies are incredible but these are still my favorite chocolate chip cookies.
Can you believe after all the years I've been baking cookies I have never once fallen victim to the hype of the famous (or infamous) Jacques Torres Chocolate Chip Cookie recipe? It was just one of those cookie recipes that was annoying to me in SO many ways. Two types of flour? Annoying. Multiple days of chill time? Eye roll. Special chocolate? Pretentioussssss. Yet here I am. Fully admitting that I was wrong. I mean, the NY Times declared it the best…so it was definitely worth a go!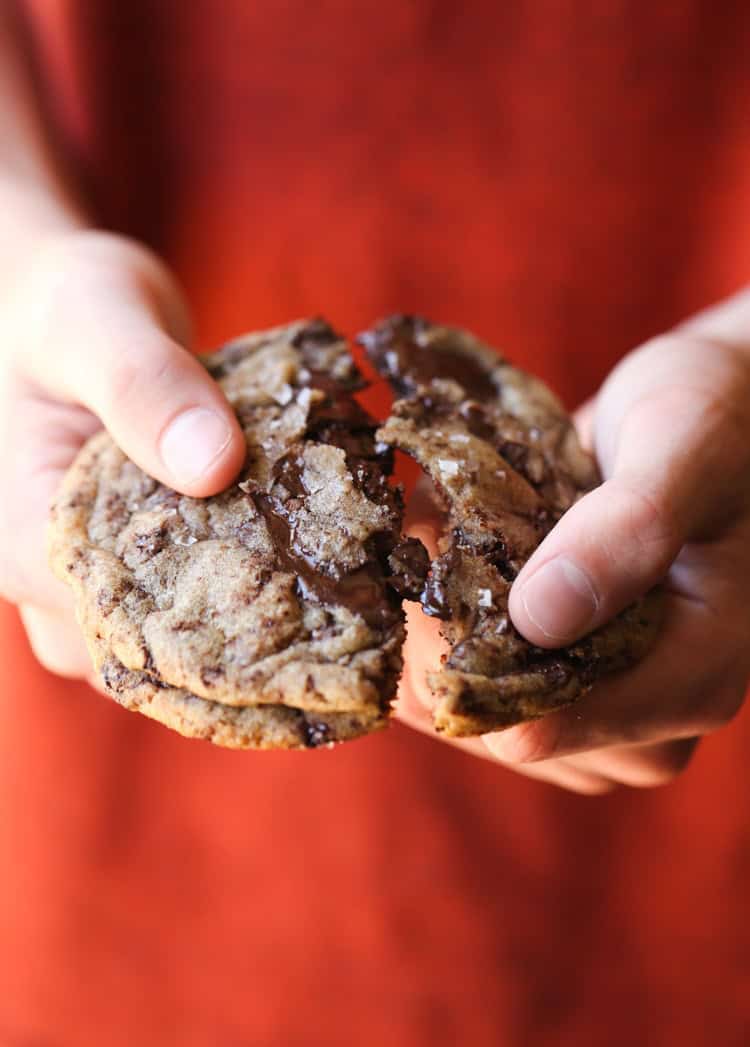 What Changed My Mind?
Here's the deal. When I did my Best Online Bakery Challenge a few weeks ago, Jacques Torres was one of the cookies we ordered. Friends, they were BAD. Totally stale. They had clearly been sitting on the shelf for at least a week before they even shipped out. BUT, I knew they had crazy potential. The chocolate ratio, the perfect size and thickness…I could tell that if these cookies were fresh, they would have been contenders. But they weren't, and that challenge was all about what to buy online.
Anyhow, I knew I had to finally try the dang recipe. So I did. And then I did again. And then again 2 more times. Because people, they are good. Also, I wanted to test some shortcut options to give you. Unfortunately, I really have none. You need to follow it as-is. I'll tell you why.
Why Two Types of Flour?
The Jacques Torres chocolate chip cookie recipe calls for 2 types of flour. This was the biggest hump for me. I was like COME ON NOW.
You use a combo of bread flour and cake flour. The difference in these is the protein content which is what is related to the amount of gluten that is formed. For example, bread flour has 14-16% protein, and cake flour has 7-8%. To create a dense, chewy bread, you will use bread flour, because as the dough is kneaded the amount of gluten that is formed creates the texture. And likewise, with a cake, you use cake flour because it has a lower protein amount, also you mix it much less to produce less gluten, giving it an airy, soft texture.
My point is, all purpose flour has 10-12% protein…so I thought why go to all the trouble of using these two flours when I could use all purpose and it's basically right there in the middle. Makes sense, right?
Well, when I made the cookies for the first time I followed it to a "t". The second time I started experimenting. Out went the bread and cake flour, and in went the all purpose. Were the cookies bad? No. Were they as good as the bread/cake flour combo? No. The texture with the all purpose produced a good, fairly typical cookie. The combo of the two gave the edges a chewy texture, with the center still soft and gooey. I don't know the science and magic behind it, but it's definitely worth the trouble.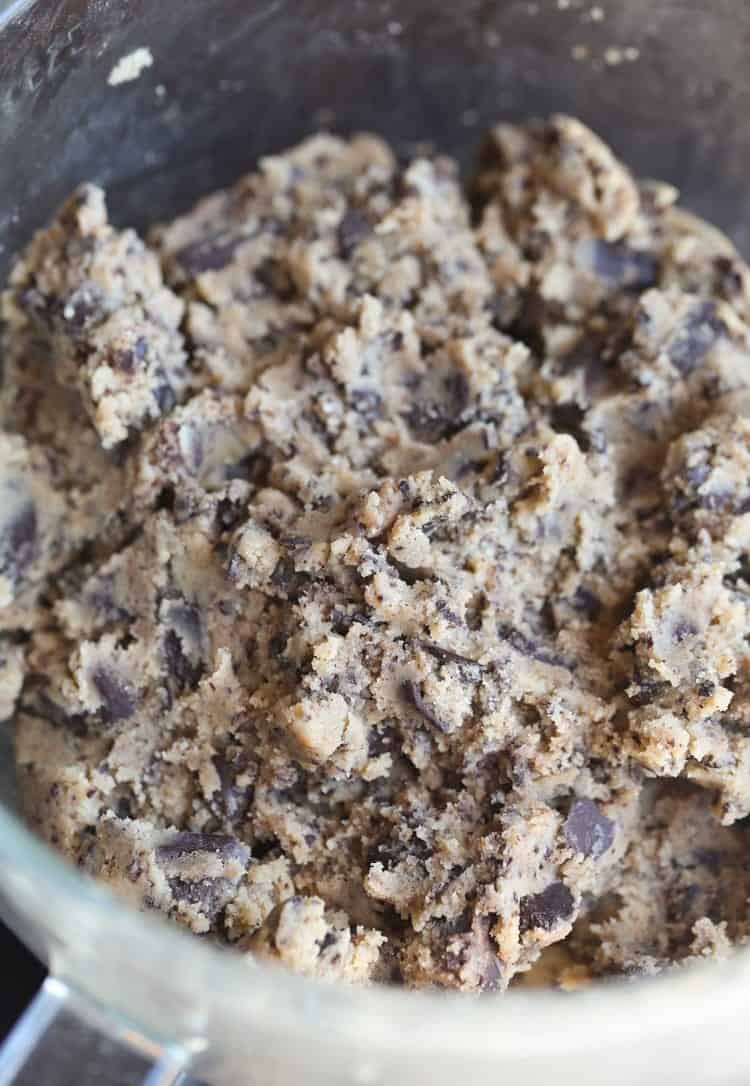 Second, I tried them without chilling. Again, were they bad? No. Were they AS good as the chilled dough? No. The flavor in the chilled cookies was noticeably richer, because as the dough chills, it dries out slightly concentrating the flavor, and giving you crispier, chewier edges. Also chilling the dough gives the gluten in the dough a chance to relax, again, adding to the crispier texture of the edges. And the color deepens as well, so you have a beautiful deep colored cookie, as opposed to a pale one.
One slight change I made to the recipe (and think is an improvement) is using chopped dark chocolate instead of chunks or disks. The difference in taste is only slight, but I preferred the look of the chopped chocolate cookie. The chopped chocolate cookie (which is what is photographed here) is just pretttttyyyy.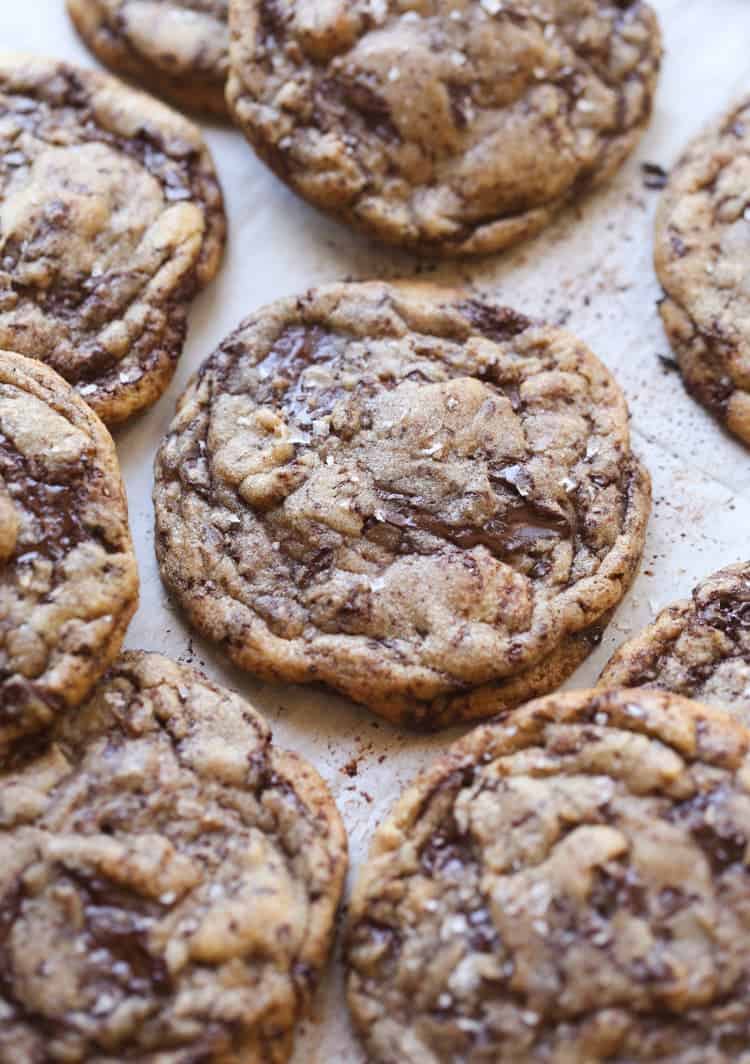 What Kinds of Sugar to Use
The slightly unusual measurements of the sugars was kind of silly to me, to be honest. I mean, 1 cup, plus 2 tablespoons of granulated sugar? So, I tried it with just a cup for simplicity. Did it make an enormous difference? Again, no. But that extra 2 tablespoons, I guess just adds to the magic. The more sugar in a cookie recipe adds to the spread, browning, and crispiness of the edge. So go the extra mile and measure out the two tablespoons.
Salted or Unsalted Butter?
Also unsalted butter…I am a huge baking no-no in many ways, and using salted butter is one of them. I pretty much always use salted. Sue me. BUT I did try the unsalted in the recipe with the salt that was listed in the original recipe and added the flaked salt on top, as stated. I didn't notice too much of a difference when I used salted on another batch and omitted the additional salt in the original recipe (but still sprinkled sea salt on top), so I don't think this is a huge issue.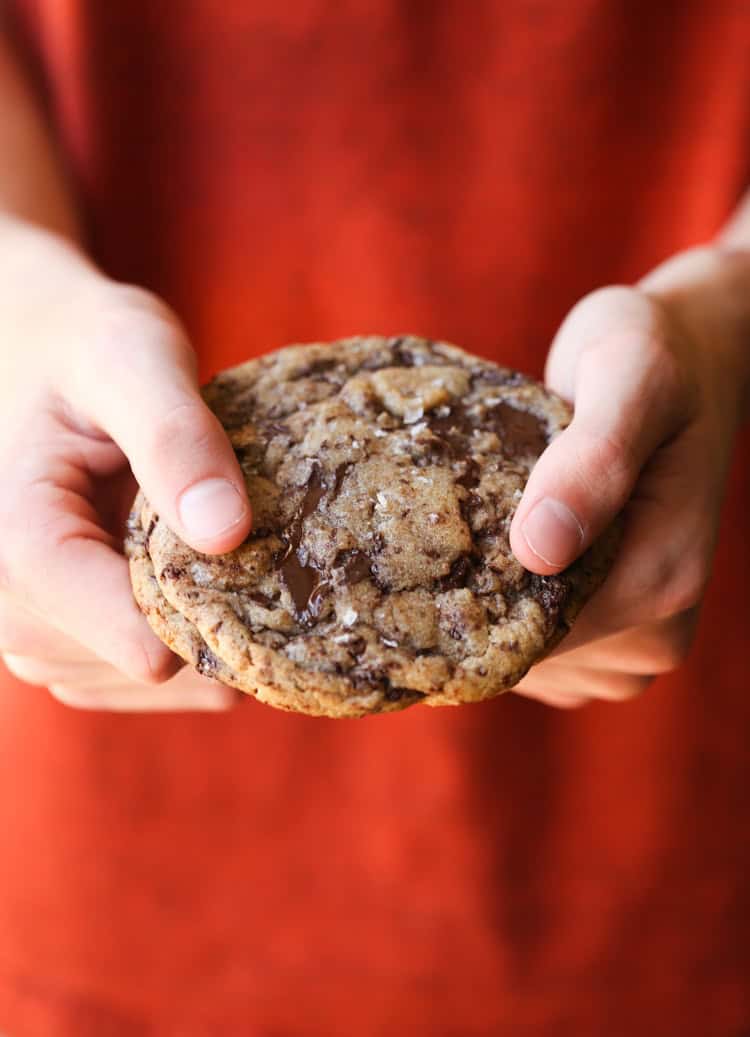 So I guess my takeaway on this chocolate chip cookie recipe is DEFINITELY try them. Measure the flour properly with the spoon and sweep method. Don't pack your flour today or EVER. Also, use your food scale to measure the cookie weight. And buy the dang bread & cake flour.
They aren't an everyday recipe in a pinch, but they are absolutely the cookie you make when you're looking to impress.
xo
Print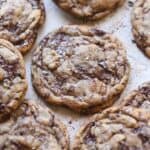 Author:

Prep Time:

10 minutes

Cook Time:

18 minutes

Total Time:

28 minutes

Yield:

20

cookies

1

x

Category:

Dessert

Method:

Oven

Cuisine:

American
---
Description
I made the Jacques Torres Chocolate Chip Cookie Recipe aka NY Times Chocolate Chip Cookie. Are they the best chocolate chip cookie? I actually think they might be. Fussy and time consuming, but 100% worth it!
---
2 cups

minus 2 tablespoons (

8 ½ ounces

) cake flour

1 2/3 cups

bread flour

1 1/4 teaspoons

baking soda

1 1/2 teaspoons

baking powder

1 1/4 cups

butter, room temperature (I used salted)

1 1/4 cups

light brown sugar

1 cup

plus 2 tablespoons granulated sugar

2

large eggs

2 teaspoons

pure vanilla extract

1 ¼

pounds chopped dark or semi-sweet chocolate chunks or disks
flaked sea salt to sprinkle
---
Instructions
In a large bowl, sift together (or whisk) the cake flour, bread flour, baking soda, and baking powder. Set aside.
In the bowl of your stand mixer fitted with the paddle attachment mix the butter, brown sugar, and granulated sugar together for 5 minutes, until light and fluffy. Add in the eggs one at a time until mixed, and then vanilla. Continue mixing for an additional minute, scraping the sides as necessary.
Turn mixer to low and add in the flour mixture, until just combined. Fold in the chocolate until evenly incorporated. Cover and chill dough for 24-72 hours.
When ready to bake, preheat the oven to 350°F. Line a baking sheet with parchment paper.
Allow the chilled dough to sit out at room temperature for 20-30 minutes before baking to soften slightly. Scoop out 3.5 ounces of dough for each cookie, using a large cookie scoop. This is approximately 1/4 cup. Place mounds onto your baking sheet, spacing them 3- inches apart.
Bake cookies for 15-18 minutes, until the edges are golden. Turn your baking sheet 180- degrees once, halfway through baking.
Remove from the oven and immediately sprinkle with sea salt. Allow the cookies to cool on the baking sheet for 5 minutes before transferring to a wire rack to cool completely.
---
Notes
Instead of chilling the dough in a large bowl, you can scoop and measure your dough right away and chill it in prepared mounds on a large baking sheet until ready to bake. Baking chilled dough produces a slightly thicker cookie than room temperature dough.
Store airtight for up to 3 days.
Nutrition
Serving Size:

1 Cookie

Calories:

222

Sugar:

9.6 g

Sodium:

91.4 mg

Fat:

12.2 g

Carbohydrates:

25.7 g

Protein:

2.7 g

Cholesterol:

49.1 mg
Keywords: best chocolate chip cookie recipe, easy cookie recipe, chocolate chip cookies, ny times chocolate chip cookies, Jacques Torres
Want To Save This Recipe?
Find more recipes like this: