These Movie Candy Cookies are fully loaded with all your favorite movie candy! I used M&Ms, Milk Duds, Reeses Pieces and Raisinettes – so stock up on your favorite candies and go to town with this easy customizeable cookie recipe!
So when I was little I wanted to be Kristy Nichol.
Do you guys remember her?
You have to remember that I grew up in the 80s.
So there was this movie that I was obsessed with called The Pirate Movie. And I used to watch it over and over and over annnnd over. I wanted my hair to be "feathered" like hers. I wanted to be tan like she was. And in that movie she wore this white, off the shoulder dress that I became obsessed with. Like, if I could only have that dress my life would be perfect.
Around the same time I was Kristy McNichol-ing it I decided that I also wanted to be Mork. From Ork.
I wore rainbow colored suspenders with pins. Out in public.
As I got a little older I started relating to non-male, non-Pirate types. Like Alyssa Milano. She was basically the coolest. And at least she dressed 80s-normal.
After Alyssa it was Kelly Kapowski. And then Kelly Taylor. Both who could totally pull off the half-shirt/high waisted jeans combo.
But since my mother wouldn't let me out of the house wearing a half-shirt, I was stuck with just the high waisted jeans. High waisted jeans and hair that grew out rather than down.
I think I looked a lot more like Mork than Kelly Kapowski.
Which explains a lot about my life.
There were other obsessions along the way…like the My Two Dads girl, Blair from The Facts of Life and even Wanda Plenn from Doogie Houser. I just knew that if I was one of those girls, I could end up on the cover of Big Bopper and marrying Kirk Cameron and live happily ever after.
Luckily none of that happened.
When I watch movies or TV nowadays I relate more to people like me now. I mean, elastic pants are so my jam. The fact that I will never be Kelly Kapowski doesn't stop me from watching TV though, it's still a bit of a sore spot, but it's nothing a few cookies can't quell.
So in honor of all my favorite movies and TV shows I made Movie Candy cookies.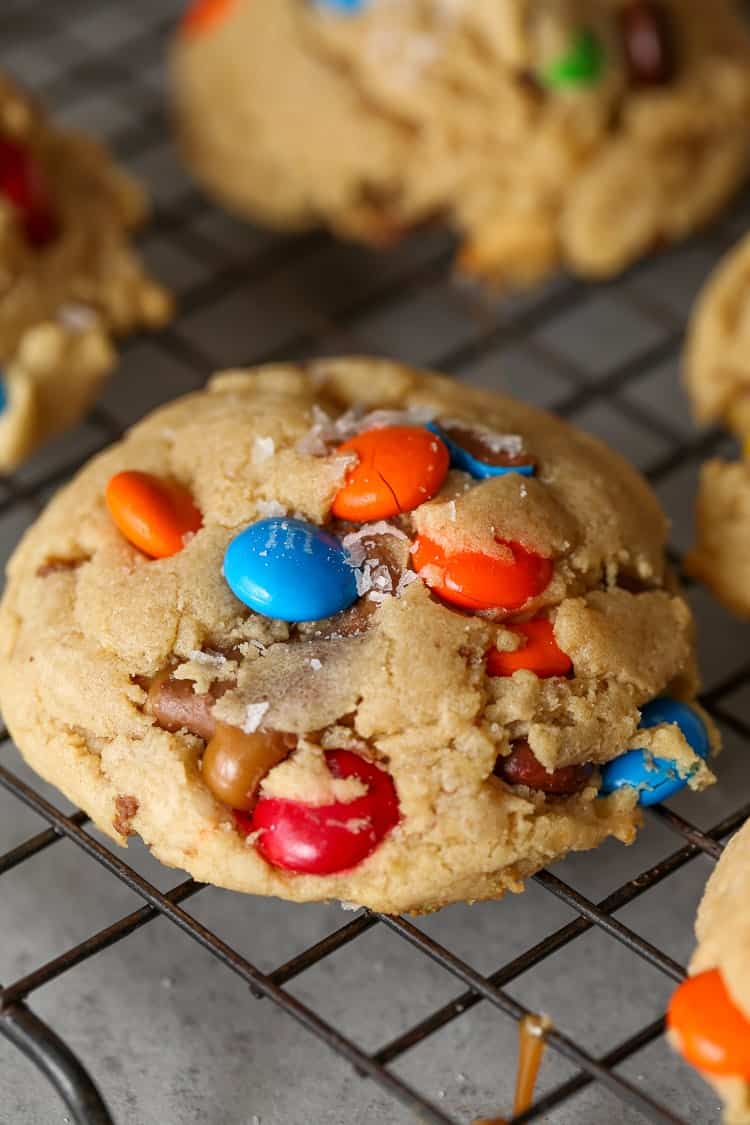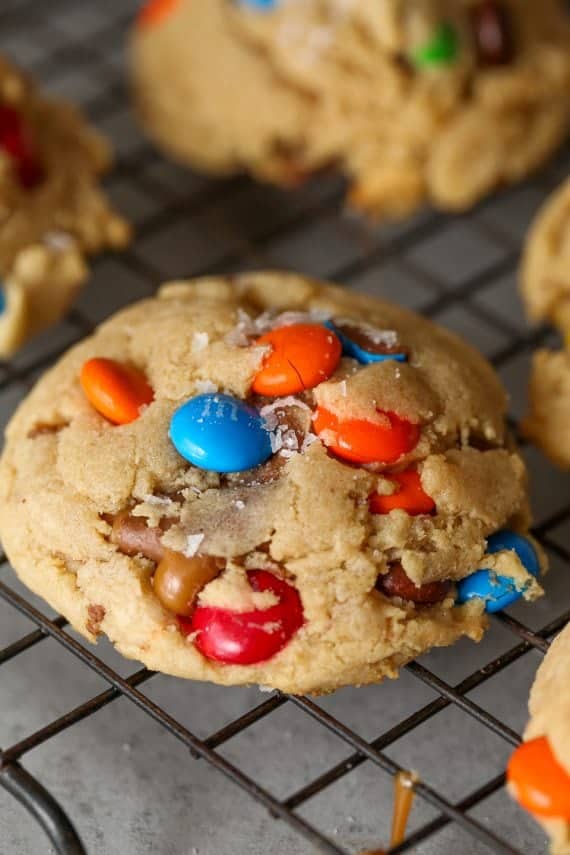 It's basically an homage.

You have a little McNichol in there, a little Milano and even a little Mork…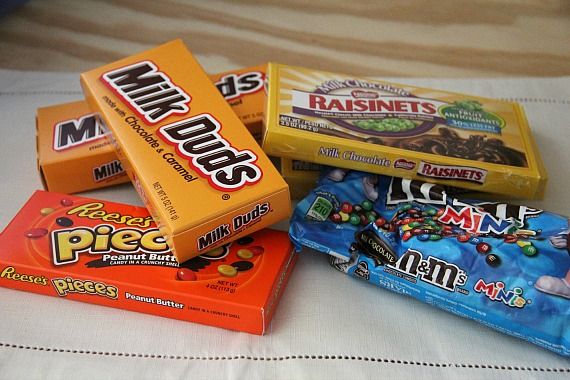 Feel free to adapt if you're more a Donna Martin or Blanche.
These cookies are so great because they're big and fat and loaded with candy.
Start with butter and peanut butter. Melt them together.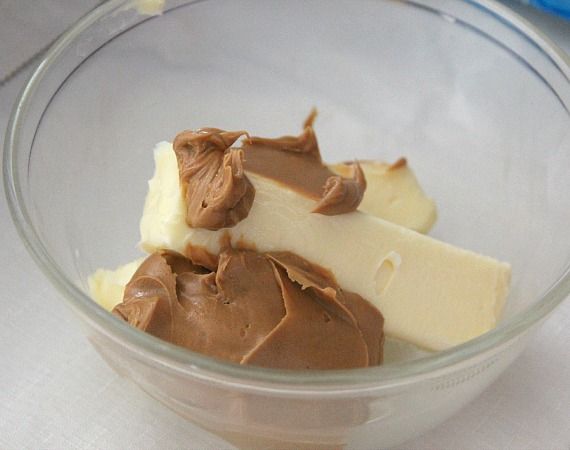 Pour that deliciousness in with some brown sugar, eggs and vanilla…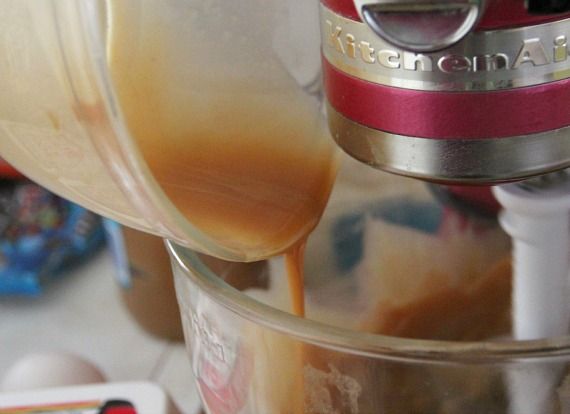 After you've added your flour and baking soda, things start to get fun.
Go ahead, stick your face in there…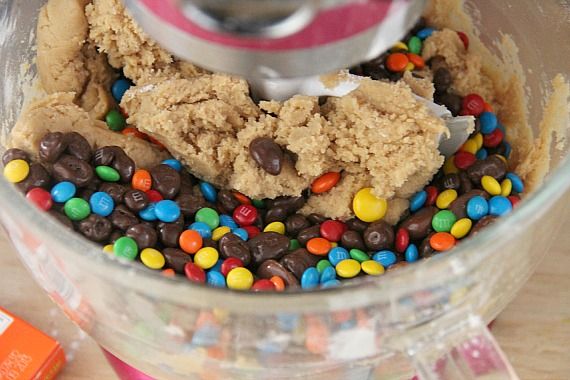 Make the dough into "golf ball" sized dough balls and put them on your baking sheet.
You should really sprinkle them with sea salt now. It's good. OR you can do it after they bake. Up to you!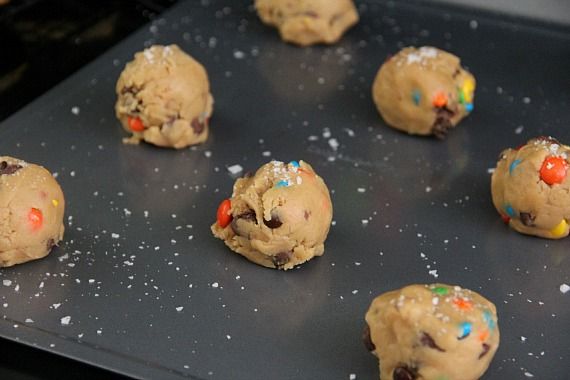 Now, if you added Milk Duds, you might have a little oozing happen…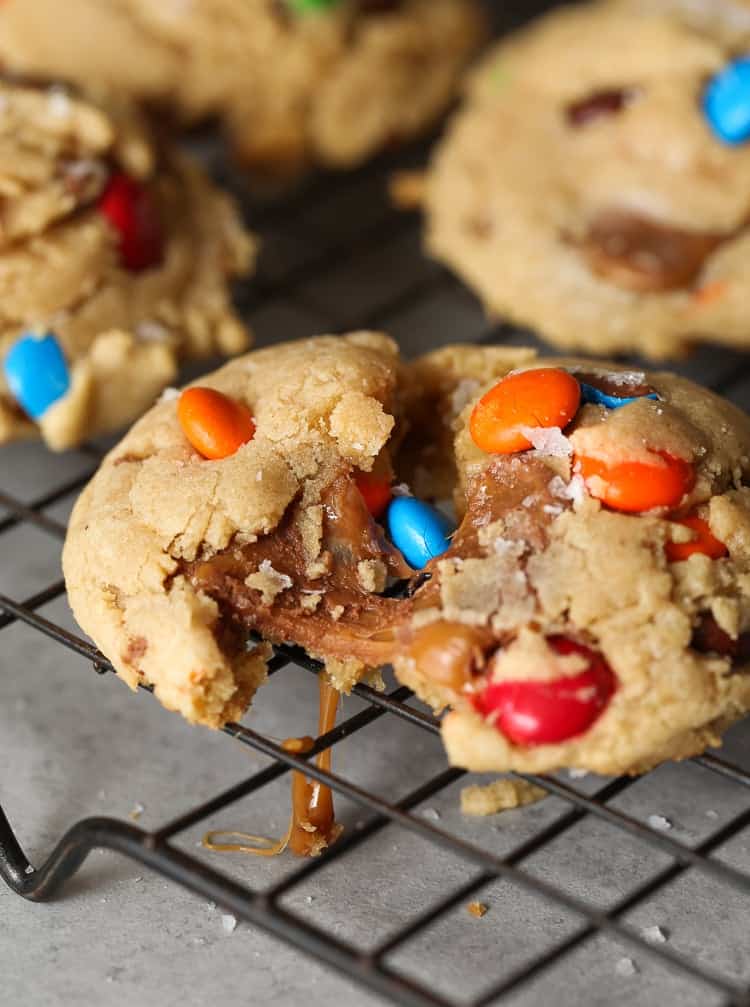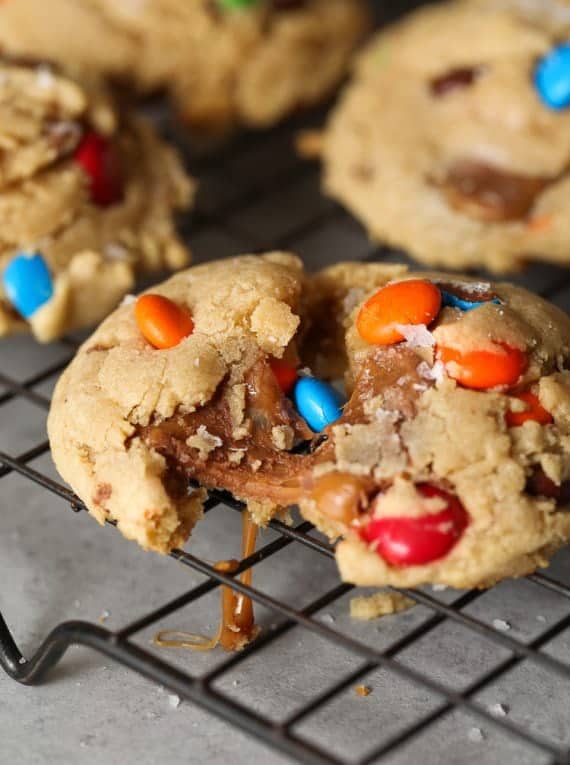 Print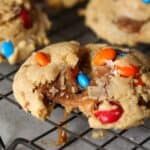 Author:

Prep Time:

10 minutes

Cook Time:

10 minutes

Total Time:

20 minutes

Yield:

About

30

cookies

1

x

Category:

Dessert

Method:

Oven

Cuisine:

American
---
Description
These Movie Candy Cookies are fully loaded with all your favorite movie candy! I used M&Ms, Milk Duds, Reeses Pieces and Raisinettes – so stock up on your favorite candies and go to town with this easy customizeable cookie recipe!
---
4 cups

all purpose flour

1 tsp

baking soda

1 cup

butter

1/2 cup

peanut butter

2 cups

light brown sugar, packed

1/2 cup

granulated sugar

2

whole eggs, plus 2 egg yolks

2 Tbsp

vanilla

3 cups

assorted candy (I used

1 cup

Raisinettes,

3/4 cup

Milk Duds,

3/4 cup

Reese's Pieces,

1/2 cup

Mini M&Ms)
*optional flaked or coarse sea salt for sprinkling
---
Instructions
Preheat oven to 325°F. Line a baking sheet with parchment paper and set aside.
Combine butter and peanut butter in a microwave safe bowl and melt together for 30 seconds. Remove and stir. Continue in 15 second increments until mixture is melted and smooth.
In a separate large bowl whisk together flour and baking soda. Set aside.
In your stand mixer fitted combine eggs, egg yolks, vanilla and sugar. Mix on medium until combined and smooth. Turn mixer to low and slowly pour in your butter/peanut butter mixture. Continue stirring until combined.
With mixer still on low, gradually add your flour mixture until just combined. Batter will be thick.
Now add in your assorted candies and stir until they are evenly distributed.
Using a large cookie scoop (3 tablespoon) drop dough two inches apart on your prepared baking sheet and sprinkle with sea salt flakes (if desired). You can also sprinkle the cookies with salt after they bake. Bake for 10-12 minutes.
Cookies will be puffy, but will be slightly golden at the edges. They might seem a little underdone in the middle, which is fine.
Let cool on baking sheet for 3-4 minutes and then transfer to a wire rack to continue cooling.
---
Notes
You can also use a hand mixer as shown with the video, but this dough gets a bit thick, so while it's possible with the hand mixer, I recommend the stand mixer for ease.
*Nutrition facts exclude added candy
Nutrition
Serving Size:
Calories:

217

Sugar:

18.2 g

Sodium:

109.1 mg

Fat:

8.8 g

Carbohydrates:

31.5 g

Protein:

3.2 g

Cholesterol:

28.7 mg
Keywords: stuffed cookies, homemade cookies recipe, homemade cookies, homemade cookies recipe, soft cookies recipe, best cookies recipe, easy cookies recipe, homemade dessert
Want To Save This Recipe?
Find more recipes like this: