This Old Fashioned Oatmeal Cake is so super simple! It's soft, cinnamony and topped with creamy cream cheese frosting.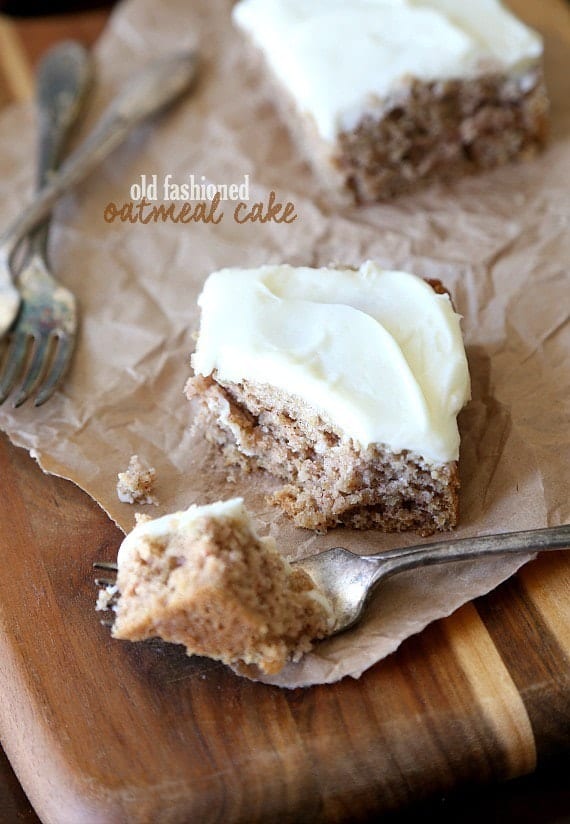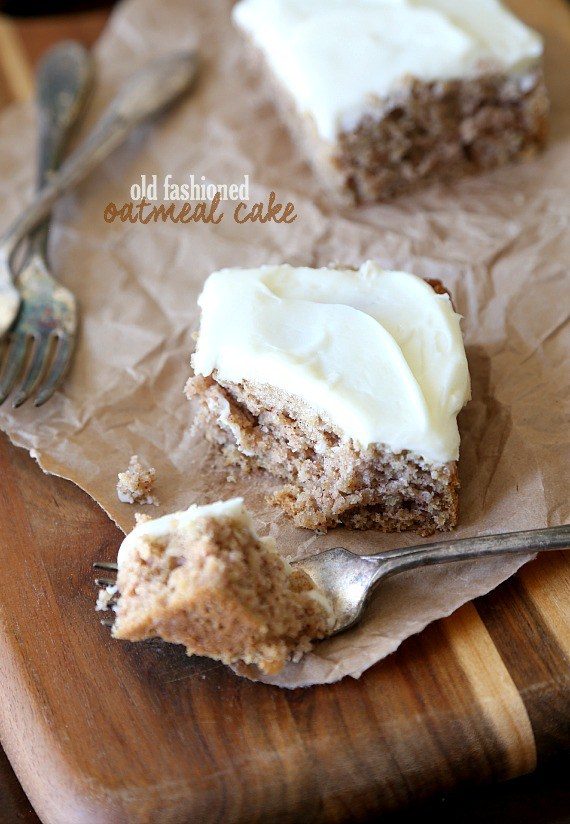 You know that whole thing about eating cake for breakfast? So now's the time for that.
This super soft and simple cake is packed with oatmeal which I think makes it healthy…and might I mention it's topped with cream cheese frosting so you've got oatmeal and cream cheese. Yep, breakfast.
Also, can I just say how hard it is to make brown food look delicious? I took 12 trillion photos of this piece of cake to no avail. I tried red hand towels, I tried all white backgrounds, I tried cake in the pan, cake out of the pan… cake without frosting, cake with frosting. Anyhow, brown food's not so photogenic.
But with that said, let's see past it's blah, boring appearance and get to the heart of the matter. This is a cake that your Gram probably made, which automatically makes it the best, and it's both dense and soft and kinda like banana bread, but not banana-y. Still with me?
The cooked oatmeal that's baked in gives it a great texture without really tasting like oatmeal. And I should mention you could TOTALLY use leftover oatmeal. Like if you're that person who makes a big batch of oatmeal and eats it for breakfast throughout the week, you could use that here…even flavored oatmeal would work, I'm thinking brown sugar cinnamon…oh yeahhh!
So let's get to it. You can whip this up in minutes and it's perfect for a weeknight dessert, or a potluck meal. Love homey recipes like this one.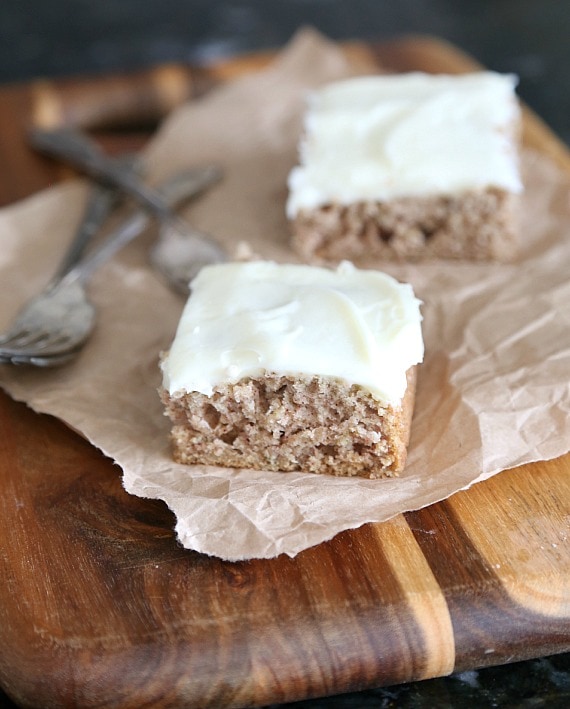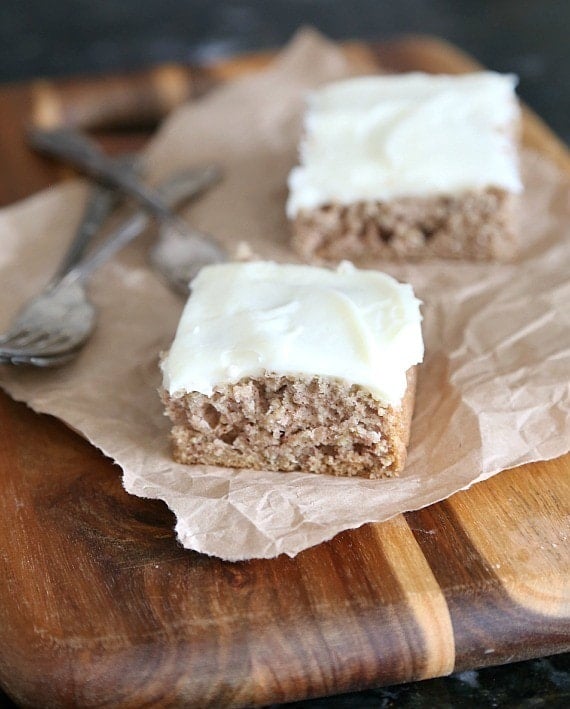 Just soak a cup of oats in some boiling water…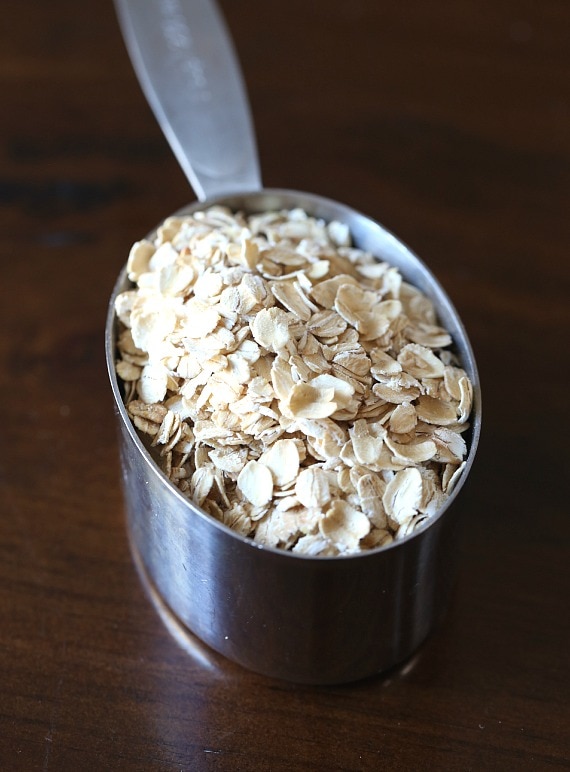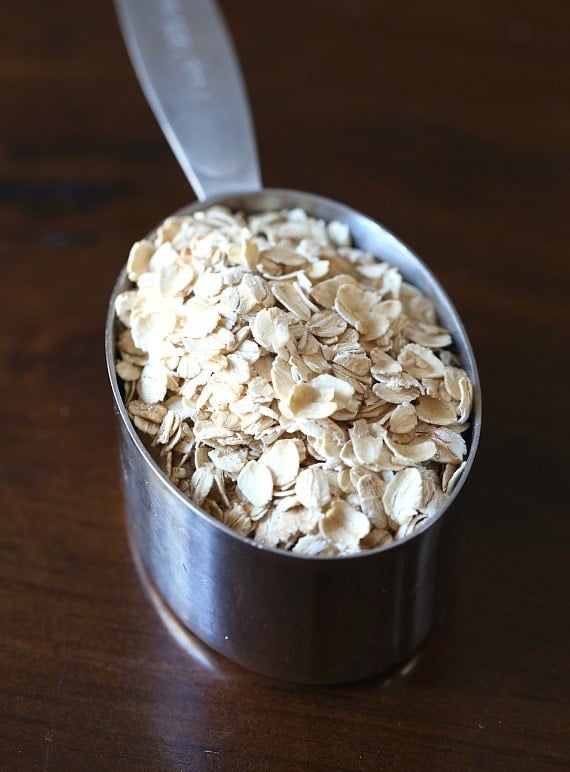 It will make a scant 2 cups of oatmeal if you're using leftovers…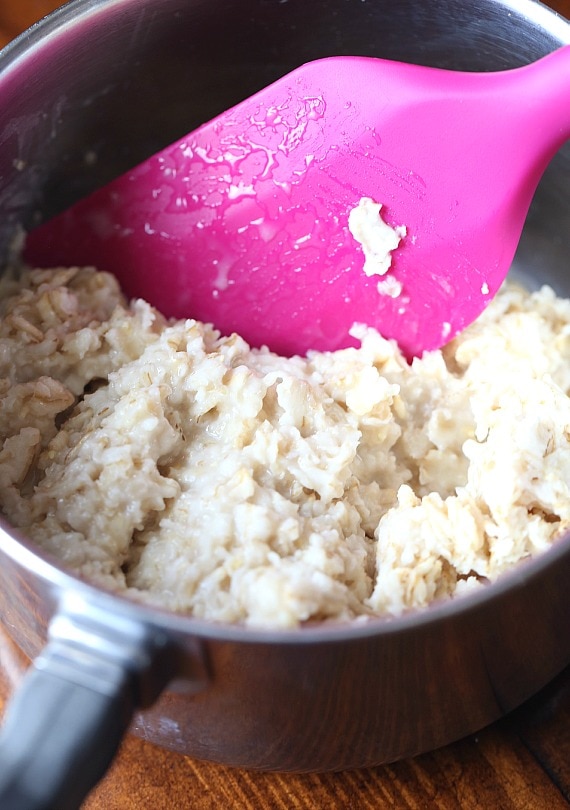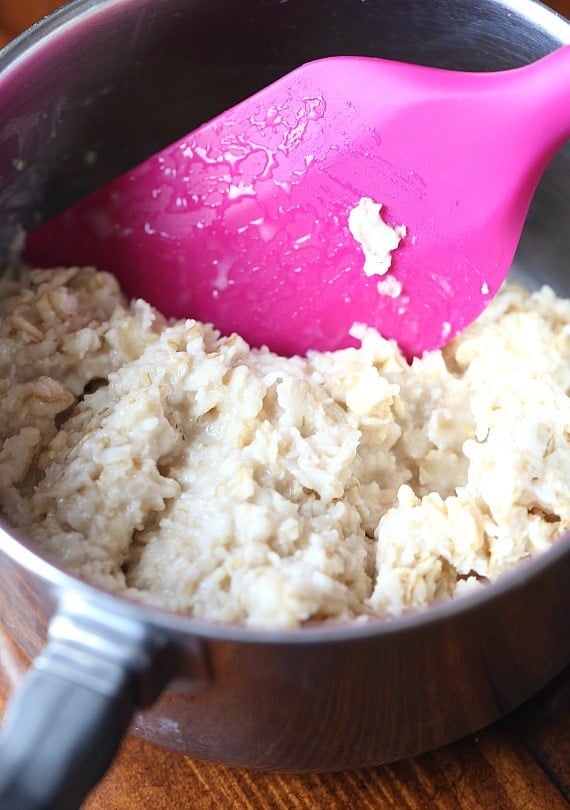 The cake batter is really easy and when you add the flour, just add the oatmeal too. The moisture from the oats is what keeps your cake moist!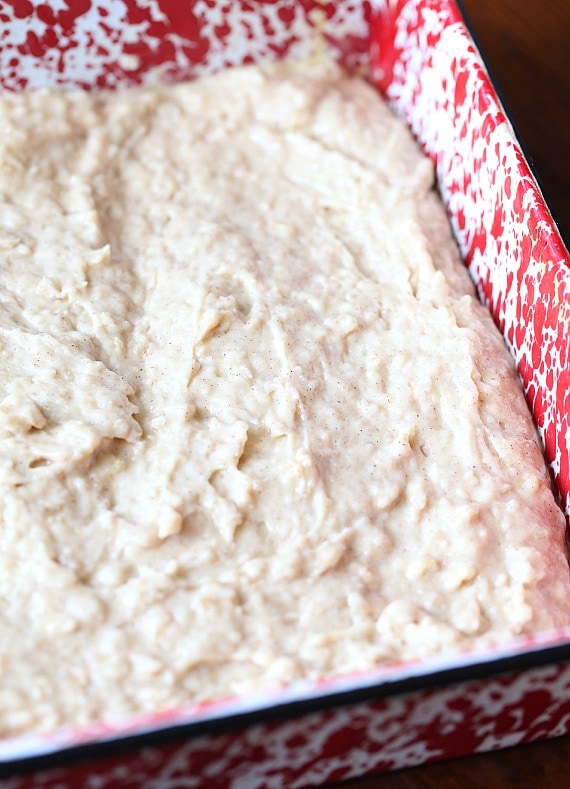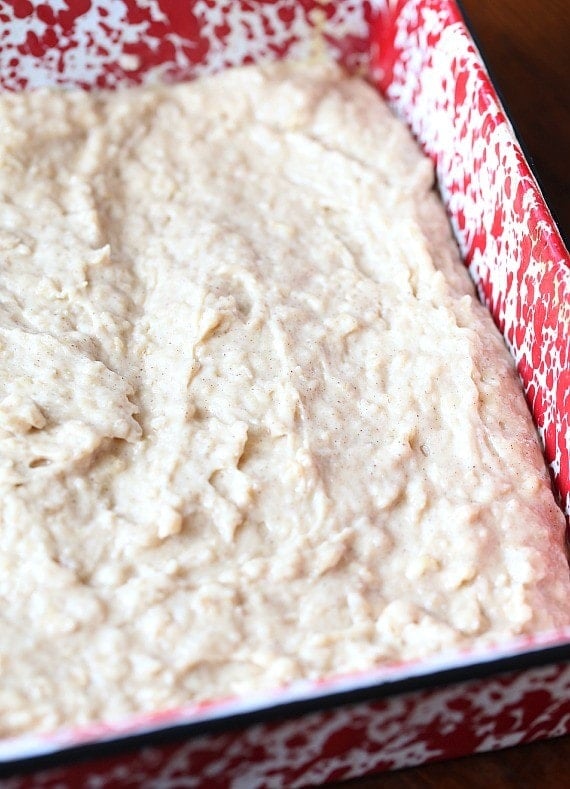 Let the cake cool in the pan and then frost it with cream cheese frosting!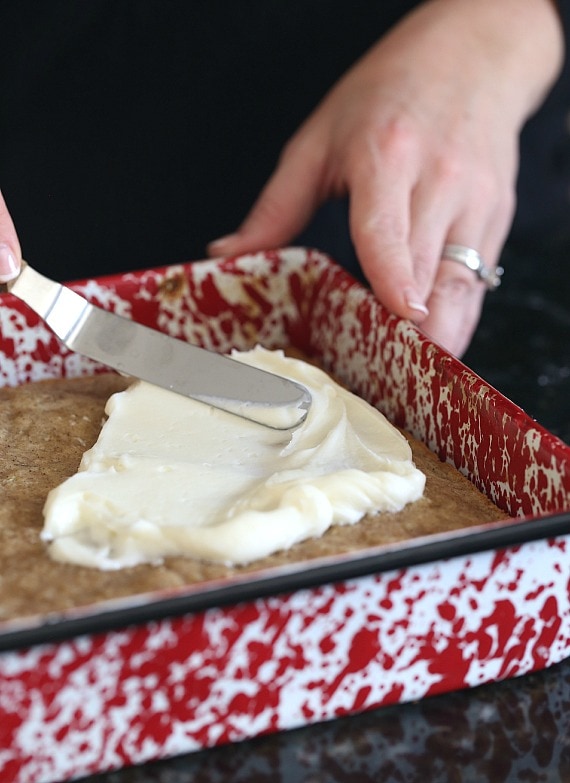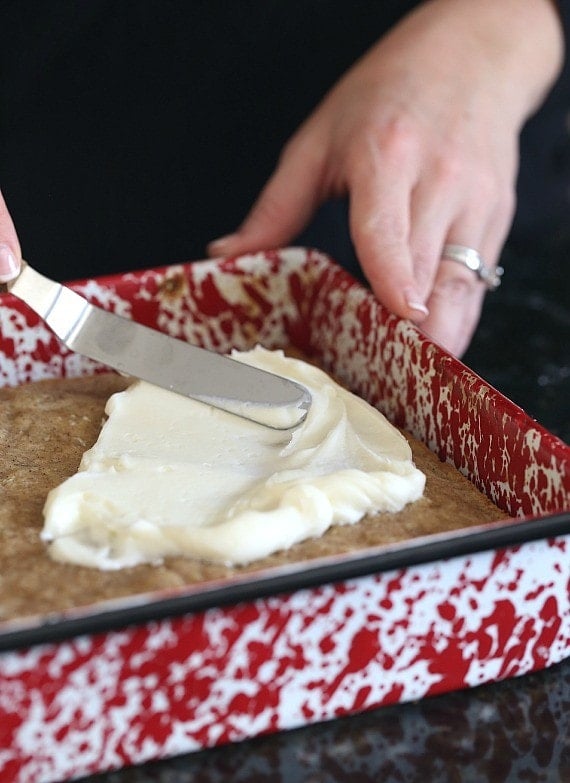 Like I said, this easy cake is perfect for anytime of day!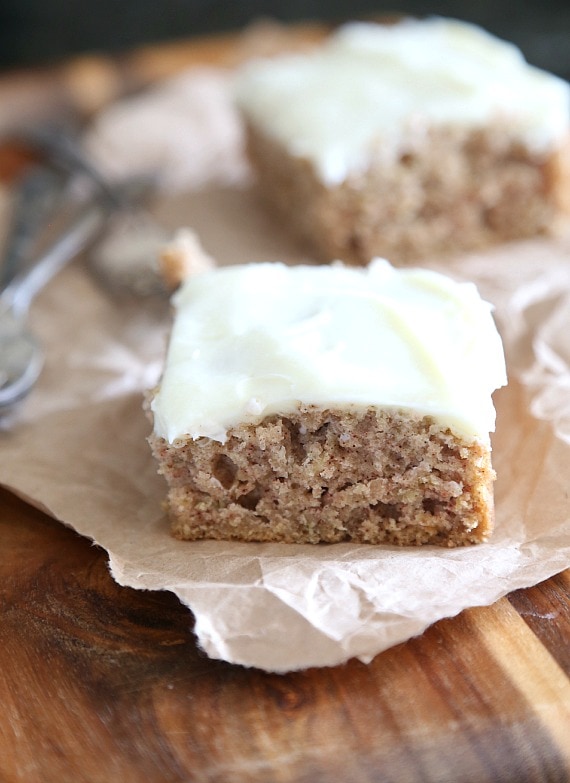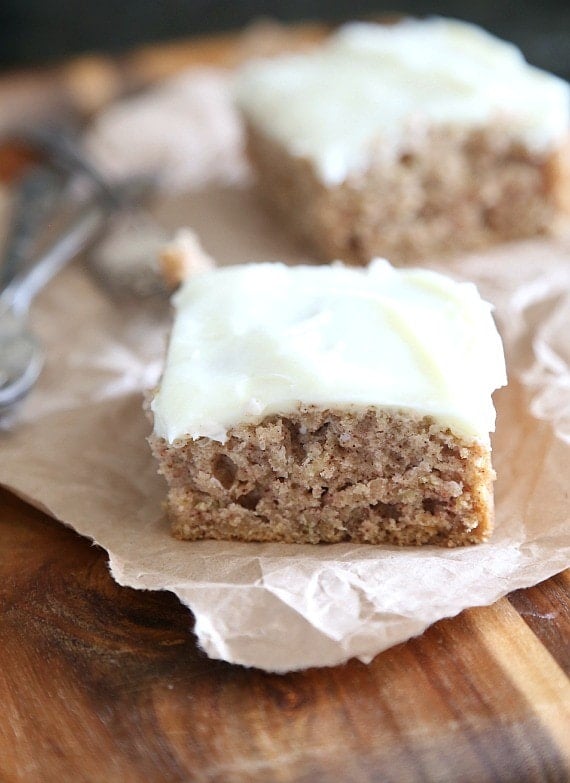 ps ~ we eat this with our fingers around here! Snack cake all the way!
Print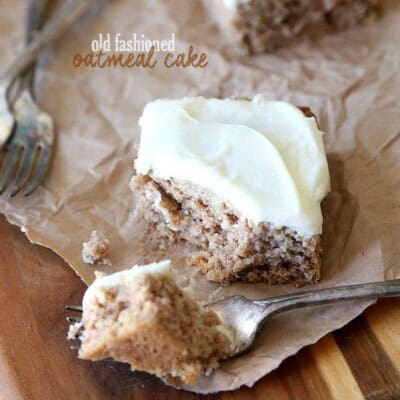 Old Fashioned Oatmeal Cake
---
Cake
1 1/4 cups

water

1 cup

rolled oats

1/2 cup

butter

1 cup

granulated sugar

2 teaspoons

vanilla

2

eggs

1/2 teaspoon

kosher salt

1 teaspoon

baking soda

1 teaspoon

cinnamon

1 1/2 cups

all purpose flour
Frosting
4 ounces

cream cheese, room temperature

1/4 cup

butter, room temperature

2 cups

powdered sugar

1 tablespoon

milk or cream
---
Instructions
Preheat the oven to 350°F/175°C
Spray a 9×9 pan with nonstick spray and set aside.
In a small pot bring the water to a boil. Add in the oats, stir and remove the pot from the heat. Allow the oats to soak for 20 minutes.
In the bowl of your stand mixer fitted with the paddle attachment mix the butter and sugar together on medium speed for 2 minutes until light and fluffy. Add in the vanilla and the eggs and mix until combined, scraping the sides of the bowl as necessary. With the mixer still on medium speed add in the salt, baking soda and cinnamon and mix until incorporated.
Turn the mixer to low and add in the oats and the flour, mixing until just combined.
Spread the cake batter into the prepared pan and bake for 35-40 minutes or until the cake is set in the center and a toothpick comes out clean.
Allow the cake to cool completely in the pan.
Frosting
In the bowl of your stand mixer fitted with the paddle attachment mix the butter and cream cheese together on medium speed until smooth, 2 minutes. Turn the mixer to low and add in the powdered sugar and milk. Mix for another minute until the frosting is creamy.
Spread the frosting on top of the cooled cake.
Serve immediately or store airtight for up to 3 days.
---
Want To Save This Recipe?