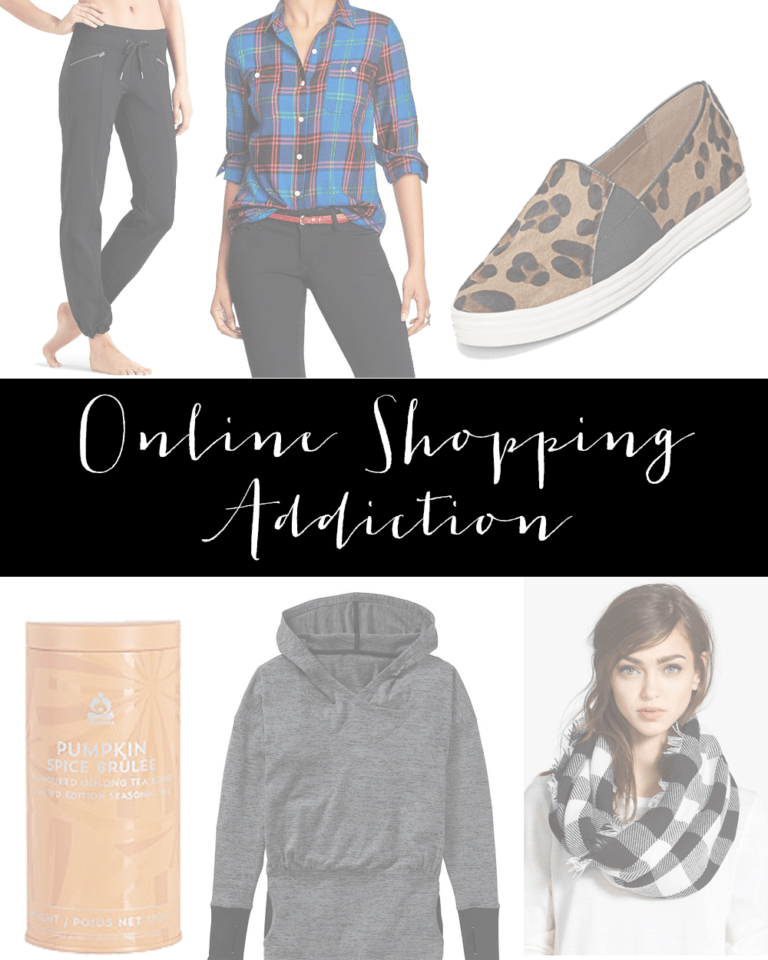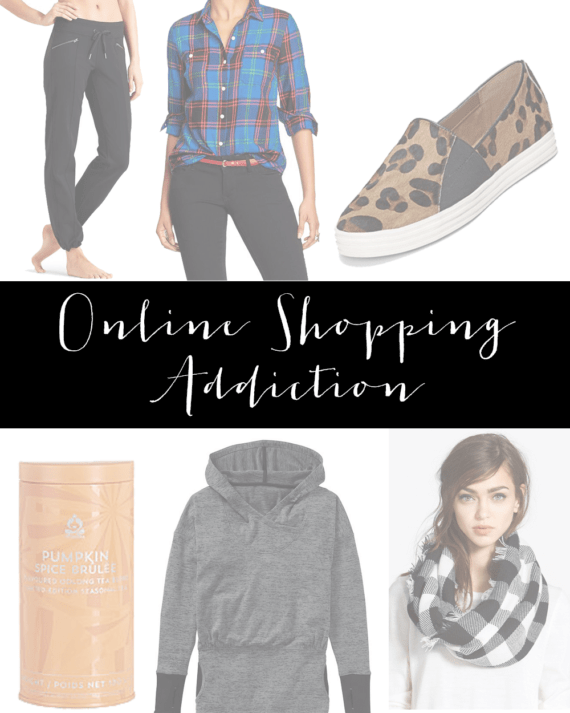 Hey friends. My name is Shelly and I am addicted to online shopping.
Maybe not literally addicted. I mean I don't think I need to go to rehab or anything.
Is there rehab for online shopping? And really would I even KNOW if I needed to go?
SO yeah, maybe addiction is an exaggeration, but there have SO many cute things on the internets lately that have just BEGGED me to purchase them. BEGGED!
Fall always prompts to to buy new cozy clothes. The idea of curling up in a soft cardigan with stretchy pants is my idea of a good day. And while last year's cardigans and stretchy pants are still around, there were just a few new items I couldn't resist.
Let's discuss. (Also links to everything are directly under each picture)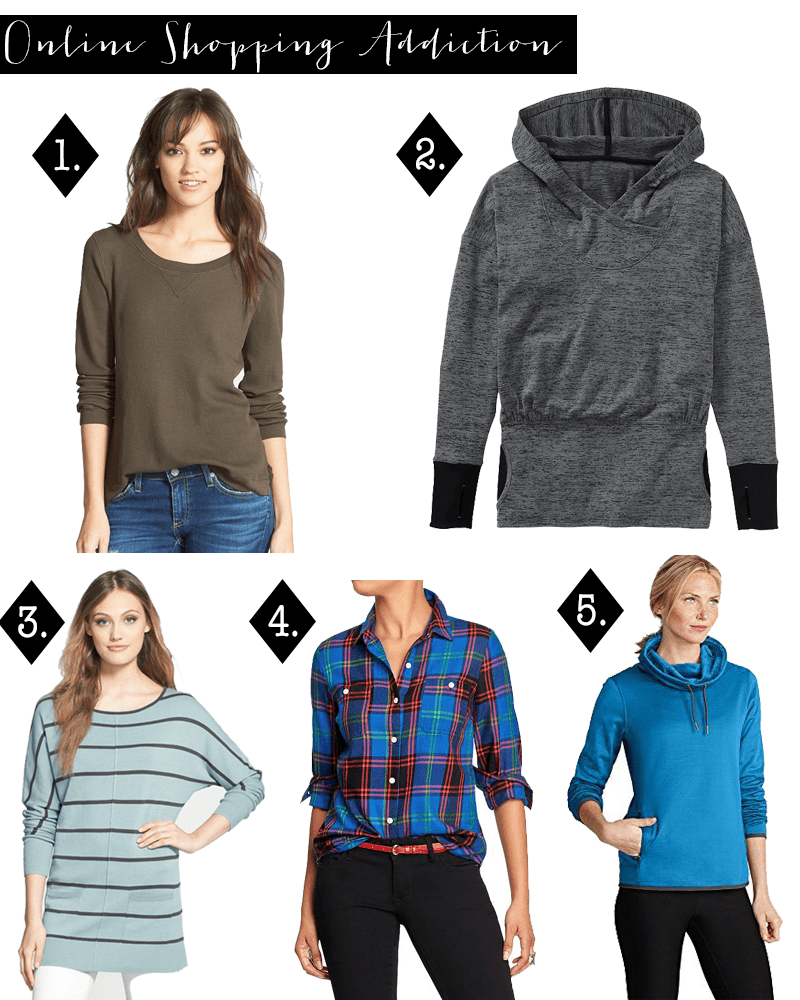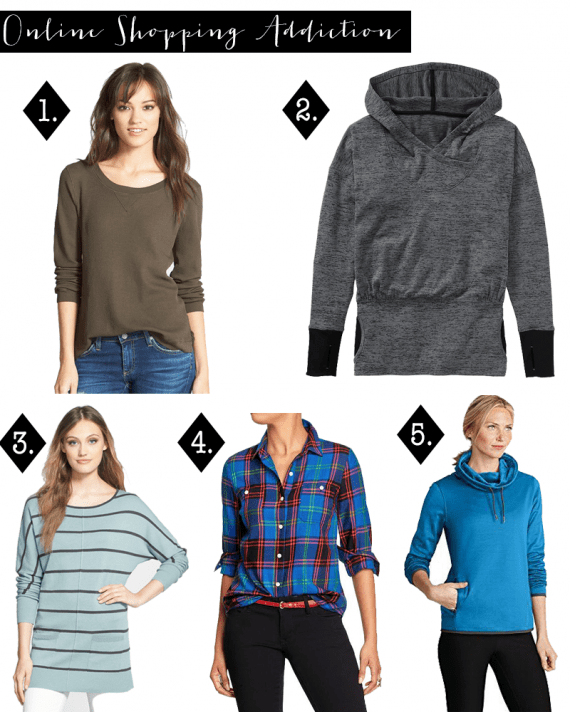 1. Ok, let's start with the Splendid Thermal. I am in love with all things Splendid. Their stuff is basically the softest you will ever wear. Their t-shirts are omg to-die-for comfy and everything I have ever gotten from them has fit me great! This thermal top is just a cute flowy top that looks great with everything. It is super casual, but not frumpy. And did I mention SOFT??
2. Next up the hoodie from Athleta. Like most women I love Athleta…I mean right? Yes it's a bit pricey, but their stuff lasts me forever. I saw this hoodie online and got it. The bottom band is fitted, allowing the top to blouse out a bit, which make it super flattering. Plus, thumb holes. Oh, and it comes in loads of colors, but of course I got gray. I always get gray. Ugh.
3. Next up is this super cute Caslon tunic…This is the PERFECT sweater to wear with leggings…it's long and covers your tush, but isn't giant that it makes you look pregnant. It also comes it lots of color options…also, I am a shortie (5″2″) and it isn't too long at all!
4. How cute is this Old Navy plaid top. I am not usually a plaid girl, but I could resist that royal blue. It's roomy and not too tight in the upper arms, like some of Old Navy's shirts can be (at least on me). Plus, it's cheap 🙂
5. Finally this Eddie Bauer pullover…it might not look like much in this picture, but OMG SO COMFORTABLE!!!!! Like possibly the most comfortable sweatshirt of my life. PLUS it's cut flattering and has a cute cowl neck. Seriously love. Again, I got mine in gray. #ofcourse.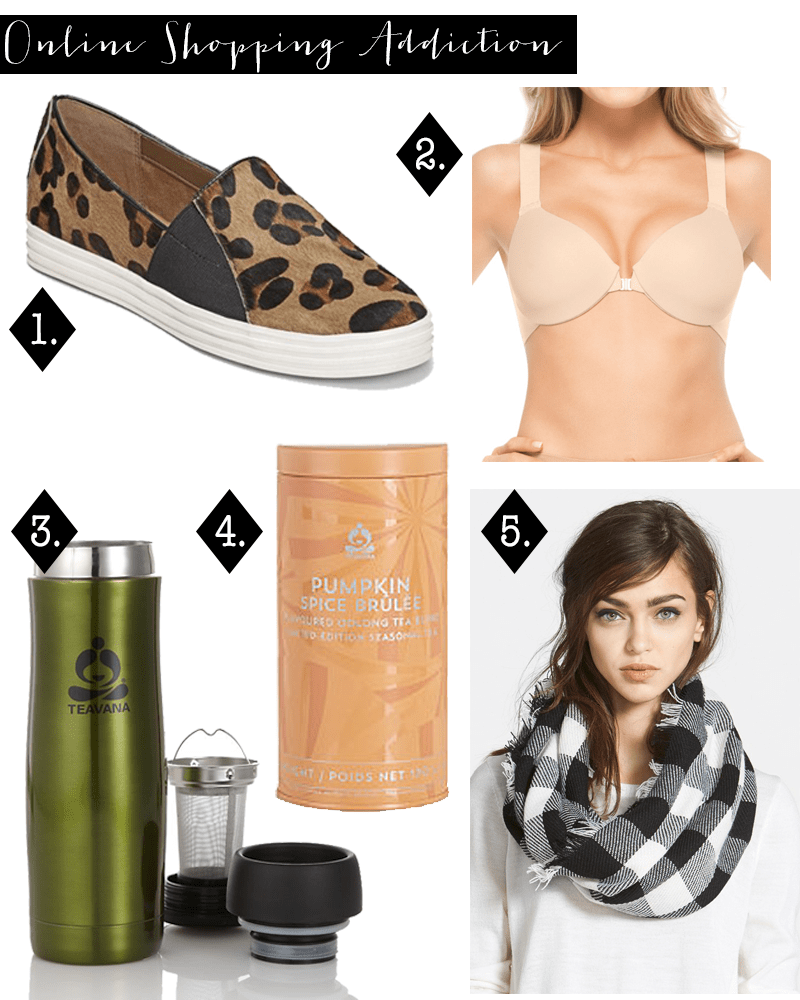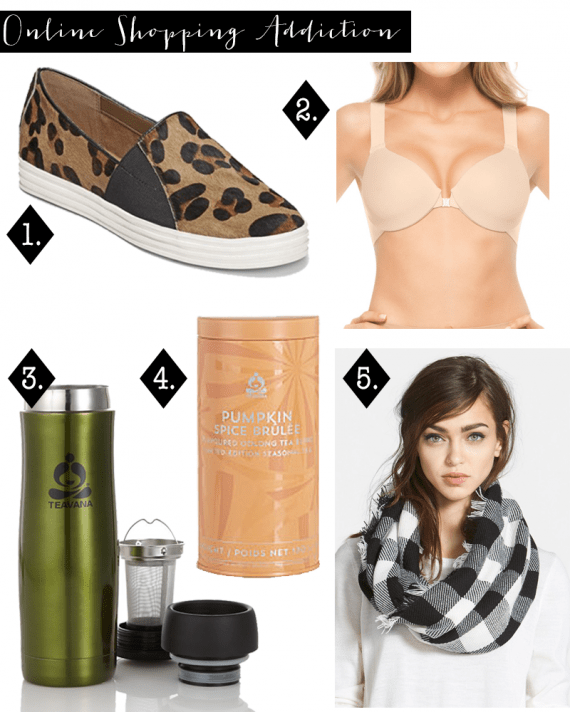 1. Salt Water Animal Print Sneakers / 2. Spanx Bra-llelujah!® Underwire Contour / 3. Teavana Contour Tumbler / 4. Teavana Pumpkin Spice Brulee Tea / 5.Steve Madden Buffalo Plaid Infinity Scarf /
1. I have been looking for a pair of leopard slip-ons for a while now…and finally I found some I love in the unlikeliest of places…Aerosoles. I don't normally shop there for shoes, but every time I go in I see ones I love.. plus, hello comfortable!
2. Alright.. sorry about the boob shot up there, but I am in LOVE with the Bra-llelujah from Spanx…it's SO comfy..almost like you're not wearing a bra. But the support is good and hello, no back fat. I haven't had it very long, so I can't attest to the longevity of the elastic, but so far so good!!
3. I am not a huge tea drinker, opting for coffee most mornings, but this Pumpkin Spice Brulee tea from Teavana is OUTOFCONTROL! It's literally so delicious…and I do love their tumblers. You can steep your tea right in the tumbler, so it's a huge time saver!
4. And finally this infinity scarf from Steve Madden. I actually got the red and black, but I am loving all things Buffalo Checked this season!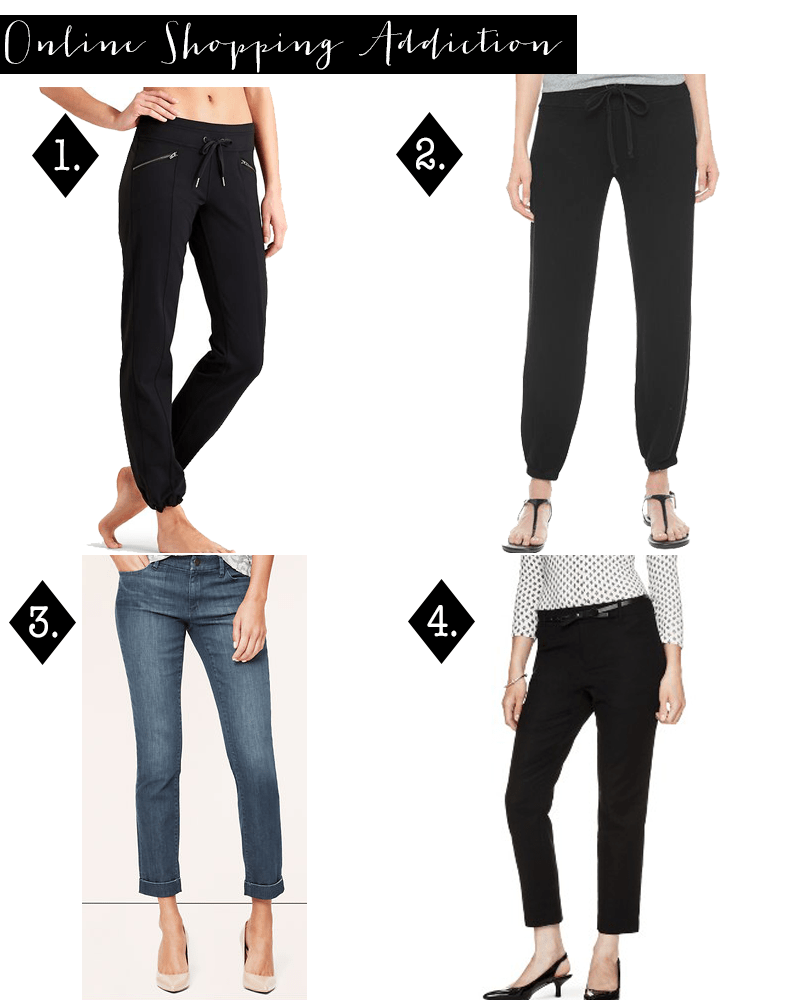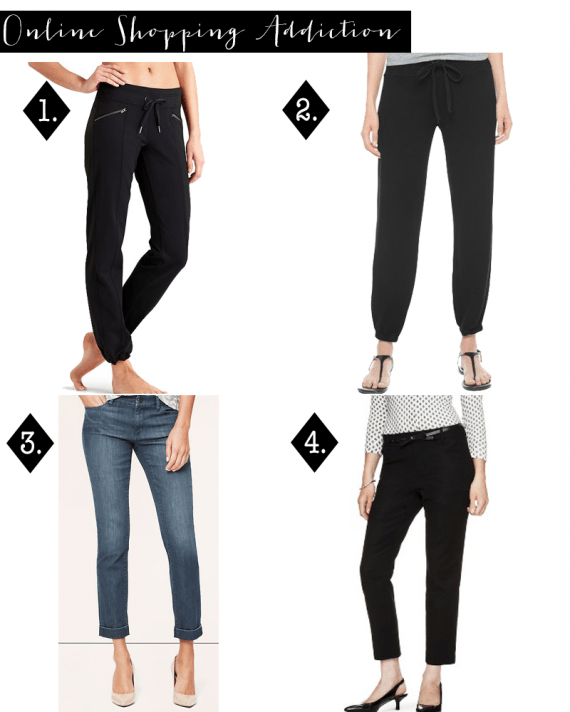 1. Athleta Metro Slouch Pant / 2. Splendid French Terry Skinny Active Pant / 3. Loft Curvy Clean Cuffed Skinny Ankle Jeans / 4. Target Women's Ankle Pant
1. Here's another Athleta purchase this month…the Metro Slouch. I love this pant…it's not super slouchy on me, except around the ankles because I am not as tall as the models, but they cinch, so you can wear them at your ankle or push them up so they are cropped. They're super stretchy (like a yoga pant), but look a little more pant-ish if that makes sense.
2. And also another Splendid purchase. Seriously, if you don't buy anything from this entire list except one thing, make it these pants. LIKE OMG. These are THE MOST cozy pants ever to exist. I swear to you I want to wear these everyday of my life. And sort of kind of already have since I got them a few weeks ago. I need to get a second pair.
3. These cute cropped jeans from Loft are also a must…they fit perfectly (order one size down) are soft, stretchy and cute. I just love them. Actually I love most things from Loft, so…
4. And finally these black pants from Target. They're simple, but a must. I wear them with everything from a sweatshirt to a blouse…sneakers to heels. SUPER versatile..and pretty cheap too!
Ok friends…those a re some of my favorites for fall that I ordered in a week-long online shopping binge. I will be giving my credit card some time to recuperate. He's a tired little guy!