This Bag of Bones Halloween Snack Mix is a simple and adorable solution for last minute treat bags! Made with white chocolate pretzels and marshmallows, this easy mix can be prepped in advance or at the last minute!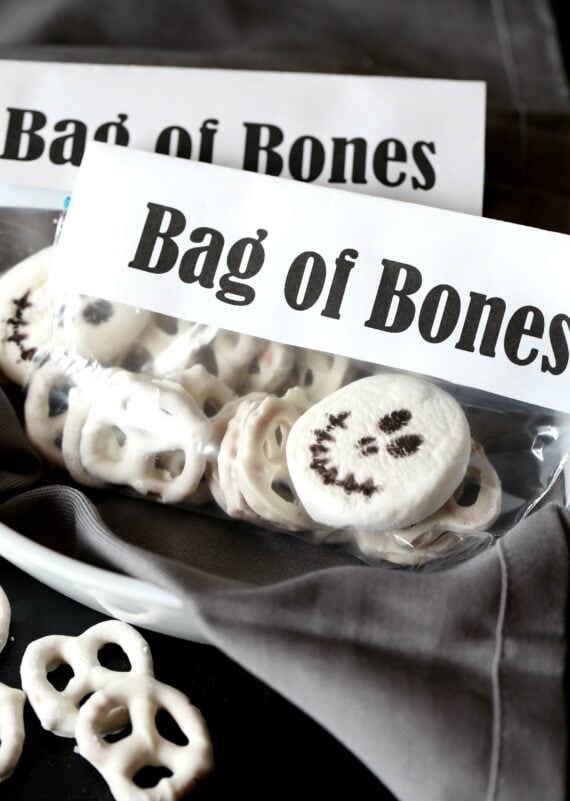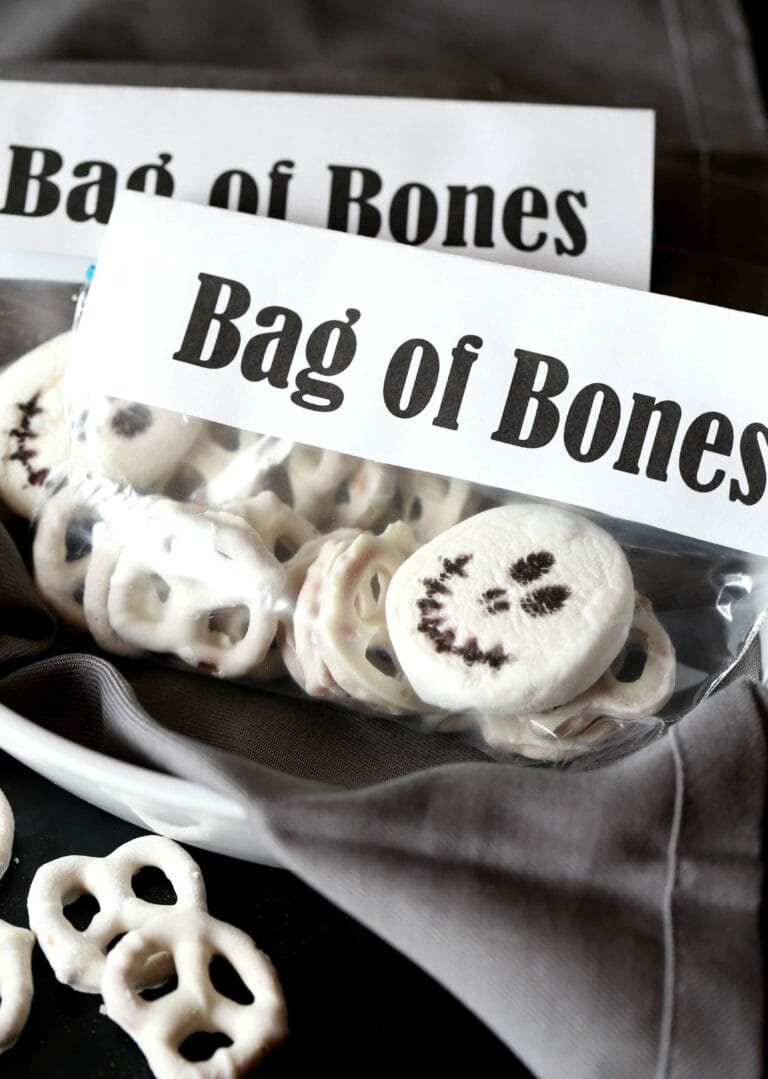 Looking for a last minute…or make ahead Halloween treat? I've got you covered today with this amazingly easy and adorable Halloween Bag of Bones Snack Mix!
I created this idea way back in 2014 when my kids were in the thick of elementary school and treat bags and class parties were a regular part of my life! I always had the best of intentions when it came to class holiday parties, but wasn't the best idea executor! Easy was always the answer, and I found that kids don't ever seem to gravitate toward the most elaborate treat…usually they head over to the tastiest and easiest to eat!
Bag Of Bones Halloween Snack Mix is Easy AND Cute!
You will see that you only need a few "ingredients" to put this together…and you don't even have to bag them up if you don't want to make individual treats! You could very easily serve this is a big bowl to grab and eat!
How To Make Bag of Bones Halloween Snack Mix
I linked to the supplies in the image above to make it extra easy for you! This snack mix goes together quickly and is a great way to get your kids involved as well!
What you'll need:
1 bag large marshmallows
1 black food writer
1 bag white chocolate covered pretzels
Snack-size clear plastic bags
White paper for labels
Double-stick tape
Here's How To Do It:
Flatten your large marshmallows. Using a black food writer, draw a skeleton face onto the marshmallows. Set aside to dry.
Place a handful of the white chocolate pretzels in a bag. Place a marshmallow skeleton head into the bag and seal.
Using blank white paper, write or print "Bag of Bones". Cut the label to the width of your bag and fold over. Attach using double-stick tape.
Can You Add Anything Else?
Yes sure!! There are tons of cute Halloween candies out there now that you can add! Here are a few ideas:
Gumball Eyeballs
Gummy Worms
Candy Corn
Candy Bones
PIN For Later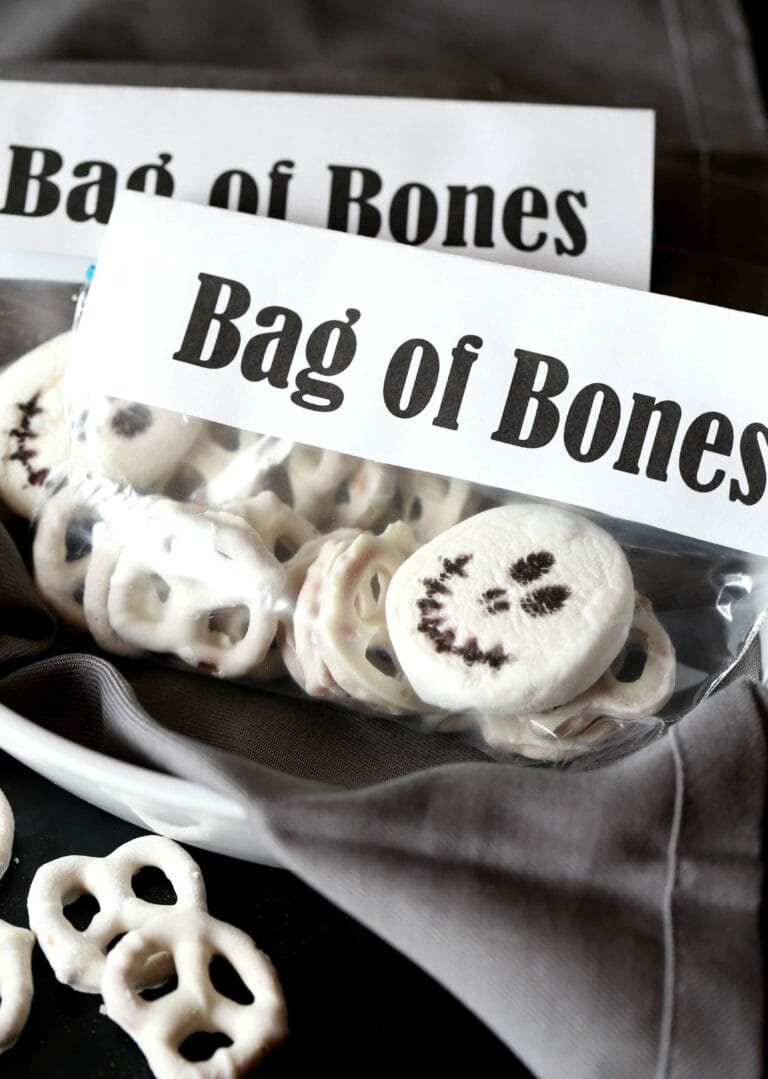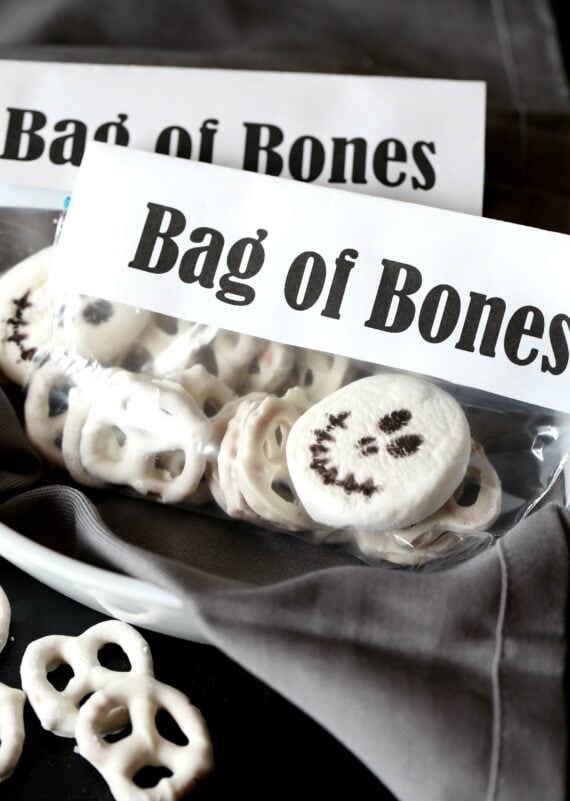 Looking For More Easy Halloween Snack Ideas? Try These: