Cookie Butter Pie is an incredibly easy and delicious pie recipe. A cookie crust filled with a whipped, creamy cookie butter mousse!
This recipe is in partnership with Imperial Sugar. Find the FULL RECIPE on their website.
Cookie Butter, Biscoff, Speculoos spread…whatever you call it we all know it's delicious. A little like graham crackers and a little like gingersnaps, it's a delicious cookie that also comes in a spread! I've added a whole lot of cookie butter into this creamy, easy pie, and you'll definitely be going back for seconds!
This pie is a stunner. It is guaranteed to get you rave reviews and requests for the recipe. I am telling you it's always the simplest desserts that are the best. And yes you absolutely could make this with peanut butter instead of cookie butter!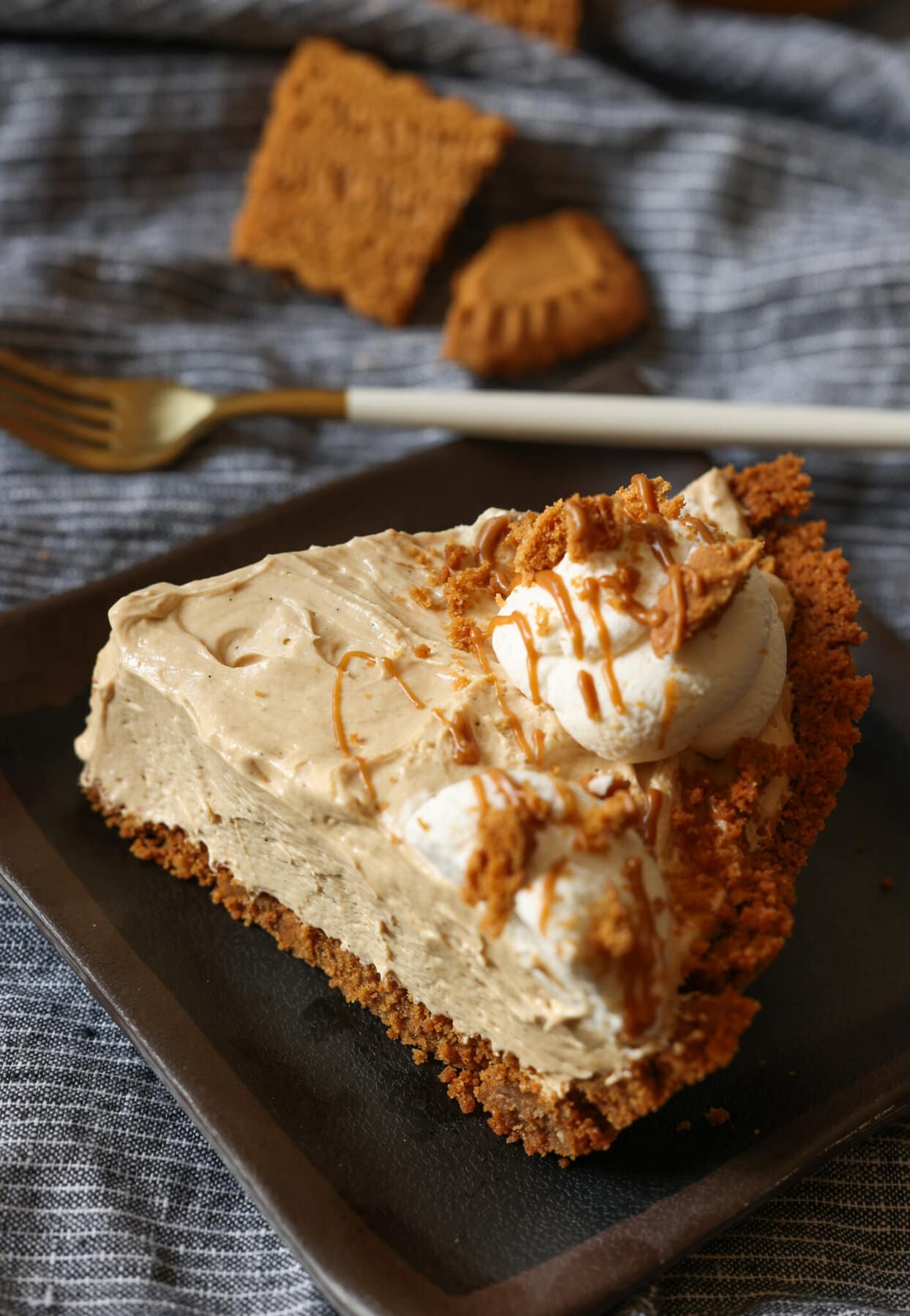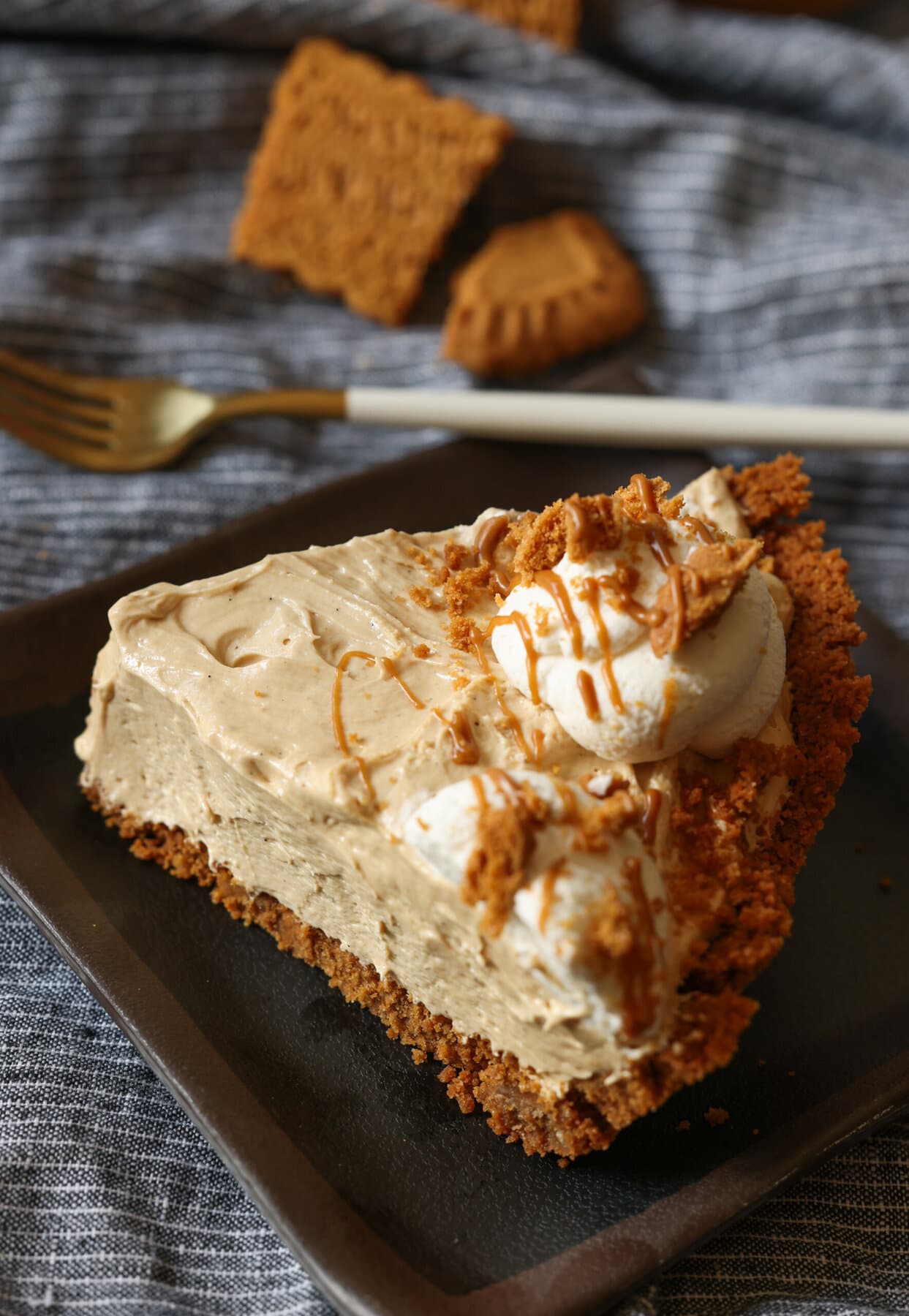 What You Will Need / Ingredients
This is Cookie Butter Pie is a so easy to make with simple ingredients. Make sure to hop over to Imperial Sugar for the full list of ingredients!
The Cookie Crust
Speculoos cookies. These are also known as Biscoff cookies (yep the kind you get on the airplane!) You will crush these cookies up for the crust of your pie. If you can't find them you can use graham crackers for a graham cracker crust. Just add a teaspoon of cinnamon to the mixture!
Light brown sugar. This is really to sweeten the crust as much as it helps work to make the crust less crumbly!
Kosher salt. Just a pinch to balance out the sweetness of the cookies!
Melted butter. I prefer using salted butter in this recipe, but unsalted works great too.
The Cookie Butter Pie Filling
Cream cheese at room temperature. Keeping it soft helps it mix smoothly with no lumps!
Powdered sugar
Vanilla extract
Cookie Butter aka Biscoff spread. The Trader Joe's version is called Cookie Butter and it's delicious, but Biscoff spread is the same, so get whatever is convenient it won't matter or effect the taste at all!
Cool Whip. Yes you can absolutely use homemade whipped cream!
Make the crust: In a food processor or blender, crush the Biscoff cookies until they are a fine crumb. Stir them together with the brown sugar, salt, and melted butter until evenly mixed.
Press the mixture into the bottom and up the sides of a 9- inch pie plate and bake the crust for 8 minutes, or until lightly golden in a 350°F oven. Allow the pie crust to cool completely before moving on to making the filling.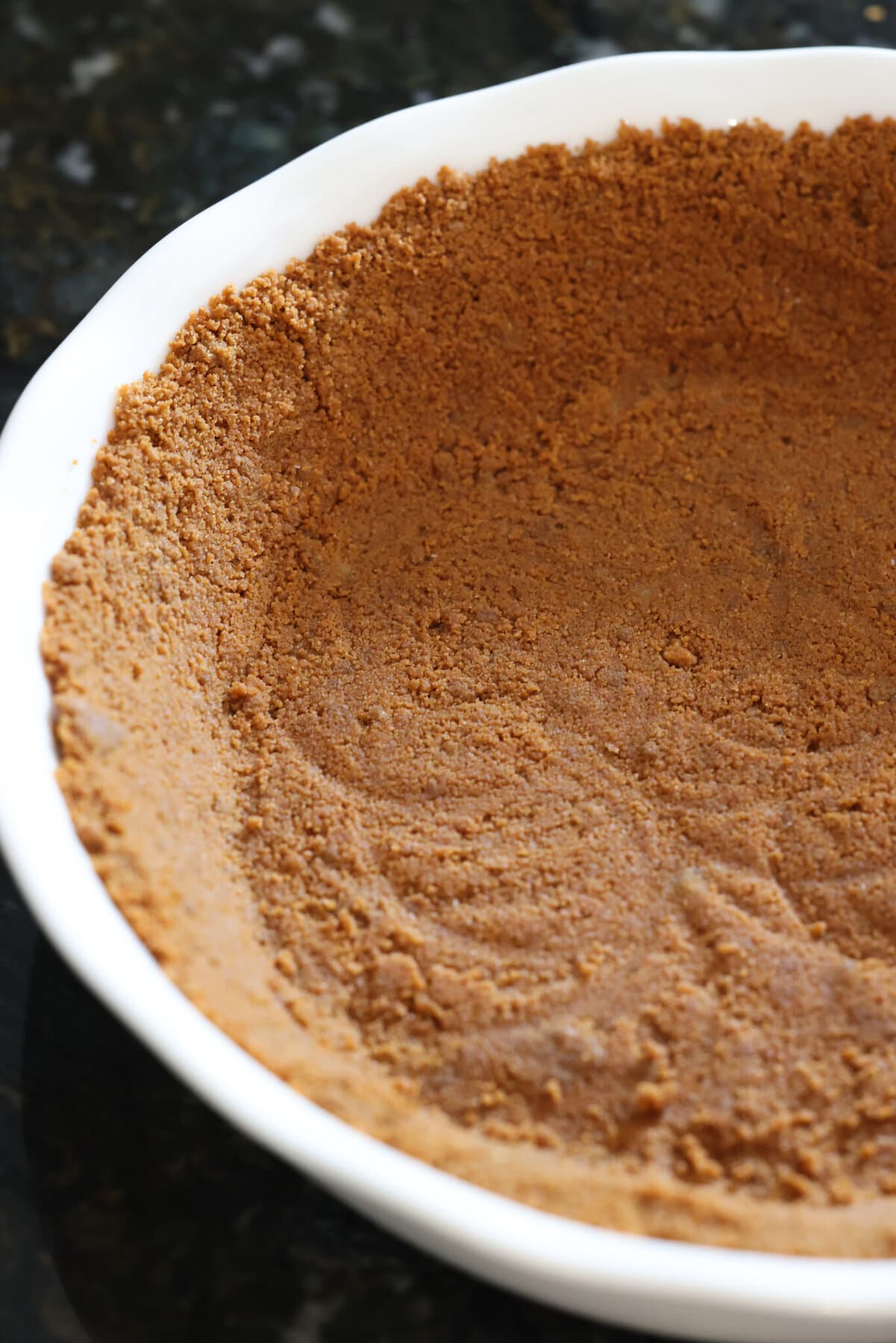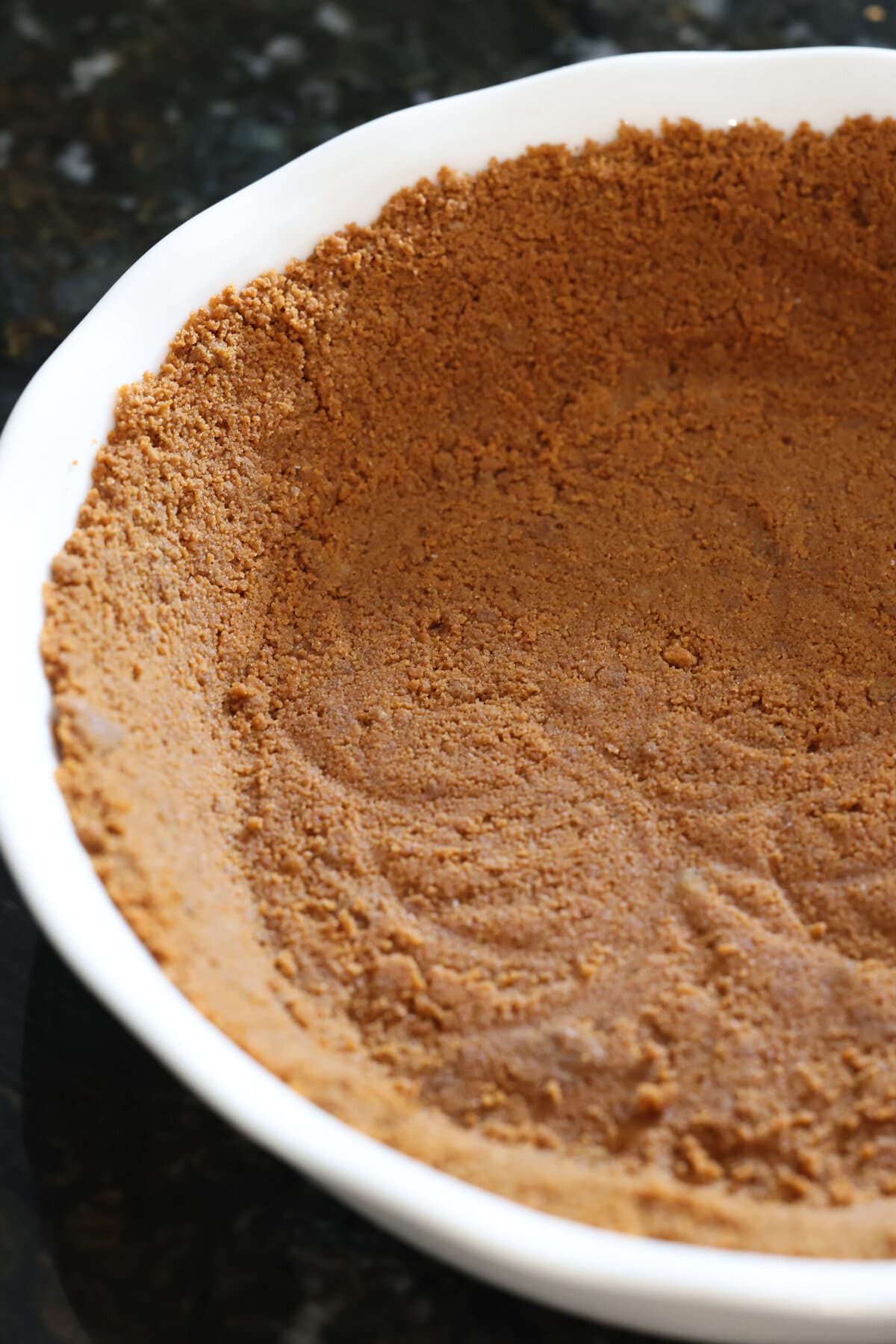 Make the filling: In the bowl of your stand mixer fitted with the paddle attachment mix the cream cheese, powdered sugar, vanilla, and cookie butter together on medium-high speed for 2 minutes until light and fluffy. Fold in the Cool Whip until evenly incorporated.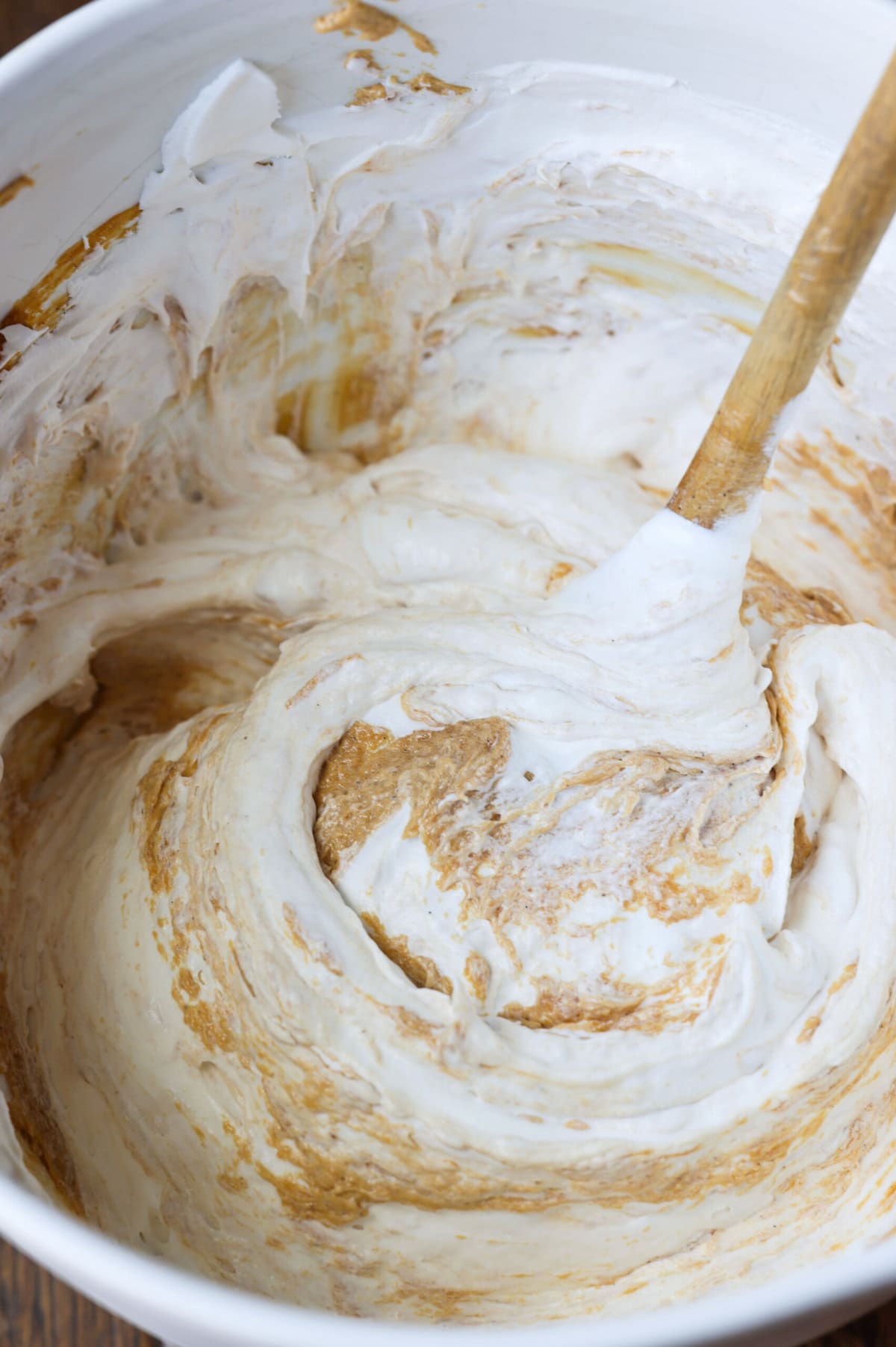 Spread the cookie butter mixture into the cooled pie crust. Cover and chill for 3 – 4 hours, or overnight.
Garnish with whipped cream, crushed cookies, and drizzled cookie butter if desired. Serve chilled.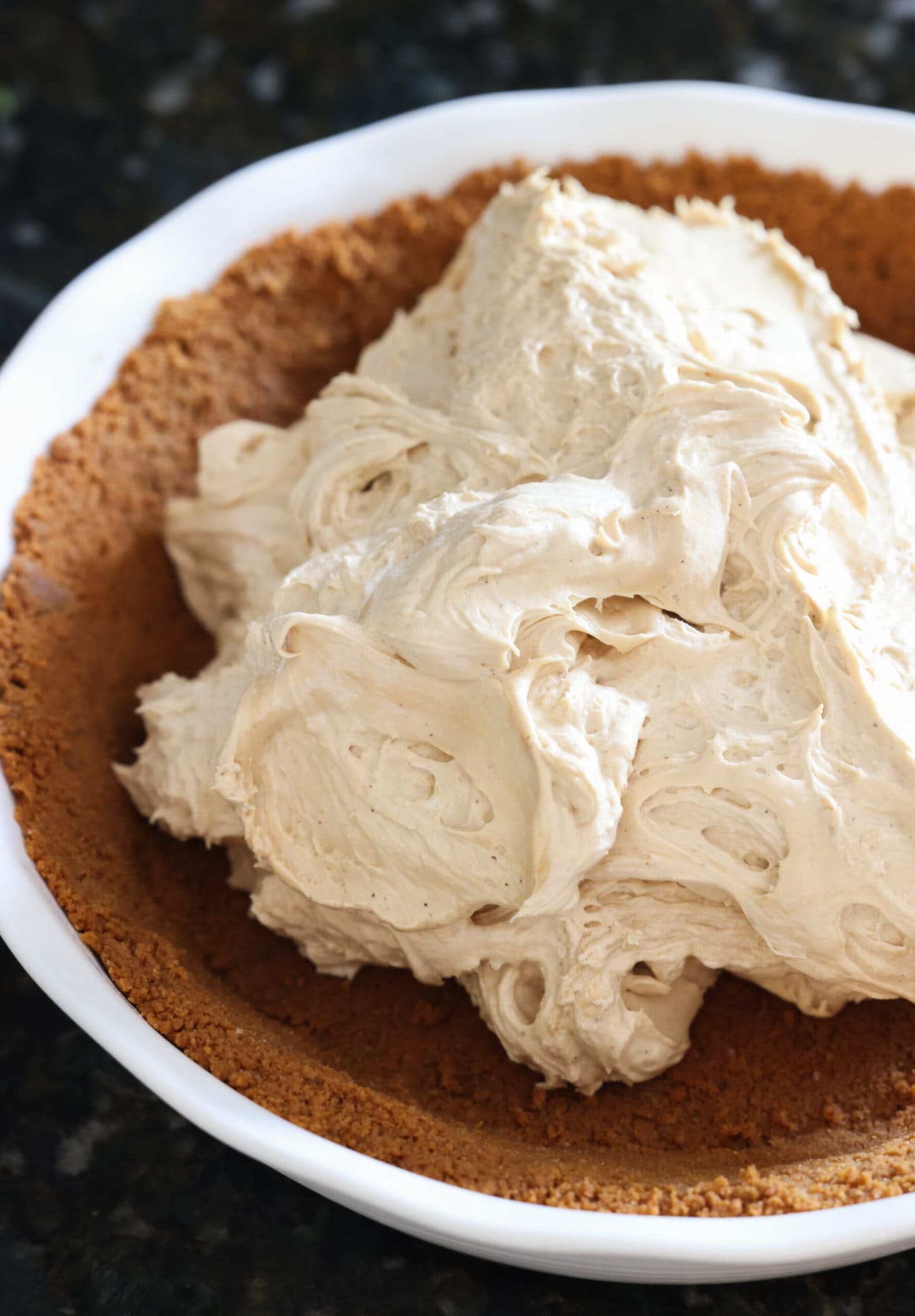 You can simply serve this pie as-is or make it pretty with garnishes. Here are some ideas:
Dollop on or pipe some whipped cream swirls around the edges. You can also use Cool Whip for this too! You could even cover the entire top of the pie with whipped cream!
Crush up some extra cookies and sprinkle the cookie crumbs on top!
Break the cookies into bigger pieces and press them into the edges!
Heat up some extra Biscoff or Cookies Butter spread in the microwave and drizzle it on top. It's easier to drizzle when it's warm!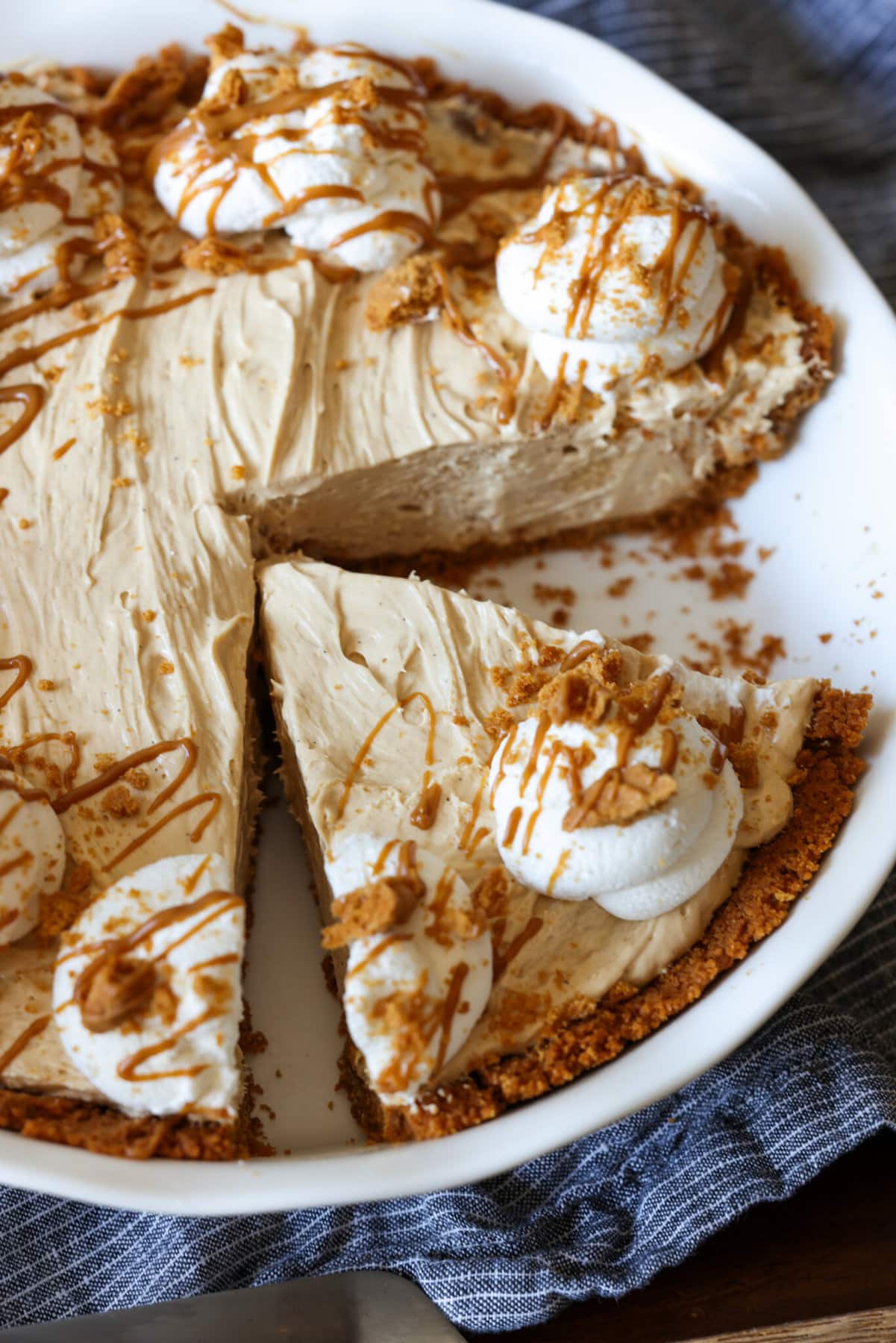 Can You Make This Pie In Advance?
This pie can absolutely be made ahead for a party or gathering. In fact, it needs some chill time, so make it the night before and you'll have dessert ready to go. This is especially helpful around the holidays when your kitchen is extra busy!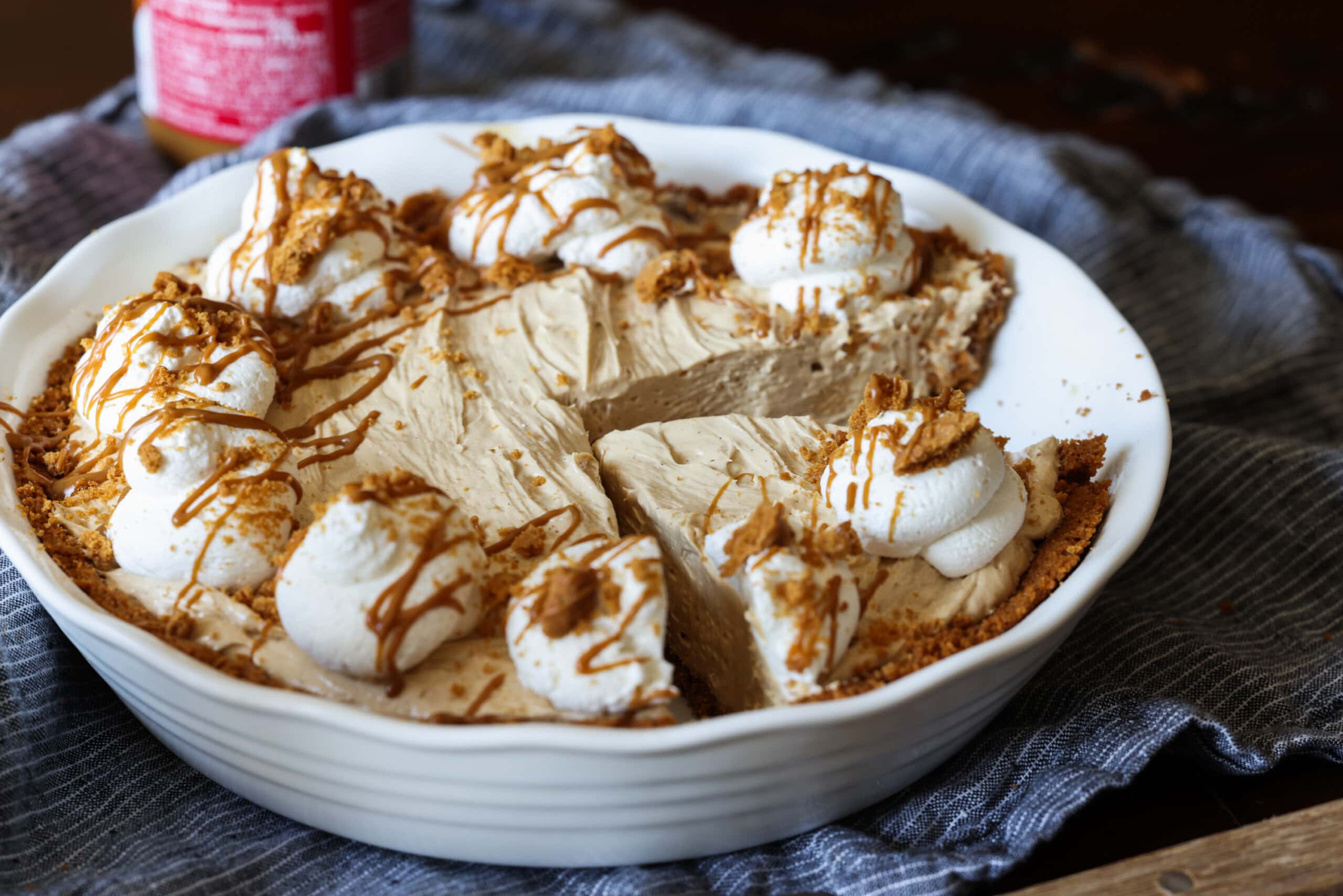 How To Store
This pie has to be kept chilled so cover it with cling wrap and store airtight in the refrigerator for up to 5 days. You can also freeze it for up to 30 days for best freshness. Thaw it in the refrigerator overnight, or even enjoy it frozen!
Find the full recipe HERE!
Love Pie? Here Are A few Recipes You Might Love
PIN for later: