Peanut Butter Chocolate Chip Cookies are thick peanut butter cookies loaded with chocolate chips! This melt in your mouth peanut butter cookie recipe is so easy and makes the softest cookies!
Isn't Chocolate and Peanut Butter the best flavor combination to ever exist? I never shy away from a peanut butter treat and if you throw a few chocolate chips in there, I am guaranteed to be be smitten. And today I'm sharing a cookie that has won me over!
I feel like I created the perfect Soft Peanut Butter Cookie Recipe a few years back, and today's recipe is a spin on that. I've tried so many peanut butter cookie recipes in all the time I've been baking, and I can say with supreme confidence that my soft recipe is the best. So when my friends at Imperial Sugar asked if I would create a Peanut Butter Chocolate Chip Cookie for them, I knew I could deliver.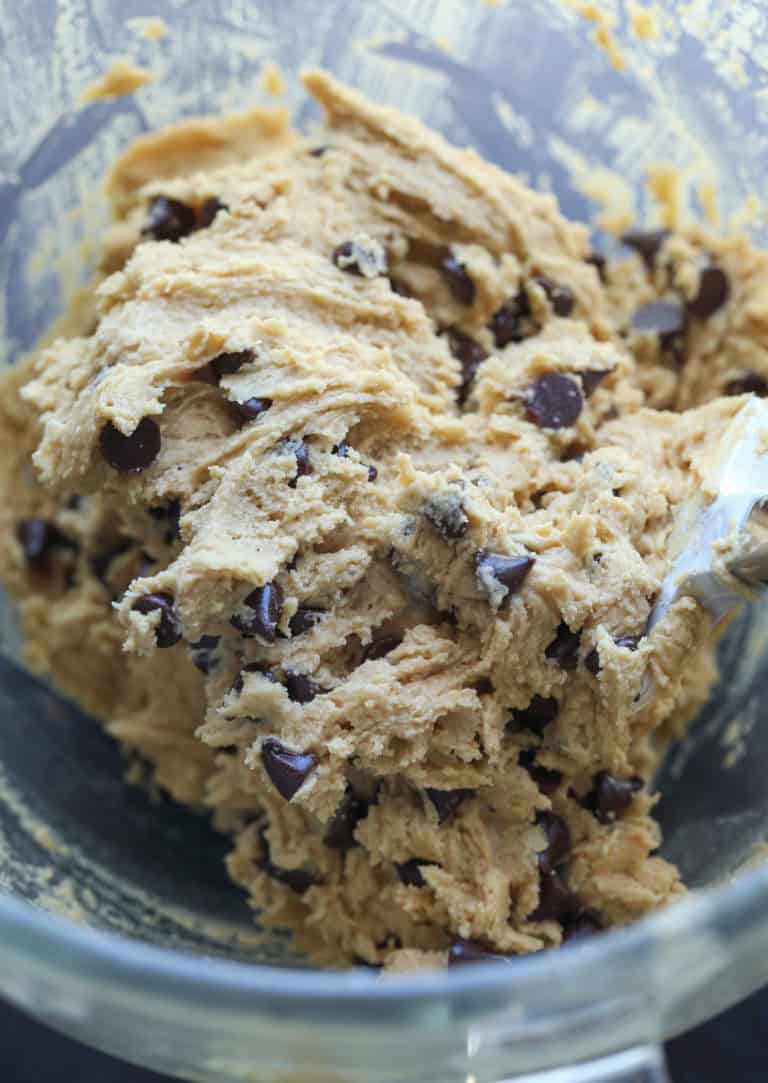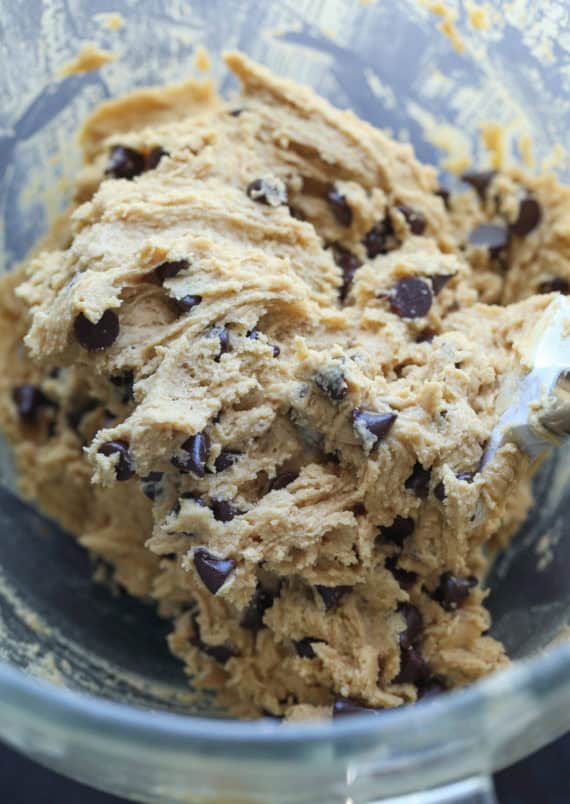 I do a few things differently in this cookie recipe than other peanut butter cookie recipes. Let me explain:
The ratio of peanut butter to butter in my recipe is equal. In a lot of peanut butter cookie recipes you will find more peanut butter than butter, but since butter has a higher fat content than peanut butter, I prefer the softness the extra butter gives!
Both granulated sugar and brown sugar are included in the recipe. The combination of the two, like in a chocolate chip cookie, adds a little more depth, along with the perfect cookie spread.
Baking Powder and cornstarch are both in this recipe. I only use 1/2 teaspoon of baking powder, because I don't want the cookies to rise up too much. And the addition of the cornstarch keeps them thick, while adding a slightly melty texture.
I only use 1 egg in this recipe, as I don't want to add too much moisture into the dough, which keeps them thicker, while adding a nice texture!
Yes, absolutely! These cookies freeze like a dream! You can freeze them after they are baked or you can freeze the dough unbaked! If you choose to freeze the dough, just scoop it out in portions, flash freeze it, and then pop them into a large zip-top bag to bag when you're ready. NO need to thaw the dough before you bake them, just add a few minutes to the bake time!
How Long Will These Cookies Last After They Are Baked?
These Peanut Butter Chocolate Chip Cookies will last about 3 days stored airtight at room temperature, or you can freeze them and store them for up to 30 days!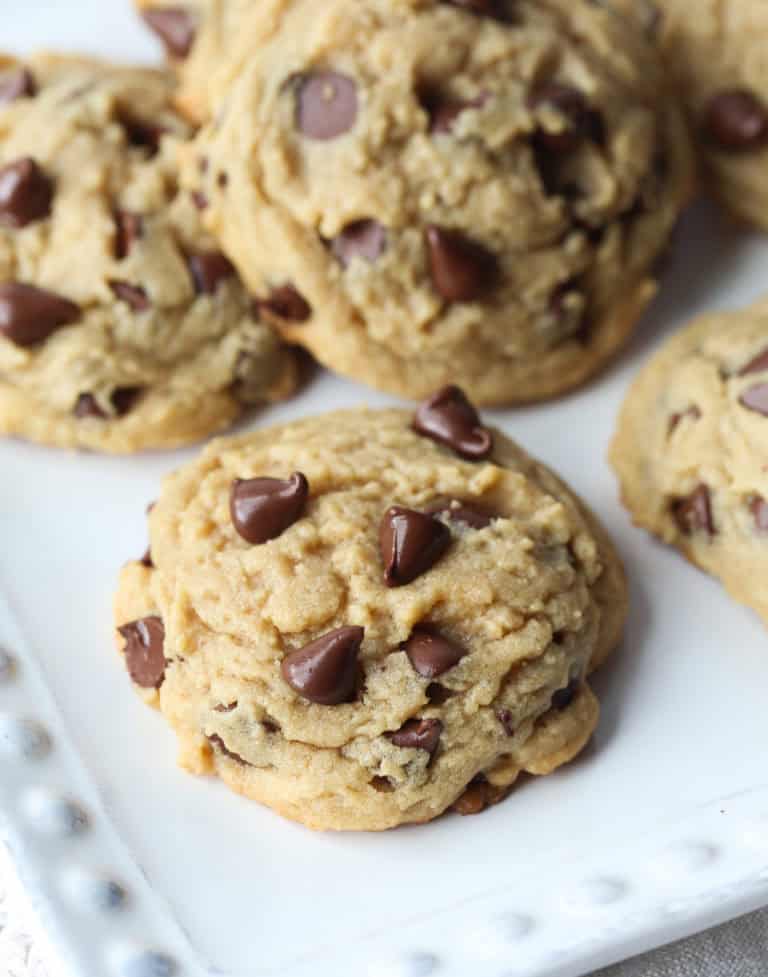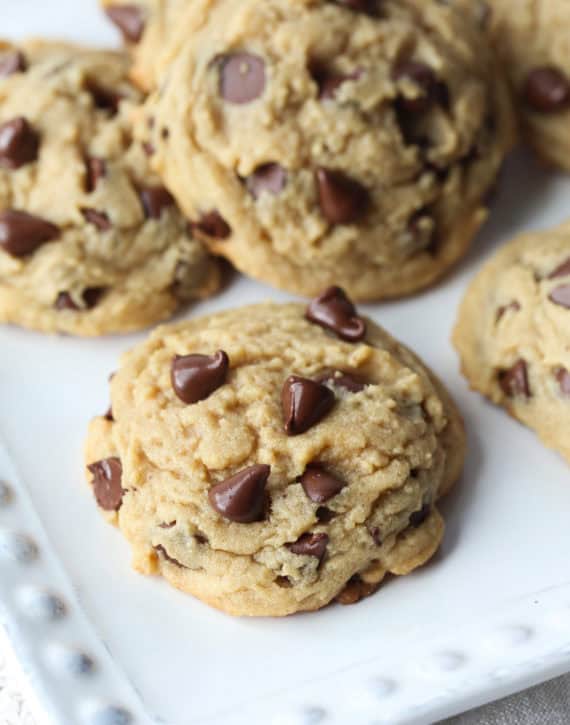 For the FULL Recipe hop over to Imperial Sugar!
If you make the recipe, share it on Instagram so I can see! Don't forget to tag @cookiesandcups and/or #cookiesandcups as well as @ImperialSugar! We love seeing your creations!