Monkey Bread is a sweet, pull-apart, pastry-style bread. Each piece is coated in melted butter and cinnamon sugar and baked to perfection in a bundt pan! I top mine with an out of control praline style-brown sugar icing that is to die for!
If you love Monkey Bread, try my Cheese Stuffed Garlic Pull-Apart Bread for a savory option!
My Monkey Bread Recipe Is A Family Favorite!
I am SO excited to share this recipe with you! It's a recipe that I shared in my book that is such a favorite I decided it needed a permanent place here on my site! It's a Praline Pull Apart Monkey Bread that is ridiculously decadent and delicious.
What makes this monkey bread so special is that it is 100% from scratch. The dough is a simple yeast dough that makes all the difference in the world. Of course there are so many monkey bread recipes out there that used canned biscuit dough, but the homemade dough is what sets this recipe apart.
What Is Monkey Bread?
Monkey Bread is a pastry that you pull apart and eat with your fingers (like a monkey I guess?). I didn't create the name! What you generally have is cinnamon-coated dough pieces that are baked together in a larger pan, creating a cobbly-looking bread.
I used to make Monkey Bread growing up with my grandma. We would bake it and take it over to her friend's houses for their "coffee hour". We always made the shortcut version with canned biscuits, but oh how I loved dipping each biscuit piece into melted butter first, and then that sweet cinnamon-sugar mixture. Sometimes we would add nuts, other times we would leave them out, but the addition of chopped pecans adds a little extra texture and flavor that I love.
When I decided to create a homemade version of my childhood favorite for my book I wanted to have all the elements of the nostalgia, but make it a little more indulgent! That's where the chopped pecans and brown sugar, praline-style, icing comes in! You can absolutely skip this step, but it sure does make it extra delish!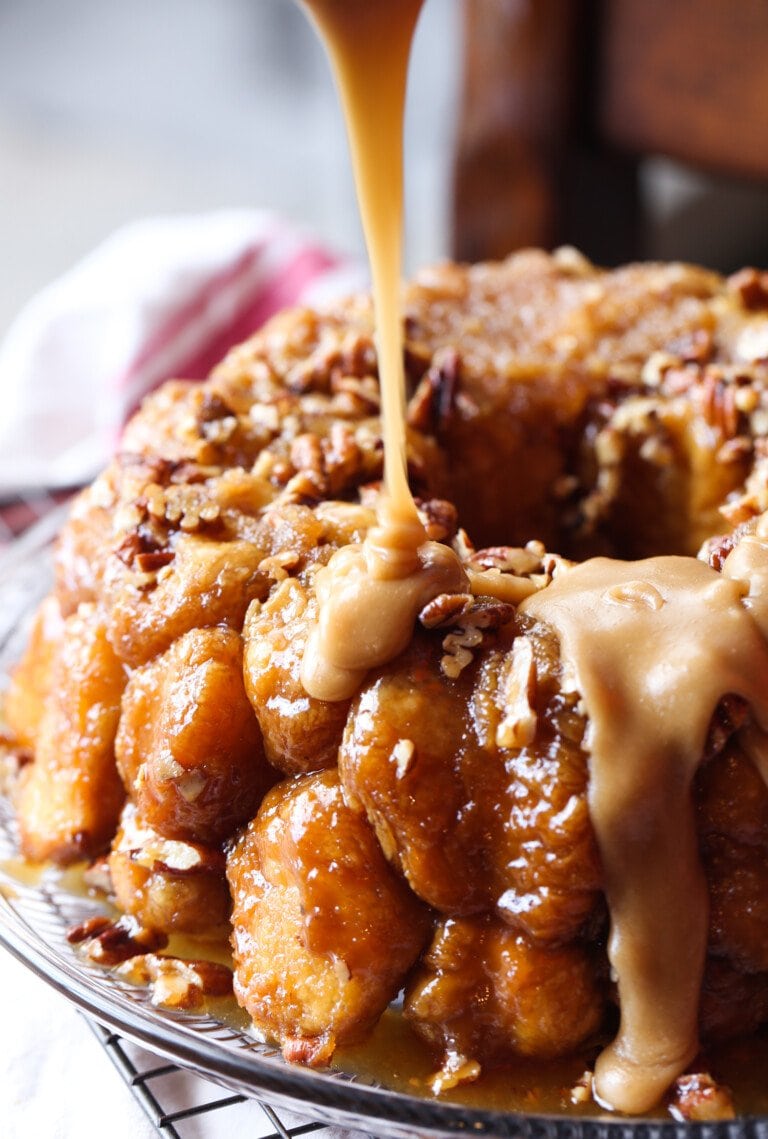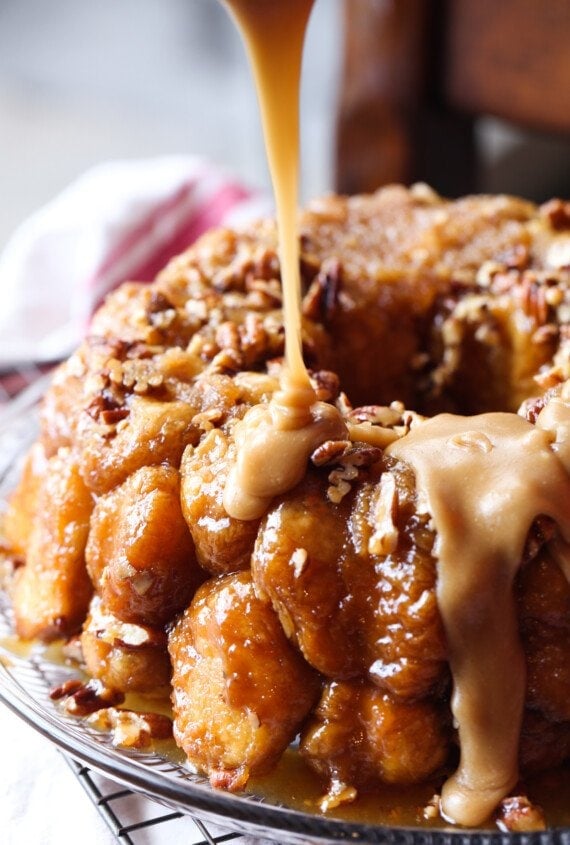 Ingredients:
There are a few steps to this recipe, but don't let that intimidate you! Everything is easy to do, and it's also a great make ahead recipe!
Dough:
Dry active yeast. You can also use Instant or "Rapid Rise" yeast as well. If you do use Instant, the rise time will be about 45 minutes to 1 hour, as opposed to 2 hours.
granulated sugar
warm water
vegetable oil
kosher salt
all purpose flour
Coating:
light brown sugar
melted butter
chopped pecans – you can omit the nuts if you have an allergy or just prefer no nuts!
Icing:
butter
light brown sugar
heavy cream
powdered sugar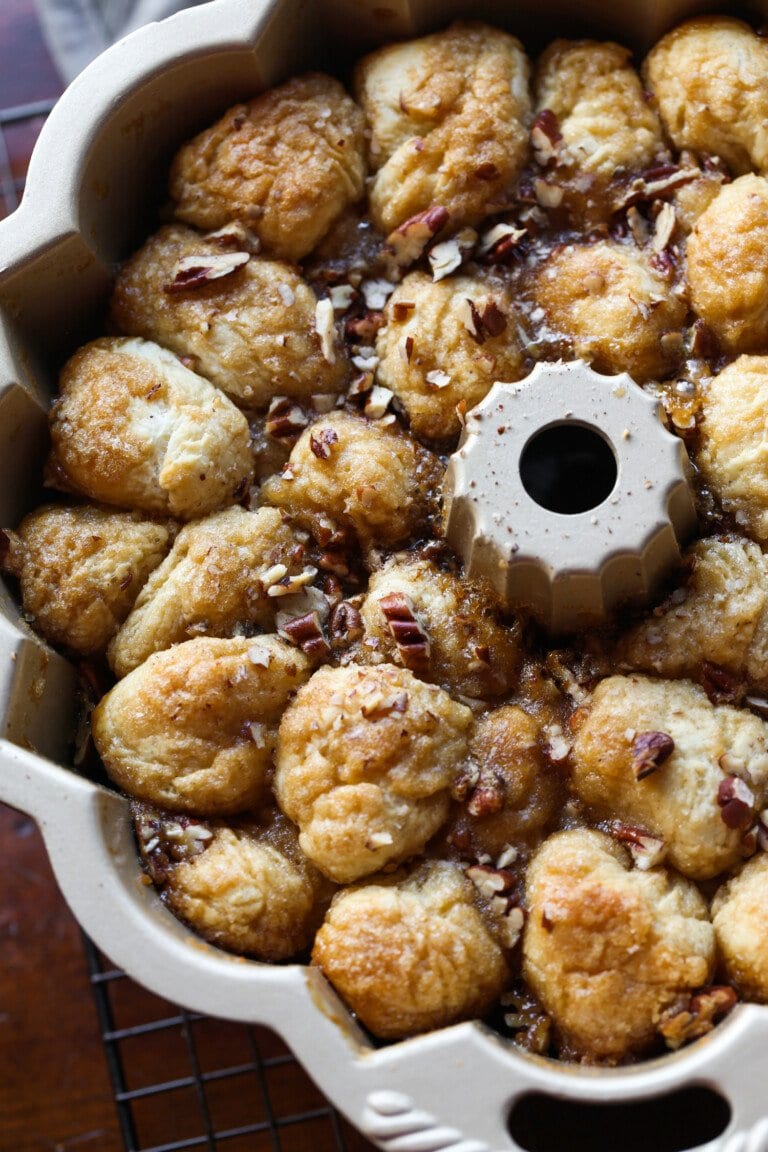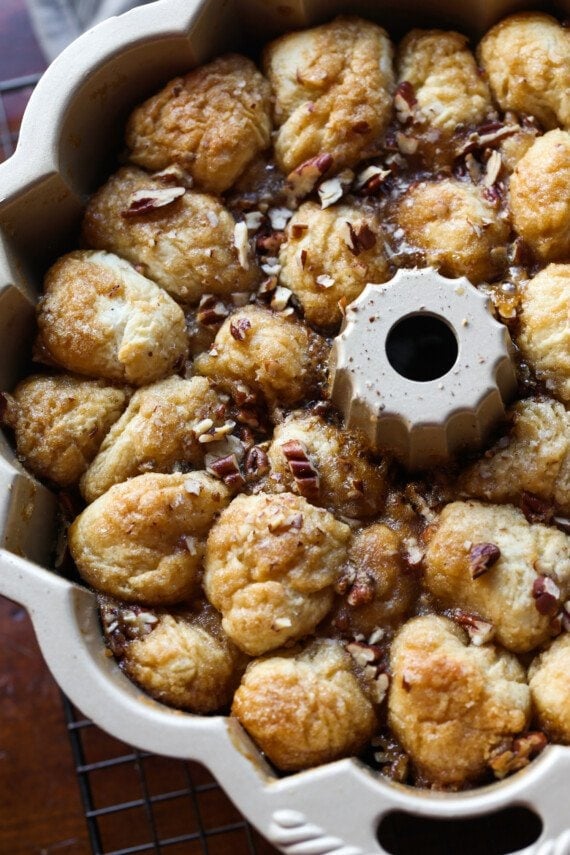 Tips On How To Make Monkey Bread:
The full recipe is below in the printable recipe card, but I definitely want to share some of my favorite tips so your Monkey Bread turns out perfectly!
Make sure to grease your bundt pan well. This is kind of a no-brainer, but there is always that moment when you invert the bundt pan and pray that nothing sticks! Luckily Monkey Bread is a pretty "rustic" looking bread, so imperfections will never be noticed! Plus you're covering the top in icing!
Allow the dough to rise in a warm, draft-free place. My oven has a "proof" setting which I use all the time and really love. But if you don't have that on your oven, just try to place your bowl of dough in the warmest part of your kitchen. Another trick I have used in the past if you don't have a proof setting on your oven is before you start making the dough, turn the oven on to the lowest temperature. Allow it to preheat, then turn the oven off. Start making your dough and by the time you're ready to allow it to rise, the oven will have cooled down enough that it will be the perfect place to let your dough rise. Make sure the oven isn't too warm. You just want it to be a little warmer than room temp!
Leave out the nuts if you aren't a fan…same with the frosting. You can easily make this "plain" and it's still great!
Serving this warm is a NEXT LEVEL experience. Highly recommend!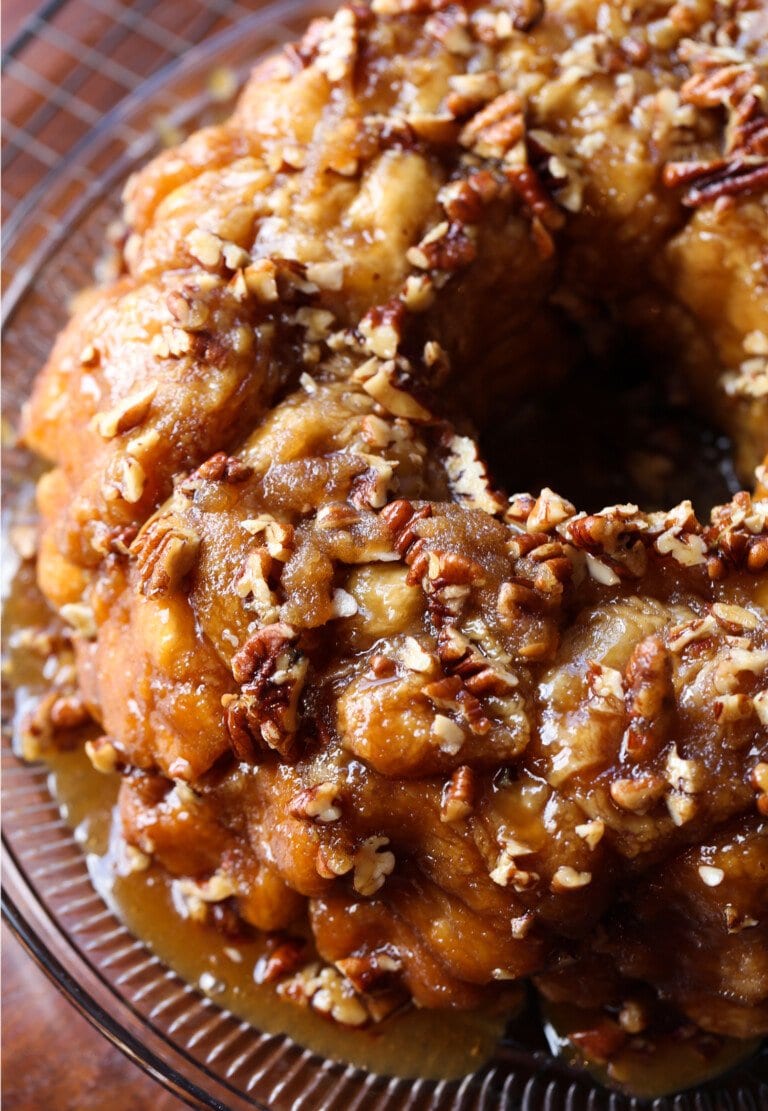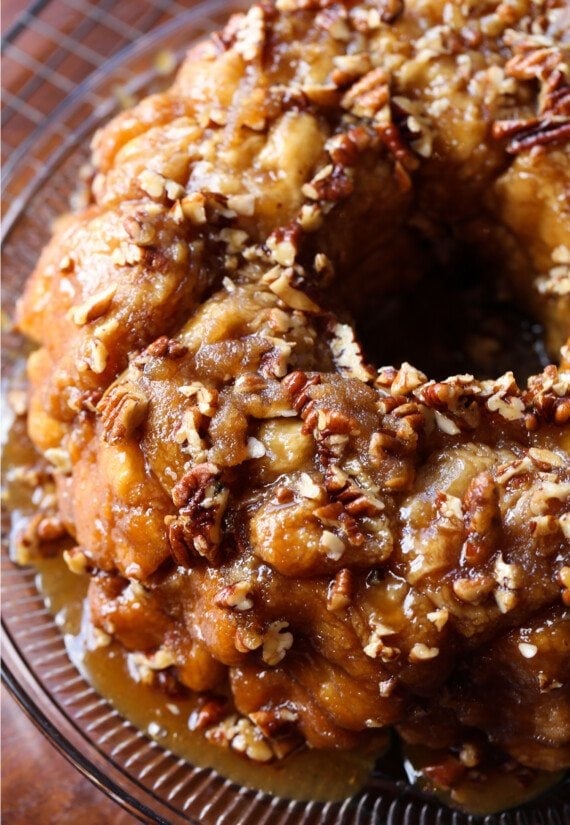 Do You Have To Use A Bundt Pan?
You don't have to, but it sure is pretty! You can make this recipe in 2, 8×4 loaf pans if that's what you have!
Do You Have To Make the Icing?
Nope! The bread on its own is sweet, but the addition of that brown sugar praline icing is really outstanding!!!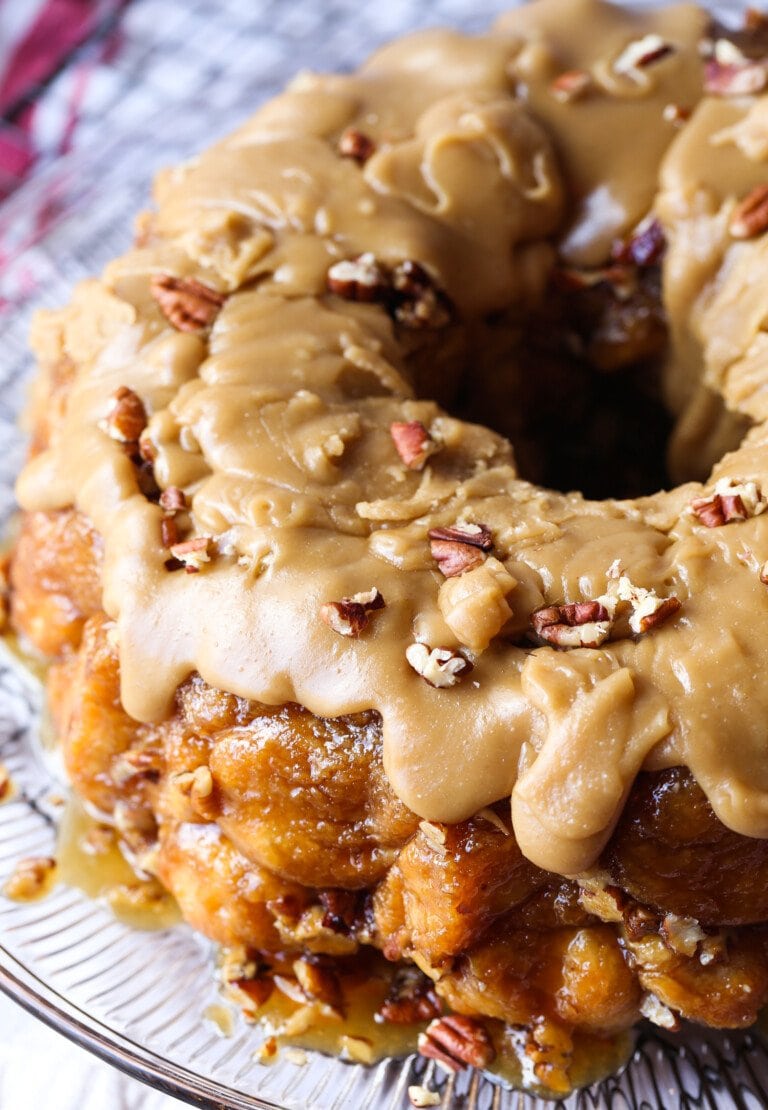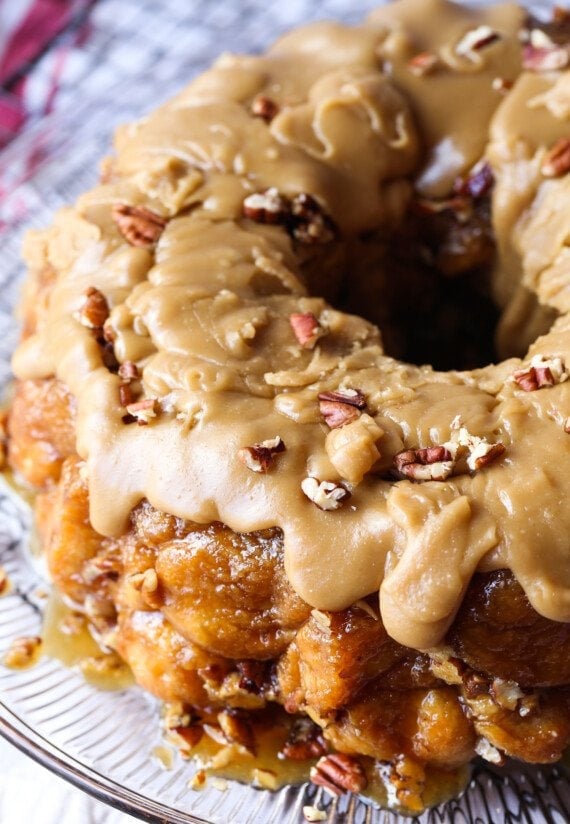 Can You Make the Dough Ahead?
Absolutely! I have included in the recipe that if you would prefer to make the dough ahead you can! Allow the dough to rise in the refrigerator instead of at room temperature. You can do this overnight or up to 3 days!
Can You Use Canned Biscuits For This Monkey Bread Recipe?
If you love the idea of this recipe but just don't have the time to make your own dough, I totally get it. You can use 2 (16- ounce) cans of canned biscuits.(I recommend the Grands! Flaky Biscuits). Cut each biscuit into 4 equal pieces and dip each piece in your melted butter, then cinnamon sugar mixture!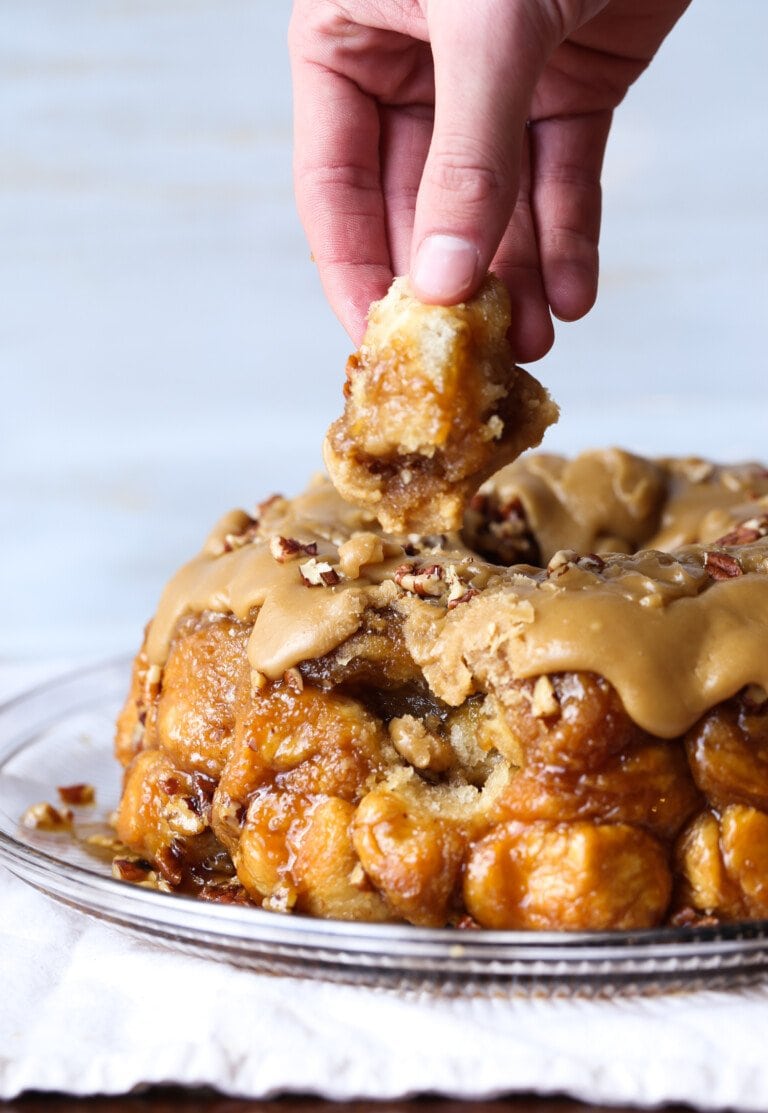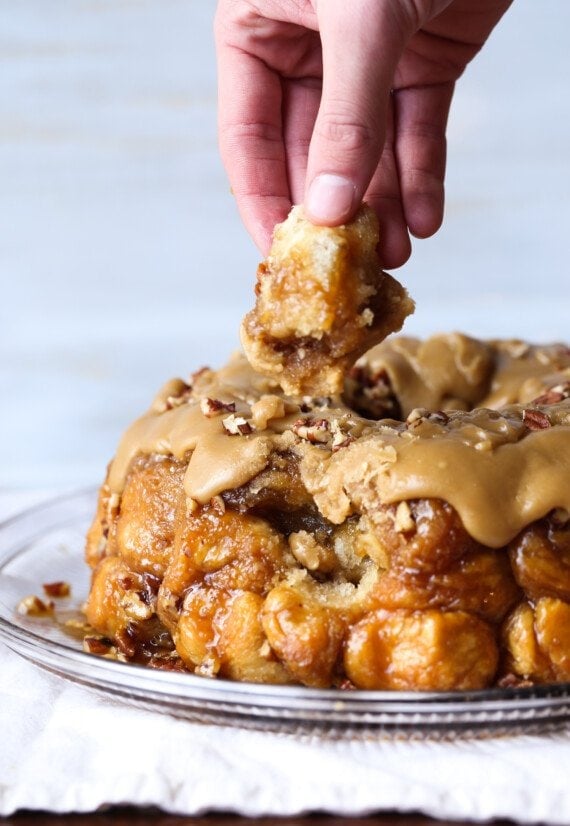 How To Store:
Honestly, this bread is best is enjoyed the same day, but you can absolutely store it if you just can't finish it! I don't recommend more than 2 days though for freshness. Just store it airtight at room temperature!
Print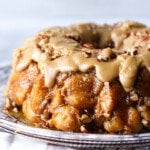 Pull Apart Praline Monkey Bread
Author:

Prep Time:

30 minutes

Cook Time:

35 minutes

Total Time:

65 minutes + rise time

Yield:

serves

1

2

1

x

Category:

Bread

Method:

Oven

Cuisine:

Breakfast
---
Description
This Monkey bread is out of control delicious! It's the perfect breakfast or brunch recipe for special occasions.
---
Dough:
2 teaspoons

dry active yeast

1 teaspoon

granulated sugar

1 1/3 cups

warm water

2 tablespoons

vegetable oil

2 teaspoons

kosher salt

3 1/2

–

4

cups all purpose flour
Coating:
1 1/4 cup

light brown sugar, packed

1/2 cup

butter, melted

3/4 cup

chopped pecans
Icing:
4 tablespoons

butter

1 cup

light brown sugar, packed

1/4 cup

heavy cream

1 cup

powdered sugar
---
Instructions
Dough: Mix the yeast, sugar and water together in a bowl and allow the mixture to sit for 4 minutes until the yeast is dissolved.

In the bowl of the stand mixer fitted with the dough hook attachment mix 3 ½ cups flour, salt and oil together on low speed. Stir the yeast mixture and then slowly add it to the bowl with the flour. Mix this on medium speed for 5- 6 minutes. If the dough is excessively sticky add the remaining flour 1 tablespoon at a time until it becomes it becomes smooth.
Spray the inside of a large bowl with cooking spray and transfer the dough into the bowl, cover with a clean dish cloth, place in a warm place and allow it to raise for 2 hours or until it has doubled in size. Alternately you can place the dough into a sprayed gallon sized zip-top bag and allow it to rise in the refrigerator overnight (you get the same results and the dough is ready in the morning for breakfast).
Coating and Assembly: Preheat your oven to 350°F/175°C
Spray a bundt pan with cooking spray. Sprinkle half of the pecans into the bottom of the pan evenly and it set aside.
Place the brown sugar and melted butter in a small bowl and stir to combine.

Punch the risen dough down and tear pieces of the dough off and roll into 1- inch balls. Dip each dough ball into the brown sugar/butter mixture and place in the prepared pan. Continue this with all the dough, placing it in the pan evenly. Drizzle any remaining brown sugar/butter mixture on top of the dough and finally sprinkle on the remaining pecans.
Bake the bread for 30- 35 minutes until it's risen and lightly golden.
Remove the pan from the oven and place on a wire rack to cool slightly.
Icing: While the bread is cooling make your icing by combining the butter, brown sugar and heavy cream into a medium saucepan. Cook the mixture, stirring frequently, until it comes to a boil and boil for one minute. Remove from the heat immediately and whisk in the powdered sugar.
Invert the bundt pan onto a cake stand or serving platter. Drizzle the icing evenly on top of the bread.
Serve warm.
---
Notes
Store airtight at room temperature for up to 2 days
Keywords: cookies and cups, monkey bread, pull apart bread, yeast dough, bundt pan, breakfast, brunch
Want To Save This Recipe?
Find more recipes like this:
PIN for later: