These Sesame Zoodles are SO super easy…can be whipped up in minutes and are low carb! Perfect for lunch or a light dinner!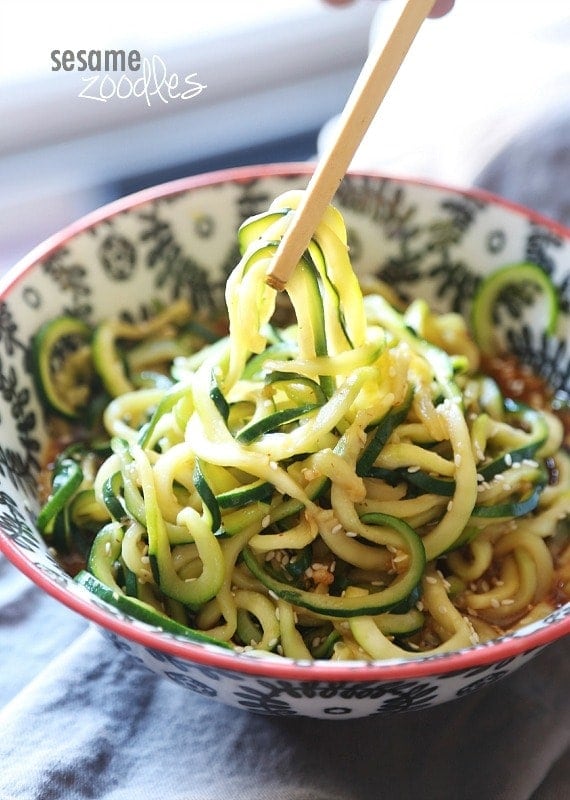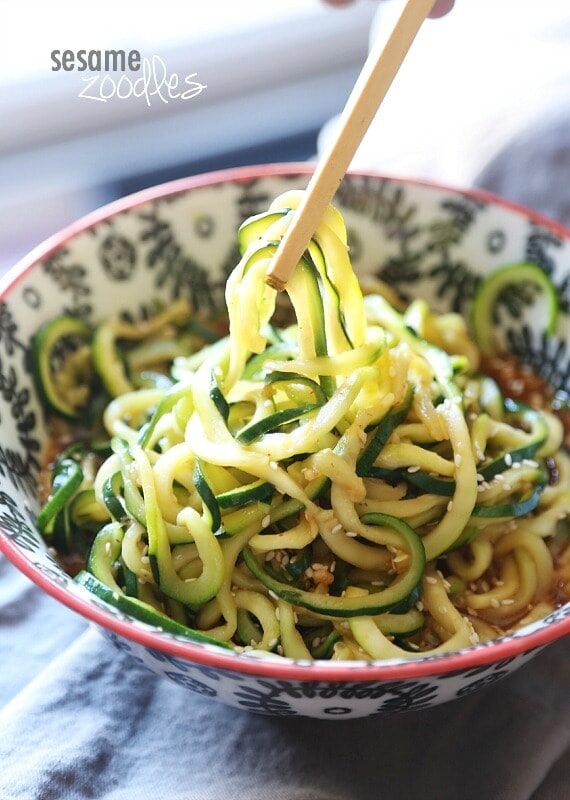 Ok, so yes. Call me a sell out. Call me a bandwagon blogger. Call me all the names you want.
I could apologize to you…but really I don't want to. Because it's January, and while I was right there with you, eating myself into a carb coma, OD'ing on sugar treats and giving new gluttonous meaning to the term "holiday indulgence"…I'm now sitting here in 2015 with my head hung low in shame, and barely able to breathe due to the oxygen levels to my brain being cut off by my jean's button.
Which, by the way, I refuse to take off my jeans. Because those yoga britches are a dirty mistress. Any pants that fit you comfortably when you're a size 4 and also a size 12 are NOT your friend. Trust me on this.
So anyway, here we are. Staring at a giant bowl of Sesame Zoodles. This is what life is like now for me.
I mean, until Tuesday, when my no-carb diet will be over. You and I both know it.
I will tell you, though, Sesame NOODLES are one of my most favorite meals. I have made lots of versions and just love the simplicity of them. But last summer I jumped on the "Spiralize" bandwagon. (I have THIS Spiralizer from Paderno. It's inexpensive and really great.) And since then I have LOVED spiralizing zucchini and making "zoodles".
I won't kid you and say that my kids love them. They will eat them, but they aren't all, "Hey mom..can you whip up some Zuchinni Spaghetti". It's ok. I make them pasta usually when I'm making the Zoodles.
Anyhow, I have loved making my Sesame Noodles into Sesame ZOODLES. It's such a great way to cut calories and carbs, and I promise you that I enjoy them just as much. Stay with me here…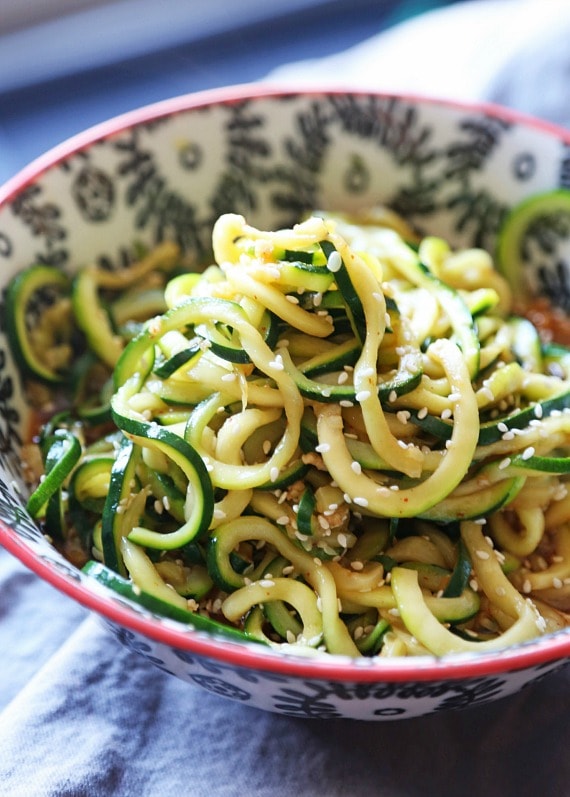 You can literally make these Sesame Zoodles in under 10 minutes, which is a bonus. Plus like regular Sesame Noodles, you can eat them warm or cold…and even in this case you could eat them raw! I actually prefer to lightly saute the Zucchini Noodles a little bit to take a little of the crunch out, making them more like noodles, but if you made them raw it would be a completely lovely sesame salad.
The Spiralizer is totally easy to use…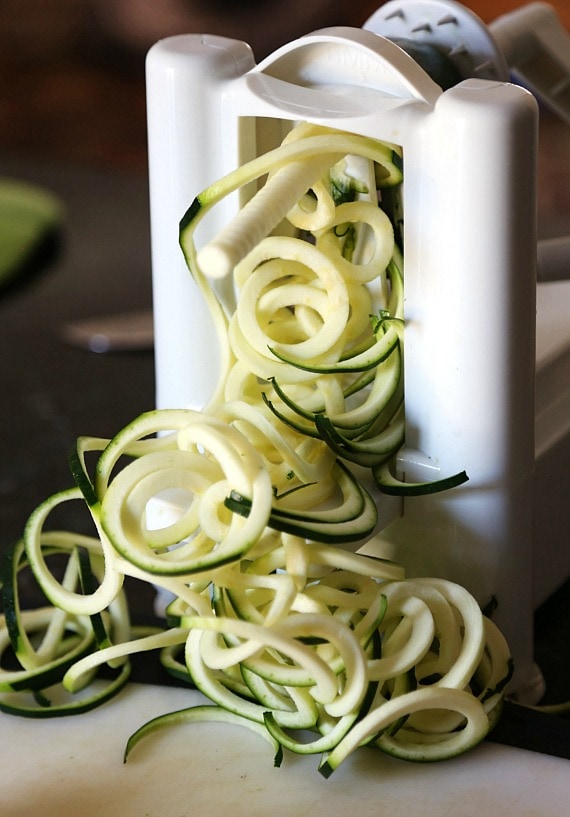 You just attach the zucchini and then twist. My kids like to help do this part.
I generally make 2 Zucchini per person when eating the Zoodles as a meal. In this case I used 4 for my husband and I…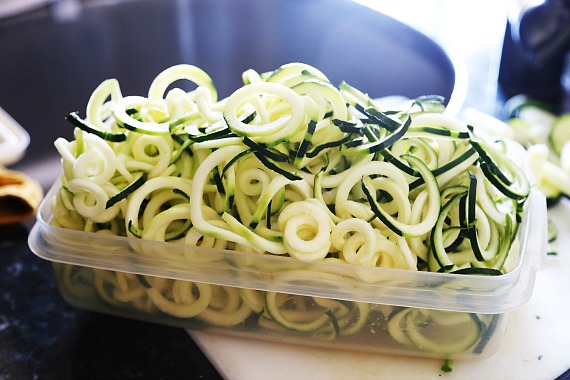 Again, I lightly sauteed them in a tiny bit of Olive Oil. The zoodles will release liquid as they cook, so drain them before tossing in your sesame dressing.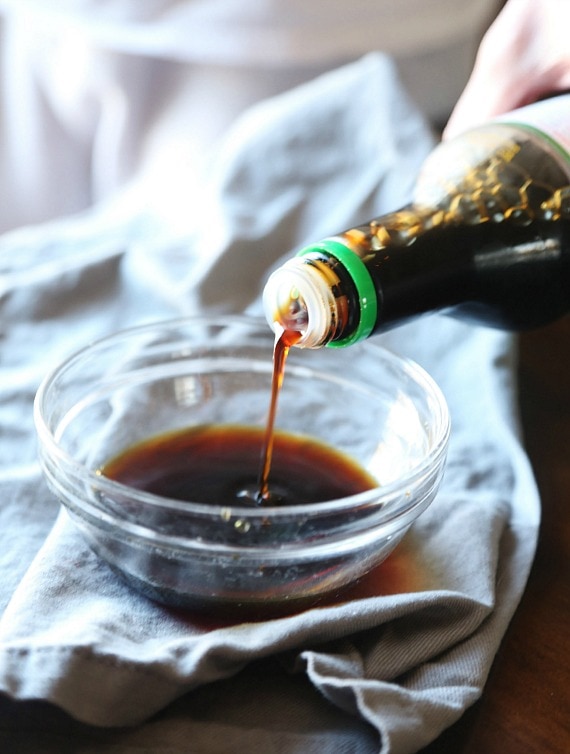 The sesame dressing is simple to put together and you can make it as hot or mild as you like. I love to add Sriracha to mine.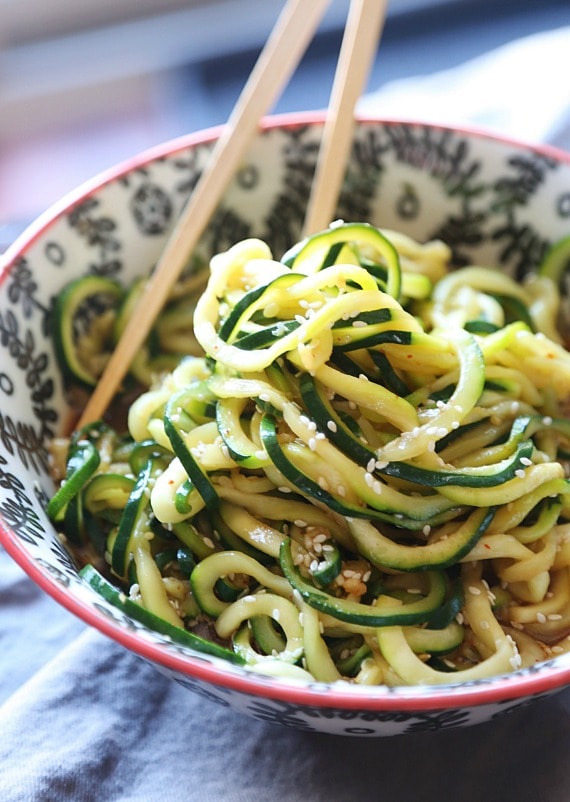 You can toss them with some extra sesame seeds too. If you want to make a heartier meal you can add some grilled shrimp and it's delicious!
And again, the Spiralizer I use can be found HERE
Print
---
Sesame dressing:
1/4 cup

soy sauce

2 Tbsp

Rice vinegar

2 tsp

Sriracha Sauce

1 Tbsp

creamy peanut butter

2

cloves minced garlic

2 Tbsp

sesame oil
Zoodles
4

–

5

medium zucchini

1 Tbsp

olive oil
*optional 2 Tbsp sesame seeds
---
Instructions
Whisk all the ingredients for your dressing together in a small bowl. Set aside.
Using your Spiralizer, prepare zucchini into long noodles or ribbons.
Heat oilve oil in large skillet over medium heat. Add "zoodles" to skillet and saute for 3-4 minutes until they are slightly softened. You can skip this step altogether and serve the "zoodles" raw as well!
Zucchini will release liquids, so when your "zoodles" are done cooking to the desired amount, drain before tossing with marinade.
Toss with marinade and sprinkle with sesame seeds.
Serve warm or cold.
---
Want To Save This Recipe?
Find more recipes like this:
*This post contains Amazon Affiliate Links.