These quick and easy Air Fryer Chocolate Chip Cookies have buttery, crispy edges, while staying soft on the inside, done in minutes! Another great air fryer recipe!
If you're on the fence about buying an Air Fryer check out my breakdown of the pros and cons, and different styles here: How To Use An Air Fryer
I am a chocolate chip cookie enthusiast! I have tons of recipes currently here on my site. Check out my entire chocolate chip cookie category! So I am always up for a new twist on the classic. Whether it be a secret ingredient ingredient, prep method or cooking style, I am HERE for it. Making chocolate chip cookies in the air fryer proved to be an easy, effective, and delicious way to enjoy the classic!
You might be thinking, why would I make cookies in an air fryer when I can just make them in the oven? I mean, great question…and there isn't a great answer! Making air fryer cookies is just another reason to keep your air fryer on the counter. I want to give you options!
Will the cookies be different? The short answer is kind of. They will be equally delicious, but they do look a little different. The air circulates throughout the air fryer, causing the cookies to brown up on the tops a little quicker than in your oven. The center will take the full time to cook, so don't let the deeper outer color through you!
This recipe and method is perfect if you are a small household, an air fryer enthusiast, or just get a craving and don't want to bake an entire batch of cookies! This is essentially a small batch recipe which works great for an air fryer that has limited capacity.
After testing this recipe multiple times at different temperatures and bake times, the final recipe I am sharing here produces perfectly soft and chewy cookies. Of course note that as with ovens, cook time/bake time can vary. We don't all have the exact same brand or style of air fryer.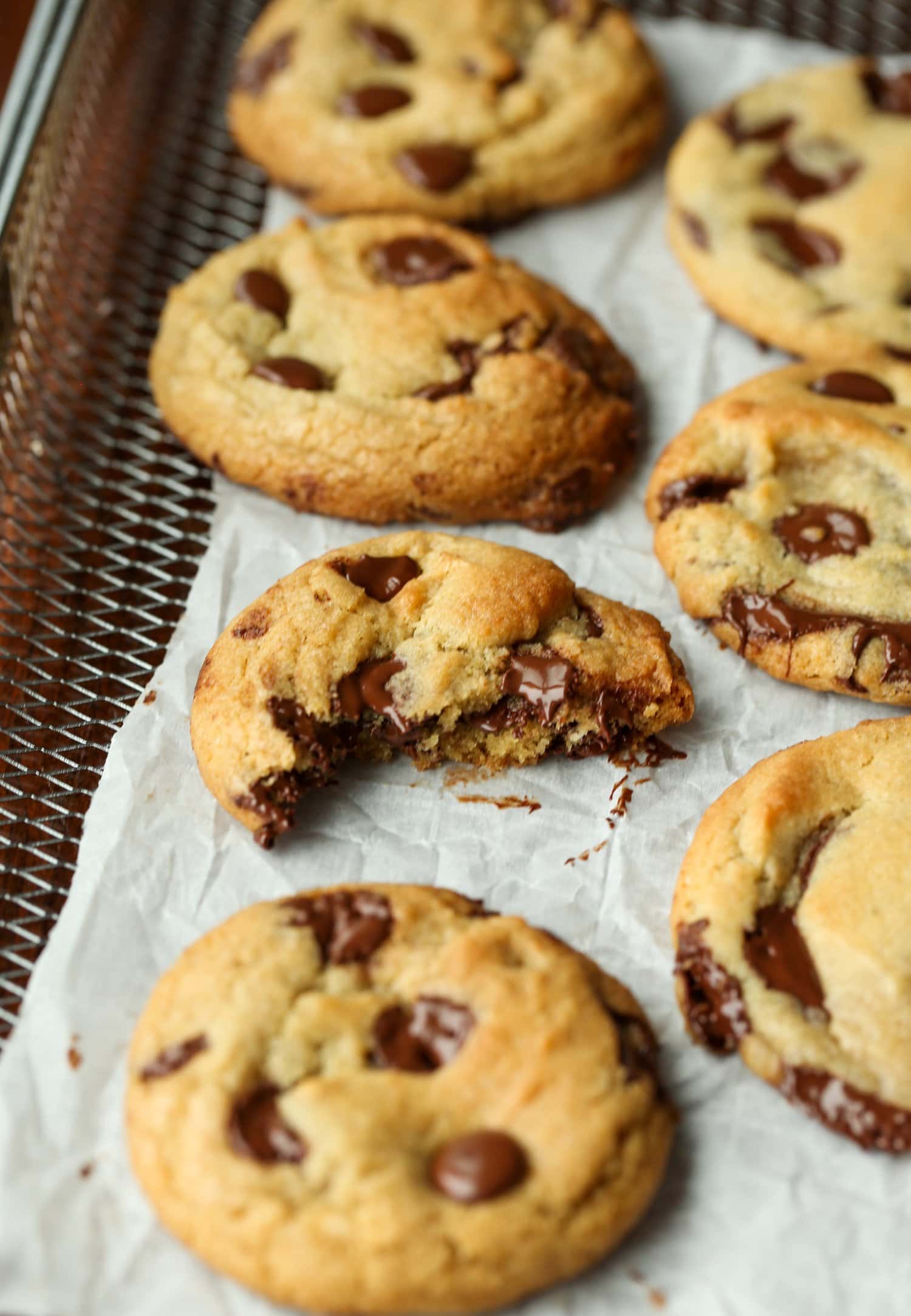 Why This Recipe Works?
Simple ingredients.
No stand mixer or hand mixer needed since you are using melted butter.
A smaller batch when you have a quick craving.
Easy cooking style in the air fryer.
Golden, buttery edges with a soft, chewy center.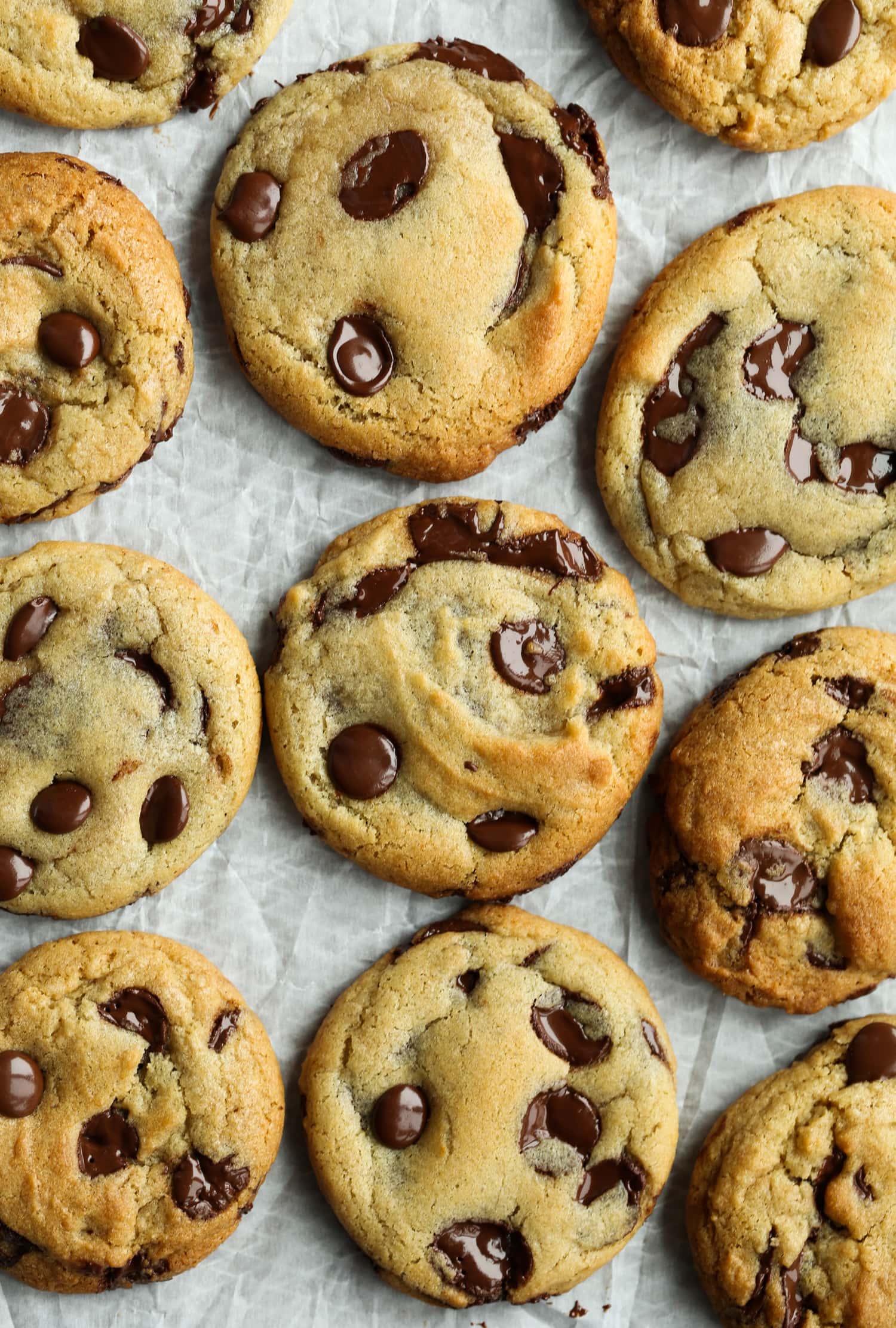 What Style Air Fryer Is the Best?
I am sure this question is open to debate. I have a whole post dedicated to air fryers that compares the different styles. But the short answer is: I have had and used both styles, and my personal preference is an air fryer with racks, as opposed to the basket version. Both have their pros and cons, but for my family I use it less for things like fries and wings, than I do for chicken breasts and veggies, so I prefer the surface area that racks give. This recipe works the same in both styles!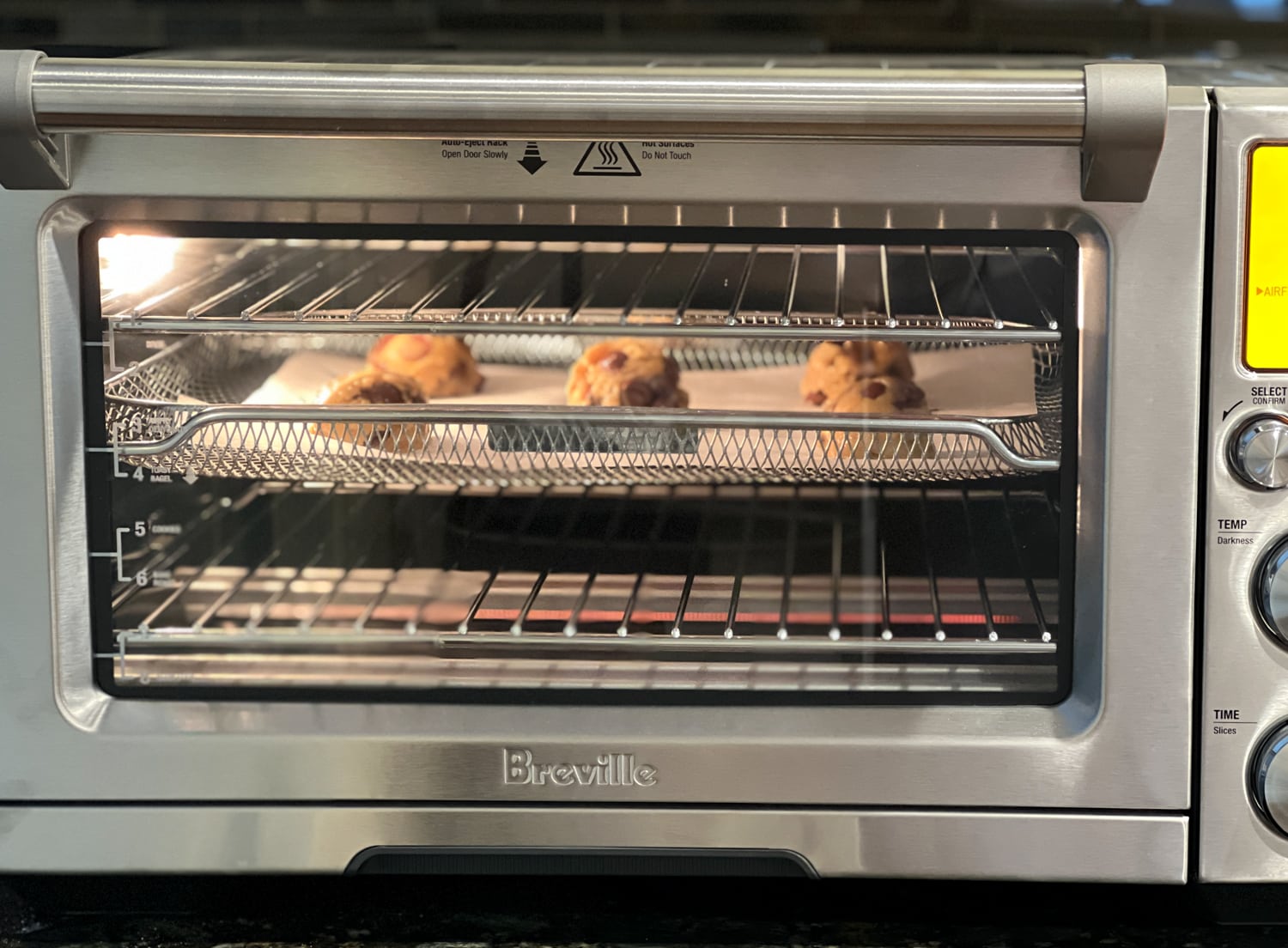 Ingredients:
The full ingredient list with measurements can be found in the recipe card at the bottom of this post!
Melted and cooled butter. The butter doesn't have to be cooled to room temperature, just not piping hot. You want it to still be liquid, and not cool enough to firm up again. You can also brown your butter and let it cool if you want to really amp up the flavor! You can use salted or unsalted butter. As always I opt for salted, because I prefer the flavor.
Light brown sugar
Granulated sugar
Large Egg
Vanilla extract
Kosher salt
Baking soda
All purpose flour
Semi-sweet Chocolate chips
Tools:
Obviously this is an air fryer cookie recipe so the most important tool here is an air fryer! You can easily make these cookies in a traditional oven as well. Besides that, you only need a few things to prep this recipe:
Large mixing bowl
Rubber Spatula
Preheat air fryer to 325°F. Line the rack or basket of your air fryer with vented* parchment paper (see parchment paper section for tips)
In a medium bowl stir together the butter, light brown sugar, and granulated sugar until combined.
Stir in egg, vanilla, salt, and baking soda until combined.
Add in the flour and stir mixed. Stir in the chocolate chips.
Using a medium (2 tablespoon sized) cookie scoop, drop dough onto the baking sheet, parchment, or the bottom of the basket. Depending on your air fryer size you can do 4 – 5 cookies max per batch.
Cook for 5 – 7 minutes until the cookies are set. Allow the cookies to cool for 5 minutes before transferring them to a wire rack.
Do You Preheat An AirFryer?
Well, the answer here is a mixed bag. I have read multiple articles written on this topic, and the answer is split 50/50. I have used multiple styles and brands of air fryers and the user manuals have also been split. My rack-style air fryer "preheats" as part of the cook process. For example, if I need to cook something for 8 minutes I place my food in, choose the time and temp and it preheats, then starts the cook time immediately, so there is no time between the "preheating" and cook time. But other units I have tried recommend a preheat before adding the food. SO my suggestion is to follow the instructions on your specific air fryer.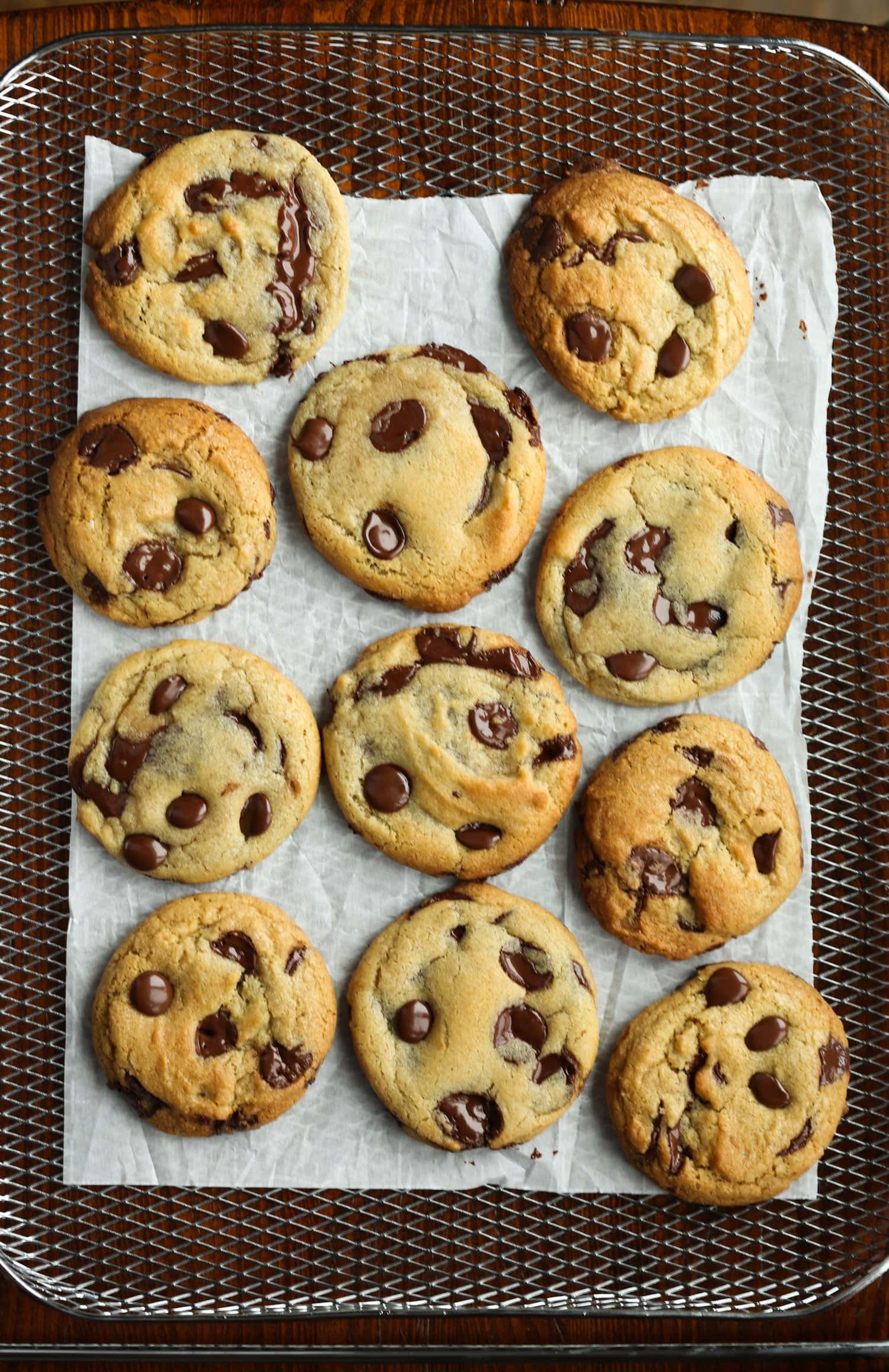 Do You Have To Use Parchment Paper?
To make cookies in an air fryer you will need to use parchment paper, otherwise the cookie dough will drip right through the holes in the basket. Plus it makes for removing the cookies extra easy in a basket style air fryer! But there are a few things you should note when using parchment in the air fryer:
You can buy the parchment paper made for air fryers. The sheets have holes in them for air circulation plus they are sized to fit in an air fryer basket, which is super convenient.
If you don't want to buy special air fryer parchment paper you can absolutely use regular. Just cut it to fit in your air fryer, and then cut slits or holes in it to allow for air circulation.
Don't cut your parchment to fit to the edges of the basket, or up the sides. You want maximum air circulation, so if you block too much with parchment the heating won't be even!
Can You Use Aluminum Foil In the Air Fryer?
The rule of thumb is if you can put it in the oven, you can put it in the air fryer. So the answer here is yes. Again, you will need to poke or cut holes in the foil, and follow the same tips I included for parchment paper. However, it certainly isn't my method of choice.
NOTE: Air frying works just about the same as foil as in the oven, but with any other cooking just be aware what type of food you are putting on the foil, as foil is a reactive surface. Studies show that aluminum foil heated at high temperatures can cause the aluminum to leach into the food you're cooking on it (certain foods, especially anything acidic will break down fast on foil). I am not a scientist, but this is definitely something to note.
Absolutely! The cook time will increase slightly. I freeze cookie dough all the time, and when using my portioned frozen cookie dough, I add 2 minutes onto the time and they come out perfect!
If you don't happen to have an air fryer, and you just really want to make this recipe, you absolutely can. Simply prep the recipe as stated and bake at at 350°F preheated oven for 9 – 10 minutes.
Success Tips:
Cook time/Bake time can vary, although I tested this recipe many times and found that the 6 – 8 minute allowance is consistent. Watch the first batch you make and adjust the bake time as needed.
Allow the cookies to cool for at least 5 minutes on the air fryer rack or basket.Air Fryer cookies can look a little darker on the outside than you're used to, giving you a false sense that they're done before they actually are, so while you should make sure you're cooking them long enough, also let them cool a little before transferring them to a wire rack to cool completely.
Don't stress out if the first batch is a little underdone or overdone. It's as simple as adding or subtracting a minute or two to the cook time. Again, since air fryers do vary in size and style I can't give you an exact cook time. The time listed in the recipe is what has worked for me after rounds and rounds of testing.
Additions:
You can add anything to this recipe that you would add to a regular chocolate chip cookie! Here are some ideas:
Swap out semi-sweet chips for milk chocolate chips, peanut butter chips, or white chocolate chips! Or use a combo of all three!
Add in some chopped walnuts or pecans.
Use mini chips!
Add a pinch of cinnamon.
Chop up a candy bar and add that in!
Print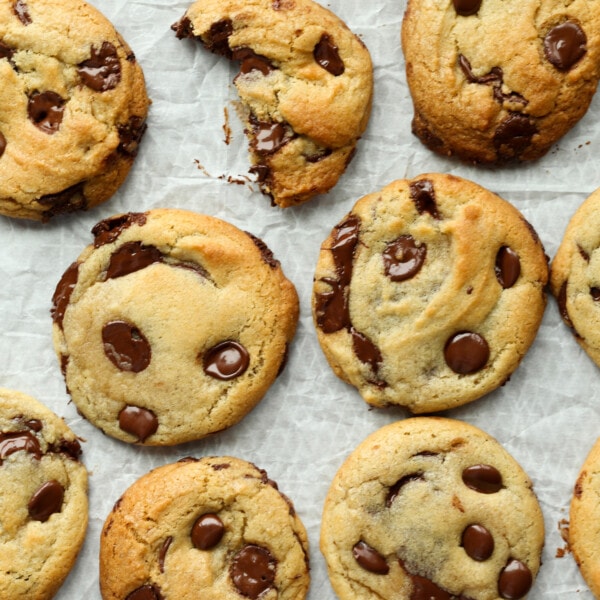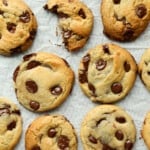 Author:

Prep Time:

10 minutes

Cook Time:

9 minutes

Total Time:

19 minutes

Yield:

12

cookies

1

x

Category:

Cookies

Method:

Air Fryer

Cuisine:

Dessert
---
Description
Try making chocolate chip cookies in your air fryer! They turn out amazing and are perfect for a small batch or cookie craving!
---
1/2 cup

butter, melted and cooled

1/2 cup

light brown sugar

1/4 cup

granulated sugar

1

large egg

1 teaspoon

vanilla extract

1/2 teaspoon

kosher salt

1/2 teaspoon

baking soda

1 1/2 cups

all purpose flour

1 cup

semi-sweet chocolate chips
---
Instructions
Preheat air fryer to 325°F. Line the rack or basket or your air fryer with parchment paper *SEE NOTE
In a medium bowl stir together the butter, light brown sugar, and granulated sugar until combined.
Stir in egg, vanilla, salt, and baking soda until combined.
Add in the flour and stir mixed. Stir in the chocolate chips.

Using a medium (2 tablespoon sized) cookie scoop, drop dough onto the baking sheet, parchment, or the bottom of the basket. Depending on your air fryer size you can do 4 – 5 cookies max per batch.

Cook for 6 – 8 minutes.
---
Notes
Read all the tips and tricks in the full post.
Parchment Note – To bake the cookies directly in the bottom of the basket or on the air fryer rack you need parchment paper to prevent the dough dripping through. You can use the pre-cut air fryer parchment sheets, or you can cut slits in regular parchment to allow for air circulation. Make sure the parchment isn't too large that it blocks the air circulation at the edges.
Storage: Store airtight at room temperature for up to 3 days for best freshness.
Keywords: cookies and cups, air fryer, cookie recipe, air fryer recipe, chocolate chip cookies
Want To Save This Recipe?
Find more recipes like this:
PIN for later: