Here we go again…yes, I love secret ingredients.
If you have read any former posts you already know this. The secret on this one, however, does not stay a mystery for very long because the secret ingredient is in the TITLE…not so secret. But if you just put them out on the table and don't call them anything it stays a secret, right?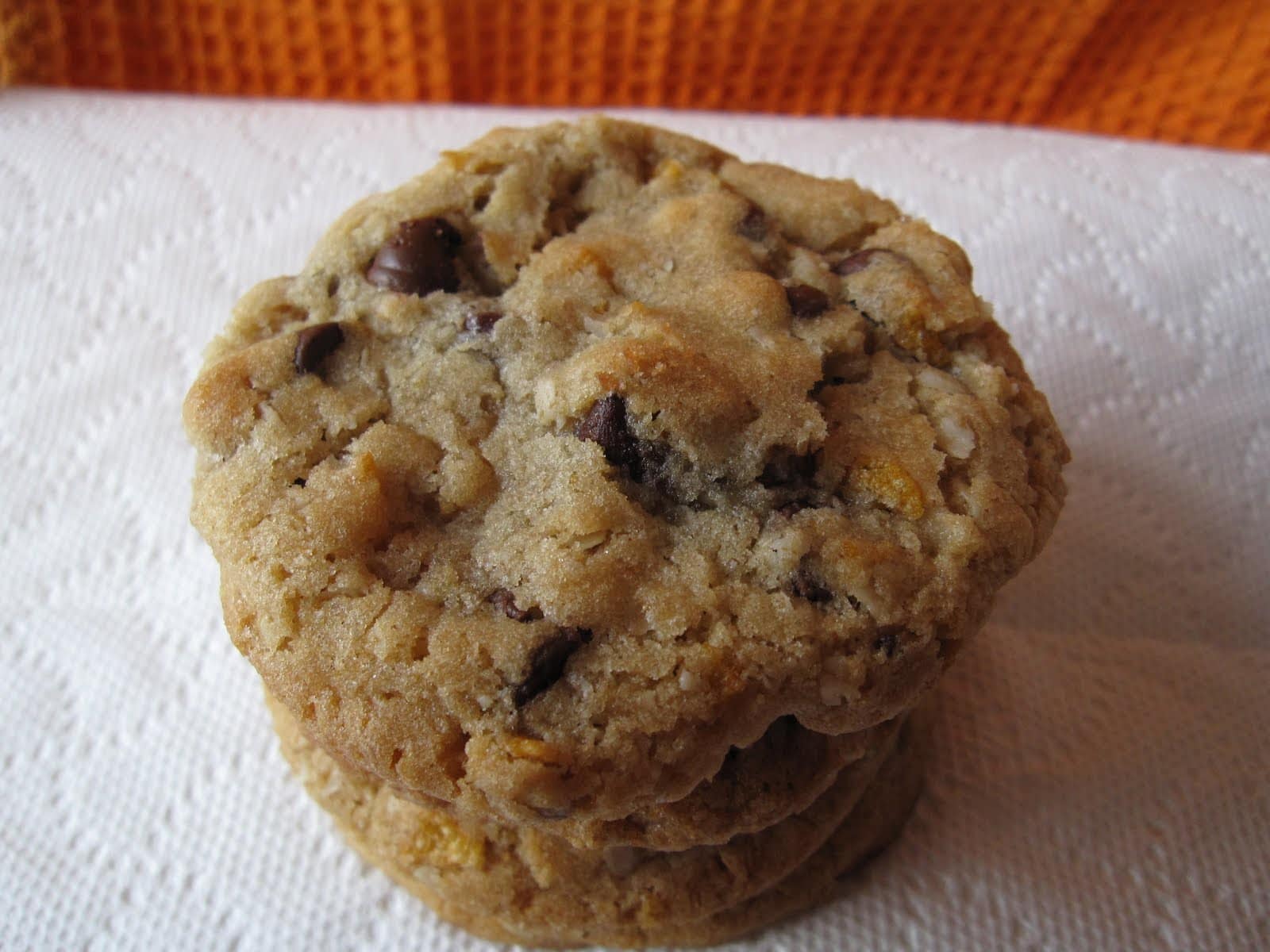 They

appear

to be a version of a chocolate chip, which they are, and possibly have oats in them, which they do…but to give them that occasional crunch and a bit of chewiness there are corn flakes. NOT frosted flakes, just corn flakes…you know the kind that end up sitting on your cereal shelf while their sugary counterparts continue to get eaten. Lonely old corn flakes, no marshmallows, no gimmicks, no fun boxes to look at…just plain old corn flakes.
I will tell you, though, in these cookies the corn flake stays lonely no longer. It mixes with the flour, butter and oats to form a sturdy, deliciously chewy cookie that you need to hold with two hands. Yes, let me repeat that…2 HANDS!
Finally got your attention, didn't I?
So, wait no longer my friends,

THE CORNFLAKE COOKIE
recipe adapted from (baking kids love from sur la table)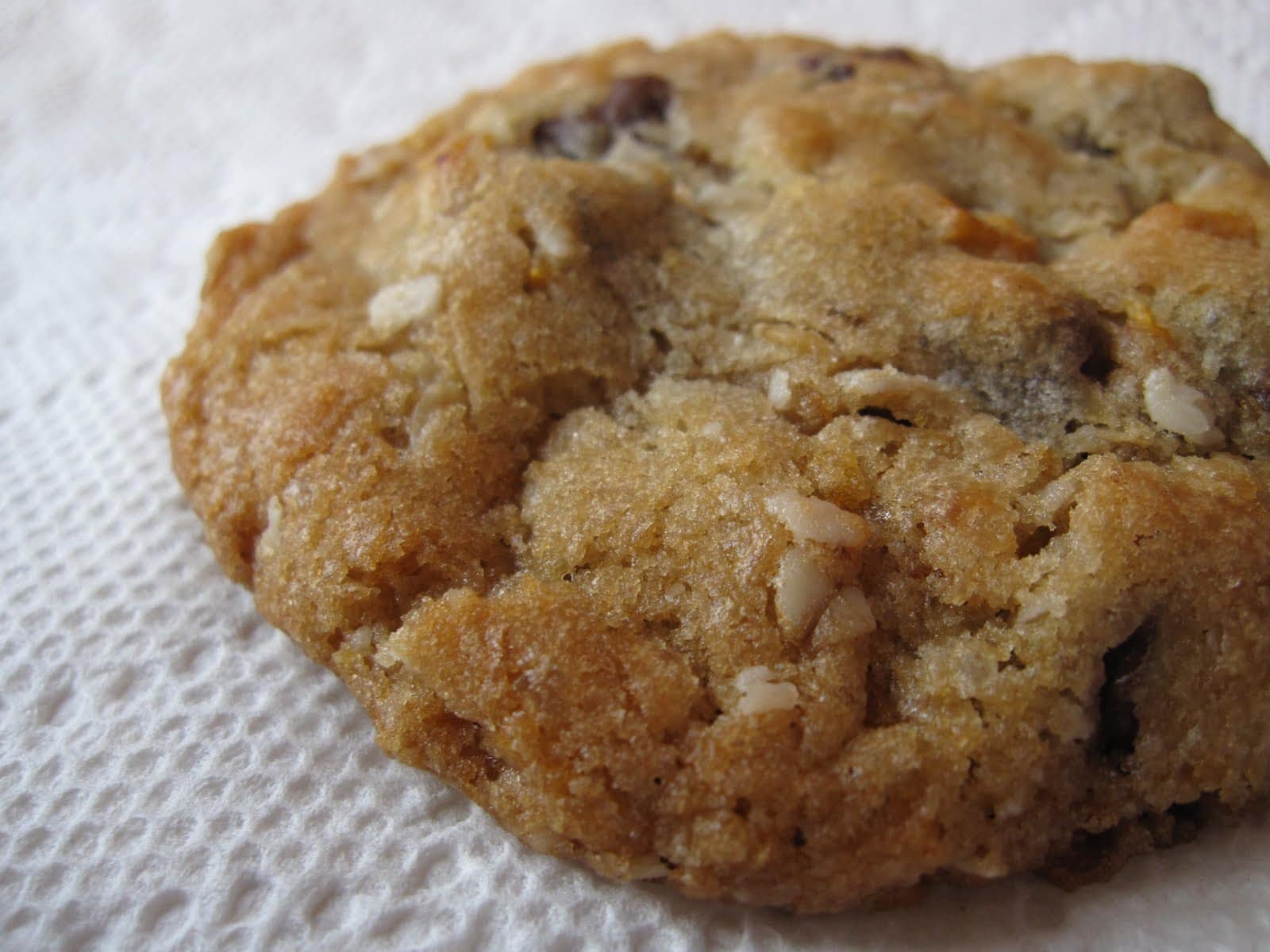 2 sticks butter

4 eggs
1 T. vanilla
1 cup veg. or canola oil

4 cups AP flour

2 cups white sugar

2 cups packed light brown sugar

2 1/4 cup old-fashioned rolled oats
2 t. coarse sea salt
2 t. baking soda

2 1/2 cups Kellogg's crushed corn flakes – don't skimp here, stick with Kellogg's

3 cups chocolate chips
Preheat to 350
Line baking sheets with parchment, if desired.
Cream butter in mixer over medium speed. Add eggs one at a time continuing to mix and then add vanilla. Now add the oil. I know this seems odd, but it's ok-I promise 😉 Mix on medium for about 30 seconds. It will look messy, but it just needs to be combined.
In a separate bowl whisk together flour, white sugar, brown sugar, oats, salt, and baking soda. Now slowly add this to the butter mix with mixer on low, or use your hands.
To crush the corn flakes, just put them in a ziplock and squish them up until they are in tiny pieces, but not dust.
Add the corn flakes and the chocolate chips to you dough until just combined.
Now, using an ice cream scoop (or about 3 T.) drop cookies on parchment lined baking sheet, making sure you space them far enough apart because they spread out. Flatten each cookie a little and bake for approx 8 minutes until edges are golden.
Let cookies cool completely before eating, they are best this way…I actually liked them better the next day because the flavors all came together and the corn flakes got their crunch back and they stayed chewy!