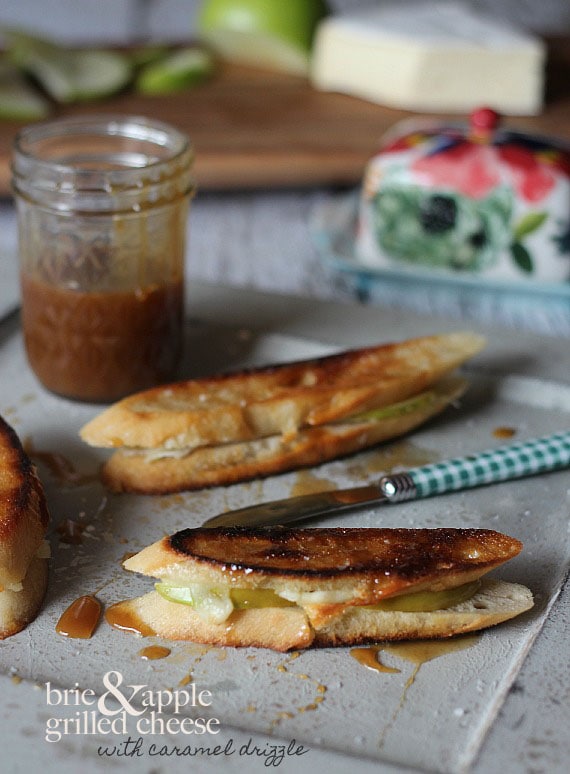 I know this is a departure from the norm.
I'm sorry I don't have any cookie dough, sprinkles or peanut butter cups to share today…
But shocker, I actually eat other food. Occasionally.
Is that disappointing to you?
Well, first just listen..just for a second.
This grilled cheese sandwich is pretty amazing.
And I'm not here to steer you in the wrong direction…promise.
Usually when we eat grilled cheese in my house it's a few slices of American cheese melted between 2 buttery pieces of bread. Totally regular, nothing fancy and yes, also delicious.
But I saw this idea in the new issue of Food Network Magazine and decided I needed to up my grilled cheese game…at least once.
And I'll tell you, it was kind of magic.
While Brie may seem fancy, it's not really. It's just a cheese, y'all. Just like they say actors are regular people… ok, that was a bad analogy. We all know they aren't.
Brie is more like a really APPROACHABLE actor…like Drew Barrymore. Does that even make sense? I'm also sorry I just compared Drew Barrymore to cheese, that's totally not what I mean…I love her. Anyway, this whole thing just got weird.
What I mean is, Brie may sound fancy, but it's just sitting there at the supermarket…waiting to be eaten. Not fancy, just fancy sounding…
Gah…what am i SAYING? Just try it. Geez.
It's a Brie and Apple Grilled Cheese…it's sweet and savory and buttery and perfect. And I think you should drizzle caramel all over it. Or dunk it…Yeah, dunk it.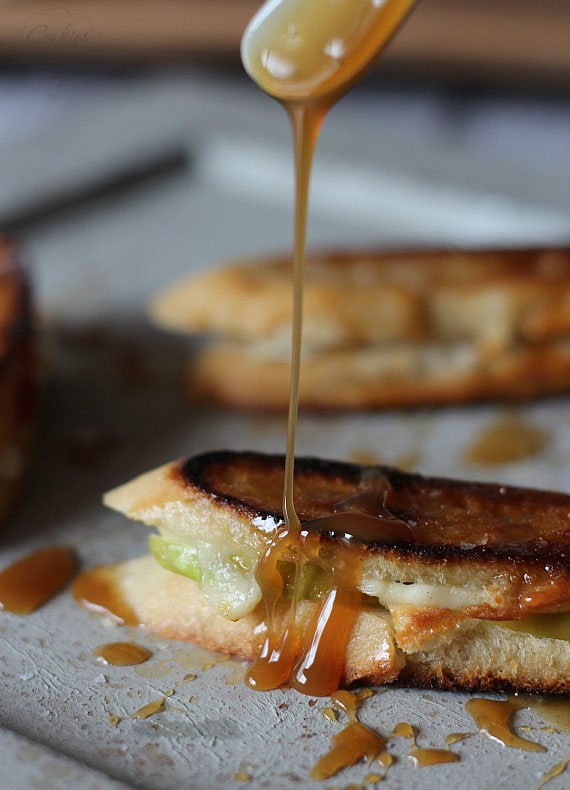 All you need is a baguette, an apple, some Brie and butter, of course.
And don't forget caramel sauce. Or dulce de leche….that would be good.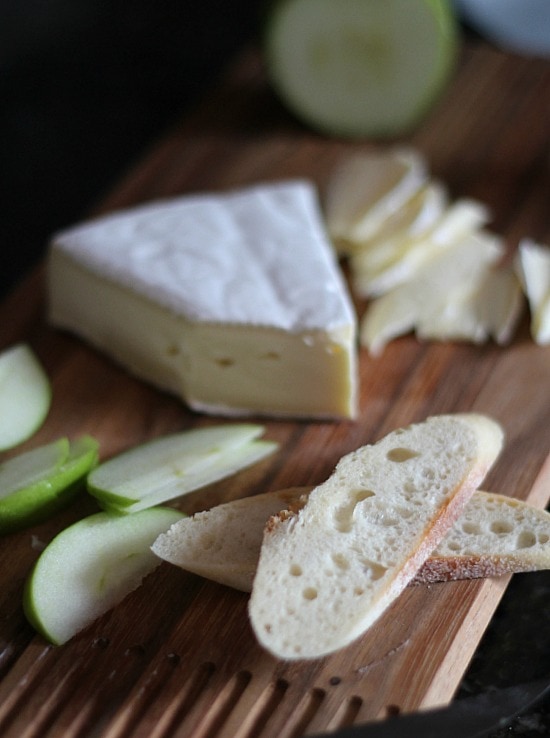 Slice your baguette on the diagonal, slice you apples fairly thin, and slice your cheese…
Annnd here's where I prove how very unsophisticated I am…
I had no idea if I should eat the rind of the Brie.
I asked my old pal Google and he said, yes, indeed, you can (and should) eat the rind. That it is actually the best part. So I tried it. And proving how again how un-fancy I am, I hated it and cut it off. Sorry, cheese people. Cheese rinds and me don't jive.
I like to butter my bread before I fry the grilled cheese, rather than melt the butter in the pan. It's just me being a control freak about how evenly each bread gets buttered.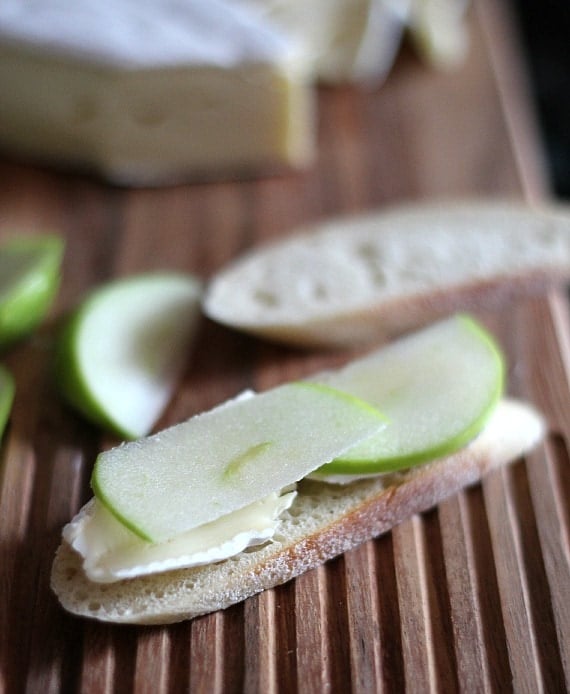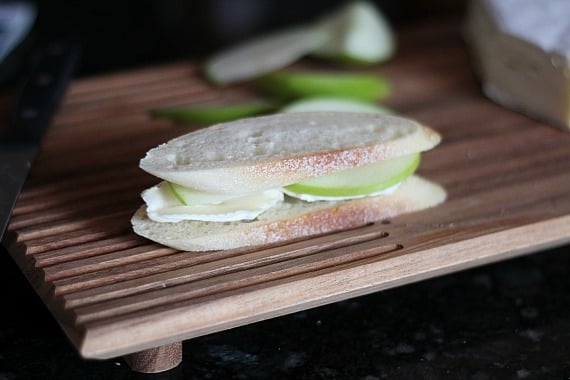 So I buttered my bread, and then assembled my sandwiches using 2 slices of cheese and 2 slices of apple…

Top it with your other slice…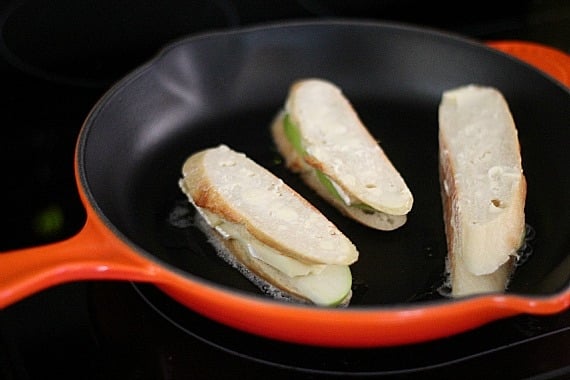 Preheat your skillet to medium and place each sandwich in your skillet…
Lightly toast each sandwich on each side, gently pressing the sandwich down so the cheese melts everything together.
You can also cover the skillet with a lid to help melt the cheese.
Flip the sandwich and press down lightly until both sides are browned.
That's it!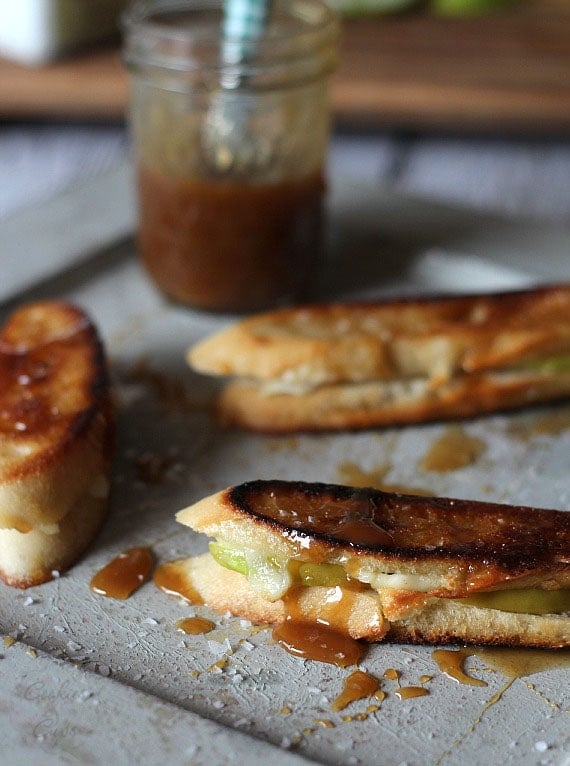 And like I said…caramel sauce. And if you're feeling extra EXTRA, sprinkle a little sea salt on there.
Perfect.

Print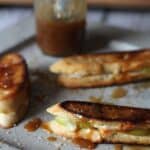 Brie and Apple Grilled Cheese
---
Baguette, sliced on the diagonal
Brie, sliced thinly
Granny Smith Apple, sliced thinly
butter
*optional ~ caramel sauce for drizzle or dunking
*optional ~ sea salt for sprinkling
---
Instructions
Butter one side of each of the bread slices.
Heat skillet to medium.
Assemble sandwiches, with 2 slices of cheese and 2 slices of apple on each.
Place them in the skillet for approx 4 minutes on each side, until browned. You can also cover the skillet to help the cheese melt. Press down lightly with spatula to help sandwich stay together.
If you notice the bread browning too fast, lower temperature.
Flip sandwich and cook on both sides.
Serve immediately with caramel sauce.
---
Want To Save This Recipe?
Find more recipes like this: