These Brown Sugar Pancakes are the best homemade pancakes ever! Made with simple ingredients, this easy pancake recipe makes soft, fluffy pancakes that cook perfectly every time.
Fluffy Brown Sugar Pancakes
If I could eat breakfast food all day long I absolutely would! And pancakes top my list of favorite breakfast foods! Today I'm sharing the only from scratch pancake recipe you will ever need, and I couldn't be more excited about it!
Why From Scratch is the Way to Go!
There once was a time when making homemade pancakes from scratch scared me. I mean I wasn't scared OF pancakes…but I was scared to MAKE them. It wasn't some overly dramatic phobia…it was just that…well…every time I tried I epically failed.
Dang pancakes, with all their simplicity…I just couldn't get the hang of it! I either uncooked and flipped too early, resulting in splattered batter errwherrr. OR I overcooked, burned and tried to disguise said burn with an unhealthy waterfall of maple syrup, fooling no one. Homemade pancakes were just one of those foods that I just preferred to leave up to the profesh staff at my local ihop. or is it iHop? APPLE YOU'RE RUINING MY LIFE!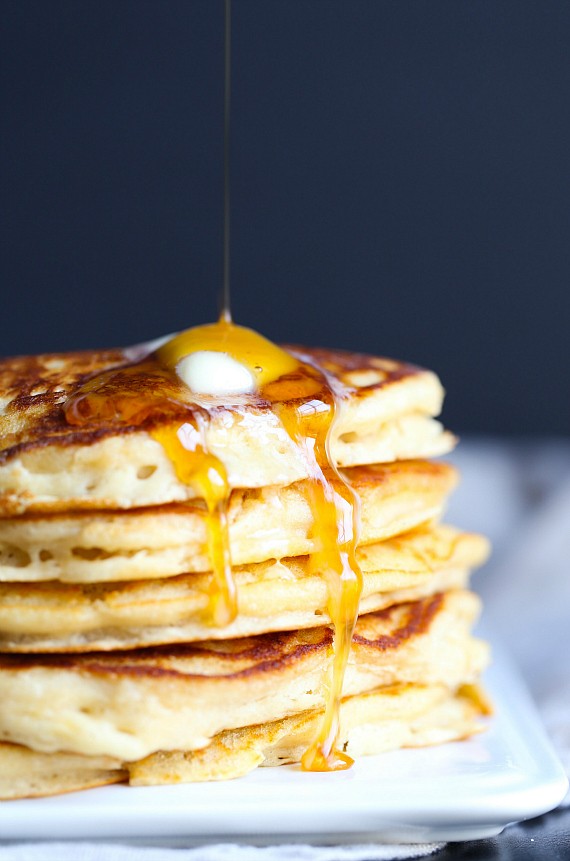 Anywhooooo. Since I am not a quitter…except when it comes to diet and exercise…I grabbed a fun spatula and got back on the horse. Also, let's just say that buying a fun spatula sometimes is all the incentive one needs. That and the promise of sugary carbs at the finish line.
ps- I know that's "supposedly" an Omelet spatula, but let's all move on.
This easy pancake recipe is a game changer, and I am confident to say this pancake recipe will be part of your Saturday morning routine!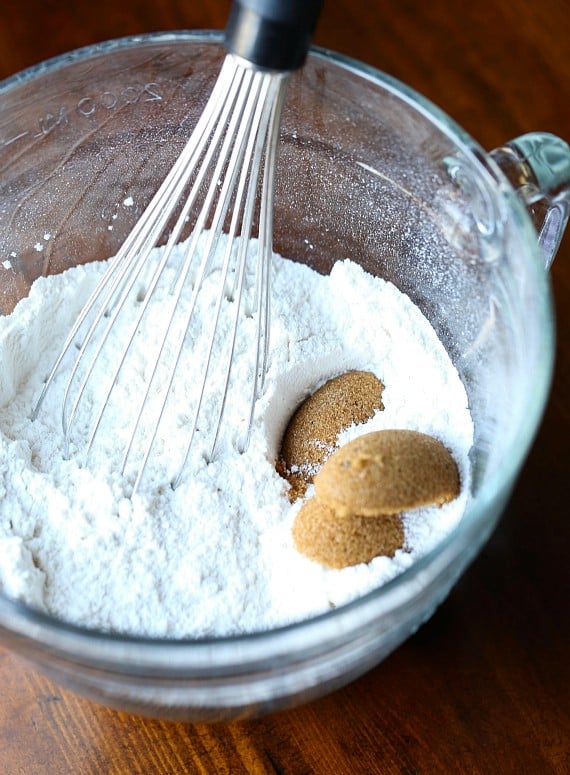 What You'll Need
I wasn't kidding when I said these homemade pancakes just needed a handful of simple ingredients. Here's what you'll need:
All Purpose Flour – Any brand will do.
Baking Powder – This is what will help make your pancakes fluffy.
Kosher Salt – I like to use kosher salt for these. It is too easy to over salt if you use table salt.
Dark Brown Sugar – You can also use light brown sugar if that is what you have on hand.
Eggs
Vanilla – Use pure vanilla extract.
Milk – Any kind will work. Full fat, low fat, non fat and plant based milks are all great in pancakes.
Butter – You'll need melted butter for the pancake batter, the more butter for frying.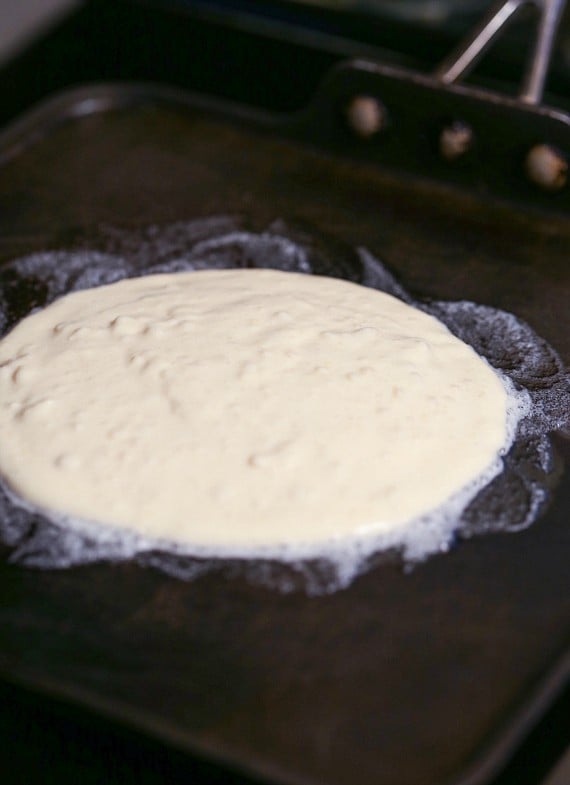 How to Make Brown Sugar Pancakes
Ok let's jump into making these pancakes:
Mix your dry ingredients. In a large bowl whisk together the flour, baking powder, salt and brown sugar.
Mix the wet ingredients. In a separate bowl, whisk together the eggs, vanilla and milk.
Add the wet ingredients to the dry ingredients. Mix until just combined.
Add the melted butter. Stir until combined. The batter will be a little lumpy but that's ok. Set it aside and heat your griddle over medium-low heat.
Cook the pancakes. Melt a small pat of butter on your heated griddle, then scoop 1/2 cup of pancake batter onto the hot griddle. Cook until the edges are set and bubbles form on the top of the pancake. Flip the pancake and cook the other side until browned.
Serve!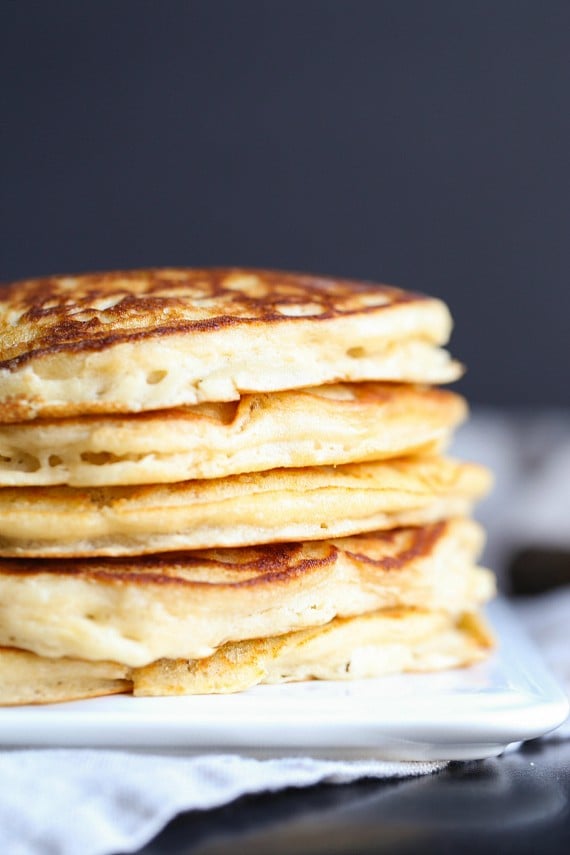 Tips for Success
Not only have I mastered the pancake…I am inclined to say I am victorious in the pancake game. Let's talk about why my brown sugar pancake recipe is the best pancake recipe!
Using brown sugar makes the whole situation a little more pulled together. Like all along the pancake was just crying for brown sugar and no one listened. They don't necessary taste like brown sugar, there is just an added depth of flavor that sets this pancake recipe apart!
When you are cooking your pancakes, the key to to cook them low and slow. Actually medium-low and slow-ish. When you have your heat on too high the pancake brown without cooking all the way through, making flipping your pancake a messy situation.
Want to Make Fluffy Pancakes EVERY Time?
Here's the secret to success: Butter. Doesn't butter always make things better?
If you are going to make the BEST pancakes, I strongly encourage that you cook the pancakes on a griddle that has been greased with butter. Certainly there is nothing wrong with nonstick spray, or oil, but the butter just adds that extra delicious crisp on the outside of your pancake.
Also, this brown sugar pancakes recipe includes baking powder, which really keeps these pancakes light, fluffy, and thick!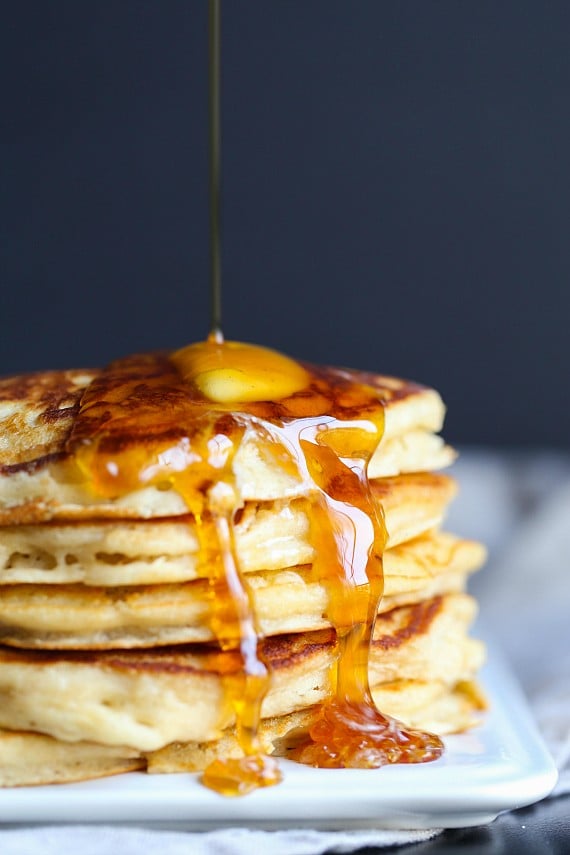 Serving Suggestions
When you are done making your pancakes, you will have is a gorgeous stack of brown sugary goodness. I suggest topping them with a little extra butter…yes, more butter.
And a healthy drizzle of real maple syrup, of course!
Or an unhealthy drizzle. No judgy.
More Breakfast Ideas
Print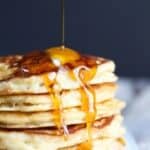 Brown Sugar Pancakes
Author:

Prep Time:

5 minutes

Cook Time:

8 minutes

Total Time:

13 minutes

Yield:

makes about

10

pancakes

1

x

Category:

Pancakes

Method:

Skillet

Cuisine:

Breakfast
---
Description
These Brown Sugar Pancakes are easy, fluffy, and thick! They're the BEST!
---
2 cups

all purpose flour

2 tablespoons

baking powder

1 teaspoon

kosher salt

3 tablespoons

dark brown sugar

2

eggs

1 teaspoon

vanilla

1 1/2 cups

milk

5 tablespoons

butter, melted
butter for frying
---
Instructions
In a large bowl whisk the flour, baking powder, salt and brown sugar together.
In separate bowl whisk the eggs, vanilla and milk together.
Add the wet ingredients into the dry and mix until just combined. Lastly mix in the melted butter and stir until combined, the batter will be slightly lumpy. Set the batter aside while you heat your griddle to medium-low heat. Melt a small pat of butter on the griddle and then scoop out 1/2 cup of pancake batter onto the hot griddle.
Cook until the edges are set and bubbles form on top of the pancake. Flip and cook until browned.
Serve warm.
---
Nutrition
Serving Size:

2 pancakes

Calories:

377

Sugar:

9.3 g

Sodium:

543.6 mg

Fat:

14 g

Carbohydrates:

55.2 g

Protein:

10.3 g

Cholesterol:

106.4 mg
Keywords: best pancakes, brown sugar pancakes, fluffy pancake recipe, homemade pancakes
Want To Save This Recipe?
Find more recipes like this: