These Fluffy Japanese Pancakes are an easy breakfast idea your entire family is going to love! These thick, soft soufflé pancakes are a fun twist on a classic. I'm showing you all my tips and tricks on how to make them!
Looking for a more classic pancake recipe? Make sure to try my Buttermilk Pancakes or my delicious Brown Sugar Pancakes!
What ARE Japanese Soufflé Pancakes?
Let's start with the obvious question…what are Japanese Pancakes anyway? I first saw these tall, puffy pancakes on Instagram a few years back. Sometimes called Soufflé Pancakes, they are a fun breakfast idea that made its way into the social media world for being so dang photogenic.
Essentially Japanese Pancakes / Soufflé Pancakes are thick, fluffy pancakes. They are almost soufflé-like in consistency thanks to folding egg whites into a batter that is cooked in a round mold.
Japanese pancakes taste like a delicious buttermilk pancake, but not as dense. AND they sure do get an A++ in the looks department. Top them with butter and a healthy drizzle of syrup and you will be the hero of your breakfast.
I don't claim to be an expert in Japanese cuisine, but after doing some research and lots of trial and error I think I can say I make a pretty mean Japanese pancake! Or at least the Americanized version!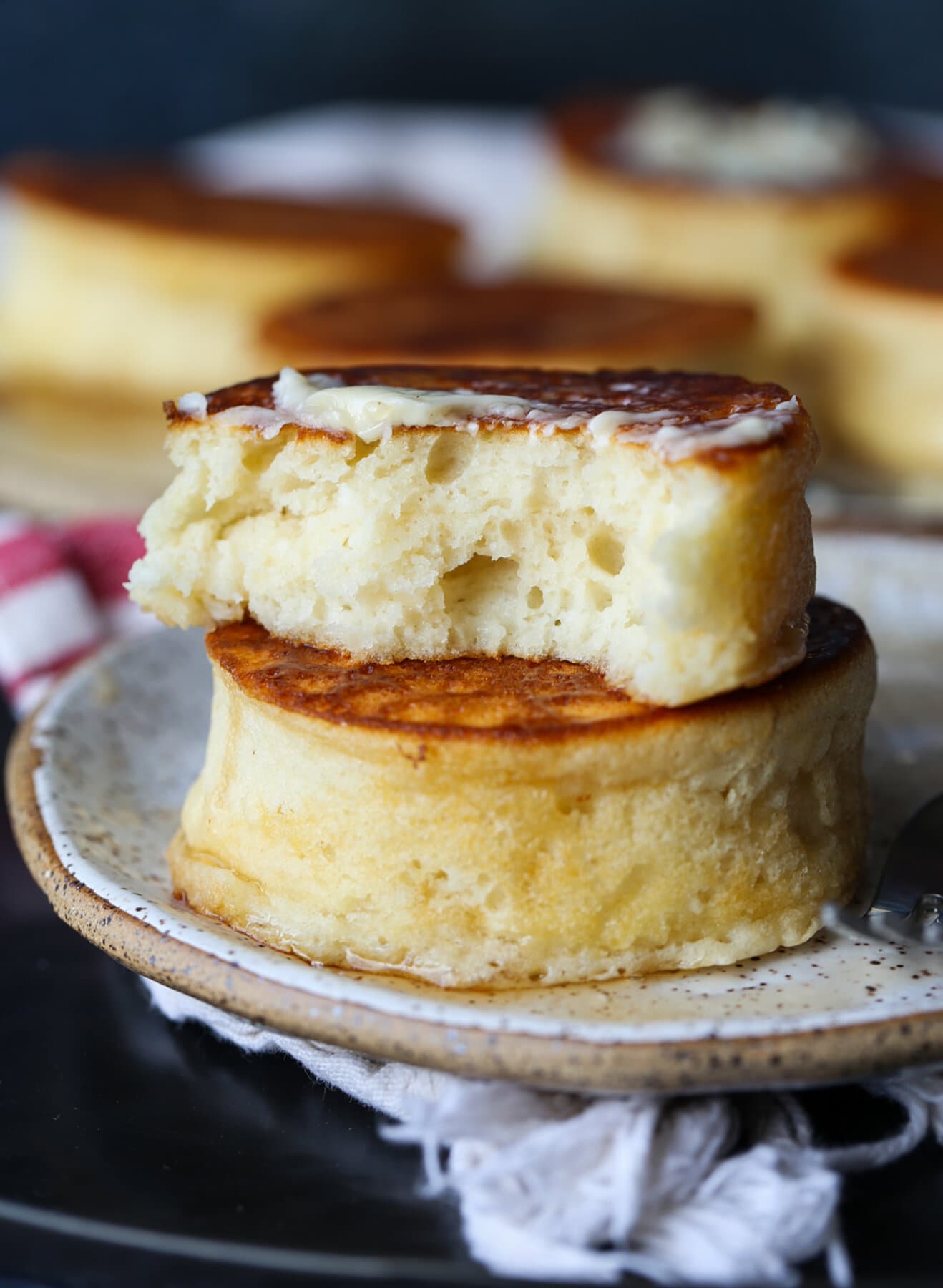 Fluffy Japanese Pancakes Ingredients
The great thing about this Japanese pancake recipe is that you won't need to hit up a specialty food store or an Asian market. The ingredients are pretty much the same as any other buttermilk pancake recipe!
Buttermilk. The acid in buttermilk works with the baking powder in giving you the fluffiest texture possible!
Eggs. You will need 3 egg whites whipped to stiff peaks and 1 yolk. I know this leaves you with 2 extra yolks, but I couldn't find a way around this and garner the same results.
Dry Ingredients: Baking powder, kosher salt, and all purpose flour
Vegetable oil. You can also use canola oil or any light, flavorless oil in this recipe.
Powdered sugar. You use powdered sugar instead or granulated sugar in these pancakes because you need a light and silky texture.
Vanilla Extract. Pure vanilla extract imparts flavor. You could use vanilla beans as well.
But What Special Tools Do You Need?
While the ingredients are pretty standard you DO need molds. That's what gives the Japanese Pancakes their distinct height and shape! I purchased my molds on Amazon and if you're interested THESE are the ones I bought.
How To Make Japanese Soufflé Pancakes
Now for the fun part. I will say these took me a few tries to get right. Once I was sure I had the recipe right, I played around with the cooking technique until I figured out a way (in my opinion) that was easiest!
Make the batter according to the recipe instructions listed in full below in the printable recipe card. Make sure you've whipped your egg whites to stiff peaks before folding them into the batter to ensure the right texture and height of your pancakes!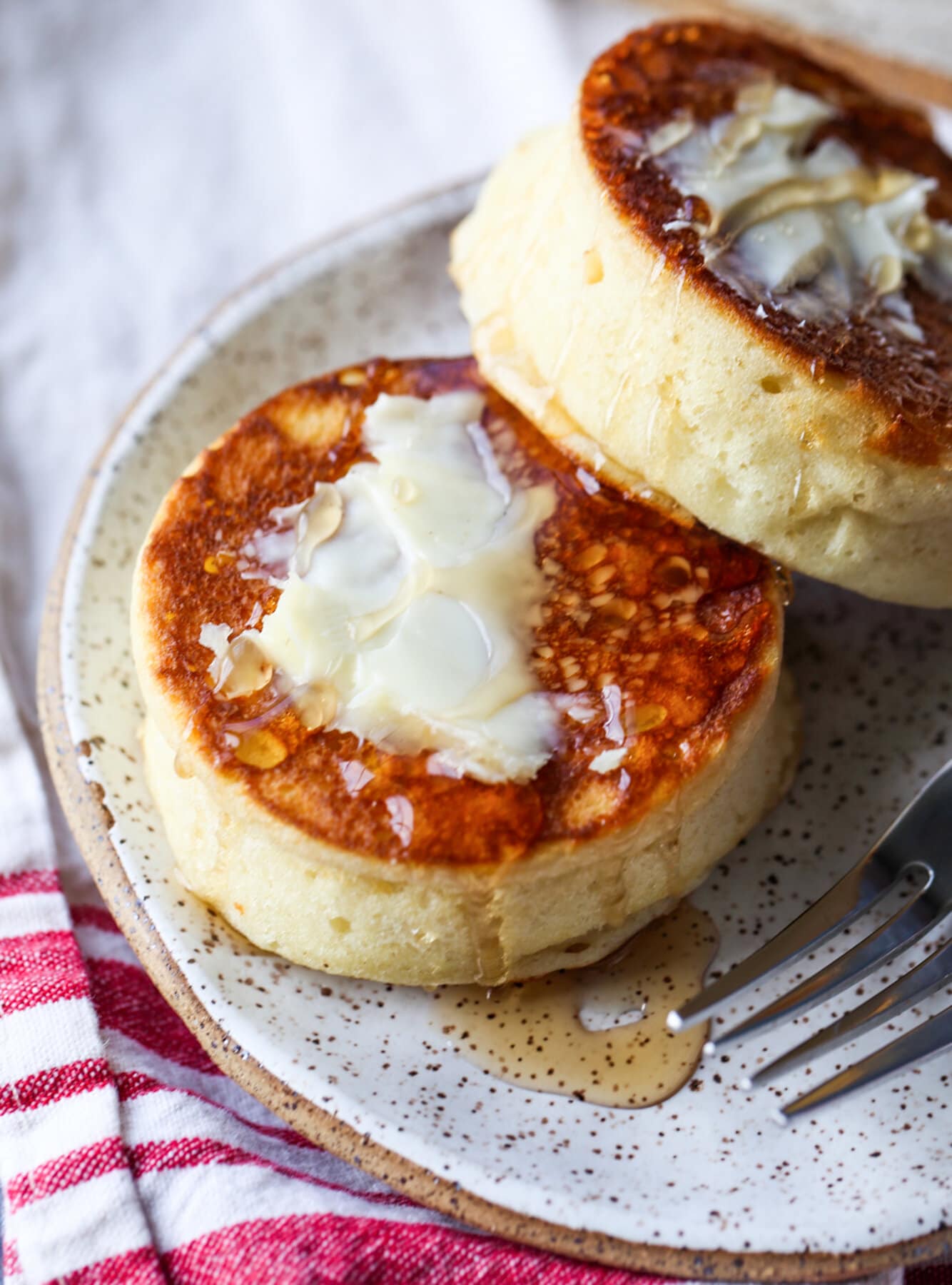 Learn From My Mistakes:
Heat your skillet over low heat. Place your molds into the skillet. TIP: The first one you make, make it ALONE in the pan so you get the hang of the process. NOTE – Cooking these pancakes on LOW heat is paramount to success. If you increase the heat you will easily burn the bottoms leaving the insides raw. So be patient! The first pancake might take a little extra time if you don't allow it to preheat fully, just just make note of that!
Once the molds are placed evenly into the skillet, coat the skillet and the insides of the molds with nonstick spray. You see, you cook the pancakes in the molds, but you're supposed to flip the molds so the pancakes cook on both sides…which left me with kind of a mess. My molds are fairly tall, so the batter always spilled out. So let me walk you through the steps that I believe are the easiest.
Fill each mold with 1/3- cup of the batter. You can use a large cookie scoop or a measuring cup for this.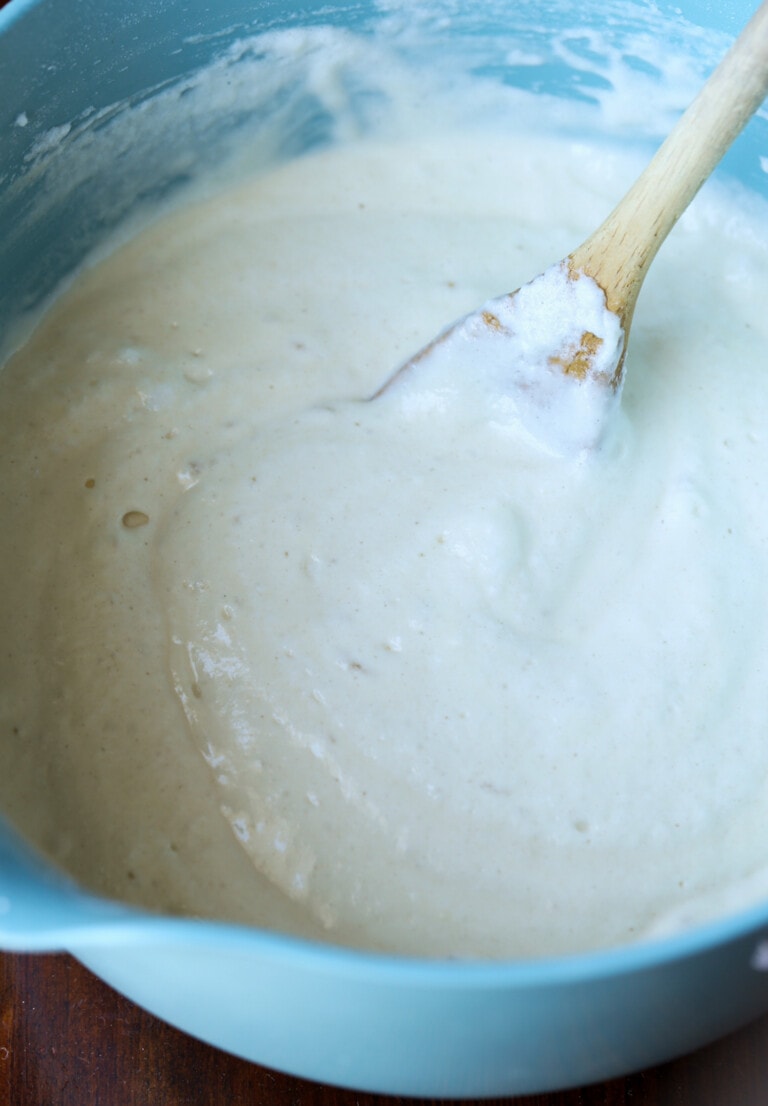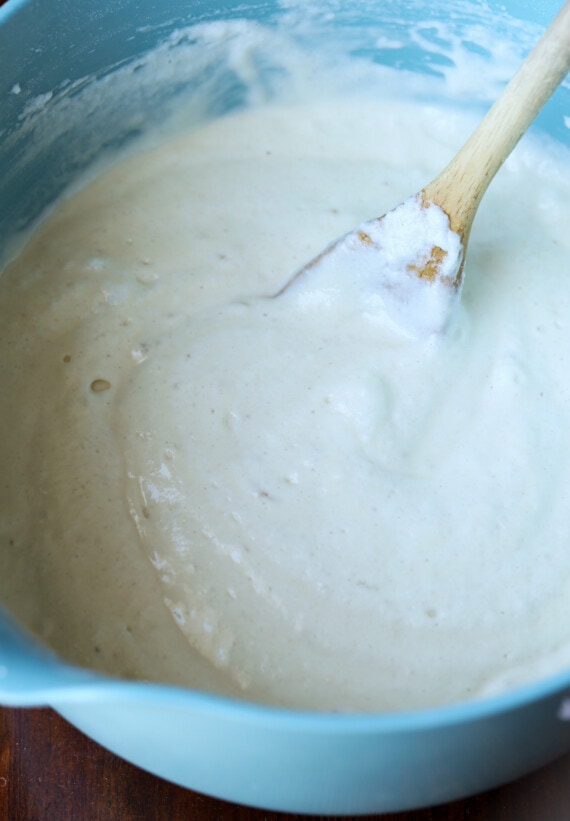 Place the lid onto the pan and allow the pancakes to cook in the molds for 6-7 minutes on LOW heat, OR until the bottoms are golden and the sides are set. It is important that the sides are set because in my method you will remove the molds from the pancakes instead of flipping the entire mold over. Once the sides set up you can gently remove the molds, using tongs, and the pancakes will hold their shape! This way you can gently flip them over using a spatula.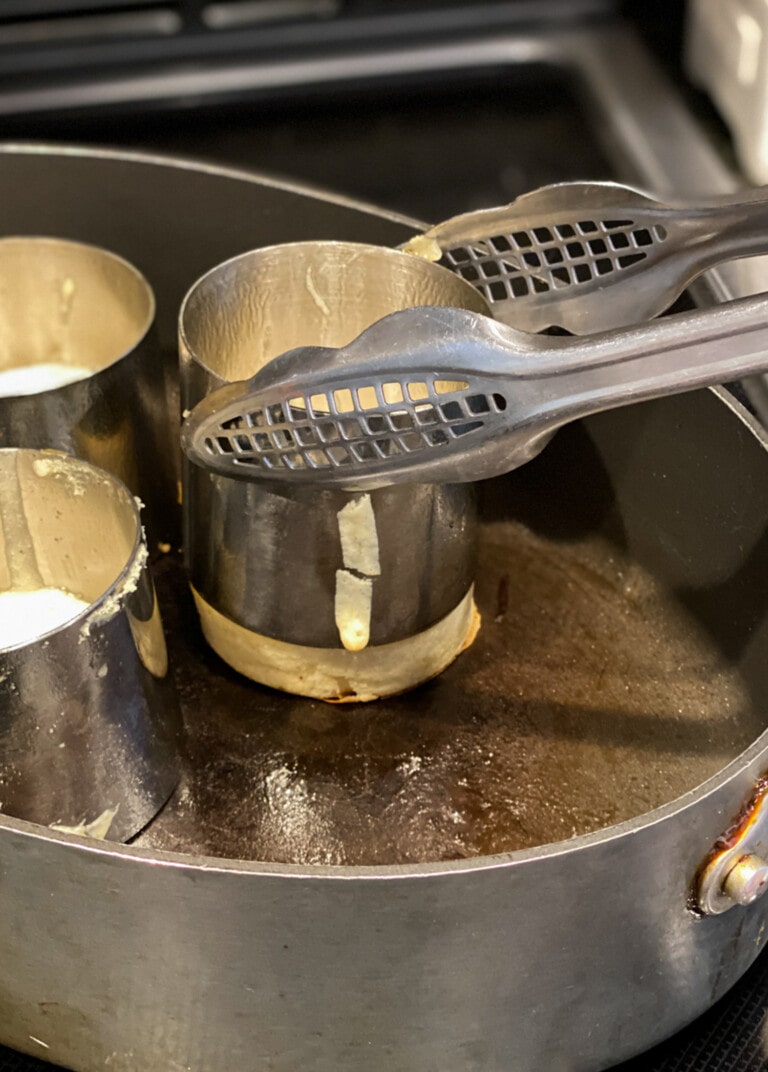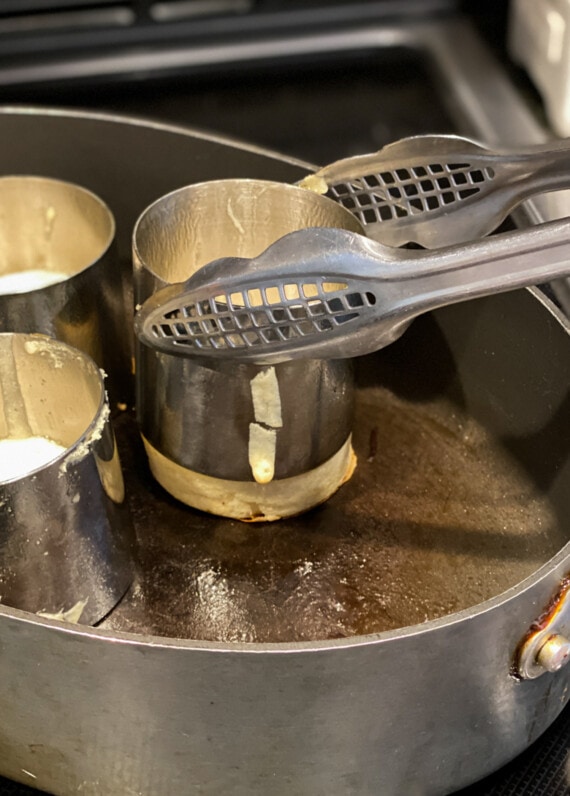 Once you've flipped the pancakes, return the lid to the pan and cook for an additional 3-4 minutes, or until they are set and the bottom side is golden as well.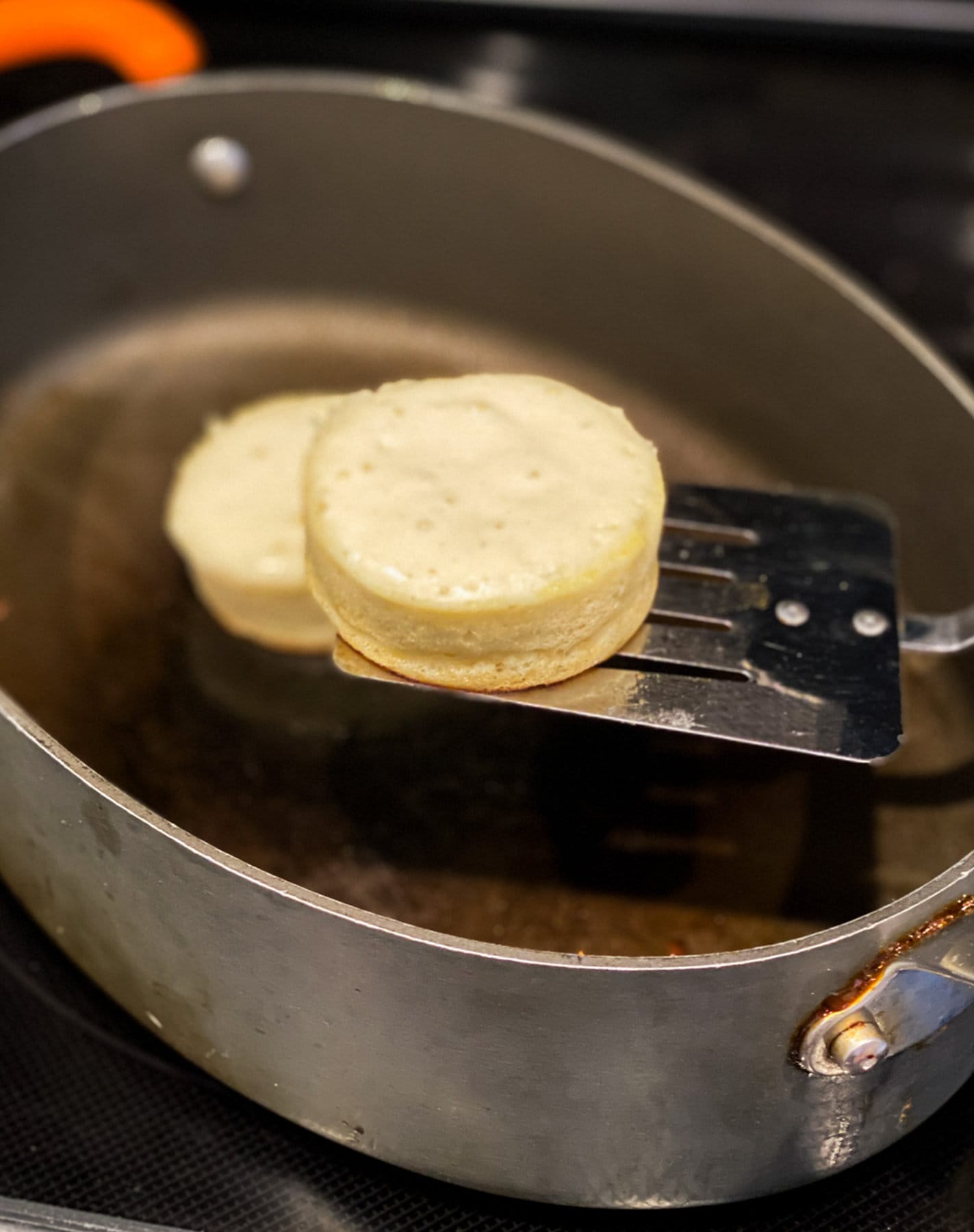 Why My Technique WORKS
In every other recipe I researched, you would cook the pancakes equally on both sides, and use tongs to flip the entire mold over halfway through the cooking process.
I tried this time and time again and the batter spilled out because it was not set on top or on the sides, and when I flipped it, it leaked everywhere. Trust me, the frustration was REAL!
What I learned was allowing them to cook LONGER before flipping, like a traditional pancake, allows it to set, so flipping is much easier and there is no loose batter. You can certainly keep it in the mold if you like, but once it's set it's much easier to ditch the mold and flip it using a spatula.
Can You Make Soufflé Pancakes Different Sizes?
Sure! Japanese Pancakes can be all different sizes or thickness. I have written this recipe cooking 1/3 cup of batter in 3- inch round molds. The height of the mold doesn't make a HUGE difference, as long as it's deep enough for 1/3 cup of the batter. FYI – My molds are 2.75- inches deep, which is more than deep enough.
You will need to adjust the cook time on these if you choose to make larger, or thicker pancakes. But remember ALWAYS cook on LOW!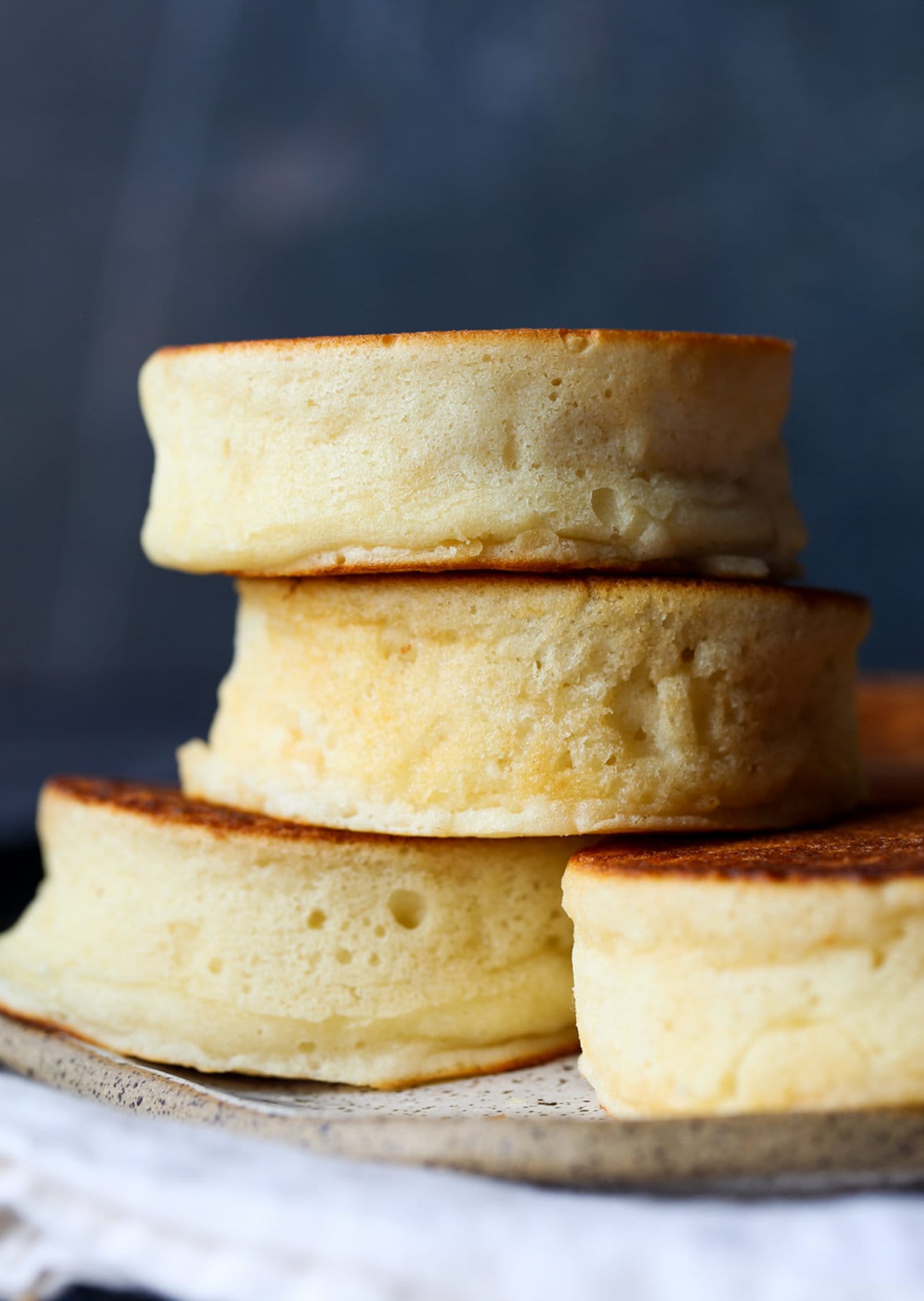 How To Serve Japanese Pancakes
Well, this is totally up to you and your taste preference, but long story short, serve these exactly like you would a regular pancake! We love simply topping them with butter and syrup! But here are a few more delicious ideas:
Dust them with powdered sugar.
Serve with fresh berries.
Nutella would be delicious spread of drizzled onto these!
Honey would be amazing…or honey butter!
Dolloped with whipped cream.
How To Reheat Japanese Pancakes
If you are cooking for a crowd the best method would be to turn your oven to 200°F, and place the pancakes on a large baking sheet in the warm oven as they are done, so they'll all still be warm when you're ready to serve!
If you have leftovers you can store them at room temperature for up to 2 days and just pop them into the microwave for a few seconds to warm them up.
You can also freeze these for up to a month in an airtight container. Allow them to thaw at room temperature and place in a preheated 350°F oven for 3-4 minutes!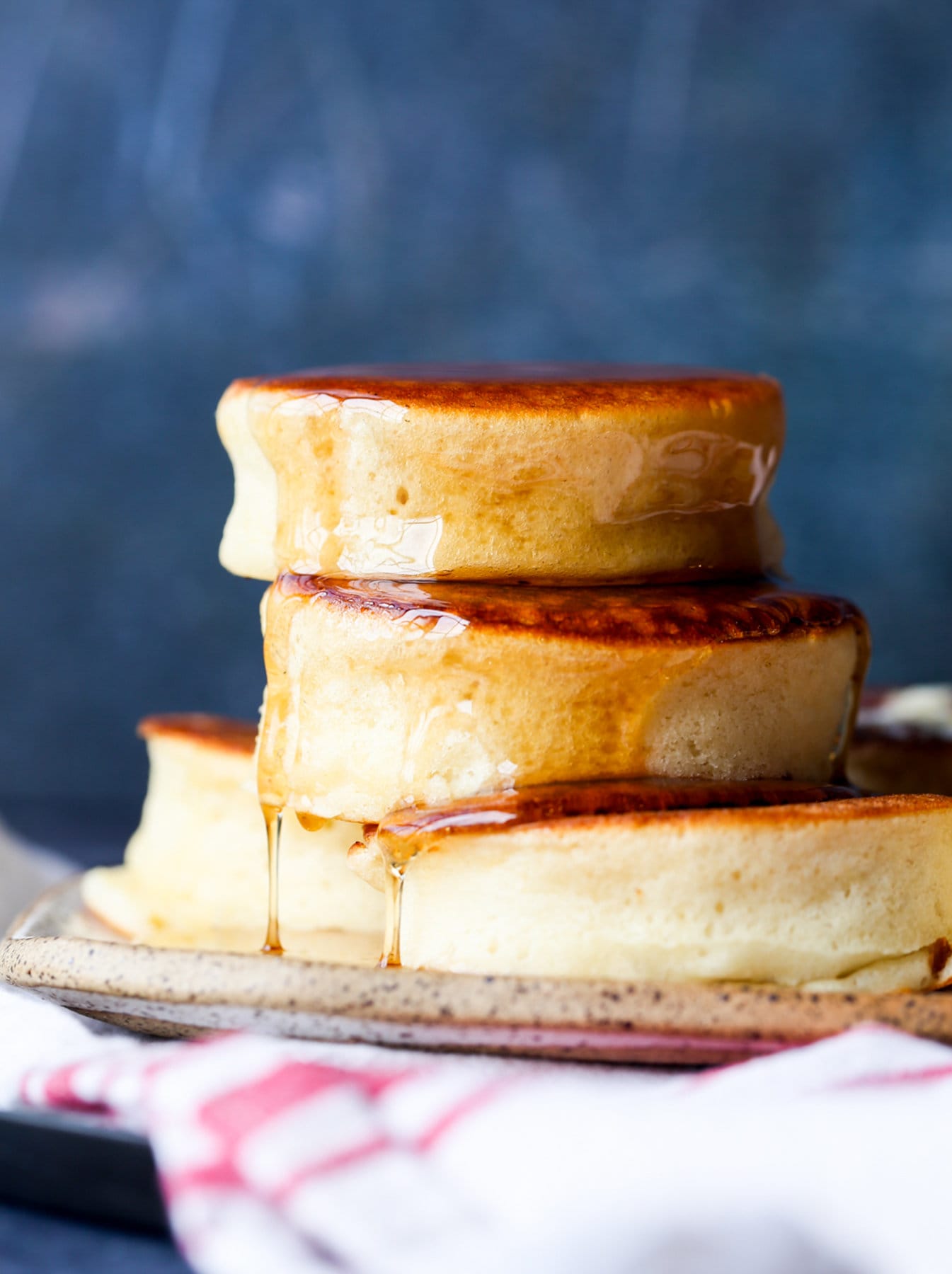 Shop This Post:
Other than the molds, you just need a nonstick skillet with a lid, tongs, and a spatula! I've linked all my tools in the shoppable image below…
Looking For More Pancake Recipes? Try These:
Print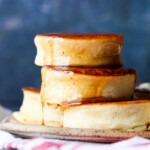 Japanese Soufflé Pancakes
Author:

Prep Time:

10 minutes

Cook Time:

10 minutes

Total Time:

20 minutes

Yield:

10

pancakes

1

x

Category:

Pancakes

Method:

Stove Top

Cuisine:

Breakfast
---
Description
These extra tall, fluffy pancakes are easy to make and will be the hit of your next weekend breakfast!
---
3

egg whites, plus 1 egg yolk

1 1/4 cups

buttermilk

1/4 cup

vegetable oil

1 teaspoon

vanilla extract

1 1/2 cups

all purpose flour

1/2 cup

powdered sugar

2 teaspoons

baking powder

1/4 teaspoon

kosher salt
---
Instructions
Place 3 egg whites in a large glass bowl. Using a hand mixer, beat the egg whites on medium-high speed until stiff peaks form. Set aside.
In a small bowl, whisk together the egg yolk, buttermilk, vegetable oil, and vanilla.
In another large bowl whisk together the flour, powdered sugar, baking powder, and salt until combined.
Pour the buttermilk mixture into the flour mixture and whisk until smooth.
Using a rubber spatula, fold in the egg whites until combined.
Heat a large skillet (with a lid) over low heat. Place two – four, 3- inch round molds into the skillet. Coat the bottom of the pan and the insides of the molds with nonstick spray. Fill each mold with 1/3 cup of pancake batter. Place the lid onto the skillet and cook for 5-6 minutes, until the bottoms are golden brown and the sides have set.
Using tongs, carefully lift the molds up, removing them from the pancakes. If you notice the sides are releasing, you can run a butter knife carefully around the edges, OR cook them for 1-2 more minutes until the edges have set.
Once the molds are removed, carefully flip the pancakes over using a spatula.
Cover and cook for an additional 3-4 minutes.
---
Notes
NOTE: The first batch might take longer to cook, as the pan isn't quite as hot.
When the pancakes are golden on both sides transfer the pancakes to a platter and repeat with all the batter. You will need to spray the pan and the molds with every batch.
Serve warm with butter and syrup, or a dusting of powdered sugar.
Nutrition
Serving Size:

2 pancakes

Calories:

343

Sugar:

15.1 g

Sodium:

221.4 mg

Fat:

14.3 g

Carbohydrates:

45.7 g

Protein:

8.5 g

Cholesterol:

43.9 mg
Keywords: cookies and cups, pancakes, japanese pancakes, pancake recipe, souffle pancake, fluffy pancakes, how to make japanese pancakes
Want To Save This Recipe?
Find more recipes like this:
PIN for later: