These Churro Cheesecakes are perfect because they are Mini!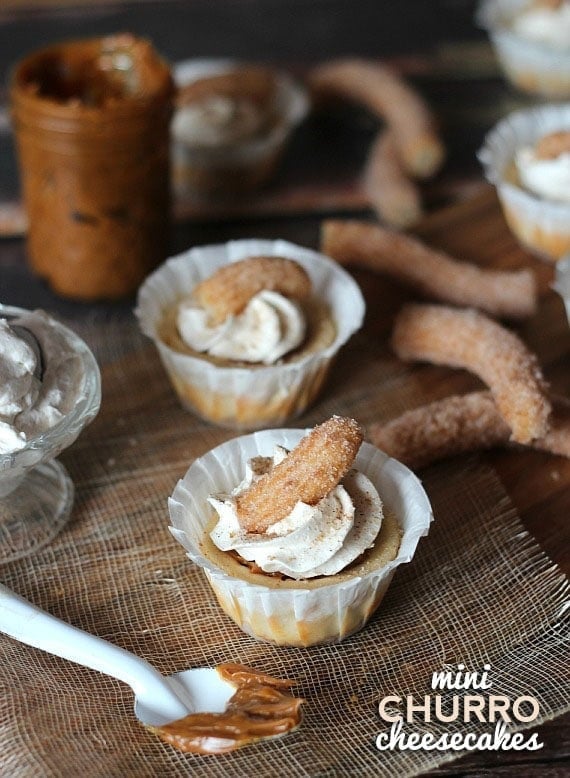 I am major excited about today's post.
Because one, there is cheesecake involved.
And Philadelphia Cream Cheese, which is like, duh, the best.
Annnnnd also Churros.
I know I have said this here before, but cheesecake is my favorite food group. I'm talking last meal favorite…stranded on a desert island with one food favorite.
So when I was approached by PHILADELPHIA Cream Cheese to take part in their "Bring Out the Silver Program" it took me all of .3 seconds to say yes.
PHILADELPHIA Cream Cheese has been making America's favorite cream cheese since 1872, largely due to it's high standards and commitment to developing delicious, quality products made with fresh milk and cream.
Bring Out the Silver" is a virtual recipe swap with some fun other bloggers, all sharing their best mini cheesecake recipes.
You guys all know the mini cheesecakes, right? They've been around for ages because they are simple, delicious and perfect for entertaining and PHILADELPHIA sets the standard.
I especially love them because they are so easily adaptable!
PHILADELPHIA sets itself apart from the rest by using fresh local milk and no preservatives in the cream cheese brick varieties…they source the milk from dairy farmers local to where the cream cheese is made. This means that the milk is made into cream cheese and refrigerated at PHILADELPHIA creameries in just SIX days! So cool. And there are some fun flavors available too from jalapenos to pecans, and PHILADELPHIA uses all real ingredients.
In other words, they have four fundamental standards that they live up to every time…Fresh and Local, Farm to Fridge in Six Days, Limited Use of Preservatives, and Real Ingredients!
So what we're doing is "Bringing Out the Silver" and putting a new spin on the mini cheesecake…just in time for Easter!
My husband loves cinnamon sugar things, so when I decided on these Mini Churro Cheesecakes I had that in mind.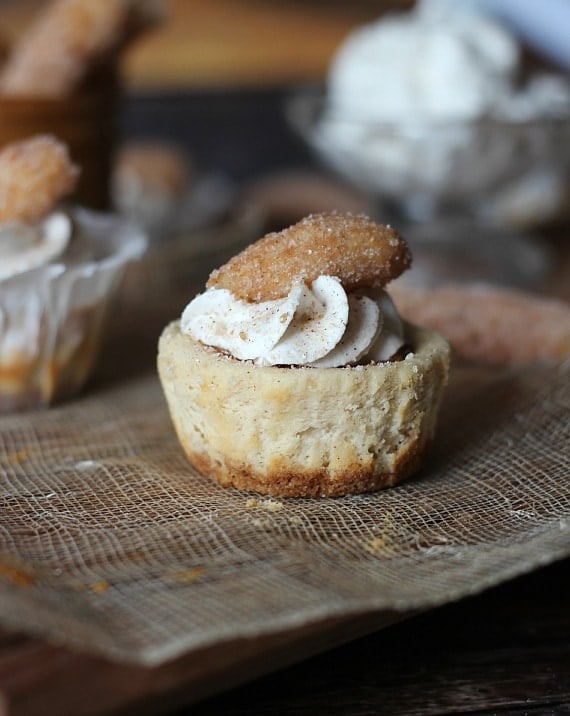 So let's get started…
First make your crust and press it into the bottoms of cupcake liners.
I used Cinnamon Graham Crackers in mine…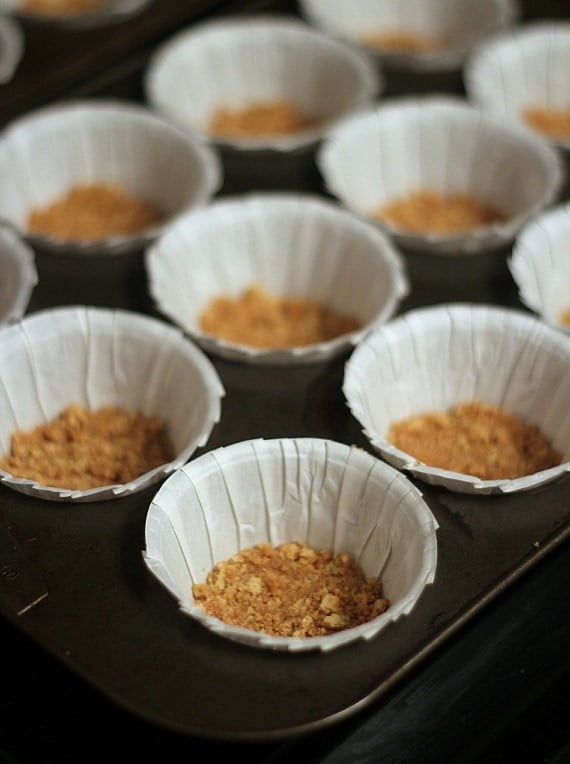 Next up mix your PHILADELPHIA Cream Cheese, along with some sugar, cinnamon, eggs and vanilla. Be sure to set out your cream cheese at least 10 minutes earlier, so it can come up to room temperature.
Top each crust with your cheesecake filling. Also, don't over-beat your filling…that can add too much air into the batter, which will cause it to crack.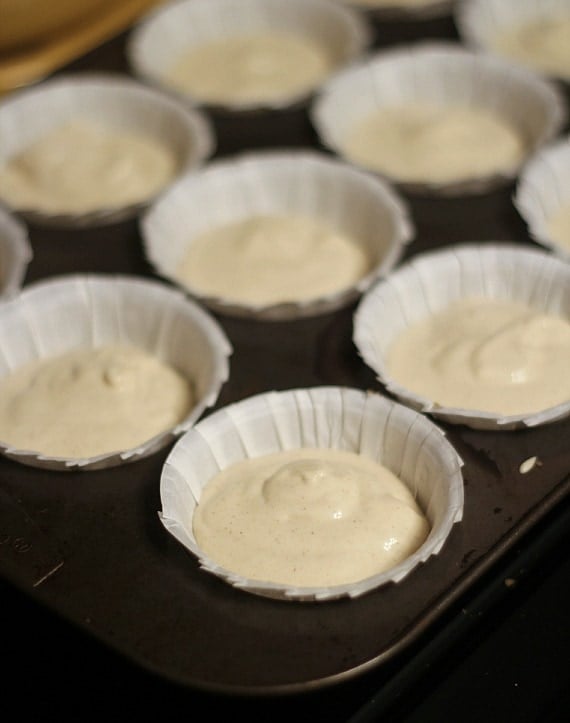 Bake these guys for 25-30 minutes in the oven.
If they do happen to crack a bit don't worry, honestly, you're gonna be covering the tops up with some more yummy stuff.
When they come out of the oven, let them cool, then chill them for at least 2 hours…or even over night.
That's the beauty of these sweet desserts, you can make them in advance, so you're not stressing the day you need them.
When they're chilled top each with about a teaspoon of dulce de leche or caramel topping…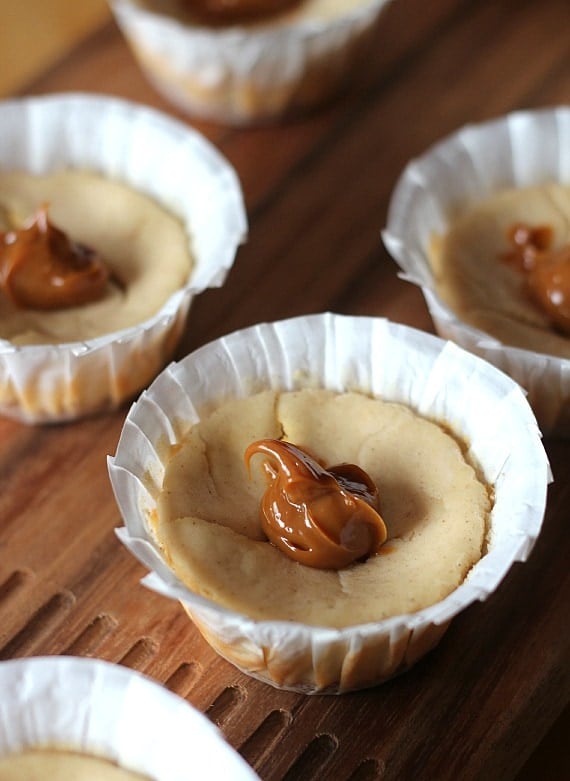 Spread that evenly on top…then top that with some cinnamon whipped cream and cinnamon sugar. It keeps getting better, doesn't it?
Then finally place a piece of a Churro in the whipped cream for garnish.
Churros are basically cinnamon sugar doughnut sticks. I made my own for this recipe, but you could easily buy them at the store. They sell them in the frozen section of most supermarkets.
(I used THIS CHURRO RECIPE)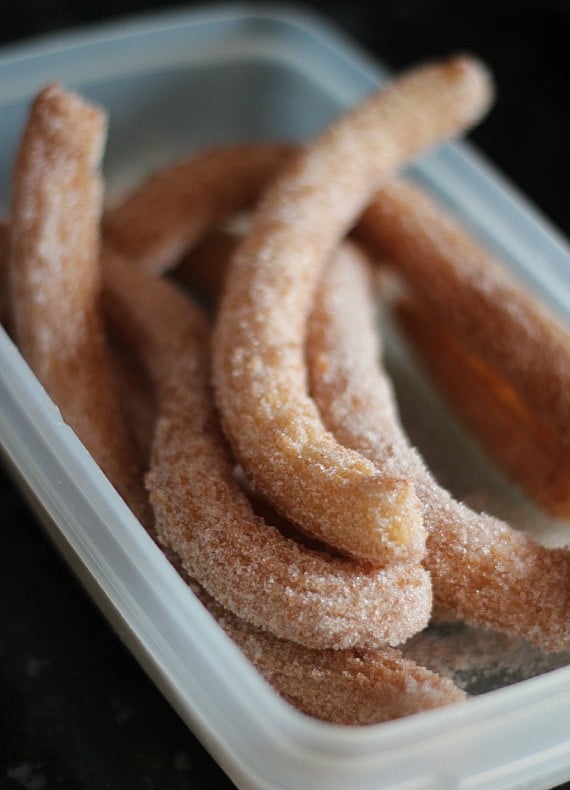 Just use a small piece of Churro on each cheesecake to cute it up.
Honestly, these are amazing.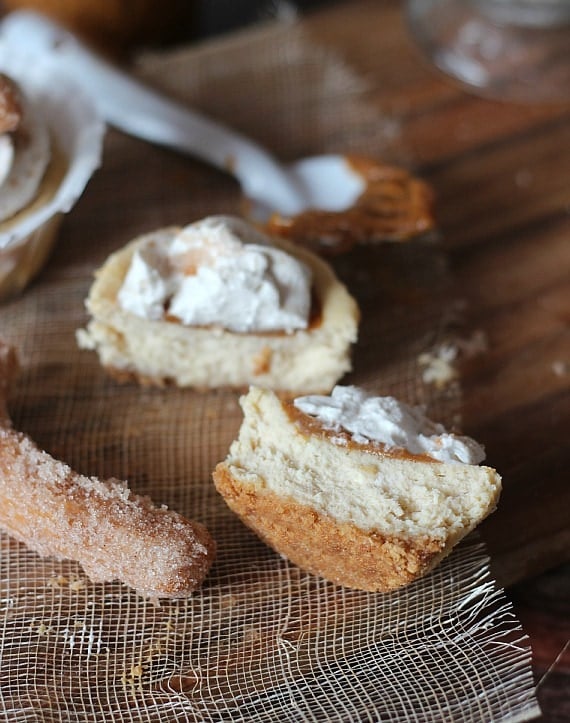 So now for the fun part…
Hop on over to these other sites to check out their fun spin on Mini Cheesecakes…I can't wait to see what they all came up with!
You can also check out CreamCheese.com for more recipes using PHILADELPHIA Cream Cheese!
Now how do YOU use Cream Cheese in your baking?
Print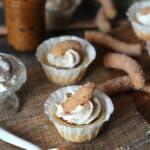 Mini Churro Cheesecakes
---
---
Crust
1 cup

Cinnamon Graham Cracker Crumbs

3 Tbsp

butter, melted

2 Tbsp

granulated sugar

1/4 tsp

salt
Cheesecake
3

(8oz) packages Philadelphia Cream Cheese, room temperature

3/4 cup

granulated sugar

2 tsp

vanilla

1 tsp

cinnamon

3

eggs
Topping
1/2 cup

dulce de leche or caramel ice cream topping

1/2 cups

heavy whipping cream

1/8 cup

granulated sugar

1 tsp

cinnamon

1/2 tsp

vanilla
Churro pieces, store bought or homemade
Cinnamon sugar (1/4 cup granulated sugar + 1 tsp cinnamon)
---
Instructions
Preheat oven to 325°
Line muffin pans with liners.
Crust
Mix graham cracker crumbs, melted butter, 2 Tbsp sugar and salt together in a medium sized bowl. Press approx 2 Tbsp graham cracker mix into each liner.
Cheesecake
In mixing bowl beat cream cheese, 3/4 cup sugar, vanilla and cinnamon until smooth and blended. Add eggs one at a time, mixing after each until just blended.
Top each crust with about 1/4 cup of the cheesecake filling.
Bake for 25-30 minutes. Cool completely and refrigerate for at least 2 hours.
Topping
When the cheesecakes are chilled spread each with a teaspoon of dulce de leche or caramel.
In a mixing bowl combine whipping cream, 1/8 cup granulated sugar, 1 tsp cinnamon and 1/2 tsp vanilla. Beat with whisk attachment on high speed until stiff peaks form.
Spread or pipe whipped cream on top of dulce de leche.
Sprinkle whipped cream with cinnamon sugar and top with a churro piece.
---
Notes
If you can't find Cinnamon Graham Crackers, you can substitute regular graham crackers and add in 1/2 tsp cinnamon into the crumb mixture.
You can use store bought Churros (found in the frozen food section) or you can make your own from scratch. I used this recipe from Allrecipes
Want To Save This Recipe?
Find more recipes like this:
"I have been selected by Kraft Foods to be an ambassador for PHILADELPHIA cream cheese. While I have been compensated for my time, my opinions are my own, and I have not been paid to post positive comments."