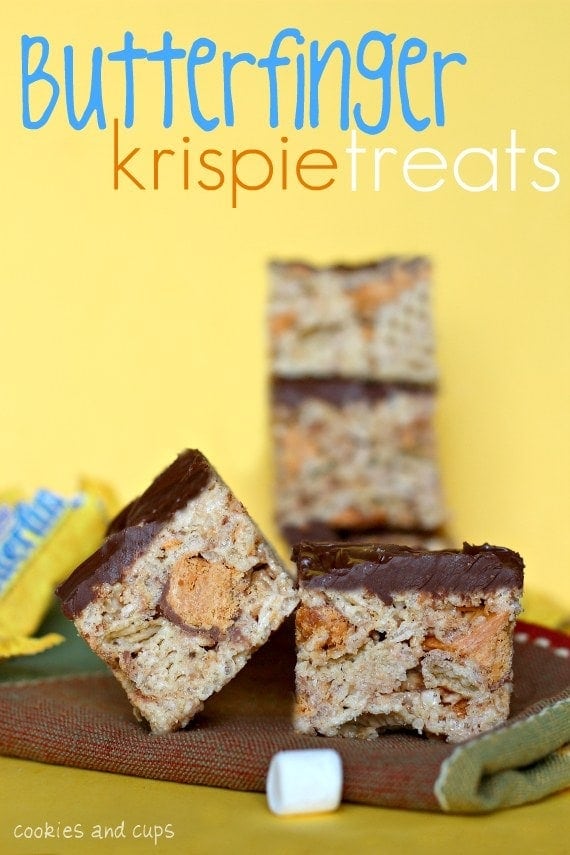 Some days I have trouble getting my act together…like a real adult person.
But when I start doing adult-type stuff I get side tracked…by stuff like candy and Real World reruns.
I am now 36, which I guess makes me a real-life adult ~ which is good because I can eat cake for dinner and go to bed whenever I want…
BUT it stinks because you are expected to do responsible-ish stuff, like laundry and pay bills.
I see other moms who seem way more adult than I am…
They talk about their home owners insurance and medical savings plans. They save for vacations and sign their kids up for violin.
Grown-ass mommy stuff.
I wonder when it's gonna hit me. Because I don't feel like a grown up. I feel a little like an adult imposter.
When discussions of home improvement projects and grocery coupons arise I nod and throw in the occasional "oh yes, I agree" to make it look like I get it.
That I am part of the adult club.
Unfortunately, while I am agreeing and nodding I am really thinking about OPI shatter polish and The Hunger Games.
Case in point, my obsession with Rice Krispie Treats. I could eat them all day every day. I love them.
I even have a whole category on my site for them.
They aren't necessarily an adult dessert. Every time someone asks me to bring a dessert for a party, I will offer up the krispie treat…which I always follow with, "the kids will love them". Translate that in to, "I will bring krispie treats because I love them and don't want to share with the children".
So I have now come up with another version. They're easy. And delicious. AND you don't have to shop in the produce section of the supermarket to make them, which is a very adult place to shop…you get to go down the candy and cereal aisle. Best idea ever!
Butterfinger Krispie Treats.
I mixed together Rice Krispies and Rice Chex. But you could certainly do it all krispies or all chex.
But chop up 8 fun sized Butterfinger bars….
Add them in when you pour your cereal into the melted marshmallow.
Press into your prepared pan.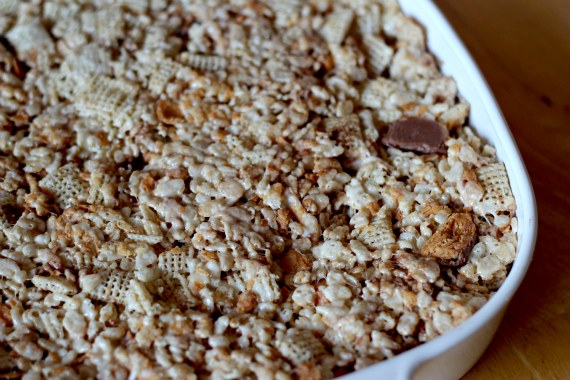 Then take some chocolate chips and peanut butter and melt them together.
Drizzle that on top of your krispies.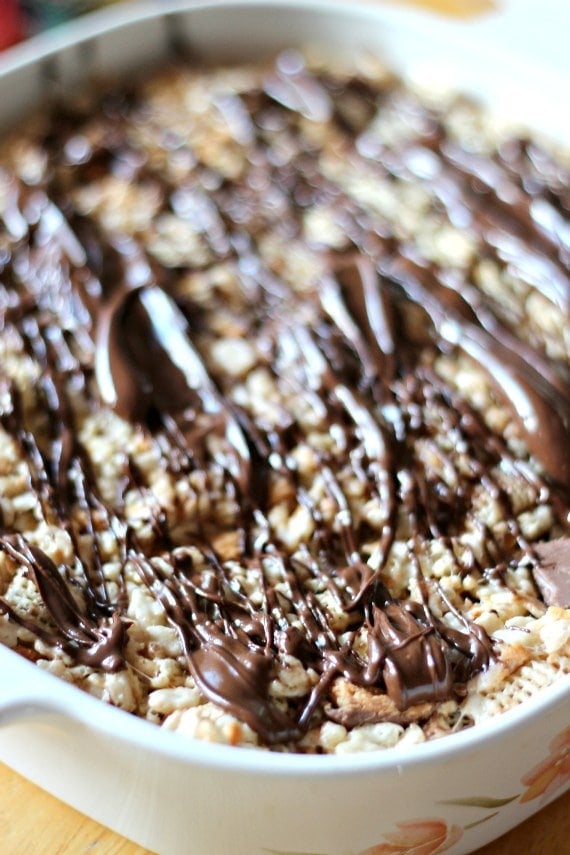 There you have it. I popped them in the fridge for 15 minutes to set up the chocolate, but serve at room temperature, because there's nothing worse than a hard krispie treat.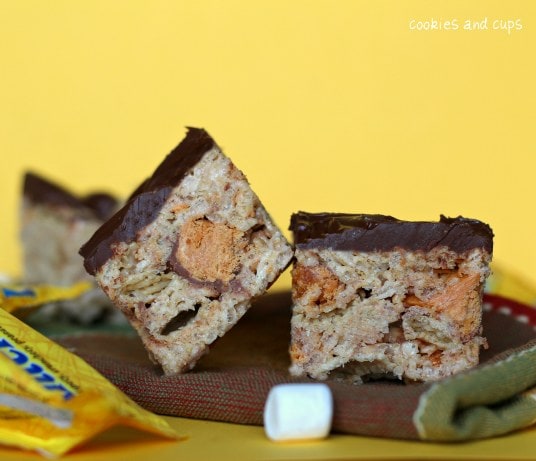 Hop on over to Confessions of a Cookbook Queen to check out another fun Butterfinger recipe, Butterfinger Blizzard Bars. YUM!
Print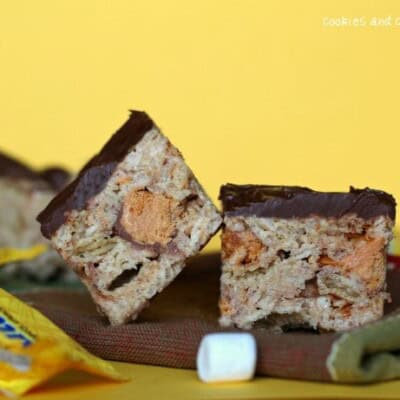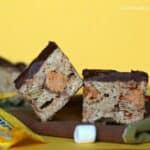 Butterfinger Krispie Treats
---
3 cups

Rice Krispie cereal

3 cups

Rice Chex cereal

1

(10 oz bag) mini marshmallows

1/4 cup

butter

1/2 teaspoon

salt

8

Fun Sized Butterfinger candy bars, chopped

1/2 cup

semi sweet chocolate chips

2 Tbsp

peanut butter
---
Instructions
Lightly spray a 9×9 pan with cooking spray.
In a large saucepan melt your butter over medium-low heat.
Add in your marshmallows and stir until melted. Remove from heat.
Pour in your cereals and salt and stir until almost combined.
Pour in your chopped Butterfinger bars.
Stir until distributed evenly and press into your prepared pan.
In a microwave safe bowl combine your chocolate chips and peanut butter. Microwave on 50% power in 30 second increments, stirring between each until melted and smooth.
Drizzle on top of your krispies.
Let the chocolate set and cut into squares.
---
Want To Save This Recipe?
Find more recipes like this:
Now, I want to share with you guys some fun news for me ~ I was contacted by the great people over at Frigidaire and I am going to be participating in a Frigidaire Test Drive Program. What that means is they are going to give a brand new Frigidaire Gallery® Range with Symmetry™ Double Oven to try.
I am hugely excited about the arrival of my new oven…here are some of the specs:
Symmetry Double Ovens – Two large ovens, each big enough to cook a 28-pound turkey, provide the flexibility to cook multiple dishes at the same time at different temperatures.
Fits-More™ Cooktop – With five elements including two SpaceWise® Expandable elements and a Warming Zone so you can cook more at once.
Precision Set™ Controls – Adjust heat levels more precisely, providing exceptional temperature control.
Quick Preheat – Preheat in just four minutes.
I have always wanted a double oven and with the amount of baking that I do I know it will get a workout! I can't wait to share some of my adventures with you, messes and successes! Thanks Frigidaire!