Caramel Stuffed Krispie Bars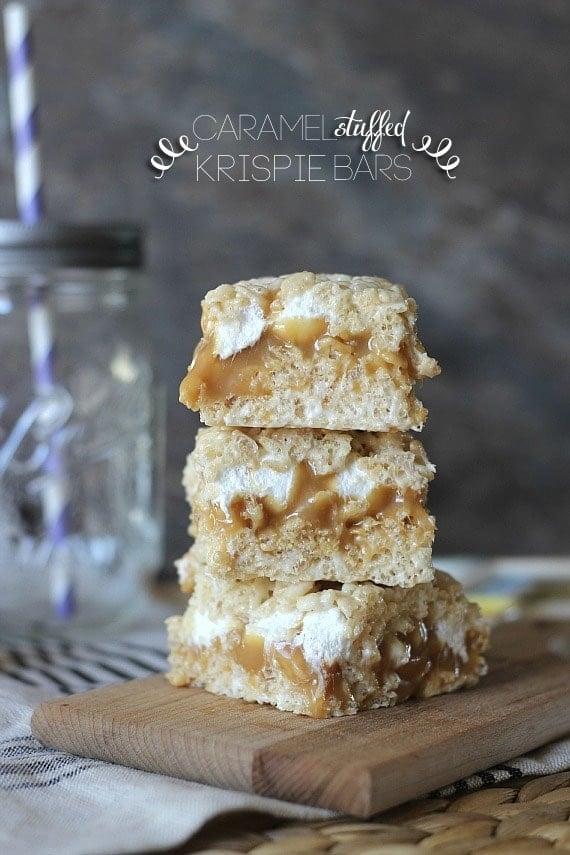 So these bars.
Some things aren't even worth talking about. And honestly getting me to shut up is basically impossible. That's a true fact. I'm a talker…Nonstop.
Filling any and all silences with talky. It's borderline annoying, I know. But I can't make it stop.
Just ask Kristan. She loves it when I fill silent space with unnecessary words. It generally ends up with me volunteering for something I wouldn't have considered 10 minutes prior, or random people getting invited places with me, or the always popular … me saying something insanely insulting while not meaning to be insulting at all. I can't take it.
Literally the best way to get me to agree to something is just ask me and then stare. My husband always says that the person who talks first in a negotiation after the pause is the loser.
Which means, well, that I lose. All the time.
Anyway, see, these bars… instead of just saying that they are amazing and delicious and drippy caramelly…I told you the secret code on how to get anything you want from me.
I never stop.
Caramel Stuffed Krispie Bars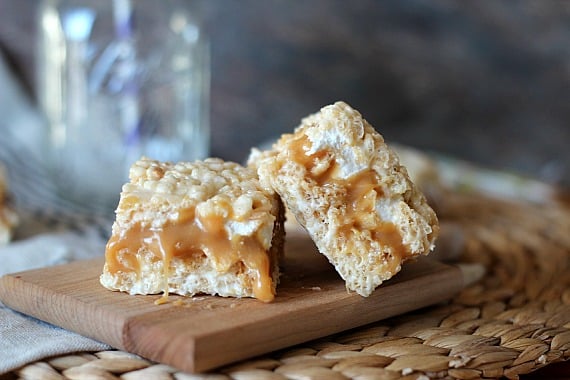 These bars combine my 2 favorite food groups: Rice Krispies and Sweetened Condensed Milk.
They are really easy too…you do everything in the microwave!

First melt some butter, sweetened condensed milk and caramels together…

Then mix up half of the krispie treats. Starting with marshmallows and butter…

Then the Krispies…

Once you have the krispie treats good to go, press them in your pan and then pour that delicious caramel sauce over top…

Seriously…

Next sprinkle with some more marshmallows and repeat the krispie process…

Let it set up before you cut it.
Give it at least an hour, but I recommend longer.
They're actually best the next day, but again, just give it a little time.
Also, I will warn you…these are sweet. Like rahhhly sweet.
And totally delicious.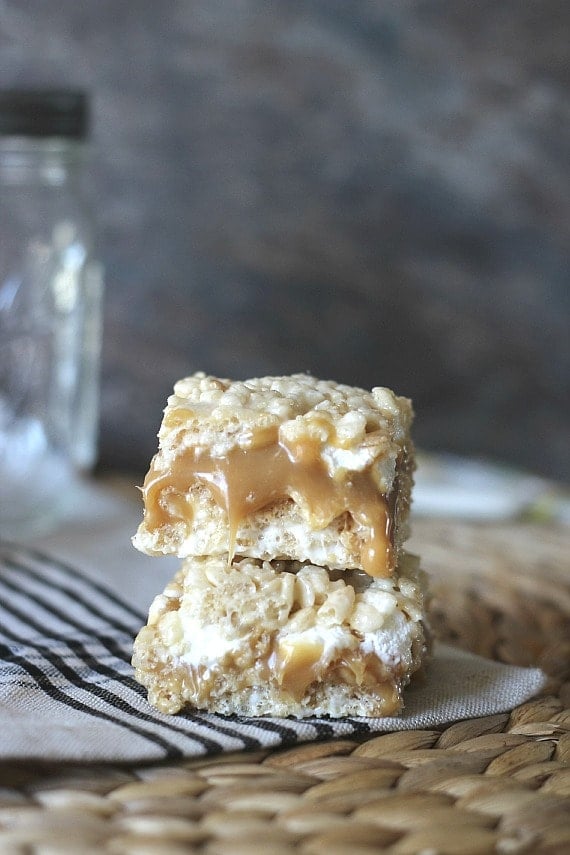 And one more thing…a sweet reader of mine sent me this recipe. She totally rocks.
Print
Caramel Stuffed Krispie Treats
---
Ingredients
Caramel Filling
14 oz

caramel pieces, unwrapped

1

can (14 oz) sweetened condensed milk

1/2 cup

butter
Krispie Layer
12 Tbsp

butter, divided in half

10 cup

s Rice Krispie cereal, divided in half

10 cup

s mini marshmallows, divided: 4 cups, 4 cups & 2 cups
---
Instructions
Grease a 9×13 pan, set aside
Caramel Filling
In a large microwave safe bowl combine caramel pieces, sweetened condensed milk and 1/2 cup butter. Microwave on high in 1 minutes increments (stirring after each) until caramels are melted, approx 3-4 minutes.
Stir until smooth, set aside.
Krispie Treats
Take 6 Tbsp butter and 4 cups marshmallows. Heat in microwave for 1 minute, stir, repeat if necessary in 20 second increments until marshmallows are melted. Stir until butter and marshmallow are combined.
Pour 5 cups Krispie Rice Cereal into marshmallow mixture, stir until coated. Press into the bottom of prepared pan.
Pour caramel over top Krispie layer and then sprinkle 2 cups mini marshmallows on top of that.
Refrigerate for 20 minutes until caramel has set.
When caramel has set repeat the krispie layer (step 4) with remaining ingredients. Press final krispie layer on top of caramel.
* TIP ~ Spray a piece of parchment or wax paper lightly with cooking spray and press the krispies lightly and evenly into pan.
Let krispies set up for at least 2 hours before cutting into squares. The caramel layer takes a bit of time to set up.
---
Save