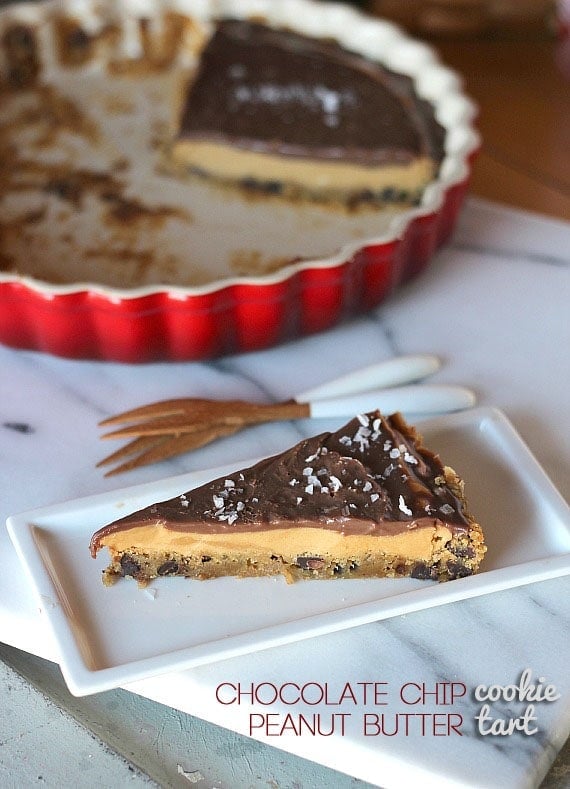 Sometimes ideas are just too good to pass up.
Before I decided to share this with you, I was worried that you guys might be sick of this combination.
I mean, I've done it a bagillion times. Like here, and here…and here annnnnnd HERE.
Then I thought better of myself.
I'm not over chocolate chip cookies and peanut butter together, and since we're friends, I thought that you probably weren't either.
We're close, you and I.
Anyhow, you need to make this. Because it's incredibly simple and totally delicious.
And whenever anyone says they're making a "tart", you automatically think it's super fancy-ish and gourmet.
Well, friends, this is not fancy-ish…and I don't know the defining characteristic of a tart, but if it means that it's baked in a tart pan, then this fits the bill.
Here's the thing though, you could make it in a pie pan too. And call it a pie.
I'm here to please.
Chocolate Chip Cookie Peanut Butter Tart.
Ok, first we're taking short-cuts today.
Start with some pre-made chocolate chip cookie dough.
You certainly could make your own, I won't tell you not to..but sometimes it's ok to make things less complicated.
Today is that. Now, Here. Yeah.
So press your cookie dough in a greased tart pan. Bake it. Let it cool.
Then mix up a simple peanut butter filling.
It's peanut butter, butter, powdered sugar and cream. Yes, I'm serious.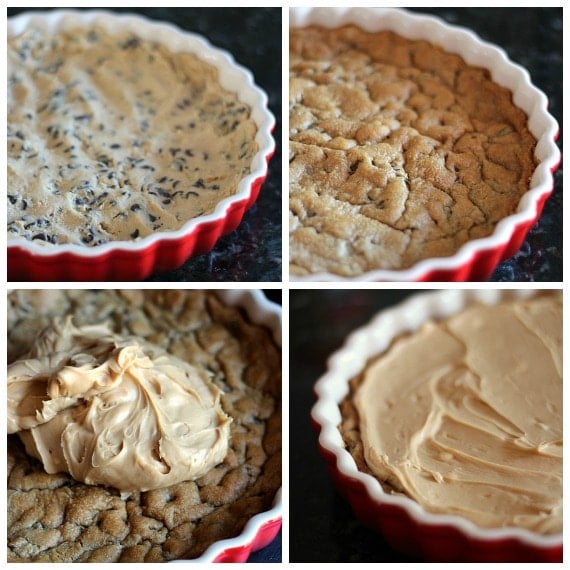 Spread it all over the cookie, then let it chill for about 30 minutes or so.
Then you get to make some ganache. I told you this was fancy-ish.
Don't get scared, guys…ganache is just chocolate and cream. Like it's way easier to make than buttercream.
Also, my computer keeps wanting to auto-correct ganache to "gauche". Step off, sir. You have never been more wrong.
I used 3.5 oz of milk chocolate, see…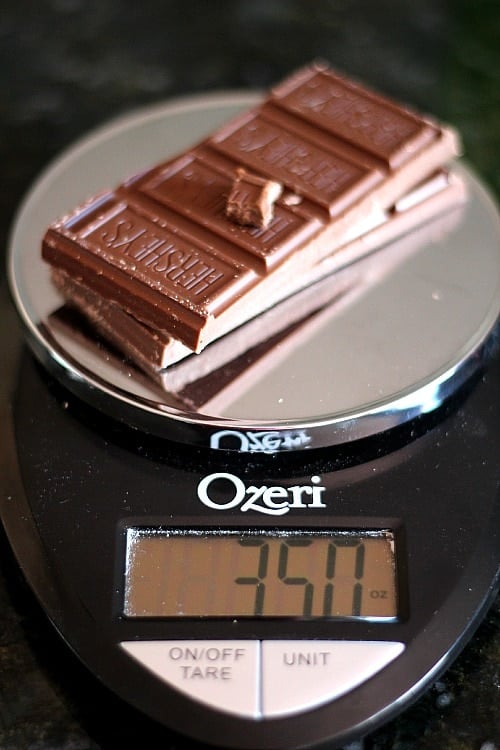 Then I chopped it up and poured super heavy hot cream all over the top…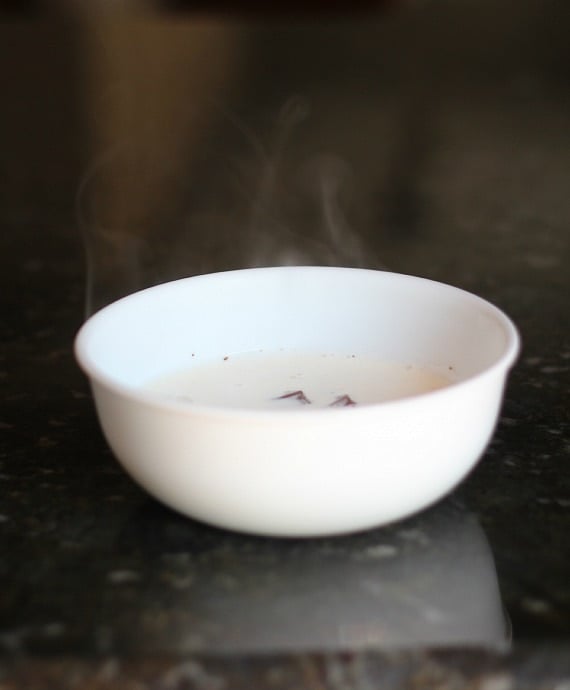 Let is sit for a beat and then stir it. The chocolate will melt with the heat of the cream…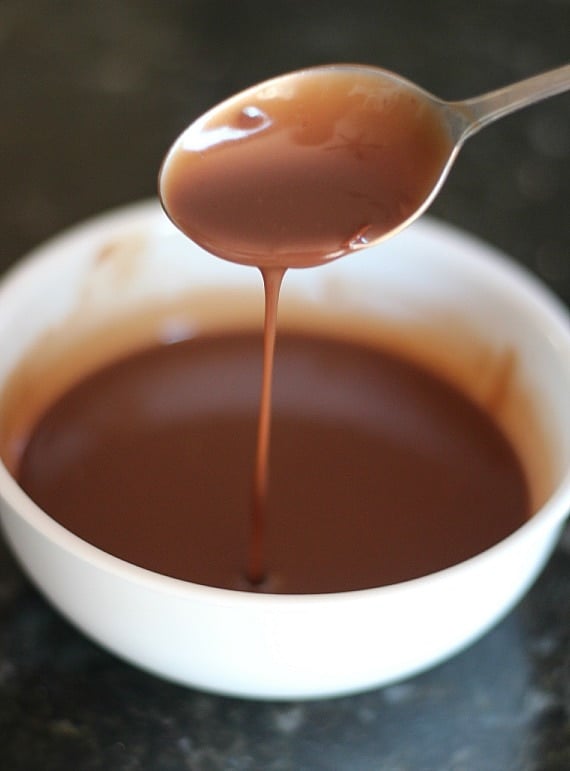 Once it is completely melted, pop it in the fridge for about 5 minutes…
Then pull the chilled cookie and the ganache out of the fridge and pour that all over the top.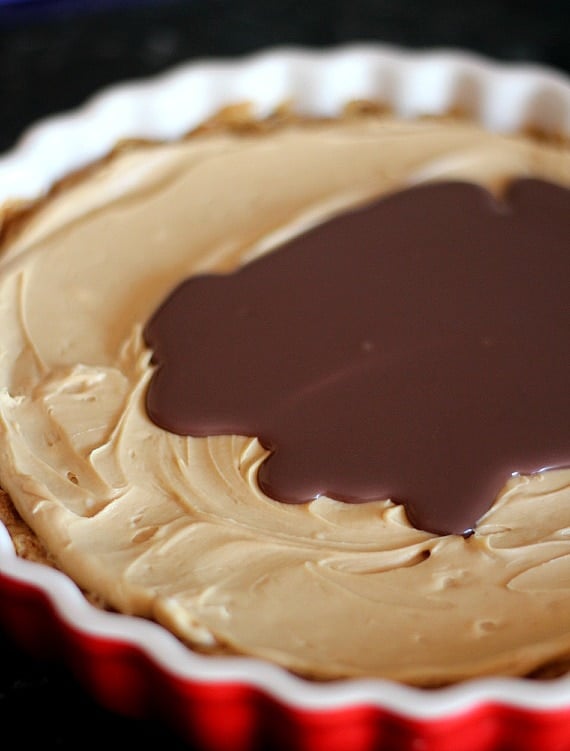 It's kind of gorgeous.
Now let this all set up in the fridge for about an hour, or longer if you can wait.
It'll even be fine overnight.
Then when you're ready, slice it and serve.
And then rejoice in all it's peanut buttery glory.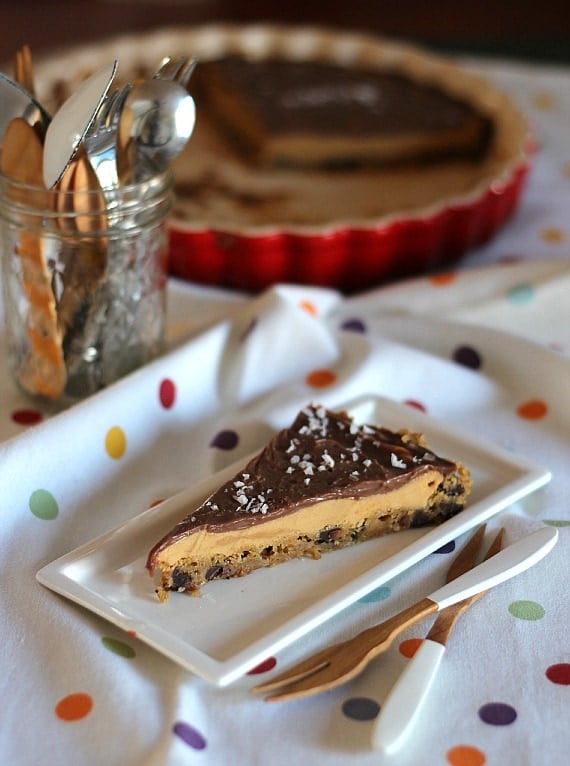 Print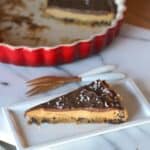 Chocolate Chip Cookie Peanut Butter Tart
---
Cookie Crust
16 oz

pre-made cookie dough
Peanut Butter Filling
3/4 cup

creamy peanut butter

6 Tbsp

butter, room temperature

1/2 cup

powdered sugar

2 Tbsp

heavy cream
Ganache
3.5 oz

milk chocolate

1/3 cup

heavy cream
*optional flaked sea salt
---
Instructions
Preheat oven to 350°
Spray 9″ tart pan with cooking spray
Press pre-made cookie dough into tart pan and bake 15-20 minutes, until lightly golden.
Remove from oven and allow to cool for about 20-30 minutes.
Filling
In mixer beat peanut butter, butter, powdered sugar and heavy cream together until smooth.
Spread mixture evenly over cookie crust.
Chill for at least 30 minutes in refrigerator.
Ganache
Chop milk chocolate into small pieces. Place in heat safe bowl.
Heat heavy cream until it just comes to a boil.
Pour cream over the chocolate and stir until chocolate is melted and mixture is smooth.
Refrigerate for 5 minutes.
Spread ganache over top of the peanut butter layer.
Chill again for at least an hour before serving.
Sprinkle with flaked sea salt, if desired.
---
Want To Save This Recipe?
Find more recipes like this: