Sometimes ideas are just too obvious.
Because this…
THIS…
It's really a why didn't I do that already in my life kind of thing.
And this whole post is really a giant slap on your forehead.
Chocolate chip cookies…yezz.
Peanut Butter Cups…oh yezzzz.
Sandwich them together when the cookie is still warm so the peanut butter cup gets all melty and sticky.  Heck yezzzz.
This cookie gives you permission to eat 2 cookies and a peanut butter cup in one mouthful.  You're not dreaming!
I am all about consolidated desserts.  More bang for your buck.  More cash for your stash.  More loot for your boot…
Sorry.
So anyway, I got this idea from one of my awesome twitter followers (@shmack72) who are consistently looking out for me…
She lead me to this recipe which I quickly decided needed to happen in my kitchen.
It's the most basic of concepts.
I debated posting them here on my site because figured you guys might be sick of me posting 4 bagillon variations on cookie/peanut butter cup combos.
I mean, you never know, right?
Obviously I came to my senses though.
Psshh.
So just for your viewing pleasure, Chocolate Chip Peanut Butter Cup Cookie Sandwiches.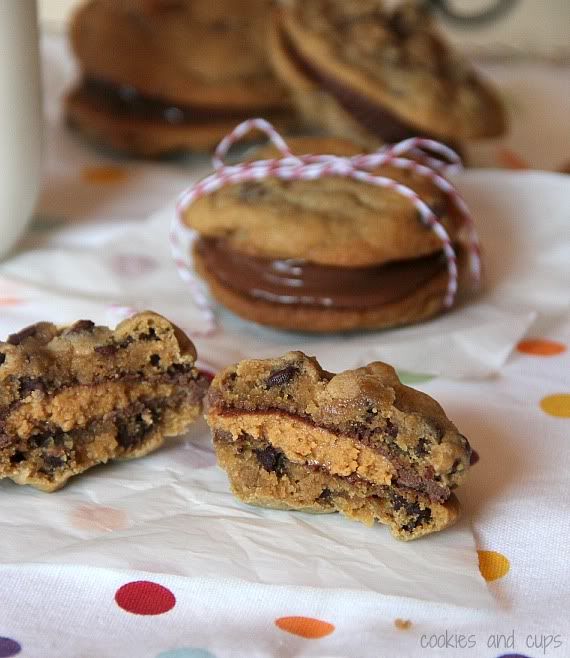 All you gots to do is make some chocolate chip cookies.
The recipe that I'm giving for these cookies is a version of my favorite chocolate chip recipe, which I have never posted here.
Don't fret, though, I will be posting about those soon…AND this version is a super delicious, quick cookie.  Perfect for in-yo-face cookie stuffing.
Just drop tablespoon sized portions onto your baking sheet…
Don't under-bake these.  I mean, don't OVER bake them either, but since I am a serial under-baker when it comes to chocolate chip cookies, just know that these need to actually BAKE…If you don't bake them long enough the "sandwiching" process becomes a gooey, albeit delicious mess.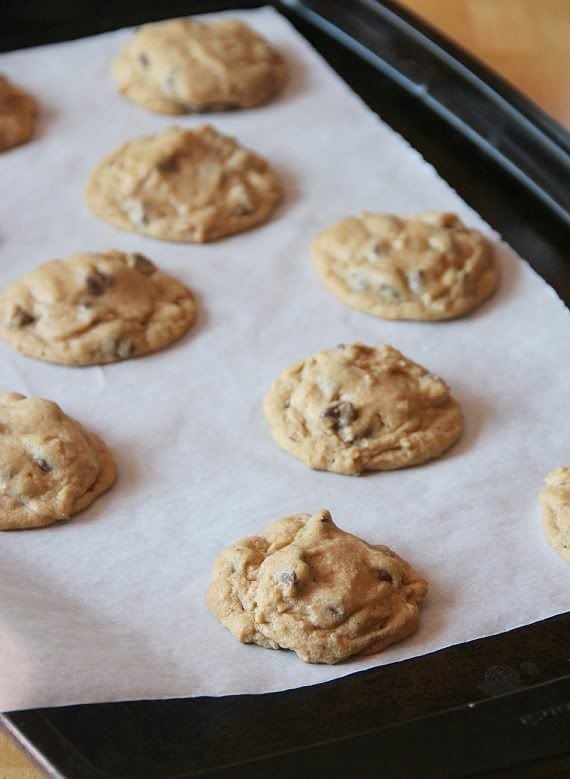 Let the cookies cool for a few minutes so they're not dang hot.
Get your cups ready.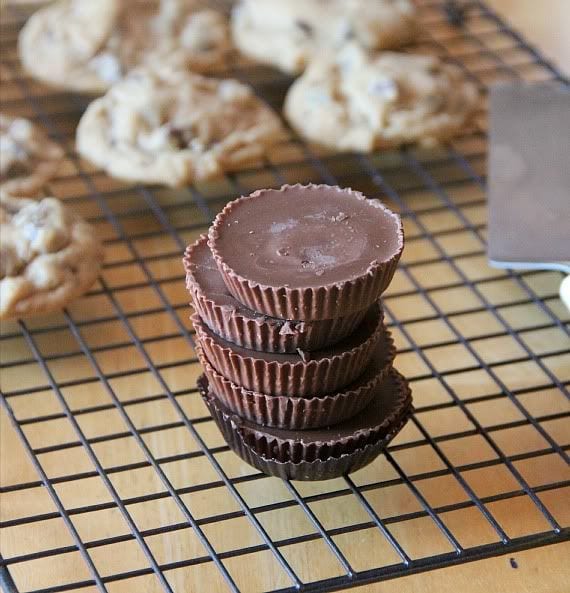 Then sandwich those suckers.
Stupid good.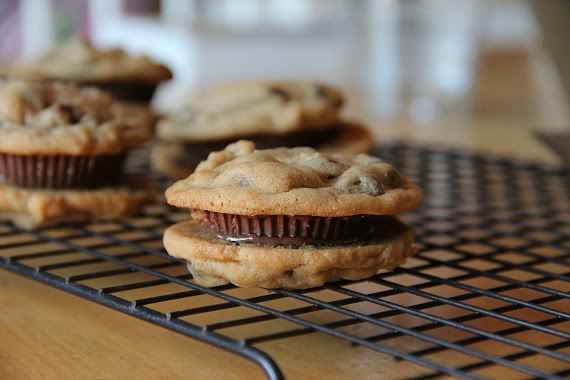 Then dig in.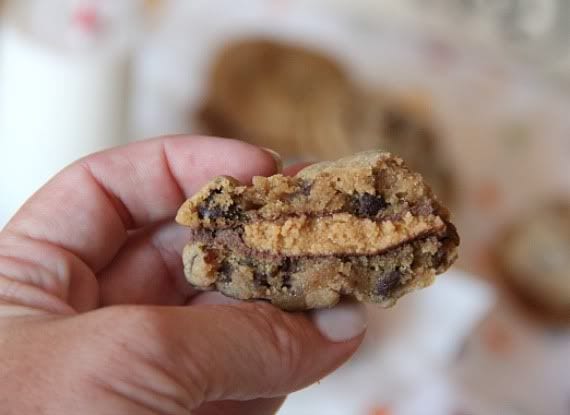 And then loosen your pants.
Print
Chocolate Chip Peanut Butter Cup Cookie Sandwiches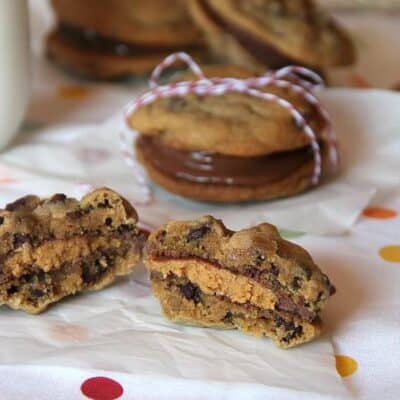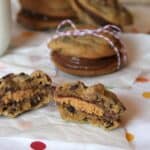 ---
Description:
makes about 18 cookie sandwiches
---
Ingredients:
1 cup

butter, room temperature

1 cup

light brown sugar

1/2 cup

granulated sugar

2

eggs

1 Tbsp

vanilla extract

1 tsp

baking soda

1 tsp

kosher salt

2 1/2 cups

flour

2 1/2 cups

chocolate chips
approx

18

peanut butter cups, unwrapped
---
Instructions
Preheat oven to 350°
Line baking sheet with parchment paper
Cream butter and sugars together for about a minute on medium speed.
Add eggs and vanilla and mix until evenly incorporated. Add salt and baking soda.
Turn mixer to low and add in flour and stir until incorporated evenly,
Stir in chocolate chips.
Drop cookie dough in tablespoon sized portions onto prepared baking sheet approximately 2 inches apart.
Bake 8-9 minutes until edges are golden.
Remove from oven and cool on baking sheet 2 minutes. Transfer to wire rack and continue cooling for another 5 minutes.
Turn half of your cookies upside down and place an unwrapped peanut butter cup on top of cookie. Place another equally sized cookie on top of peanut butter cup. The heat from the cookies will melt the chocolate slightly, allowing the cookies to stick to the cup.
Continue cooling cookies until ready to serve.
If you notice that the peanut butter cup is melting too much, place cookies in the fridge to speed up the cooling. You don't want chocolate to drip down the side.
---
Want To Save This Recipe?