Freezing cookie dough is a great way to have cookies whenever you get a craving with zero effort. Learn How to Freeze Cookie Dough, which types freeze best, and how to make cookies from frozen dough!
The dough in these pictures is my Favorite Chocolate Chip Cookies Recipe!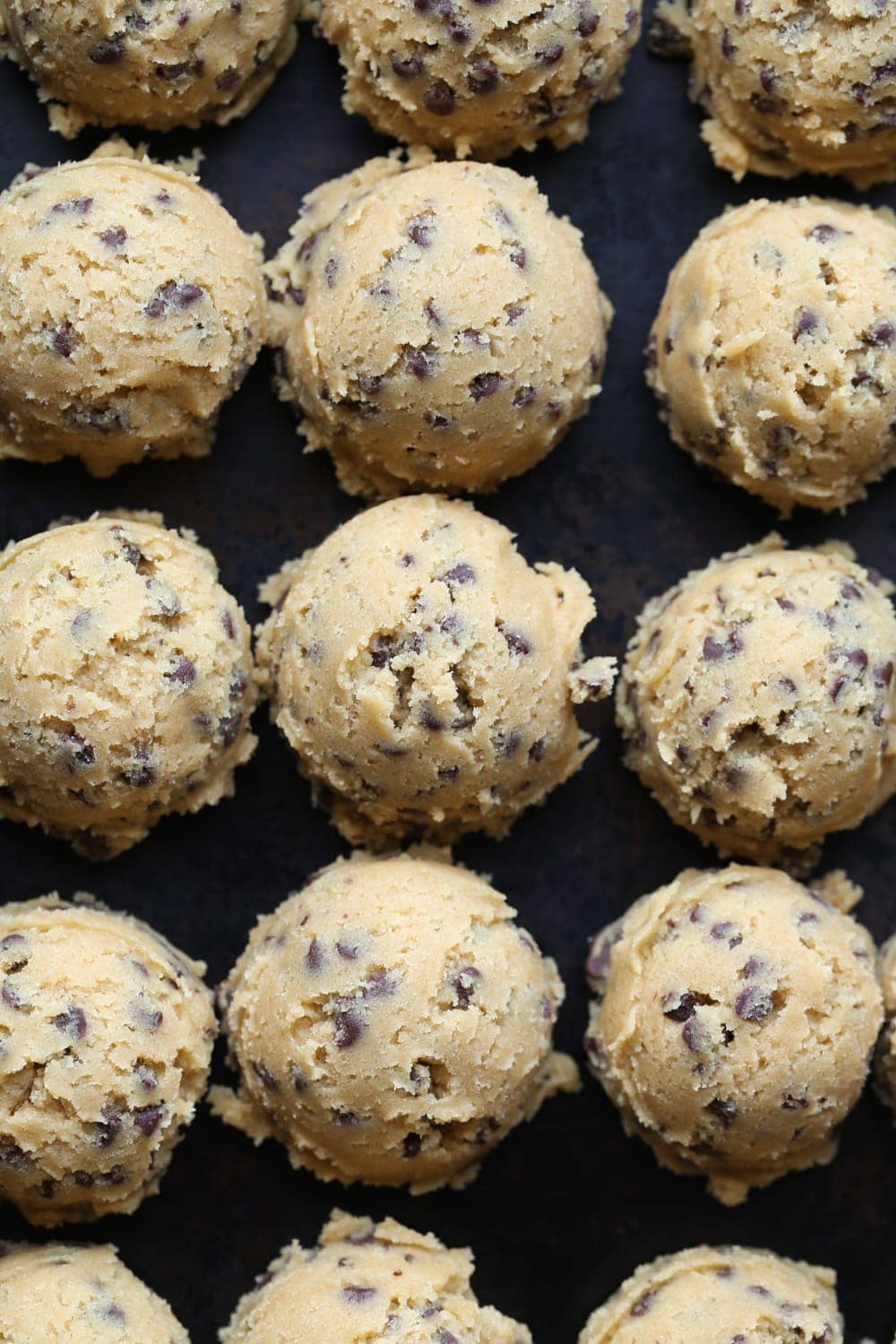 I'm Showing You the Easiest Way to Freeze Cookie Dough!
I'm about to show you not one, not two, but three easy ways to freeze cookie dough! I'll also share some tips and tricks regarding which kinds of dough are best to freeze – and how to make cookies using frozen dough!
Even the easiest cookie recipe becomes so much more tempting when all you have to do is pop a few balls of frozen dough into the oven and bake.
Why Would You Freeze Cookie Dough?
Longer Shelf Life: Your cookie dough will last for so much longer – up to 3 months – if you freeze it. Sometimes I'll make a batch of cookie dough just to stock it in the freezer!
Small Batch Baking: If you're in the mood for a homemade cookie or two but don't feel like making a whole batch from scratch, frozen cookie dough has your back.
Gift Idea: Some people can be really hard to shop for. I find that frozen cookie dough makes the perfect gift! It's long-lasting, it's homemade, and it's easy to travel with.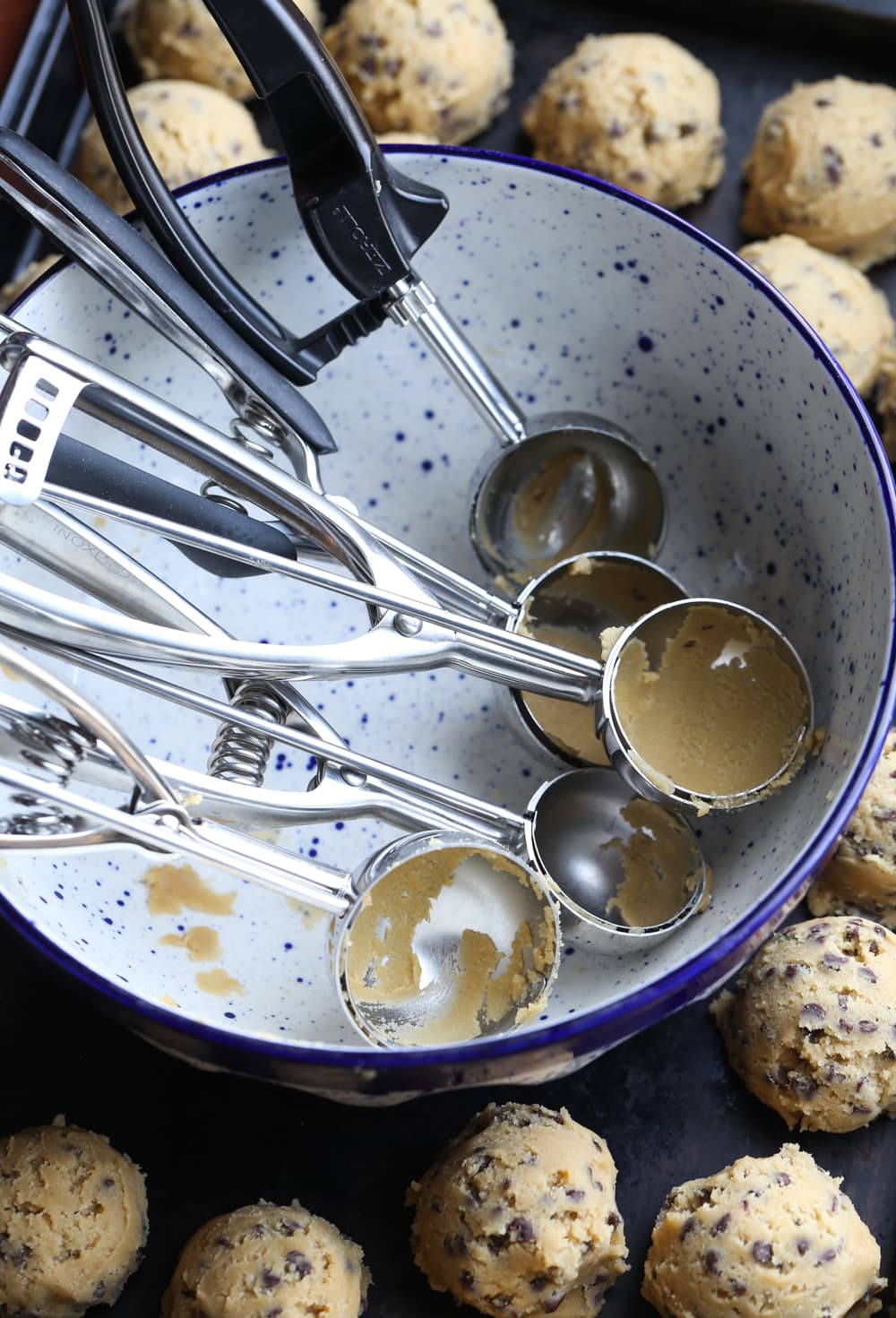 How to Freeze Cookie Dough Balls
The first way to freeze cookie dough is in the form of balls. You can use this method for the majority of cookie recipes.
This is my personal favorite technique. Using a cookie scoop make this method very easy!
Scoop Your Dough: Use a cookie scoop to portion out your dough according to the recipe directions. You can use a spoon if you don't have a cookie scoop, but I definitely recommend getting one if you're a cookie lover like me.
Place on Baking Sheet & Freeze: On a large baking sheet lined with parchment paper, "flash freeze" your dough balls for 30 minutes. Then, remove them from the freezer.
Transfer to Bag & Return to Freezer: Move your cookie dough balls to a zip-top bag and place them back in the freezer. You can use an airtight container if you don't have zip-top bags. Your cookies will last for up to 3 months, but I like to eat mine within 30 days.
Can You Freeze Dough Without Scooping?
Yes, of course you can freeze dough without scooping. Just package it up in an airtight tub and freeze for up to 30 days.
Thaw it out in the refrigerator for about 24 hours.
Don't try and scoop the cold dough with a cookie scoop because it will break! Of course you can use a spoon to dig in and get the cold dough out if you're really anxious! lol
Once it's room temperature, take it out of the refrigerator and also it to come up to almost room temperature, so you can easily scoop it out.
Bake according to recipe instructions!
How to Freeze Cookie Dough Discs
If you're making cookie dough that you'll want to flatten out with a rolling pin like gingerbread cookies or shortbread cookies, use this method:
Form Disc Shape: With your hands or a rolling pin, form a 1-inch thick disc of dough. You can also form the dough into a long log for later cutting.
Wrap with Plastic Wrap & Freeze: Tightly wrap your disc or log with plastic wrap and store it in the freezer.
How to Freeze Cookie Dough Cut Outs
This method is also used for cookies like gingerbread cookies, shortbread cookies and sugar cookies. It's perfect for the holidays, because your cookie dough will be ready to go in your desired shapes before you thaw and bake it!
Roll & Cut Out Dough: Roll out your cookie dough and cut it with your favorite cookie cutters.
Place on Baking Sheet & Freeze: Line a baking sheet with parchment paper and arrange your cookies on top. Place the sheet in the freezer until the dough is completely frozen, about 3-4 hours.
Transfer to Bag: Move your cut out cookies into a resealable bag and place them back in the freezer. If you're worried about your pretty shapes getting broken while they're stored, use a plastic storage container or multiple bags.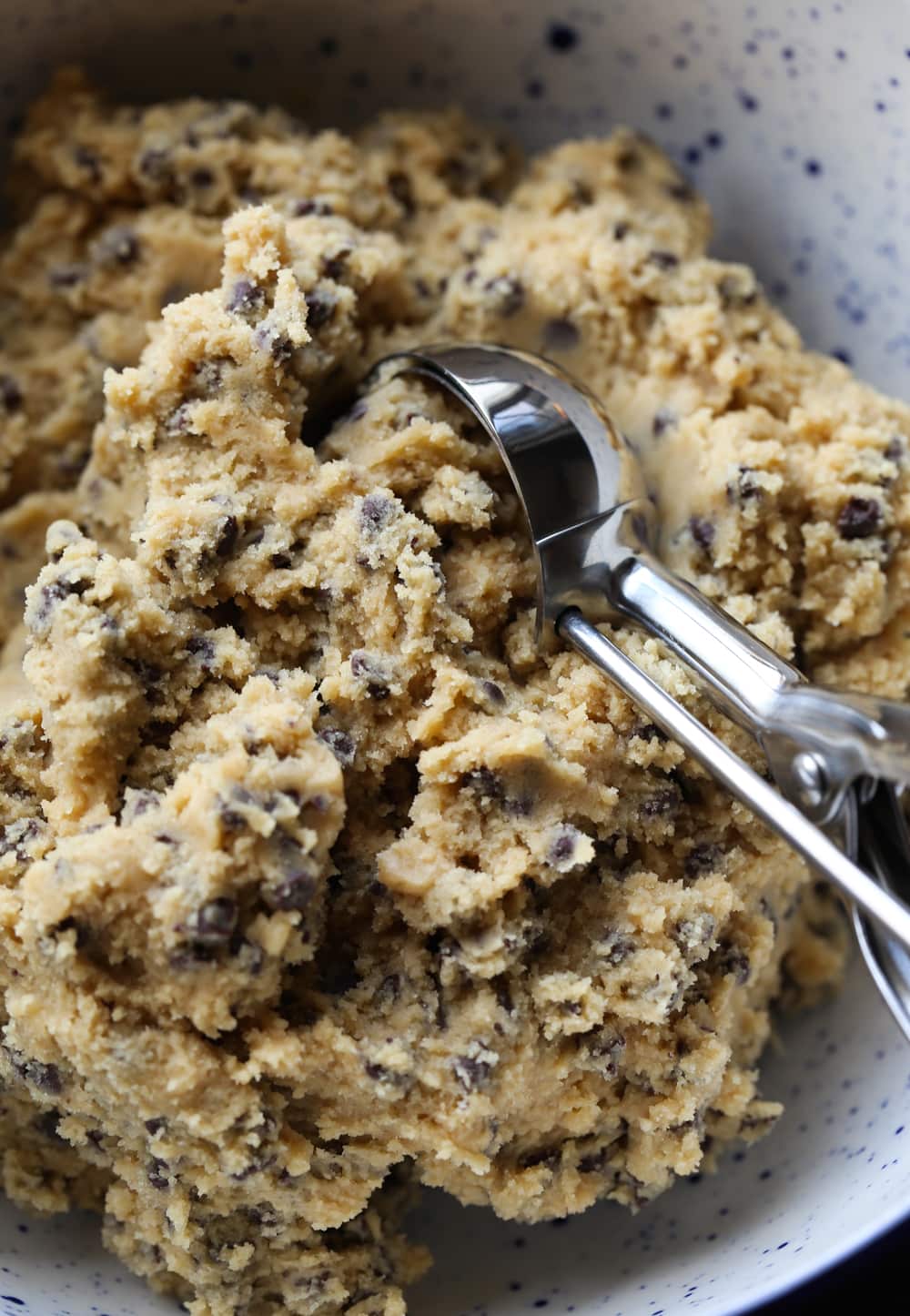 What Kinds of Cookie Dough Freeze Well?
Any kind of cookie dough mentioned above will freeze well for 3 months. One of my favorite cookie recipes to freeze is this Oatmeal Raisin Cookie Recipe.
Basically, any cookie dough that uses butter or another agent to make it thick and sturdy is a good choice for freezing.
Kinds of Cookies to Avoid Freezing
Avoid trying to freeze more delicate cookies, such as macarons or cookies that don't require baking. They won't be the same after experiencing your freezer's extremely low temperature.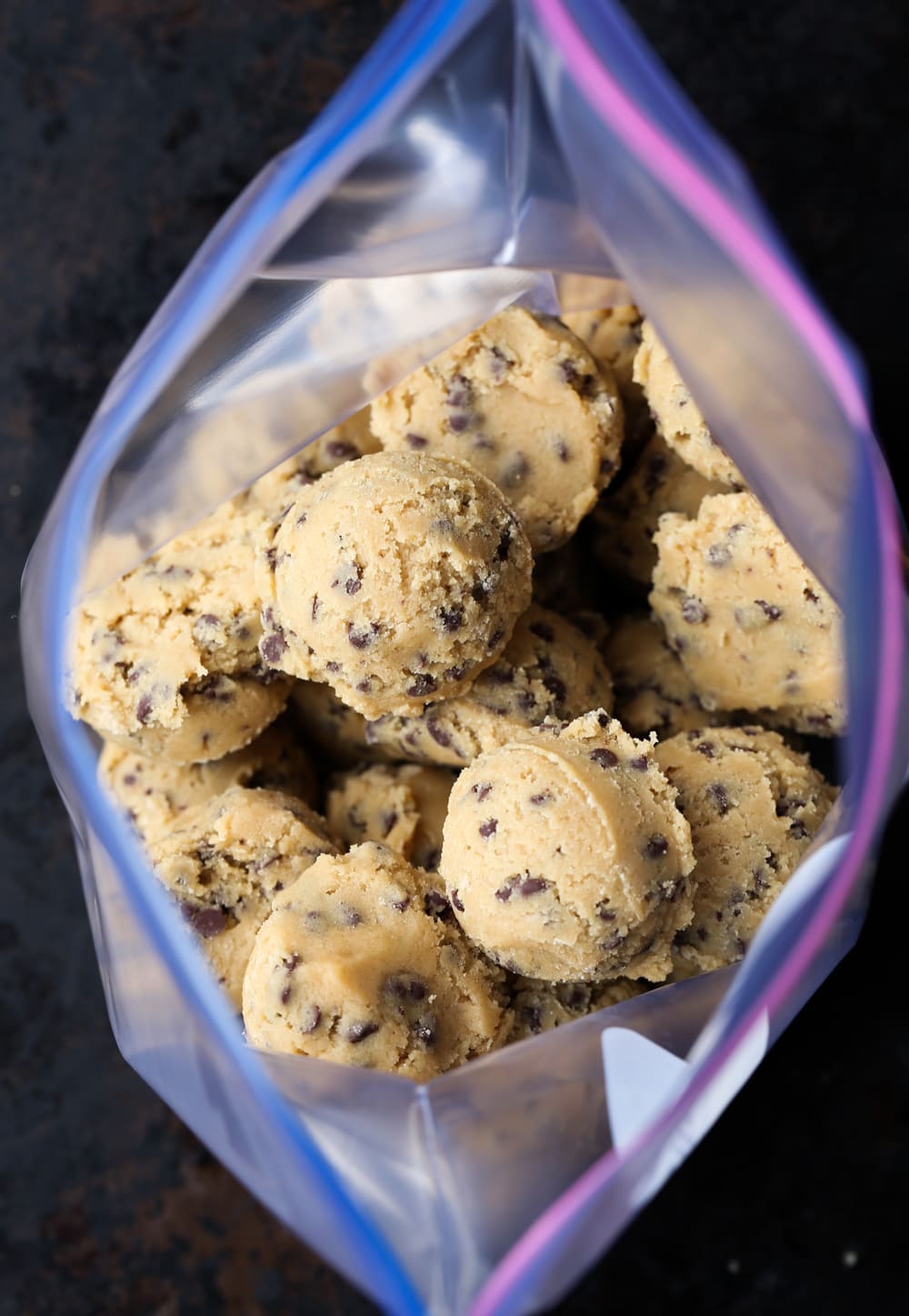 How to Bake Cookies Using Frozen Dough
In most cases, you can bake your frozen cookie dough with or without thawing it out. If you don't want to thaw it, you'll just have to add a couple minutes to the baking time.
If you want to thaw your frozen cookie dough, transfer to the fridge a few hours baking or allow the dough to come up to room temperature and then bake as usual.
You Can Store Baked Cookies In the Freezer Too!
Don't be afraid to store baked cookies in the freezer as well! You just have to let them cool completely and put parchment paper between them while they're stored. When you're ready to eat them, thaw them out and heat them up in the microwave for a few seconds or in the oven at 350°F for 2 minutes.
Cookie Dough That Freezes Well…
PIN for later: