These Oatmeal Raisin Cookies are one of my oldest and best cookie recipes! Soft and chewy in the middle with buttery, crisp edges, they're full of tender oats, sweet raisins, and white chocolate chips.
If you love this version, make sure to check out my Classic Oatmeal Chocolate Chip Cookies, too!
Humble brag: Oatmeal raisin cookies are kinda my specialty. These aren't just any ordinary cookies, either. They're the BEST oatmeal raisin cookies. This is one of my most requested homemade cookie recipes, and also one of the first I feel I've ever perfected!
My oatmeal raisin cookies are soft in the middle, with just the right amount of chew, and the edges get all crisp and buttery in the oven. I've been making these classic oatmeal raisin cookies for ages, and not only is this the best tasting recipe ever, it also happens to be good for you, too.
The answer to this question is: compared to what? Compared to a big salad with minimal dressing? No. Compared to many, many other kinds of food? Absolutely! As far as desserts go, these oatmeal raisin cookies are fairly good for you.
Both oats and raisins are heart-healthy and high in fiber. I will confess that in my kitchen, an oatmeal raisin cookie without white chocolate chips is borderline unheard of. So I include these in my recipe. Of course, if you're an oatmeal raisin purest or would prefer your cookies without, feel free to skip the chocolate. I won't judge. These cookies will still be delicious, I guarantee it!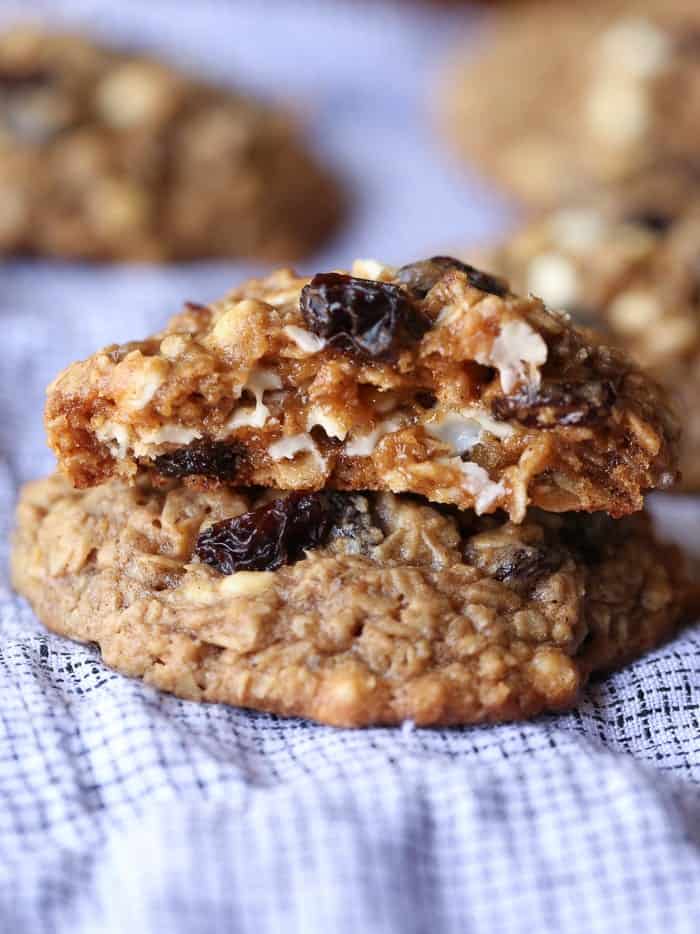 What You'll Need
The ingredients for this classic recipe are pretty straightforward. Here's everything you need to make these soft and chewy oatmeal raisin cookies, and you can find the full amounts in the recipe card below!
Butter: Brought to room temperature for easy mixing and even baking.
Dark Brown Sugar: I love using all dark brown sugar for the depth of caramelized flavor it brings to these oatmeal cookies.
Eggs: Eggs bind the ingredients and help give the cookies texture.
Vanilla: Pure vanilla extract is the best in terms of flavor (compared to imitation vanilla).
All Purpose Flour: Your preferred brand of all purpose flour.
Baking Soda: For leavening.
Cinnamon: Cinnamon spice brings all the warm fuzzies to these wholesome cookies. I love the Roasted Saigon Cinnamon from McCormick especially, as the spice just sings in this recipe.
Sea Salt: Like my Favorite Chocolate Chip Cookies, I add coarse or flaked sea salt to my oatmeal cookies to enhance the flavors and make them extra special.
Oats: I prefer old fashioned oats (rolled oats) in my cookies, for the chewiness and texture. See the next section for more details on the best oats for baking.
Raisins: It is an oatmeal raisin cookie, after all. Any raisins you prefer, either regular black raisins, golden raisins, or sultanas.
White Chocolate Chips: We love white chocolate chocolate chips in our cookies. I even found mini ones that are perfect for cookies! But you can absolutely use regular or dark chocolate chips in their place (I even have a designated Oatmeal Chocolate Chip Cookie Recipe, for your baking pleasure). Or leave them out entirely, it's up to you!
What Kind of Oats Should I Use?
As mentioned above, I use old-fashioned oats, also called rolled oats, in my cookies. I prefer the look and texture of rolled oats, however, you can absolutely use quick oats, too.
The main difference between rolled oats and quick oats is that quick oats are coarsely chopped, so they cook quicker. Some people prefer quick oats in baking as they tend to have a less rustic, more uniform look. The only oats I don't recommend using are instant oats, as these cook way too quickly and can become mushy.
You can't use steel-cut oats for these cookies. They are too hard, require more liquid and take much longer to cook.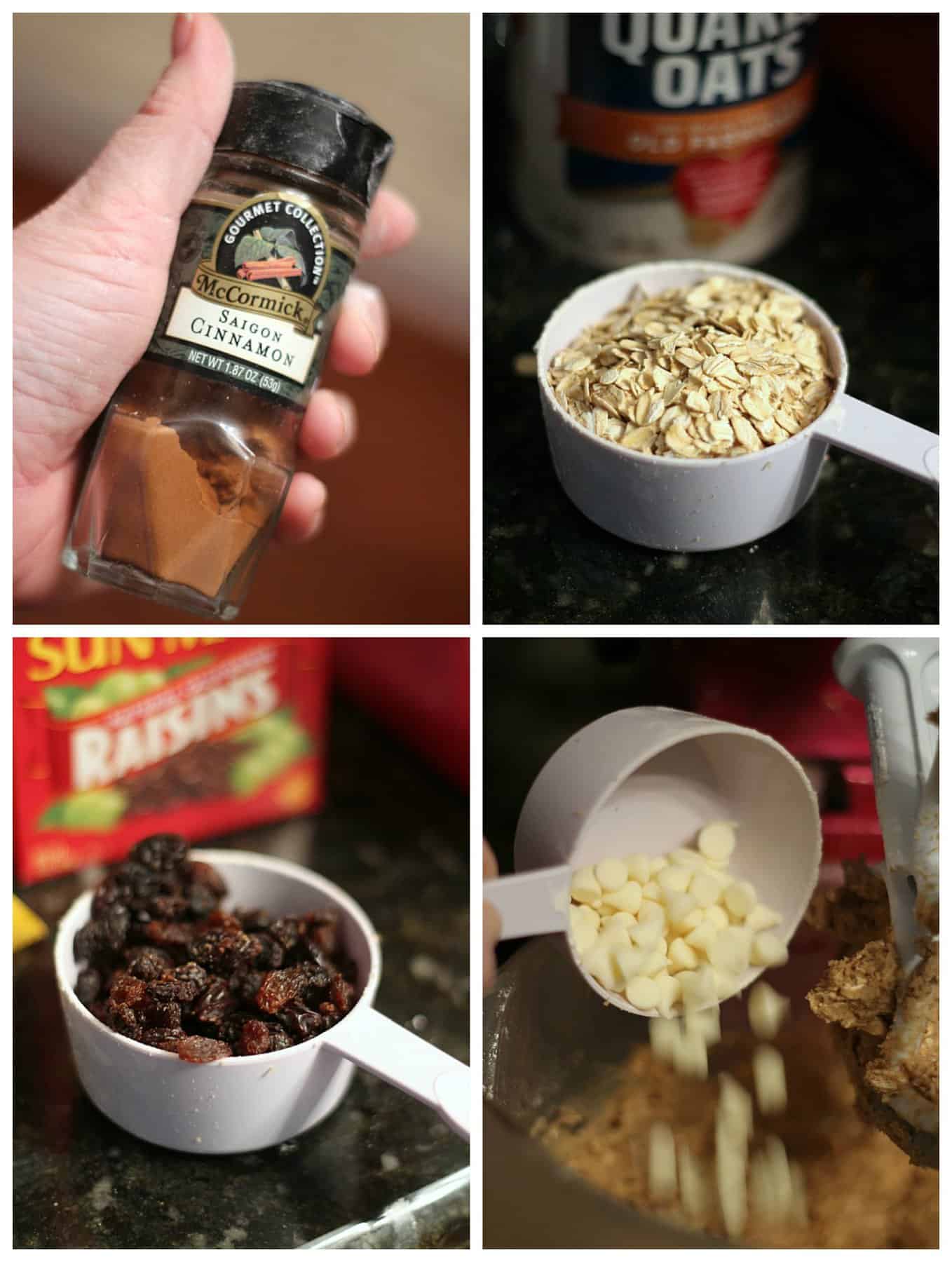 Warning: Once you've made and shared these cookies once, get ready for a lifetime of passing on this cookie recipe. It's so easy and the oatmeal cookies turn out perfect every time! Follow these short steps:
Make the Cookie Dough: Cream the butter and sugar together until the texture is airy and fluffy, then beat in the eggs and vanilla. In a separate bowl, whisk together the flour and dry ingredients. Slowly mix the dry ingredients into the wet ingredients. Next, you'll add the oats, followed by the raisins and white chocolate chips.
Chill: Place your dough in the fridge to chill for at least 2 hours, or overnight if you can.
Scoop: Once your cookie dough has chilled, set your oven to preheat while you get your cookies ready for baking. Portion out the cookies onto a baking sheet using a cookie scoop.
Bake: Bake the cookies at 350ºF until the edges are golden, and the centers are still soft. Don't overbake! Let the cookies cool on the baking sheet for a couple of minutes before you transfer them to a wire rack.
Do I Have to Chill the Dough?
The short answer is no. Chilling the dough is optional, but recommended! Here's why:
When you let the dough chill overnight, it gives the flavors time to develop. The dough gets a little richer and the gluten in the dough relaxes, adding to the crispier texture on the edges.
Cold dough will spread less when baking, leaving your cookies with thicker, softer centers.
When it comes to these oatmeal raisin cookies, chilling the dough also softens up the rolled oats a bit.
Overall, chilling the dough results in a nicer baking, nicer tasting cookie, IMO. Still, these cookies are the best because they're super forgiving. They'll bake up fine whether the dough is chilled or not, but it all depends on the thickness and texture you prefer.
Tips for Success
Don't Skip the Salt: My secret (OK, so soon to be not-so-secret) trick to these oatmeal raisin cookies is coarse sea salt. The salt paired with the sweetness of the raisins is what keeps everyone wanting more, and cements these cookies in the homemade hall of fame.
Use a Cookie Scoop: See how perfect and gorgeous these cookies bake up? I swear by my cookie scoop when portioning out the oatmeal raisin cookie dough. However, if your dough is still quite chilled coming out of the fridge, you can use your hands to form them into lightly packed balls. Don't pack them too densely, or they won't spread as they should.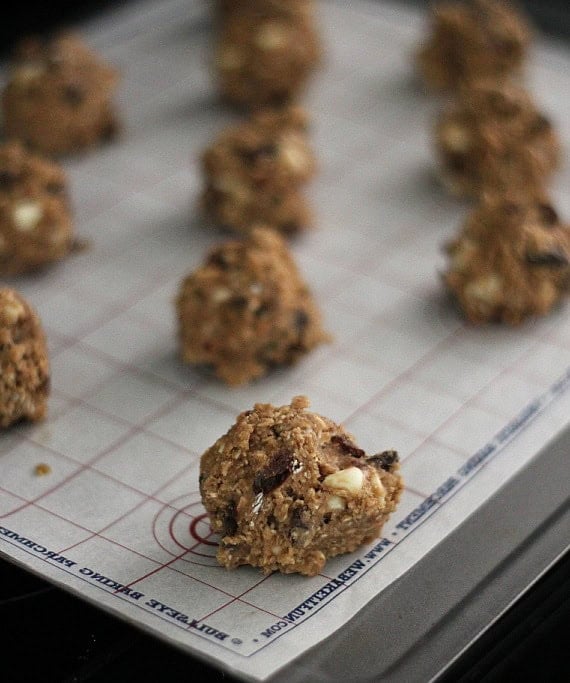 Add-Ins & Variations
These cookies are perfect just as they are, but if you're in the mood to mix things up a little, there are easy ways to do it:
Swap Out the Raisins: Not a fan of raisins? You can absolutely swap out raisins in these cookies for craisins, dried cherries, dried cranberries, dried blueberries or currants.
Change the Chocolate Chips: These cookies will turn out great with milk chocolate chips or dark chocolate chips instead of white chocolate.
Add Nuts: Toss in a handful of chopped nuts like pecans, walnuts, peanuts, or pistachios for extra crunch.
Toasted Oats: For a deeper oatmeal flavor, try toasted oatmeal raisin cookies. Pop your oats into a shallow saucepan on the stove and lightly toast them beforehand.
More cookie add-in ideas: Chocolate chunks, M&Ms, butterscotch morsels.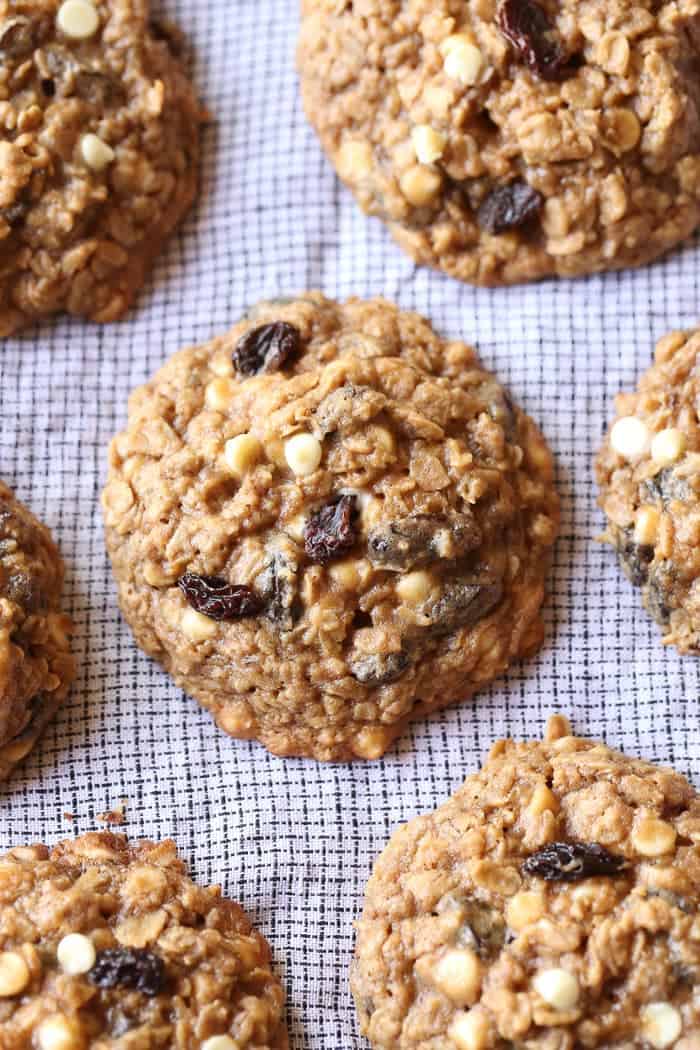 How to Store
These cookies will stay fresh and tender at room temperature for up to 2 weeks! This is because the raisins help to lock in moisture and keep the oatmeal raisin cookies soft. Be sure to store the cookies airtight in a container or bag. Alternatively, freeze them for even longer storage (see below).
Can I Freeze Oatmeal Cookies?
Yes! You can store the dough or the baked cookies in the freezer, and both freeze beautifully.
Freezing the Baked Cookies: Make sure the cookies are completely cool before placing them in a zip-top bag. They will freeze well for up to 30 days. Whenever you're ready, simply thaw and enjoy. You can also reheat these oatmeal raisin cookies in the oven for a warm, cozy treat. Bake them at 350°F for 3-4 minutes and they'll be warm and delicious!
Freezing the Cookie Dough: I like to portion the oatmeal raisin cookie dough out onto the lined baking sheet as usual, and then place the whole thing into the freezer to pre-freeze. Once the scoops of dough are frozen, place the dough balls into a zip-top bag to store frozen for up to a month. You don't need to thaw the dough before baking, just add a few extra minutes to the bake time! For more info, check out my guide to freezing cookie dough.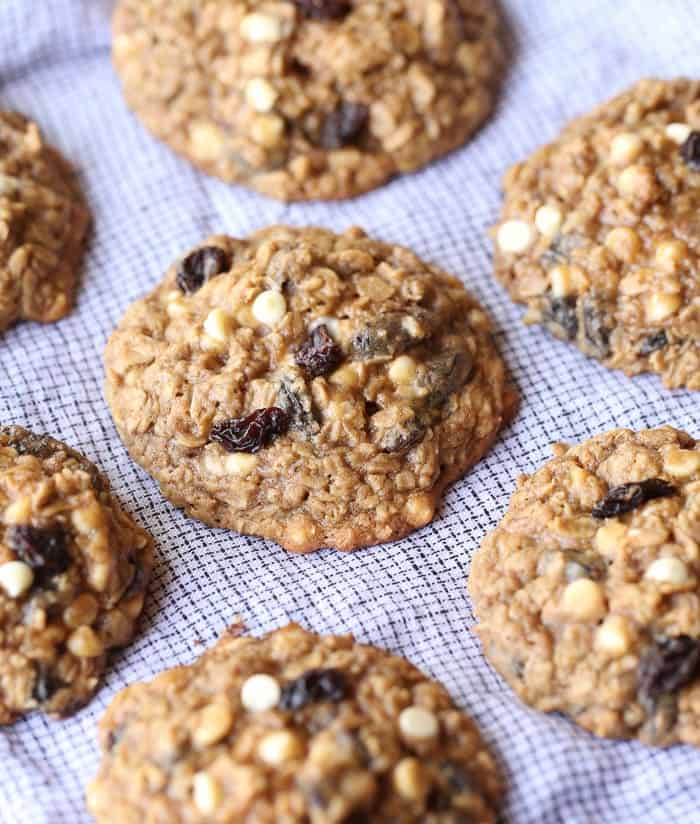 Print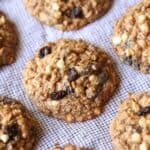 Author:

Prep Time:

10 minutes

Cook Time:

10 minutes

Total Time:

20 minutes

Yield:

36

cookies

1

x

Category:

Cookies

Method:

Baking

Cuisine:

Dessert
---
Description
The best recipe for perfect Oatmeal Raisin Cookies! These easy cookies are soft and chewy in the middle with buttery, crisp edges, filled with tender oats, sweet raisins, and white chocolate chips.
---
1 cup

butter, room temperature

1 1/2 cups

dark brown sugar

2

eggs

1 tablespoon

vanilla

1 1/2 cups

all purpose flour

1 teaspoon

baking soda

1 teaspoon

cinnamon

1 teaspoon

coarse sea salt

3 cups

old fashioned oats

1 1/2 cups

raisins

1 cup

white chocolate chips
---
Instructions
In stand mixer cream the butter and sugar together about 2 minutes until fluffy.
Add eggs and vanilla and beat until combined.
In separate bowl whisk flour, baking soda, sea salt, and cinnamon together.
Turn mixer to low and slowly add flour mixture into butter mixture until combined.
Slowly add in oats and mix until evenly incorporated.
Finally add in raisins and white chips and stir until mixed in.
Let dough chill for at least 2 hours (overnight is best).
When ready to bake preheat oven to 350°. Line baking sheets with parchment paper.
Using a medium cookie scoop, portion out the dough and place 2 inches apart on baking sheet.
Bake for 9-11 minutes until golden around edges, but still soft in center. Do not over-bake!!
Let cool on baking sheet for 3 minutes and transfer to cooling rack.
---
Notes
You can substitute in nuts or semi-sweet chips for the white chocolate chips, if desired.
You don't have to let the dough chill, but cookies may spread more if you don't. I prefer the dough to chill, as I find the flavors come together better and also, the cookie bakes nicer, in my opinion.
Nutrition
Serving Size:

1 cookie

Calories:

161

Sugar:

12.3 g

Sodium:

110.9 mg

Fat:

7 g

Carbohydrates:

22.1 g

Protein:

2.2 g

Cholesterol:

24.9 mg
Keywords: chewy oatmeal cookies, soft oatmeal cookies, best oatmeal raisin cookies
Want To Save This Recipe?
Find more recipes like this: