This Oatmeal Raisin cookies recipe is one of my oldest and best cookie recipes. It is one of the first cookie recipes I feel like I perfected. They're soft in the middle, perfectly chewy with a crisp edge. I use coarse sea salt in these like in my Favorite Chocolate Chip Cookies, which makes them extra special.
Make sure to check out my Oatmeal Chocolate Chip Cookies too!
Oatmeal Raisin Cookies happen to be my specialty. I have been making this oatmeal raisin cookie for ages, and it's one of the most requested cookie recipes I make from my family. Not only is this the best, it also happens to be an easy cookie to make.
We love white chocolate chocolate chips in our cookies, but you can absolutely use chocolate chips in their place, I even have a designated Oatmeal Chocolate Chip Cookie Recipe on my site too! The edges get crisp and buttery, while the inside of the cookie is soft and chewy.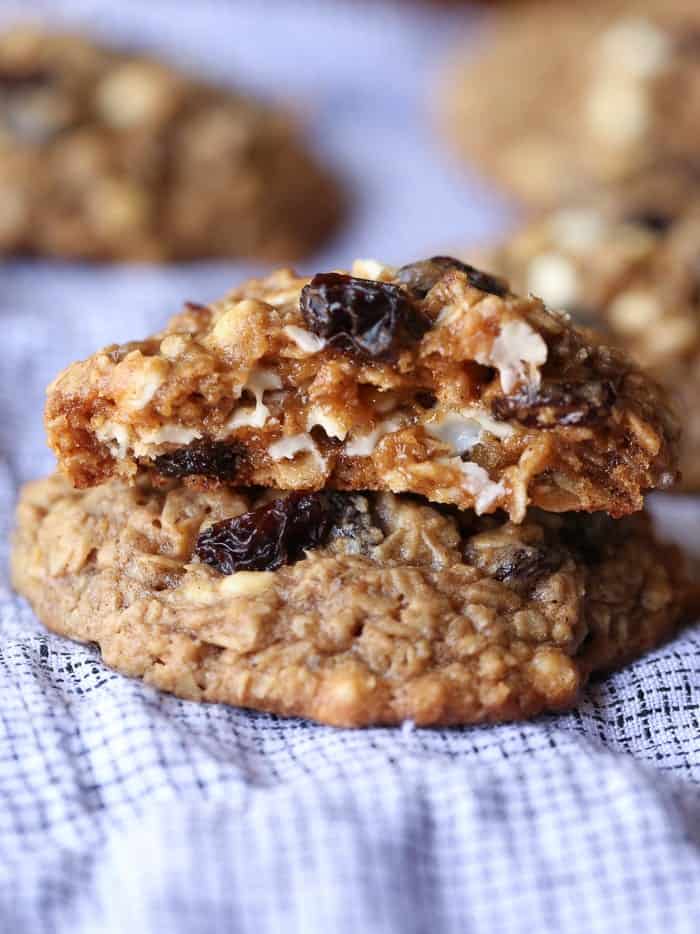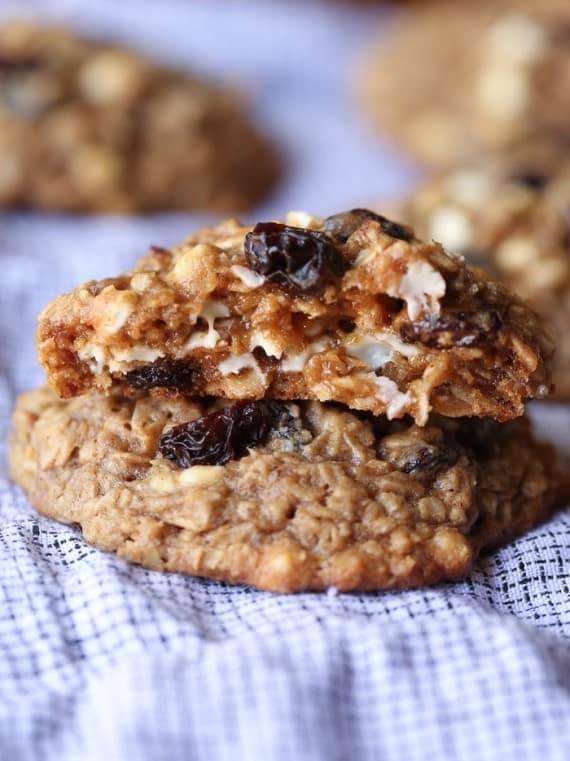 First off, I like to use cinnamon in my recipe. Specifically I really enjoy I like to use Saigon Cinnamon in these cookies…or Roasted Saigon Cinnamon.  It just gives it a little extra kick.
I use Old Fashioned Oats (Rolled Oats) in my cookies.  I like the texture and look better than Quick Oats in these, but note you can absolutely use Quick Oats too! The only difference between rolled oats and quick oats is Quick Oats are basically coarsely chopped oats, so they cook quicker.  They are great in baking, because your cookie will look a little more uniform than they do using an Old Fashioned or Rolled Oat. But I personally just prefer the chewiness and texture of rolled oats.
You can absolutely swap out raisins in these cookies for Craisins, or even golden raisins!
And my favorite addition in my oatmeal raisin cookie recipe is white chocolate chips. You can absolutely use chocolate chips instead, or even nuts if that's what you like! But honestly, try white chocolate in these.  You'll never go back.
My super secret trick to these oatmeal raisin cookies is adding coarse sea salt. The salt paired with the sweetness of the raisins is the guarantee people will tell you these are the best cookies ever!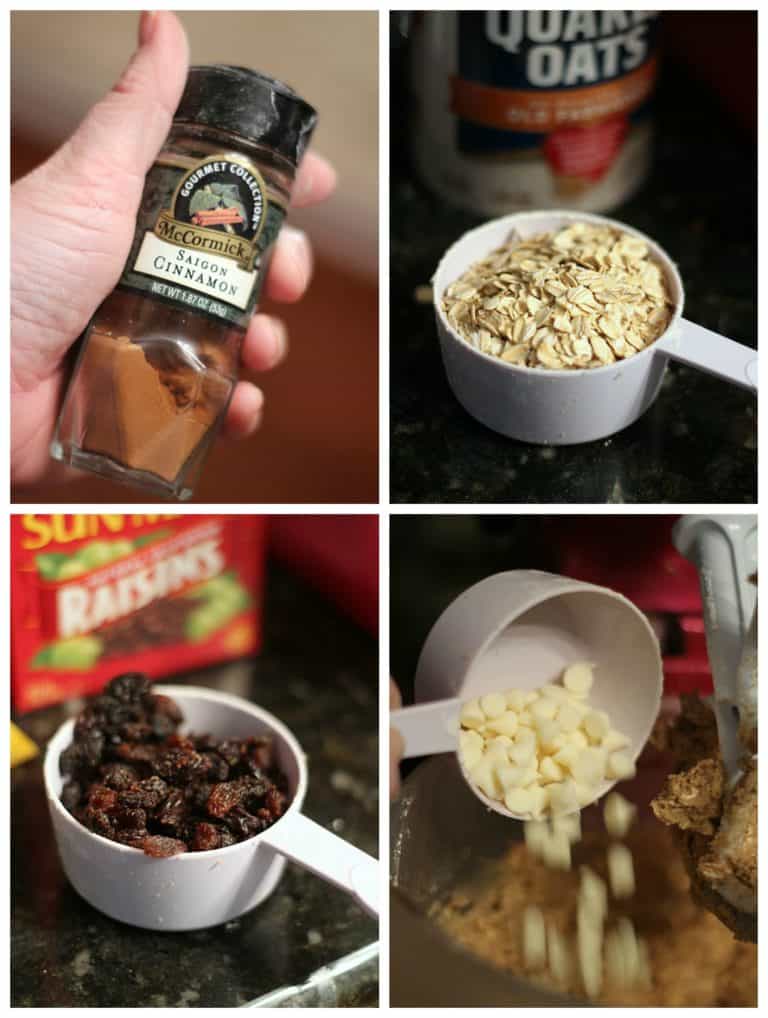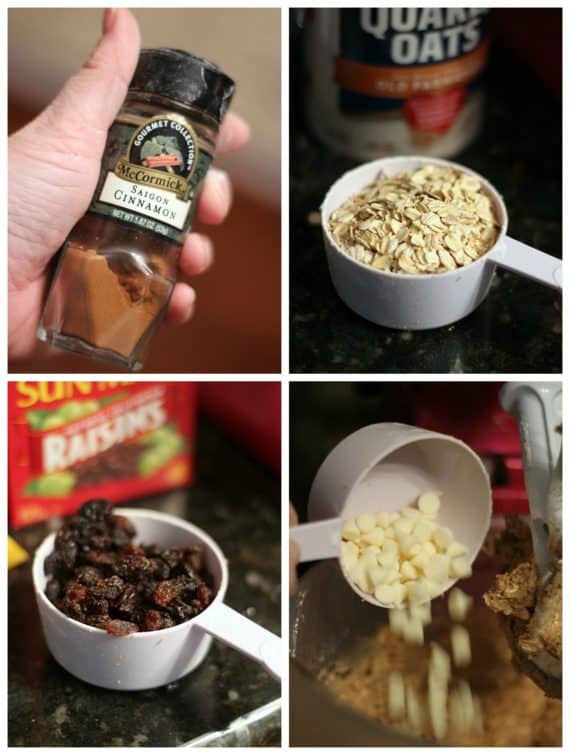 Well, the short answer is NO, you don't HAVE to chill the cookie dough, but let me explain why I like to!
Chilling the dough and baking the dough cold will give you a thicker cookie. The dough will spread a little less if it's chilled, leaving you with a thicker, softer center.
When you chill the dough the oats soften up a little. Since I prefer a rolled oat in these, when you chill the dough it gives them more of a chance to soften, producing a softer cookie! If you choose not to chill the dough, the oats will still be fine, you will just have a little more texture and chew…which could be a good thing!
I really love using all dark brown sugar in this oatmeal raisin cookie recipe. The depth of flavor the dark brown sugar gives is really special!
As with any cookie recipe, when you let the dough chill overnight, the flavors have a little time to combine and deepen. The dough gets a little richer and the gluten in the dough relaxes, adding to the crispier texture of the edges.
BUT with all this said, you don't have to chill the dough.  This recipe is really the best oatmeal raisin cookie because they turn out great every time and it's forgiving. Just know they will spread a little bit more than the ones you see in the pictures.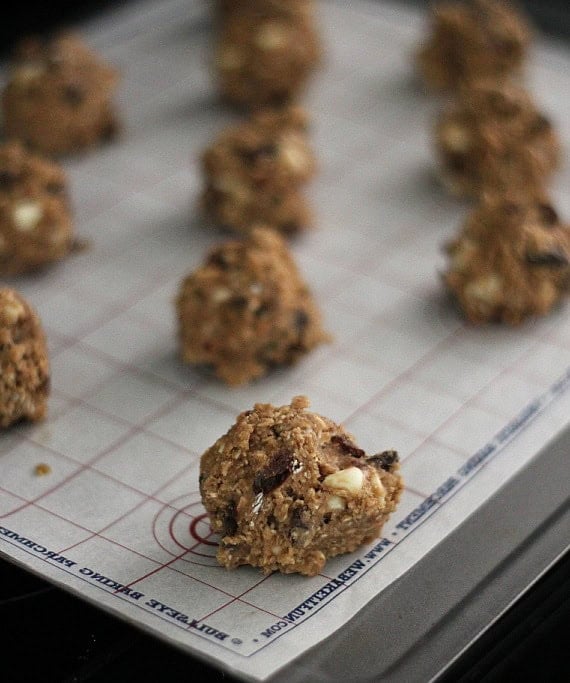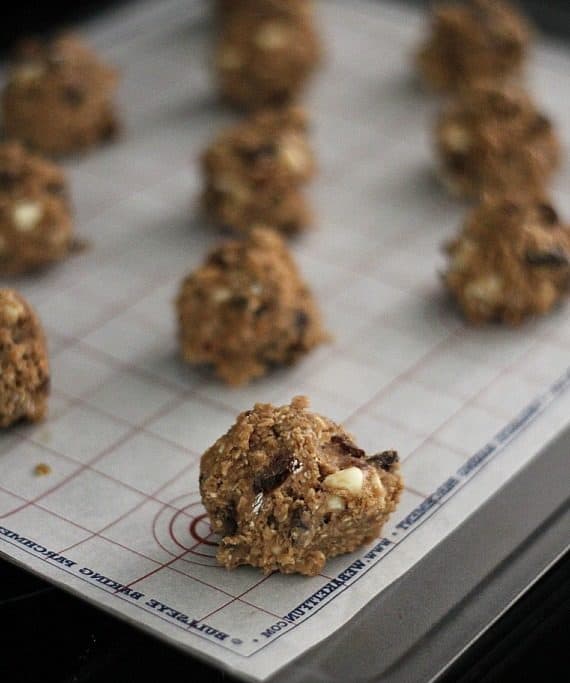 Can You Use Chocolate Chips Instead of White Chocolate?
Yes absolutely! I like to use white chocolate in mine, because I like the way it pairs with the raisins and cinnamon, but if you prefer chocolate chips that works too.
OR leave out the chocolate chips entirely if you're a purest!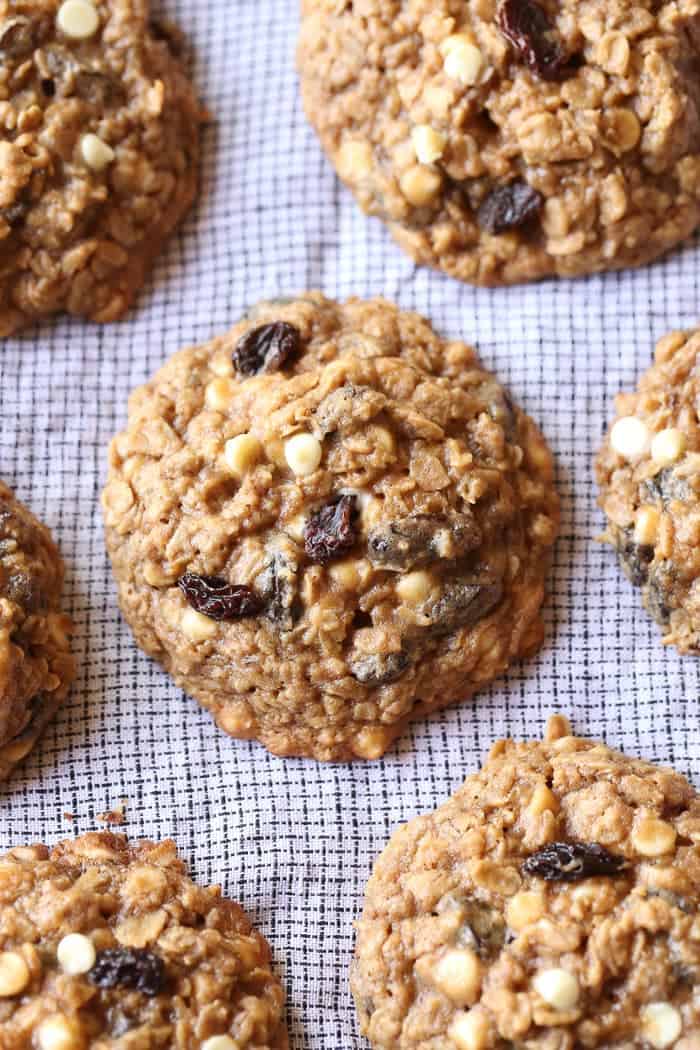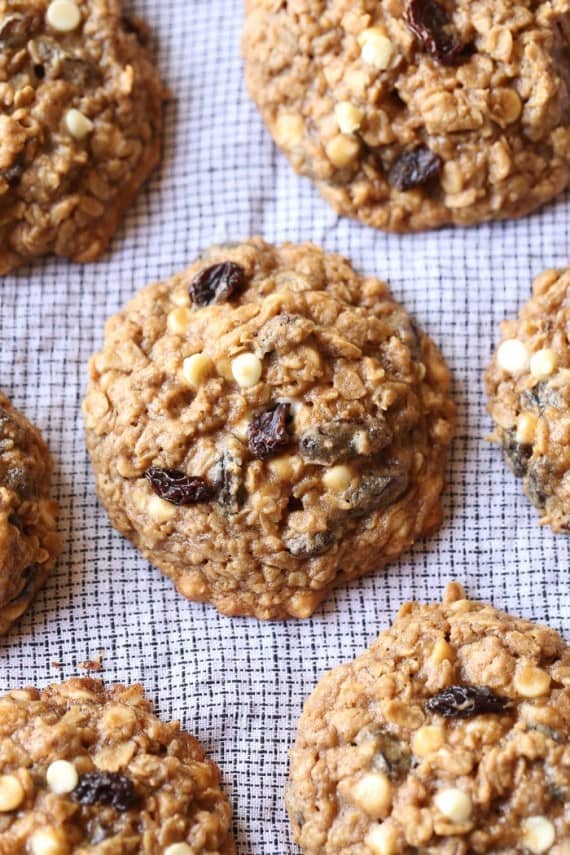 Pro Tip:
I always think it's best to use a cookie scoop when portioning out the oatmeal raisin cookie dough, but if the dough is chilled and hard to scoop, just form them into lightly packed balls. Don't pack them too densely, or they won't really spread at all!
See how perfect and gorgeous these cookies bake up?
I also found MINI white chocolate chips at my local supermarket (which are what I used in the pictured cookies), which I think are perfect for cookie baking, but certainly not an essential ingredient. Regular white chips will work fine! Or of course, you can use chocolate chips if that's your thing!
Yes, absolutely! These cookies freeze beautifully. Here are some tips:
If you freeze them already baked, just make sure they are completely cool, and simply place them in a zip-top bag. They will freeze great for up to 30 days! When you're ready, thaw and enjoy!
You can reheat these oatmeal raisin cookies in the oven to enjoy warm as well! Just bake them at 350°F for 3-4 minutes and they'll be warm and delicious!
If you would prefer to freeze the dough unbaked, I like to portion the dough out using a cookie scoop. Freeze the scoops of dough on a parchment lined baking sheet. Once they are frozen, place the dough balls into a zip-top bag and freeze for up to a month!
To bake frozen dough, you don't need to thaw the dough out first. Just add a few extra minutes onto the bake time!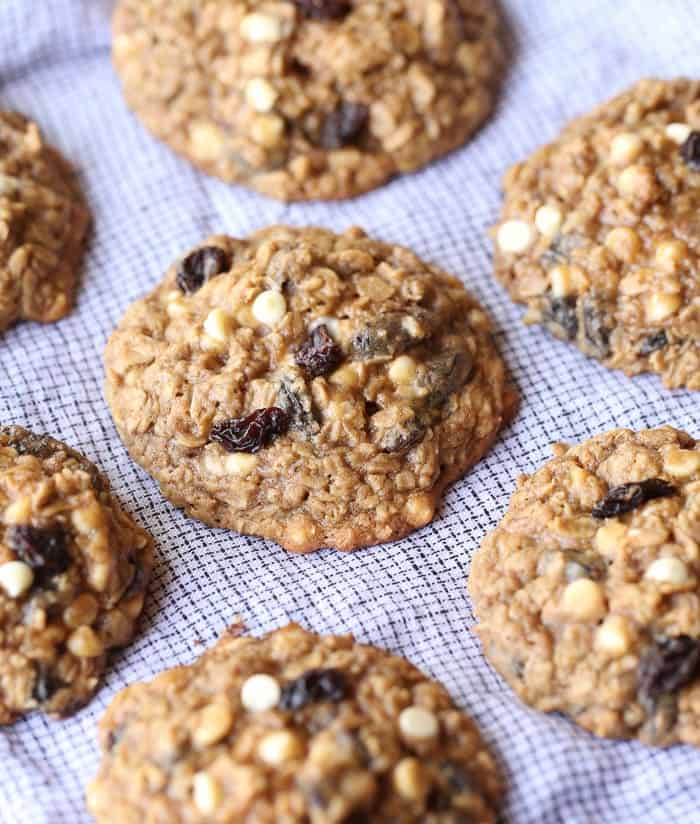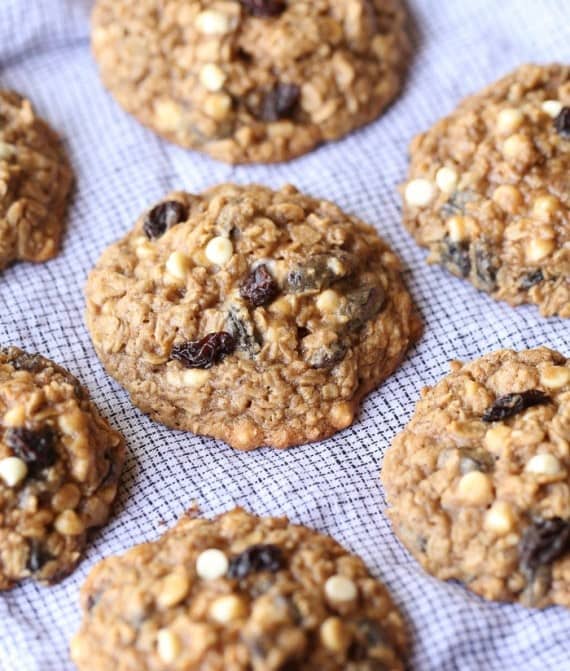 Print
Author:

Prep Time:

10 minutes

Cook Time:

10 minutes

Total Time:

20 minutes

Yield:

36

cookies

1

x
Category:

Cookies

Method:

Baking

Cuisine:

Dessert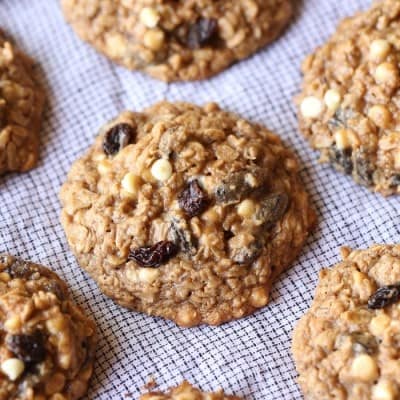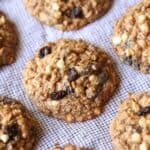 ---
Description:
These thick, chewy Oatmeal Raisin Cookies are the BEST!
---
Scale
Ingredients:
1 cup

butter, room temperature

1 1/2 cups

dark brown sugar

2

eggs

1 tablespoon

vanilla

1 1/2 cups

all purpose flour

1 teaspoon

baking soda

1 teaspoon

cinnamon

1 teaspoon

coarse sea salt

3 cups

old fashioned oats

1 1/2 cups

raisins

1 cup

white chocolate chips
---
Instructions
In stand mixer cream the butter and sugar together about 2 minutes until fluffy.
Add eggs and vanilla and beat until combined.
In separate bowl whisk flour, baking soda, sea salt, and cinnamon together.
Turn mixer to low and slowly add flour mixture into butter mixture until combined.
Slowly add in oats and mix until evenly incorporated.
Finally add in raisins and white chips and stir until mixed in. 
Let dough chill for at least 2 hours (overnight is best).
When ready to bake preheat oven to 350°.  Line baking sheets with parchment paper. 
Using a medium cookie scoop, portion out the dough and place 2 inches apart on baking sheet.
Bake for 9-11 minutes until golden around edges, but still soft in center. Do not over-bake!! 
Let cool on baking sheet for 3 minutes and transfer to cooling rack.
---
Notes:
You can substitute in nuts or semi-sweet chips for the white chocolate chips, if desired.
Also, you don't have to let the dough chill, but cookies may spread more if you don't. I prefer the dough to chill, as I find the flavors come together better and also, the cookie bakes nicer, in my opinion.
Keywords: cookies, recipe, oatmeal raisin cookies, raisins, oats, oatmeal
Want To Save This Recipe?