Oatmeal Chocolate Chunk Cookies
Ben and Jerry's week is winding down…
So far we've hit on Cherry Garcia, Phish Food, What a Cluster, Everything But the…, Everything But The (again), Americone Dream and Karamel Sutra.
Hasn't it been fun?
Today, the final day (sob), I'm taking Oatmeal Chunk Cookie here, Kristan is doing Chunky Monkey, Peabody is doing Heath Bar Coffee Crunch and Heather is joining us and taking on Chocolate Therapy!
MY OTHER RECIPES
I have to say there are SO many other flavors that are worth playing with, I can see a sequel somewhere in the future!
Anyhow, Oatmeal Cookie Chunk was an easy choice. The Ben and Jerry's flavor is Sweet Cream Cinnamon Ice Cream with Chunks of Oatmeal Cookie and Fudge.
So what I did was kinda easy and totally delicious.
I made some super yummy Oatmeal Chocolate Chunk Cookies and topped them off with a Sweet Brown Sugar Cinnamon Buttercream. Seriously, a perfect cookie.

I made the oatmeal cookies first.
It's a fairly straightforward recipe. But I do use only dark brown sugar in my oatmeal cookies. It's my thang.


Also I used quick oats in these cookies as opposed to rolled oats, or old fashioned.
The quick oats are cut into small pieces (so they cook faster) and tend to give this cookie a more uniformed texture. You could certainly sub in rolled or old fashioned if that's what you have, it isn't going to hurt, the cookies will just appear more "oatey", which is totally a word.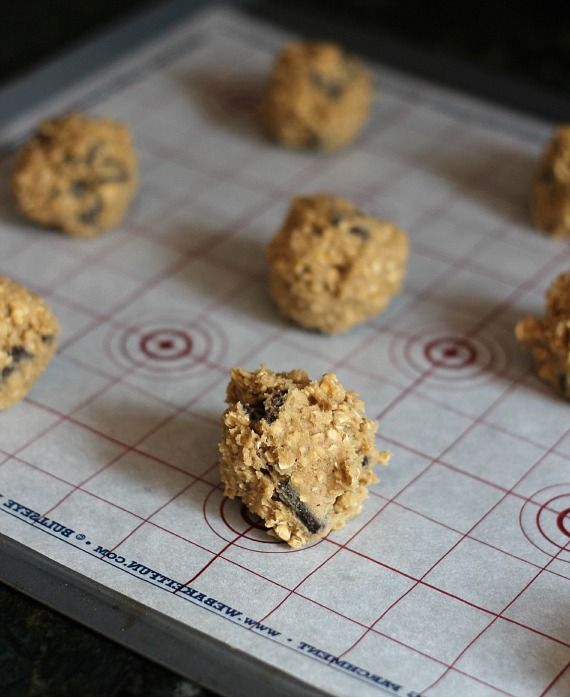 Let the cookies bake until they are golden around the edges…don't over-bake these guys.
Let them cool on your baking sheet for about 3 minutes and the transfer them over to a wire rack to finish cooling.
While you're waiting you should make your frosting.
Now this frosting is out of control good. Like I said earlier, it's a Brown Sugar Cinnamon Buttercream, so it's pretty much perfect.
Just beat some butter and brown sugar together (again, I used dark, but that's a personal preference) and add in some cinnamon…


I like using a strong Saigon Cinnamon. It just tends to have a bit more pop of flavor.
Whip that up with some powdered sugar and milk and you've got it!
Give each cookie a healthy dose of frosting and you're all set…


Honestly, these are going in the cookie rotation in my house!
Now you NEED to go hop over and see what Kristan did with Chunk Monkey.
Also, Heather from Sprinkle Bakes joined in today and took on Chocolate Therapy and I can't even stand it, quite honestly!
 AND Peabody joined us for all 3 days!  And today she made cookies.  Coffee Heath Bar Crunch Cookies.  Yep, for real!
Print
Oatmeal Chocolate Chunk Cookies with Cinnamon Buttercream Frosting
---
Description
makes 36 cookies
---
Ingredients
Cookies
1 cup butter, room temperature
1 1/2 cups dark brown sugar
2 eggs
2 tsp vanilla
2 cups flour
1 tsp salt
1 tsp baking soda
3 cups quick oats
2 cups chocolate chunks
Frosting
1 cup butter, room temperature
1/2 cup brown sugar (light or dark…I used dark)
1 tsp cinnamon
1 lb powdered sugar (4-5 cups)
1/2 tsp vanilla
3-4 Tbsp milk or cream
---
Instructions
Cookies
Preheat oven to 350°
Line baking sheet with parchment paper.
Cream butter and brown sugar together until combined, about 2 minutes. Add eggs and vanilla and beat for another 2 minutes until light in color.
Slowly add in flour, salt and baking soda and mix until just combined. Slowly pour in oats and mix.
Fold in chocolate chunks.
Form about 1 1/2 tablespoon of dough into balls and place on baking sheet 2″ apart. Bake 8-9 minutes until golden around edges.
Allow to cool on baking sheet for 3 minutes and transfer to a wire rack to cool completely.
Frosting
In bowl of stand mixer beat butter and brown sugar together for 2 minutes. Turn mixer to low and add in cinnamon and powdered sugar.
Finally add in milk and vanilla and beat for another 2 minutes until light and fluffy.
Spread approximately 1 tablespoon of frosting on each cookie.