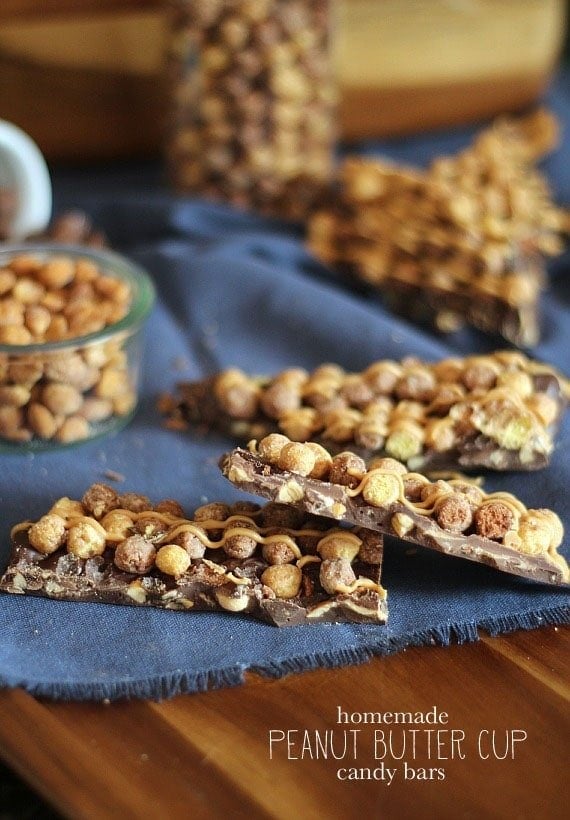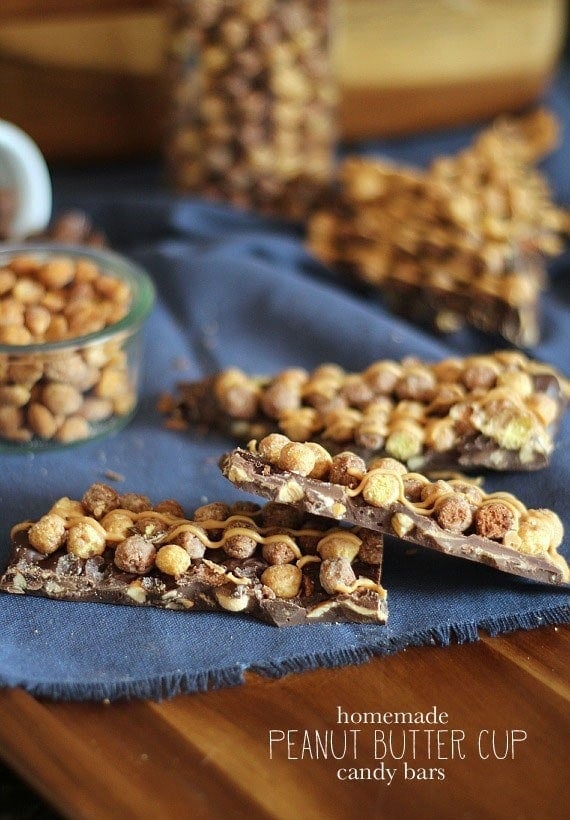 Baking is overrated some days.
Some days you need a chocolate fix without all the mixing and preheating.
Some days you need to melt some chocolate, top it with cereal and call it a day.
Some days turns out to be today.
This is essentially a bark, but not a bark, because it's a little thicker…and also because I didn't want to call it bark.
And since I invented it, I have that ability.
In this candy bar (bark) we have chocolate, peanuts, mini peanut butter cups AND Reese's Puffs cereal. It's a chocolate and peanut butter party.
And again, you don't even have to bake it. I'm winning at desserts today.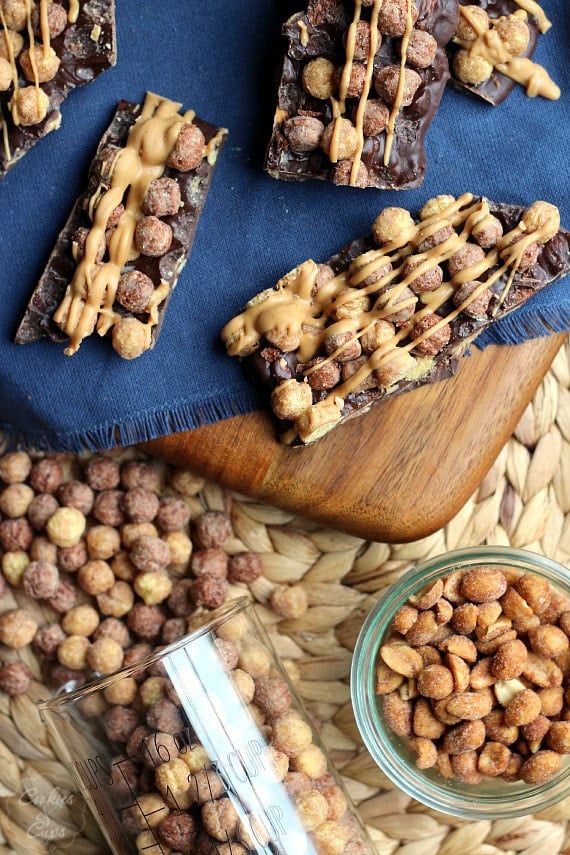 So let's get these Homemade Peanut Butter Cup Candy Bars (Bark) show on the road.
First, chop up some honey roasted peanuts…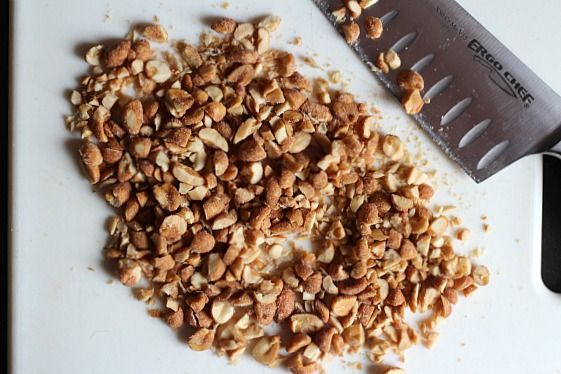 Then melt some chocolate. About 3 cups. I used Hershey's Baking Melts.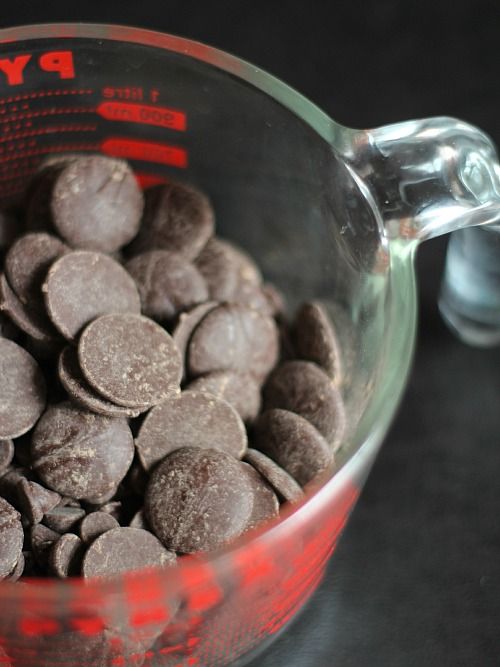 They melt pretty much the same way that a chocolate chip would, just to let you know, they aren't like those candy baking melts.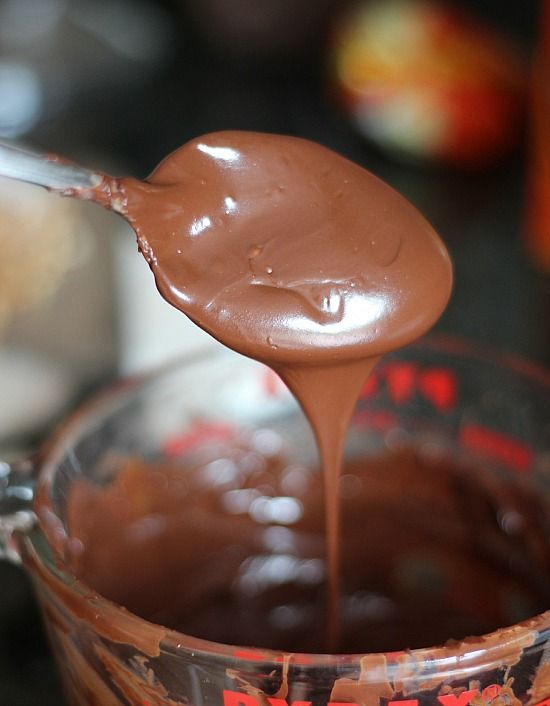 Mix in your chopped nuts…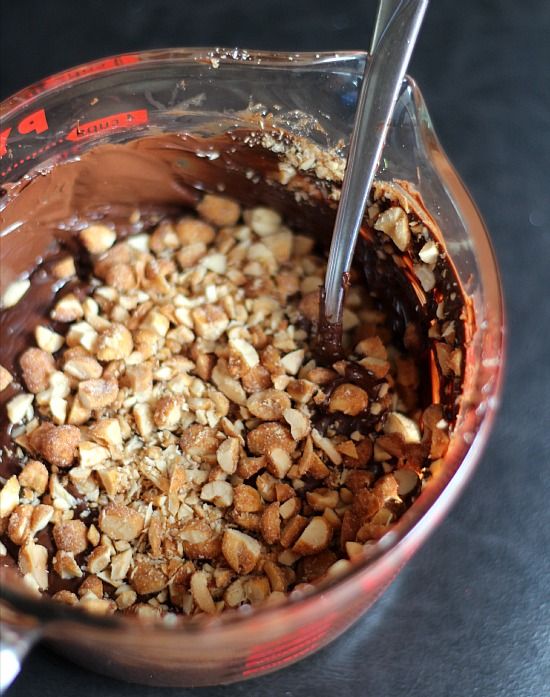 Then get your mini peanut butter cups ready…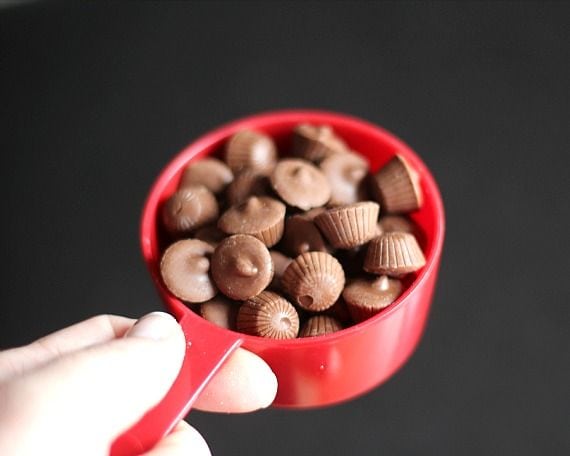 And stir them in. They might melt a touch, but that's ok!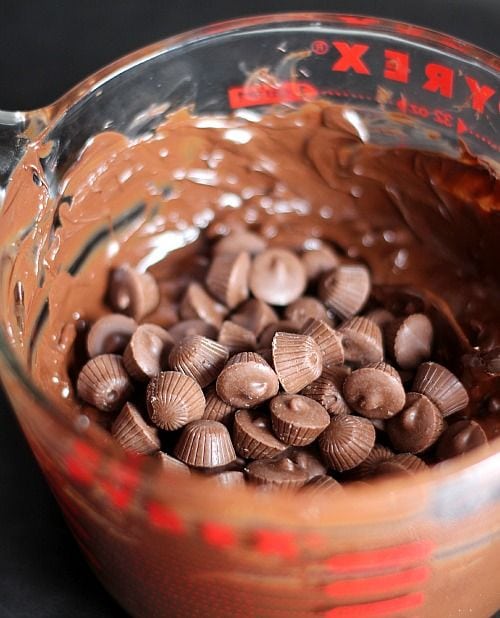 Spread that onto a baking sheet lined with parchment to about 8″x11″. You want a little thickness.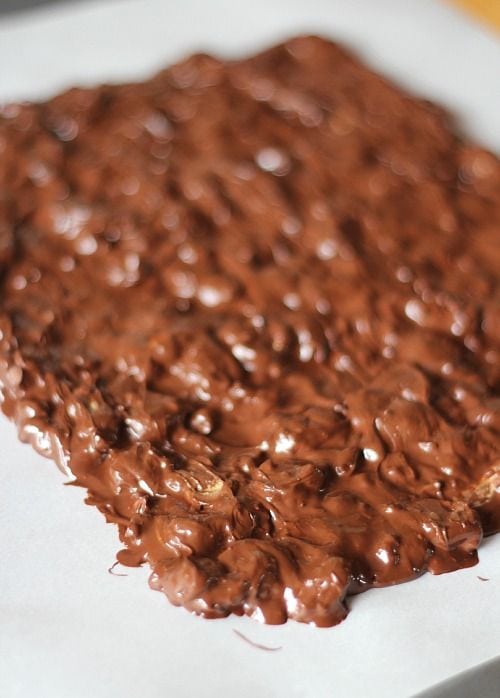 And then measure out your cereal…about 2 cups.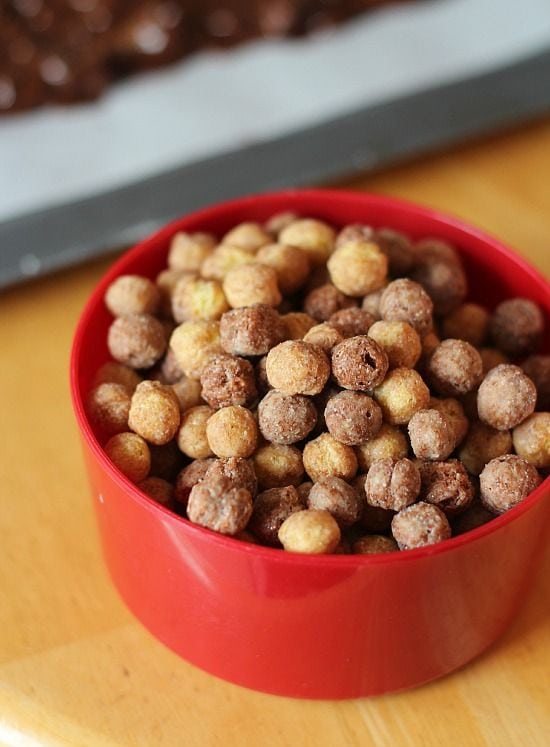 And press that into the chocolate. Make sure you press it in, though, because if you don't it will all pop off when you cut it into pieces.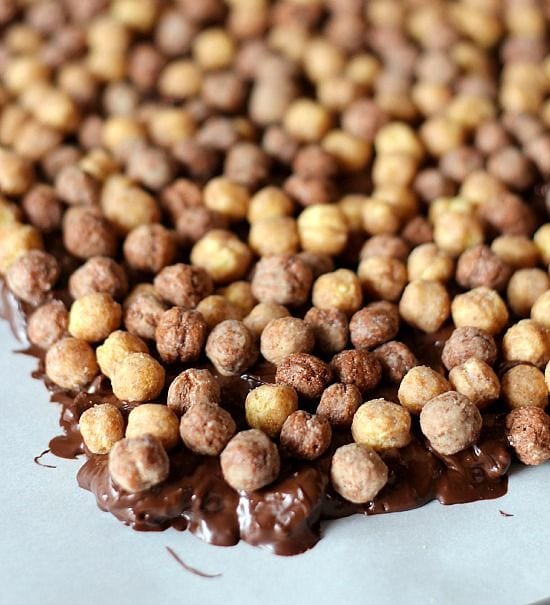 And if you're feeling fancy, drizzle some melted peanut butter chips on top.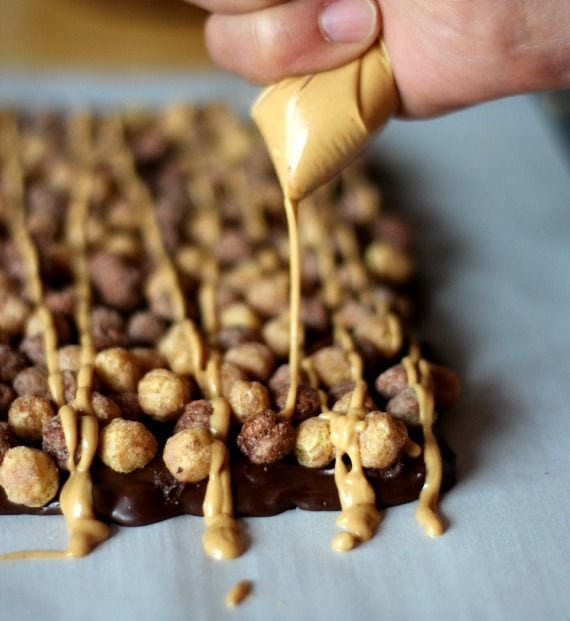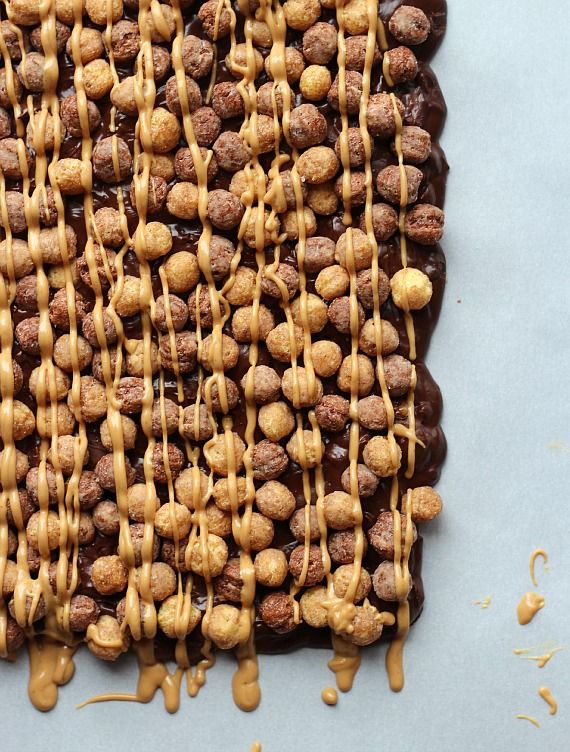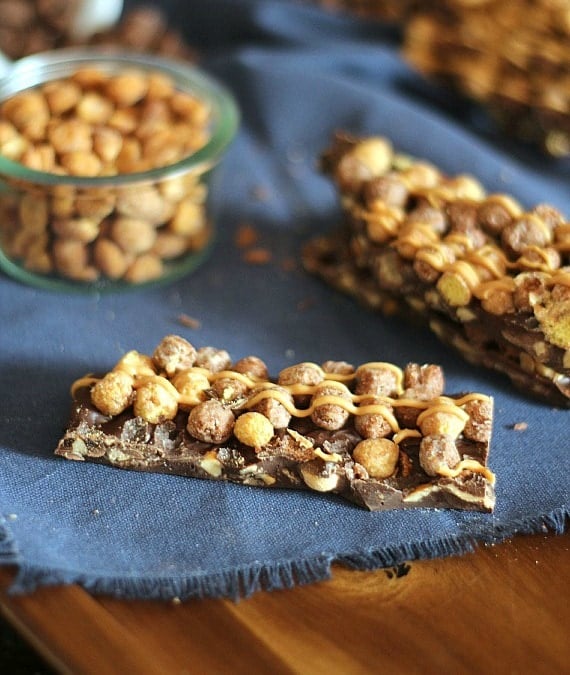 Kinda cute, right?Chill it for a bit to set the chocolate and then cut it into pieces!
Print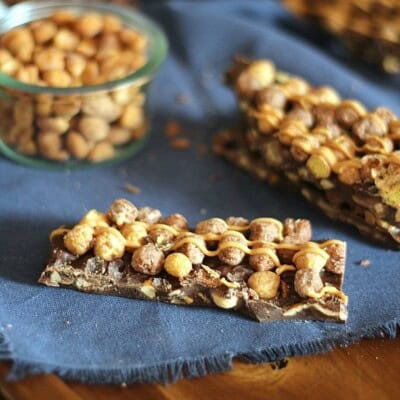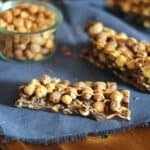 Homemade Peanut Butter Cup Candy Bars
---
---
3 cups

semi sweet chocolate chips

1/2 cup

chopped honey roasted peanuts

1 cup

mini peanut butter cups

2

heaping cups Reese's Puffs cereal (you could use Cocoa Puffs too)

1/2 cup

peanut butter chips

1 tsp

coconut oil or vegetable shortening
---
Instructions
Line a large baking sheet with parchment paper
Melt your chocolate chips in the microwave or over a double boiler.
Once melted stir in chopped peanuts.
Then stir in mini peanut butter cups. It's ok if they melt slightly.
Spread your mixture onto lined baking sheet into a rectangle approx 8″x11″. You don't want it to be too thin like a bark candy, you want it to be a little thicker.
Sprinkle your cereal on top of chocolate mixture evenly, pressing in to stick.
Melt peanut butter chips and coconut oil or shortening in a ziptop bag in the microwave on 50% power for 30 seconds. Remove bag from microwave and squeeze, repeating the process until the chips are melted.
Snip off a small corner of the bag and drizzle melted peanut butter chips on top.
Place in refrigerator for 15 minutes until chocolate is set up.
Cut or break into pieces.
---
Notes
If weather is warm, you might want to keep these in the refrigerator until serving.
Want To Save This Recipe?
Find more recipes like this: